LinkedIn is a business-oriented social media platform that allows you to identify both prospects and competitors easily. Businesses may get up to  42% larger deal sizes through Sales Navigator, depending on the company type – you can learn more about the functionality by clicking on the link.
LH is independent software that helps you build the automated pipeline for LinkedIn marketing activities and serves as a CRM. The CRM will store client details and message history. The software helps not only to reach leads without your daily participation but also to increase the number of invites you can send above the social network limit.
Linked Helper can be used with a LinkedIn basic account, Sales Navigator, and other paid solutions, like Recruiter, which can give you more freedom in using the software.
You can automate prospect acquisition and leverage the Sales Navigator service via Linked Helper. Furthermore, it is possible to shift between the basic LinkedIn service and Sales Navigator with a single click, changing the platform that will be used in numerous Linked Helper auto-activities. You can read more about the benefits of this below.
You won't notice a difference between the basic LinkedIn plan and Sales Navigator in terms of built-in activities with prospects (searching and filter, visits and views, inviting them to your network, messaging, sending InMails). These tasks will be offered as part of a normal subscription and in Sales Navigator.
An important advantage of the Sales Navigator plan is improved filtering. Also, this solution has the ability to connect more team members who can use Sales Navigator as a common CRM for leads.
Even though Sales Navigator (SN) is a paid and advanced plan, it lacks certain features of regular LinkedIn, which means it provides less opportunity to warm up your target audience. That's why Linked Helper is smart enough to switch between solutions and use the best of both in combination for your growth. For example, you can use the SN solution for precisely parsing and filtering users, and the general account for putting likes on their content (the liking feature is not present in SN). 
Many services that offer Sales Navigator automation will not work with the standard version of LinkedIn. The advantage of Linked Helper is that automation will work both with a subscription to Sales Navigator (and other paid options, such as Recruiter) and without it. When you open a LinkedIn account in the Linked Helper, you can select the desired tariff in the settings.
Despite the fact that the Sales Navigator (SN) solution is aimed towards selling (as implied by the name), this product may be utilized for a variety of reasons. For instance, many headhunters favor SN over the Recruiter since the UI, the ability to configure filtering, and searching are smoother in SN.
LinkedIn automation with Linked Helper for Sales Navigator
Make a backup of your communications and browsing
The benefit of working in Sales Navigator through Linked Helper is that the message history will be maintained in the CRM's database. Following the social network's policies, the archive of conversations with prospects will be deleted after you unsubscribe from the service. This could be useful information for businesses to keep.
If you used Linked Helper to deliver messages (or switched to basic for the mailing campaign in the software), the communication archive will be kept even if you unsubscribe.  Previous correspondence that was conducted outside Linked Helper will not be saved, while those messages sent via LH will remain available in the LH database.
Furthermore, when you unsubscribe to Sales Navigator, your list of leads that were screened and stored will be lost. LinkedIn warns about this loss of data when deleting your Sales Navigator account in the help section.
To avoid this situation, we offer a solution that will allow you to store the data using Linked Helper. If you don't want your research history to evaporate once you terminate your paying membership, you may preserve them in the CRM (or export the list as CSV from LH).
To use the features of both solutions effectively, you can use them both for different tasks. For example, use one solution for collecting data and saving it in the CRM, and another for likes.
For these activities, consider Sales Navigator:
Searching and filtering leads
Creating lists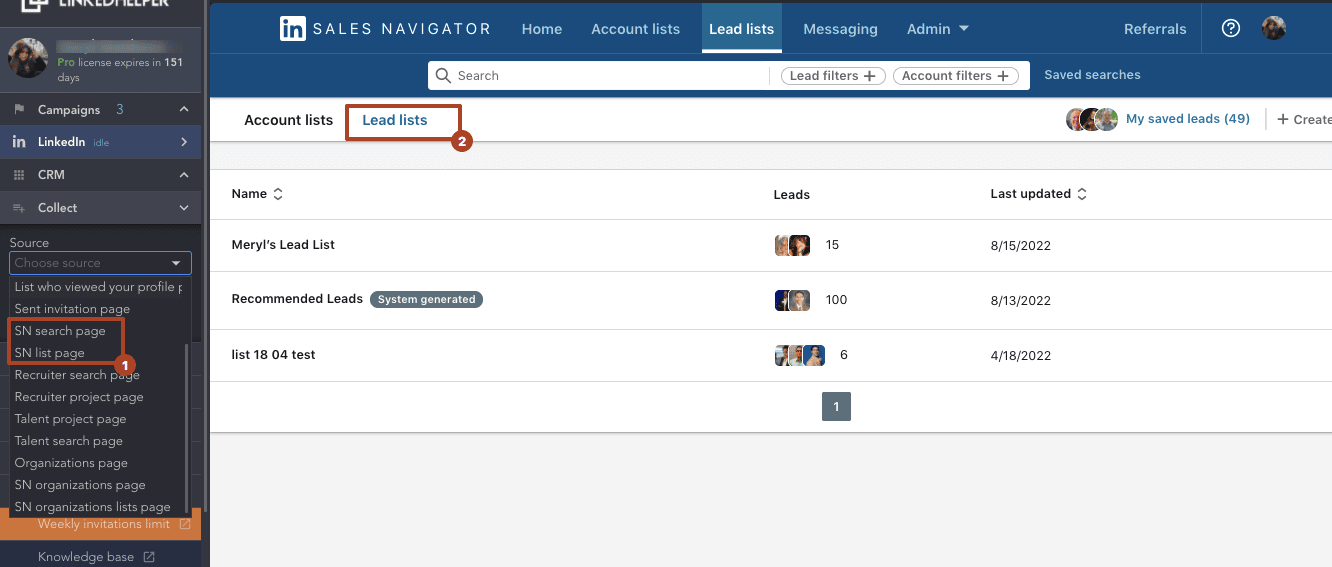 Employ LinkedIn Basic for:
Note: paid InMails delivered under the Sales Navigator membership can be sent through Linked Helper only via a subscription. On our blog, you can discover the complete InMails guide.
Below you will learn the solution to easily and automatically send free InMails to any users with Open Link" status via Linked Helper.
All in all, for the basic account and SN, all activities in Linked Helper will be equally available. But executing in-depth research, the ability to sort leads in groups, and storing search queries, may open up more opportunities when you have Sales Navigator perks in Linked Helper.
What is special about using Sales Navigator?
#1 Different chats
For instance, if you text to your connections via SN, it will only be displayed in the Sales Navigator mailbox. These conversations will not be visible in your regular LinkedIn account, and vice versa.
In Linked Helper, you can select the platform and profile from which you wish to send invites or compose messages – it can be SN or any other LinkedIn solution, including conventional LinkedIn. Read the manual about switching between platforms in the software.
#2 Sales Navigator has no commercial usage limitations
The basic LinkedIn account has a monthly search query limitation. The developers of the social media platform do not restrict your searches in SN, which is useful for regular study of target groups.
#3 When using SN to view accounts in LH, the tool can parse the Industry
In practice, LinkedIn does not provide this information for most profiles. When extracting data using the basic platform, you may filter leads by industry and aggregate them in the Queue. However, the info about the industry will not be stored after the session in the database.
If you accomplish the same thing with the SN membership, then after visiting the pages, the industry can be parsed and will remain available in the database.
#4 More filters are included in Sales Navigator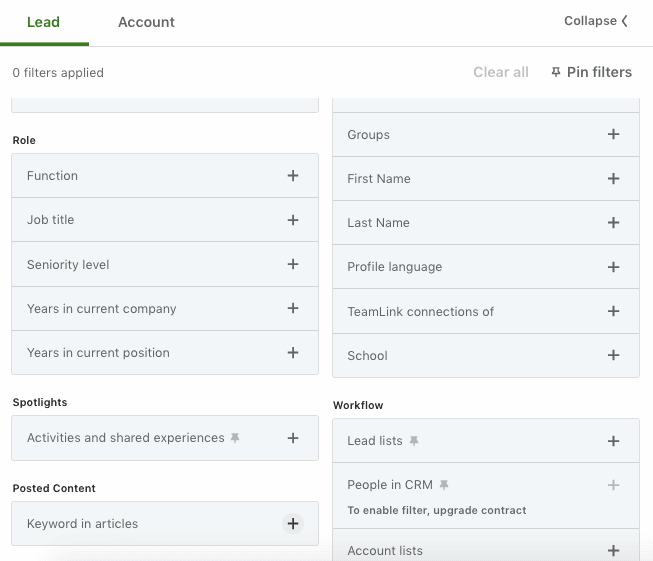 Of these, the most significant for working through Linked Helper may be the following:
The ability to exclude unwanted people from the search and from the campaign
In the advanced plan, when searching and parsing leads (for example, when adding them to the Linked Helper Campaign Queue), you can choose not to collect profiles from a specific industry/company. These settings will be available in the interface and therefore will affect further work with leads. For example, in your funnel, you can leave only a very specific audience, which will bring more efficiency, responses, and acceptances of invites.
Basic LinkedIn only has inclusive filters, so you will be limited to capturing leads from search pages. You can manually exclude leads from the campaign by downloading the lead file during parsing and sorting them and deleting unnecessary ones in Excel. Or you can exclude unnecessary leads from the pipeline manually in the software dashboard.
Sorting by groups
In LH, you can automatically communicate to group mates in personal messages. You can easily filter and search for people who are your intended audience using the Sales Navigator engine. This significantly streamlines lead generation and enables more customized bulk mailings. Because you are both participants of the exact same group, you may include this in your text, making it easier to start a conversation. Custom variables in auto-messages in Linked Helper can be defined so that the desired group name is included in the bulk mailing campaign.
Explore the guidelines for outreach to group participants sorted via advanced SN filtering.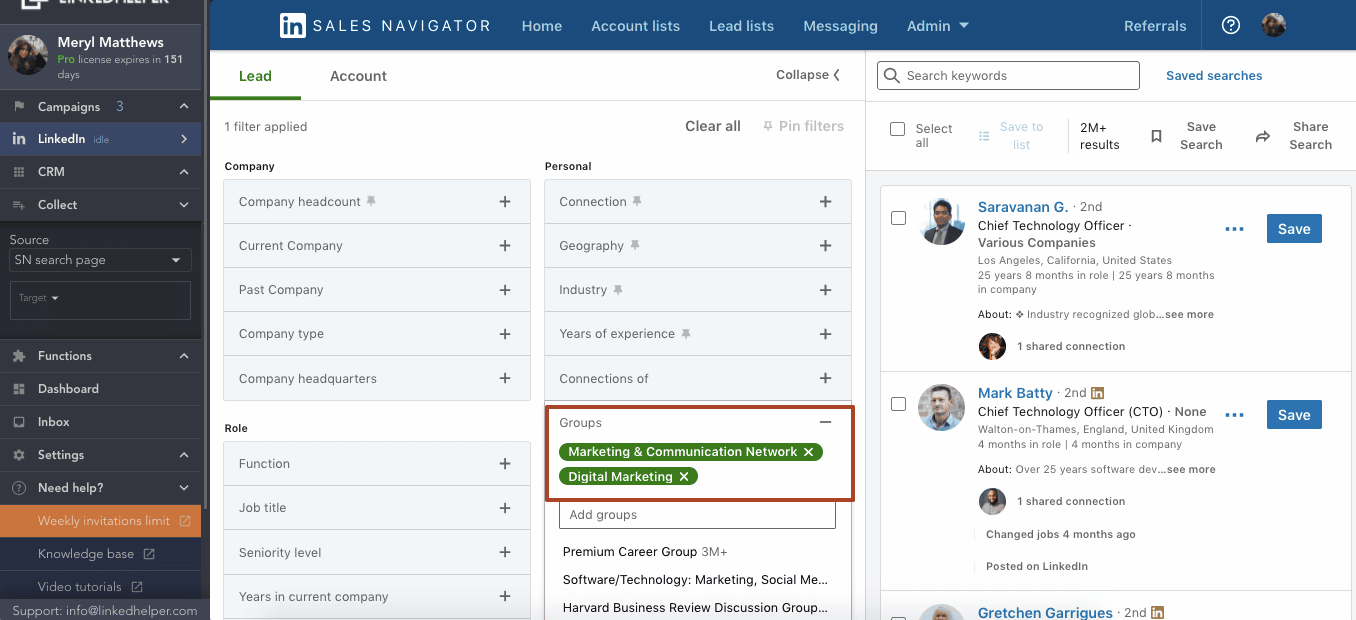 Read more about how you can use group marketing and interact with the community before contacting them directly.
You can remove from the Queue those whom you have already visited or invited
Such a filter helps bypass the restriction on scraping accounts from browsing the pages. According to the rules, you cannot aggregate more than 1,000 contacts from the search results, which can be a problem if your query has thousands of leads.
In LH, you can add up to 1,000 people from the search page (however, there are ways to split the search results and add people by the thousands – read the knowledge base).
By removing those with whom you have already interacted, you can reduce the number of unnecessary leads in your campaign, saving time. The software will not waste time on actions with those accounts that are no longer your target.
Sales Navigator allows you to sort by role in the organization
For example, you can select "Function," "Job title," "Seniority level," or "Years in current company."
For example, you may be faced with the task of using Linked Helper to collect users who are CEOs, founders, or owners in companies with less than 500 employees. The fact is that Linked Helper does not provide its own filtering beyond the options available through the LinkedIn search.
As a consequence, it is efficient to employ the Sales Navigator search parameters and easily gather clearly-specified individuals from the results page when dealing with such a task.
Other criteria may also help you refine your prospecting efforts. You may collect individuals using the SN interface by a phrase in their post, their postcode, and other factors.
#5 Enhanced Sales Navigator functions are available
As an example:
Prospects in your super-specific search can be saved.
Users can create lists with prospects and organizations.
The ability to leave notes and comments can help you use the platform as a CRM.
50 InMails are included in your monthly package.
Crucial info regarding InMails and LH:
When the robot collects accounts from a search page, it can retrieve whether they are "Open Link" or not. If you have Open Link status, then each user regardless of their LinkedIn subscription will be able to send you a free InMail. So many people are interested to set this option. To filter by this value we added a built-in item in Linked Helper. As a result, you can quickly identify people to whom you can send a free InMail in the program.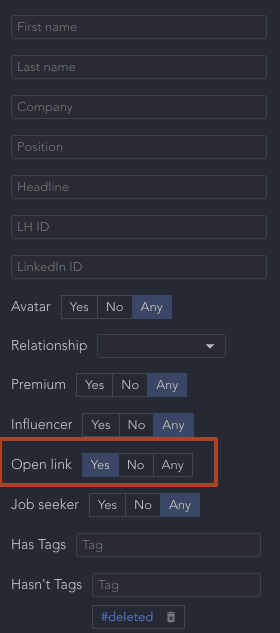 You can study the details and advantages of the SN package compared to others on the official website of the social network in the form of a convenient spreadsheet.
Are there any drawbacks to utilizing Linked Helper with a premium plan?
Some activities are not provided by default in SN
This issue is frequently resolved by the ability to switch between plans in Linked Helper.
For instance, you can only follow users on your standard account. Nevertheless, Linked Helper enables the software to switch between solutions.
You can start a mass following or liking campaign in Linked Helper, and these actions can be part of your funnel. If you use your SN profile in the software, then the robot will perform these actions from your basic account because there is no such possibility in the premium plan. At the same time, when the time comes to do other actions, the robot will quickly switch, for example, to write a message or InMail. Therefore, working through the software, you can deftly maneuver between solutions and make better use of their capabilities. In this case, you will not need to make manual switches, because they are provided in the program.
#6 No ability to bypass Sales Navigator limits through software
At Linked Helper, we offer many opportunities to expand your network a little faster and more efficiently and invite up to 700 people a week. At the same time, you can provide mass invites that include a customized message. But when working through SN, such an opportunity for mass invites is not provided. To bypass restrictions, the robot can only use your standard profile on the social network. Therefore, to work effectively through the software, it is not the case tht only a Sales Navigator profile will be sufficient. For many vital actions, you will need a basic account as well.
Why should you use LinkedIn Sales Navigator automation tools?
All in all, the use of Linked Helper automation is possible both with the free LinkedIn and with Sales Navigator. The main convenience of this automation method is that you can switch between solutions for different tasks within the same campaign.
Here are the other benefits of using Linked Helper with your Sales Navigator and basic LinkedIn solutions:
You will have a backup of your data when your SN subscription expires or you terminate it. This will greatly save your business data even if you decide to stop using a paid solution. Lead lists and message history will be uploaded to the CRM and you can download all the data in the form of a table. However, only the info that Linked Helper works with is saved. If you need to save a lead list, then it must be collected in a campaign. Only in this case, will it be saved in the software database.
You save time by assigning routine tasks to the robot. Sending invites and messages or warming up the audience in the comments will take place without your participation. You set the exact targeting and the software does the work for you – all you need is an Internet connection.
You accelerate sales and lead generation. The software can process hundreds of profiles in a short time. For example, visit landing pages and send invites. This will bring you new customers much faster.
You can filter the target audience in more detail. With a subscription to Navigator along with Linked Helper, you can define your audience more precisely, for example, select a group on LinkedIn. The more precisely people are selected through the filter, the more effectively you will use automation (because there are limits for security reasons).
Through the robot, you can build long-term relationships with the target audience. This means including actions in the funnel such as likes, comments, and invites before messages will help you gradually make contact. In addition, you can set up automatic follow-ups and everyone who answers you or accepts your invites will be moved to a separate section in the software.
You can unlock additional options for sending free InMails. Thanks to the fact that your leads can have profiles with the status of "Open link," you will have a chance to write them a free InMail. The main difficulty lies in identifying such leads. But in Linked Helper, after collecting contacts in the Queue, you can set up sorting in the CRM and use free InMails outside of your subscriptions (50 in SN solutions). This will help you not only automate InMails, but also save credits without spending a lot of time manually identifying the status of the lead profile.
Thus, using the Sales Navigator and automation, you can solve business problems faster. And this is not only true for sales. Recruiters can also use these two tools for more effective hiring.