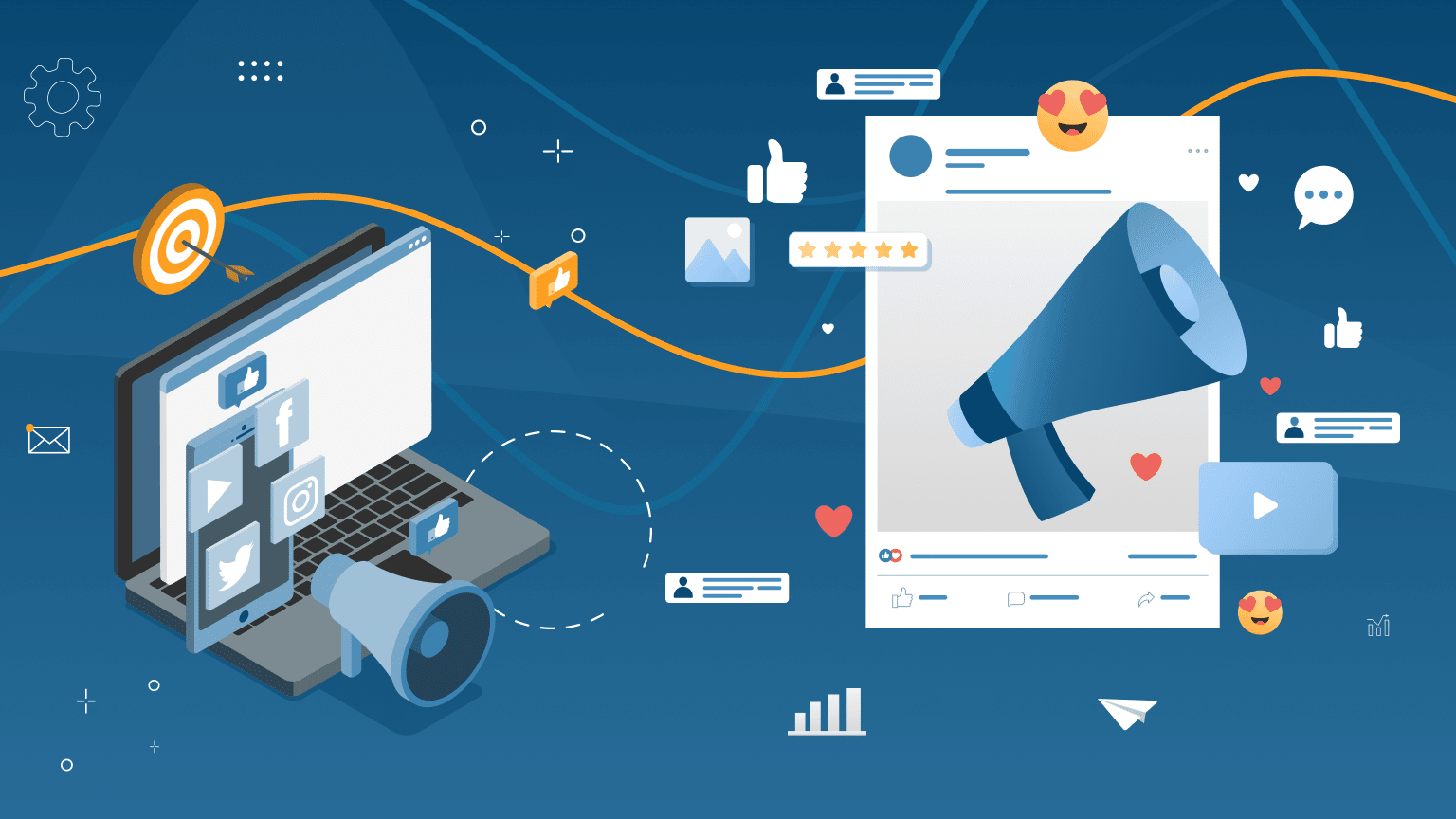 LinkedIn is a platform where people not only look for jobs or clients but also an opportunity to improve their professional skills and gain knowledge. The audience of this social network is active – according to the data, 40% of users open the social network daily. Also, people tend to trust the information they see on LinkedIn more than on other sites, and users are ready to consume more serious content than on entertainment social networks.
For this reason, if you're promoting a webinar, course, or online marathon, LinkedIn can be a valuable source of leads. You can set up paid advertising or organize your entire marketing strategy through LinkedIn only (maybe you can even do without an email campaign).
Funneling through LinkedIn would be too exhausting for you to do everything manually, even if you hire a separate employee for this task. Instead, you can set up automatic lead generation and interaction with leads at every stage of communication with your customers through Linked Helper. In fact, this software will work like a real person, from your personal account or your employee's account – but with the difference that you don't have to spend hours pressing the same buttons hundreds or even thousands of times (Invite, Follow, Write a message, etc.).
In addition, if you are running a promotion funnel, you need to track the stages of communication with each client, leave notes, and categorize them in order to promote your service to them in a timely manner. The CRM in Linked Helper will help you with this – watch the video review on Linked Helper via the link.
Reasons to create a social media campaign through an automation tool
Finding customers and getting them to buy your educational service can take months or even years. Clients may not be ready to sign up for a paid product today, but if they have a need and interest, then you should continue to warm them up slowly towards a purchase.
For this reason, working with clients through social networks can lead to better results. Because the level of trust when they see your experience, testimonials, and real photos on your LinkedIn page is higher than if they received an email chain from you. Working with clients in other social networks is possible, but the behavior of users on LinkedIn and their expectations from content is more conducive to learning. For example, few people think about taking a new course when they scroll through recommendations on TikTok. But if a person on LinkedIn receives few job offers, their attention will be riveted to professional development.
Linked Helper is a CRM and automation tool that will allow you to build a whole process of interacting with clients through automated campaigns. Here is what you can do:
#1 Campaigns help you seamlessly send invites, write to new clients, or follow influencers
You can mine business data to recognize your potential customers. For example, by visiting the pages of your potential students, the robot can copy all the texts from the profile, and search for emails even if these people are not your contacts. Having data in the CRM and also in the form of a downloadable Excel spreadsheet, you will be armed with data for building pitches for different target groups. Also, the email database you collect through Linked Helper can help you duplicate your drip campaign through email rather than only through LinkedIn.
#2 Automation of event or group marketing
LinkedIn allows you to hold events directly on the social network. Therefore, by promoting an online webinar or course, you can create a lead magnet right on this site in the form of a free online meeting with your potential students. Linked Helper allows you to automatically invite people to an event or to a group, interact with members of a specific group, and write auto-messages to them. Therefore, you can effectively warm up audiences and generate leads through group participation as well as growing your group.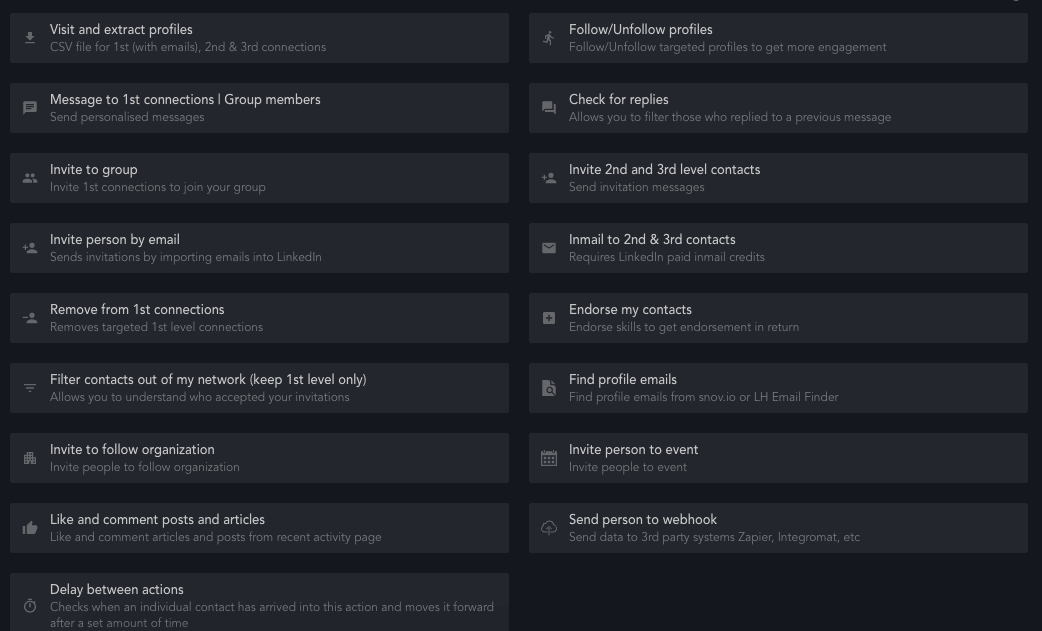 #3 Increase the limits that are stated by the social network
For example, inviting more than 100 users per week to your network with the standard LinkedIn method will not work. But by inviting automatically with Linked Helper through an undocumented LinkedIn feature, you can increase this figure at least 6 times. At the same time, with each connection request, you can insert a custom message and even deeply personalize it.
#4 You can organize your campaign through personalized bulk messages
After studying your target audience, it will be easier for you to create pitches in such a way as to show what problem your product will solve for them. For example, you can select a group of college graduates and indicate in your message that the online marketing course provides a summary of the knowledge that is important for starting work. You can create custom strings via custom variables and boolean strings so that the correct string is used depending on the presence or absence of a particular variable (e.g. college graduate).
#5 You can identify a niche target audience
Despite automation through software, you can strictly filter only those users that you are interested in. For parsing and scraping users, all LinkedIn filters will be available to you (Linked Helper does not provide additional options for filtering when searching for leads). If you use paid LinkedIn solutions (Sales Navigator or Recruiter) you can use more features to filter users and organize them into sheets. After that, they can be easily added to the Linked Helper campaign. How to change LinkedIn platform for processing profiles.
Express promo campaign: try Message sequence via Event template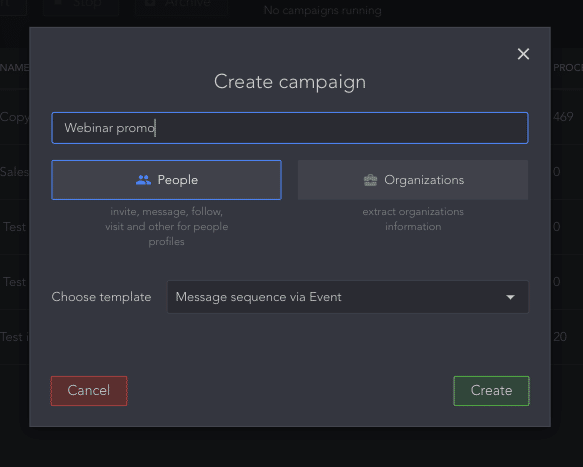 Linked Helper has an express way to set up a drip campaign to promote your event. You can promote a webinar or event to get enrollments for your course or education project by setting up a quick campaign. Such a campaign is prepared in advance in the software and already includes a set of sequential actions. You just have to enter your data into the templates – paste in your message texts and add the desired audience.
Having gone through the successive steps, you will have a ready-made campaign and all that remains is to click on Start.
Step 1 – Set template for initial message via Event
Here you will see a text field with 8K characters where you can enter the text that the participants of the event will see first. You can use the built-in personalization elements, add your personal ones via Excel upload, and use logical operators to determine which text is used in different cases.
Step 2 – Check for replies
This step in the funnel will allow you to automatically sort accepted connection requests received in the previous step 1. The fact is that messages to event participants do not end up in the regular chat section where messages from 1st degree connections come. It is displayed as a request, so in this step the recipient can choose to accept your request as a response. This will help you identify who interacted with the message and continue the conversation by sending another message in the thread.
Step 3 – 2nd follow-up
This is the second message that webinar attendees will receive. It can encourage people to respond to your first message. Often after a webinar, you can use a thread like this to:
get feedback from the participants on the event
provide unique access to content
encourage registrations for your educational product
distribute the trial version only to the participants of the event
These 3 steps are included in the automatic campaign template for connecting with leads after the event. After completing them and adding texts to your pitches, you will be redirected to the step where you need to build an audience for the campaign. You can use the LinkedIn resource or upload a file with event participants if you have one. You can also select the event page from where you want to add leads to the campaign.



At the same time, you can expand this preset post-event promotion campaign and add more actions. For example, between messages, set up interactions with the leads' profiles (likes and comments).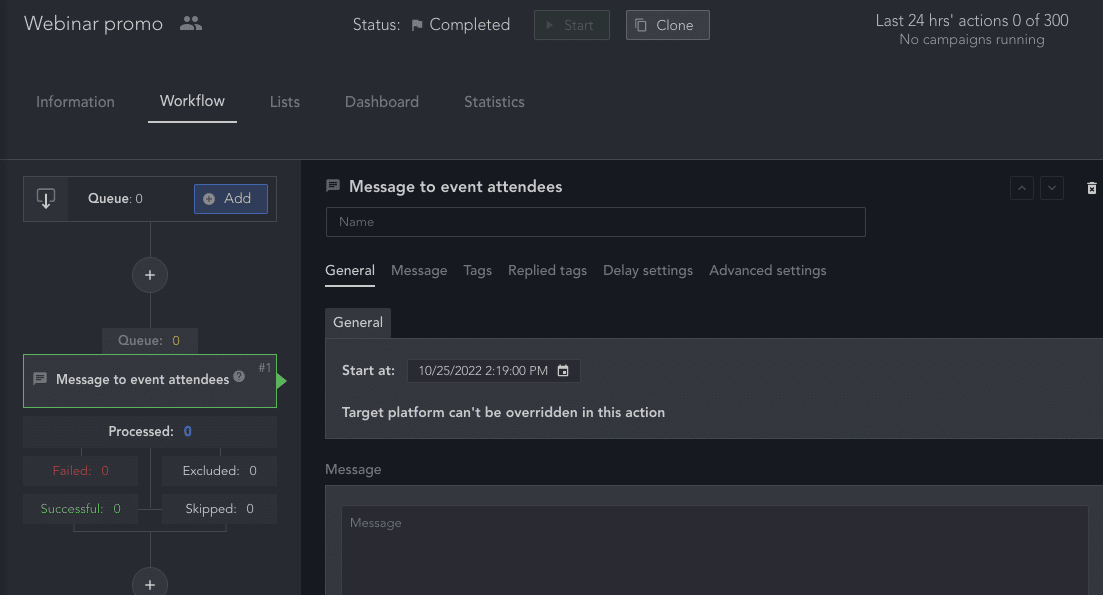 As a result, you will get a ready-made campaign even if you are trying Linked Helper for the first time and have little understanding of how the software works. The software will literally guide you step by step. In the section below, we will look at the additional features of Linked Helper that will help you promote your educational project and connect with potential students via LinkedIn automatically, without manual daily clicks.
How webinar drip campaign works in Linked Helper
Features in the software will help you get more registrations for your webinar or course. You can create campaigns that will serve different marketing purposes – market research, engagement, warm-up or follow-up. Downloading and installing the software is completely free and you can test the basic functions for 14 days. To use the software, you do not even need to enter payment information.
Explore your target audience
If you have already created a product, then most likely you have been doing market research. Nevertheless, it will not be superfluous to once again study the profiles of exactly those of your potential buyers who are on LinkedIn. This will help you separate the target audience segments, divide them into groups in the CRM, and create your own strategy and message texts for each group.
To study the target audience and collect data from the social network, there is a simple auto-action you can start with to get acquainted with the software. With the "Visit and Extract" action, Linked Helper can visit from your account each profile that you add to the Campaign Queue. It can be any number of users, but it is necessary to add them in groups of less than 1,000 people.
Keep in mind that the clarity of sorting leads can vary depending on the filters you use on LinkedIn. For example, even in the basic package, you can use advanced search capabilities to refine your results (read our blog post on Boolean Search). Also, if you use different plans (for example, Sales Navigator for search and basic LinkedIn for outreach), then the software can automatically change the platform for different actions. This is a very important advantage of the software (the "Override platform" function) because not all functions of the basic LinkedIn are available in Navigator, for example liking. At the same time, the advanced search and sorting capability in Navigator can help you at the scraping stage.
Start expanding your network intensively
This opportunity is provided to you by the software because through it you can search for new contacts and leads much faster and bypass the limits. This could be part of your funnel to find students and clients to coach or sell a course to.
The more contacts you get on your page, the higher the trust in your services. In addition, by having a wide network of contacts, you can be sure that more people will see your posts, and you will also be able to invite only your contacts to the event.
Linked Helper is an opportunity to expand the built-in limit on invites because through the auto-invite function you can send up to 800 invitations. In this case, you do not have to go to each profile and manually add it. All actions will be performed by the software. This is a unique opportunity for fast networking. You can make this action the beginning of your drip campaign to promote educational services through the social network.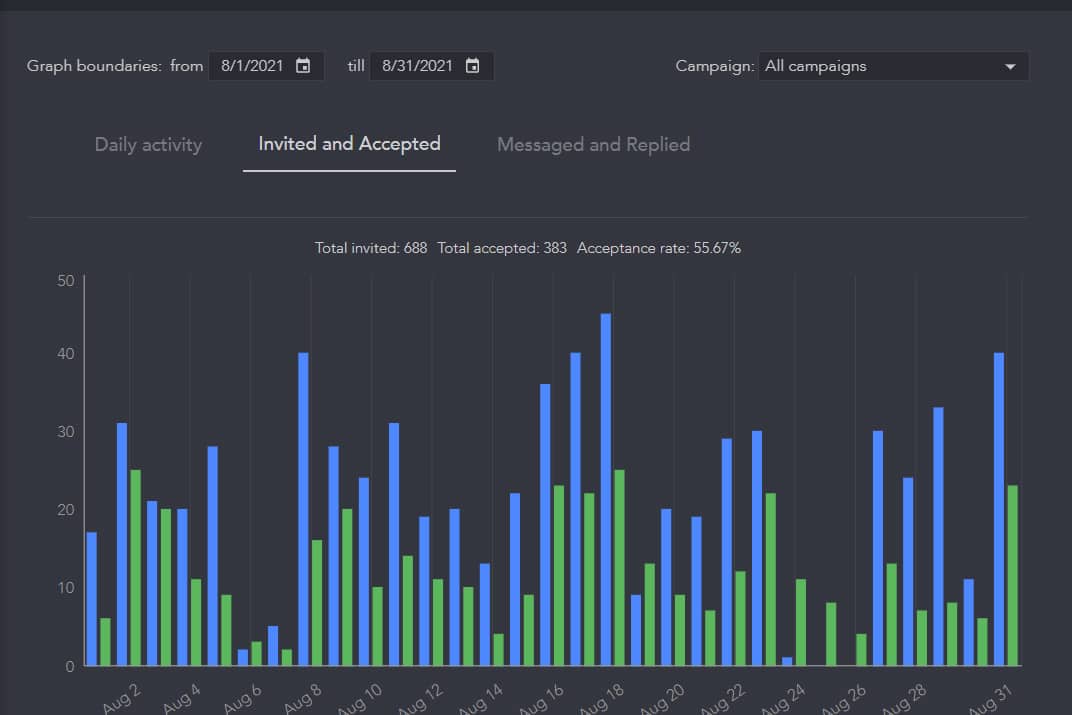 You can run several campaigns at the same time – for example, one to expand your network of contacts, and the second to send InMail to a cold audience. A campaign can consist of one action or many.
Also, even at the stage of inviting new contacts, you can start getting to know each other by leaving impactful texts in the message with the invite. This text should be 300 characters long, but sometimes that's enough to convert or send out a lead magnet.
Start searching for emails on LinkedIn
LinkedIn is a goldmine of emails, many if not all interested people leave their current email addresses on the pages to receive more offers. For this reason, email crawling and social media network building is a great way to expand your funnel.
Linked Helper has a separate action that allows you to extract emails even from those who are not part of your professional network. The auto-action is called "Find Profile Email." You can also activate the Email Finder when performing the Visit and Extract action. How does Linked Helper allow you to receive emails from users who are not even members of your network?
There are two options for this: an internal database of emails and the ability to search through a third-party service for bulk mailing, Snov.io. In the first case, you have a great chance to find lead emails that are outside your network because the software will look for them among the contacts of all Linked Helper users. The internal database stores email contacts of all users who have agreed to the terms of use.
Thus, when promoting a webinar or a course online, you can use a funnel mix combining lead generation through LinkedIn and warm-ups through emails.
Read how to get emails of 2nd and 3rd degree connections in our article.
Incorporate group marketing into your campaign
Groups in LinkedIn is the strongest tool that will help you find targeted leads, parse their data, and gradually start warming them up. You can start by adding users to your network and then launch a bulk messaging campaign.
If you're starting an educational project or course, check if there are groups of your competitors on LinkedIn. For example, it can be narrow niche groups where your target audience already exists. If you're running a copywriting course, research groups for writers and content creators.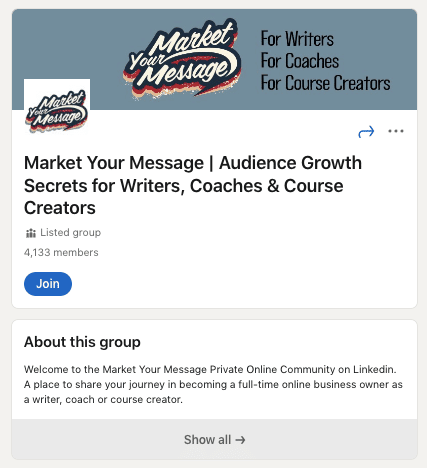 Through Linked Helper, you can set up a bulk messaging campaign for all members of a predetermined group. In this message, you can give details about your webinar. Conveniently, all responses received via Linked Helper will be stored in the database and sorted into a separate Reply section. This will allow you to effectively sort leads. Those who reply can be added to a new campaign moving forward in your funnel. And those who do not answer will receive an automatic follow-up.
We wrote more about group marketing – read our blog.
Enjoy automatic event promotion
According to the rules of LinkedIn, you can only invite people who are your 1st degree contacts to the event. Meanwhile, holding an event is often a great warm-up for promoting educational services. Also, the event registration form includes an email field, which will allow you to continue working through the funnel further with warmer leads.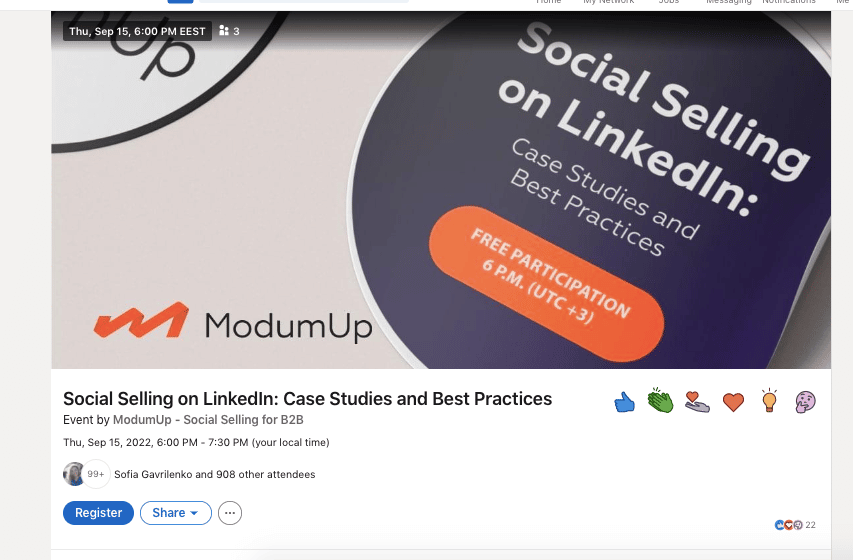 Linked Helper allows you to organize a funnel separately for event promotion. For example, your first action might be adding people to your network with a short message. After you are added in response, the software will start inviting the new contacts to your event. The whole series of actions will occur automatically. You can also set custom pauses between actions according to your promotion plan.
Read our event marketing tips in our blog post.
Likes and comments will help your drip campaign
Since LinkedIn is a social network, working with content is just as important as direct contact with leads through messages or events. For some people, your likes or comments can be an incentive to visit your profile or at least give you likes in response (which will help your promotion a lot).
Remember that every time you like a piece of content, the user receives a notification – this is a kind of free advertising reminder of you. And when you leave a comment, it appears in the home feed; that is, your profile will also become visible to the contacts of your contacts, which only enhances promotion.
Therefore, by adding likes and comments to your funnel, you will always reinforce interest in your content. Linked Helper can easily help you with this – you can add this auto-action first in your funnel. After that, potential leads can already discover your profile, read about your service and willingly add you to their network of contacts. Like and comment posts and articles.
InMail will help you find students even outside your network
Sometimes InMail can be your only chance to get in touch with your leads. Because if a person is not in your network, writing to them via InMail remains the only option for communication. You might not know it, but InMails are not only paid and included in LinkedIn premium packages. There is also a chance to write free InMail to anyone who has set up an "Open Link" profile.
Linked Helper will help you collect such users for whom it is possible to write free InMail and organize an InMail auto-campaign with them. This will help you increase the number of students using cold mailing. But you have to be absolutely sure that these leads are carefully selected and your offer will be relevant and helpful and not aggressively selling.
How to plan your strategy for promoting an educational product
For your auto-funnel, you can use classic strategies that you have tested on other channels for top-of-funnel, middle-of-funnel, and bottom-of-funnel.
This approach will help you divide the audience into loyalty groups and prescribe a set of relevant auto-actions for each group. After all, through the software, you can run several campaigns at once for different target groups. You can also create lists in the CRM for each target group to add them to the corresponding campaign. Read more about LinkedIn networking methods in our post.
Top of the funnel (ToFu)
This is a group of people who may be potentially interested in your product, but you are not sure yet. Some of these leads may be unqualified. As a rule, these are people who left contacts in exchange for data or are in your group or accepted your invite.
They should be encouraged to decide to try your educational product. At this stage, you should provide as much information as possible, testimonials from past clients, and show a case study.
Middle of the funnel (MoFu)
This type of audience can be people who received a message from you and responded, but have not yet made a purchase. For example, after a regular messaging campaign, you could receive an answer that your offer is interesting, but the lead is not yet ready to enroll. This is a warm client whom you need to reconnect with, and you can immediately add them to a separate group in the CRM. For such a group of leads, you can hold an event or share a free webinar so that they can get answers to problematic questions.
Bottom of the funnel (BoFu)
This is a category of clients that may have already committed to enrollment, but this does not mean that your work with them should be completed. You can offer related services and be sure to take feedback from them to understand how satisfied they are. Since these people know your product best, they can become your real assistants, so their opinion has a lot of weight and influence on your campaign.
Through Linked Helper, you can organize a bulk mailing list for past customers, and people who have tried your product. This will help in marketing new solutions and in gathering feedback.
In summary, when you are planning your educational drip campaign it is important to consider what stage the target group is at and what their needs are. By sorting leads into groups, you can create a targeted campaign for each group to fully unlock the value of your product for each group. Thanks to automation, you can quickly and efficiently establish interaction with each group. Despite the fact that the robot will perform routine actions for you, Linked Helper allows for deep personalization for each group. You can compose different pitches that the software will send depending on the presence of a certain variable. You can learn more about how personalization works with an example in our article.