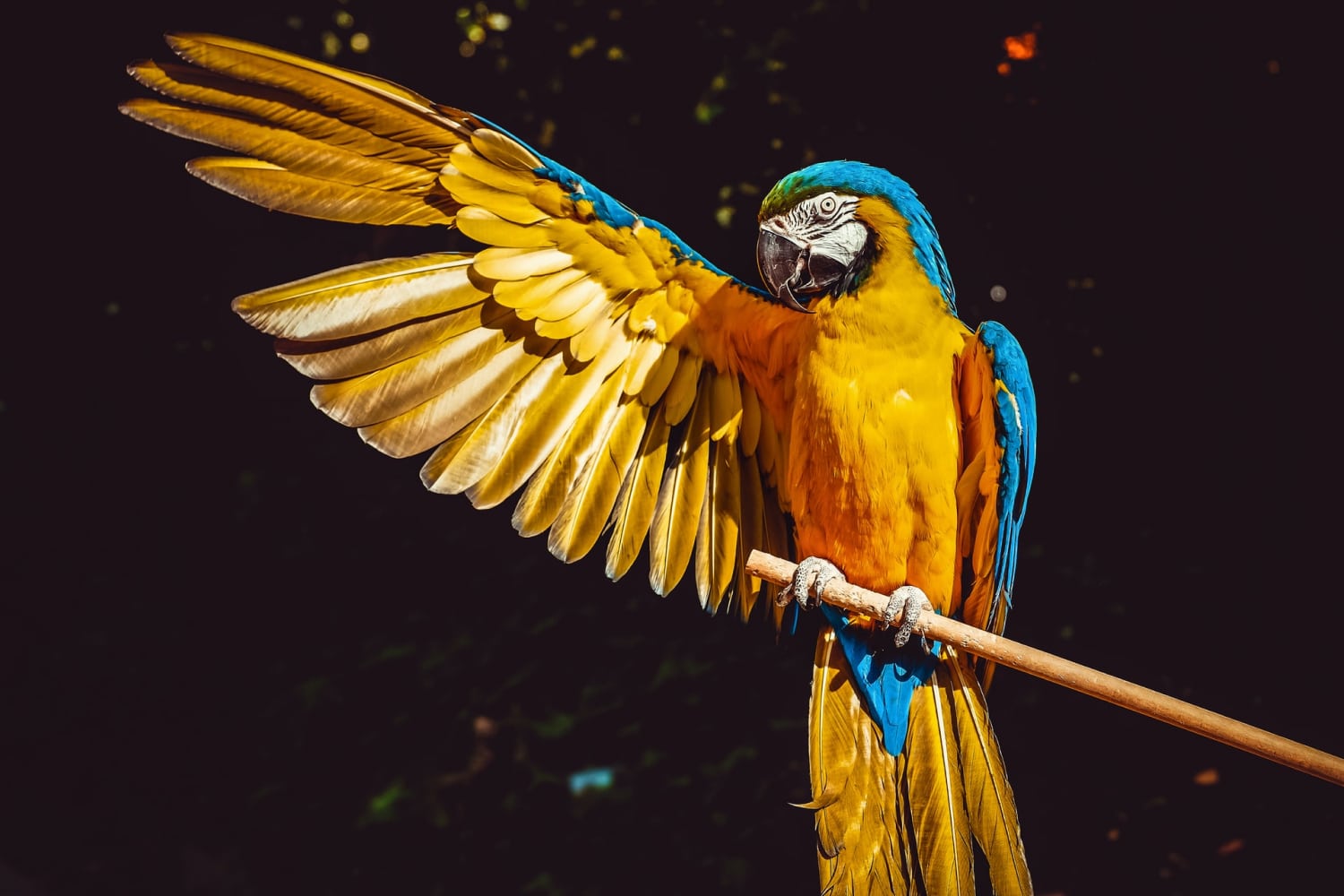 Businesses are gradually mastering a new method of finding customers –  social selling. Back in 2014 LinkedIn turned sales into a game. A  score (or index) in Sales Navigator helps in tracking reputation right on your LinkedIn profile for free (the  URL is provided in the last section).
This may be the first time you've heard this abbreviation, so below in this guide, you will learn everything you need to understand this concept, as well as improve your performance, which will increase your reputation and ability to make sales through simply communicating online. 
You will learn a secret tip that may help you to bypass some top sales specialists in your field – without much manual work online. Linked Helper can be your assistant in maximizing LinkedIn for sales and social media marketing.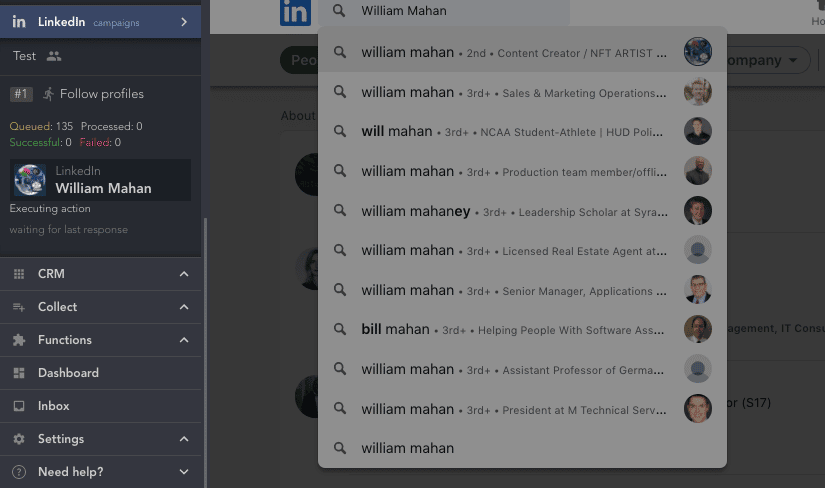 Read this guide to the end. In the last section you can check your LinkedIn profile effectiveness measured as a score by following the official URL. Or you can do it now if you are impatient! 
But then return to the recommendations that we provide to build your reputation and gain leads' trust in the least amount of time.
LinkedIn SSI: Social Selling Index meaning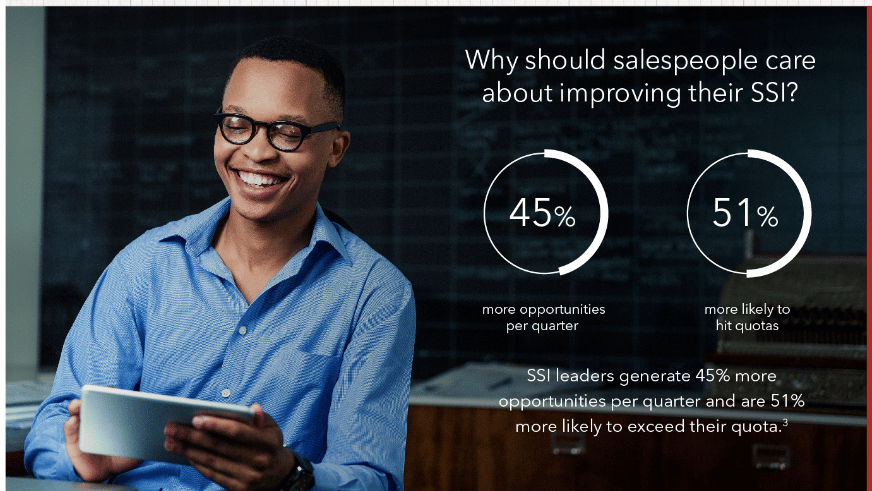 Before moving on to the details (the index components and calculation methods), we should clarify what social selling is. 
As soon as people's attention began to be concentrated online and on social media, it became the top channel for sales, growing your brand, and recruiting. And LinkedIn is a one-of-a-kind platform for the B2B niche. Here the quality of your network is extremely vital, as sales can reach much larger amounts than retail sales. 
So, to highlight top specialists and create competition in the marketplace, LinkedIn made the quality of online engagement and reputation measurable. This index is visible only in SN accounts and represents a score (100 is the maximum). 
This unique system does not take into account the standard indicators needed to measure sellers' success offline. LinkedIn analyses deeply your behavior and transforms it into main indicators showcasing a business page or brand development, the quality of networking, and the longevity of relationships with leads.
In fact, it's a social proof that can be a decisive factor when concluding a deal, because sometimes you may never even see your clients in person offline. A measurable index psychologically softens the leap into the unknown. 
The LinkedIn social selling index algorithm is simple
If you follow the link at the end of the article, the algorithm will extract the necessary data about your profile itself and the analysis will appear on the screen. This is a quick way to understand what indicators need to be improved.
By the way, you may be thinking – which of these factors has more influence on success? The answer is simple: everything does to a certain degree. Don't think that by working on one indicator you can forget about others. The secret to success is building holistically.
This requires daily work on the site because the system updates the ratings every day. Luckily, most of the tasks can be delegated to Linked Helper.
Brand
This point may seem vague at first, as does the understanding of what a brand is. But in fact, your personal page is already a brand. You must see your work as cultivating a personal brand.
Therefore, everything that is displayed on the page makes sense here – visuals, texts, and what other users write about you.
People research
Sales Navigator is rich in filters, and you can search for clients by using this improved search algorithm and segmentation.
The system will constantly analyze how effectively you use the research tools to explore users or your customers. 
The faster you identify potential customers, the more effective your work is. The more often and more actively you search, the more the algorithm understands that you are interested in finding a client. But it is better to understand exactly who you want to find so the system shows you to the right people. Also, your page views of other users and especially how other users react to messages you send them will have weight in this indicator.
Engagement
This includes sharing content, impressions, and how you interact with content and in groups. These factors are taken into account when LinkedIn calculates the "Success Index." The task of every seller is to produce expert content and constantly monitor how others react to this content. The reactions include liking and commenting, so tracking content insights should be your objective to understand what your audience likes. It helps you grow sales.  
Investing in new content should be based solely on the preferences of your audience.
Relationships & trust
The social network carefully measures how actively and consistently you expand your network. How enthusiastically and how often people accept your invites showcases that community members trust you. For the algorithm, it's a sure indicator that you are a verified person and, accordingly, networking influences your index.
This parameter also includes the time you spend in the application and even the number of devices from which you log in to the social network. The response speed in private messages and active discussions in groups will also matter. 
All in all, making progress in all four criteria demands full-fledged work. For each indicator, you can get a maximum of 25 points.
What is the ideal social selling index score according to LinkedIn? 
If you click the link in the last section to check your score, you might get a bit frustrated. According to LinkedIn, a good score is considered to be 80 and higher. It may take you a while to grow your score to this level. By the way, every criterion is equally vital. 
If you were to perfect only one of them, then you would have 25 points, which is not a good score. Therefore, LinkedIn automation can significantly improve your success by accelerating such boring tasks as sending invites, writing messages, and interacting with content daily.
#1 Establish your professional brand to grow your LinkedIn Sales Navigator SSI  
At this stage, you must open your profile and inspect each item. Perhaps it will be easier for you if you have a checklist and worthy examples to compare with. Everything you may need, we have put together an article on optimizing your profile for sales. 
Briefly, you need to understand all the components of a good profile.
Images. Your main photo and header photo. The last one can add value and be focused on promoting your company's brand. Some specialists even list the competitive advantages of their companies right in the profile header because it takes up the first third of the screen when viewing your page.
Copy. All text fields that are available for your profile page you need to properly fill in. After all, this can be your unique chance to use all the SEO keywords for which you can rank both in internal and external searches. Your seller page can be found through search engines by brand name mentions, keyword queries, and reviews. 
You should attract users so that they leave "footprints" and engage on your account. Yes, recommendations are included. You can ask everyone you know personally or with whom you have previously worked to leave a few words about you.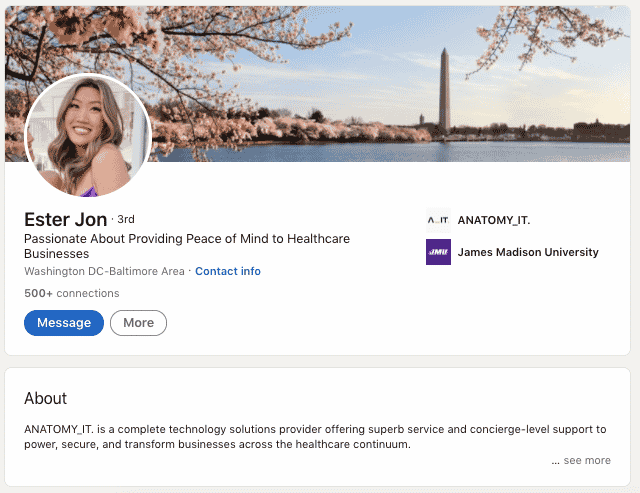 Fill in all the sections that the social network provides to the maximum to get all possible 25 points for this criterion. After all, here success depends entirely on you.
LinkedIn also takes into account the articles that you publish on your account and other content that you submit on your profile. Therefore, we advise you to repost blog content, share expert insights, and create a proper social media posting plan.
Linked Helper can assist your account improvement
To stand out noticeably from competitors (in fact the index is calculated in comparison with other specialists in your niche), you can conduct a specific profile analysis. To do this, Linked Helper can parse data about your top competitors and influencers in your industry. 
These can be, for example, leading sellers – and you can grab ideas from their profile descriptions. Linked Helper can parse all the information from the target pages. You can download it as an Excel file for further analytics. 
Let's agree, it will save you a lot of time compared with manually opening page after page on the social network. All the necessary hundreds of examples will always be close at hand. 
#2 Network for SSI growth on LinkedIn Sales Navigator
Here you should use all possible tricks for effective networking. Dive deeper into the networking strategies via this link. 
How often you send invitations and how quickly these invitations are accepted will affect your score.
The main thing here is not to proceed directly to selling. In social selling, the social part is the first priority. Networking will make your selling better and better day by day. 
In no case should you treat your connections as if they are on your marketing mailing list. Instead, you should do them a favor. Here are some of the key factors that influence acceptance of your connection requests:
How well your profile is filled out and how obvious your competitive advantage is emphasized. This may be the only way people form an opinion about you.
Proper targeting. Filtering profiles and finding the best prospects will better your chances. 
A custom message along with your invite. In this message, you can explain the reason for your interest in the person. This will make them pay attention to your request. 
Preheating. Even a couple of likes on comments and posts can create sympathy. And you are unlikely to get an unwanted response to your invite: clicking on the "I don't know this person" button.
Expanding your connections should get your attention every day. But this is too routine and time-consuming a task. That's why you can use automation.
Linked Helper contains a unique feature that allows you to bypass the weekly limit on invites by attaching a custom text to it. This is possible due to the "undocumented LinkedIn feature." In practice, it is realistic to send about 700 invites instead of 100.
However, we recommend inviting around 50-70 profiles per day for security purposes. Therefore, 350-500 invites per week are the optimal amount that you can achieve.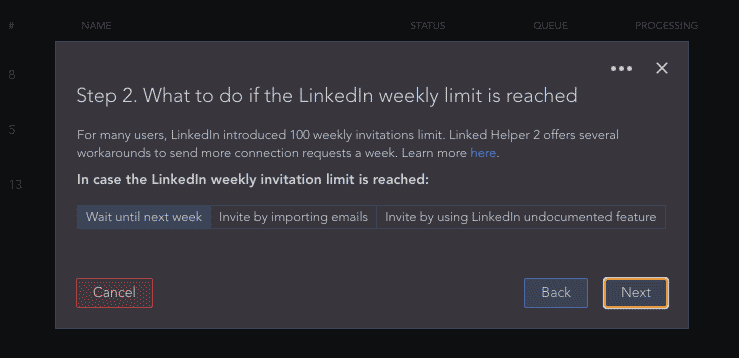 For example, you can create a campaign where, according to the logic of your promotion, you will add auto-actions. You can transfer the list of target leads to the Queue in the software. After that, it will perform auto-actions in turn with each person and transfer them to the Successful section.
First, you can perfectly filter leads through all available social network filters. 
Then just transfer this narrow and necessary segment of people to the Queue.
Show your attention to these people through the Like and Comment action on a post or article.
The next step is to add auto Invite with a custom message. Add a catchy line to the preview so that the person is motivated to quickly accept it.
#3 The role of content in the LinkedIn SSI score explained
The comprehensive algorithm evaluates the content that you produce as well as your interaction with other users' posts.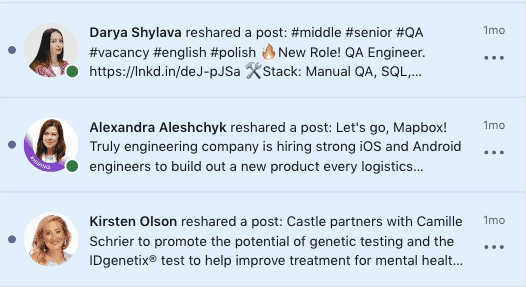 You have to be as involved as possible in the news of your industry. It will also be valuable for you because all the trending and latest industry news are actively discussed in groups and under popular posts. 
You should carefully study the top content and add your opinion to the comments and put likes. This task can also be partly delegated to Linked Helper. By automatically liking and leaving comments every day you will be more often shown in the notifications and feeds in your community. 
Add influencers to the Queue list. Thousands of people see influencers' posts. So they will probably see your name in the comment too. This will be visible in their feed, so working with content is a necessary criterion for growth. It can also be your direct competitors who you potentially follow, or top managers in your industry.
Follow people. When you subscribe, you also appear on their profile. The more often your name appears in their notifications, the more people will recognize you and the more likely they will accept an invite from you. This obviously improves your SSI index. So you may use the auto-follow action in the LinkedIn automation tool to follow what top influencers are posting. You can subscribe to hundreds of people without clicking on the same buttons every time. The robot will do these tasks for you.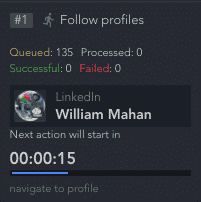 Use automated group marketing. Most of the interesting discussion takes place in groups and in the comments under publications, so you need to select the target group in which you will show maximum involvement. Discover the top advice for group marketing in our blog. 
#4 Relationships for SSI growth
Here the social network emphasizes that it's important not only to actively expand the network to look for new contacts but to keep in touch with the current connections.
Sometimes a large number of connections does not mean that there is trust in your community and you are really in contact. And this is measured by the algorithm and affects your success in sales.
Therefore, after winning a connection, you must continue to interact.
Like and leave comments under the publications of existing contacts.
Move to communication through private messages. It can be hard to know what is the best way to write to strengthen relationships. After all, you do not see what your competitors are writing to customers, and the trick to building such relationships often eludes us. We have saved 20 templates for different communication occasions on LinkedIn.
Сonsistency. The algorithm also takes into account how often you are active and how much time you devote to building relationships. After all, this will also impact your effectiveness in sales. The social network also tracks who you save to your lead sheets in SN and how you continue to interact with them.
LinkedIn SSI score – follow this link to check it now
If you already have an active social network profile, you can simply click on the link. On the screen, you will see a ready-made analysis of indicators for your profile.
If you see that you are far behind in one or more indicators, pay attention to them now. This will help you grow sales and influence your industry.
Remember that the crucial managerial skill is to delegate. Linked Helper is an accelerator of actions that directly affect your SSI ranking. In essence, by setting up actions and planning content, you will give all the boring routine tasks to the robot. Just try it for free for 14 days and you will see the first results.