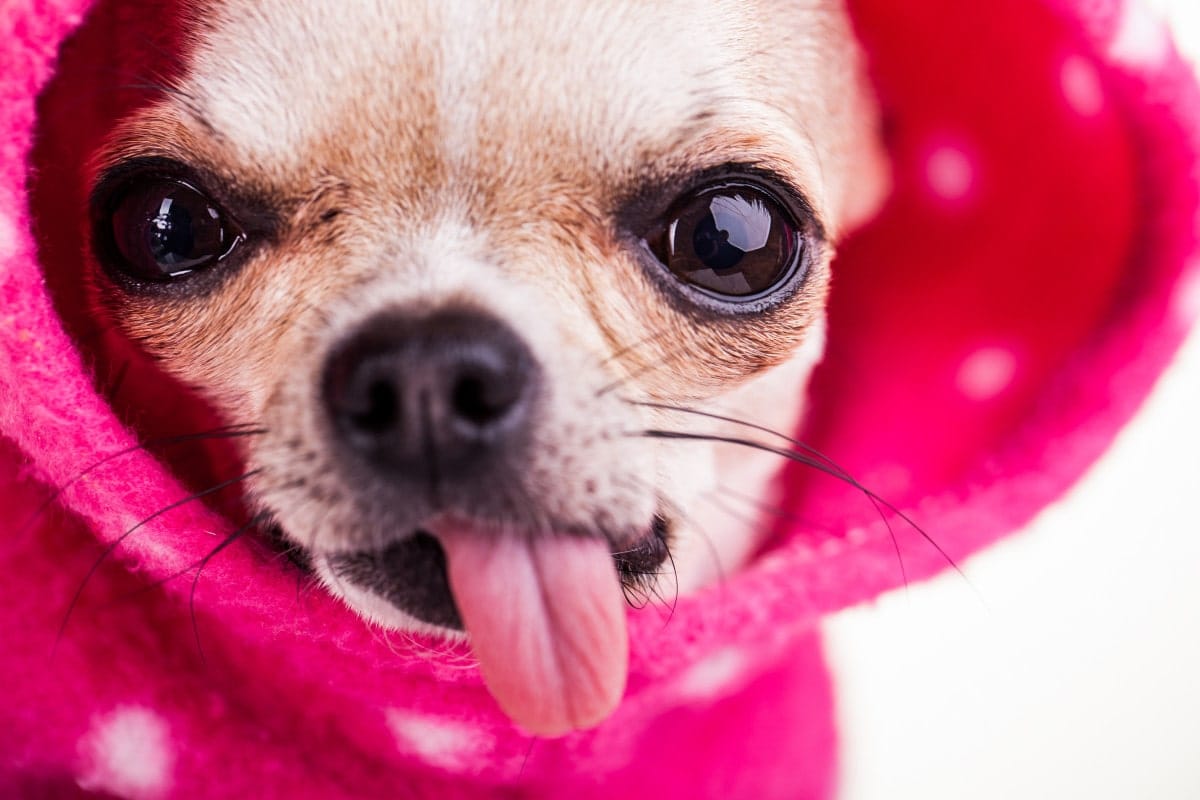 57 million companies are listed on this social network – and all of them want to gain followers and find potential customers. So there's a lot of competition for marketers, which leads these specialists to apply special tools.
Knowing how to get more followers on the LinkedIn company page is vital since the business page can bring an on-site traffic increase, as well as grow sales directly on the social network. Today on LinkedIn you can find potential customers, study competitors, easily connect with the market players in your niche, and explore new international directions for company development.
By promoting the company daily, you will achieve increased trust from potential clients, which is especially important if you work in the IT market, construction, or other B2B projects where a good reputation and professional connections are the keys.
Since gaining trust and organic followers is not a matter of a single day, you will need consistency and daily actions on this social network. For marketers who want to know how to increase LinkedIn page followers organically, automation can be a simple solution.
Linked Helper is a secure solution that has been transformed from a Chrome plugin into a standalone and multifunctional tool for performing marketing tasks. You can enjoy the following benefits:
Data collection for competitor analysis. In order to get followers, you need to get familiar with how your competitors are performing and constantly analyze their activities. This does not imply that you need to blindly repeat their ideas, but on the contrary, offer something that they don't have – making your offer unique.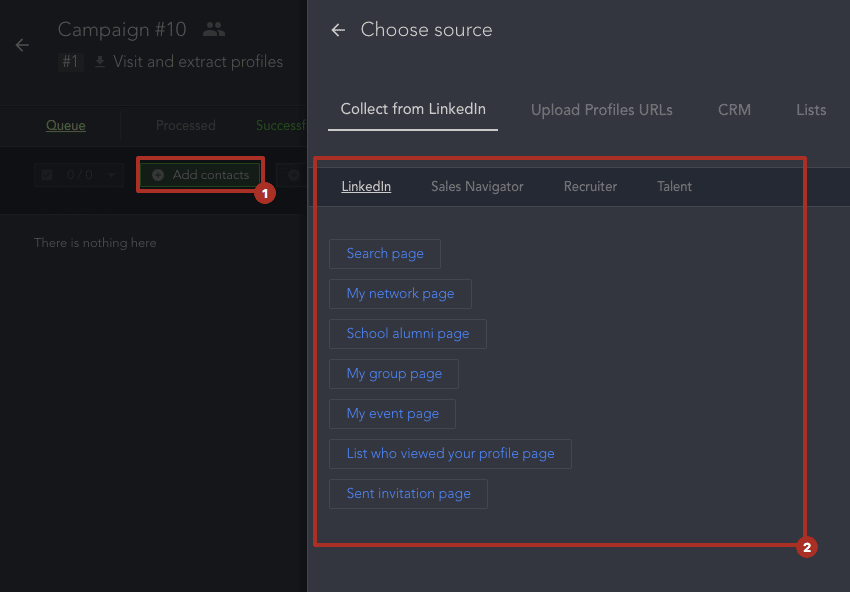 Setting up automatic interactions at each stage of the pipeline. To attract subscribers you have to be active on the social network 24/7 and drive traffic to your business profile. But even for a social manager, performing routine tasks can be challenging and a waste of time. Therefore, for such monotonous actions as visiting profiles, sending connection requests, and interacting with content, you can entrust them to a smart tool.
Keeping market data in the CRM. Since followers may become your clients, partners, or employees, you can organize user lists, store their contact information, and sort by using tags. This greatly simplifies your marketing strategy and allows you to approach audience growth strategically.
Let's take a detailed look at the steps marketers need to take for followers to find their business and start interacting with the page.
How to get free followers on your LinkedIn business page
SEO-optimized page to build followers
A LinkedIn company page is essentially like a website – the integrated SEO can help you rank higher in LinkedIn results, and the company page is also indexed in the Google search. By following these rules, you will be able to get more followers on yourLinkedIn company page from organic sources.
Before you send an invitation for someone to follow your business page and start interacting with potential customers, set everything right.
#1 Keywords based on competitors
If you do not understand what keywords can work and help you get found, analyze the descriptions of your rivals.
Linked Helper will come in handy because you can organize the campaign by organizations and scrape profiles into a spreadsheet. Then you can parse the text fields from the profiles and analyze the most common words used in descriptions.
You can also use all the keywords for Google SEO.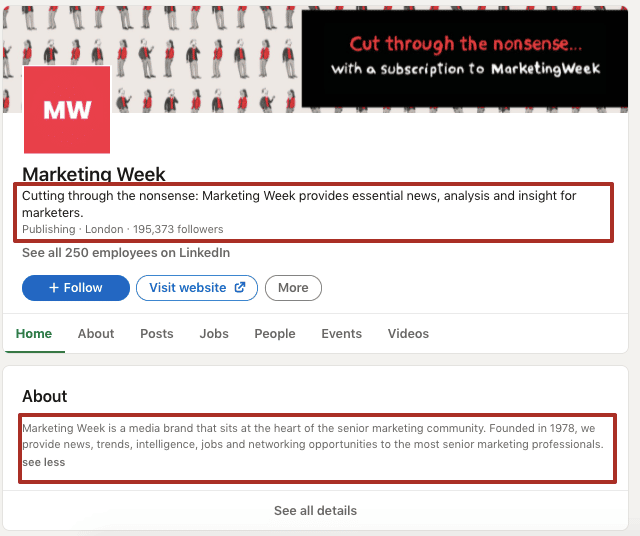 Use keywords in two text sections:
The header – the first line that visitors see.
The About section – a more extended description of your company.
#2 Add the button to open the website
That's how you will increase traffic to your website from the LinkedIn page without much effort.
#3 Optimize images
From the example above, you can see how to design the visual component of the business profile. Use the logo for your profile photo and the background photos can be designed with text. For example, the benefits of following, call to action, or your slogan.
#4 Fill in all text fields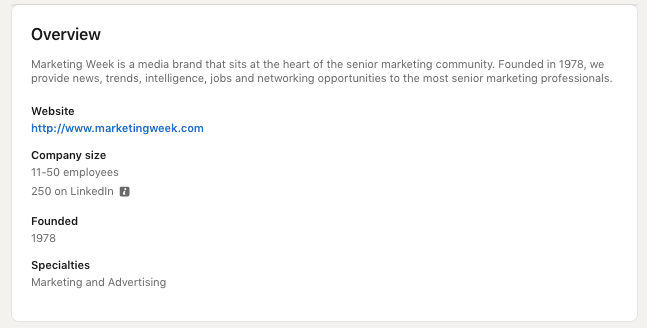 Optimize all text fields such as company size and specialization, because with the help of structural information, you will be able to get discovered by much more targeted leads who are specifically looking for your company and services.
#5 Employee references
Ask both current and past employees to list your company in their professional experience. This will provide additional traffic from personal pages.
Now the page is full-fledged and ready to attract subscribers.
Automate your business page promotion strategy
Automatic visits to profiles of your target audience lead to a traffic increase. If you are a marketer and promote companies, then you can get followers and views due to automatic target audience profile visits. This function will be implemented without your participation – you just need to add the list of target users and add the action, and the tool will interact with these people. They may become interested followers.
Like & interact with targeted profiles. After you collect the lists of target users, you can add more actions to the Linked Helper funnel. Liking and leaving comments on the accounts of important influencers can be the answer to how to improve followers engagement since influencers' pages are where a large number of your potential audience are more attentive on LinkedIn.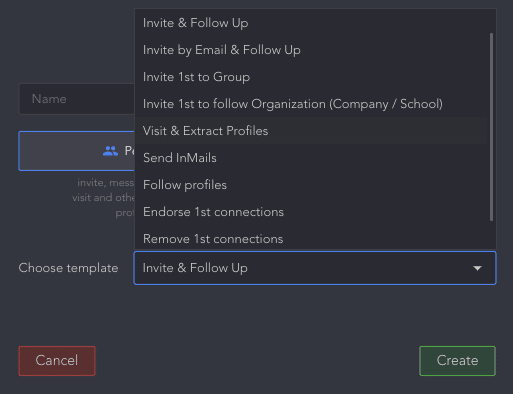 Build a list of targeted followers
To attract followers to a business profile, you need to conduct research and collect these people in a separate list. Think of your ideal follower persona – in what industry do they work, and in what position and what location?
Create a Linked Helper campaign to collect profiles of these people. In this way, all the people who are your target followers will be saved and you will also be able to download the database as a CSV file with 1st, 2nd, and 3rd+ degree contacts.
You can customize the interaction with these people and turn them from strangers into real subscribers.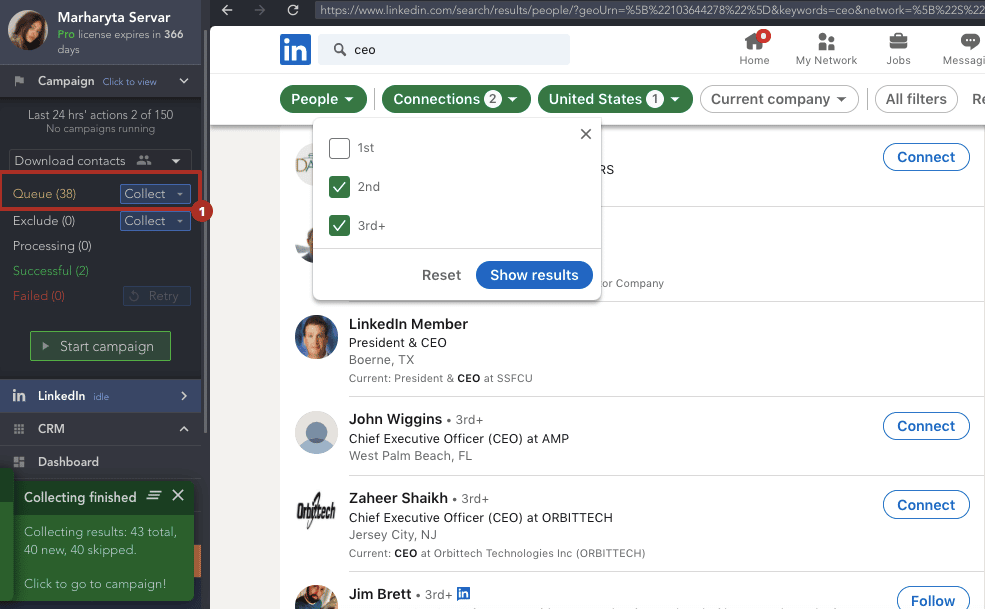 Your team are your primary followers
It is important that each employee tags your company on their page.
Encourage key employees – senior managers, other managers, sales specialists, marketers – to include in their personal profile description the advantages and unique offers of your company.
Thus, when your employees establish connections, your business account will be visible for more target followers. In addition, employees must respond to your page posts and share updates, thus ensuring an organic boost of real followers from the pages of your colleagues.
Automatic invites to the company page
After you get contacts on your personal LinkedIn page, invite these people to your business page and LinkedIn Showcase Page. With Linked Helper you can send automatic invites with the dedicated action, Invite to follow the organization.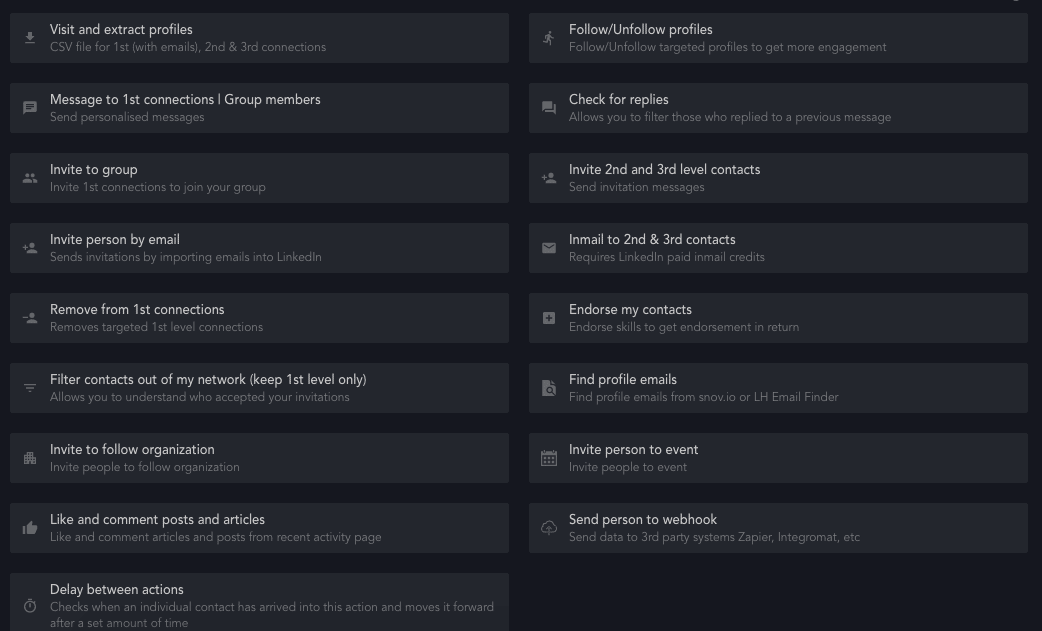 Since the invitations have a limit from the social network (from 100 to 250 invites per month), you can bypass the system. Just add a link to the organization in a regular message and send it out when the invitation limit runs out.
It is convenient that you can customize this action by setting up a specific date and time period and specifying a list of users you want to invite. That is, you will not need to visit each person and send an invite manually.
Get followers via online events and workshops
To encourage people to become followers, you must bring value. Marketers can organize LinkedIn events so that future subscribers discover your company, trust your expertise, and become not only followers but also customers.
Such an online event will work like an online conference where business people get a lot of useful contacts and you can help to educate them about your company.
By using Linked Helper you can send automatic invitations to events; that is, you can continue working with those profiles that you have added to the list Queue. When you know how to ask users to join events in bulk, you can reach 100 times more people and increase your company followers on LinkedIn.
Hashtags help you attract targeted followers
Research relevant hashtags to use in your posts, articles, and conversations. See what tags your target followers, influencers in your niche, and competitors use. It is a true SEO optimizer that helps users sort content and finds target conversations.
Therefore, by utilizing hashtags the page will be discoverable for those people who are already trying to find you on LinkedIn.
Create a promotion strategy by LinkedIn groups
Communities are the key to finding potential subscribers and attract their attention. When you've added 10-15 relevant groups, start active interaction with the members.
By using Linked Helper you can download all members of a certain group – these accounts will be displayed in Linked Helper's CRM and will be available for export. You can also assign targeted actions with group members – putting likes, leaving comments, and doing other activities.
How to get more likes on LinkedIn posts with an automated tool
The solution is straightforward – visit and like people from your network regularly. And it's possible to do without your actual online presence.
All the principles of getting likes that are true in other social networks apply here.
To be in the sight of your potential followers and potential customers, you need to regularly and consistently leave likes and comments – thanks to this you become more visible in their accounts and can also boost the attention of your audience.
As it can take you a lot of time to like manually, we advise you to automate and entrust this action to an automatic tool.
As a marketer or business owner, you can promote your company account and products through your personal account. To do this, you need to acquire the necessary connections in the professional community and appear on the pages of your potential customers and subscribers as often as possible.
You can get more likes and views on your personal profile, which will lead to organic growth of your business page. People will visit you more often, read your posts and look at your work experience. This way you will get increased engagement and reach by focusing on the right people.
And you don't have to sit online for 24 hours. You can create a campaign in Linked Helper to do the following: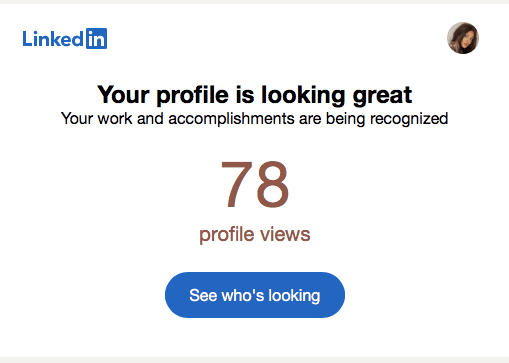 When users receive a notification like the one above and see that you have viewed their profile, they will definitely return the visit. As a result, you will get clicks to the business page, subscribers, and likes to posts.
To do this, in the Linked Helper you can select the Visit & Extract profiles action. In addition to the visit, all these target profiles will be stored in the memory of the CRM, allowing you to have important people close at hand.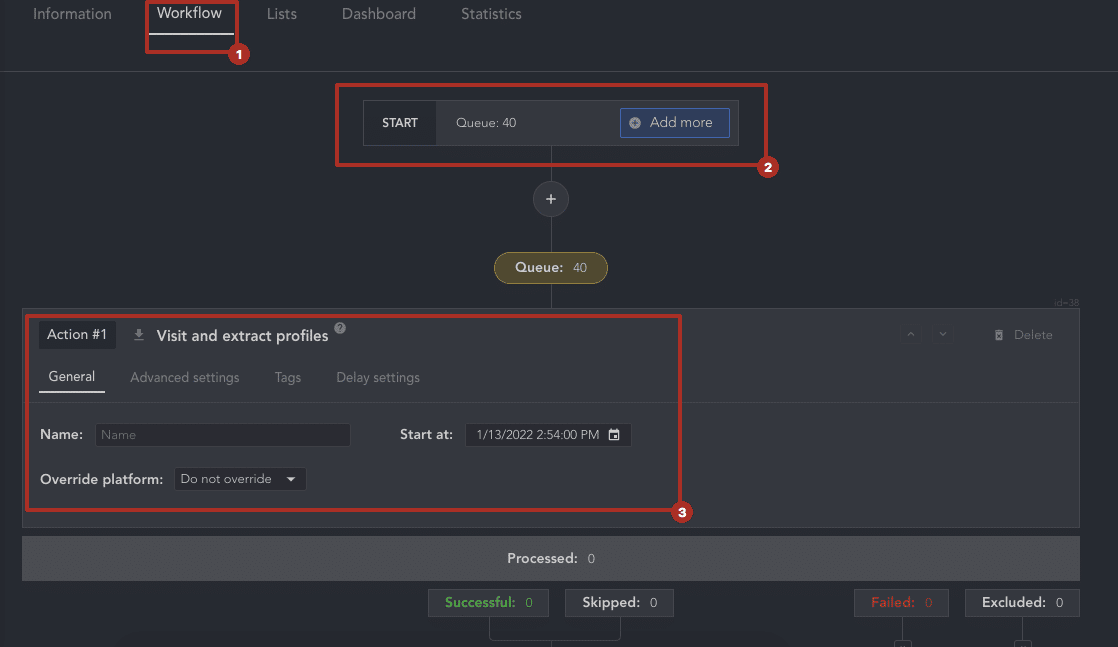 Add the auto-like action. Further in the tool, you can add an additional step for this list of people. For example, put likes on a certain number of posts and leave comments.
Each comment can be personalized by substituting the person's name and other variables. Having received such a dose of attention, people will more often like you in return.
Set the frequency for this action. You can assign the tool to perform interactions on a schedule and no longer worry about not having time to go online.
Show interest in users and you will gain more likes on your posts.
How to increase likes & engagement on a LinkedIn company page
What content will drive likes and engagement in 2022?
Create emotional posts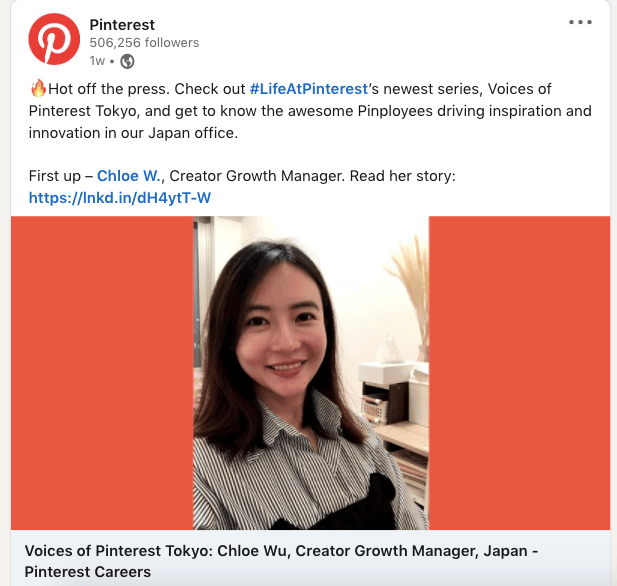 Since the LinkedIn page is not your site, you can get away from the official content. Do persistent storytelling – try to share business secrets that users will not find anywhere else.
These are some internal news, an overview, the latest discoveries that your company has made, research, news about employees, and even employees' journeys.
That is, emotional posts show the inner life of your organization in a non-boring format. You will get likes on sincere content that users cannot google. Feel free to post provocative, sensational news – such content collects the most likes.
Interactions with influencers
By having influencers participate in your posts, they can share them on their pages – you can get a huge source of likes.
In this case, trusted content drives the loyal audience of that influencer to learn more about your company.
Compile a selection of key bloggers and famous LinkedIn specialists relevant to your business.
You can make a quick and effective influencer outreach through bulk messaging in the Linked Helper tool. It allows you to compose hundreds of personalized messages in a completely safe way since the tool will behave exactly like real users when contacting people.
Notify employees about fresh posts
You can customize the employee notification button, so they will share the post in the feed. Ask them to leave comments because LinkedIn algorithms favor it – the system will show this content to a similar audience based on interests.
Experiment with stories
Just as this content exploded on Instagram and Facebook, stories for a LinkedIn business can build a more trusting and intimate relationship with the audience.
Share daily news of your organization as it is – create behind-the-scenes content. This means that behind good service there are always human relationships and trust.
When promoting online and through social networks, make the content look unplanned, which will help attract subscribers. This is vital for the Gen-Z and Millennial audiences, which are gradually becoming the main workforce and LinkedIn users.
In addition, stories will help you not to seem intrusive, but at the same time encourage interaction.
Post video content
With the growing popularity of TikTok, Instagram Reels, and YouTube, people have realized that watching videos is much easier and faster than reading text when learning a lot of new information. Research shows that 59% of executives will choose to watch a video, if available, rather than read text. And 92% of video viewers on social media also share videos that they like.
Therefore, to increase the engagement of the content, try to share not just educational videos but funny clips, even if you market a complex or expensive product.
Use videos made by your customers – such user-generated content is a guarantee for gaining attention.
Use a call to action in every post
To get as many likes and as much engagement as possible, directly ask your followers about it.
When you share statistical reports, research, videos, or podcasts, ask them to:
Like the post.
Share it.
Leave insights in the comments.
Invite them to choose one of several options and share their opinion in the comments.
The wrap-up
Thanks to the fact that you start producing engaging content and gathering a target audience around you, you will build a strong community. As a result, such a community will help you get more customers and improve social network sales and website traffic.
To eliminate the number of manual actions, install the complete marketing CRM – try Linked Helper for 14 days free.