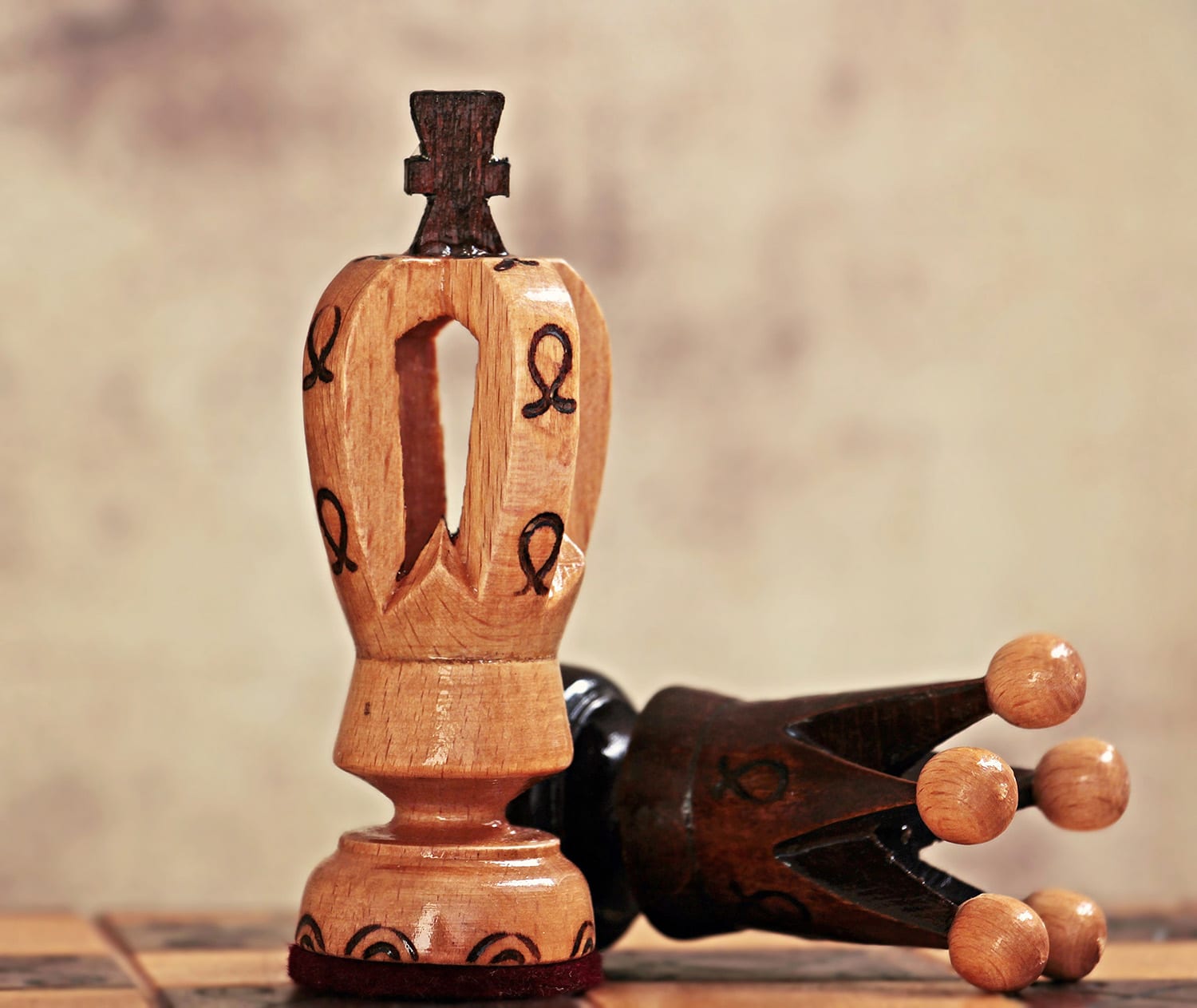 According to statistics, LinkedIn is 277% more effective at lead generation than Facebook or Twitter. Therefore, if you are a salesperson, it is imperative that you use your LinkedIn page not so much for job hunting but for generating leads. LinkedIn is home to 97 million members who are business decision-makers. And all of these people can become sales leads that will boost your income.
Therefore, a salesperson profile that is focused not on personal career success, but on sales and communication with prospects directly from the page is able to bring in customers, even while you sleep. The quality of a profile is influenced by two key elements: its aesthetics and its content. Despite the fact that numerous profile managers use high-quality photos, a focus on personality in the texts is often a mistake. Sales reps don't even realize how much their deals can grow if they adapt their profiles for the following purposes:
Improving brand awareness for the company they work for.
Letting people know about the product or service they are selling.
Building trust in the company and the salesperson himself.
Keyword optimization so clientele can discover you through Google and LinkedIn internal search.
Direct communication with potential clients via LinkedIn contact data.
Next, you will learn about the basic elements of a successful sales profile that will help you adapt it for these purposes. If you improve these components, interested clients will start approaching you from LinkedIn by themselves. Also in this article, you will find the 8 examples of LinkedIn business profiles that will help you to get into practice.
To research hundreds of profiles, we used the Linked Helper tool that allows users to extract information about accounts and download it in the form of a shareable spreadsheet. This is useful for self-study of competitors and the market since you can also download companies' profiles.
Elements that set up a sales manager LinkedIn profile for lead generation and sales
Next, we will divide the elements into three parts – visuals, texts, and LinkedIn sections that are worth adding. This will gradually improve your profile for effective sales.
Visuals to help you sell more through LinkedIn
LinkedIn profile image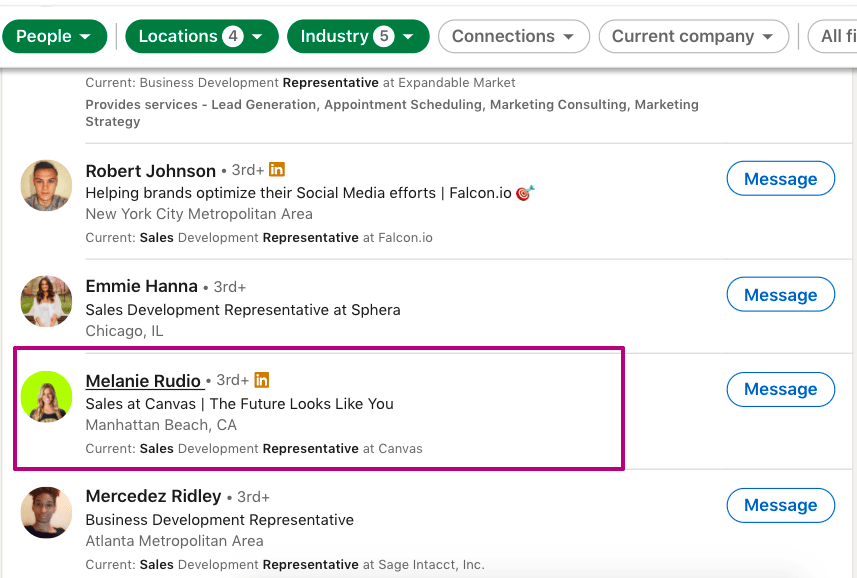 A salesperson's profile photo should sell and convince straight from the social media search page. This photo takes on special importance because it is seen in all LinkedIn activities, so if it's bright and attractive enough you will get a lot more views.
Here are a few hacks that we noticed in successful accounts:
Choose a bright background for your profile photo. In this case, your image will be more visible from the search page, where your competitors are also displayed. For example, you can use as a background one of your company's corporate colors. Since there are few bright elements on the LinkedIn pages, a profile photo with a contrasting color will be advantageously striking. It will really help you get more views of your targeted customers.
Photos with a smile get more attention from the search page. Also, if there's a smile on your avatar, then potential clients or partners will be more disposed towards you in advance. When the search page displays many profile pictures of salespeople, users are more likely to select and click on the one that inspires sympathy and trust in them. This trend is especially noticeable in the accounts of managers in the U.S. Therefore, smile the way you do in real life and attract more positive deals and offers.
Your face should be clearly visible. The photo must be of high quality, and your face must be in focus. Also, make sure there are no other people or distractions in the image. From this visual, people need to understand what kind of person they are going to be dealing with in business.
You don't have to hire a professional photographer. It's possible to take this important shot with your phone camera by standing against the wall in front of the light and turning on the built-in timer.
Cover photo
Don't be lazy to create a personalized cover for your LinkedIn profile. It can provide valuable information to customers and improve brand recognition.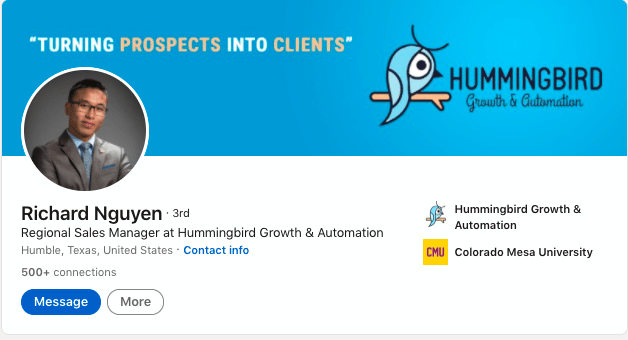 What can be used as a cover?
Apply branded content. This trick is often used by managers and sales directors. You may ask your marketing department or a designer to create a cover image for LinkedIn so that it is the right size, of excellent quality, and includes the logo and company name.
You can download a template. There are many online resources where you can download a finished cover or create it in the built-in editor. For example, you can check Canva, Adobe, Crello, and other free and simple platforms.
Use a visual for your cover that reflects your personality. Yes, on a professional social network it is worth focusing on business qualities. But often a personal approach and informal communication work in sales. Therefore, a cover can illustrate your favorite landscape, vector illustration, or motto that energizes you for success.
Don't leave the cover space blank. Then the profile looks incomplete and you lose the chance to impress potential buyers.
Profile texts to help you beat the competition
The text sections can generate interest in your product and company. It is very important to make them capacious and catchy among the huge mass of content.
Headline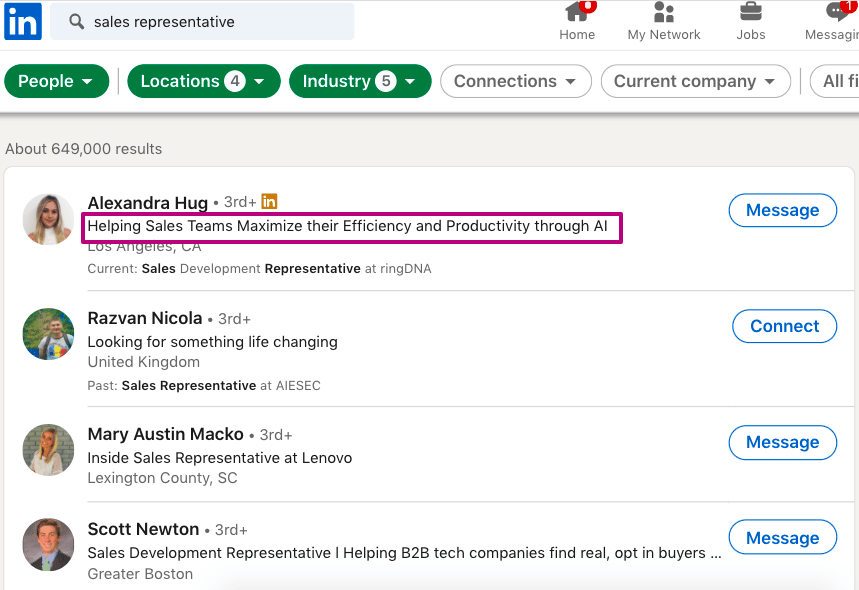 A headline is your proposal or mission, ideally with keywords that customers can find you by. It is the headline that is visible from the search page, from which potential customers will open your profile.
Therefore, the title should reflect your offer and lead potential buyers to the page. What should you include in a headline to help your sales?
Mission. A headline can be a short answer to the question: Who do you help and how do you help them? You can see an example of a mission header in the image above.
Keywords. Add those words by which your profile will be found in internal search or from Google. These can be words that include company activities or your product.
Specialization. If you are a salesperson in a narrow niche, include this specificity in the title. Then you will get targeted leads, which are more likely to lead to conversions.
Don't just duplicate your position. Use the full potential of this section.
Summary
A good salesperson's profile description is the first thing that sells. Here, you shouldn't focus on your achievements, it is better to present your product and company so that your page on LinkedIn will bring more leads.
You can read the detailed instructions with examples for the sales description for LinkedIn in the article. Below we will touch on the main tricks that caught our attention on the accounts of sales managers. What will help to better sell through the copy of the About section?
Add a link to the appointment planner. With this hack for your bio, you will be able to receive calls from potential customers originating from the social network. This is a great way to get straight to the point.
Add a link to the company's website. With the help of this link, users and potential customers will become better acquainted with your offer and the website will receive additional traffic.
Include keywords here as well. Since this piece of text is searchable, you win if you add keywords to the description. Your profile can be found from various sources.
Contacts. LinkedIn users need to click on a special button when they want to view contact details. You will help customers get in touch if you add an email and phone number right in the bio.
Sections worth completing to increase sales
Perhaps not all sections will help you specifically with the goal of generating leads and finding customers through LinkedIn. But it is the sections listed below that are worth your attention, according to the order given in this article.
List of services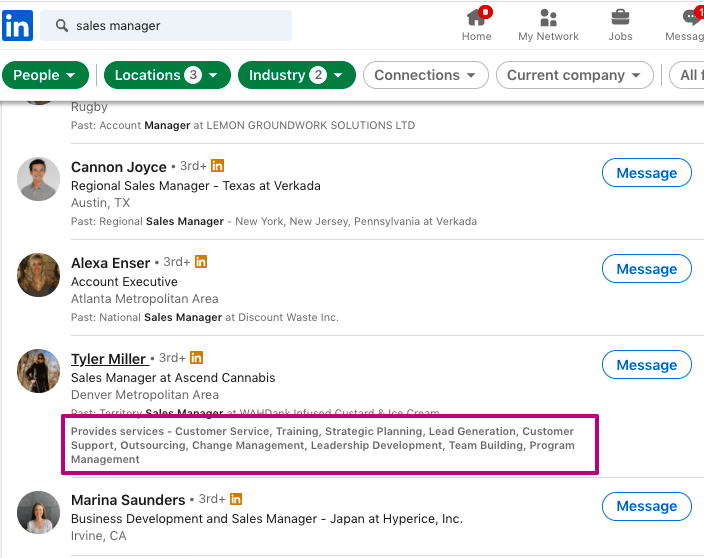 This is what the section of services you provide from the search page looks like. This is great for clients looking for a salesperson with specific knowledge. This way, they will give you a preference and more often go to your profile.
In addition, it is the Provides Services section that will be located right under your heading, which means that it has a big impact on profile visitors. This should include all services for which you are looking for clients through LinkedIn.
Experience section
If you are looking for sales rather than a job search, then in this section you should pay a minimum of attention to your job description and achievements. Despite the fact that the section implies the disclosure of experience, it is worth making it tailored for sales. And that's exactly how salespeople fill it out.
We advise you to include your company's benefits and product descriptions here instead of achievements. This will generate interest in your services, which will induce the target audience to become your client. For example:

Also here you can add a CTA, which will lead to the company or product webpage.
Recommendations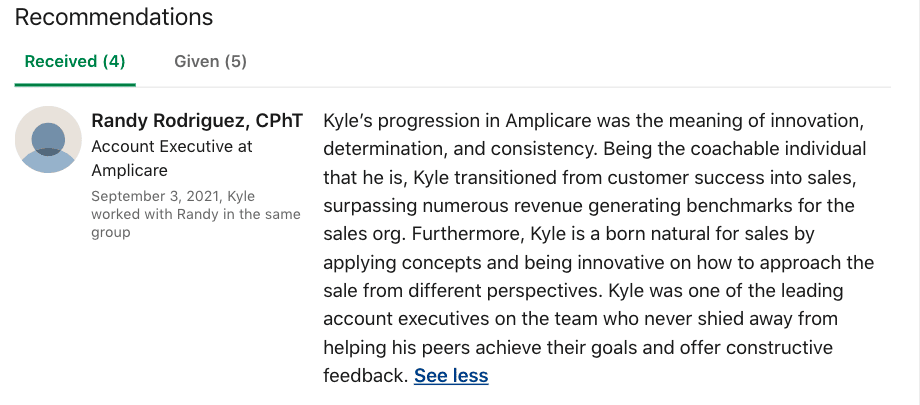 References don't have to be accolades from your past jobs. This is the perfect section to showcase how you've helped clients. Thus, new potential customers reading reviews will be motivated to work with you.
Therefore, right now it is worth contacting regular customers, whose opinion will affect target clientele. You can ask them to provide feedback on your work as a salesperson, how you helped them, and why others should work with you.
The Volunteer experience section
It might seem that volunteering and sales are not related in any way. But in reality, this section can help you generate leads by building trust and uncovering your personal strengths. Also for many clients, this can be a good reason to start a dialogue with you. Therefore, salespeople often have their volunteering section filled out. What's more, it will showcase industry expertise that helps you better understand customer needs.
Skills and endorsements
This section may also seem more relevant to your job search. Nevertheless, in practice your clients also use your skills, so when you confirm them in your profile, it creates increased trust in you as an expert. It is important to include only those skill confirmations that are relevant to the market you are currently working in. Do not overload your profile with unnecessary information in order to focus the target customer's attention on the product.
Featured
As conceived by the social network, this section is intended to share links to publications via LinkedIn. In practice, we have noticed numerous salesperson profiles who devote this section to the product they represent.
Thanks to this section, you can show a photo of the goods you offer and place a text description there. This will work for both physical goods and services. You can attach both links to posts that you created yourself on the site, as well as links to external resources, for example, webpages of your organization.
Thanks to such an unseen but useful technique, all visitors to your profile will study your proposal in detail. After that, they can easily contact you if you specify an email or contact number in the profile description.
Next, we'll inspect the best sales manager LinkedIn profiles. It will help you to learn how salespeople apply some tricks in practice to use their account as a business card.
8 LinkedIn sales profile examples
#1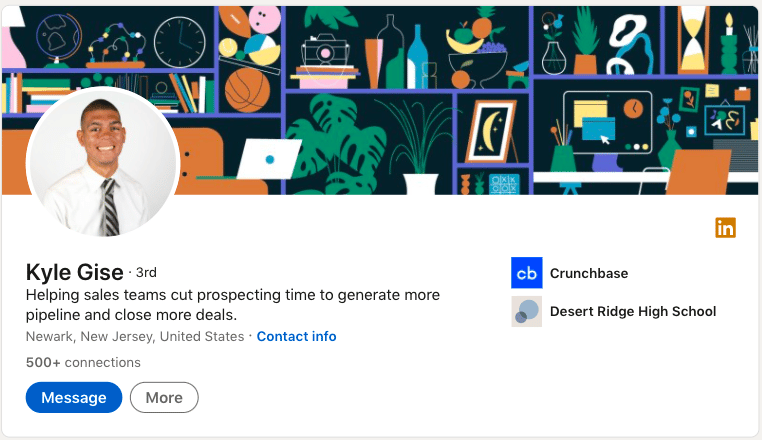 This profile has an exemplary headline that reflects the salesperson's mission – how he can be of service to the client. As we found out earlier, this kind of wording attracts potential customers from the search page.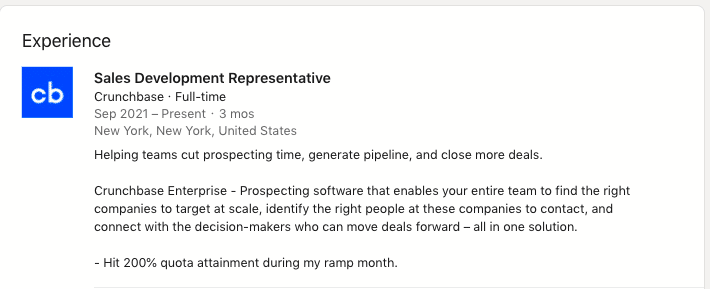 In the Experience section, the specialist is focused not on his responsibilities, but on the selling description of the current company, offer, and competitive advantage.
In this section Licenses & certifications, the specialist indicated 10 courses passed on LinkedIn, which will inspire confidence in potential buyers and help to receive more incoming applications.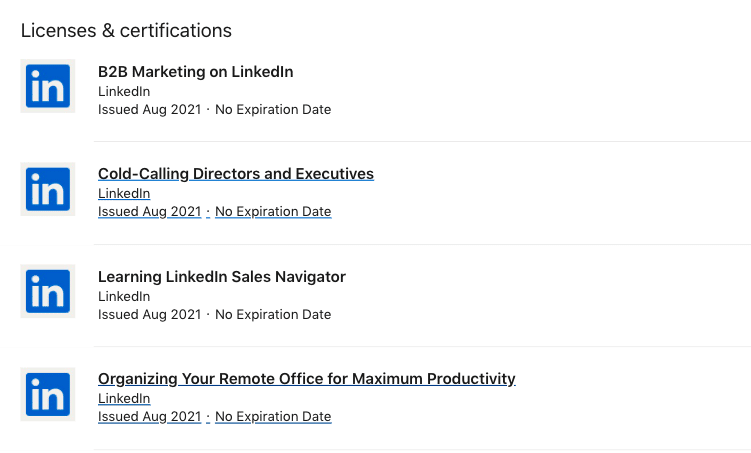 In the Recommendations section, we see 9 reviews. You can ask your customers to leave feedback on their work with you after successful projects.
#2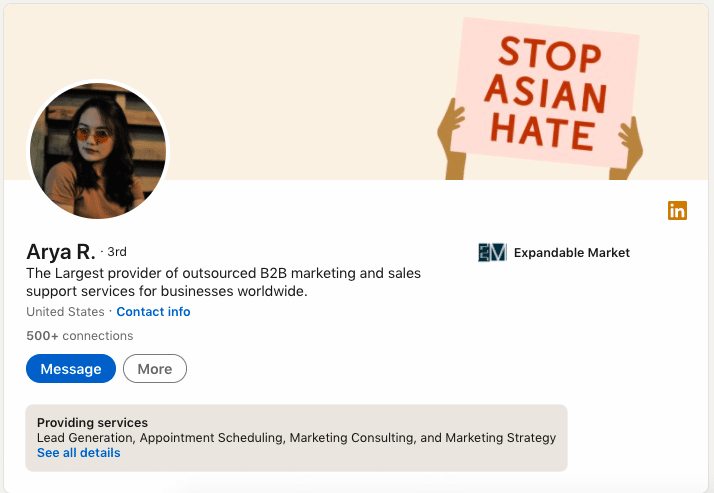 Here we see a clear description of the service in the profile header, which helps to understand the offer and catches the eye from the search page. On the search page, a lot of similar profiles are displayed and this short phrase can push users to open your account.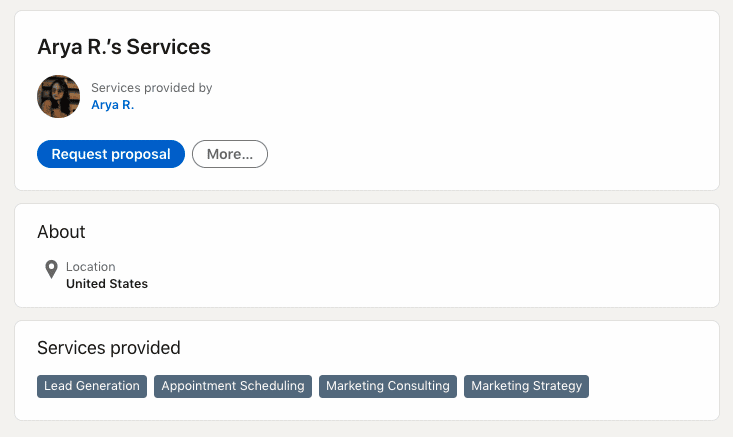 The services that the sales manager offers are listed at the beginning of the profile. Thanks to this section, potential buyers can immediately see what they can negotiate with you. Also, these words will help you rank better in the internal LinkedIn SEO.
Providing two ways of communication in the summary and a link to the calendar for scheduling calls are the best ways to get straight to business. This way a sales rep showcases that they are ready to accept incoming requests for goods and services directly from the LinkedIn profile.
Take note of this trick and you will get a lot more hot leads right from your page.
#3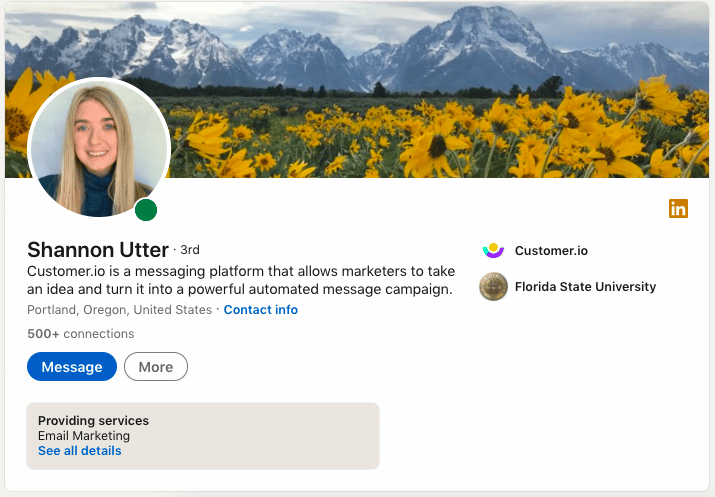 You may dedicate a profile description and headline to your company or service. In this way, you become a brand ambassador that is part of the company's image and product.
This trick is often used by salespeople in IT companies. In addition, in this way you will get more traffic to a company website from your LinkedIn page.
In the example, we also see a section with services provided by the sales manager. This greatly increases your chances of connecting with a customer.
#4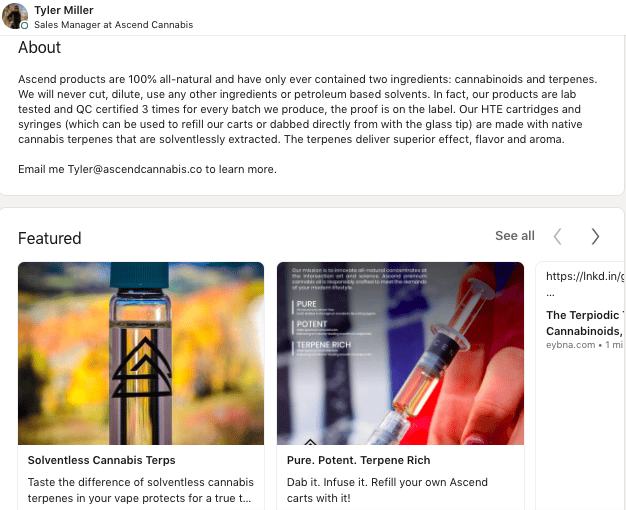 In this example, the sales manager profile is effectively focused on sales, positive perception, and advertising of the company. A branded photo is used as the profile cover image.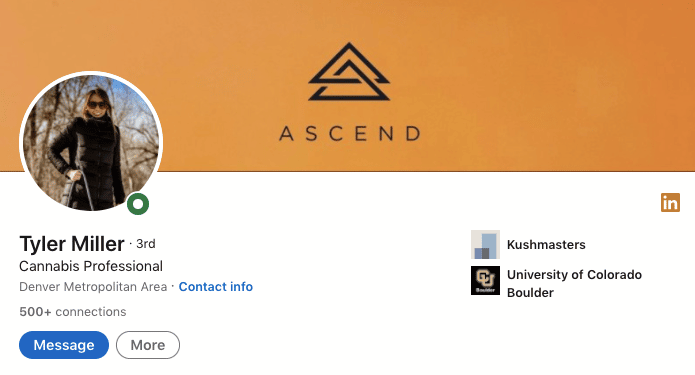 The description uncovers all the useful properties of the product and its competitive advantages over similar offers. For example, there are clear and specific facts about lab research that can help to deal with objections.
Also in the Featured section, the specialist provided links to product descriptions with images. Thus, after visiting this profile, a potential client will have a complete understanding of the product and have at hand the specialist's email, which is also indicated in the profile description.
#5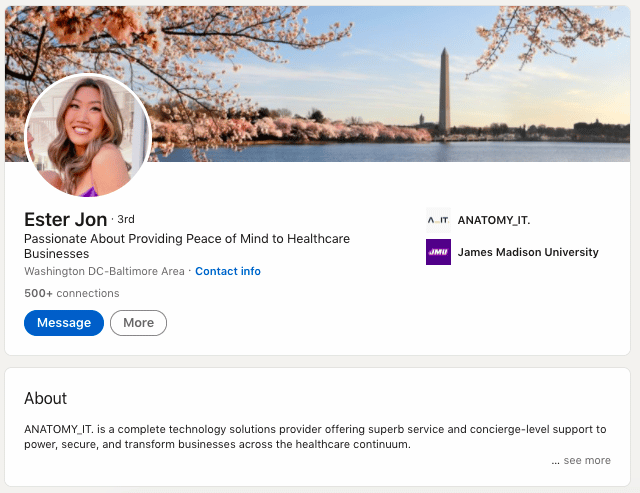 A great headline that shows you as a motivated salesperson is vital. We see that the sales specialist uses the keywords Healthcare Businesses, by which potential customers can find her.
Keep the description of the product and its mission short. You can notice that the most important facts about the company and a brief mission statement are formulated in two lines, which are visible even if the full description of the profile is not disclosed.
Use a clear list of the services your company offers in your description. Moreover, you can foster trust if you use phrases like a "trusted partner."
The link to the website will help customers to better understand your product and get in touch.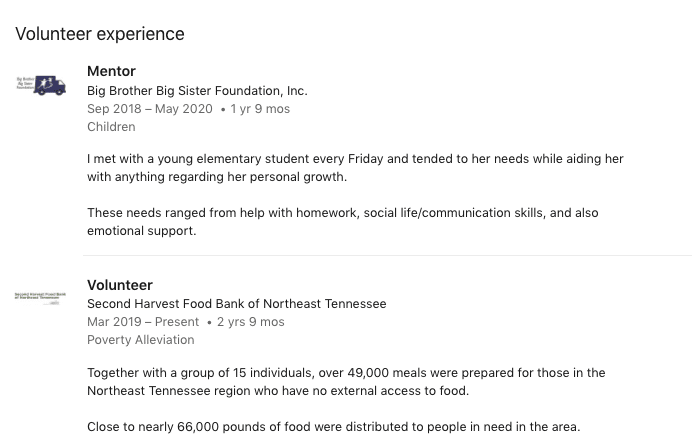 The Volunteer experience section only seems at first glance to be unrelated to selling. In fact, it will create psychological confidence in potential clients, especially if you are selling expensive and complex services.
#6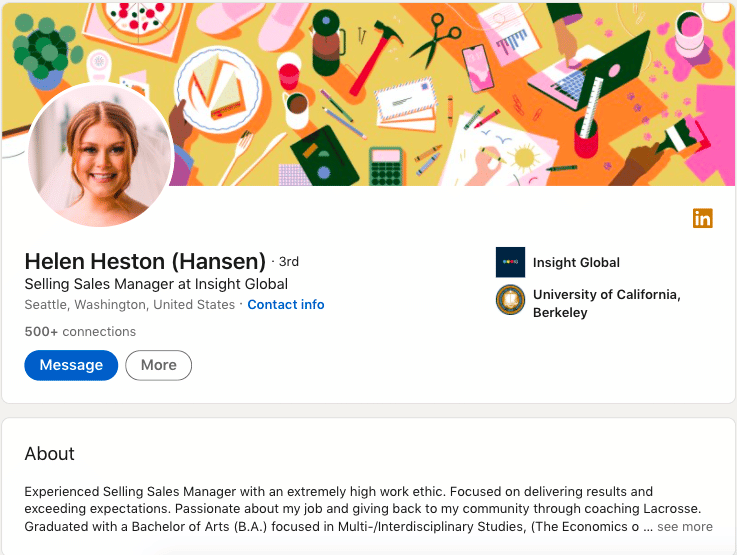 This is an example of a good profile photo. We noticed that the images with smiling people in the main photo stand out from the competition when looking from the search page. Therefore, make your sales account as positive as possible.
A bright cover is a great alternative if you don't want to use a branded photo. The choice of a profile header aesthetics will depend on the niche in which you work. Colors and elements should be pleasing to the target audience.
Recommendations here prove that the manager can be trusted as a person and a specialist. So be sure to ask the people you've worked with to leave feedback.

#7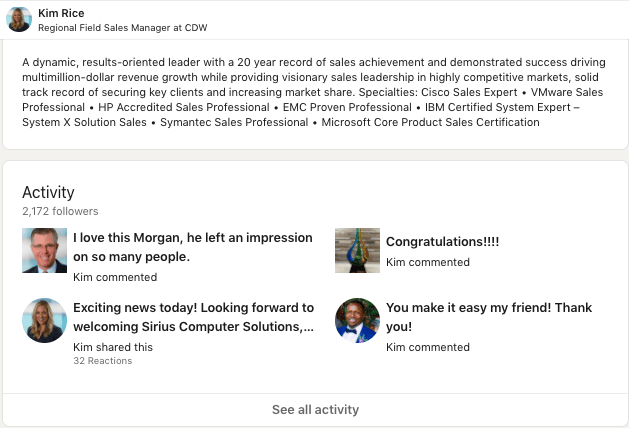 In this example, the salesperson's advantage is the viewable Activity section. Thanks to this, potential clients who open your profile will understand that you are a specialist involved in your professional environment. This boosts your credibility.
We also see a list of specializations that are indicated in the bio profile. Thanks to these phrases, clients can understand the specifics of your work. And also it is these combinations that they can enter into the search, so add narrow and niche skills to the bio.
#8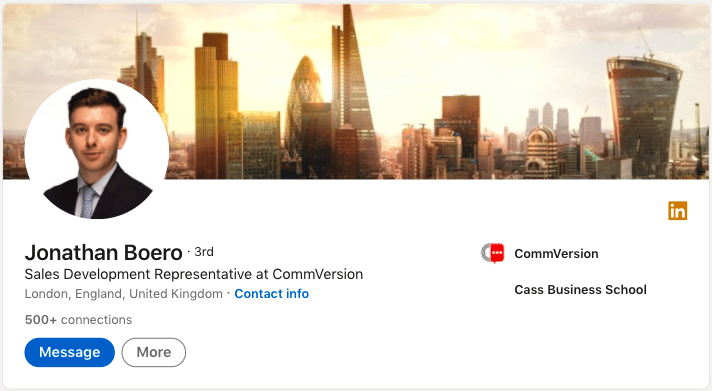 In this example of a profile for a salesperson, we see well-chosen visuals – both the profile photo and cover image. When we scroll down the profile to the Experience section, we will perceive that the manager has used this field to represent the company and its services.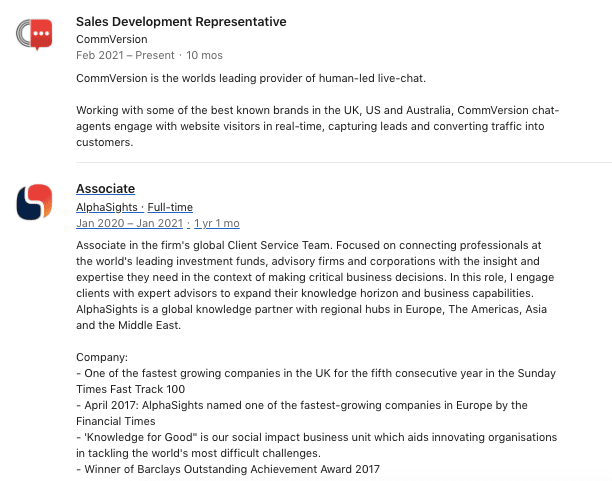 You can also notice that in order to prove the competitive advantage of the company and its proposals, the specialist indicated its awards and achievements. Meanwhile, a description of the role and functions in this position is naturally mentioned without drawing too much attention to the achievements and successes.
You should take into account that if you are not currently looking for a job, then you should use these text fields in descriptions of work experience to promote sales. You can disclose your achievements and experience in sections at past companies where you worked. But for better conversions from this social media platform and promoting the products you currently offer, keep the copy in the Experience part less personal.

Also in this profile, we can see that the specialist indicated the languages that he speaks in the Accomplishments section. In fact, knowledge of the client's language can be great for helping you connect with potential foreign clients. Therefore, if you speak several languages, this can become your competitive advantage in the fight for a customer.
Thus, we have considered successful examples of how specialists use the space of the personal page to search for possible clients.
How to research the best sales LinkedIn profiles effectively
If you need to effectively present yourself as a professional, it is important to understand how you differ from your competitors. In order to understand what makes you different, a competitors' summary analysis will help.
Linked Helper is a tool to copy thousands of bios from LinkedIn automatically. You can collect all the data in 15 minutes instead of hours surfing on LinkedIn. When we researched 20 professional summary examples, this service helped out, and we didn't have to wait until hundreds of pages were loaded. Instead, all the bios were presented in one column of the downloaded spreadsheet.
The method is really simple. This is what you will need to do if you want to scan descriptions of thousands of accounts easily.
#1 Download the Linked Helper free trial version
This service can be used free of charge for 14 days. You will find software for all operating systems on the official website.
#2 Log in to your LinkedIn personal account via the software
After downloading, run the program and log in to your account.
#3 Create a new campaign in Linked Helper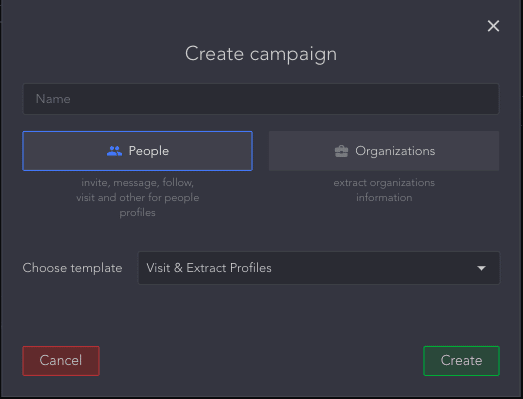 In the campaign settings, select that you will scrape profiles of People.
#4 Define the search criteria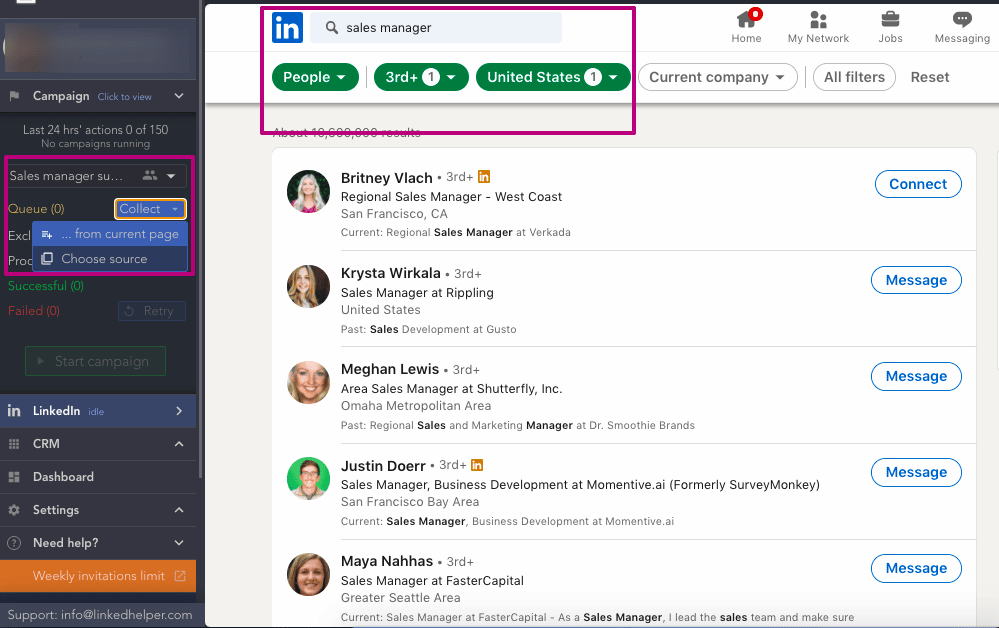 After you select LinkedIn as a data download source, the system will open the usual search page on this site for you. Set up filters for which profiles you are interested in. Enter keywords, locations, and industry.
Choose the menu item Collect→ From the current page.
#5 Download your spreadsheet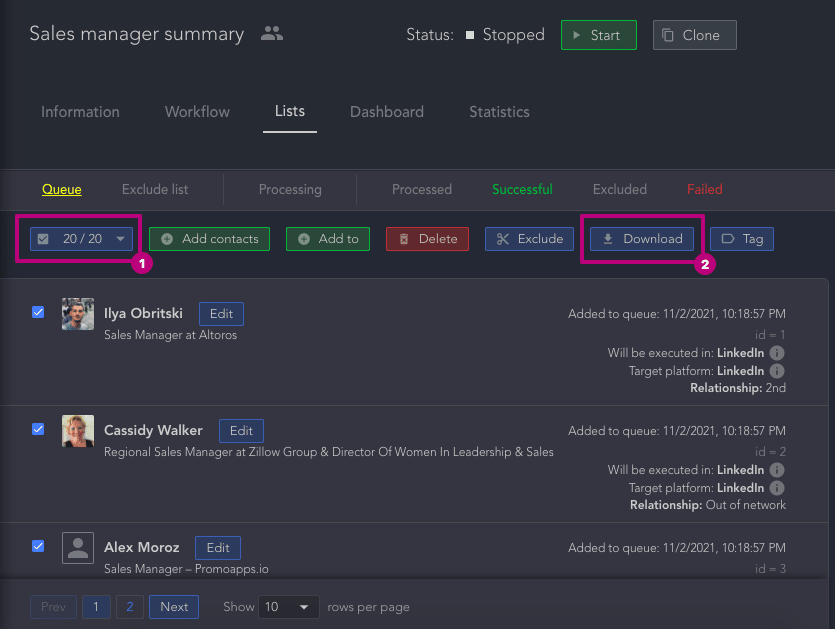 After the process of downloading profiles, you will be able to extract them from the system in the form of a table. To do this, go to the List menu item, mark the desired profiles, and select Download.
As a result, in just 15 minutes, you will be able to get information about competitors in your target niche and conduct a review of all profile descriptions. If you want to make the most attractive summary for sales reps, start with this research step and try Linked Helper.