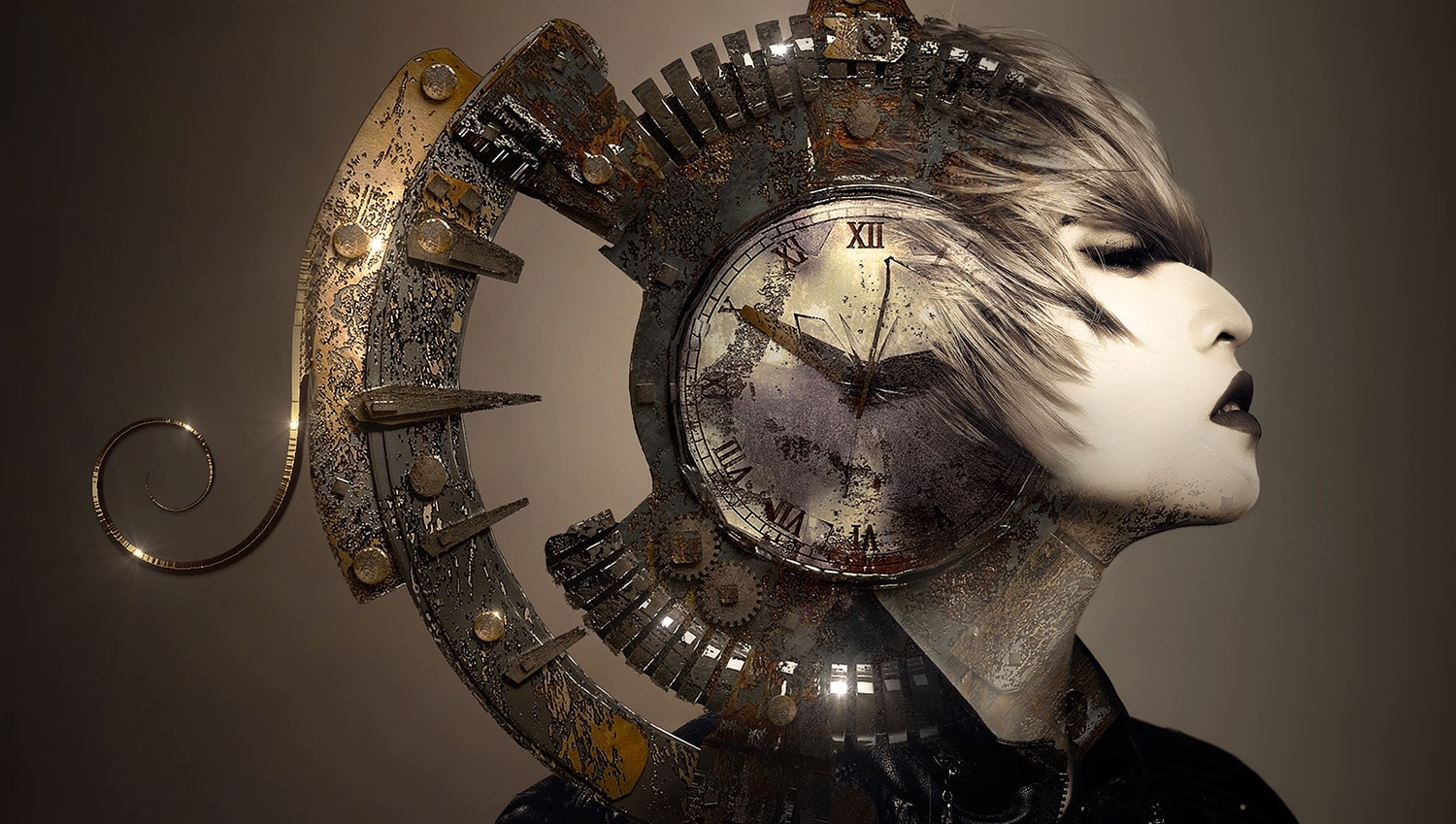 With the Linked Helper automatic extractor for LinkedIn, you can export a database of contacts as a CSV. The data, including people's emails, addresses, work history, education, and messaging history on LinkedIn will be viewable in the file. This convenient toolkit for automating lead generation, maintaining a customer base, outreach, and other marketing activities can be tested for two weeks for free.
Download Linked Helper 2
and get 14-day free trial right now
DOWNLOAD
If you are not yet in our list of users, then join.
We give you a trial version to start your experience with our LinkedIn tool.
Export contacts and emails
You can collect user data from your network as well as 2nd and 3rd degree contacts. The smart web scraper will visit each user's page and copy the phone numbers, emails, address, and web page links into the Linked Helper CRM from where you can export the file. The Email Finder function and collaborative search through the mailing platform Snov.io will allow you to get emails from people whose details are not visible on the social network.
Use the email database to bypass the 100 invite limit. The software allows you to invite 700 leads per week via emails.
Integrate the database into mailing services. Downloaded emails are easy to use to contact leads through third-party services.
Use the downloaded data to study the texts from the pages of hundreds of leads at once. With the numbers, positions, and all the data from the social network page at hand, you can compose a compelling pitch and filter the data.
Explore manuals:
Export contacts to CSV
How to download profiles
Export search result pages
You can customize your LinkedIn search by keywords, niche, location, or job title, and then export the results with this tool. They will be stored in the CRM database and you can scrape them to a file. Managers can collect contacts from numerous search pages in the social network:
Your network – sort your contacts and transfer the ones you need to the CRM and a CSV download.
Search engine – copy leads from global search to CRM and for exporting.
Communities – upload lists of participants in groups or events.
Pages of organizations – you can export profiles of competitors or educational institutions to maintain a database.
LinkedIn CSV export: what kind of data can you mine?
The data is synchronized in the CRM. After visiting profiles via the software, you will be able to see each client, partner, or employee account in a convenient database.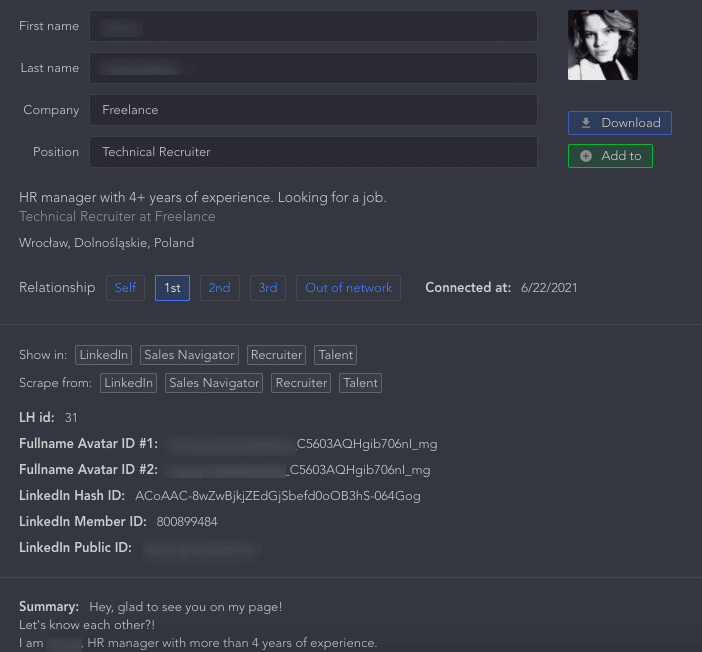 Quick search by sections. You can sort people by various parameters in the CRM, which will allow you to quickly find the right people. For example, there are lines where you can enter text data to search by name, ID, or position. There are also filters for sorting contacts. For example, you can display only 1st-degree contacts. You can create custom tags to sort contacts by campaign or goal.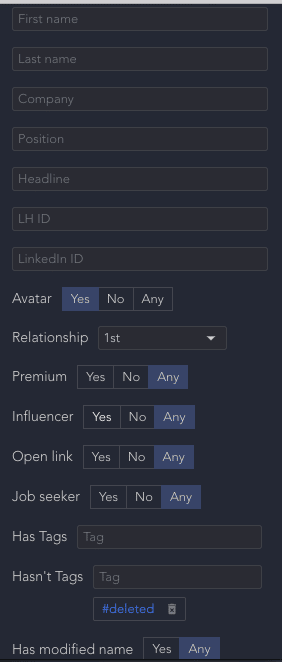 Manual columns setup. You can download each individual contact or mark several. When exporting CSV, you can specify which columns you want to display in the final file.export linkedin data
Downloading a spreadsheet. In the final file, you will find important data collected from the LinkedIn page. This information will help you make your outreach personal and targeted, as your pitch will look more compelling based on details about the interviewee.

Export the richest CSV from LinkedIn
Among the columns in the table you will find all possible data from the social network:
ID, avatar ID – all types of user identifiers, including ID in Sales Navigator and Recruiter. You should be subscribed to these services for parsing this data.
Profile URL- link to quickly go to the LinkedIn profile.
Email – the email specified on the LinkedIn page.
Third-party email – an email that was found through the Linked Helper database or through the Snov.io service.
First name and last name – original names will also be given.
Headline – a string that quickly describes the user from the search page.
Location, industry, summary, birthday – you can use bio details and past experience data to write a more personal message that is more likely to get a response.
Badges Premium, Influencer, Job seeker – you can sort the contact database by these columns if you need those who are an influencer or looking for a job. Also, you can filter Open link profiles to send bulk InMails.
The current company, position – the table will contain all the data about the work history of this person
Organization data: ID, URL, title, start and end work dates, description, location, website, domain – you will get data about people's places of work, including company details. With this data and the Snov.io service, the software can find users' work emails. The domain will be found only if the organization in which the lead is listed was visited through the Organization extractor or the profile was visited through the Visit and Extract Profiles action with the "Extract current organizations" option enabled.
Education data: degree, start and end, description – the database will contain the history of education, including data about the university.
Language, language proficiency – you can find and sort users in the database by language.
Skills – these columns will help you sort the right specialists by skills and work experience.
Phone, address – you will have an address book received from LinkedIn.
Website – a personal website will help you get to know the user better – their services and work.
Tags – you can assign custom tags to sort the database.
Notes – you can leave notes and they will be transferred to the table during export.
Connected date – see the date when you first got connected on LinkedIn with each user.
Mutual contacts – common contacts will be displayed in the table.
Followers – the number of followers will help in collecting a database of influencers.
Messages, replied messages, last sent message text, last received message – you can export the history of interaction with the user if you sent messages via the CRM or auto-messages. Having these texts at hand, you can analyze answers and improve your pitches.
Download my LinkedIn data – convincing figures
More than 7X subscription requests per week
Bypass 100 weekly invites if you have an email database
More than 200 indicators in the CSV
The file you request from LinkedIn will have no more than 6 lines, without emails
31 auto-action functions
The software will help not only for scraping but also for setting up interaction and outreach in LinkedIn
4 benefits of using this tool to export data from LinkedIn
Expanded database for downloading – you won't get close to this much data when you request a download on LinkedIn.
Convenient CRM for managing leads – all contacts will be available to your team and can be sorted and downloaded in convenient classifications.
The ability to set up auto-actions with the funnel – likes, visits, and sending invitations.
Auto-messages – right in the CRM you can schedule private messages to different target groups. The built-in editor will use personal data as if you wrote the pitches yourself – general contacts, name, and position can be used for the template.