Currently, arranging face-to-face meetings with clients is ineffective and often impossible. In 2022 sales managers and marketers have several ways to find customers – from getting involved using cold calls to writing emails or connecting on social networks. Based on the stats, by 2025 27% of the entire workforce will be Gen-Z – and they will make up the main part of the LinkedIn audience. So, in order to find clients on this social network, you need to outline the relevant outreach strategy. Below, we will prove that LinkedIn marketing is more effective than any cold call, and now managers should focus on targeted message outlining based on segments.
Perhaps even now most of your customers live on LinkedIn, this social network is a huge and main source of lead generation, especially in B2B, IT, and Healthcare. Therefore, for effective sales, you need to appear where your customers spend time and learn to speak their language. Classic approaches in sales work here, for example – it's good to know as much as possible about a person to find the right approach.
Since people receive a lot of spam, in order to establish a business relationship online, two methods for LinkedIn sales message outreach will help you:
Knowing in-depth information about clients. Here their profile is the ideal source of data. You can investigate the latest activities, personal information, work experience that can help you strike up a conversation.
Personalization. This means that the data that you find while studying target customers should definitely be used in outreach messages. However, you may face the problem that personalized outreach can take a lot of time and may not always be justified.
Therefore, using the Linked Helper tool, you can collect aggregated data for various audience groups and automate communication with potential customers. At the same time, it will be personalized and occur to a greater extent without your participation, since you can pre-plan a chain of targeted actions for the software. Next, we will dive deeper into the main steps for prospecting on LinkedIn via automated messages, helping to fine-tune communication with potential customers.
The cold call is dead – how to message on LinkedIn to sell effectively
Based on the official statistics, most people do not reply to mobile cold calls from unknown numbers. Communication with a customer using calls can be as effective as a LinkedIn sales message if, during the funnel, customers have already shown a primary interest in a product or service. For example, they left a request on the website, including their phone number. In this case, you can safely get involved with a potential client by phone. However, if this method of collecting contact information is not included in your funnel, communication with potential leads can be managed through more convenient and less aggressive private messages on LinkedIn.
How do you find leads for subsequent connections?
1. Select target groups & audience segments
If you want to make a successful connection with potential prospects, you need to target industry or specific professionals. This is best done through the Linked Helper, since logging into LinkedIn you can use all the internal filters – and sort people by keywords, positions, regions, and use advanced filters of the Premium and Sales Navigator. Provided that you have a paid LinkedIn subscription.
Then you can extract all the data and save it directly to the CRM or download it from the CRM in the form of a spreadsheet. Next, you will assign a message to specific user groups.
2. Build interactions before communication

If you immediately send a presentation and links to your product, then perhaps prospects will be scared away. Therefore, for potential customers to have the opportunity to explore your profile, it is better to set up interaction with target groups before contacting them in private messages. For example, you can put unobtrusive likes, leave comments, and invite to thematic groups. All these actions can warm up the ground before you move on to the conversation since a person may already have an interest and perhaps they will also monitor your personal account, group, or company profile. In Linked Helper, you can set up absolutely all actions and assign them a sequence – the tool will perform them automatically with the user lists.
Download Linked Helper 2 and get 14-free trial right now
If you are not yet in our list of users, then join. We give you a trial version to start your experience with our LinkedIn tool.
3. Double hit a LinkedIn cold outreach message via email
Some people may not take private messages on LinkedIn seriously, and in any case communication in messages combined with e-mail will bring more results than just one source. This two-pronged approach is simplified by the fact that with Linked Helper you can extract the email that the user indicates in their LinkedIn profile. If you go to each profile and search for email manually, this action can take you tens of hours. Linked Helper can configure the search and aggregation of emails by target users to transfer them to the service for cold mailing. Or you may take advantage of the integration with Snov.io – the service to run email campaigns.
Tips to get a better response rate when prospecting on LinkedIn
1. Ask several closed-ended questions.
Since a message on LinkedIn, as opposed to an email, should be short (we will consider the best length in the next paragraph), you may try to attract additional attention by asking a few questions. The trick is, if you ask an open question the receiver may not be able to immediately answer you, and as a result may forget to answer at all. Therefore, ask questions that can be answered yes or no, and you will likely receive a reply to further establish communication. LinkedIn messages are not like sales on the phone or in the store where open questions are a sales trick helping to get the needs of a target client.
2. Experiment with videos in messages.
In a world where information appears and disappears so quickly in huge quantities, it is better to see it once than to read it. So attach videos in messages or you can also use images.
Conveniently, Linked Helper allows users to create templates with visuals. But to add videos you need to use a link to YouTube or similar sites.
Based on research, sales managers assert that the use of video leads to a 70% increase in response rate. It is not worth attaching long videos; for sure no one will watch them – the optimal duration is 15–20 seconds.
3. Short messages get better response rates.
If you want to get an answer as soon as possible, then practice concise thoughts. The optimal length of a message on LinkedIn is 200–400 characters since this format gets 16% more responses when compared to longer messages. Longer formats may be needed for describing details, but you don't have to do this in just the first messages. It's essential to arouse interest and show interest in the interlocutor, and for this purpose, a short message is sufficient.
Also, you shouldn't ever write more than 1,400 characters in a message, as such bulky texts are opened 41% fewer times than shorter messages.
4. The day of the week affects the response rates.
To catch potential customers at the right time and the right hour, avoid contacting them on Saturday. On weekends, especially on Sunday, people probably will not check the incoming messages on the professional network. Most often, users view and reply to such messages during the work day. Therefore, we advise you to schedule the sending of messages on weekdays and you can easily do this using the Linked Helper. Since you specify in advance what day and time you want the message to be sent.
5. Bulk and non-personal messages perform 20% worse.
If you want to increase the chances that your message will be read, you must demonstrate a personal approach from the very first lines. This means that by using the name of a person, their position, and mutual acquaintances, you can immediately grab attention. With the help of Linked Helper, you can personalize these lines automatically – that is, the tool will substitute lines in the template with the required data.
6. Create custom personalizations.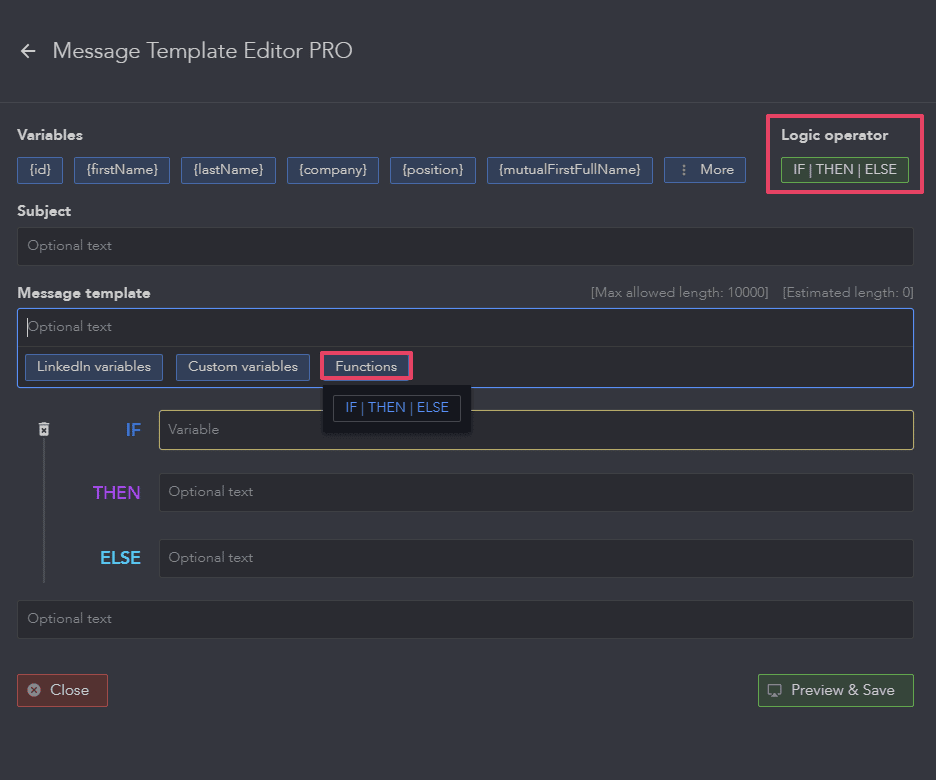 To avoid stereotyped phrases and demonstrate an interest in a person, study carefully what is written in their profile. Especially if it is a strategic and large client, a CEO, or a founder. To interest this person, they must feel that you have carefully studied what is written in the summary section.
Lifehack: After collecting the necessary profiles, you can download the database with the profile descriptions sorted by columns. The bio will be saved in the spreadsheet. Thanks to this, you can create texts for pitches in the next column where you will mention exactly the data that is indicated for each user in the bio column. This is the easiest way to personalize bulk outreach for a vital audience segment.
To sum up, using the necessary tool and sequence of actions – searching for potential customers, setting up interactions with their profiles, and in the preparation for personalized pitching, you will be able to achieve an increased level of message opening and, therefore, sales. Install Linked Helper and use it for 14 days free – your target clients and messages will be save in the automated CRM.