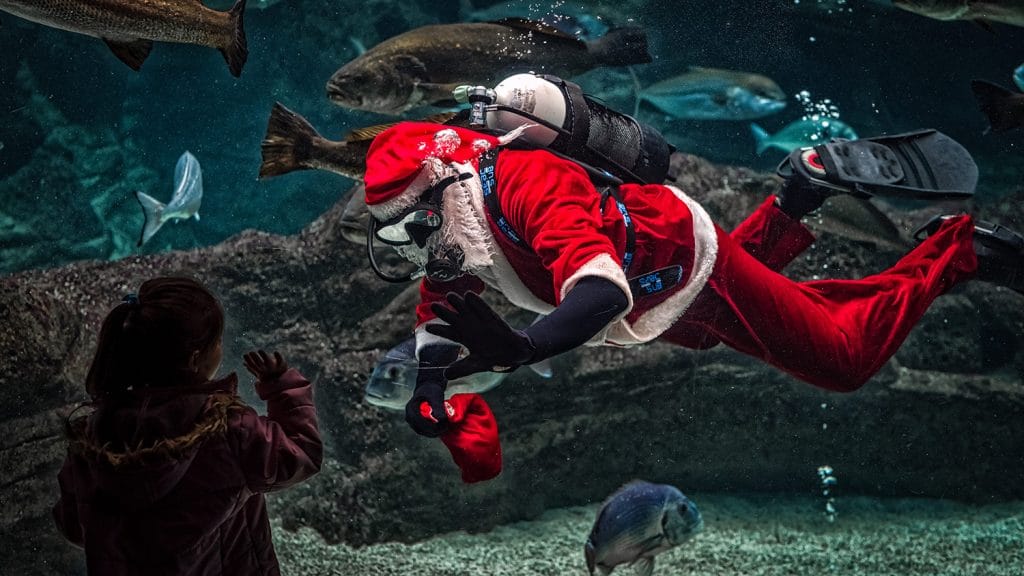 LinkedIn is a community of business people, opinion leaders, and startup founders – it would be a mistake to ignore the platform for sales. According to statistics, LinkedIn users have a 92% more purposeful mindset compared to other platforms' users. This means that sales in the B2B niche can have tremendous success since people are ready to carefully study offers, read long articles, and consider cooperation.
You can sell anything online on LinkedIn if you know the main rule – personalized messages for a narrow target group will work much better than mass mailing without preliminary research of leads. What's more, direct and aggressive messaging to strangers isn't a win-win strategy either. What to do?
Linked Helper automation will help to present your company's services in private messages. This standalone software that you install on your computer is the safest form of automation at the moment.
How Linked Helper can help teams to sell through LinkedIn:
Save hours of time by collecting profile data. Before you promote and offer products or services, you need to understand: Who is your client? Who is your competitor? Such research will help to build a USP and make a profitable offer for outreach. In the Linked Helper CRM, you can collect data on personal accounts and company pages from the search page (using built-in filters), from group pages, by your contacts, and from other sources.
Important: This tool in combination with the LH Email Finder and integrated service Snov.io will help you build a database of emails for 2nd and 3rd degree contacts. LH Email Finder is an email database generated from Linked Helper user data that allows you to find the emails of people associated with LinkedIn.

You can create a personal offer based on prospects' profile data. The first lines of your message should take a hit. Sometimes, after seeing the beginning of a message, users decide to open it only because of the first lines. Therefore, they should contain information resolving the pain of the target audience.
Linked Helper allows you to customize bulk auto-messages where you can use personalized variations to replace words or phrases. This will help you reach many leads at once but without the need to manually type each message by copying the profile data and pasting it into the body of the message.
The automatic tool is your virtual assistant that will type messages exactly as you or your employee would do it. Only you will save time and effort.
Smart software works based on a funnel, so only potential leads will receive your messages. All campaign actions and pauses between them can be customized by you. This creates a truly human approach to automated sales.
Note: You can adjust the periods between actions in the campaign according to your plan. For example, today you can send out 50 contact requests. In a day, someone will start accepting your requests. Then, after a pause, the software will start to like these people's posts or, for example, invite them to the page of your organization. And only after that, you can assign messages to be sent to those people who have accepted the requests.
Expanded reach means more chances of a sale. Since an automated tool can reach out to more people than you do manually, the chances of a positive response increase. Also, the outreach to leads can occur in narrow target groups – for example, you can write only to those who have already interacted with your publications.
Learn how you can collect profiles in the article: Is it possible to collect those who liked or commented on post?
Measurable result. When you text potential customers manually in a social network chat, it can take you tens of hours to read all the answers and work out the objections. In Linked Helper you may download the history of correspondence with each user from the CRM – messages that you send through the tool and replies will be downloaded to the Excel-compatible table.
Thus, if you have a business or manage a corporate account, then such an automation tool will lead you to sales. Even while you sleep, fly on an airplane, or just drink coffee, the software will do everything exactly as you prescribed it in the settings. Let's take a look at how to do your first sales on LinkedIn automatically.
How to social sell on LinkedIn via the automated pipeline toolkit
Next, we will consider exactly the sales funnel steps through private messages. You will find out that all the necessary actions on the way of the pipeline can be automated– from visiting profiles and sending connection requests to auto messages with an offer and a product presentation.
Remember, Linked Helper allows you to implement social selling by automatically customizing the actions depicted on the screenshot one by one. This way, you will be able to prepare a trusting relationship for potential customers to learn more about the company.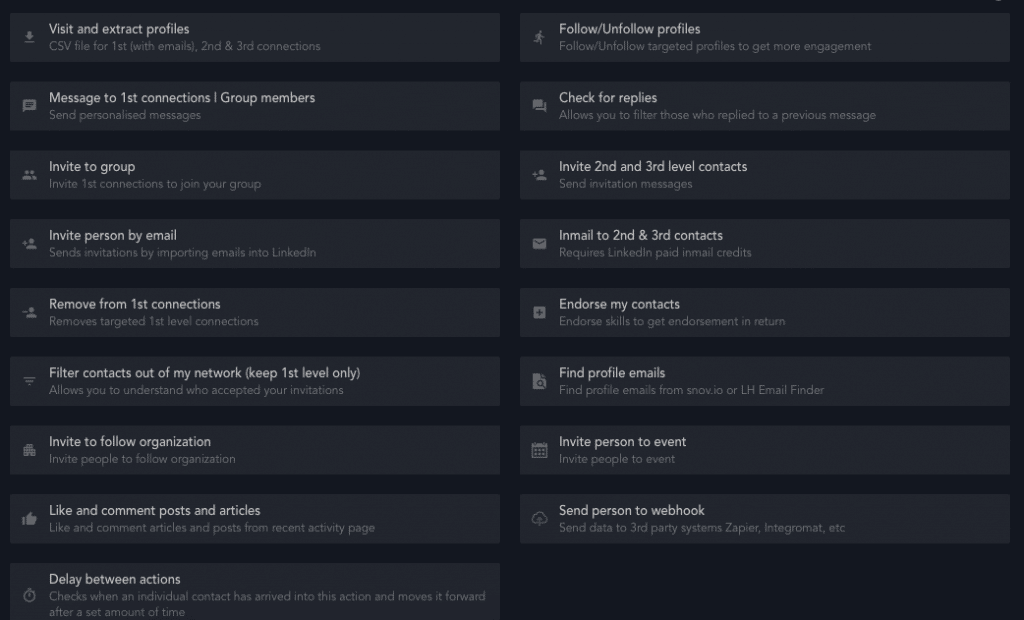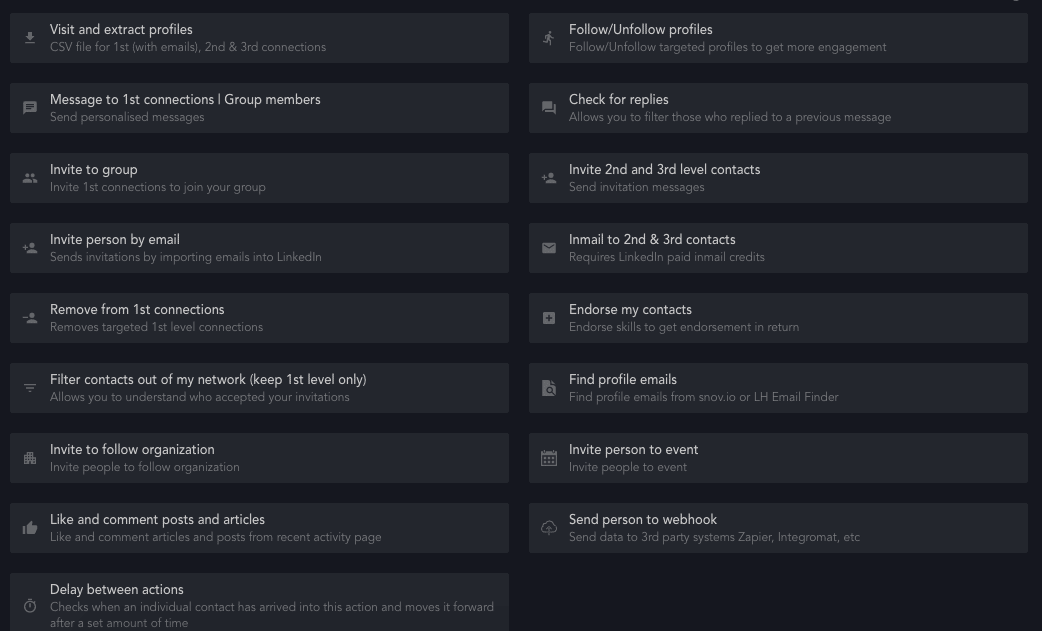 How to sell 2X faster via LinkedIn – campaign setup
#1 Profile collection
In order to start a campaign, you need to create a list of target users.
These are the sales prospects who will participate in the funnel – for them the software will perform automatic actions. It is convenient that you may collect users who don't go through the first round of your funnel. For example, if some users do not accept the invitation, you can add them to the list Exclude.
This means that Linked Helper will no longer interact with them and you may come back to them later.
You have several options to add potential customers to the list Queue: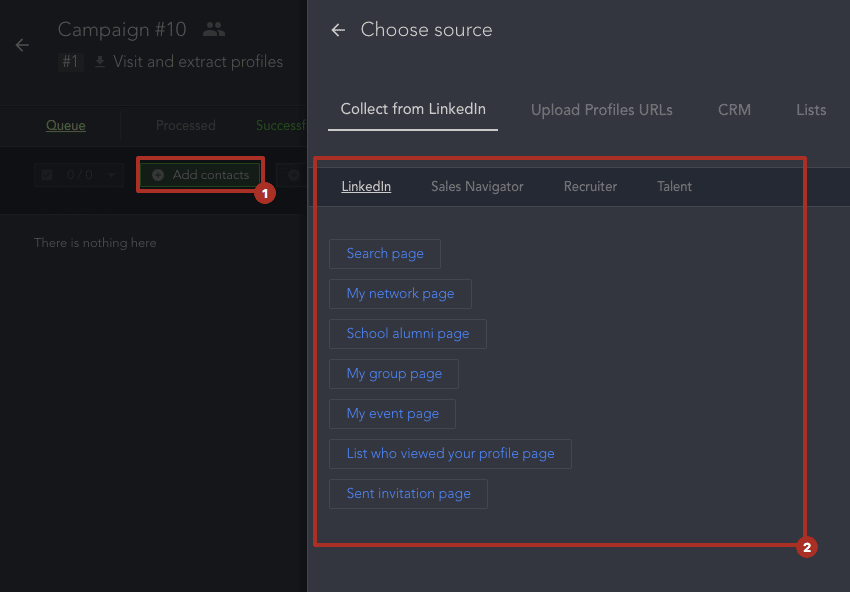 From the campaign page in the Workflow tab, click on the Queue menu item. After that, you will see a dashboard with LinkedIn members that were imported into the CRM earlier.
If so far this tab is empty, you can start searching for potential customers for whom you want to set up a campaign.
Click on the plus icon to add the first action and select the item Visit and Extract profiles. The software will import the accounts that you sort by the internal LinkedIn filters. To add contacts, click on the Queue → Add contacts → Collect from LinkedIn.
Linked Helper allows you to add profiles for subsequent interaction and communication through various sources:
Collect contacts on LinkedIn. To do this, you can use either the internal search page, your contact page, members of institutions, pages and groups, or those who viewed your profile, as well as the invitation page (sent requests).
Upload the existing database through the list of links. For this, you need to either insert the text with URLs into the input window or load a spreadsheet.
You can select contacts from the existing CRM database. Here you can see the list of users from other companies that you managed via the tool.
As a result of collecting the database of your sales prospects, you will have all the detailed data for personalization and successful dialog.
Importantly after this step, you can personalize the lines in outreach private messages. It means that some lines or words may change depending on who the messages are sent to. Knowing how to use a personal approach to sell more on LinkedIn is more crucial in 2022 than even in 2020.
Addressing people by name and using their data from the profile is key. Thus, the leads who receive your messages will be more disposed to answer – they will be pleased that this message is not automatically copied to everyone.
After you download a spreadsheet with the profiles of your potential customers, you will have all the text sections that are present in the LinkedIn profile before your eyes. Oftentimes people point to personal facts in the profile description – this information you can use to melt your customer's heart when selling through private messages.
So, this is the first mandatory action in an automated sales campaign through the tool. Then you can choose any of the actions that you want the software to perform with the contacts saved in its memory.
#2 Set up actions for the campaign
If your goal is to continue to start communicating and presenting your product to potential customers, then we recommend that you send a connection request. After you check on their account and send a request, potential customers may be interested in your profile and will investigate your services.
It is also a good strategy to show interest in customers' content – instruct the software to like and write comments on publications and articles. You can specify the number of posts for this action. Also, a template editor with custom variables will be available to create a comment text, so the comments will be personalized.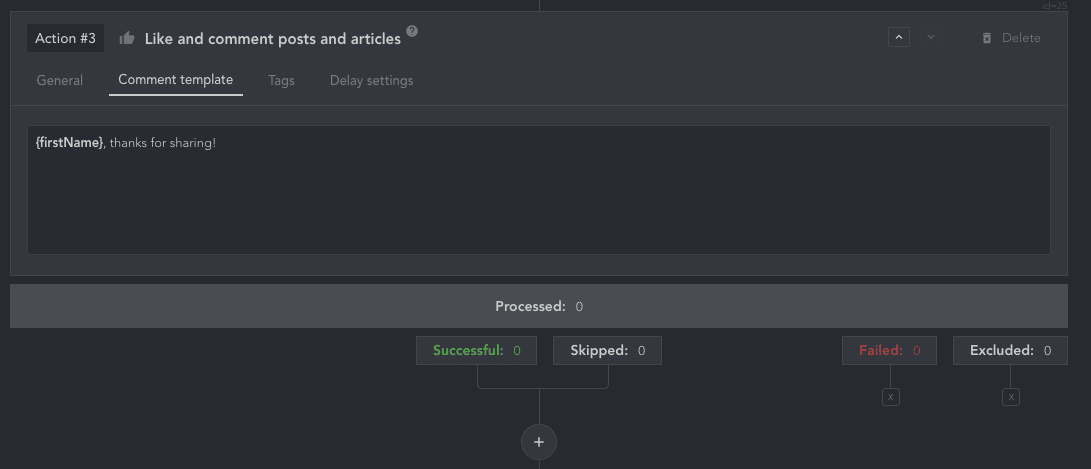 Visits, interactions, and sending out invitations may already be enough for them to be inclined to purchase. Then you will only have to contact them in their warmed-up condition. After that, the client will be ready to cooperate with you.
Also, you can automatically invite leads to events. This can also speed up your sales through interactions at webinars, workshops, seminars, and other online events that are created for business networking.
However, only 1st degree contacts can be invited to the event. Therefore, your main goal should be to expand your network as much as possible.
Take advantage of the handy tagging feature. Thanks to this feature, the tool marks those profiles that successfully go through certain actions.
Further in the CRM you will find profiles already sorted by categories and this will greatly facilitate work with a large number of people – it will be much easier to find the ones you need.
#3 Setting up private messages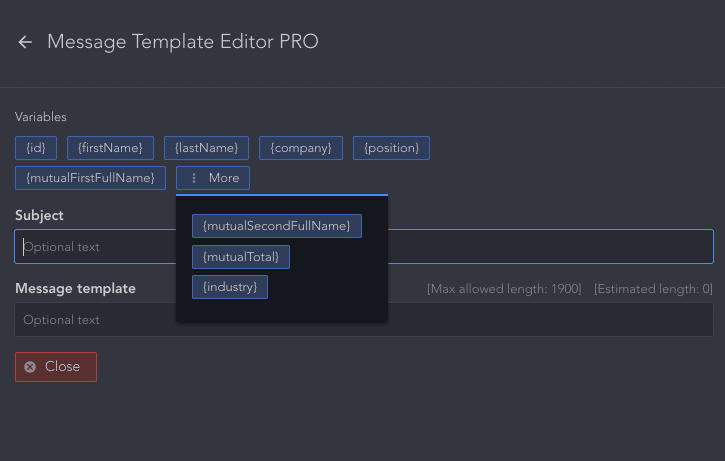 Then you can start planning messages to the 1st degree contacts or paid Inmails to the 2nd and 3rd degree contacts.
Inmails can be sent free of charge. But only to those users who have an Open link status. Read more in the guide.
Conveniently, the Linked Helper contains a built-in Template Editor that allows you to use integrated variables. That is, these words and phrases will change depending on what is indicated in the interlocutor profile. Refer to a person by their first name.
Indicate the name of the company in which they work.
Refer to mutual contacts and use their names in your messages.
Add the name of the industry when connecting with representatives of a certain niche.
What messages can you customize with the Linked Helper?
Contact 1st degree contacts. In this case, you can easily present your product to those users who have accepted a connection request.
Contact your 2nd or 3rd degree connections who are members of the same group or participate in the same event. In this case, you don't need to be connected with them or send them connection requests.
Note: The tool can exclude from automatic mailing those users to whom you write manually or via Linked Helper.
The tool can exclude users from bulk mailing based on the following settings:
You wrote to the person after they accepted your invite. Use the setting Reject if you or LH messaged a contact after the connection date.
You used a specific phrase(s) to the lead and/or the lead mentioned some specific phrase(s).
You have texted anything to each other at all (it doesn't matter what – it can be even one emoji).
Send paid and free Inmails without limits. In this case, even if users don't accept your request, you will be able to contact potential customers. After reading your message, studying your offer, they may be more inclined to stay in touch.
Configure the checking of responses. In this case, the software will check whether you have received replies to sent messages every hour, or you can also adjust this time period. Thus, seeing who answered and who remained at the bottom of the funnel, you can continue to work with hot clientele which will most likely bring you sales.
Download the history of correspondence. It's a valuable tip since it will allow you to work out objections and common frequently asked questions. The next time you write a text message for sales, you will include the answer to this question so that potential customers can become interested from the first message.
7 messaging hacks to get more replies & purchases
Sometimes potential customers may miss your message because you didn't arouse their interest from the first lines. Also, many users are frightened by direct aggressive offerings. If they suspect that a new contact will start selling something in the early stages, most likely you will not succeed. Therefore, the surest way to sell on LinkedIn is to strike up a conversation and generate interest. How do you do that?
Real interest instead of spam. This is the safest way to sell when using LinkedIn. If many people do not answer you, the social network may consider that you are sending spam and may even ban you for such behavior. Therefore, a personalized approach to everyone can help out. Changeable lines that you can customize in your personal messages will solve this problem.
Despite the fact that the typing of a message and communication with a potential buyer will be performed for you automatically, don't forget that it will not be a robot but a real person that will read the messages. Try to write in lively, natural language and a colloquial manner, but politely.
The clue is hidden on their profiles. It's very important to speak the language of your client. Therefore, if your goal is to sell, you must analyze the interests and experiences of target persons in order to use these terms. You need to roughly understand what the problem and needs of this person may be. This may not always bring results, however, so there are other ways to successfully compose a message for sales.
A competent question will help you sell more. If you don't include any questions, then most likely potential clients will be less psychologically willing to answer you.
An open and personalized question will help you get feedback from potential buyers.
At the same time, the question should concern the client directly and demonstrate that you aim to help solve their problems. You definitely have a worthy solution to their needs. Therefore, if you use a question, it should be specific – the dialogue will turn into a productive discussion.
Don't write a lot. Now the main trend of correspondence, even business correspondence for sales, is spoken and short messages. Since LinkedIn is a social network – not a platform for cold emails – try to save your client's time and highlight the main points for the first message.
Exclude complex and deep details that might scare your prospect. The first message needs to be friendly, light, and short.
Offer a free service. It may be a part of your marketing funnel – a lead magnet can increase the credibility of your company if you present it through private messages. Lead magnet in personalized messages will help to catch the attention of potential customers – people rarely refuse something free.
So, in this way you can warm up the audience and prove that you are actually an expert in the services that you offer.
Share useful information. If you sell to people with whom you work in the same industry, you can help with some links to useful posts or information that will help them. After examining the comments, posts, and publications of people, you can figure out the problem and attach a worthy solution. In this way, you show that you are not aimed at obtaining personal benefit, but for real help.
Set up follow-ups. Many people who may later become your customers may not immediately respond to your messages. In this case, you shouldn't stop contacting them. It is better to set up subsequent messages in order to increase the chances of a sale. Link Helper allows you to customize your message thread.
Thus, the tool will identify whether the person answered you or not. Then it'll send messages that you save in templates.
When following up, try to emphasize a unique selling proposition and offer. If initial introductory messages don't help, perhaps people will be interested specifically in your proposal.
Personalization – 3 points to help you in social selling
These three points will help you sell more through your LinkedIn client base. Most of the actions can be performed by an automatic tool and you will not need to do mechanical and boring routine tasks. And when you have a whole sales strategy that you come up with in the marketing or sales department, then Linked Helper will carry out the implementation. You just have to correct it and add updates at some stages.
#1 Prepare your profile copy
Competent presentation and expertise in copy will help you sell more. Make sure that the account is ready for clients' visits and make it as informative as possible – demonstrating the usefulness of the uniqueness of your product and company services.
Headline. This line can be seen from the LinkedIn search page, so it is important to include your mission and indicate how you can help. Don't duplicate your job title.
Skills. These are discoverable from the search page. Fill them out to become more visible when people are looking for certain services. Interested customers will be able to understand what services can be purchased from you.
Bio. And in this section, the first three lines take the brunt. Therefore, use the first three lines to demonstrate the value of your product and your company. Everyone who visits your profile will be able to understand that it is worth establishing a partnership. They are more likely to respond to your message if they see value in this section. It is also worth optimizing the summary with keywords to help potential buyers detect you faster.
Experience. Do not describe your job responsibilities. Instead, list the advantages of your company over competing offers. Thanks to this, people who want to know more will be able to make sure that it is worth responding to your offers positively.
#2 Auto-actions before the message
Since selling on social networks means increasing trust and the ability to communicate in an informal environment, this interaction with user content is a vital accelerator for generating leads and attracting potential buyers.
In Linked Helper, you can configure all these actions automatically for each company, so you don't have to spend a lot of time performing mechanical and boring tasks.
Visits
Likes
Comments
Events / group invitations
#3 Finding data about people & competitors
You can also conduct a competitor's research to study what other offers exist on the market. Knowing rivals' proposals will make it easier for you to emphasize the benefits that grab a potential buyer's attention.
What parts need to be personalized in sales messages?
Subject
The Subject field is always available in the Message Template Editor in Linked Helper. But this line is only available when sending InMails or messages through Recruiter. This will not be shown in regular messages.
Try to personalize your messages starting with the topic. Include the name of the person you are writing to. This will help demonstrate that you have studied the needs and specifics of a potential client before promoting your products and services.
Message body
It is important to indicate that you understand the real needs and requirements by studying the market and offers. In the text of the message, indicate the benefits that the client can receive and correlate it with a real need.
Don't make the text too strict – add Emojis and attach images to improve readability. If you plan long messages with a detailed listing of services and benefits for the client, then be sure to use paragraphs from 2-3 sentences so people can easily read the text even from a mobile device.
To sum up, you have everything you need for social selling – personal information about potential customers, market data from company profiles and thematic groups, and all the necessary news in the industry. All that remains is to apply this information to an outreach message via LinkedIn and transfer all boring and repetitive tasks to the automated software. Take advantage of exploring top Linked Helper functions for free for 14 days.