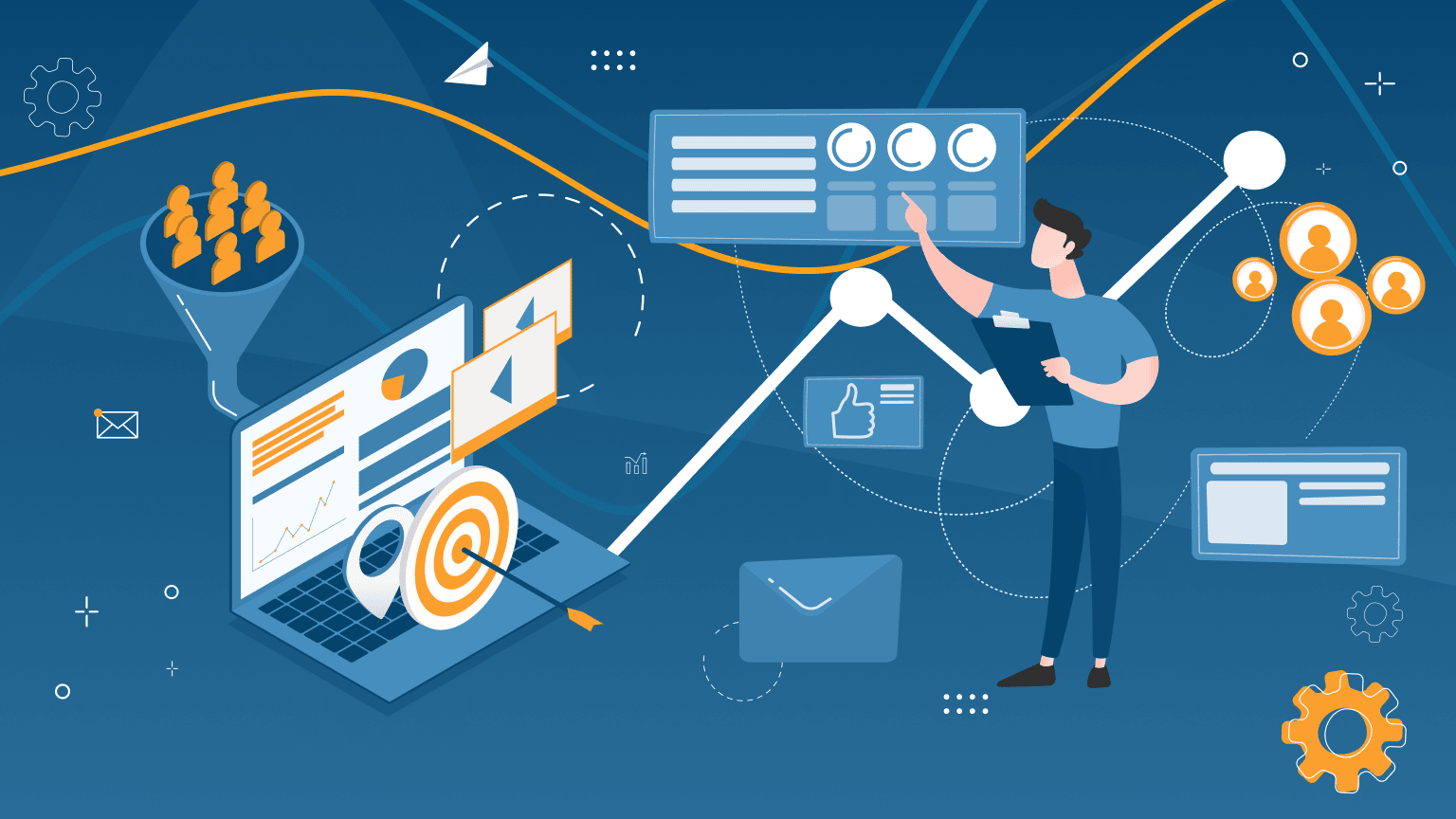 Despite the fact that, in the classical sense, drip campaigns are based on a chain of emails, in this article we will talk about a more advanced way of making your approach to customers. The fact is that social selling through LinkedIn can bring you many more leads and conversions, and sales in 2022 are slowly moving to social networks, even when it comes to B2B. According to the research, 37% of millionaires are on LinkedIn, as well as company executives and other influential people who can become your clients.
The fact is that in order to conduct a drip campaign through an email newsletter, you should already have a warm audience. That is, people must leave their contacts by filling out a form, after participating in an online event, or in exchange for a free product. At the same time, with a drip campaign that you run through Linked Helper, you can add a completely cold audience at the top of the funnel and slowly heat it up. After this stage, you can do email outreach in parallel with your LinkedIn campaign, which can increase sales and bring subscriptions to your product. Either way, a campaign like this can be a great way to increase conversions through a new lead generation channel.
Watch this insightful video to get started with your campaign now. 
Such a funnel will help increase brand awareness of your SaaS product online and collect positive feedback in groups and in your comments. All this will be an investment in the growth of consumer confidence!
Drip SaaS marketing basics
The essence of such a funnel is to maintain the interest of your users, to create a warm dialogue with them. SaaS, unlike a physical product, uses drip campaigns as the main armament to expand the audience's product knowledge and maintain live communication (even if your product is a robot).
The communication chain helps to stimulate purchases, good reviews, and recommendations through trust and knowledge about the product. Unlike aggressive and direct sales, such a chain slowly but surely builds loyalty. In essence, once you get the contacts of interested leads, you will move them through the stages of the funnel, working out possible objections and shaping their interest.
It is important that drip campaigns should be broken down for different segments and personalized – the targeting and personalization options that the software gives you will affect the final conversion rate.
Typical situations for a SaaS drip campaign:
When filling out the lead magnet form
When subscribing to your product
If the customer has decreased activity
If the user contacted the support team
When a new plan or product is released
At the end of the subscription
Functions that a drip campaign launched through emails or LinkedIn can perform:
Develop relationships with leads. A lead is someone who might be interested in your product, but is not yet a user. For example, in LinkedIn you can find such audiences in niche groups and start interacting with them in LinkedIn Helper. Also, all your content will contribute to this function – posts from your blog and on your business page on LinkedIn. The fact is that having an active personal profile on the social network can be the reason your audience comes to trust your brand.
Start communication at the beginning of the trial period. Offering a trial version is an indication of a trustworthy SaaS product. And through a drip campaign, you can inform and give instructions to users about the start of the trial. Starting a trial will often result in a subscription if you have found the right target customer. You can use both emails and LinkedIn messages (and even automated InMails to your cold audience).
Greet and start a dialogue. You can send such messages to everyone who has already registered and subscribed to the paid version. Often such messages are sent via email because there is more scope there to explain the intricacies of using the product. Here you can use demo videos and tutorials so that the client does not lose interest in the service and explores all the functions. A simple LinkedIn message when clients or partners add you to your network can simply say thank you for making contact and briefly introduce your service (a short statement of your USP).
Activate attention. Such campaigns will be aimed at regaining the interest of those customers who interacted with the services, but at some stage became inactive. For example, a lead may have read a previous message from you but forgot to respond to it. In Linked Helper, for this, you can include follow-ups in the message chain, which the software can automatically send to those who did not answer the previous message.
In addition to the above, every update in your product, online events, or all kinds of news can become a reason for a campaign. In some cases, LinkedIn lead generation can be more effective than email outreach. You can leave email communication for your loyal users while you can parse emails and grow connections with cold prospects via Linked Helper. 
Effortless conversions: SaaS drip campaign through Linked Helper 
Vital insider hacks for a drip campaign in Linked Helper
You can try Recruiter Lite + Linked Helper for 2 months on a fully paid package
It's possible by starting a free trial and connecting a card with zero balance. The subscription can be active for two months for free. With extended packages like Recruiter Lite, you can search for people by skills (keywords) or locations.
The first, second, and third messages should have different content
The first message after the invite does not start selling immediately. If you immediately start your pitch, the person will not perceive you as a friend. Instead, thank them for connecting. Briefly describe your niche and what you want from the connection. Explain how you can be useful to the lead and add a call to action. For example, offer to call in order to be more likely to receive a response to the message.
The second message should try to find out how well-targeted the lead is. Your message here may be more specific. The main thing is to make sure that it is worth continuing communication with this lead.
Third message. If you haven't received a response, your message might be: I see that our offer is not relevant for you at the moment. Would you be interested in continuing the dialogue in the next quarter (or other specific specified time).
Do not use links to external resources in messages.
Pauses between messages in a campaign can be up to 7 days
A lead can go through the funnel in about 6 weeks. It makes sense to use longer delays between messages in the funnel. They can be sent with pauses up to 7 days. This will help warm up leads better and not make you seem like an intrusive seller – because using a social network for sales should resemble natural communication, and not be like a cold email newsletter. If you write to the lead too frequently, they may end up reading all the messages at the same time and think that this is spam.
Complete your profiles with descriptions/images aimed at the target audience
Before outreach, make sure that the profile is complete and that the main photo and profile cover are also set. You can use multiple accounts for your Linked Helper campaigns. But never fill out multiple employee profiles in the same way. Learn how to create your summary with examples. 
Hack: You can use a downloaded image as a cover. It's good if the visual matches the character and views of your target audience. For example, you can use photos from exhibitions and conferences and add your brand logo.
You should think about the headline! It should concisely convey your role and mission, for instance: "We help (your target audience) to (achieve something)". In fact, the copy on your page can be considered as a landing page, so the descriptions should be informative and appealing.
A person who sees your invite will firstly notice your mission and your niche. 
It is possible to remove inactive profiles from your campaign 
Inactive profiles are those that have less than 200–400 connections or followers. You may find it more efficient to transfer them to an email campaign as such users may not check their LinkedIn accounts frequently. It's easy to scrape lead emails through Linked Helper and verify them through an email validation tool, such as Verifalia, Zero Bounce, or Clearout.
To sort users by number of followers:
Visit accounts through the "Visit and Extract" action. With this action, all data from the LinkedIn page will be saved in the software.
Download a file with a list of users. You can do this in the software under the Lists tab. After downloading, you will receive the data in an Excel spreadsheet.
Apply a filter by Follower number in Excel. Thus, you will see which of the collected users is a less active user and you can remove them from the drip campaign.
An example of a drip campaign in Linked Helper
First you need to understand that the software works on the drip campaign system. That is, you choose the target audience from different sources on the social network and add various actions to the campaign. And after the launch of the campaign, the software begins to gradually perform targeted actions with each participant in the funnel. A campaign can consist of one or more actions.
You can see for yourself how simple and effective your marketing and lead generation in LinkedIn will become if you download the trial version of the software. The download will take you no more than 15 minutes, and you can use the software for free for 2 weeks.
The standard version of a drip campaign can be as follows:
#1 Invite
This action will automatically send invites (requests to connect) to everyone you select in the queue list. As a rule, you can insert a message that the lead will read immediately upon receipt of the invite. The message could be like this:
Hello, I'm (your position) from (company name). I think you might like our SaaS product for (briefly indicate the usefulness of your software). It would be great to get connected – on my page you will find a lot of useful materials related to (specify niche).
It is convenient that even at the stage of the first message you can use deep personalization. Linked Helper can use variable strings that you yourself add to the software (via an Excel spreadsheet) and pre-existing variables (lead name or names of shared contacts).
#2 Filter
This action will help filter out those who accepted your request and became your 1st degree connections. The software will mark these people in a separate section, Accepted. Based on this filter, the software will perform further actions with leads that accepted your request. For example, you can add a message further in the funnel that these people will receive.
#3 Auto-message to your contacts
At this stage, you can establish closer contact with those who accept your request. Although you can include texts in the request, LinkedIn still has limits for these messages. In the first message, you can thank your new contacts, tell them how you can be useful to them, and introduce your product. Also, if your ultimate goal is to organize an event, then in the message you can highlight the details and give a link to participate. You can also add a link to your product or trial version. In this message, it is important not to appear overly formal or to advertise directly. Imagine that you are telling an old friend about an SaaS product that you have found yourself.
#4 Сheck for replies 
This action is added to the workflow so that it periodically checks all incoming responses. For example, someone may not answer you immediately, but they do so after a few days. Therefore, the checker will check incoming messages through the software so that you do not have to open your account on the social network and scroll through hundreds of chats. Also, all answers will be neatly sorted, which is more convenient than having correspondence in the chat format.
The "Check for replies" function contains the setting "If no replies are found, move the contact to Successful list." The pause between the previous and next message is configured in this option. We recommend pausing for 5 – 7 days so as not to seem intrusive.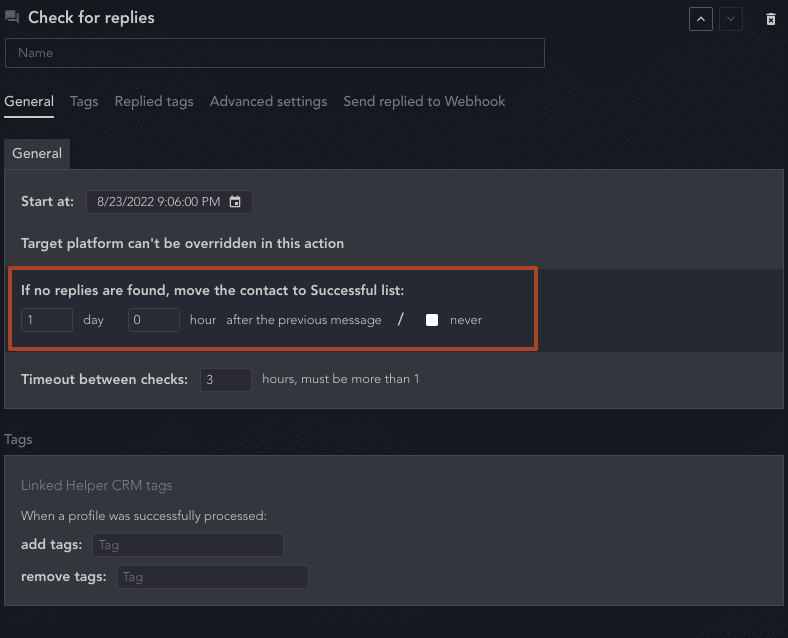 #5 Second auto-message to your contacts
If your first message goes unanswered, you can consider chaining follow-ups. It's normal for a lead to miss your message or read it and forget to respond. Therefore, you can make a reminder for this occasion. Do not duplicate information completely, but rather add more facts and a CTA that will encourage the lead to respond to you.
#6 Сheck for replies with a delay of 7 days
This pause will help you get as many responses as possible from those who may not respond immediately. At the same time, your drip campaign through Linked Helper will be executed over a period of days, so you will want to allow some time so that the person can view and reply to the message before sending the next one. Linked Helper checks answers every day, every 3 hours on average. For example, if you add 800 people to the funnel, then the software will not write to everyone at once. The software acts on the principle of human behavior online. For this reason, lead interactions will take place gradually, moving each one through the steps of your workflow. The more actions in the workflow, the more time it may take to implement a drip campaign.
#7 Third auto-message to your contacts
In this message, you can once again try to contact leads who did not respond. After 7 days, this follow-up will not look intrusive at all. And you can make sure that these leads are definitely not interested in your offer at the moment.
#8 Checker
To sort responses, add a response checker after each round of posts in your drip campaign.
Example of an auto SaaS drip campaign through groups
Many Linked Helper users use LinkedIn groups for lead generation. This is an effective way to find interested customers because group audiences are already sorted niche lists of users. Therefore, to implement this funnel, we recommend that you monitor groups that can contain your potential leads. These can be groups dedicated to SaaS products of your competitors, groups uniting niche professionals (i.e., probable users). For example, if you created a product for marketers, then you can start outreach with groups where marketers gather to share hacks and professional secrets.
For this case, we will give an example of a workflow for a drip campaign through groups.
#1 Auto-like
With the help of likes on the posts and the article of your leads, you can attract their attention. Each like will be displayed in the notifications of your leads. And often this can be an incentive for them to visit your page. Make sure you include a link on your page to your product's website or your organization's page. Also in your summary on your profile, you can give a description of your product – mention only important facts that will reflect the competitive advantage of the service. With this simple action, you can already get more traffic to your website and increase brand awareness.
As a source for collecting leads in Linked Helper you can specify a specific group, and all its members will be transferred to the funnel. They will be displayed in the Queue section and the software will gradually perform the actions you have assigned to them.
Even one successful like can bring you a new client!
#2 Delay 1 day
During this pause, more people can be processed by the software. And maybe some of them will take the initiative and send you an incoming contact request. Linked Helper will automatically accept it.
#3 Message to all common members of the group
Linked Helper has a special action that allows you to send a message to all members of the same group as you at once. This is allowed by the LinkedIn rules even if these users are not your contacts (the following steps will help you add them to your network).
In this message, you can present yourself and the product, its mission and usefulness for this audience in more detail. Tell them in what situation your service can solve a potential problem. In Linked Helper you can personalize strings as much as possible depending on the presence or absence of certain variables. For example, if the lead works in a technology niche, the logical operator can use a particular phrase. And for your marketing clients, another phrase will be used that you prepare ahead of time.
Thanks to logical operators, the messages in your drip campaigns can be personalized for different segments of the target audience. Sometimes this is necessary in order for the leads to seriously read your message and find a solution to their specific problem in it.
#3 Checker with a couple of days delay
The delay between actions in the drip campaign at this stage will help you wait for the first results. After receiving responses from leads and reads, you can establish a warmer connection.
#4 Invite (maybe without a message)
Since, according to the logic of such a drip campaign, you started your acquaintance with a message, you should not add a presentation to the invite text. It would be superfluous because you have already sent the key information in a message to the general members of the group.
Linked Helper gives you the advantage of sending invites without concern for the limits the social network sets on these. By default, LinkedIn users can send no more than 100 invites per week. But by using an undocumented feature of LinkedIn, Linked Helper software can increase this threshold up to 7 times. That is, your network can expand much faster with automation than without it.
Read how auto-invites work in our article.
#5 Filter
This action sorts everyone who accepted your invite. At this stage of the funnel, you can already identify warm leads who are clearly interested in your service (those who answered the message and accepted the invite).
This action can accumulate a lot of profiles in the Queue, but it's not that Linked Helper is buggy. The software checks who accepted the invite and who did not. But the tool can't force people to accept it, so there will be people in the Queue who didn't accept the invite and probably never will. In this case, you can simply delete the unaccepted invites.
Then you can continue messages in drip campaigns for warm leads.
#6 First auto-message
This is a kind of welcome message for everyone who accepts your invitation to connect. In this message, you can also make reference to the first message that was sent at the beginning of the campaign to all common members of the group.
For example:
Hello. Thank you for accepting the invite. Earlier, I wrote to you about a product we made for (specify lead specialization). Have you seen my previous posts? If you have any questions, I'll be happy to answer!
#7 Second auto-message
This message should be added right after the first one. This will help the dialogue look more alive because people often split text into two messages, one after the other.
#8 Endorsing
When you do Endorse skills on LinkedIn, you help your network members become more visible. Usually users do the same in response. Therefore, this action will only strengthen the connections you are building on LinkedIn.
#9 Checker
As we found out earlier, the checker will timely check who replied to your messages. Also, all responses will be displayed in the software and you can read them right there. In addition, Linked Helper allows you to download lead data after each campaign in a spreadsheet format. This can be useful for sharing the result of the funnel with your colleagues. The downloaded file will show all the data about the leads, as well as the history of your communication.
Also, when you run such campaigns in Linked Helper, you get the power of a CRM. That is, after each campaign, you can label leads with tags, which will be convenient for categorizing them in a table. For example, you can assign labels based on the results of the campaign to organize an event, like "Answered but did not participate," "Filled out the form," and "Participated."
Based on the timely categorization of clients, you will be able to form new drip campaigns from these lead lists, in which you can work out problematic issues for each group.
Note:
In the workflow in the example, the point is that the message comes to everyone through a group on LinkedIn or an event. But in this case, these messages are not visible in the main Messaging inbox, but rather in the "Incoming requests" inbox. Users need to specifically go to this section to read the messages, and therefore the open rate of these messages may be lower.
After someone accepts an invite, the initial message sent via the group or event will end up in the same messaging thread as your next message #1. And message #2 comes immediately after the first one, so the auto-message chain will look like it was composed and sent by a human.
Steps to create a social selling funnel on LinkedIn
We have revealed the technical features of running a drip campaign through LinkedIn. In practice, the process of creating your social selling funnel will include the classic steps before setting up the campaign itself. For example:
#1 Create a lead magnet
You can use a lead magnet offer in your message, request, or description of the event where you will be inviting leads.
Think over the logic of your audience segmentation. Create tags by which it will be easy for you and your team to separate the target audience and assign them to a specific group after they pass the stages of the drip campaign.
#2 Create pitches
Keep in mind that there can be a lot of scenarios, but we provide a few examples below.
Attention: it is not recommended to send more than three messages after an invite, as this sometimes looks intrusive and spammy. For this reason, you may be complained about.
The sequence of sending chains of cold messages:
Message 1: Reason why we are writing / A brief description of the problem we are solving + call to action. 
Message 2 (after one day): A one-sentence reminder about yourself, such as "Did you have time to read my last message?"
Message 3 (three days after the second message): A more detailed description of the problem existing in the niche + the result of your solution to it (mini case with numbers) + call to action, such as "Tell me, does it make sense for me to send a link to more detailed cases?"
Message 4 (two days after the third message was sent): Another piece of the case, which may contain feedback or research + a call to action, such as "How about talking more substantively about such a solution for company X?"
Message 5 (five days after sending the fourth letter):
The so-called "farewell message." Be sure to leave contact details at the end that the lead can use if they suddenly find a need for your offer. 
#3 Choose the right days and times for your outreach:
We recommend reaching out on weekdays only.
on Mon from 11.00 to 16.00
Tue-Thu from 10.00 to 16.00
Fri: from 10.00 to 15.00
IMPORTANT: schedule the delivery according to the recipient's time zone.
In those sequences I described above, the number of days indicated are working days. Thus, actually the whole chain of five messages goes within three weeks.
#4 Compose your messages
This can be a complex task with no shortcuts, unfortunately. This is an art. A presentation of your product or existing cases can make copywriting a little easier for you. Take the most spectacular examples from there (the more numbers, the better). Distribute this info amongst all the messages.
#5 Check how the text displays for the recipient
Remember, over 50% of work email opens in 2022 are from mobile. Check how your message is displayed on the phone.
#6 The subject of the message can be less important than the first sentence 
The opening rate is highly affected not by the topic, but by the beginning of your text. The so-called "Ice Breaker," which should hit the recipient's heart, create a touch of intrigue, and give the recipient no other choice but to open and read the text. 
Wrapping up tip: automated bulk InMails for SaaS promotion 
When you do a drip campaign through LinkedIn, InMails are an important tool. By analogy with the mailing list, you can send InMails even to those audiences that are not members of your network. This is possible thanks to paid and free InMails.
Linked Helper is a drip campaign automation tool that will help organize free InMail bulk mailings. Sending such messages through the software will be much easier than if you did it manually. The fact is, many people think that InMails can only be sent by connecting to one of the paid LinkedIn plans (the largest number of InMails allowed in Recruiter is 150 per month). In addition, the InMail mailing list is built on a system of returnable credits, which are returned to you if the InMail is answered or accepted. To dispel all the myths about this complex function of LinkedIn, we have compiled a detailed guide about InMails, where we analyzed both paid and free limits and how credits work.
An important feature for your drip campaign can be the ability to send InMails for free to users who have an Open Link status. In this case, the social network allows you to write free InMails with a limit of 800 per month (which may be enough to bring in cold clients or find suitable partners).
You can use Linked Helper parsing to filter out those users who definitely have the Open Link status. These people can be selected from the search page by selecting the Service Categories filter. If a person has set this filter on their account, then they automatically have an Open Link account, and it means that you can write free InMail to them.
If you have a subscription to Sales Navigator, then you can collect more targeted profiles from the search. Further, in the Linked Helper CRM you can filter them based on their Open link status.
You can add such users in bulk to your drip campaign. Thus, you can search for clients, new employees, affiliate partners, influencers, and other audiences that you need to develop for your SaaS product.
You can create deeply personal InMails and send them in bulk. As the drip campaign progresses, more people will receive messages from you. You can also use paid credits if you have one of the paid LinkedIn plans connected.
You can evaluate the effectiveness of such mailing. In Linked Helper you will see how many people have replied to your message out of those sent. This will help you evaluate the quality of pitches and improve them for the next rounds of the campaign.
As a result, you will see that drip campaigns on this social network can also be measurable and effective, on a pair with email campaigns. In addition, by automating your social media outreach work, you can improve your email marketing by extracting email databases of important leads from LinkedIn.
By constantly being in contact with important audiences on the social network, you nurture your leads more personally and warmly than in automatic mailing via emails. In addition, such a campaign can be made as targeted and personalized as possible. At any time, you can increase the activity with your audience depending on your goal – greeting, collecting feedback, searching for leads for a free trial, sending product or event announcements, organizing an upselling campaign, or reactivating old customers.
You can be one step ahead of your customers if you try to increase the impact of your business through SaaS drip campaigns. Just download Linked Helper and set up your first campaign for free.