In 2022, marketers and salespeople face the daunting challenge of cold emailing – getting potential customers to read your message. According to statistics, emails that are personalized using the name of a contact person bring a 2.4 times higher open rate than non-personalized emails. This means that by collecting a database of contact persons, marketers will increase the efficiency of cold outreach and grow sales.
Below you will uncover the irreplaceable solution for this task – the Linked Helper and Snov.io integration. You can scrape a custom database of contacts from LinkedIn and embed it straight to the mailing platform. Make use of the data stored in the first source community for B2B and IT industries.
Moreover, the spreadsheet can be downloaded as a CSV if you aim to transfer it to alternative cold email automation tools. We will also overview five popular services with their pros and cons.
The killer benefit of integrating Linked Helper and Snov.io is you can outwit the system and bypass the social network invite and data viewing limits.
By default, it's impossible to see and copy email addresses of 2nd and 3rd degree connections. After setting up everything, Linked Helper will scrape even these target profiles' email contacts. Furthermore, you'll be able to apply the extracted emails to automatically invite more than 700 people weekly, surpassing the limit of 100 weekly invites on LinkedIn by default.
What is crucial is you will understand how to automate interaction with people who are vital for your business directly on LinkedIn, in addition to sending cold emails. In this way, you will be able to increase your credibility as a brand representative, which will improve sales and company recognition.
What are the advantages of using Linked Helper for amassing emails in conjunction with Snov.io?
Increased sales through cold emails. And with the help of data collection and a database of contact person e-mails, you can connect with people who are your potential customers. On LinkedIn, you can find numerous leads in IT, Healthcare, Construction, and other important sectors.
Therefore, by integrating the database collection with automatic cold mailing, you can reach out to interested audiences. Such convenient functions as a smart email builder, as well as outlining a chain of letters with variations will assist you.
Outreach to influencers and partners. To communicate with people who might be useful in promoting a brand, marketers often have to use cold email newsletters. Numerous online media and influencers mostly use this method of communication for business relationships.
After collecting contact data through LinkedIn, you can plan email campaigns for different audiences, set up follow-up emails, and study behavioral triggers.
A follow-up to interested audiences. Thanks to Linked Helper, you can collect a database of profiles not just by industries, but also based on interactions with your account. For example, those people who visit your account or join thematic groups, so they already demonstrate an interest in your services.
By collecting contacts of these targets and integrating them with the auto-mailing platform, you can remind them about your product, invite them to events, etc. Moreover, Snov.io supports third-party integrations with other business platforms, like Calendly, so users can set up additional activities and events.
Sales email automation via LinkedIn: how to set up two tools
At each stage of the pipeline from lead generation to following-up past clients, marketers can be supported by two integrated tools, which are complimentary. Let's figure out how they work and the specific steps to set them up correctly.
Download Linked Helper 2 and get 14-free trial right now
If you are not yet in our list of users, then join. We give you a trial version to start your experience with our LinkedIn tool.
Personalize sales emails: integrated automation tool for LinkedIn data parsing
In order to combine the work of the two tools, explore the following instructions.
Snov.io is an online marketing automation tool that helps you generate leads and set up bulk email campaigns. It is useful for outreach and follow-ups via email that you can analyze afterward.
#1 Download Linked Helper for free
You need to install the trial version where you may test the profile parsing function for 14 days. This is a trusted automation tool compatible with Sales Navigator, Recruiter, Premium, and basic LinkedIn. Downloading and registering will take no more than 15 minutes. Afterward, you can expand your LinkedIn usage with advanced CRM features.
# 2 Launch a "Visit & Extract" campaign by people
Linked Helper collects profile data of companies and people, but only scraping people's data is compatible with Snov.io. To collect contact information, including email, which is indicated in the profile, you need to create a campaign by people. After that, a standard LinkedIn page with built-in search filters will be displayed. Here you will be able to use Boolean operators and search by keywords and regions.
# 3 Connect the Snov.io extension in the settings
Now you just need to switch to the third-party mailing service where all found contact data will be synchronized for cold email. Open the Workflow tab on the campaign dashboard. Below you will see the Advanced Settings menu item. Select this option and choose Yes in the line where integration with Snov.io is suggested.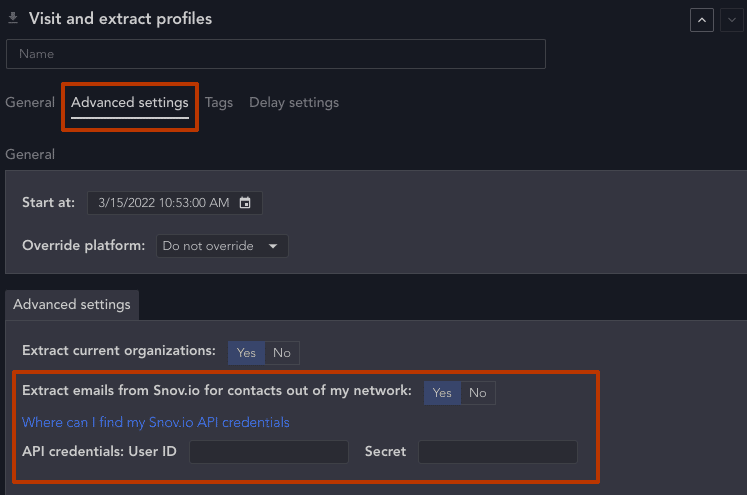 After you click on Yes, a clickable link will open in front of you with API input sections – the User ID, and the Secret code. Click on the blue link to be redirected to the Snov.Io login page. In the personal account, you can copy all the necessary API data that you need to insert for integration.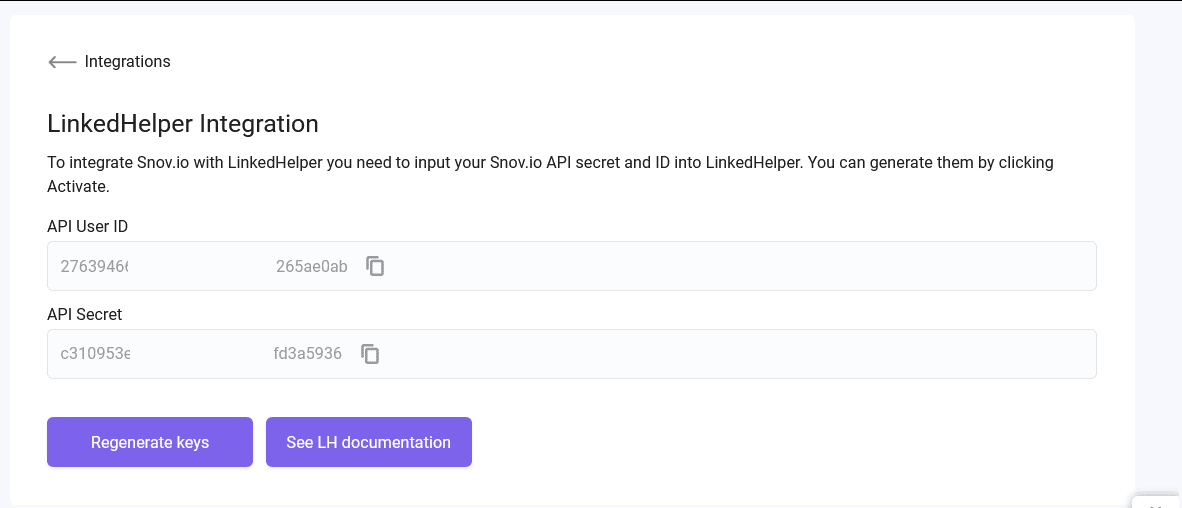 #4 Proceed to data collection
After you have registered the API parameters in the settings, launch the target search through LinkedIn. Conveniently, you can use the internal search settings of the social network, including Boolean search strings and advanced filtering by industries and keywords. When the search criteria for the campaign are determined and you are satisfied with the results, select the menu item Сollect from the current page.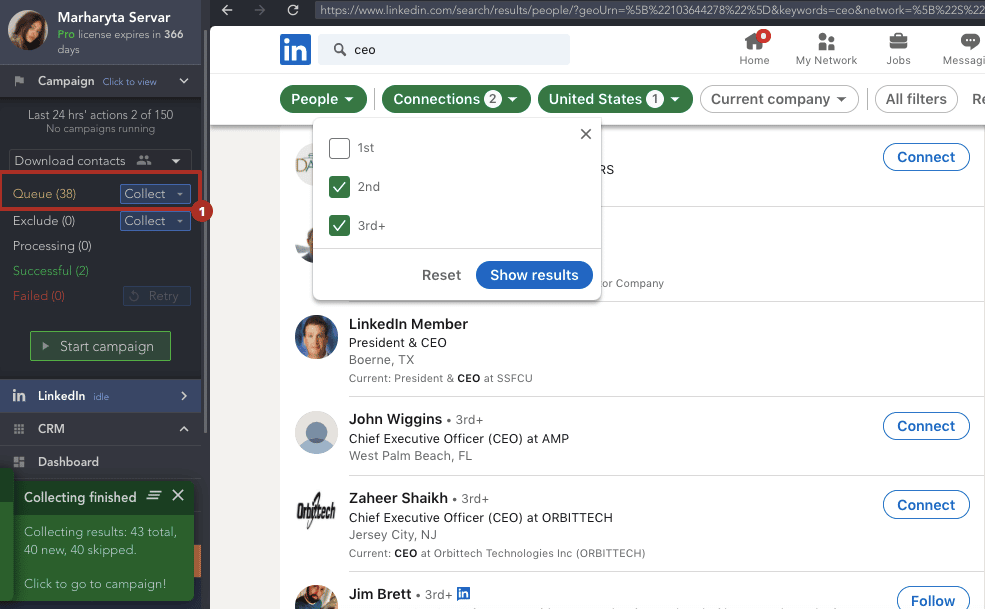 You can observe how the service automatically collects data by visiting each profile that appeared in the search results. Remember, that his method will help you collect emails not only from 1st degree connections but also from 2nd and 3rd degree connections.
When you aim to stop info collection, click on Stop on the dashboard.
#5 Go to the tab Successful
For amassing contact data by 2nd and 3rd connections, the automation algorithm needs to visit each profile. Start the campaign and you will see how the tool visits profiles. To check if Linked Helper has opened profiles, you need to open the tab Successful (marked with green color).
There you will find a list of those profiles that can be transferred into a file, including emails in a dedicated column.
As soon as you make sure that the required people are presented in the tab Success, you can download the database with contacts.
# 6 Downloading a spreadsheet with personal data and email
Finally, the tool has visited and copied all the information you need.
You now have two options:
Save these profiles in the CRM and automate LinkedIn target engagement.
Download the files for integration through Snov.io or other mailing platforms that we will overview below.
Mark accounts from the Success list or select all. Choose the download menu item. Use the hint that will pop up when saving the file to save it as a CSV or Google Sheet.
Snov.io advantages that will help you set up striking campaigns:
Complete mailing automation. Once email groups are assigned, the manager can gradually add new leads there, which may be discovered via the Linked Helper research.
Built-in triggers. The service allows users to track recipients' reactions to the texts. This will optimize the next rounds of outreach by changing the email subject line and first paragraph. All of this will help you come up with the perfect formula for contacting potential clients.
Built-in templates. If you don't have experience in outlining pitches, you can use the internal library. Replace some expressions across templates with your unique offer and a contact first name. This way your letter will look professional even if it's your first time.
Statistics on campaigns. Users can track campaigns in real-time in order to evaluate how each outreach funnel worked. After that, the texts or the audience can be split tested to increase the effectiveness of the next campaign.
Bonus sales booster – LinkedIn outreach automation with Linked Helper
If cold emails aren't effective in your niche, try establishing a more personal social network connection with strategic partners and customers. Before contacting them with an offer or invitation, show yourself in all your glory on the most active business platform. Your personal LinkedIn profile, whether you are a full-time employee or a company founder, can activate your marketing results.
It is a daunting task for a businessperson to stay engaged on social media when important business issues need to be solved. Therefore, we propose to automate the most routine, but necessary, actions in LinkedIn. Combined with email outreach, this strategy will generate a lot more leads.
Note: The Linked Helper and Snov.io incorporation allows you to break the invitation limits without violating the rule of the social network. You can upload emails to Linked Helper and the tool will automatically amass invitations to add contacts. So, if you already maintain a database of emails, you can establish closer relations with these vital people through LinkedIn.
How can you automate LinkedIn outreach?
#1 Automate activities – show Interest in good-fit targets
In Linked Helper, not only can you retrieve contacts for outreach – but the software can also visit the accounts of clients or business partners. They may become interested in the visits and check your profile. Here you will only have to persuasively present the company and its services in the text and visuals of the profile.
When you connect and drive leads to your personal LinkedIn profile, it can work better than a cold email, especially if you're selling B2B products or services. Your photos, personal experience, and reviews will be available, which form social proof and trust in the company.
Once configured, you will be active daily. The software will perform the following actions on target profiles:
Visits, likes, and comments
Sending invitations to connect
Free InMails to Open link profiles
Auto-invitations to groups/company page
Auto-invitations to events
#2 Schedule private messages on LinkedIn
Since you will already have a ready-made pitch for email campaigns, you may make it less formal and use it for direct mailings on the social network. This double capture of the target audience will give 2X more responses, which means more sales.
The Linked Helper allows you to send reminders for different audience groups and save templates for message threads for each round of the funnel.
Personalization through word substitution and personal appeal will allow you to find an approach to each lead.
The attached pictures for each group will enhance the effect of the texts.
It is possible to download an archive of responses to help diagnose the success of outreach and work out objections and ulterior motives in the texts of the audience.
Why is Linked Helper automation secure?
It is downloadable software that runs on independent browser technology, unlike browser extensions that integrate code into social network pages, leading to the recognition of automatic actions.
It mimics real user behavior on the pages, instead of robotic actions, making the work through the software identical to yours. For example, to search for emails, the tool will go to each profile and will never search through copy-pasted URLs, like a robot.
It acts according to the site limits. LinkedIn can sometimes suspect automation, even if users perform tasks manually. We guarantee the number of actions doesn't exceed the safe norms.
5 email automation tools for sales teams
When comparing services for email automation, you should consider your needs – whether you are an individual specialist or if the platform will be used by a sales team. Key functions that you should pay attention to are:
Customization. Most of the automatic services will have the function of setting the time of the beginning of the campaign and the duration. But they may differ in how deeply you can customize time indicators for each sequence.
Personalization. This important function will allow you to adjust a pitch for each specific person and for a specific target audience. It will be adapted to their needs, presenting your proposal from an advantageous perspective. Having worked out the pain of each audience, you will not need to set up the companies separately, but can use templates. Simply change the name and company name, and make an offer for each segment that grabs them from the first paragraph.
Tracking email interactions. Thanks to these functions, you will be able to understand whether your message has been read and if it is worth sending the second email that you have planned. Otherwise, it may be better to postpone the next round of outreach.
Examples:
# 1 Salesmate
This service is a one-stop solution for the sales team and marketing team. It facilitates sending emails and has an integrated CRM system as well. What's more, you can set up additional SMS messaging which may be needed for extensive outreach.
Conveniently, many LinkedIn users include phone numbers in their descriptions. Therefore, the integrated database may assist with SMS, and setting up communication with potential partners and candidates in messengers.
You will be able to save the auto-sequences for each stage, setting up the time when they should be sent – the service will deliver them at the appointed time. The recipients can be categorized by tags.
It's also convenient that in this service you can work in parallel with the entire team and in order to have access to mailings. This is also available for Linked Helper users.
#2 Outreach
This software is also suitable for both teams and independent specialists who are engaged in mailing.
Within this CRM, you can curate complex outreach campaigns with multiple team members. For example, after outreach you can set notifications for different users to continue the work. For example, message them on LinkedIn, or schedule a call.
This is one of the few tools for automating email which allows marketers to collect and indicate recipient information received from LinkedIn. When collecting contacts through Linked Helper, it is incredibly convenient. Making notes as a result of cold outreach, you can mention how you should continue to communicate with these users on LinkedIn. Sometimes it may be enough just to interact with the target profile by visiting and liking and regularly commenting on prospects' posts to facilitate email open rates.
# 3 Mailshake
This automation service allows you to customize smart actions based on the recipients' reactions to your message. Thus, the further system actions will depend on whether a letter has been read, whether the recipient followed the URL, and if they replied. The approach to each funnel participant will be personal and unobtrusive.
This tool allows you to customize pauses between mailings sessions. Also, an advanced feature helps users to send emails when they are most likely to be read, as well as set up custom pauses for each target group.
What is important is you can split test companies on various parameters – for example, change the texts and/or headings in order to derive the ideal formula for each audience. This service allows you to recognize who has unsubscribed from the email newsletter.
#4 Saleshandy
If you prefer plugins for browsers, then there is an option to install for Gmail or Outlook. The service also works autonomously. The set of functions is similar to the previous service. That is, an automatic configuration of email chains along with follow-ups in combination with tracking user behavior.
You will be able to analyze the number of the target link follows from the letter.
#5 Reply.io
This service allows you to integrate the email database that you receive after extracting from LinkedIn.
What's unusual about this tool is that it has a built-in assistant for composing texts. Therefore, you can increase the quality of the copy, making it more clear and concise.
Combined with CRM systems, it allows users to maintain a database of leads along with email outreach automation.
To summarize, you can automate and make the cold outreach process more efficient through integration. The extra automatic interaction with audiences and through LinkedIn can enhance every outreach campaign. Try Linked Helper and integrate with Snov.io for 14 days free of charge. The collected emails, as well as warm interactions with users through the social network, will boost your next email outreach.