Finding clients on LinkedIn can be the most effective solution in your marketing strategy. According to advertising on LinkedIn statistics, lead conversions occur 3 times more often than on other social media with the ads function. Maybe because when opening this site, people are more tuned in to receive a portion of serious or business information than to view entertainment content. Therefore, if you are looking for clients through social selling, you must become an expert in advertising customization and alternative ways to advertise your products and services on LinkedIn. 
This LinkedIn ads guide won't give you boring tips and ad settings that are plentiful on the web! We will reveal the best practices of alternative advertising at 10X cheaper than the CPC model. 
Since there is an abundance of advertising in social networks now, it is becoming increasingly difficult to attract users. Despite outstanding creatives, the cost of leads from paid ads can rise as competition increases. You can use not only the possibilities of paid advertising on LinkedIn but also additional advertising tools. For example, Linked Helper is a service that will help you automate the whole path to the client – from warming up with likes and comments, establishing contact, and sending an auto-message chain. Through this software, you can select a narrow audience group using built-in filters and personalize communication for each segment.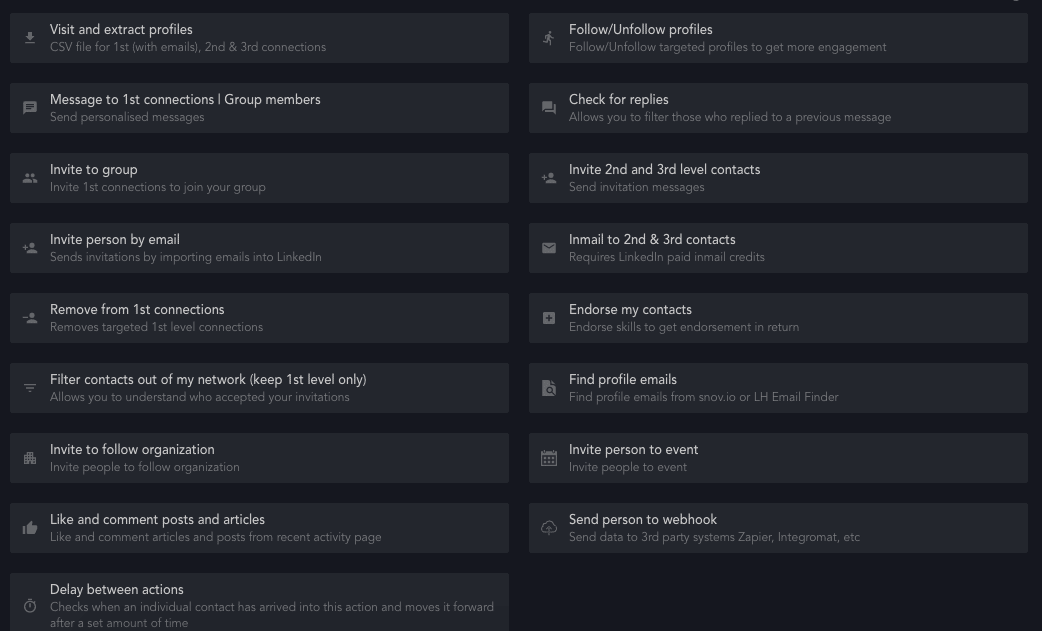 LinkedIn ads via automation: advertising best practices 2023
Reasons to adjust ads through automation with (or instead of) built-in ads
Clients (or potential employees) will not immediately perceive your message as an advertisement. By implementing social selling through a drip campaign automation tool, you can treat leads like friends, and show interest in their content and life. This creates a warmer and more human relationship with potential leads than a banner ad.
You can better find the right audience through deep targeting. With the targeting settings for the drip campaign in Linked Helper, you can better sort the audience. In fact, you can use all existing LinkedIn filters for the campaign – from search pages, Sales Navigator, and Recruiter filters. While the settings in the advertising account are wider and do not allow you to reach a narrow segment.
As part of a campaign through an automatic tool, you can reach fewer people (with 150 actions per day, your reach can be about 4.5 K per month) than when setting up a LinkedIn campaign. But at the same time, the chances of reaching targeted leads and a certain segment are much higher – you can literally manually add your audience to the funnel.
You can find out the possible LinkedIn filters in support posts. 
You can use deep personalization. As well as in the settings of advertising campaigns where the audience sees their name on the banner, you can use the same technique in Linked Helper. For example, in the Message Template Builder, there is a function of built-in replaceable variables and the ability to set your personal custom variables. In addition, you can add image creatives to messages, where there will be custom calls to leads and CTAs. This is possible due to integration with the Uclic service. Thus, having received a message from you with a personal appeal and a picture, the lead will not perceive it as an advertisement and will get feedback as soon as possible.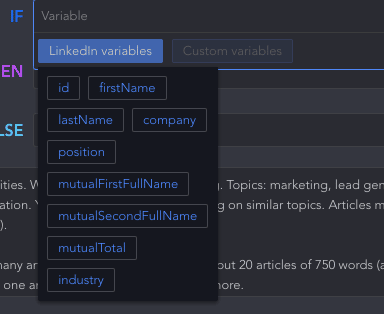 Unlike an advertising campaign, the path of communication with the client is longer. This can be more effective for building long-term relationships because leads will have more time to explore your profile, and your organization's profile, and thus build loyalty. Even if they are not yet ready to buy and become a conversion from LinkedIn InMail ads, you can, through gradual communication, achieve a conversion in a few months. While an advertising post, if it is not relevant to leads, is more likely to be scrolled through and forgotten in the same second.
Lower automation costs. Advertising on LinkedIn can be a costly plan. Because the minimum daily ad budget is $10. By spending this amount, there is no guarantee that you will get leads and some budget will need to be spent on testing the audience and training the algorithm to look for relevant leads. While Linked Helper is free to use for 14 days, and with an annual subscription, you will be spending $8.25 per month (much less than a daily ad budget). Already in 2 free weeks you can find leads or employees through Linked Helper. It took us several days to search for a copywriter.
However, to understand how to run ads that will get you leads faster, marketers need to set up tests. Try setting up a drip campaign on LinkedIn for lead generation in Linked Helper alongside the classic embedded advertising. You will see that the result can be more impressive because many in the social network are just waiting for natural communication and friendships rather than advertising posts.
Alternative ads feature: pipeline via Linked Helper 
As we mentioned above, marketers, recruiters, and business owners are always looking for better and newer ways to reach the right audience. In this regard, Linked Helper can be your automatic advertising tool that is much cheaper than inline advertising. In any case, the test period is free and does not require payment details from you.
#1 Interactions automation
This step is essential in the advertising account for the purpose of increasing brand awareness or engagement. By actively participating and paying attention to your lead pages, you will get more views, likes, and subscriptions in return. Moreover, these will probably be really interesting leads who view your profile and not just saw an advertising post in the feed.
Through the Linked Helper, you can automatically set up likes, comments on lead posts, and follow. You can choose a narrow target group through LinkedIn's base rate filters or enable more features in Sales Navigator.
#2 Group marketing and events
This is a necessary step to grow brand awareness or recruitment. Because LinkedIn groups often gather an interested audience that is already narrowly sorted by need or interest. You can find groups of professionals or groups of your competitors.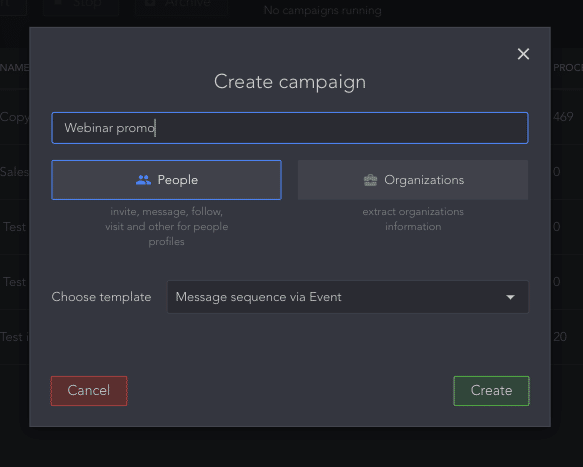 Next, you can think of a drip campaign associated with groups. For example, write an auto message to all participants. This can be done both with the members of the group and the event. After that, you can send them connection requests, thereby advertising the services of your company through yourself. Direct advertising in groups can often be banned by moderators. But by default, LinkedIn gives the right to write to the general members of the group. You can also invite only those who are your contact to the event. But after the event, as an advertisement, you can write a bulk message to all participants (already a warm audience).
#3 Advertising in bulk messages
You can use message bulk to your contacts, general group members and non-contacts via InMail bulk. Linked Helper can help you automate free InMails where you can place an offer similar to sponsored InMails through your ad account. You can also automatically send paid InMails within your tariff and credit balance.
The main advantage of using LH messages as an advertising tool is deep personalization. This means who you can send thousands of messages to, but different people will see different versions. For example, there will be their name, position or your general contacts. Also, like with an advertising post or a banner, you can form your message in Linked Helper.
Use text with custom variables
Add a picture with personalization via Uclic
Add a link with a personal CTA through Uclic
As a result, the message that they see may look like an advertising post, where there will be a visual, a link, as well as an adapted creative.

#4 CRM for advertising audiences
LinkedIn Ad Manager is a tool where you can't discover all the users personally who have interacted with ads. You will see general statistics and can set up linkedin retargeting ads for these users. Whereas through campaigns in Linked Helper you can create custom lists of users in CRM. You can also see everything from the LinkIn Lead page in your personal card. Which will help you create lists of leads for retargeting based on the campaign or promote them further, to other campaigns according to your plan. For example, from a lead generation campaign, add everyone who accepted your invite to a new campaign, where there will be chains of personal messages.
Linkedin advertising options for highly effective conversions
You can start an advertising campaign from any personal account by launching Campaign Manager.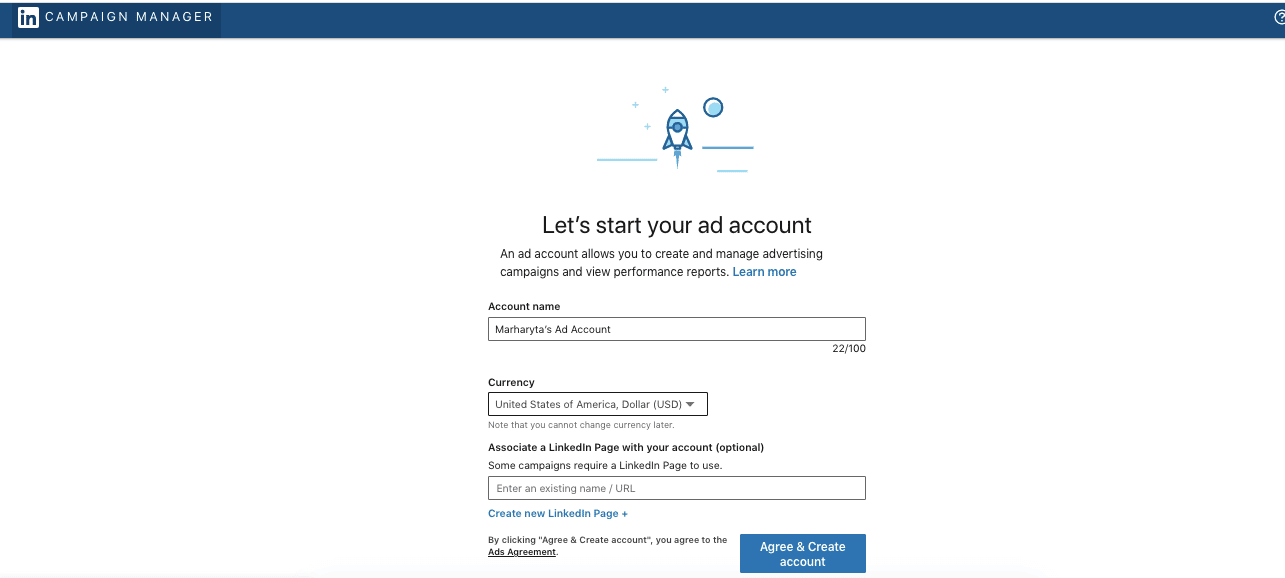 In the manager, by analogy with other social networks, you will manage your campaigns, set up a budget and goals. Here you will also see statistics on campaigns – clicks, likes, clicks on "share" and other reports. LinkedIn also provides audience demographics in ad reports so you can target more effectively after tests.
You might wonder how often you see ads on LinkedIn. Perhaps on this site banners occupy not so much a place of honor as on Instagram or Google. Nevertheless, there are many types of advertising – both familiar banners and a unique way for LinkedIn – sponsored messages.
Types of advertising can be divided into 3 categories:
Content. These are videos, photos or carousel posts that users see in the feed. This is the type of ad you've probably seen the most.
Side banners. These small visuals are often dynamic and personalized, and you may see them on the right side of the page. There will be a small image (50×50 pixels) and text.
Advertising in messages. You can email your offer directly to leads, attach a lead form, and send an InMail. This message will be marked as a promotional message. When you organize such an advertising mailing, you need to accurately segment the audience, understand problem areas and form a USP or offer using personalization. It is important to speak the language of the target group in order to get more responses and conversions.
An important advantage of setting up ads on LinkedIn is that you can use the lead gene form, which leads will not need to spend time filling out. In LinkedIn, such a form can be filled out automatically by collecting the necessary information from the lead page. This encourages people not to close the form and will help collect more registrations.
Advertising on LinkedIn is conditionally divided into three levels of goals. To select a target, you can watch an introductory video from LinkedIn. Next, we will look at types of ads (content, banners, messages, etc.), but first you need to understand that you can close the following tasks through embedded ads:
#1 Raise brand awareness
With these campaigns, you can reach a wide range of your target audience to showcase your company and product for the first time. You can use both single images and carousels, advertise events or increase the number of followers.
#2 Grow traffic on your site
Using this goal, you can increase visits to the site or landing page (where your product or service is presented). Usually, visiting a website can be an intermediate step after getting to know the brand and converting. Therefore, you should focus on a warm audience, and LinkedIn will show ads to users who are more likely to click on the link. The link can lead from an advertising post, side banner or InMail.
#3 Boost content engagement
Getting likes, shares, and followers can be an important step in growing your LinkedIn business page. Read how to create a successful organization page in our blog.
#4 Promote video content
As video becomes more relevant to user engagement, you may want to promote the video post. This can be useful for building brand awareness, promoting an event, or showing testimonials from past customers. In any case, you can get more views by setting up a campaign.
#5 Attract leads
Through lead generation campaigns, you can create a creative form. You can add those fields for the information you need to get from the leads. The convenience of such campaigns is that the required fields will be filled in automatically with data from the profile. To start such a campaign, you need a lead magnet – something free and valuable for your audience that will encourage them to leave data.
You can find out the entire list of goals in LinkedIn support, this will help you decide before setting up advertising. 
How to advertise on LinkedIn in 2023: automation advertising guide 
After downloading Linked Helper, you can start setting up your advertising drip campaign. Before that, you may need to collect data about your audience from the social network – all this can be done in stages through the software.
#1 Conduct audience research
This step will be useful for both classic ads and drip campaigns in Linked Helper. Through the software, you can bulk-scrape profiles of your target customers and competitors. This will help you get a portrait of the audience, analyze the texts on their pages, and work experience. All this data will be relevant when compiling texts for an advertising post, message, or USP for a banner.
Linked Helper allows you to parse profiles and transfer data to the CRM and from there download them as a CSV file. Having received such a file with a sample of the audience, it will be easier for you to select slogans for the campaign and speak the language of your client. There is a Visit & Extract action for profile parsing – you can learn how it works in the knowledge base.
#2 Set up a drip campaign
Campaign setup can be through a template or through creating an empty campaign. Linked Helper has already saved campaign templates that consist of typical actions – you can remove unnecessary ones or add new ones to it.
For example, if the goal of your campaign is to expand the network and start writing messages with an offer, you can choose the Invite & follow up template. By following the steps and prompts on the screen, you will have your campaign ready in 10 minutes. You will only need to select and sort the audience in the Queue (your campaign target) and add the message pitches in the Template builder.
#3 Warm up before actual ads
Often we advise you to warm up the audience before sending out offers. For example, warming up can take up to 2 weeks. During this time, you can start liking, leaving comments on posts and articles, and sending out invites. This warm-up can be the pinnacle of your pipeline. This strategy works great for social selling because people won't perceive your offer as a direct selling ad.
#4 Advertise via messages in bulk
Linked Helper allows you to send thousands of automatic messages to leads, but at the same time leave them personalized for each recipient. This is possible through the use of custom variables and logical operators (which will select the given string even if the software does not find the variable on the user's page).
Also, a picture with text tailored to the person, his need and a call to action in the form of a personalized link in the message is a great opportunity for advertising. You can use such pictures and links in mass mailings configured in Linked Helper.
You can set up targeting for advertising by choosing an audience from a specific social network resource (it can be a list from Sales Navigator or a group) or by refining your search through filters. Using filters, you can make the selection accurate and then view each user in the CRM and remove and further filter them. For example, you can remove people who have less than 500 followers from the campaign by downloading the file and sorting in Excel. You can only get the number of followers after visiting. Therefore, this file can be downloaded from the Successful list in the Visit & Extract action.
#5 Advertising in bulk emails
This is an opportunity to run your campaign through the software without spending a budget on sponsored InMails. In addition, such messages will not be marked as advertisements and people may be more willing to read your texts. You can learn how to automate free and paid Linked Header InMails in our articles.
#6 Advertising in groups and events
Working in Linked Helper you can organize a full-fledged advertising campaign through groups or for an online event. For example, you can first collect an audience, establish contacts, and then automatically invite them to an event through an auto-action. At the same time, you can also use the message bulk and the link to the event if you need to invite leads via InMails.
#7 Evaluate the result in statistics
Linked Helper will help you evaluate how your advertising campaign worked. You can see a slice of statistics in the CRM. For example, how many invites were accepted from those sent and how many messages were answered. After evaluating the effect, you can make changes to the current campaign or change the strategy in the new round.
What are the most popular LinkedIn ad types? 
#1 Normal feed posts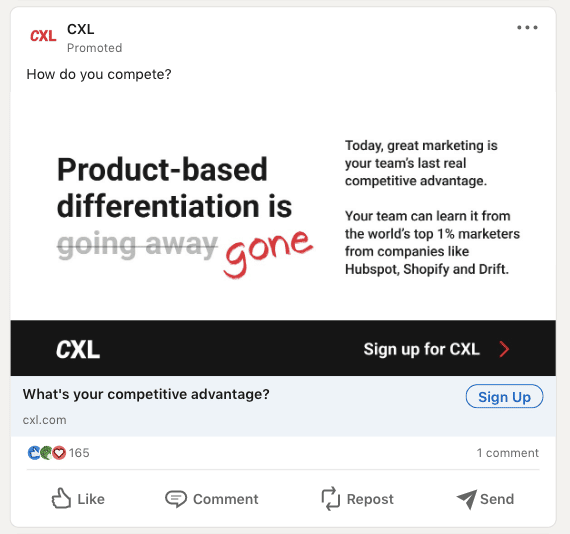 This is the most popular form of advertising that you can find on the platform. In fact, to create such a post, you need text, an image or video, and a link to the page. You can attach one or more pictures or videos.
As you can see, such an ad can lead to a registration form and you can make a button leading to your landing page. As you can see in the example above, the text can take the main place in the picture. While the text of the post may include one question sentence to grab attention while scrolling through the feed.
#2 Document Ads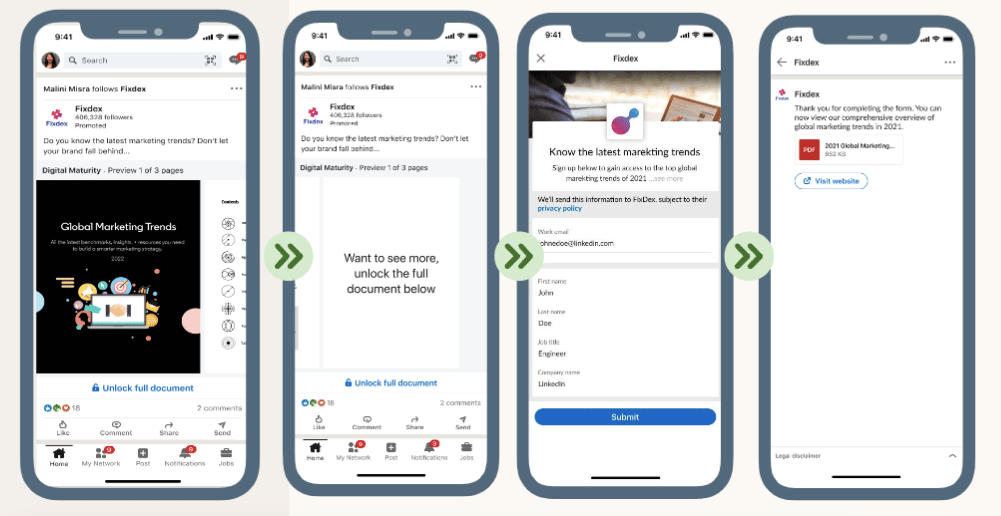 You can also see this type of ad in the feed. But the difference is that leads can immediately view, download or fill out documents without leaving LinkedIn. Brands can share content as a lead magnet, such as publishing industry research, infographics, or books. This can be the first step in lead generation. You can explore more details on LinkedIn. 
#3 Message Ads
These are the messages your audience will receive, where you can also add a form. Such a message will be marked as an advertisement. This can be a more effective format than a news feed because the inbox will have more focused lead attention than multiple posts. Also, in the message below the text, you can add buttons that will lead to non-landing pages.
#4 Dynamic ads
This is the type of banner where you could notice that your name, photo, or work experience was used. Such a banner will be available exclusively to you on your account. You can also restrict the use of your data in banners if you do not want LinkedIn to use your information. Often this type is used to promote open job postings or Spotlight ads (when you click on the banner, the lead is immediately redirected to the landing page).
#5 Text banners
These ads may come across to you on the right side of the pages of the social network. In fact, it is a small picture, a heading and a short text. More like Google contextual advertising or dynamic banners. Although simple for some, this type of banner is a way to increase brand awareness.
What are LinkedIn lead gen ads?
This is a type of advertising that implies LinkedIn forms for lead generation. As we mentioned earlier, the advantage of setting up such social media ads is that users do not need to enter data manually. This simplifies the lead generation of users who use the application or mobile version of LinkedIn. 
Also, this type of advertising campaign is used when you need to get customer emails to continue their journey through the funnel. Usually, the email is filled out from a LinkedIn page.
Hack: Linked Helper can help you collect lead emails in an alternative way. This is a unique tool for scraping data from user pages and in a matter of minutes, you can get a database for lead generation on cold and warm leads. For example, collect the data of everyone who liked your publication or became a participant in the event. Linked Helper can collect emails from both contacts and leads of 2nd and 3rd levels of communication. This goes through internal Email Finder or third-party mailing tool Snov.io.
What are LinkedIn retargeting ads? 
You can use this type of advertising to reactivate warm leads from those who showed interest in your ad but did not complete targeted actions. LinkedIn, like Google, allows you to collect such users and set up retargeting for them. That is, for example, the user could click on your ad and even fill out a form. But don't make a purchase. Therefore, through cookies, the actions of such users are saved and later they will be shown ads again, which can convince them to buy.
This type of advertising works on the basis of a pixel – Insight Tag. By installing it, the social network will be able to collect leads for retargeting. To update the audience, the algorithm may need 48 hours and at least 300 leads for retargeting to work.
What are LinkedIn conversation ads?
Conversation ads are essentially advertising in messages. But LinkedIn allows you to make it more functional and add several messages to the ad, where there will also be button options for answers. Thus, the advertisement will appear in the inbox of the lead as a live dialogue and, depending on the answers, new messages of the advertisement part will be added to the dialogue.
See the LinkedIn conversation ads example in the screenshot below: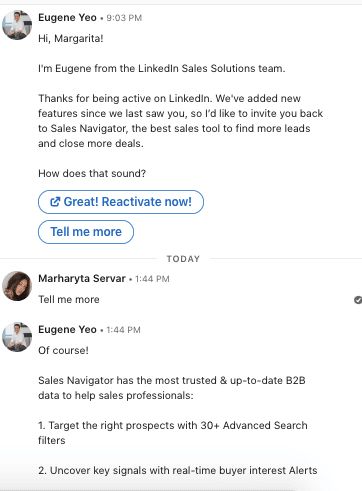 In fact, this type of content will work like a dialogue with a chat bot, only it is in your LinkedIn inbox. These dialogs will not appear in general chats, but in the Other section of your inbox. This may be a disadvantage because not all users check this folder.
As we can see in the example of LinkedIn itself, the buttons after the text can either immediately lead to the target action or help the lead get more information. Once selected, the bot will send a second message after which other actions will be suggested. Usually, both buttons in the second step will lead to third-party resources – your website or a lead generation form.
Is LinkedIn messaging ads the same as conversation ads? 
These are different types of ads, but both messaging ads and conversation ads are Sponsored Messaging. There is a difference between these types of communication – in messaging ads, the lead will not have options and several buttons. That is, it is an advertisement of the form – a message + a call button. While conversation ads imply a kind of chatbot technology, where there are several interaction options.
Despite the fact that the concepts are close, there is a difference between them – in the abundance of information and the complexity of the advertising message. Because conversation ads allow you to think through all the objections of the yucher in advance and work them out in the next message. While one message can be a good choice at the audience test stage, when you still don't know the objections and where the dialogue with the lead might go.
Also, you should remember that according to the rules of the social network, messages containing advertising will be automatically moved to the archive after 60 days. This may be in favor of setting up a target bulk mailing via Linked Helper because these promotional messages will be displayed as regular messages or InMails.