Recent virtual Conference shed light on the obstacles that firms experience in recruitment marketing in this year. The inability to quickly recruit necessary talent remains a primary concern (60%), albeit with a slight decline from the previous year. The consistent challenge of limited resources and budget further compounds the difficulties in marketing faced by staffing firms (49%).
Below we'll be addressing the main points to help you solve these challenges:
We will provide an overview of the latest digital marketing trends for recruiters based on insights from podcasts featuring industry experts.
Discover an automation tool that is highly regarded in recruiting business by HR professionals around the globe.
Gain inspiration from real-life marketing ideas that have proven successful in recruitment.
Key points
According to the latest news, we have identified the main changes to consider in recruiting now:
Increased demand for skilled workers across industries such as software development, data analysis, cybersecurity, healthcare, and skilled trades.
Rise in remote work opportunities, particularly in technology-related fields, while many traditional in-person positions still exist.
Emphasis on soft skills alongside technical expertise, with strong communication, problem-solving, and teamwork abilities being highly valued by employers.
Utilization of technology in recruitment, including automated applicant tracking systems, video interviews, and online skills assessments.
Importance of employer branding and providing a positive employee experience to attract and retain talent.
Stay ahead with top trends in marketing for recruitment agencies
Marketing staffing agencies: what are the main trends?
We have gathered insights on the latest recruitment news from various sources, including the "TA in Trenches" podcast and a post shared by a fellow recruiter. In the podcast industry experts spilled the tea on the latest recruitment trends. Here are the main points:
#1 Engaging in Digital Communities
Forget about those boring old networking events! Joining digital communities (like Talent Brand Alliance) is where it's at. You can hop into forums, webinars, and virtual meetups to connect with movers and shakers in the industry. It's all about swapping ideas, gaining fresh perspectives, and making meaningful connections with fellow recruiting rebels. You can also start by being active in comments in groups on social media.
For example, LinkedIn groups are a goldmine for Marketing networking for recruiting firms. You can see on the screenshots that at least 13K groups are listed for this query.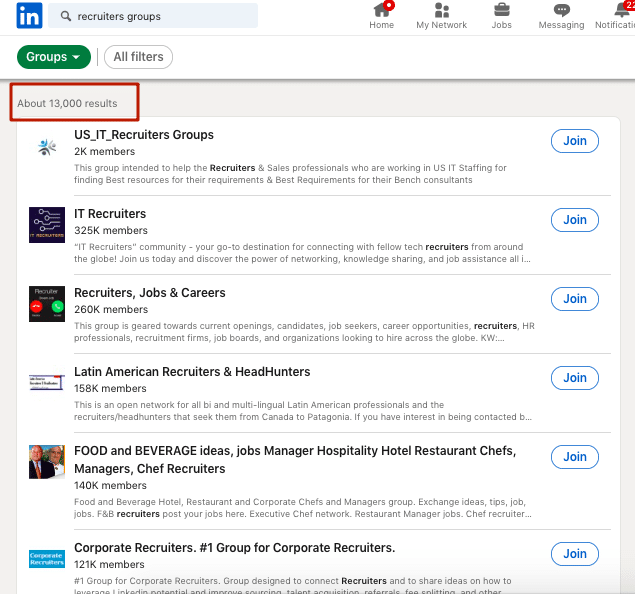 #2 Key Metrics for Recruitment Marketers
Let's get real about metrics in the recruitment business!
Cost per qualified applicant: You wanna know if you're getting bang for your buck, right? Keep an eye on which sourcing channels are giving you the best ROI and adjust your strategy accordingly.
Rejected Applicants: Tracking the number of applicants rejected at various stages of the recruitment process helps identify potential gaps or areas for improvement. Keep tabs on this metric and source attribution to fine-tune your recruitment game.
Source Attribution: Understanding which channels and sources yield the best candidates enables better allocation of resources and optimization of recruitment strategies.
#4 Importance of a Multi-Channel Approach
Don't put all your eggs in one job-seeker source basket. Get creative! Build up your Employer Value Proposition (EVP) by showing off your company behind-the-scenes online, creating an irresistible career website, and featuring workers' testimonials.
#5 Collaboration with Corporate Marketing
Teamwork makes the dream work. Work hand-in-hand with the Corporate Marketing crew to ensure your messaging is on point. Align your recruitment campaigns with the overall marketing strategy. Use their dope creative assets and tap into their social media and search management skills. Together, you'll create a killer brand image that speaks to candidates.
#6 Impact of AI on Outbound Sourcing
AI is changing the game, my friend! Use tools like Indeed Resume to level up your sourcing skills. Let AI-powered algorithms do the heavy lifting for you. Find those unicorn candidates with specific skills or experience without breaking a sweat.
For example, Joveo's AI-powered job advertising platform can help you in the following:
Provides valuable benchmark reports with insights and recommendations for HR professionals.
Utilizes advanced data science and machine learning for optimized candidate sourcing.
Offers real-time data on candidate engagement and performance throughout the job seeker journey.
Helps organizations optimize recruitment budgets by identifying cost-effective sourcing strategies.
Brings transparency to the recruitment industry and makes industry data more accessible to employers.
Get creative with AI-powered outreach, personalized emails, and translations to reach diverse talent pools. For example, explore how we use ChatGPT for personalized outreach and messages localization. 
#7 Automation for Data Scraping and Engagement Funnels
Time is money, and automation is your secret weapon! Use tools like Linked Helper to scrape data from LinkedIn. Save time and get accurate candidate info at your fingertips in Excel – it's impossible to download it without a third-party tool. Besides, you can set up automated engagement funnels, send personalized emails, and follow-up reminders like a boss. Keep those candidate relationships warm and watch your recruitment game soar.
#8 Leveraging OSINT and Diversity
Be a ninja in talent acquisition! Use OSINT techniques to dig up valuable intel on potential candidates. Scope out their social media profiles, professional networking sites, and any online presence to get the inside scoop. When it comes to diversity, think outside the box. Target underrepresented communities, collaborate with diversity-focused organizations, and use inclusive language in your job postings.
Recruitment marketing ideas: Checklist, tools & examples
In this section, we will explore some real examples and case studies of successful recruitment marketing campaigns.
Checklist: Branding for recruiters
Branding plays a crucial role in attracting top talent, building credibility, and establishing a positive reputation in the competitive job market.
Here are 6 key elements to consider when developing a branding strategy for recruiters:
Consistent Messaging: Consistency is key in branding for recruiters. However, it is also important to remember the significance of a personalized approach and research when reaching out to people on LinkedIn. Keep in mind that what sets apart a spammy recruiter from a valuable connection is the use of custom variables and personalized messages.
Authenticity and Transparency: Job seekers and candidates appreciate authenticity and transparency in the recruiting process. Be transparent about your recruitment process, expectations, and company culture to attract candidates who align with your values.
Personal Branding: Recruiters should invest in developing their personal brand as it enhances their credibility and attracts top talent. Establish a strong online presence through platforms like LinkedIn, where you can share industry insights.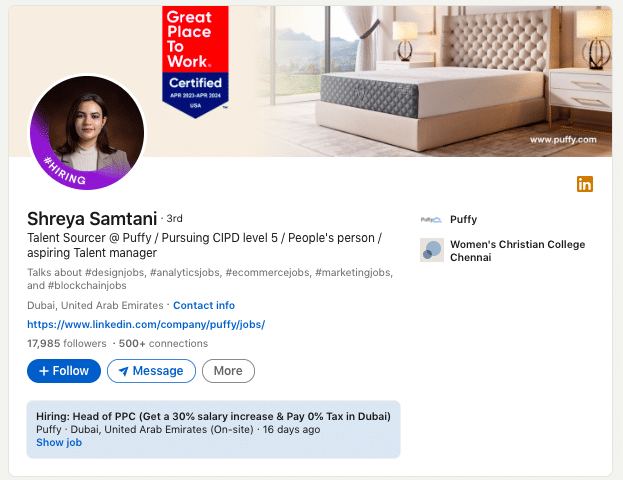 Candidate Experience: Ensure that every interaction, from initial contact to post-interview feedback, reflects your commitment to delivering an exceptional experience. A positive candidate experience will not only attract top talent but also encourage referrals and positive word-of-mouth.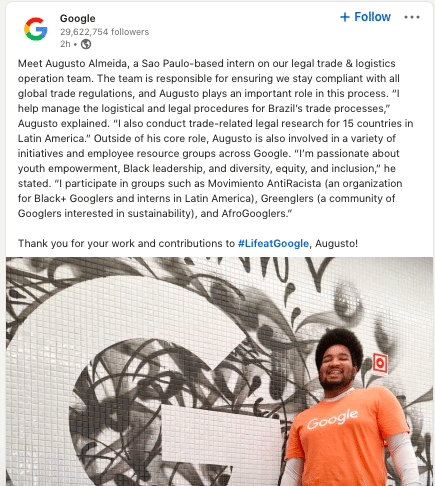 Employer Brand Alignment: Consistency between the employer brand and recruiter brand builds trust and strengthens the overall recruitment process.
Networking and Partnerships: Actively engage in networking events, industry conferences, and professional organizations to expand your network and build relationships with potential candidates and hiring managers.
5 reasons to try recruitment advertising with an automation tool
Given that this is a prevailing trend in the recruiting industry, we are excited to explore the extensive capabilities of this proven service. The best part is that you can take advantage of it right away by launching your campaign for free. Don't miss out on this opportunity to experience the full potential of the service without any initial costs.
Cost-effective Advertising
This tool is a game-changer when it comes to advertising for recruiters. Rather than relying on traditional paid promotions, which people often distrust, this tool allows you to personalize your approach. Sending friendly direct messages and invitations from real people can be much more appealing to candidates. Unlike running a costly LinkedIn advertising campaign with a minimum daily budget of $10, Linked Helper offers a two-week free trial followed by an affordable monthly paid license.
Cost savings for recruiters
Forget about expensive paid subscriptions for recruiters. By combining Sales Navigator and Linked Helper, you can achieve significant cost savings. Our calculations show that this combination can save you up to $7733.4 per year. Dive into the detailed analysis and comparison of different combinations in the provided article.
Data scraping and targeting
One of the key features of this tool is the ability to scrape data from companies and individuals. This functionality is a goldmine for finding potential clients and candidates. The extensive database of people can be conveniently stored within the built-in CRM or exported to external systems. You can easily download any desired selection of people or companies and even uncover their email addresses using the built-in Email Finder or integration with snov.io. This comprehensive approach allows you to broaden your reach and diversify your candidate pool.
Total automation of LinkedIn activity
With this tool, you can automate virtually every action on LinkedIn. From liking posts and sending invitations to creating well-structured message sequences, you can set up beautiful and logical campaigns. Automating these repetitive tasks saves you time and effort, enabling you to focus on building meaningful connections with your target audience.
Precise targeting and audience selection
Linked Helper empowers you to achieve laser-focused targeting and select your audience with precision. Whether you're looking for clients or candidates, you can choose specific criteria to narrow down your audience. For instance, if you're seeking a designer for client projects, you can target a group of designers. Moreover, you can utilize a sub-profile on Sales Navigator to gather a highly relevant audience and conduct outreach through the basic profile. This approach allows you to engage with potential connections and attract attention by liking their posts, leading to more effective outreach.
By leveraging the features and functionalities of this tool, you can optimize your recruitment efforts, save costs, and streamline your LinkedIn activities for better results.
Creative ways to advertise job openings
Social media platforms like LinkedIn, Facebook, Twitter, and Instagram are ideal for creating captivating and engaging posts about job openings.
For example:
#1 Share a job USP on your page
You can utilize your Unique Selling Proposition (USP) from the job advertisement directly in your LinkedIn profile.
For instance, it could be a compelling statistic such as a significant salary growth rate or a tax-free advantage, as demonstrated in the example below. This headline serves as an excellent illustration of how to generate instant interest in the job vacancy among profile viewers.

#2 Experiment with different content on various platforms
For instance, if your target audience predominantly uses Twitter, consider sharing job-related updates and news there.
In the tweet example below, notice how the author included contact information in the text, allowing candidates to access the job opening without any unnecessary steps.
Caption: An example of what a job advertisement on Twitter with contact information looks like.
Alt: Screenshot of a tweet where a recruiting firm is seeking candidates.
It is crucial to use relevant hashtags and incorporate eye-catching videos to capture attention in the newsfeed.
#4 Use employee testimonials and success stories
Employee testimonials and success stories are powerful tools to advertise job openings and showcase the positive experiences of your current employees. Here's how you can leverage them:
Written Testimonials: Ask your employees to share their experiences and insights about working in your organization. Feature these testimonials on your website's careers page, job postings, and social media channels.
Video Testimonials: Take testimonials to the next level by capturing video interviews with your employees. Video testimonials add a personal touch and allow potential candidates to see and hear directly from your employees.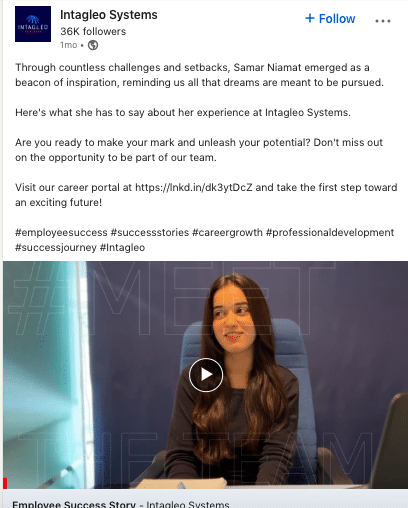 Success Stories: Highlight success stories of employees who have achieved significant milestones or made a notable impact in their roles. Showcase their accomplishments, career progression within the company, and how they contribute to the organization's success. Success stories can inspire and attract top talent who aspire to grow and make a difference.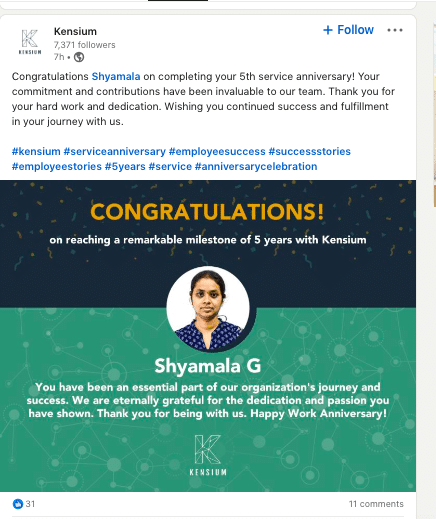 #5 Develop clear referral programs
Employee referral programs are an essential tool for attracting and retaining top talent. They leverage the power of your employees' networks and tap into a high-quality candidate pool.
You can benefit from their firsthand knowledge of the company culture and values, resulting in better cultural fit and increased employee engagement.
Referral programs also create a sense of ownership and investment among employees, as they become brand ambassadors and actively participate in the recruitment process. Referral programs can be cost-effective and yield faster hiring cycles compared to traditional methods.
Candidates referred by employees often have a higher level of trust and confidence in the organization.
For example:
Tesla: Tesla provides a bountiful referral program that compensates employees for recommending candidates who are ultimately recruited. The compensations can encompass monetary incentives, markdowns on Tesla merchandise, or even the chance to acquire a Tesla vehicle.
Dropbox: Dropbox possesses a renowned referral initiative that not only remunerates employees for prosperous recommendations but also extends inducements to the recommended candidates. Employees receive financial rewards or supplementary storage capacity, while the referred candidates obtain extra storage space upon registration.
Cisco: Cisco boasts an all-encompassing referral scheme that grants employees monetary incentives for triumphant recommendations. The scheme also entails supplementary advantages, such as acknowledgment events and exclusive referral bonuses for crucial or hard-to-fill positions.
Salesforce: Salesforce implements a program dubbed "Bring Your Network" that empowers employees to refer candidates and earn monetary rewards upon the successful recruitment of the referred individual. The rewards can range from a few hundred dollars to several thousand dollars, contingent on the position.
Commonly, referral bonuses can span from a few hundred dollars to several thousand dollars, with certain companies proffering even greater bonuses for critical or hard-to-fill positions. The exact bonus amount may also fluctuate based on the level of the referred candidate, encompassing entry-level, mid-level, or executive roles.
In this article, you can explore how to adjust these programs to your local market.