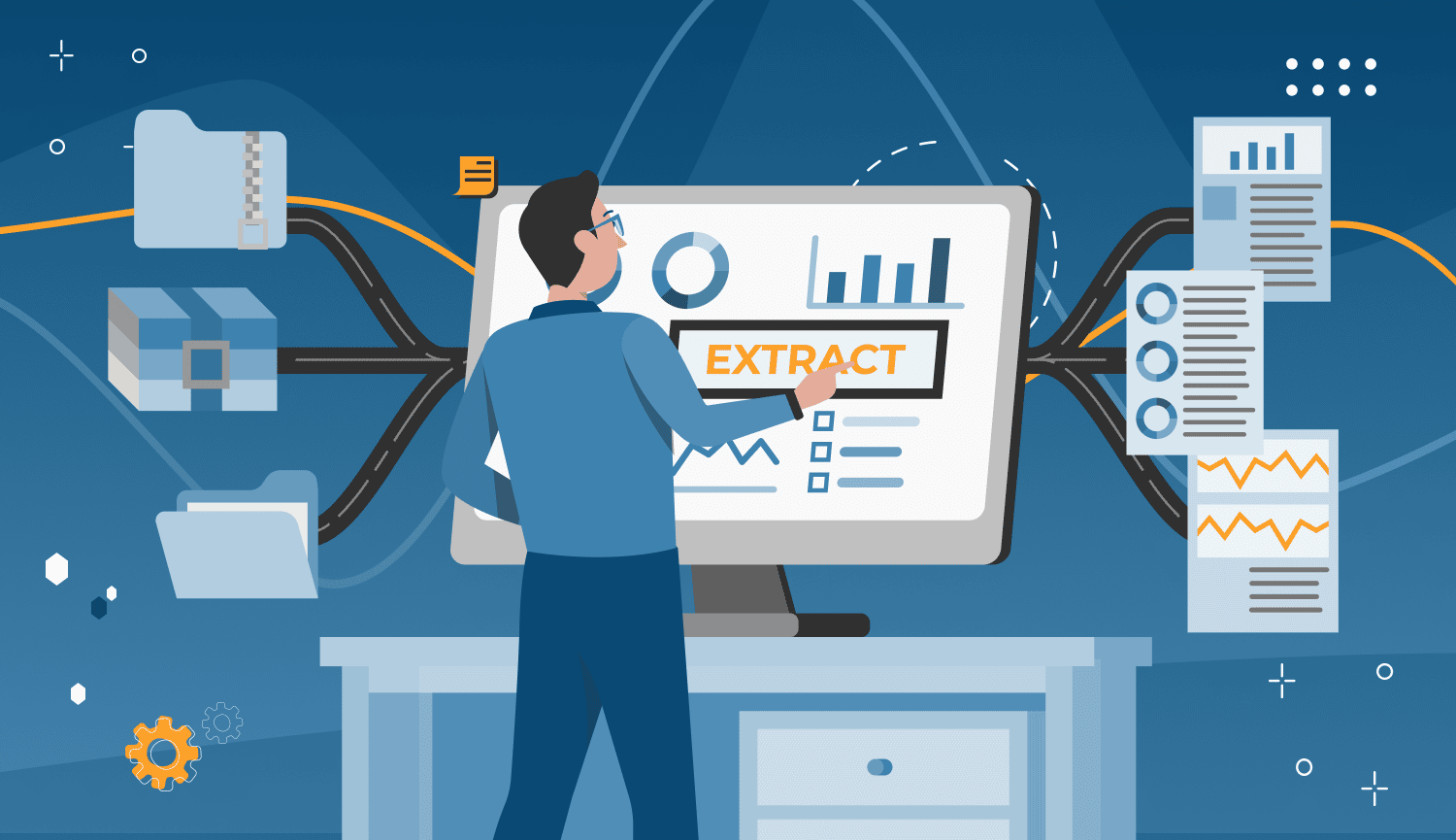 LinkedIn has become a massive social network with 850 million users in 200 countries that can be useful for your business.
For business contacts, market analysis, and lead gathering, you may need a CSV list that you can upload to your CRM. A LinkedIn URL scraper is a tool that helps you collect data from user pages so that you can analyze it in a convenient database format.
Can you scrape data from LinkedIn?
Yes, you can do it in minutes if you use Linked Helper. This is a software for automating LinkedIn drip campaigns that can also parse the profiles of people and companies. This means that the data will be transferred from the pages on the social network to the Linked Helper CRM, from where you can download the CSV file. There you will find an array of data that will be split into table columns. Each line will contain information about an individual or company, as well as data that will help you analyze the market.
For example, you can download a ready-made database including:
People profiles
There will be a link to the profile, first name, last name, work experience and company names, current place of work, email, educational institutions, description in the summary, skills, ID, and the "open link" status (when collected from Sales Navigator search).
This last item is important because having a lead's open link status will allow you to write free InMails to them without a premium subscription or spending credits. Also Linked Helper can parse emails even from people who are not your direct connections. This is possible through a search in the internal database of Linked Helper and LH email finder (Linked Helper's built-in service that gets emails associated with LinkedIn accounts), or through integration with Snov.io (a service for bulk email distribution).
Business data
This array of data will include information about companies from their business pages. These are the title, profile link, location, page descriptions, size, and number of employees. In fact, all the data that is registered on the corporate page on the social network will be in a file that you can download.
The Linked Helper parser is active when the "Visit and Extract" action starts. By visiting leads' profiles, you will be seen in their notifications, which gives you the added benefit of prompting some of them to visit your profile. Also, when inviting or writing a message, the software also visits profiles and transfers the data to the database. You can create a Visit and Extract campaign for both people and organizations.
How to web scrape on LinkedIn
#1 Download LH to your computer
To be able to scrape, you need software. Linked Helper is software that you can install for free on a computer with any OS. This is a standalone tool that works like a browser, so it will provide security when you web scrape on LinkedIn. Unlike scraping through an extension or through a cloud service, Linked Helper behaves like a real user when visiting pages.
#2 Start a Visit and Extract Campaign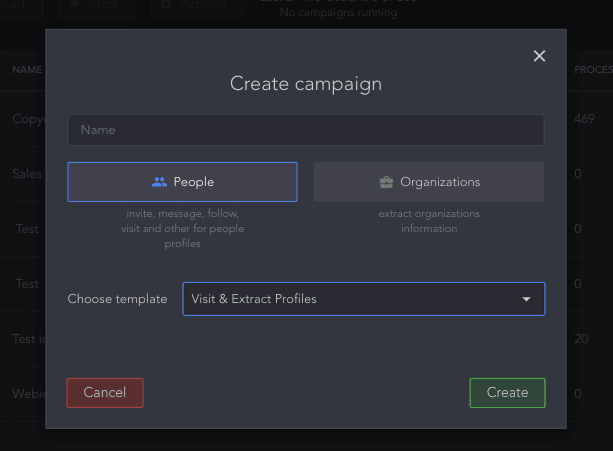 This action can be the first action in your campaign or the only one if you just need to scrape profiles. In order for the software to start visiting the accounts of people or organizations, you need to select a target page for parsing.
[elementor-template id="7090″]
#3 Add profiles to the action
The profiles that you want to download must be transferred to the Queue. To do this, simply click on the Add button.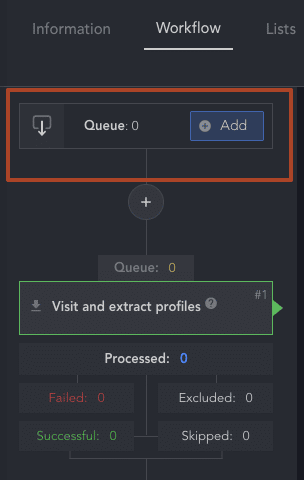 You can use any of LinkedIn's search solutions, group pages, or events as a source. Also, you can simply insert a link to the desired page and the software will transfer the profiles indicated on it.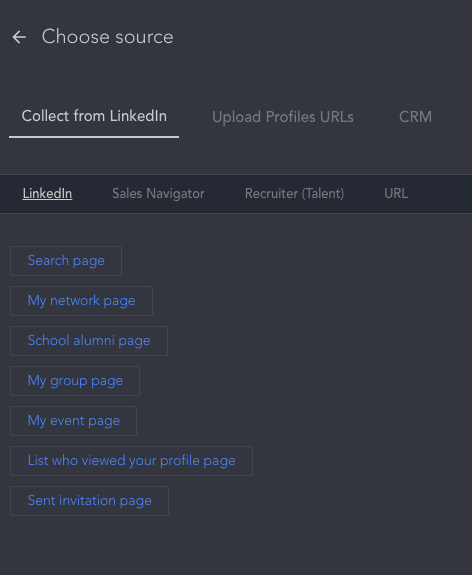 After adding profiles to the Queue and scraping them, accounts will be displayed in the Lists section. From here, you can click on the profile to see all the data Linked Helper has collected from the lead's page. You will also see the Download menu item. You can select the entire list of leads or mark a few people to download the data in a spreadsheet.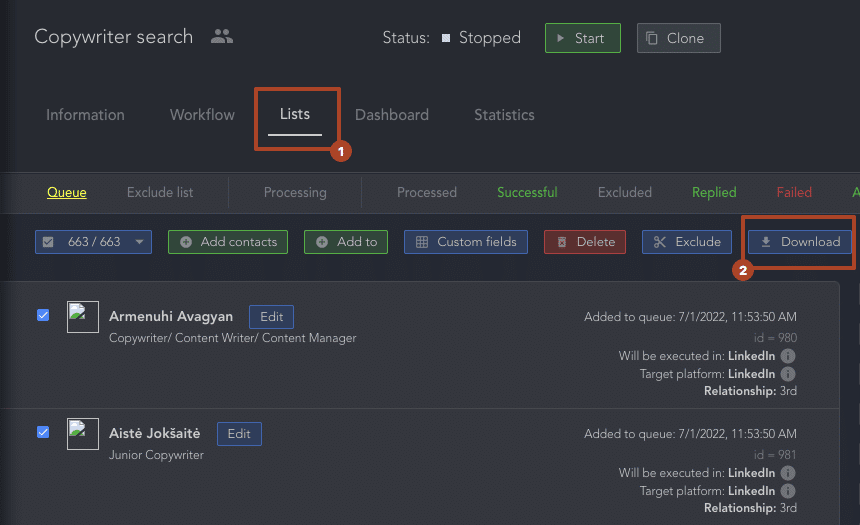 How to use a web scraper on LinkedIn – 9 ways
The main advantage of the Linked Helper parser is that its work is completely safe for your profile. That is, when collecting data, you will see how the robot opens each account and collects data by visiting the page. On the other hand, browser extensions or cloud services may show suspicious behavior from your account.
Below you will find out how to scrape data from LinkedIn and apply it for business growth.
#1 Use a scraper to search for emails
The Linked Helper scraper can collect emails other than those listed in your direct contacts' profiles. The fact is that even when you add leads that are not in your network to the queue, you can get their emails thanks to smart parsing. The tool can search for the lead's email in Linked Helper's unified database of users, called LH email finder, which scrapes emails linked to LinkedIn accounts. So if a person outside your contacts is a 1st degree contact for another Linked Helper user, then you will see the desired email in the client card. In addition, there is a smart integration with Snov.io to search for emails.
#2 Examine the client's profile
You will receive a full-fledged database of leads, according to which you can draw up a portrait of your potential customers. In addition, Linked Helper can also add a history of your correspondence to the table if you conducted it through the service. Parsing descriptions and work experience in the table can help you in compiling targeted offer and pitch texts.
#3 Study Your Competitors
You can get all the data about not only potential customers but also competitor companies. The table will have links to their LinkedIn profile, website, contact details, and business page descriptions. Therefore, you can quickly prepare appropriate commercial offers or evaluate the market.
#4 Use links to accounts to work in a CRM
You can use a spreadsheet with scraped data to continue working in a third-party CRM. This can be much faster than manually collecting lead data and copying the information.
#5 Collect emails to improve outreach
The email database will help you maximize the impact of your outreach. For example, you can organize a list of leads on LinkedIn and at the same time use the list for separate outreach via email.
#6 Use the table to personalize messages
Data scraping and a ready-made table with leads will help you set up custom variables for your messages sent via Linked Helper. You can add an additional column where you insert a variable (cs_name) – for example, the name of an event, product, or industry.
#7 Send free InMails to anyone with an Open Link badge
Having collected data about people's profiles, you can see in the table whether the profile is "open link." According to the rules, you can send free emails to such people. This means you can quickly reach even those who are not members of your network.
#8 Sort leads by audience size
Scraping will include data on the number of subscribers. Having received this table, you can exclude leads with a less than a certain number of followers. For example, for your campaign, you can leave only those who have more than 500 followers (active users).
#9 Continue Campaign in Linked Helper
After parsing the lead profiles, you can continue the campaign. Downloading a table with data may not be enough for lead generation on LinkedIn. Therefore, Linked Helper will become your reliable tool for continuing to search for clients on the social network. You can start an auto-funnel for connection requests, invitations to an event or a group, InMail newsletters, or other marketing activities.
You can see the data that will be collected during parsing in more detail, as well as a description of the customer card, in the article in the knowledge base.
How to choose the best LinkedIn scraper
If you decide to finally get all the data about your customers or competitors on LinkedIn, you need to choose a reliable scraper. Linked Helper is one of the few services that allows not only deep scraping by 31 parameters, but also offers further opportunities to use the data. Automatic actions in drip campaigns will help you get customers faster from the data array.
What should be considered when choosing?
Technology security
A lot of scraping tools you find can be risky for your profile. LinkedIn can easily recognize the automation. So avoid using plugins. Cloud solutions also may not be secure. Learn more about why Linked Helper technology is more secure in this article. For example, browser extensions embed code in a social network page. Some work directly with the LinkedIn API, which is suspicious. Or tools can use both of the listed insecure data collection methods.
Prices
Scraping can be expensive. For example, Phantombuster has a limited access of one hour and will cost from $28. Captain Data also offers scraping, but at a cost of $100 for 20,000 tasks. Linked Helper can be tested free for 14 days and will cost no more than $15 if you buy a license.
Additional opportunities for working with leads
If your goal is to find clients on LinkedIn, scraping alone will not solve your need. Linked Helper can be your lead generation machine that follows your instructions just like a human. Therefore, after scraping, you can continue working with leads.
Why do you need a LinkedIn URL scraper?
Linked Helper is a reliable LinkedIn URL scraper that can collect links to both individual and company accounts. In addition, the tool can use a URL that you enter from LinkedIn to parse profiles from there. You can specify the target page in the Visit and Extract action settings.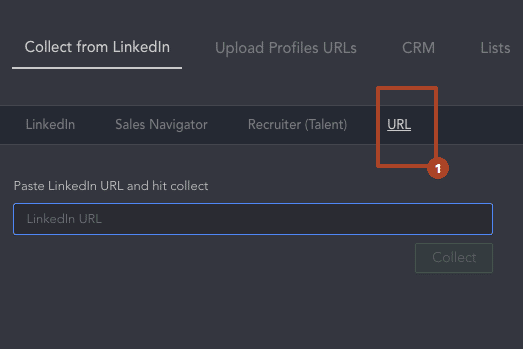 Links to profiles may be needed for:
Integration of the links into external CRMs and tools
Sharing a lead base with your team
Rapid market research
Mass inviting people
What LinkedIn resources can be used for scraping?
#1 Basic LinkedIn
Export from a search page
Export leads from your contacts
Scraping from alumni pages
Group member profiles
Event participants
People who viewed your profile
Everyone you sent an invite to
Collect those who put likes or left comments on your content
You can easily transfer Leads lists, saved searches, custom lists or export sorted search results.
You can easily transfer project data or export narrow search results.
Insert a link to any LinkedIn source. It can be a post (to scrape everyone who interacted with it); a Sales Navigator list, a group members list, or a search query from LinkedIn.
Parse those who liked a LinkedIn post via scraper
Those who liked or responded to your post can be important for scraping. Therefore, through Linked Helper you can aggregate all accounts that have shown interest in your content.
How does the scraper work for users who liked your post?
Login to your account and open the post you want to scrape.
In the publication menu, copy the link to it.
Open the Linked Helper campaign. In the Add section of the Queue, select Collect from LinkedIn, then click on the URL section. Here you need to insert a link to the desired post.
Read the detailed tutorial in the knowledge base.
Should you use Phantombuster for LinkedIn?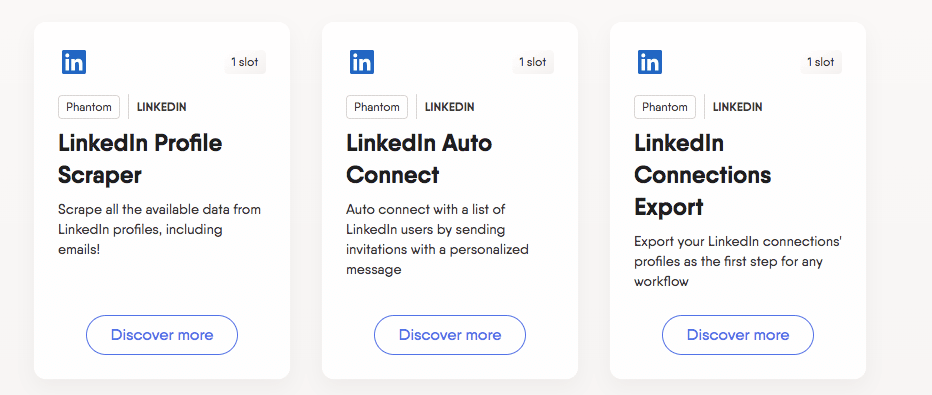 Phantombuster is one of the popular web scraping services not only for LinkedIn, but for any online resource. However, if your goal is to continue automating on LinkedIn, this service may not be the best option.
It is not very convenient that different Phantoms will be used to parse your contacts, search from Sales Navigator, and search LinkedIn. That is, they will need to be bought separately from each other.
Also, the tables you will receive have different formats and appearance, which can make it difficult to integrate the data. Also, if you want to use the results of parsing in Integromat or Zapier, you will need to additionally transfer the data to an Excel file.
Phantombuster is almost twice as expensive as Linked Helper and has limitations in performance. For $28, you can scrape for one hour a day, which may be less efficient. In addition, this service works as an extension, which is the least secure form of automation. You are at great risk when you connect your profile to this type of automation.
Is Octoparse safe for LinkedIn parsing?
Octoparse is also software that you can download to your computer. But the software is based on cloud automation. It will imitate your actions and solve captchas, but still there is no guarantee that LinkedIn will not recognize the work of Octoparse as an automation. This may result in a warning or profile blocking.
More than that, Octoparse will not be an unambiguous solution if your goal is to continue lead generation on LinkedIn because the service specializes in data aggregation and not in automatic actions or building a funnel of interactions. It can be a good solution for collecting data from various online sources – news, e-commerce sites, social networks. But the service does not specialize in automating LinkedIn lead generation.
What is a LinkedIn scraper API?

When looking for a scraper, you may also find a solution such as a LinkedIn scraper API. This is another technology that can also help in aggregating data from social networks. The screenshot above shows an example of prices for one of these products so you can understand the difference in price between a bot and an API. For example, in Linked Helper you can make 200 scrapes per day in safe mode – that is 6,000 scrapes per month for $8.25 with an annual subscription. At the same time, almost 2x fewer scrapes will cost almost 5x more if you choose one of the API-based services.
An API works on a different principle than a bot. A bot or parser transfers or copies all data from a web page. Afterwards, this array of data can be downloaded as a file. Meanwhile, the API constantly creates requests to the server directly, with instructions to collect pieces of content from a page without visiting it (as users usually do in the browser). Bots that work with LinkedIn API may also collect such information according to a predetermined schedule, which you can specify in the service.
Often an API can be a better solution for a different task than scraping public information from social media pages. For example, to collect private analytics from a site that only you can see in your personal account.
To collect data about people or companies from LinkedIn, the best solution in terms of price and technology would be to use a browser-based robot like Linked Helper.