LinkedIn contains valuable data that is necessary for business communication and lead generation. On this social media platform, you can search for addresses of potential clients or partners, and reach out to employees. For lead generation, an email scraper for LinkedIn is often needed – in this social network, in particular, people indicate their professional emails, which they check on and are likely to answer.
Moreover, it comes in handy that on LinkedIn you can immediately discover people in a certain industry, working in a specific position, and in a target location – and for these people, it is possible to extract their email addresses right from the LinkedIn profile if it's included there.
By default, users can collect data on 1st degree contacts. But there's a problem – when you export a CSV file, it will not include their email. In this article, we will uncover a LinkedIn email scraper (compatible with Sales Navigator) that you can try free for 14 days – Linked Helper.
This is an automation tool that allows you to find people applying integral LinkedIn filters and then aggregate the information that the accounts contain. The main advantage of this free LinkedIn email and contact scraper is that specialists can receive contact data of the 2nd and 3rd degree contacts. This can be accomplished by connecting the service for cold mailing, Snov.io. We will discuss detailed steps later, but this process is simple and will allow you to automate the entire sales funnel.
Download Linked Helper 2 and get 14-free trial right now
If you are not yet in our list of users, then join. We give you a trial version to start your experience with our LinkedIn tool.
Why should you apply the email scraper for LinkedIn marketing?
Automated marketing funnel. With this service, you can build a 2X more effective pipeline – reach leads both by email and within LinkedIn through automated messages (which is also a great way to reach out to employees). In the tool's dashboard, you can assign automated actions with the contacts you find, such as liking their posts, leaving comments, or inviting them to groups or events. This makes the whole outreach strategy well-planned and simply executed without much involvement from you in routine tasks.
This LinkedIn profile, email, and phone number extractor is safer than any browser extension. Currently, you can find alternative services for collecting data, and most of them will be based on plugin technology. This approach is less secure because plugins embed codes into your LinkedIn page when processing data. The social network has internal mechanisms for dealing with such extensions and there is always a chance that your account may be banned or you might be sent a warning for using automation.
When scraping email from LinkedIn via Linked Helper, you are choosing the most secure and trusted way to crawl the data. This software is a standalone program that can be installed on a computer. It works as a browser. That is, the program code is not visible in the social network system. So when the email grabber searches through LinkedIn and copies emails, it will observe profiles the way you would do it yourself manually. Therefore, it is the safest and most efficient method to execute email marketing.
CRM for convenient teamwork. The convenience of this method is that after visiting accounts and extracting data, the accounts will be saved with all the data in the Linked Helper CRM. This means that people's profiles can be sorted by tags and assigned to different campaigns needed for your business.
The LinkedIn email extractor combined with a virtual private server allows managers to work with clients' data – via personal cards for each client – online and from different devices.
A VPS (virtual private server) is a virtual remote computer where LH will work 24/7. That's how you can enable remote access from anywhere via the Internet. For example, you can extract profiles, and any employee who knows how to connect to the server can see the data.
LinkedIn Sales Navigator email extractor: how to extract emails from 2nd and 3rd degree LinkedIn contacts
To implement a marketing strategy, you often need to get lead emails that are not in your database.
For example, you need to enter a new market and connect with public relations directors in the IT industry in Berlin. In this case, if you want to scrape LinkedIn members' email addresses manually, you will have to add each potential partner to your contacts so that they become a 1st degree contact. Only after that will you be able to view their emails.
Instead of this time-consuming approach, you may apply two automated actions – Visit & Extract or Email Finder. There's a minor difference between them. Essentially, Linked Helper has developed a special system that allows you to retrieve and extract emails of those persons who are not yet your 1st degree contacts. Let's figure out how to do it step by step.
#1 Visit & Extract action
To collect emails, you need to install the ​​best option – the Linked Helper LinkedIn email extractor is free and the download will take less than 15 minutes.
You can use the service for 14 days to start building an email database, study the market, and gather companies – competitors or partners. While testing all the free features, try to customize auto-messages.
You will need to sign in to your LinkedIn account. You can switch to a professional advanced plan – Sales Navigator, Recruiter, or Premium – and that will open up even more functions of this service for you.
Now we'll start with the Visit & Extract campaign.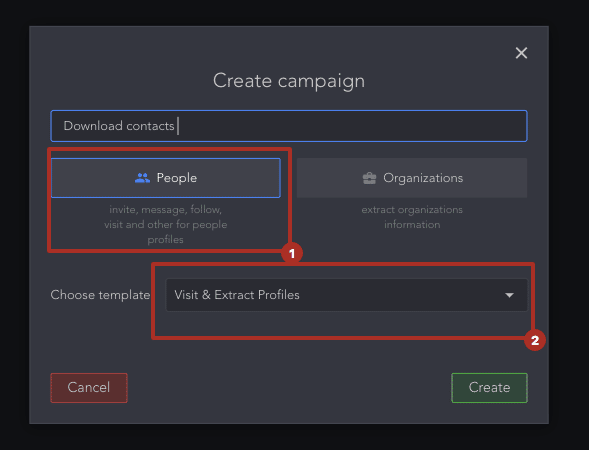 In order for the service to be able to collect the data that is indicated in the accounts, it must visit the pages – just like you would do it yourself.
Note: This will have a positive effect on the traffic to your LinkedIn page since users visited by this service on your behalf will probably be interested in checking on your profile in response. So fill in all the important sections of your profile – the headline, skills, bio, and experience. List in these sections your unique selling points and benefits. This will already accelerate your brand recognition.
#1 Add people to the Queue list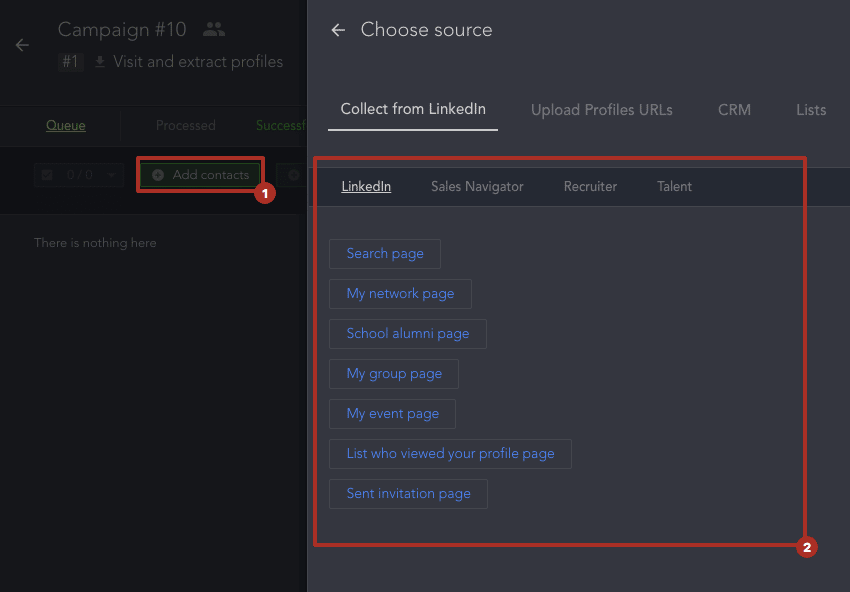 The tool will suggest various sources from which you can collect profiles. You can customize the search using the built-in LinkedIn filters,and Boolean string operators will also be available to you. This method will allow you to extract the email of 1st degree contacts.
The free email extractor allows you to choose from different LinkedIn pages:
The Search page – find users by integrated filters.
Your Network – existing contacts.
The alumni page – collect emails based on institutions.
The Group page – find emails of groups members.
Users who interact with your profile – you can scrape emails of hot leads.
This means that you can customize the collection of emails, making the targeted offers to them tailored to their needs and your marketing plans.
You can also add follow-up actions to the found profiles.
For example, after you extract the emails, you can set up automatic interaction with these people. It's a good way to make personalized contacts – set up automatic liking and leaving of comments. You can invite all of these people to your company page or group and send them private messages.
#2 – Connect Snov.io
If you want to expand email scraping from LinkedIn to collect emails of 2nd or 3rd degree contacts, you need to integrate the third-party service – Snov.io.
This is a platform that allows marketers to automate the distribution of emails. After you integrate the API, you can immediately set up an email newsletter based on the data scraped from the Linked Helper. This makes it possible to outreach on two fronts at once – via e-mails and social networks.
You can activate this feature if you specify in the settings to save emails in the Snov.io list. The list must be linked to an active campaign as a lead source for sending emails.


How to set up Snov.io:
To configure the extension, you need to copy the API from your personal Snov.io account. First, you need to create an account on this site – you can also try all the functions for free.
Go to the Linked Helper Advanced settings in the Visit & Extract menu item. Enable the correlated menu options as indicated on the screen.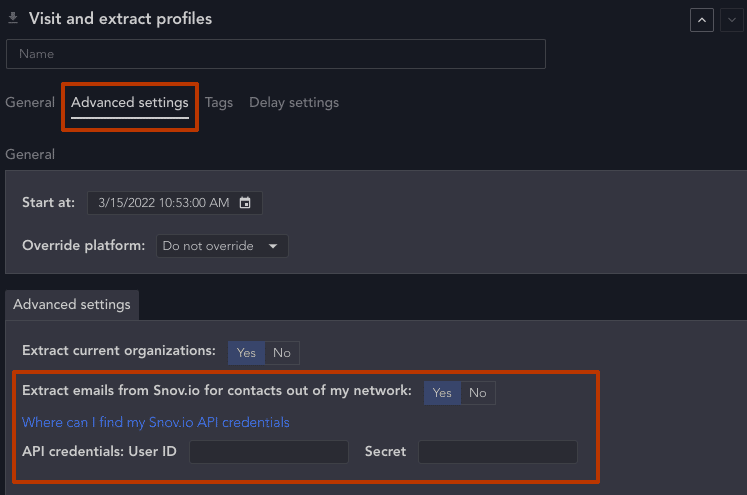 To set up the integration, you will need to input the Snov.io credentials. Simply follow the blue link in the tool and you will be redirected to the associated page where you can copy the details. As a result, the systems of the two services will be successfully configured.
#3 Download the data
After you have successfully set up the integration you have two options – leave the collected emails in the Linked Helper database or export them as a document. A spreadsheet can be compatible with Google Sheets or converted to Excel format.
This file is convenient to share with colleagues. Exported email can be easily copied and pasted into any alternative mailing platform that you might be using.
Profiles that the tool visited and from which it collected emails will be gathered in the section marked with the green Successful.
From here you will be able to select either all accounts or tick off those that you want to download.
#4 Set up the export
In the pop-up window, you will have a hint on how to download the data correctly. In the downloaded spreadsheet, you will see the column "The third-party email."
When your extract an email and ID from LinkedIn, it will be easy to copy for cold mailing and follow URLs to accounts right from the spreadsheet.
Conveniently, the visited emails will also be saved on Linked Helper user cards. That is, if you need a certain person, you can find them at any time in the CRM and see the emails that were retrieved during this campaign.
The Find Profile Emails action: scrape LinkedIn for personal & business emails
According to the rules of the social network, users can not send an unlimited number of invitations to establish contact. But if you use Linked Helper, you can send an unlimited number of invitations thanks to the email database. Considering this, you can reach over 100 potential customers weekly – or even 100 clients per day.
To get an email and user ID database, there is one more way the extractor can do this from LinkedIn – via Find Profile Emails action.

The difference between this action and the Visit & Extract is that the software will not perform a visit to find and save emails. A visit will only be required if the email data can't be collected initially.
That is, by using this action, you save the limit of daily allowed actions with the software. Since LinkedIn has restrictions on the number of daily activities, the algorithm won't recognize your actions as suspicious.
Note: Even working manually, users cannot perform, for example, 1,000 actions per day, because then this behavior will be considered as spam that interferes with the social network members.
You can create a campaign through this action if your goal is simply to find an email. In case they cannot be found by using the Email Finder, you can use the Visit & Extract action.
In addition, this action provides you with one more noticeable benefit. The Email Finder allows you to save more than one email that may be listed on the page. It uses one credit for successfully processing a profile, but it may find more than one address.
For example, it can be both personal and business email addresses. This way, you get more outreach possibilities to connect with potential clients.
Bonus: how to find the email without LinkedIn extractor software
We share an alternative way to detect an email. Perhaps if you need the email of one specific person, this quick life hack will help you. However, it will be laborious to collect an entire lead database by applying this method.
For such complex and capacious tasks, we advise you to use an automation tool – the Linked Helper LinkedIn email grabber. At the same time, you can try these methods if an email cannot be identified with the tool.
#1 Make use of the company domain name
Often work mails are drawn up in the same way for employees. That is, the ending of the email will be the same as the domain name ( the website of the company). There are certain templates for making an email. For instance:
name@companyname.com – linda@fuse.com
name.lastname@companyname.com – linda.jones@fuse.com
name.lastinitial@companyname.com –linda.j@fuse.com
Often, if you know the name of the contact person, you can experiment to compose an email in this way based on the above schemes. Next, you have to check and verify whether such an email exists. There are online tools for this.
#2 Validate e-mail
There are tools that allow you to enter the domain name of a company and see the most common templates with this domain name.
#3 Find the connected LinkedIn account
By using the Sales Navigator, you can enter your guesses and check if such a person exists on LinkedIn. If any LinkedIn profile is connected with this email, it will be displayed.
Unfortunately, when you search for emails this way, it is not always possible to find a working email address.
Alternatively, you can use other ways to connect with people:
Find them on social networks. Perhaps in personal social networks – Instagram or Facebook – people indicate a valid email. You can also find this information on their personal website.
Try to connect with the person in private messages on LinkedIn. Since this is a social network for business, sometimes private messages work more efficiently than cold mailings. You will benefit from a personalized approach that helps bond closely. In addition, when you outreach through a LinkedIn page, a person has the opportunity to dive deeper into your reviews, profile description, recent activity, and company services.
To sum up, the LinkedIn auto-scraper for email databases will help you detect emails of contacts and persons who are not in your network – LinkedIn contacts of the 2nd and 3rd degree. Also, you will be able to extract personal emails associated with accounts. All data is synchronized with the CRM – download and try for your strategy.