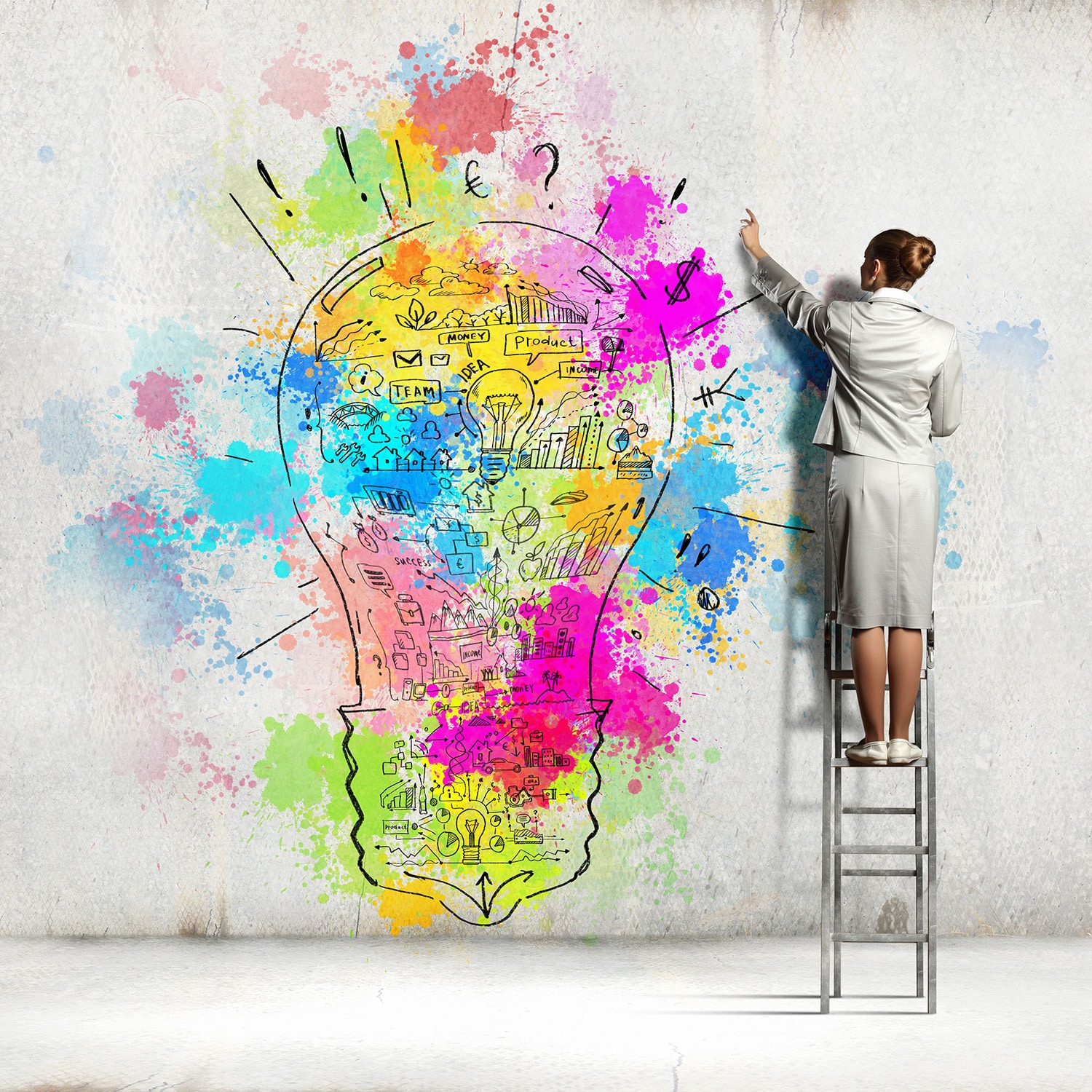 Searching for employees via LinkedIn is convenient and efficient. You can find live reviews, work experience, and read the latest updates. In addition, messages on a social network are more likely to be noticed than an invite on a recruitment site, while people are less willing to accept calls from unknown numbers.
If you are recruiting as a hiring specialist or as an owner of an organization, then you will probably not be comfortable using only a social networking site. Corresponding in a small window, or even worse from a phone, will prevent you from reaching more candidates. But everything can change if you try to automate routine activities like collecting candidate profiles, writing messages, and interacting with the target audience.
Linked Helper is a top tool for automating online marketing tasks. It is also a CRM for talent acquisition that can be used by the entire team that works through LinkedIn.
The CRM is powered with filters, tags, and notes. You can share profiles via downloading and sending the CSV to your team and they'll be available in another LinkedIn account.
You can find candidates for free and continue working with them:
Exploit the necessary filters in LinkedIn Basic and extended packages (Recruiter, Sales Navigator). You can use the advanced interface to search for Recruiter candidates and combine it with automation.
Scrape candidates' information into the CRM. When visiting and parsing profiles in the memory of the CRM, you will have access to all the information indicated on the page, including phone numbers if available, as well as emails even for your 2nd or 3rd-degree connections in case Snov.io or LH Email finder is used.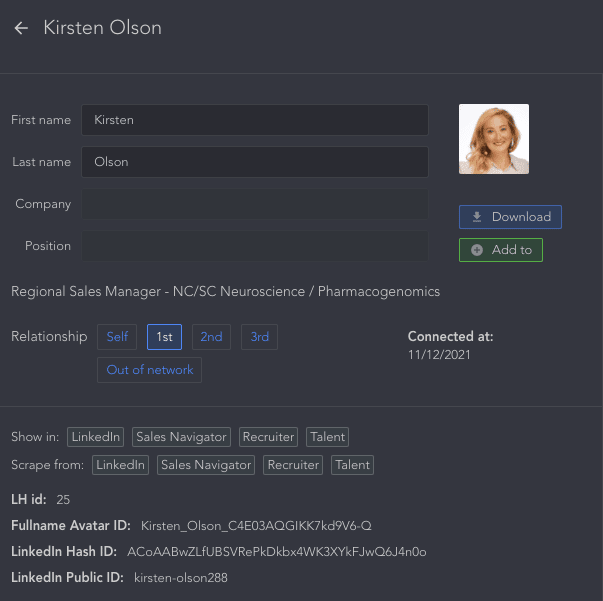 Export a database of candidates. You can use CSV files in your work. From the CRM you can easily export a selection of candidates found from your request. The table will contain more than 20 columns of data, including texts from the profiles, which you can use as CV.
Automate messages. You can reach hundreds or thousands of potential employees through LinkedIn messages. You don't have to write a message manually to everyone. A smart template builder can replace name, industry, mutural connection name variables to help the invitation look natural.
Keep active. The robot will help to put likes and comments and visit profiles so that candidates become interested in your company even before you send an offer. It will also help build a long-term connection in the social network.
You can entrust the entire talent search campaign to Linked Helper – from researching candidates to corresponding with them.
How to find people looking for jobs on LinkedIn
Often people who are actively looking for a job will mark their profile so that they can be easily found in the search. They need this to actively receive invitations to interviews.
How can you understand who in the community is open to an offer so as not to waste time inviting uninterested people?
One way is using the special option in Recruiter. Each user can indicate that they are open to new vacancies or the provision of services. This helps professionals filter their search for people based on the line "Open to work."

If you are not using a profile social network plan, then there are other ways. You can use the keyword "open to work" in the search string along with boolean operators even in basic LinkedIn. This means that on the search page you can enter "open to work" and other markers that job seekers can identify themselves with. This is often included in the headline section. Also, many make a note about looking for a job in the summary.
Some active job seekers highlight their main profile photo with an "Open To Work" frame so that recruiters pay attention to them in the search results. Discover how to write a job offer letter on LinkedIn & boost your hiring rate.
How to use the free candidate search in Linked Helper?
#1 Install the free version for 14 days
In two weeks you can see how the software works and test the features. You may already be able to find the right candidate and want to have an auto tool on hand for effective marketing, messaging, and customer management.
#2 Start your first People campaign
The first step in Linked Helper is starting a campaign, and they can be linked to people's profiles or business pages. The latter is useful for analyzing the market and parsing the base for competitors or partners.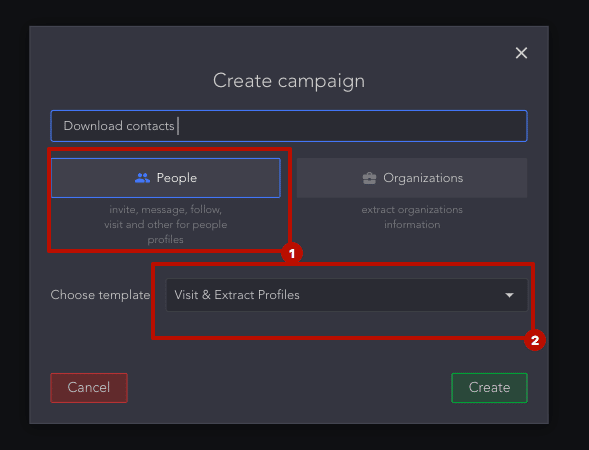 Select the "Visit and Extract" action. This is a universal action that is needed to visit profiles and export candidate data. By the way, visits on your behalf can already increase interest in your company. If a person sees in their notifications that your profile has visited them, they may be intrigued and conduct research, which will warm up their interest before contact.
#3 Add desired candidates to the Queue
The queue is a list of profiles that will be loaded into the memory of the CRM. And when you start the campaign and visit, you will have access to all the data about these people in the CRM. You can also choose not to visit as the target action but to send invite requests with a message.

To do this, the robot will also visit the profiles, which means it will copy the data.
Select the search page as the source for collecting the target profiles. Filter here to see only relevant profiles in the search results. Choose a position, skills, and the "open to work" option.
When you are satisfied with the number of candidates for the Queue, choose to start the campaign.
You can learn in detail how to bulk invite candidates to join your network.
#4 Download all successfully processed profiles
After the campaign is over, you can leave the list of people in the CRM or download the file to work in Excel. This can be handy for sharing data with your other colleagues.
All candidate profiles that the tool visits on your behalf (or adds to the network) will be displayed in the green "Successful" section. There is also a download button in the menu, and if you click it you will see detailed instructions for correctly exporting data in CSV format.
What other steps would be appropriate to add to the hiring funnel?
Write a welcome message. As soon as the candidate accepts your invitation, the tool can immediately send information about the vacancy, which will lead your dialogue to the point. This is a classic approach and writing messages will not take you a lot of time. Just add this action to your Linked Helper funnel. All the responses will immediately be visible on your desktop in the CRM, which will help you not to get confused in a hundred chats.
Periodic reactions to the content. Even if the employee or you are not yet ready to cooperate, you remain in contact on LinkedIn. And this can help you in the future. Therefore, auto-likes, page views, and comments will help strengthen your network.
Encourage candidates to visit the company page. The Linked Helper has an auto action that you can also implement into the workflow for candidate research. The auto-action will send automatic invitations to your business page, which will help them get to know your brand better and boost your business page.
Thus, Linked Helper is an all-purpose automator for a recruiter in any industry and an assistant for growing your networking. Your success does not always depend on the number of buttons pressed – all the boring and routine tasks will be performed by the robot. Your task is only to give it the necessary commands and enjoy the results.
How to search for candidates on LinkedIn: 4 effective tips
Some tricks will help you find employees faster, and most importantly for free. You can amplify the effect of networking on the social network. By following these tips, more people will find your profile, study your business page, and possibly send a resume.
#1 Keywords as a Talent Acquisition assistant on LinkedIn
Many LinkedIn users treat their page as a ready-made CV. Therefore, they are focused on finding a job and studying new companies and positions. All of this will help you as a recruiter or company owner to attract quality staff effortlessly.
All the magic lies in optimizing your personal profile as a manager and your company page with keywords. This is a free action that will increase your pages' visibility in search – both internal LinkedIn results and global Google search.
The bottom line is that keywords that are often entered into the search should be included in the text descriptions on the page. In a personal profile, this can be a headline and a bio. While in the business profile, focus on the section about the company.
We have prepared detailed instructions on SEO page optimization in a blog article.
#2 Pick niche hashtags
To navigate the social network and sort content, you must use hashtags. You can find niche tags for your industry, search for jobs that are rapidly gaining coverage and the number of publications. By using hashtags, people who are looking for a job can find posts that are seeking an employee. This step will lead users to you who are interested in cooperation.
You can also search for people who are actively looking for a job and have used hashtags in a resume post.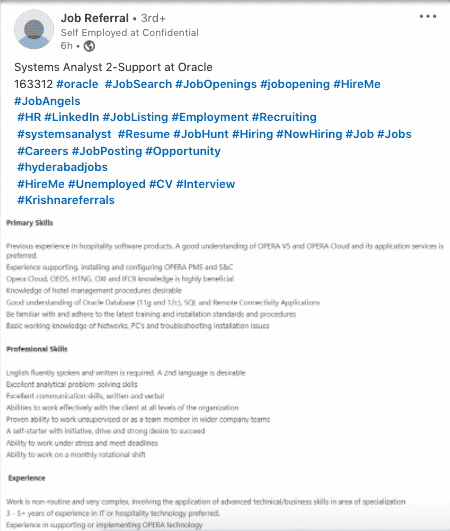 Examples of such tags can be #HireMe, #Resume, #JobHunt and tags related to the position you are looking for. This is a great way to find a candidate for free and without intermediaries.
You can also increase the reach of job search posts with hashtags through your team. Ask all employees to repost the entry. Thus, through a wider network, your vacancy can be quickly closed.
#3 Use a personal page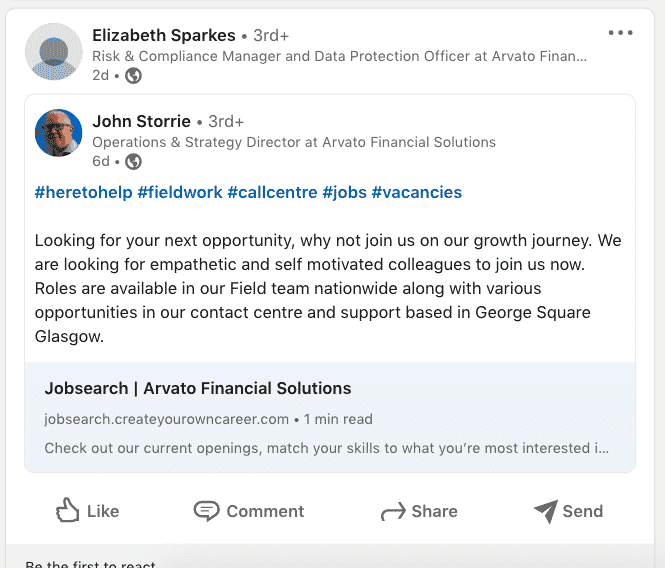 You can see posts seeking an employee from business pages. But messages from a personal profile can inspire more trust and interest among job seekers. Therefore, feel free to use your personal profile to search for colleagues and employees. Perhaps your 1st-degree contacts just know the desired candidate.
As in the example above, we can see that you can repost from a job search site. But you should add your personal vision to the repost, a more friendly and warm message to encourage people to respond or write to you.
You can also send bulk messages to 1st-degree connections in your industry. Just ask in a friendly way if they know someone who might be suitable for the position. Add personalization and don't make the text of the message sound official.
Template builder in Linked Helper is able to generate personalized messages according to a given template. So even if you send a hundred messages, they will be different for the recipients. With a help of both built-in and custom variables as well as IF THEN ELSE clauses, you will be able to randomize messages. Hence you will not be suspected of spam, and it will be more pleasant for people to receive personal messages from you.
#4 Active search in groups will lead to success
Do not ignore groups in this social network. They are crucial not only for promoting a business, but also for finding colleagues and employees. You can join thematic groups for those specialists you are looking for and post information about your search for workers.
For example, if you are looking for a designer to join the UX team, then join the community for designers. There are people who are enthusiastic specialists – just the type of candidates you need.
Linked Helper has an auto-function to parse the profiles of all members of a group. Then you can organize mass auto-messages to all specialists in the group. Just share your vacancy with all target candidates at once. So you will spend a minimum of time because all the routine tasks of writing messages will be done for you by a smart robot assistant.
Thus, you can combine free ways to find people who are looking for a job with the invaluable help of automated software. Unlike many automation systems that are based on a plugin, Linked Helper provides security through browser technology. You can add custom pauses between actions to make them totally natural.
Therefore, for detection systems all activities will look like they are performed by an ordinary person – you yourself. At the same time, you will spend less time and reach 10 times more potential candidates. Another big plus of using the software is the ability to share the downloadable CSV file with colleagues. Leads, campaigns, and message history via Linked Helper can be stored in the database and shared.