LinkedIn is a business hub where 35 million people were hired by HR specialists who contacted them on this social network. Every minute three people find a job through this site. Recruiters may use the data from this indispensable social network to learn how to write a job offer letter personally like never before – unique and warm messages are the key to increasing job acceptance rates.
Hiring professionals may sometimes use a handy job offer letter template – but this tactic may not work well in 2022. Yes, a person is looking for a job and the team is ready to invite them. However, this candidate may have several job offers. How to make sure that at the last minute they won't refuse?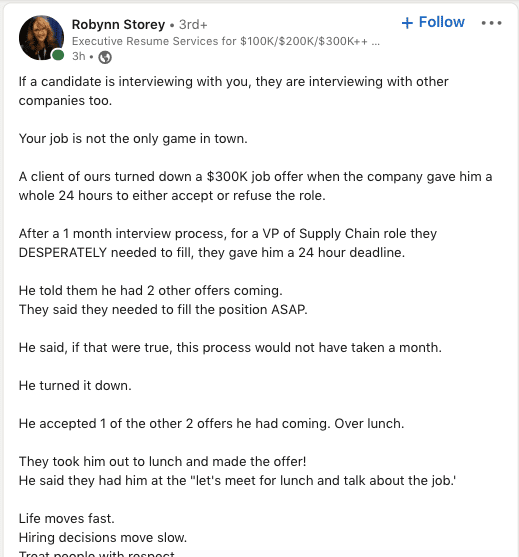 To avoid this unfortunate situation, hiring specialists can personalize the job offer letter, which is especially important in the competitive IT environment. Thanks to the automated tool & CRM Linked Helper, managers can build up a warm relationship with candidates, get all the information from their pages in a CSV file, and categorize and leave notes for each employee. Yes, it's extremely vital to point out every tiny detail they mention during the call or in the correspondence to make the offer customized for each candidate.
Linked Helper is a universal assistant to the recruiter. You can try it for 14 days for free.
Unlike third-party CRMs, Linked Helper is immediately integrated into a LinkedIn or Recruiter profile and can automate any routine funnel tasks. At the same time, interactions remain personalized.
Download Linked Helper 2 and get 14-free trial right now
If you are not yet in our list of users, then join. We give you a trial version to start your experience with our LinkedIn tool.
How will Linked Helper be useful to HR?
CRM for candidate management. It will be convenient for you to store all the data about potential co-workers not in the social network, but in a CRM that is compatible with Recruiter. Here you can create lists with users, leave notes and assign tags, and sort candidates into categories to personalize communication with each group.
You can automate actions in order to warm up communication with potential candidates. If the dream employee doesn't immediately respond, then interaction with their content will automatically help you to facilitate communication.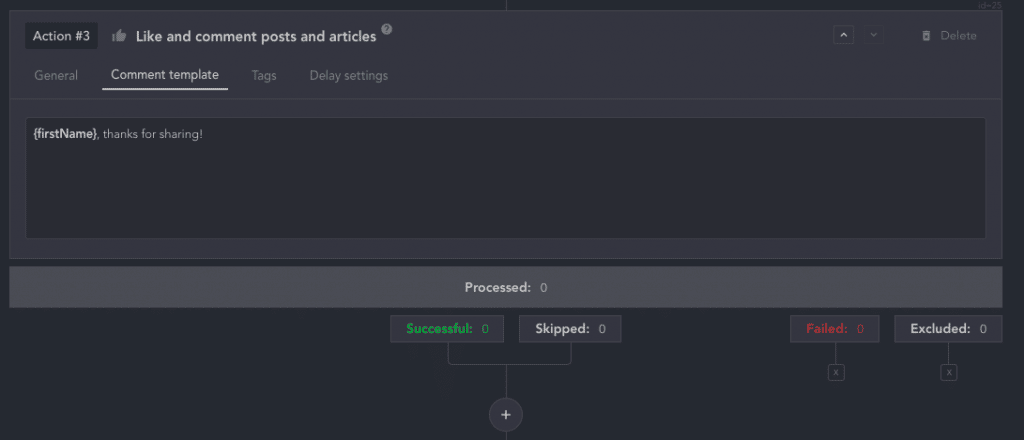 Liking, commenting, and profile visiting are nice compliments that will make a valuable fellow worker pay attention to your account and to the business page.
Correspondence can be automated. To select the right candidates and hire them as soon as possible, you should contact a large number of users. With personalized bulk messages, auto-replies, and automatic response-checking, reaching out is faster.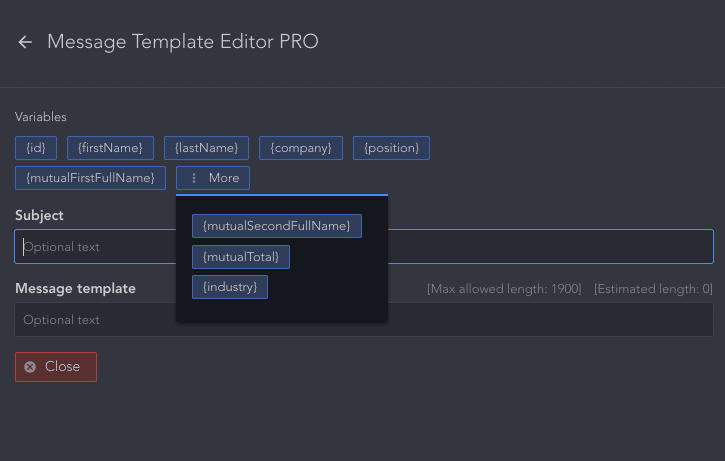 Easy to share with colleagues. You can easily scrape recruitment data and share it with employees and superiors. For example, download the list of potential candidates as a CSV.
In the file you will see all the information that is indicated in their profiles – most often this is a full-fledged resume.
How to write a job offer letter: a personal approach is the new trend
In 2022, especially if you are looking for employees through a social network, then the letter in which you make job offers should look informal and friendly, and address the problematic issues of a potential candidate.
The most important thing is to make sure that they won't change their mind at the last moment. To do this, we will consider how to address them on LinkedIn messages or via email.
People are always stressed when they change a job, so warm inviting should be blended with important formal points at the same time.
Research well for a tailored job offer
To compose the most soul-stirring and personalized job offer letter, you need to get the latest up-to-date information about the candidate. To do this, you may need the following data:
Current position and work experience. You can use it to frame your unique competitive advantage over their current job. Get the candidate to make a choice in your favor.
About section. In this field candidates can indicate more intimate information such as hobbies, competitive advantage in work, skills, as well as part-time activities and passions – perfect fit for a custom pitch.
Links to social networks or websites. In these sources you can learn even more facts about potential employees.
Facts from the correspondence. In the LinkedIn messages the candidate can indicate points that are important for hiring. You must use them in your job offer.
Email and phone number. Sometimes, to send a job offer, you may need an email address and a phone number for chatting via the messenger. It depends on how it will be more convenient for the candidate to communicate.
You do not have to look for all this data manually on the pages of candidates. Linked Helper supplies you with the robust Visit & Extract function.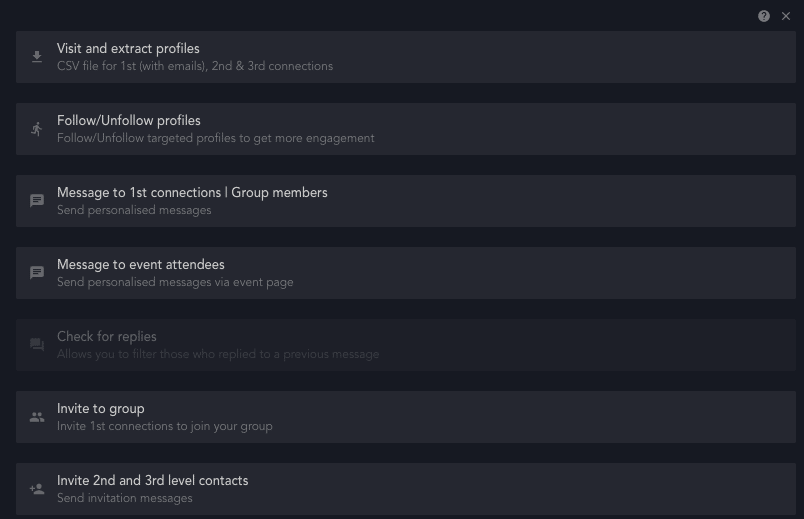 After visiting the profile, all data from the page and even your correspondence will be transferred to the memory of the CRM and can be exported to a CSV file. From the table, it may be easier for you to sort the data and navigate the large stream of candidates.
By contacting future employees through Linked Helper you:
Better personalize the offer.
Get contact details for different ways of contacting and sending job offers.
Download the archive of messages to compose a persuasive letter.
Have all the potential candidates at hand – especially convenient if you are looking for staff for different companies.
Job offer letter layout
Although the letter in 2022 may look informal, it should still include the necessary points.
Introductory line
Congratulations to the candidate – state clearly that you want to offer cooperation. This should be clear from the first line.
Hello (Name). Congratulations! You are the one we were looking for, and our team wants to work with you.
Special offer
Further emphasize that it is important for you to solve the candidate's problems, if any, in the current position. Start immediately with the benefits for the candidate to choose your position.
We could provide you with (list personalized benefits – flexible hours, ability to work from anywhere, relocation, etc).
If the candidate mentioned why they are not satisfied with the current position, use this trump card urgently – give them what they are missing.
You mentioned that you would like to (for example, give up working in the office). Our team is ready to help you travel with a stable income. If you have other preferences, we can discuss them in more detail.
First months of work
Describe what the candidate can expect for the first six months. Such a clear cooperation plan will help reduce the stress level of the transition.
No matter how long our cooperation lasts, we want to make it as useful as possible for both parties. Therefore, we want to use your key skills (use skills) to develop (list directions). We will also help you explore (mention areas of development that the candidate may have indicated during the interview).
We will support you
Mention what bonuses new employees receive. Here you can move away from personalized offers and talk about the advantages that are common to all new employees.
We will provide you with (work phone, access to instruments, assistant, sports compensation, 4 weeks vacation, etc.).
Rewards
Clearly state the system of compensation – salary, bonuses, the final amount. Salary expectations can be specified in the correspondence with the candidate or in your CRM.
Conclusion: When drawing up a job offer, it is critical to take into account the personal requirements of each person. This way you will get a much higher recruitment rate. If you want to prevent a valuable employee from leaving for a competitor, treat them like a good friend, even if they are G-suite.
Checklist of official data that you can include in the plan:
Position
Compensation including insurance and holiday pay
Start date
Terms and required documents
Working hours
Growth opportunities
Offer validity period
Job offer letter example
Good afternoon (Name)
Congratulations! Our team (company name) wants to cooperate with you for mutual growth. After our conversation (correspondence), we found out what is important for you (indicate what the candidate said). We will be happy to make working conditions exclusively comfortable.
If you agree to accept the offer by (specify the period), then we will do everything to help you (tell us how the first time will be). Your skills in (indicate the candidate's knowledge) are important for us to develop (write down tasks and goals).
We will provide you with everything you need for growth (bonuses).
The starting salary will be (amount per period). We make payment (indicate the terms and methods of payment).
Please reply to this letter if you are ready to join us or specify a convenient way to contact you. The offer is valid until (specify date).
All in all, with a personal and warm approach, your job acceptance rate will increase. Remember that even if you decide to hire, sending out a job offer is not a guarantee of the acceptance. Therefore, recruiters must make each letter personal to beat the competition for the best workers.
With a tool for automatic interactions and candidate management, you can grow candidate acceptance and decline time-to-hire. Install the trial version of Linked Helper and test the features free for 14 days.