A webinar in 2022 is an essential marketing tool for B2B as it makes it easier to find and connect with customers around the world online. In fact, this is an excellent replacement for the usual offline meetups and conferences, with the bonus that you don't need to buy tickets or rent halls.
However, promoting a webinar on LinkedIn may not be such an easy task – you need to warm up the audience and get them to your business page in order for them to become interested in the webinar. Linked Helper is software for automating LinkedIn marketing that will help you establish connections before the event, organize auto invites, and maintain communication with participants after the event. Everything will happen within a minimum of time.
In order to invite people to events (webinars) via LinkedIn, you must be the event's creator. Also, the desired leads should be listed in your professional network.
Through Linked Helper, you can enhance the effect of event marketing:
Manage the database of participants directly in the Linked Helper CRM. If you regularly conduct online marketing activities on LinkedIn, then the database of leads and participants, and the history of messages with them, will be conveniently stored in one application. You can search and parse the profiles of users you want to see as participants.
Warm up and look for leads before the event. You can automatically send invites to a connection, like and comment on their posts, visit their profiles, subscribe, interact with group members, and much more. All these activities will help to get more attention and registrations for your events.
Follow-ups after the event. You can schedule messages in the software's action funnel for all participants that will arrive halfway through the webinar. Auto-messages in Linked Helper can be personalized – that is, the software will substitute the name of the person, their position, your mutual contacts, or other text. You will not have to spend a lot of time reminding yourself after the webinar or collecting feedback.
Explore the instructions for setting up an auto-action to invite to a webinar.
LinkedIn webinar promotion tip – invite LinkedIn users automatically
If you haven't tried LinkedIn webinars or events yet, there are many reasons to incorporate this into your strategy.
Quick collection of all your connections. When you invite people to an event on the social network, they receive a notification. If your contacts have studied your personal profile and company page, they may be happy to interact at the webinar.
Simple registration. The social network provides registration forms that will parse data from the pages of participants. This will help you gain more insights into your target audience in order to enhance your offer and product value for them.
Display in the event section. This is a kind of free promotion by the social network algorithm because webinars and events are visible to everyone interested in a certain niche. For example, the search page has a search by Events and many users can find your webinar by keywords on their own.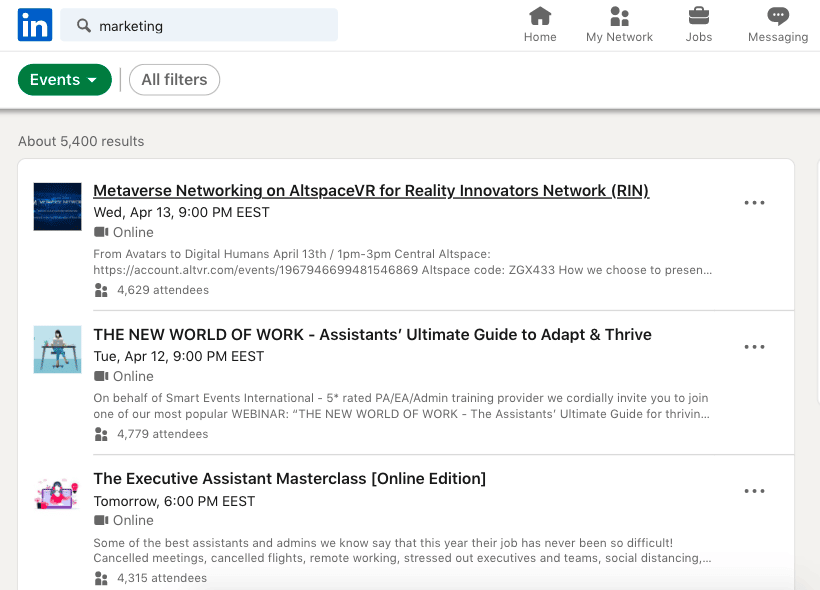 The streaming video can be reused. The broadcast will contain useful information about the product, answers to important questions from the audience, and the experience of specialists. All of this is content that you can use for a podcast, blog, or social media like YouTube or Twitter. Therefore, through the event on LinkedIn, you will solve several problems at once.
Linked Helper will help you build an audience and make the right connections before the event. To do this, use a funnel of several actions.
Download Linked Helper 2 and get 14-free trial right now
If you are not yet in our list of users, then join. We give you a trial version to start your experience with our LinkedIn tool.
#1 Start a People Campaign
A few weeks before the webinar, you can start warming up the audience. To do this, you can simply visit the profiles of leads and collect data about them in the CRM ("Visit and extract" action) or send out mass contact requests to connections of 2nd and 3rd degree. Often when people see that someone has visited their profile, they visit in return.
Visiting profiles through the Linked Helper software will also help to parse data from pages – emails, phone numbers, and text descriptions.
Read the detailed manual for expanding your network of contacts automatically.
When you get the right people in your professional network, you can start promoting the event. You will not be able to invite people outside your professional network to the event.
Your campaign may be the following:
Visit & extract profiles + Like and comment. You can automatically visit leads and like and comment on their posts. This will draw them to your profile and help you show up in their notifications.
Delay between actions. This smart feature will allow you to take a break before sending out invites. After a pause, successfully processed contacts will be transferred to the next action.
Invite 2nd and 3rd contacts. After warming up, the software will start sending out invites to everyone you have added to the Queue.
Filter contacts out of my network. This action sorts everyone who has accepted your connection request.
Visit & extract profiles to collect emails. Now that people have accepted your request, you can collect emails from 1st degree contacts.
Invite people to the event. After people become contacts, add this action.
All people who are invited will appear at the end of the funnel. You can also download the successfully processed contacts to share with the team. After that, it will be easy for you to deal with the private mailing of auto-invites to your event.
#2 Warm up attendees
Warming up may also include the following actions: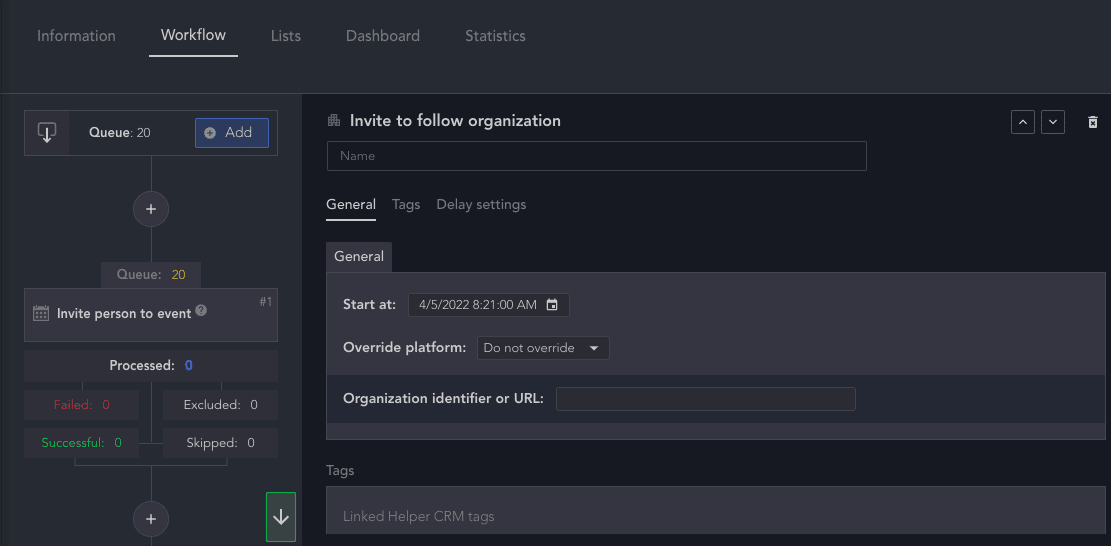 Invite to your company page. This will help people to learn more about your business offers and area of expertise before the event.
Write auto-messages. In a private message, you can draw more attention to the webinar and be sure that the person did not miss the notification.
Engage with leads' content. When you put likes and comments and are attentive to the activities of people, they will show interest in you in return.
LinkedIn event auto-invite feature
When you have reached the desired audience, use the quick auto-inviter to the online meetup. You can add this action to the previous funnel.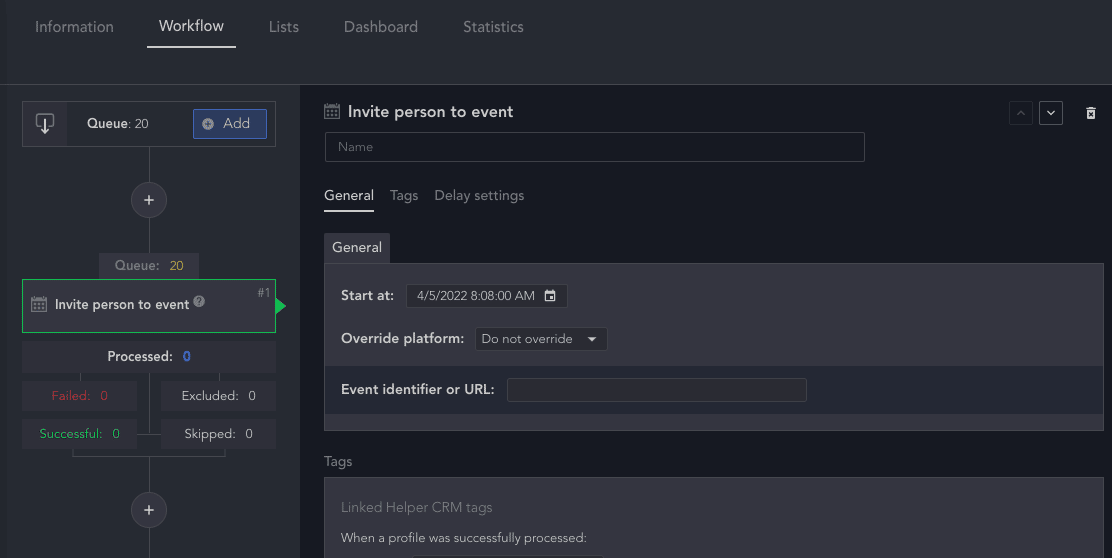 Note that the Queue list in the action funnel contains your potential leads. You can transfer people to the Queue list from various sources on the social network. These can be LinkedIn pages and Sales Navigator or Recruiter.
You can invite to the event only those who are your 1st degree contacts. Therefore, in the "Collect from LinkedIn" menu, select "My network page." It is also possible to import a CSV file if you have previously collected a lead database for the event. The tool can send out auto-invites through links to pages, they must be indicated in the table.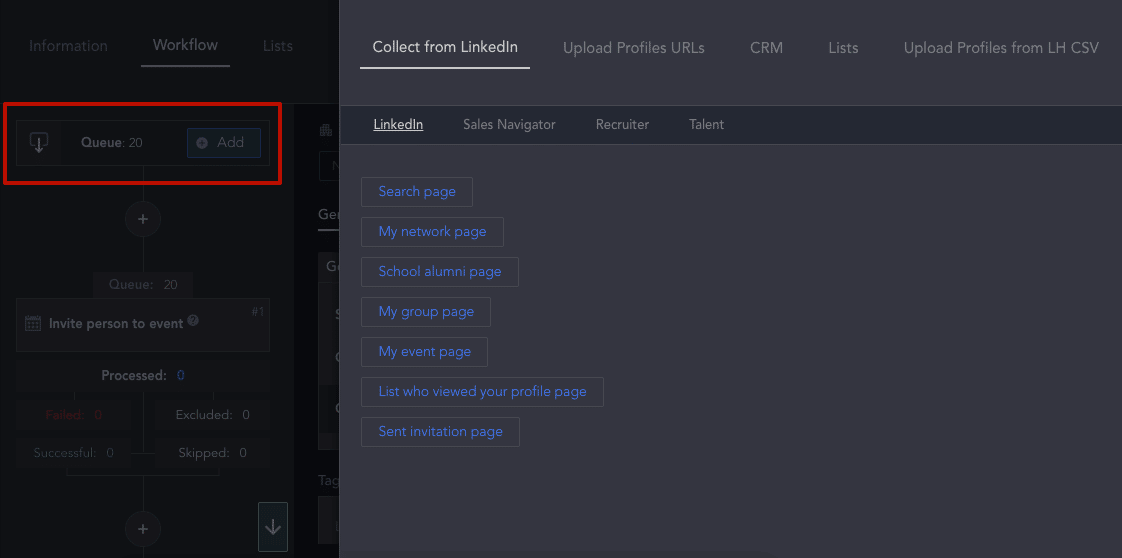 After there are people in the action queue and you have indicated the link to the event in the action settings, click on Start Campaign.
At the start of the campaign, you will see how a smart robot visits each potential participant, pauses as if a person, and presses the Invite button. You can manually set pauses before each step of the software as if you were doing everything yourself while online.
After the event – how to automate follow-ups
If your event was held in the form of a Live broadcast, then even those who didn't attend will be able to see the recording. This stream will be visible in people's feeds, which will increase organic reach.
After a webinar or offline event, your interaction and communication with the participants should not come to an end.
Even if the participants are not 1st degree contacts, you can still contact them via auto action in Linked Helper. This means that you can be a participant in an event and write to everyone else who participated in it after. Even if these people are not your contacts yet.
How to follow up with 2nd and 3rd degree connections on LinkedIn to promote events
Add the "Message to event attendees" action.
Create and save the follow-up text. Use personalized variables to make the message look natural and emphasize your interest in them personally. You should demonstrate that you are not texting everyone.
Open the list of event participants and collect these accounts in the Queue. Read more here: Collect those who accepted the invitation.
The people will appear in the Queue section. You will be able to text these people, bypassing the normal limits of LinkedIn.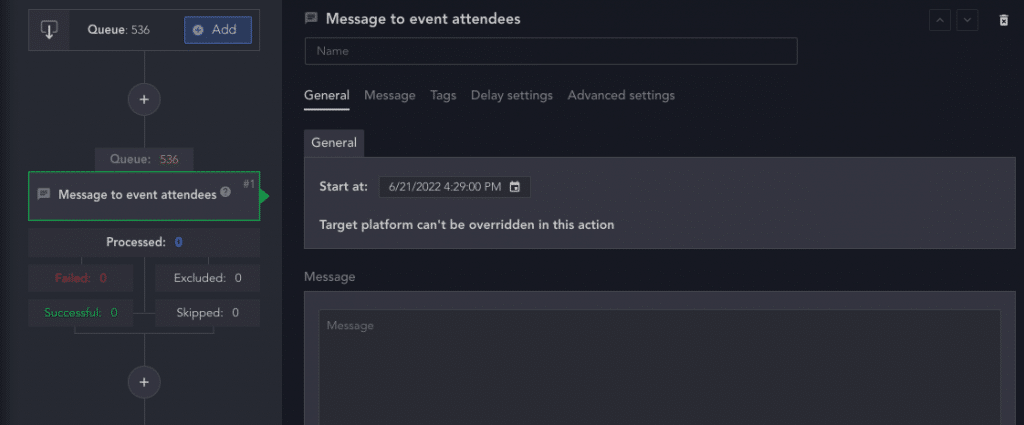 Create and save the follow-up text. Use personalized variables to make the message look natural and emphasize your interest in their personality. You should demonstrate that you are not texting everyone.
After such a comprehensive campaign, the event's efficiency will be much higher.
What is the advantage of using Linked Helper automation for event management?
Systematization of participants. For a marketer, every lead matters. Managing leads from a page on a social network is inconvenient. In the CRM, you can create custom lists and tags and leave notes for each lead, which will help you make your event marketing strategy planned and measurable.
Plus, after each action, successfully processed contacts are automatically moved to a separate section. Thus, it will be easier for you to evaluate the success of each campaign.
Minimum of manual actions. Social media marketing doesn't have to be a routine. Boring tasks can be safely entrusted to a robot. But the advantage of this robot over other automation tools is its complete imitation of human actions. That is, when you delegate the work to LH, you will see how the activities are going on right on the desktop. There are pauses between actions, and the principle of browsing pages will occur exactly the same as you would do it yourself.
Increased efficiency of your events. By entrusting the work to the tool, you will reach many more leads, which means you will get more positive responses.
4 LinkedIn event marketing tips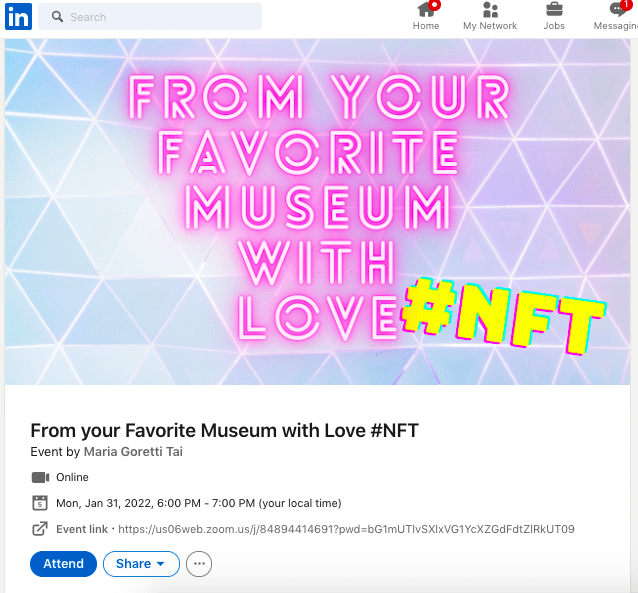 Promo through private messages
Your event will attract more attention on LinkedIn when you plan in advance how to present it via messages. By addressing everyone personally, you will get more coverage.
Also in the messages, ask potential members to share it with their contacts – there may be other interested persons whom they know. So in a message post insert a call to action and ask to repost on a personal page. For this, you can promise people bonuses and attractive conditions.
As we discussed above, on Linked Helper you can run the whole event promotion strategy – from pre-warm-up and communication with the participants to follow-ups after the event.
A few weeks before the event, send such messages to the 1st degree contacts and encourage them to share them. This way you will get more reach.
Use group marketing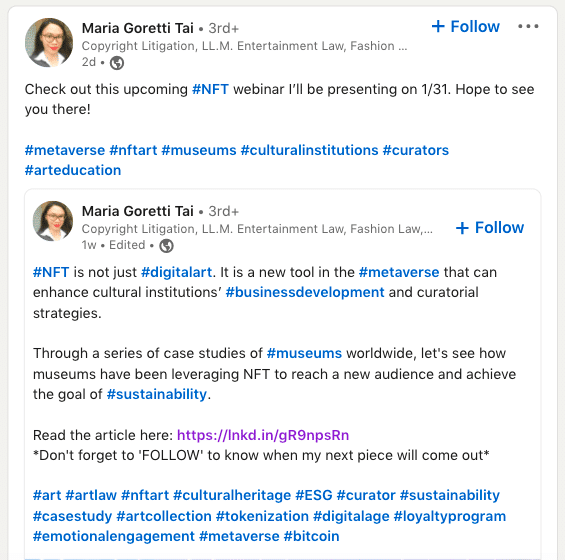 To promote the event, you must make a selection of thematic groups to distribute posts about the event. In order to find suitable groups with active discussions, you will need to do some research.
You may use the pages of influencers and see which groups are listed in their interests.
After selecting suitable groups, send a request for membership – some may be private. In a few days, moderators will check your account and approve. Now you can start posting about your event to a narrow audience of group members.
This will help you focus only on potential leads to increase the effectiveness of the event.
Make sure that live discussions are taking place in this group and the most recent comments were not left a year ago. Skip groups with no involvement; there is no point in posting about the event there.
List in your post:
How the event will help the members of the group – you need to find a personal approach, because the interests of group members are often clear.
Bonuses from participation – to increase the number of participants, implement a lead magnet, unique research, or emphasize expertise through an invited influencer.
Time & date – before the participants follow the event page, let them know all the details in advance.
Call to action – encourage to share the link with colleagues.
Reviews– if you have already hosted online meetups, prove the successful experience of previous participants.
Promote event on the company page
A detailed description in the form of a post or article should be posted on your organization's LinkedIn page. Here you can state the program point by point, paying attention to each stage of the event.
Here you can write in more detail than for advertising an event in a group or in a personal message.
Create a notification for workers about this post. LinkedIn allows you to keep all your colleagues up to date with corporate news using one built-in button on the company page.
Encourage workers to share a post or article on their personal page. Contacts of your colleagues are potential participants of the event. Posts on personal pages will generate interest and traffic to the company and event pages. It is especially important that the founders of the company, CEO, and other top managers share the event. This will instill trust and interest.
Use automation to work on the event
In 2022, marketers have a unique opportunity to accelerate event marketing by reaching more people through automated tools.
This does not mean that you won't have to do anything – but smart software can do much more repetitive actions than you can. Manually inviting 1,000 people to an event and writing to them is a dreary task even for the most patient person.
To boost event marketing and invite more people outside of your professional network, you can target your marketing in groups. In the LinkedIn community, users gather in groups according to niche interests, and you need to select relevant groups with an active audience. Make a bright invitation post with a link focusing on the benefits of participation (i.e. access to unique content, a rare online guest, or the opportunity to get discounts). Also, remember the importance of a post-contact after the webinar and reminders in private messages. Linked Helper will help you automate most of your marketing tasks, and you can test useful features for free for 14 days.