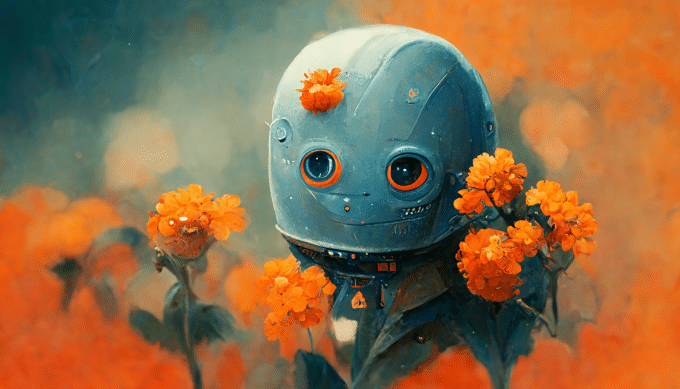 Recruiting can be an expensive undertaking, with LinkedIn Recruiter Lite cost starting at $170 (monthly). Many people believe that they cannot find suitable candidates without using this product. However, in this article, we will dispel this myth and reveal a life hack that can save you a significant amount of money – $7733.4 per year to be exact (by using Sales Navigator Core + Linked Helper, which costs $1256.6 / year, instead of LinkedIn Recruiter Professional Services / Corporate, which costs around $8990 / year).
Introduction
We'll explain how you can replace LinkedIn's most expensive offer, Recruiter, with two more cost-effective options: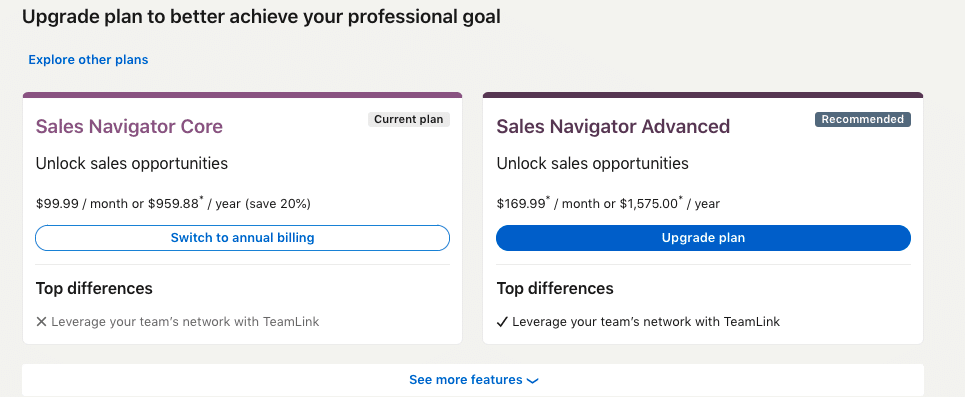 The significant difference between Core and Advanced lies in the use of TeamLink. TeamLink is a feature in LinkedIn's Sales Navigator that allows sales teams within the same organization to leverage each other's networks and connections on LinkedIn to find and reach out to potential leads and customers. With TeamLink, each salesperson can see the LinkedIn connections of their colleagues and use those connections to get introductions or referrals to potential leads. Essentially, it's a way for sales teams to collaborate and work more efficiently by sharing their networks on LinkedIn.
For comparison in this article, we have chosen the more affordable option.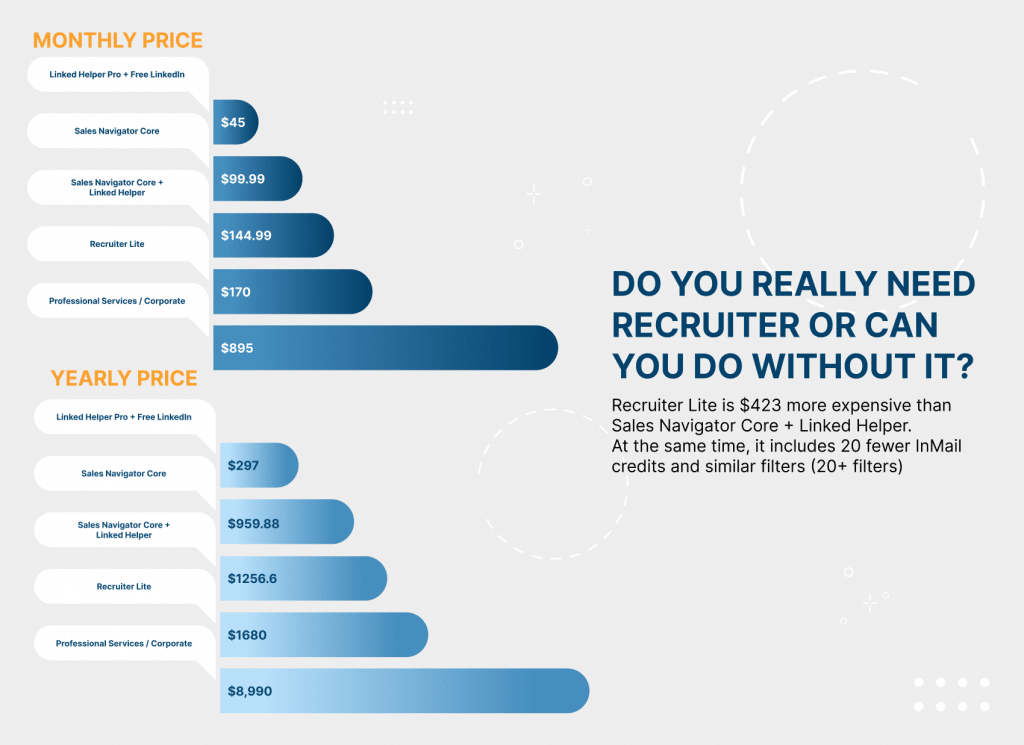 For many large companies, Recruiter Professional Services can be indispensable. We have compared the difference in subscription costs and the main benefits that each subscription brings.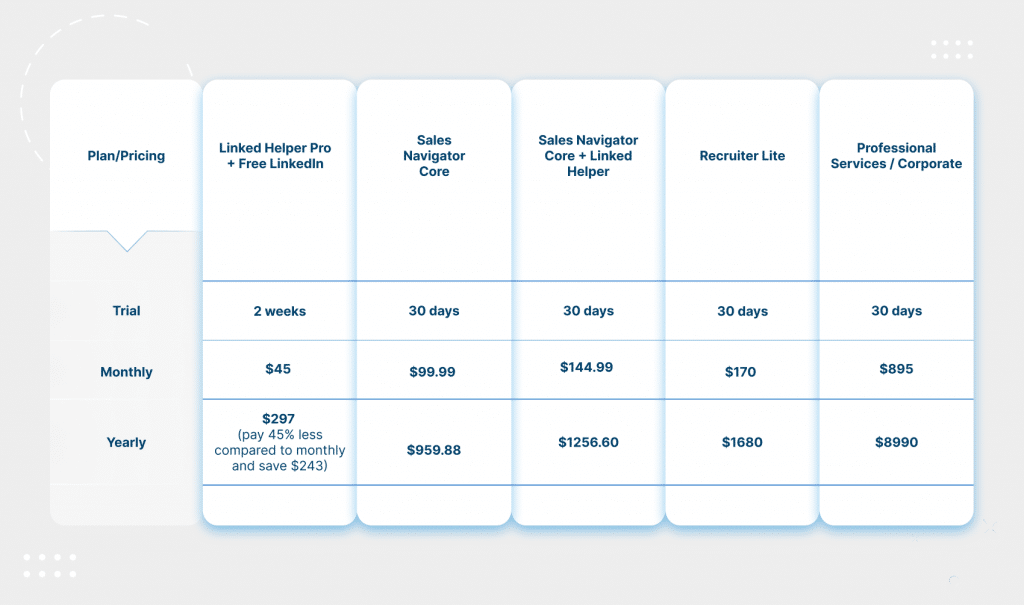 Based on the yearly pricing, Linked Helper Pro + Free LinkedIn is the cheapest option for $24.74/month ($297 / 12 month), followed by Sales Navigator Core at $79.99/month ($959.88 /12) and Sales Navigator Core + Linked Helper at $104.6 / month. Recruiter Lite is the most expensive option at $140/month, while Professional Services / Corporate comes in at a whopping $749.17/month.
Insight: The most cost-effective option is the combination of Sales Navigator subscription and Linked Helper. This combination includes the ability to use advanced filters and more InMail credits than Recruiter Lite (50 versus 30). At the same time, subscribing to Professional Services or Corporate allows sharing access with 20 collaborators and includes an Applicant Tracking System, which can be important for larger firms.
Are you new to LinkedIn automation?
Automation can help eliminate routine manual work. You won't find yourself wasting three hours on sending 100 messages daily because you can set a target audience in Linked Helper and assign actions with these leads. People can be gathered based on filters from searches or sources like groups, events, or URL pages.
No matter which LinkedIn plan you opt for, utilizing the Linked Helper automation tool can bring immense value through its distinct features such as:
Cutting-edge technology that can connect with around 800-1,000 prospects every week
Ability to extract the database and email addresses of 2nd and 3rd degree connections
Downloading all LinkedIn data regarding individuals and businesses as CSV files
Sending bulk auto-messages to a targeted audience in niche groups and to event attendees
Automating invitations to events, groups, and business pages
Effortlessly sending bulk free and paid InMails
Customizing messages in-depth through personalized variables, IF-THEN-ELSE logical strings, and integrations for personalized images, videos, and link thumbnails
Managing LinkedIn prospects in a single CRM with personalized client cards, user lists, search filters, and download options.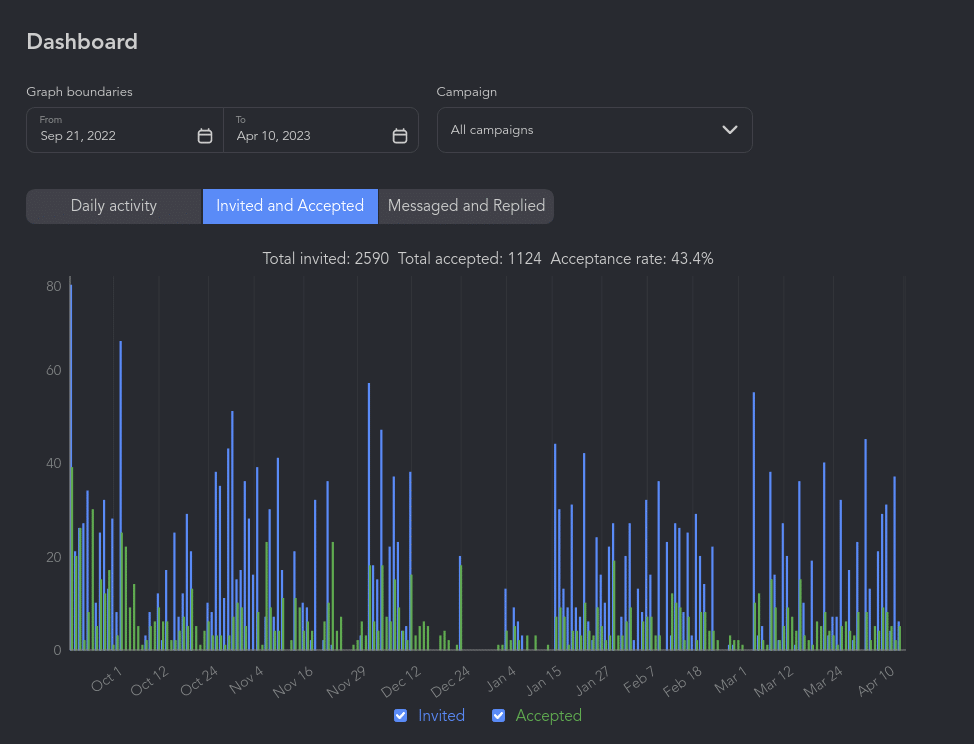 How much is LinkedIn Recruiter: plans overview
LinkedIn's basic recruiting tool, Recruiter Lite, is perfect for individuals working in small-to-medium businesses that don't have a high volume of hiring needs. The tool is available for purchase as a monthly or yearly subscription through their website, and you have the freedom to cancel your subscription at any time. Furthermore, if you're a first-time user, you might be eligible for a complimentary 30-day trial period.
It's important to note that Linked Helper isn't a direct replacement for a LinkedIn Recruiter subscription, as the subscription provides additional filters such as the Skill filter that isn't available in Sales Navigator or regular LinkedIn.
The subscription starts at $170 per month. Corporate and Professional Services pricing isn't specified, so we refer to this article ($895 per month):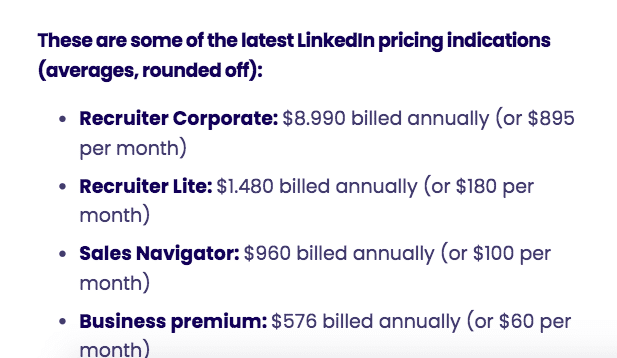 LinkedIn's Recruiter plans have different features to cater to different recruiting needs. In addition to what has already been mentioned, there are more differences that need to be considered.
Diverse Recruiter plans to choose from
LinkedIn offers different Recruiter plans: Recruiter Lite, Recruiter Professional Services (for staffing firms), and Recruiter Corporate (for corporate companies). Each of these options has distinct features, and we will outline them below along with their use cases.
Recruiter Lite
Recruiter Lite is suitable for small-to-medium businesses with basic recruiting needs and a limited budget. It offers access to up to your 3rd degree connections on LinkedIn, 20+ search filters, and 30 InMail messages per month. However, this plan does not have access to an "open to contract work" filter or skill assessments filter. There is no InMail pooling across your account, which means each user has a set limit of InMails per month, and users can't bulk send InMail messages. Additionally, this plan only provides access to InMail analytics reports and job analytics reports.
Best for small organizations and individual recruiters with basic hiring needs.
More affordable than other plans.
Provides basic search filters, limited InMail credits, and less advanced analytics and reporting features.
Suitable for recruiters who require a cost-effective plan with essential tools.
Recruiter Professional Services
Recruiter Professional Services offer several benefits, including the ability to access up to your 3rd degree connections on LinkedIn, along with 30 unlocks per month for out-of-network profiles. This plan also provides advanced search filters, such as years at current company/position and spoken languages, in addition to 40+ other filters. Users can send up to 100 InMail messages per month, and InMail pooling across the account allows for 100-150x the number of seats. They can also send up to 25 bulk InMail messages at once and have access to various reports, including InMail analytics, job analytics, recruiter usage, pipeline analytics, and custom reporting. This plan is ideal for staffing firms with larger recruitment needs and budgets.
Best for staffing firms with complex hiring requirements.
Provides all the features of the Recruiter plan plus additional support from a dedicated LinkedIn team.
Offers custom reporting and analytics, training, and support resources.
Suitable for companies that require assistance with sourcing, candidate engagement, and employer branding.
Recruiter Corporate
Recruiter Corporate is a LinkedIn plan that offers full access to the entire LinkedIn network, along with 40+ search filters and 150 InMail messages per month. Users can send up to 25 InMail messages at once and have access to various analytics reports, including InMail analytics, job analytics, recruiter usage, pipeline analytics, and cross-contract and custom reporting. The plan also includes centralized management and collaboration tools for in-house recruiting teams. This plan is suitable for large corporations with complex recruitment requirements and a more significant budget.
Best for corporate companies with in-house recruiting teams.
Provides all the features of the Recruiter plan with additional administrative tools.
Offers a centralized platform for team collaboration and management.
Suitable for companies that require a comprehensive set of tools to manage their hiring pipeline and team.
The best plan depends on the size of the organization, hiring requirements, and budget. Recruiter Lite is more suitable for small organizations and individual recruiters with basic needs, while Recruiter Professional Services is best for staffing firms that need additional support. Recruiter Corporate is a comprehensive plan that is more suitable for corporate companies with in-house recruiting teams.
It's worth mentioning that the subscription starts at $170. Corporate pricing isn't specified, so we can refer to this article ($895 per month):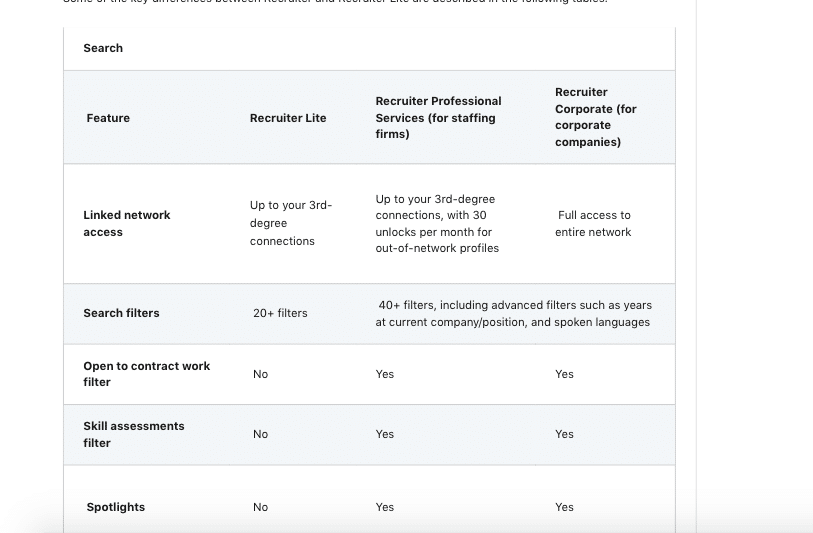 Insider opinions about Recruiter from Reddit
We tried to analyze what recruiters really think about the most expensive plan on forums. The Reddit thread is buzzing with opinions and experiences from members of the recruiting community who are weighing the worth of LinkedIn Recruiter Professional. Here's what we found: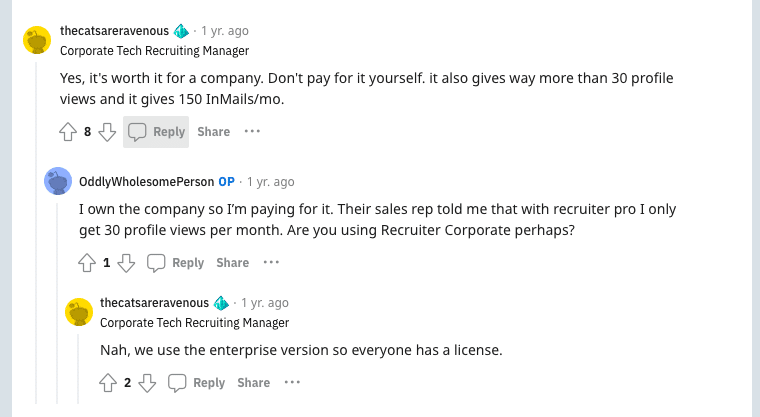 Advantages:
Recruiter Corporate provides recruiters with access to the entire LinkedIn network, making it easier to cast a wide net for potential candidates.
The tool offers over 40 search filters that allow recruiters to narrow down their search to candidates with specific skills and experience.
There is no commercial search limit, meaning recruiters can search for as many candidates as they need to without any restrictions.
With access to InMail messages, recruiters can directly reach out to potential candidates.
Disadvantages:
Some users believe that the tool is expensive, and there are other alternatives available with similar features at a lower cost.
Critics argue that Recruiter Lite or even a free LinkedIn account can be just as effective for recruiting needs.
Sending a follow-up to your first degree contacts is impossible if the previous message hasn't been accepted. This leaves you with two options: wait or send an InMail, which can lead to longer message chains*.
*The advantage of using Recruiter together with Linked Helper is that:
It can check when a message has been accepted and send a follow-up after acceptance.
If you want to send a follow-up, you can gather contacts by skills in Recruiter and then send messages in regular LinkedIn.
Takeaways:
Personal connections and relationship-building remain vital for successful recruiting outcomes.
Developing trust with candidates can yield more promising results.
The thread highlights the importance of assessing individual recruiting needs and goals when deciding whether to invest in LinkedIn Recruiter Professional.
Overall, the discussion provides an insightful range of perspectives on LinkedIn Recruiter Professional's value, reminding recruiters to keep an open mind and weigh their options before investing.
Based on user opinions in the discussion, we see that Recruiter provides value through unlimited searching for people by skills and the ability to reach the entire network (but only with the most expensive Corporate plan). However, many of these values are also provided by Sales Navigator. Therefore, many users consider this subscription overpriced and opt for alternatives. Read on if reducing lead cost is a priority for you and learn how to smartly utilize a subscription with automation.
How to use LinkedIn automation instead of Recruiter
Is it possible to use LinkedIn automation as an alternative to LinkedIn Recruiter?
While automation tools like Linked Helper cannot completely replace a LinkedIn Recruiter subscription, they can help spread the cost and benefits of a single paid LinkedIn account among multiple users.
By subscribing to LinkedIn's Sales Navigator, you can use one account to gather and filter leads, and up to 10 free LinkedIn accounts to process the profiles collected via Sales Navigator.
Here's how it works:
Use a paid Sales Navigator account to gather profiles.
Download the collected profiles as CSV files.
Upload the CSV files to Linked Helper campaigns linked to free LinkedIn accounts for processing.
If you have a recruiting agency, subscribing to Sales Navigator can reduce the cost per account ($144.99/month per Sales Navigator + LH Pro subscription can be split among 10 accounts, making it cost only $14.50 per account). This will give you access to all the available filters, such as skills and position, etc. However, you will need a Linked Helper subscription to automate hiring on the other nine accounts.
Why pay $170 per month for just a few extra filters and still need to manually invite and follow up with candidates when you can pay $15-$45 per month for Linked Helper to do all the work for you?
Recruiter Pro, the most expensive plan, provides exclusive search filters, open-to-work badges, 150 monthly InMail credits, and daily suggestions based on your open roles.
But is it worth paying nearly $9,000 a year for this?
Linked Helper can do all the work for you for a fraction of the cost.
While you may not be able to filter by skills directly on the LinkedIn search page, you can still "Visit and Extract" profiles and filter them within an Excel file.
Linked Helper can scrape open-to-work badges for visited profiles.
Although sending InMails is a more professional way to reach out to candidates, Linked Helper can send them for free BUT only to "Open" profiles.
Alternatively, you can try messaging candidates instead of using InMails to see how it works out.
Linked Helper will bring in candidates, and all you have to do is continue communication manually and schedule a call or meeting. Starting with likes and follows, you can draw attention to your profile. Then, add candidates to your network (bypassing LinkedIn limits and therefore 5-7 times faster) and tell them about your offer in a personalized message.
Funnel examples for recruiters in Linked Helper
We recommend using a ready-made campaign template depending on the candidate search strategy. Perhaps as a recruiter you have already discovered through practice that it's best to communicate with candidates through emails or groups.
Linked Helper already has pre-built campaigns that are suitable for your needs, and you can edit them as necessary (remove unnecessary actions or add new ones).
Explore examples of ready-made templates that are super easy for new users.
Campaign for warming up candidates
This may be relevant for recruiting top managers and other highly qualified specialists who are difficult to reach.
Start your campaign by attracting attention to your profile through follows and likes. You can also leave personalized comments. Then, when sending an invitation, highlight the unique value proposition of your offer or confirm the person's interest. After the invitation is accepted, you can provide more details in the first message and, upon receiving a positive response, suggest scheduling a call.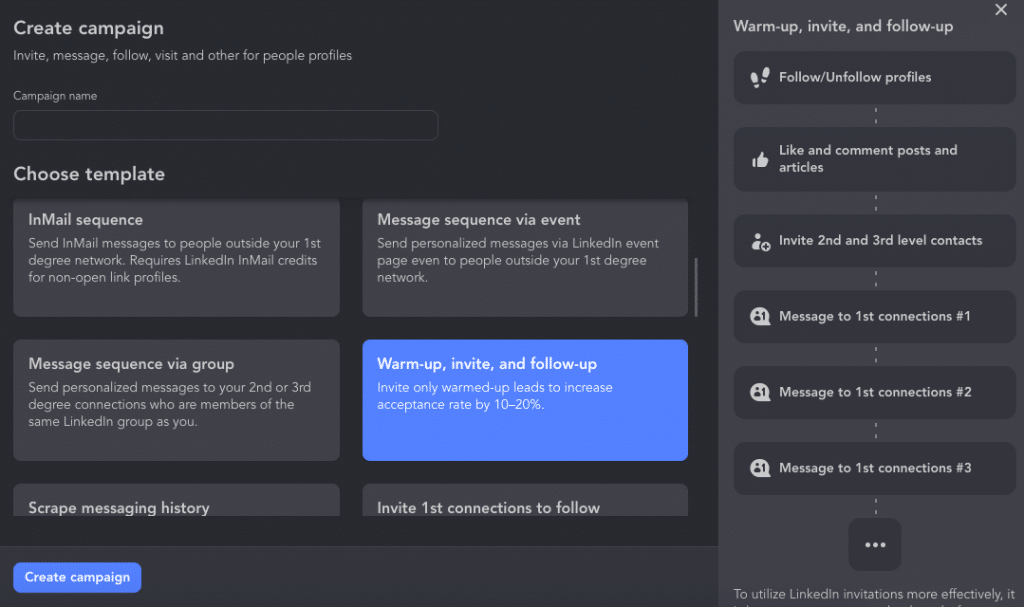 Case for a quick invite
It may be appropriate to move directly to the invitation stage if you are sure that your offer will be very interesting to the candidate (to reduce the number of steps). In the invite message, we advise mentioning one of the super-beneficial conditions (for example, fast document processing for relocation at the company's expense).
As we can see, this campaign starts with an invitation, so you skip the warming-up phase. This approach can be more effective if you briefly present your offer in the message when inviting. Then, you can set up a chain of messages. Each follow-up will be sent only if the person did not respond to the previous message.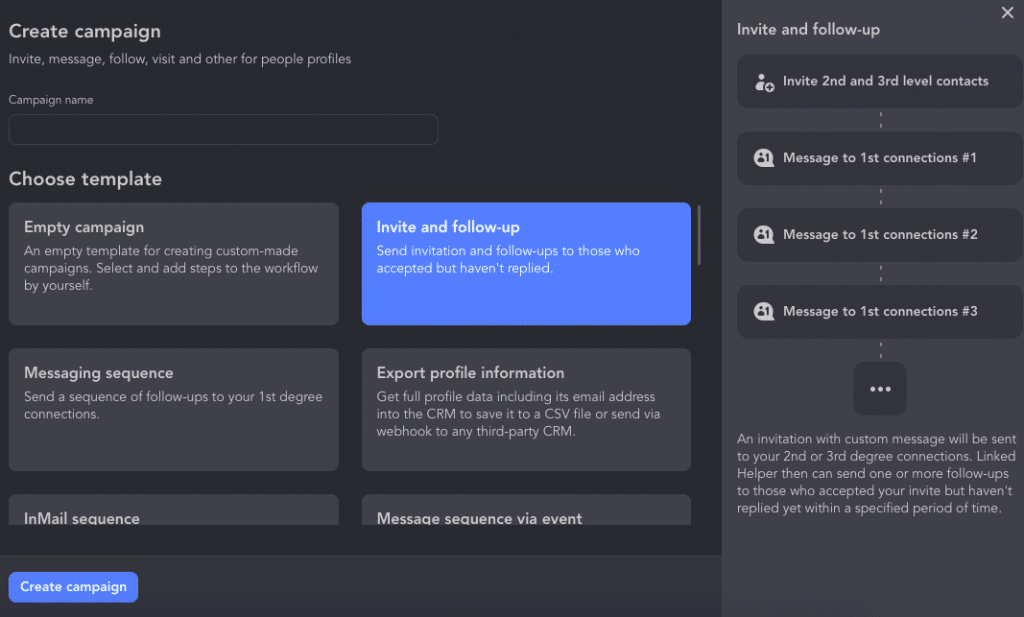 Case for those who prefer email
Your LInkedIn recruiting campaign can also be linked to recruiting through email. For example, invite and filter through LinkedIn, and then follow up via email (in case the person rarely checks their LinkedIn messages or is swamped with messages on LinkedIn).
Such a campaign allows you to combine lead generation for hiring via LinkedIn with candidate processing through email. Alternatively, you can use webhooks to send leads to another system for mass mailing or CRM.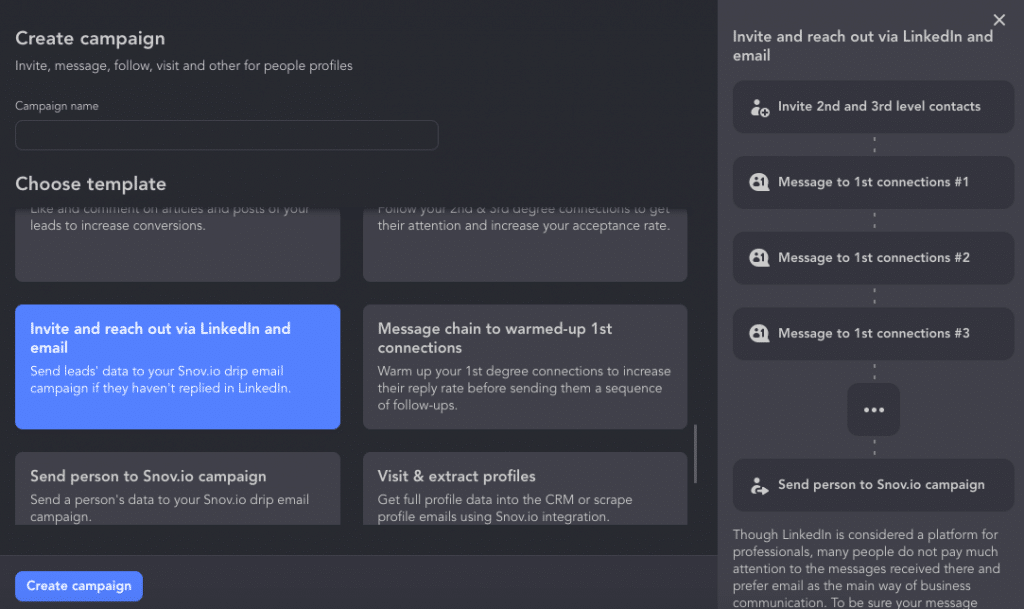 Links to useful articles and videos for starting your first campaign.
12 things to know for a perfect campaign.
Workaround for LinkedIn Recruiter: send free InMails
Are you aware that LinkedIn allows you to send free InMails to candidates with "Open" profiles? While manually searching for them can be time-consuming, with LinkedIn Helper, you can easily send free InMails in bulk. Sorting profiles by Open status is simple:
If you have a Linked Helper subscription + Sales Navigator, you can instantly identify Open profiles and filter them accordingly in your CRM.
In free LinkedIn, just set the filters under the Service categories. This method of gathering people only looks for Open profiles that can receive free InMails.
After sorting them out, add those profiles to an "InMail to 2nd & 3rd contacts" campaign.
Tip: Keep in mind that Sales Navigator has a limit of 800 InMails per month. To evenly spread out the free InMails throughout the month, limit the InMail to 2nd & 3rd contacts activity to 26 actions per day. That way, other campaigns can also process profiles. Limiting certain activity types is essential.
Learn how to send free InMails without using paid credits by checking out this tutorial.
Get all your questions about InMails answered in this helpful guide.
One of the advantages of creating bulk messages, invitation messages, and InMails through Linked Helper is the ability to maintain personalization even with mass messages. You can be sure that important candidates will receive texts that contain personalized lines, visuals, or links. We will explore all of these features in the section below.
LinkedIn recruiter message template
The option of customizing templates in Linked Helper for InMails, candidate invitation messages, and comments is essential in 2023. Based on a recent McKinsey report, personalization is one of the most important trends in B2B marketing. Linked Helper can help catch candidates' attention by mentioning facts from their summaries. You can use:
Custom variables and "If-Then-Else" operators
Essentially, you can add lines that will be unique to each recipient in bulk mailings yourself. You just need to add them to the downloaded file in Excel and upload them to the Linked Helper campaign. When sending a message, the robot will insert the variable text in the message to the candidate. And for those who have no information to base the personalized text on, you can set an alternative general text through the If-Then-Else function.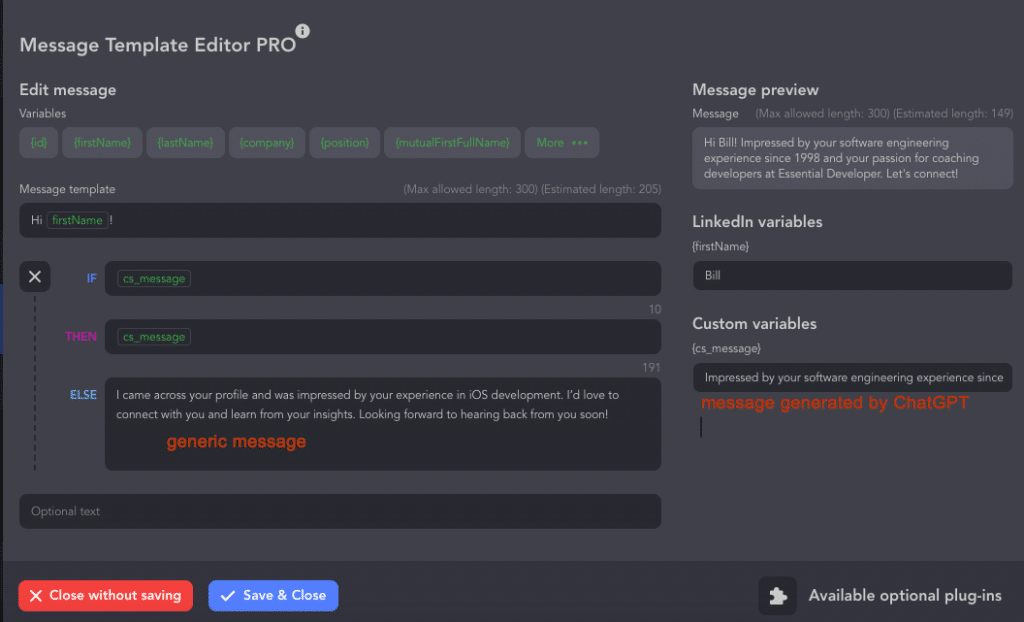 For example, we generated message text based on candidate summaries through ChatGPT and then added texts to Linked Helper. Read a detailed case study for more information.
Images, preview links, and videos
Linked Helper is integrated with personalization services Uclic and Hyperise. These services help you design a banner or video, or set text for a link with a custom preview to use in bulk messages. For example, a link to a job vacancy in a message can look like: "John, we've been waiting for a project manager with your experience for a long time!" Such deep personalization will help strengthen the hiring effect through LinkedIn.
Useful links on the topic:
Uclic & LinkedIn automation tool: Deep personalization tutorial 2022
LinkedIn Recruiter search tips for better outreach
Quick tips for LinkedIn Recruiter search in automated campaigns
Proper filtering is crucial for successful candidate collection. Be mindful of adding only relevant individuals to your campaign's Queue. Explore comprehensive guide at the link. Below we remind you of some quick tips:
Use additional filters in Sales Navigator to increase the accuracy of your search. Advanced filters include activity, job changes, recent posts, and past colleague relationships.
Utilize Boolean search to combine keywords and create advanced search queries that target specific job titles or industries.
Explore excluding certain niche audience groups from your campaign to improve lead relevance.
Remove profiles from the Queue manually after collecting to avoid unnecessary processing of irrelevant people.
Using these tips will help you optimize your LinkedIn search and generate more relevant leads.
How to handle results (responses) from your outreach campaign
The "Check for replies" feature is a handy tool to quickly identify responses from candidates to mass messages sent through campaigns, and it's particularly useful when contacting thousands of people across multiple accounts. Managing such a high volume of messages without an automated tool like Linked Helper can be challenging.
When a profile responds, it will be moved to the "Replied" sub-list, and any further actions scheduled for that profile will be skipped. However, if you want to continue processing the profile despite the reply, you can select it and click the "Ignore reply and move further" button, as shown here.
Please note that this feature only searches for replies in the platform where the previous message was sent, and does not check messaging history in other platforms.
The "Check for replies" feature works in cycles, checking for replies every "X" hours (default is 3 hours) to your previous message. Unlike the "Invite 2nd and 3rd level contacts" or "Endorse my contacts" features, it does not visit each profile individually, but checks all the profiles from the queue simultaneously. However, using this feature too frequently may draw attention from LinkedIn, so the timeout between checks cannot be set to less than one hour.
All in all
Subscribing to Recruiter Corporate on LinkedIn provides access to all the features that LinkedIn offers, which is crucial for hiring agencies. However, we have also explored alternatives for those who are more budget-conscious. Although Recruiter Lite is not significantly different from Sales Navigator, it is considerably more expensive. As a result, many individual recruiters prefer the same advanced filtering capabilities that come with 20 additional InMails at a lower cost. Additionally, with the help of Linked Helper, this subscription benefit (filters) can be divided among multiple basic accounts for processing. Ultimately, it is up to you to decide whether a full set of features at a reasonable price or cost savings on leads without sacrificing your search are more important at this stage.