LinkedIn InMail is a paid option to reach your leads through private messages if they are not your contacts yet. According to statistics, InMails are 2.6 times more effective than cold emails. But it may be difficult for you to figure out how many messages you are allowed to send and how to get this feature. Let's consider everything about InMails below.
What is InMail on LinkedIn?
LinkedIn InMail is a message that will reach those who are not yet on your contact list. Some users make their profile available to get an InMail from strangers, then it shows up as an Open profile. These are people who use the Premium plan or fill out Services on their pages.
In what cases might you be interested in sending such messages? For example, if you are looking for a job and you need to write to a hundred recruiters. At the same time, you don't want to spend a lot of time interacting with them and inviting them to your network in order to unlock messaging.
Download Linked Helper 2 and get 14-free trial right now
If you are not yet in our list of users, then join. We give you a trial version to start your experience with our LinkedIn tool.
What does InMail mean on LinkedIn?
InMails mean a lot since they are more effective than messages:
They allow you to use the subject line for each message to catch attention.
They immediately get into the message inbox. Unlike messages to group members/event attendees, which are displayed in incoming requests and are not immediately visible.
Since users are interested in writing to their second and third degree connections (besides messages to group members/event attendees), InMail credits are included in paid LinkedIn plans – Premium Career, Premium Business, Sales Navigator Core, Recruiter Lite.
Linked Helper is a LinkedIn marketing automation tool that will help you send free bulk InMail beyond the limit and also automate your entire InMail funnel.
You can sort people by LinkedIn filters and collect them from the search page in the InMail auto-action. This will help you send free InMails.
How does LinkedIn InMail work?
InMails can be paid or free and allow you to contact users outside your network of contacts. Paid InMails can be sent subject to limits – a certain number (from 5 to 150) is included in your paid subscription by default. The limit is replenished under the credit system when people respond to your messages. Credits and limits vary for each LinkedIn solution.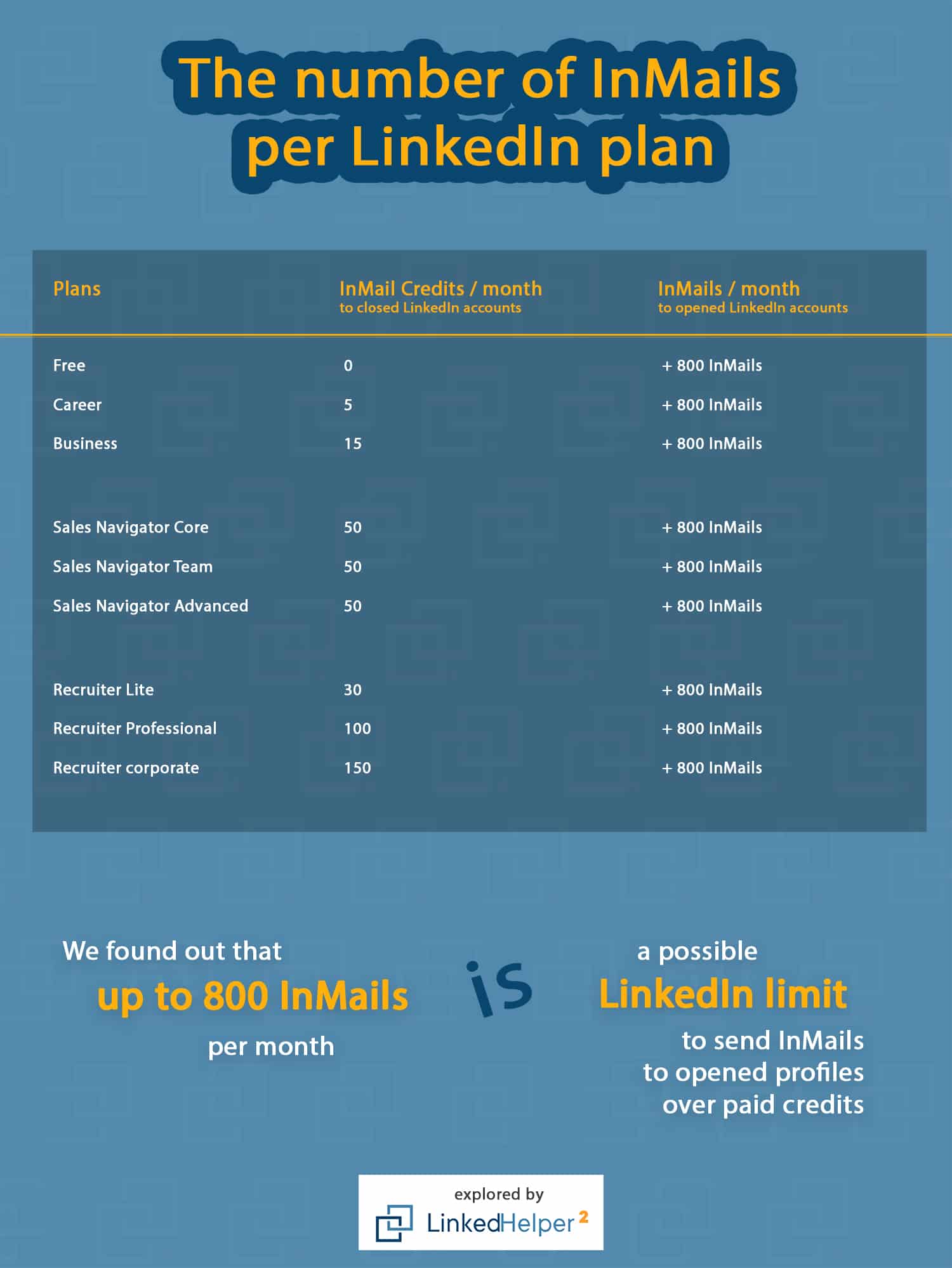 The possibilities of sending these messages are not unlimited, since the social network is fighting against spam. They have set different limits for paid products (in the section below we will go over the limits in detail).
Therefore, this exclusive opportunity must be used wisely. But at Linked Helper, we offer a lifehack to reach everyone who has an Open profile automatically and in bulk via InMails – below you will learn how this feature works. You can try the software for free for 14 days to understand how effective automatic funnels organized through the software can be.

The convenience of sending InMails via Linked Helper is that you can integrate this action into a complex marketing funnel. That is, before sending InMail, you can add warm-up auto-actions – likes and comments – which will increase the chance that your message will receive a response.
Automatic free InMails via Linked Helper will make it much easier to connect with clients, job seekers, influencers, and other important business connections. You can bypass the invite step and reach your audience's inbox directly.
Why do I need LinkedIn InMail credits?
LinkedIn has a credit system that works with these messages. This means that the efficiency of your InMails can help you save more.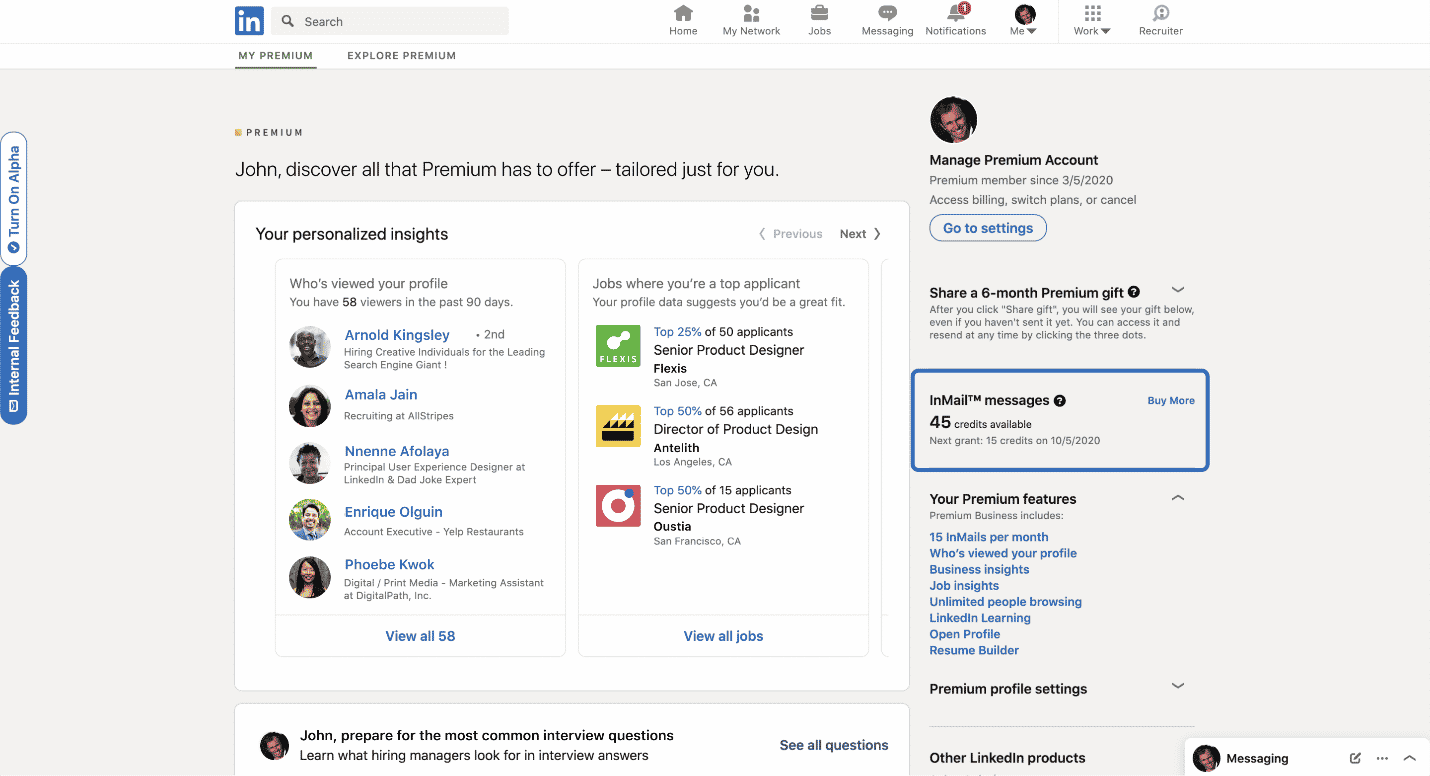 InMail credit is preserved if the recipient responds to you within 90 days. Why was this invented? The social network explains such a system by saying that users should carefully select those to whom they want to send a message. Logically, if you conduct excellent research on the target audience, select an offer that is relevant to them, and write an attractive pitch, then your InMail will most likely be answered. Therefore, LinkedIn will generously return your spent credit.
If the lead turned out to be unqualified, then your limit will be depleted until the next accrual period. Thus, by sending out qualified InMails, you can use the InMail credit indefinitely.
You can better analyze and warm up the audience before sending limited messages – we provide the instruction in the section below.
What is the difference between LinkedIn InMail, Sponsored InMail, and InMail ads?
LinkedIn InMail may be sent in the format of a promotional message. Sponsored InMail or InMail ads are now called one simple concept: "Message Ads." This type of advertising is effective because it appears directly in the inbox of your target audience. This is more likely to lead to conversions than a banner in the feed.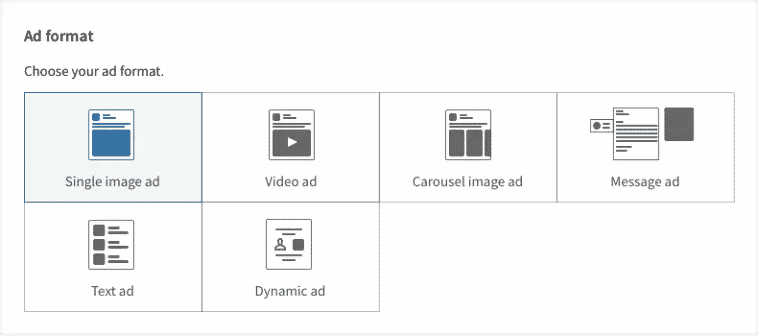 Since your leads may check their LinkedIn inbox more often than their email, you have a better chance of getting your message read and getting a response.
Also, unlike the standard InMail, you can add a call to action button, a link to your website, or a contact form. These features make in-message advertising a viable way to generate leads.
Conveniently, the difference with this type of message is that you can track the effectiveness of actions with advertising analytics.
What is the difference between InMail and a message on LinkedIn?
You can only send a LinkedIn message to your 1st degree contacts, common group members, and those who participate in the same event. At the same time, InMails reach users outside your network, and you can send free InMails to users who have allowed this option in the settings (Open profile). Also, the limit on the number of characters in normal messages is higher than in InMail – 8,000 characters in a classic message vs. 1,900 characters allowed in InMail. Learn the top creative way to send a video message on LinkedIn.
The text in InMail is also different from the text in standard messages.
InMail has a subject line. The presence of a title will also affect the opening rate because it can interest a person and attract attention.
In the Linked Helper Template Builder, you can write a subject line and use auto variables and custom variables. That is, the tool will use the name of each lead or company or position, and the message will look like you wrote it by hand.

How many LinkedIn Premium InMail credits per month сan I get?
You can get from 5 to 150 credits (the minimum for a Premium account and the maximum for Recruiter) with the ability to accumulate a maximum of 15 to 150 InMails accordingly. The number of InMail is updated monthly; the specific date will depend on the date when your subscription is renewed. This is the date you subscribed to the current paid product. It can be found on your My Premium page.
Also, if you reach the limit for your LinkedIn package you can buy more InMails.
If you unsubscribe, the InMail feature and current credits will no longer be available. Another kind of limit is the fact that you can only make one attempt to write to one user until you get a response from them. LinkedIn returns credits if you receive a response to InMail, or if the user has accepted or rejected it.
Even if the user clicked on the quick reply option in the chat, this will also be considered as a reply to the InMail.
Find the number of InMail message credits you receive monthly below:
Premium Careers
With this product, you only get 5 attempts per month. In total, with accumulated credits, you can send up to 15 messages.
Premium Business
Users have 15 attempts per month. In total, with accumulated credits, you can send up to 45 messages.
Sales Navigator
In the Sales Navigator Core, Advanced, and Advanced Plus plans, the social network allows 50 credits per month. You can accumulate up to 150 credits in total.
Recruiter
This product gives users 30-150 credits. With accumulation and returns, you can send up to 150 messages per month.
Recruiter Lite – 30
Recruiters Professional – 100
Recruiter Corporate – 150
Regarding the accumulation of credits, there is another limit that you should be aware of. Accumulated credits are valid for 120 days, after which they expire.
The system is not easy, but the social network calculates the balance for you and will show you the accrued InMail credits on your My Premium page.
How many LinkedIn Sales Navigator InMail credits per month can I get? 
According to the latest LinkedIn rules update, Sales Navigator products users have 50 credits. Even the Advanced and Advanced Plus tariffs do not provide for more credits.
The new credits are given on the first day of the billing cycle for your account.
Despite the allocation of credits on a monthly basis, there is a limit on the total number you can accumulate. (See limits section for each product.)
How to get more InMail credits on LinkedIn
If you don't have enough credits, there are several ways to get more. You can upgrade to a more advanced LinkedIn product (for example, from a Premium plan to Sales Navigator) or buy credits in your account. (Go to the section on buying credits.)
According to the data on the official LinkedIn support page, credit purchase is available only in the Recruiter Lite product. For Premium products, the developers advise switching to more advanced solutions.
Even by purchasing additional credits, you cannot exceed the limits set by the rules of the social network for each solution. 
With Linked Helper, you can automate free emails and send them out in bulk, which can solve your credit shortage problem.
How to write a better LinkedIn InMail subject line
Thinking of a catchy subject line is vital – the character limit is just 200! Researching before sending out InMails will help you gather ideas for a subject. Because it is this line that can be the decisive factor in the recipient opening the message. The text should be friendly and in no case focused on cold sales.
Evaluate which email subject lines work best for your email newsletter – these may be suitable for your InMail subject lines as well.
Tips to boost the effectiveness of your copy: 
Keep the text of the message minimal. Statistically, less text leads to better results – because there is already an abundance of information in the social network, and well-known and sought-after users may receive hundreds of messages. Nobody wants to spend hours reading. Therefore, fit the most relevant and important point into your text, remove unnecessary words and introductory constructions, and make lists and break the text into short paragraphs.
Add personalization. To prevent your mailing list from looking spammy, you can use Variables in Linked Helper. The necessary text strings will be used for each recipient of the message. You can also attach an uploaded video via the URL, for example, on YouTube.


What is the LinkedIn InMail word and character limit?




Your InMail should be short, to the point, and exciting. LinkedIn gives you 200 characters for the subject line and 1,900 for the message body. That is, the message should fit within only 200-400 words. This is not so much. And besides, the social network advises you to shorten InMails, since compressed messages are more effective.




Therefore, pay attention to the character counter, it is available both in the LinkedIn message window and in the Linked Helper Template builder. When typing in a message on the social network, the counter will even change color, signaling that you should shorten the text.

How to buy more Recruiter InMail credits on LinkedIn? 




LinkedIn support center provides a clear plan for Recruiter Lite users to buy InMail credits. This can be done in your profile. Note that you can only buy in units of 10 messages. Here is how to do it:




Sign up for Recruiter Lite.
Go to "Product Settings."
Find the menu item "Purchase monthly InMail credits" and complete the purchase by clicking the appropriate button.
You can specify the desired number in multiples of ten.
After you have completed the payment, the new number of message credits will be displayed on the counter in your account.




How to prepare and send InMail messages on LinkedIn 

You can send a free or paid Inmail via LinkedIn. To send a paid InMail your profile must have a number of credits (read about credit limits in the section). At the same time, you can send a free email to all Premium users who have allowed it. Through Linked Helper, you can automate bulk sending of free InMails to target users (you can parse them beforehand from the search).

To send InMail via LinkedIn:




Open the profile of the user you need to contact.
Find the More button and click on the Message button.
Type the subject line and text and send your InMail.




With Linked Helper, you can speed up the process and write to hundreds of people in a row. Read more about the automated InMail action in the section below.

To prepare the InMail text and make it personalized, we advise you to do research on the target audience. You can read about them on their profiles. Linked Helper will help you parse data about thousands of people in your target audience and create a database in an Excel file.

LinkedIn recommends linking messages to profile data, shared experiences, and shared contacts. Also, short messages work better, people don't want to study long texts in private messages.

How to create and set up a LinkedIn InMail campaign 




You can create a paid InMail campaign – it's called Message Ads. Unlike a standard InMail, you can add a button and a link, a form, and contacts to a campaign.

Warm up the audience before sending. Automation can also help you with this. For example, you can like some posts and send comments to lead articles. This will make your name visible in notifications, which can increase the chances of your InMail being read and answered.

To start an advertising message campaign through LinkedIn, you need to log in to Campaign Manager.

To start working with paid InMails, you need to have an account and a campaign group. If you have not created these items, everything can be done in the manager. To do this, click on the Create menu item.
Select menu item Create → Campaign.
Enter a name for the future campaign to easily find it.
You can manage Campaign Groups in your account and create new ones or choose an existing one. After you have chosen the groups, select the Next menu item.
Assign an audience and goals. At this point, you should assign a campaign goal. This could be a website-related goal – visits, conversions, or lead generation.
Set your preferences. Add the budget and schedule.
You can add more to the message. For example, launching an ad without a lead form will not work if you have chosen the search for leads as the goal. Therefore, think it over carefully before launching a campaign.
You can create a bulk Inmail Campaign on LinkedIn via Linked Helper. Read the detailed steps in the How to send bulk Inmail on LinkedIn section.
Download Linked Helper (it's free and the trial version will be available to you for 14 days).
Log in to your profile.
Create a campaign.
Add profiles to the Queue list. (Workflow → Queue → Add).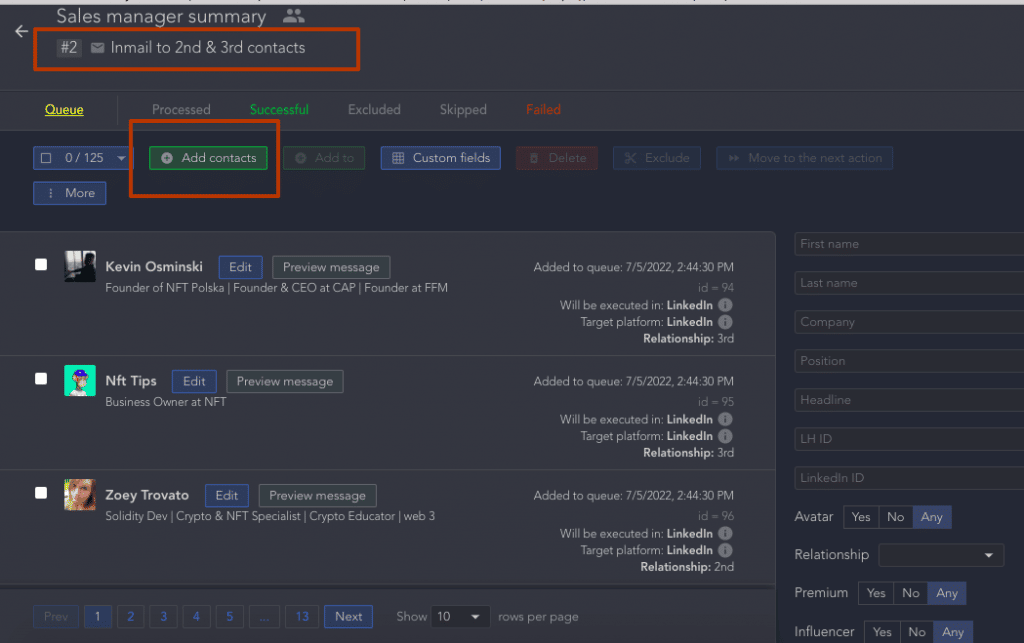 You can only sort people with an Open profile status if you select "Services" in the Advanced filters. Also, when scraping through the Navigator, you can filter such profiles directly in the Linked Helper CRM (by the "Open link" filter).
Add the "Inmail to 2nd & 3rd contacts" action.
Add text and personalization. These can be built-in variables or custom variables – you can add them from an Excel file.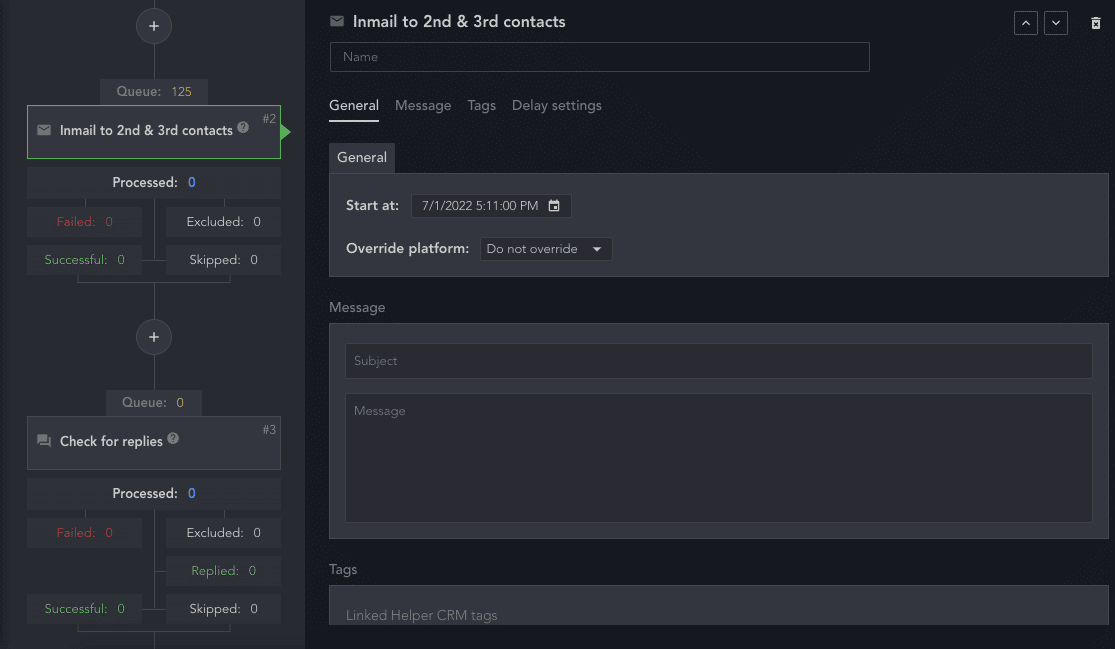 You can add the "Check for reply" action. All users that reply to your InMail will be tracked through the software. Upon campaign completion, you can download the entire history of messages, including their replies, into Excel and analyze the responses in detail.
Since attempts to send InMail are limited, you must be smart about it. For example, you can collect the target audience and analyze the texts in their profiles in order to make an offer relevant to them.
Linked Helper can collect accounts from LinkedIn pages and parse data from profiles when visiting. In fact, this is data that will help you create a personalized pitch.
Download the Linked Helper trial version. It will take no more than 15 minutes and you will not even be required to enter payment information to start working.
Create your first campaign. You can create a campaign with the action "Visit and Extract" or "auto Invite" so that the tool visits the profiles. The "Find profile emails" action will help you scrape emails. You can also organize visits through auto-likes, which will further warm up the audience.
After the collection, the necessary accounts will be transferred to the memory of the CRM. From here you can download the CSV file, which will contain all the data about your audience. The tool can also find additional emails if you select the "Find profile emails" action.
By analyzing text blocks in Excel, you can better understand the needs of your target audience. In addition, you can send the downloaded file to your team for brainstorming.
Does LinkedIn Recruiter have bulk InMail possibility by default?
Yes, there is such an opportunity in Recruiter products. According to a LinkedIn support article, a bulk sender will help you send up to 1,000 daily. New employees from your team connected to Recruiter are subject to a limit of 200 messages per week.
If you exceed the limit when bulk sending, you will see a notification and the function will not work until the next day. At the same time, the weekly limit for new employees may lead to the deactivation of the feature before the end of the week (the week is counted from the beginning of Monday at 00.00). Also, bulk free InMails for Recruiter Lite are more limited – you have a reserve of 100 InMails to send to those who have allowed them (Open profiles).
Recruiter can temporarily disable bulk mailing if it turns out to be ineffective. That is, according to the rules, if you received a warning about exceeding the limit, then after 14 days, the algorithm will measure the response rates. if it is less than 13%, then the bulk sender will be unavailable to you for 14 days.
Can you see if a LinkedIn InMail has been read?
Statistics on InMail in Recruiter do not include an indicator of the number of read messages. You can see the statistics in the image below: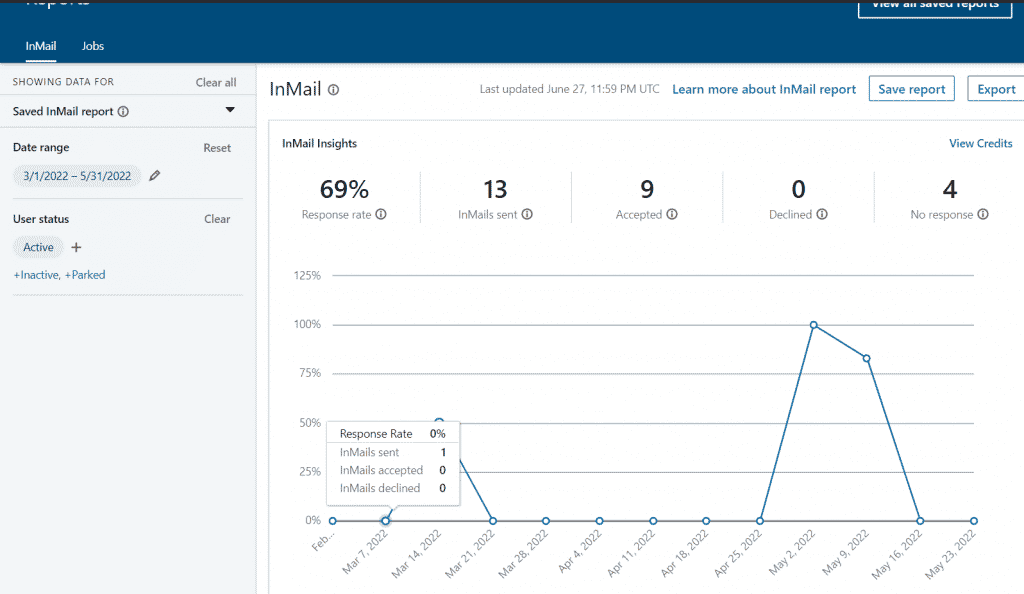 To know whether a message has been read or not, the appropriate privacy settings must be configured. If users hide Read status (or you hide this data in your account), then it will remain private.
That is, by default InMail statistics in your personal account are focused on the response rate, and the number of sent and accepted messages. The report does not provide read data because this data is confidential for some users. Therefore, the inclusion of such statistics wouldn't be indicative for evaluating the mailing performance.
What does a "declined InMail" status on LinkedIn mean for senders?
Each user, upon receiving InMail, can click on Decline. Then the sender will no longer be able to contact the person who declined or to resend the InMail. This choice has both pros and cons for the sender and recipient.
The perk of a user rejecting your InMail is that LinkedIn will return the credit to you according to the rules prescribed in their support center. That is, it will be an InMail refund that you can spend on a better qualified lead.
At the same time, refusal promises a great risk: further contact will be prohibited. Therefore, you should be motivated to look for targeted leads who are at least interested enough to send you a quick response.
It can also be a mistake for the recipient to choose not to communicate forever. It is quite possible that next time this offer will seem interesting to them. Or the recipient may at some point want to ask a question about your service by InMail, which will no longer be possible. Therefore, we advise you to either choose to accept or respond to InMails, in order to nurture business connections in the community.
How to create LinkedIn InMail templates for bulk messaging
LinkedIn allows you to create pre-fabricated messages in the Recruiter product, and they can be saved in your personal account. Templates can also be shared with other users.
In your personal account, find the menu item Product settings.
Select Message templates → Create new.
You can give a title to the message. Enter text and add media files as needed.
Set the privacy of the template – you can make it visible only to yourself or to all users from your organization.
To send a message from a template, in the Send Message window, select the Envelope icon → Document icon → find the desired template by name from the list.
Also, in the built-in tool for creating Templates, you can use variable values ​​– for example, the name of the recipient.
In the Linked Helper Template Builder, you have more options for personalization. For example, you can use not only built-in variables but also custom ones (you can write values ​​in Excel and load them into the software). Also, auto-messages can be personalized thanks to the "IF, THEN, ELSE" functions.
What LinkedIn InMail message examples can you offer as the best ones?
Of all the possible message options, you should use the ones that are as personalized as possible. A message written purely according to the example, without research on the target group, can be perceived as spam or mass mailing.
You can adapt the following example messages:
Example after meeting at the conference
Subject: I want to talk in more detail after (name of the event)
Hello (name). We met at a conference/seminar (name and date). We didn't get to talk in detail live, but I promised to share some information with you (attach a useful file, video, or link to an article). I would be happy to arrange a time to discuss the details (give a link to your Google calendar or event planner).
Example for finding an employee
Hello (name). Our company is looking for (position) and you are at the top of the search results. We offer (specify bonuses and details).
Our company is engaged in (list projects that will show the expertise of your team).
If you are interested, we can schedule a call. Please reply to this message as soon as possible if you are interested.
Specifying the details in the email subject can be decisive in whether a candidate will open the message.
Example for an invitation to an event
Subject: Exclusive invite to (event name)
Hello (name). I see that you work in (industry). Now is a good time for us to briefly exchange knowledge and personal experience in our industry. Therefore, we have organized an event (link).
Advantages of participation (list the list of reasons that will help the lead).
Become a participant now – we're accepting participants until (mention the due date).
We advise you to develop key examples and templates for target groups based on your goals of interaction on LinkedIn, such as the target audience. For example, for recruiting, you can create several templates for each position – a separate message when you're searching for a marketer vs. an iOS developer.
Tips for creating templates and examples for audience segmentation of the InMail can be found in the PDF file.
What to do if LinkedIn says You have no InMail credits left
You can buy new credits if the total limit for your product has not been reached (scroll to the Inmail Limits section). You can also use free InMails by sending them to all users who have allowed it in the settings (Open profiles).
In essence, if you receive a warning about your credits, you have several options for how to continue communicating with leads:
Product update
The maximum number of InMails is available in Sales Navigator. Therefore, you may want to consider an upgrade. In Premium, you only have 5 included InMails, compared to 50 credits in Sales Navigator.
Buying credits
In your profile settings, you can buy additional InMails, but the total number of paid InMails, in any case, should be within the allowed LinkedIn monthly rate. Learn how to buy credits in this section (link).
Send bulk and free
Sometimes this is the best solution because free InMails can be automated and sent in bulk via Linked Helper. Through the tool, you can parse everyone who is allowed to receive InMails and organize a mass mailing campaign.
How to send a free InMail
To send a free email, you must make sure that the recipient has allowed this option. You can send free emails via LinkedIn or automate bulk free emails via Linked Helper.
Profiles that can receive free emails from unknown users are marked with a badge on Sales Navigator, but there is no visible icon for Open profile identification in Premium products.
Therefore, in the Linked Helper, we provide a tip for the Open profiles filter from the search page.
Lifehack: You can purposefully search for profiles that have the status of Open link. LinkedIn has an option to search for people who provide certain services. In All filters → Service categories you can select the required category. LinkedIn itself gives these service providers an Open link status if they agree (even if they don't have a Premium subscription). In the screenshot you see an example of how you can filter people and collect them in an InMail action to send free InMails.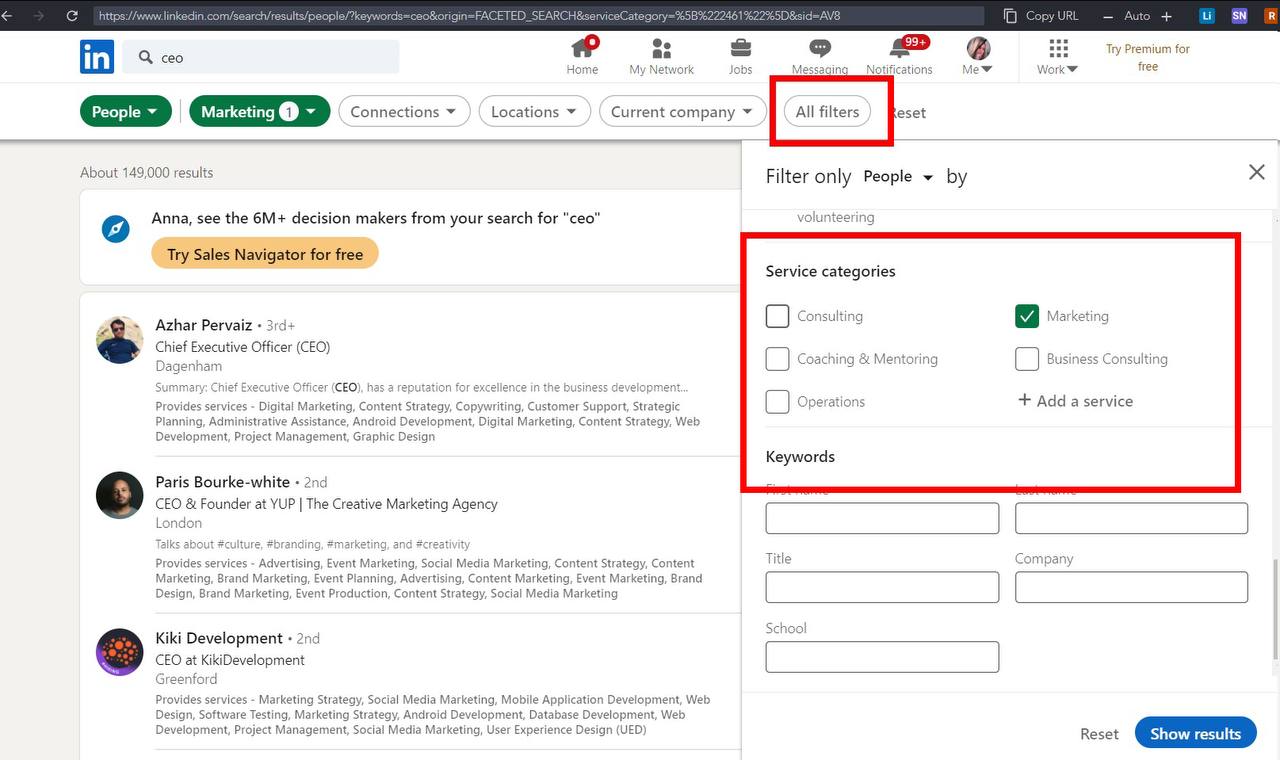 Also, after parsing profiles through Sales Navigator, you can sort Open Link profiles in the Linked Helper database.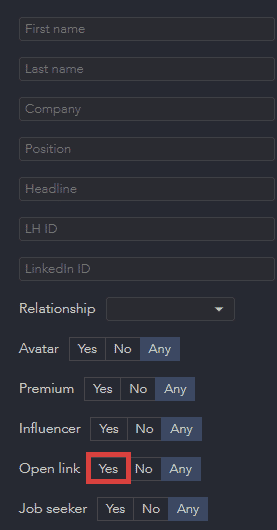 What is the difference between InMail statistics on LinkedIn and Linked Helper?
Linked Helper can help you to evaluate the success of bulk InMails but provides fewer metrics than LinkedIn reports. For example: 
See how many InMails have been sent.
See how many messages have been answered.
If the campaign consists of only InMails (e.g., InMail, check for reply, InMail again, check for reply), then you can find out the reply rate in the dashboard.
When an InMail is accepted, LinkedIn displays the "Message request accepted" message by default. You can download the history of correspondence in Linked Helper from the Inmail campaign. By the number of these technical messages and the number of responses, you can understand how many InMails were received, but without any response.
In Recruiter, statistics can be more extensive. There are no filters by companies, schools, or number of years in Linked Helper yet. You can see an example of a report in the screenshot below.