Are you finding it challenging to grasp the complexities of LinkedIn's connection degrees? You're not the only one struggling. But fret not! In this article, we'll demystify the concept of connections hierarchy, providing you with the clarity you need to network on LinkedIn.
Key points
LinkedIn offers several levels of user connections (first, second, third, third+), each determining the actions you can take with them. For instance, personal messages are only accessible to your direct contacts, while you can initiate communication with users outside your network through events or groups.
There are users outside your immediate circle who are only visible to premium LinkedIn subscribers, particularly in Recruiter. The number of profiles you can view depends on your premium plan, ranging from 30 in basic subscriptions to unlimited access in the most expensive tier (further details below).
First-degree connections' emails are visible by default, and you can collect them manually or by using automation. Using Linked Helper, you can collect email addresses of users who are on the 2nd and 3rd levels of connection.
LinkedIn enforces a limit on the number of connection requests you can send. If LinkedIn has not imposed any additional limits on your account, Linked Helper can send extra invitations beyond the regular limit, ranging from approximately 200 to 500 profiles. The success of this approach is not guaranteed. Therefore, it is advisable to thoroughly test the tool's capabilities using its trial version before proceeding with mass invitation sending.
Download Linked Helper 2 and get 14-free trial right now
If you are not yet in our list of users, then join. We give you a trial version to start your experience with our LinkedIn tool.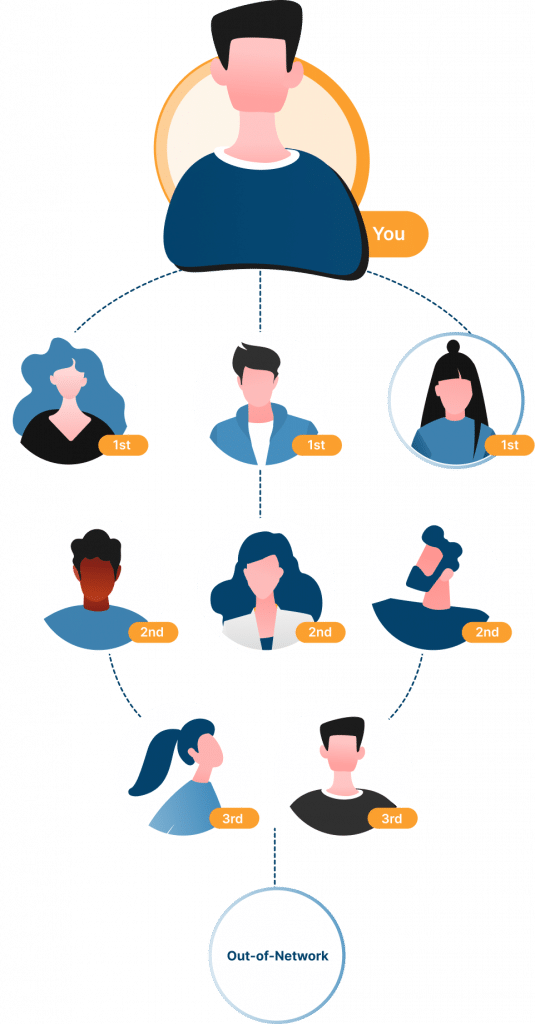 What does 1st connection mean on LinkedIn?
Imagine LinkedIn as a bustling city with different districts. Your primary connections are like your neighbors in the professional district. They are your immediate network and include people you have sent connection requests to and those who have accepted your requests.
Think of your 1st-degree connections on LinkedIn as your privacy buddies. They're the ones you trust enough to share your contact information with and have direct conversations outside the LinkedIn platform. It's like having a secret club where you can freely exchange emails, phone numbers, or even meet up for a coffee (or virtual coffee chat) if you're in the same area.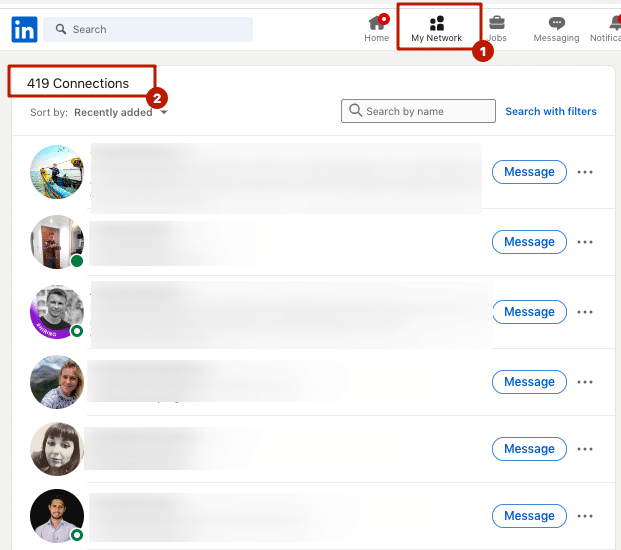 Here's a detailed explanation of primary connections:
These individuals will appear on your page as if they were in an address book or phone directory. It's incredibly convenient to have all your business contacts in one place and be able to view their profiles and updates.
After confirming the connection, you gain access to all the profile sections that people sometimes hide from those outside their network. The most valuable information might be their email and phone number, which is usually not visible to non-connections.
You can now communicate with these contacts in DM. Immediately after accepting their invitation, for instance, you can send an informative welcome message explaining how you can collaborate.
Your networking opportunities will expand, including invitations to events, groups, and business pages. This is an excellent chance to promote your brand or company to those who may already be interested.
You can validate each other's expertise through public recommendations and skill endorsements. Learn more about skill endorsements and recommendations in our blog. This way, you can request clients to write reviews about your work, which will serve as a means of attracting new customers.
No significant career event or post will pass you by. You'll see all the actions of your connections, even their comments, in your feed. Engaging with their updates by liking and commenting will enable you to appear in the newsfeeds of your contacts' contacts. These are your 2nd-degree connections, which we'll discuss below.
What does 2nd mean on LinkedIn?
Essentially, these are the contacts of your contacts with whom you are more likely to have something in common. Often, they can be colleagues within your niche, interesting influencers, or former coworkers. They're like the "friend of a friend" at a party who becomes your ticket to meeting new and interesting people.
Let's take a closer look:
You won't be able to see the complete profile. Often, people hide sections with their email from non-connections. However, we will later reveal a method that allows you to obtain emails outside your network. Meanwhile, you will still be able to see the profile description.
You cannot message these individuals for free until they become part of your network. This makes sense as it creates a filter against intrusive messages while still allowing you to discover interesting people.
However, you will have the option to send InMails and connect through messages via groups or events.
When you send a request to these individuals, they will see that you have common connections. It's a good practice to include a line about shared contacts in your invite, as it establishes a sense of trust. This way, you won't immediately sell your services or spam them.
What does 3rd mean on LinkedIn
On LinkedIn, your 2nd-degree connections are like friends of your friends, while 3rd-degree connections are friends of friends of your friends. Just as you can leverage your friends to meet new people and expand your social circle, LinkedIn allows you to leverage your connections to reach a wider professional network.
In this way, LinkedIn degrees of connections operate similarly to how friendships are formed and extended in real life.
It's worth noting that LinkedIn's networking features allow you to send messages and connect with 2nd and 3rd-degree connections, provided you have a Premium account or utilize InMail credits.
Also, you can reach out to contacts on the 2nd and 3rd levels through messages sent via LinkedIn groups and events without using InMail credits. Linked Helper offers a special feature that allows you to automate messages through events and groups. You can find more information about this feature in our articles:
Messages to non-contact via mutual event.
Messages to non-contacts via mutual groups.
However, it's important to be aware that in this case, the messages will be categorized as " Other" messages and won't be visible among all the regular messages.
Note: LinkedIn has introduced new limits, and on some accounts, it may not be possible to send messages through events to 2nd-level contacts; it may be limited to 3rd-level contacts and above.
Note: Sometimes you can see 3rd+ contacts on LinkedIn. They include those who are in the same group as you but are not on third-degree contact. You can reach out to them by sending an invite or a message through the group.
What does Out-of-network mean?
In the context of LinkedIn, think of "Out of network" users as individuals who are not part of 1st, 2nd, or 3rd contacts. They are like people you haven't met or connected with during your school years. Just as you might need special efforts or introductions to interact with those outside your school friends' network, on LinkedIn, "Out of network" users are not directly accessible or visible to you.
To engage with them, LinkedIn offers premium features that allow you to send messages or connect with them. For example:
Subscribing to Recruiter Professional Services unlocks 30 out-of-network accounts each month, meaning these users have no direct connections to you through mutual acquaintances. Since you cannot see these individuals, expanding your network becomes crucial to increase reach and opportunities.
Recruiter Corporate is the only option that allows you to see all accounts on the social network. Unlike other social platforms with unrestricted profile access, LinkedIn requires a subscription to this premium tier for such privileges.
Hack: Collecting Emails of 2nd and 3rds connections is possible
Unfortunately, LinkedIn doesn't provide direct access to the email addresses of non-contacts. However, enter the Linked Helper Email Finder, your trusty detective sidekick.
Imagine Linked Helper Email Finder as a digital detective with remarkable investigative abilities. Not only does it tap into a shared email database among users, but it also leverages the vast resources of snov.io to identify email patterns associated with names and organization domains.
If you are connected to someone as a second-degree connection, but that person is known to another Linked Helper user as a first-degree connection, the Linked Helper Email Finder can still find their email address, provided that they have agreed to share it. In such cases, the tool can utilize its capabilities to identify the email address associated with that person, even if you are not directly connected to them. This functionality relies on the agreement and consent of users to share their contact information for it to be discovered by Linked Helper Email Finder.
Just like Sherlock Holmes, this tool meticulously examines public information to unveil potential email addresses.
Follow vs Connect on LinkedIn
Imagine you attend a conference related to your industry. During the event, there are two ways to engage with other professionals: following and connecting.
"Follow" on LinkedIn:
Following someone on LinkedIn is similar to attending a conference and becoming a spectator or an audience member. You choose to follow the keynote speakers, influential experts, or thought leaders who are presenting at the conference. By doing so, you express your interest in their insights, expertise, and updates. Throughout the conference, you can listen to their speeches, gain valuable knowledge, and stay updated with their future activities.
Following on LinkedIn serves a similar purpose, where you can receive updates, articles, and posts from individuals you follow, expanding your professional knowledge and network.
"Connect" on LinkedIn:
Connecting with someone on LinkedIn is like attending the conference and actively engaging in networking. You approach other attendees, exchange business cards, and have meaningful conversations. In this scenario, you establish a direct connection with individuals who you believe can bring mutual value, collaboration, or professional opportunities.
By connecting on LinkedIn, you initiate a virtual professional relationship where you can communicate, share information, and potentially work together.
"Following" on LinkedIn is akin to being an audience member who receives updates and knowledge from influential figures, while "Connecting" is equivalent to actively engaging with individuals, building relationships, and fostering professional opportunities.
Remember that you can automate networking routine
Imagine attending a conference where you have a smart assistant named Linked Helper. This assistant can automate certain tasks for you, making networking more efficient.
Your Linked Helper assistant can automatically "follow" certain keynote speakers or influential figures. They are based on specific criteria you provide for search. You can find below the Linked Helper auto-follow function:
The assistant uses its advanced algorithms to follow all collected from the search automatically, ensuring you receive their updates without manually searching for each individual.
Auto-Connect with Linked Helper
Additionally, your Linked Helper assistant can automate the process of connecting with other conference attendees. The assistant sends personalized connection requests to these individuals who meet your specified criteria, introducing you and expressing your interest in connecting. You can assign a personalized message to each request with it will adjust with custom variables.

It's like having an automated networking agent that reaches out to potential contacts on your behalf, saving you time and effort.
LinkedIn connection request limit
To make social media users feel comfortable, LinkedIn has implemented connection and messages limit. This is a normal practice; otherwise, we would feel overwhelmed with constant sales advertisements and spam. Typically, this limit is set to 100-200 connection requests per week. About a year ago, the social network removed the option to bulk invite people through emails not synchronized with the email provider.
Violating these limits may result in warnings and temporary restrictions on sending invitations. Please review the details in the following help article.
For certain LinkedIn accounts, there is an undocumented feature that enables users to send invitations beyond the regular limit (50-70 days). However, it's crucial to test this feature in practice to determine whether it will work for your specific account or not. The functionality may vary, so it's always best to verify its effectiveness through practical testing.
Some users invite 150-200 people each day using this method, but we do not recommend such an approach.
However, you can see how the use of our secure tool can accelerate the growth of your network. Our tool mimics human behavior precisely and can adhere to the pauses you set. Read more about safely using message automation in our blog article.
FAQ
How to connect with someone on LinkedIn
There are several methods for how to connect on LinkedIn, and often, you might prefer manual connections. For example, when you come across an interesting profile in the recommendations. However, sometimes, if you are doing outreach to a broader audience, automation can be more effective.
Method 1 – Manual:
LinkedIn allows you to import your contacts from various email providers or contact management systems. This feature is a game-changer when you want to connect with multiple people simultaneously.
Individual Connection Requests
Sometimes, you may come across specific individuals you want to connect with, rather than importing contacts in bulk. In such cases, you can use a button on their profile or find new contacts via recommendations. Explore all ways in detail at the link.
Method 2 – Automated:
For an automated method, you can refer to the LinkedIn Help Center's knowledge base, which provides comprehensive information and guidance on connecting with others on LinkedIn.
Do LinkedIn invitations expire?
LinkedIn invitations do not have a specific expiration date. They can remain pending for several months. However, the recipients of these invitations have the option to cancel them, and as the sender, you may not receive any notification of the cancellation.

To manage your pending LinkedIn invitations effectively, it is advisable to regularly review them and remove connections that have been pending for more than a month. Learn how to do it automatically. After removing such invitations, you can re-invite the recipients, but you will need to wait for a period of three weeks after the deletion to send them a new invitation.
Why can't I connect with someone on LinkedIn?
There could be several reasons why you are unable to connect with someone on LinkedIn:
The person may have restricted their privacy settings and only accepts connection requests from certain individuals or connections.
You may have already sent a connection request to that person, which is pending or has been ignored.
The person may have reached the maximum limit for their connections and cannot accept any more at the moment.
You might not meet the criteria specified by the person for accepting connection requests, such as being in the same industry or having mutual connections.
How to see someone's connections on LinkedIn
Note: Keep in mind that the visibility of someone's connections may be limited based on their privacy settings.
Visit the person's LinkedIn profile by searching their name in the LinkedIn search bar.
Scroll down on their profile page until you find the "Connections" section.
Click on the number of connections displayed in that section.
A new page will open, showing the person's connections. You can scroll through the list and explore their network.
To sum up: why remove connections on LinkedIn
Remember it's always good to clean up your LinkedIn connections from time to time. Removing irrelevant or inactive connections helps keep your network focused and professional. It also reduces clutter and ensures you're connected with people who align with your current career goals. Additionally, if you have any privacy or security concerns, removing connections you don't fully trust can be a wise step. Just make sure to review your connections periodically and maintain a network that best supports your professional journey.