Here's a fascinating fact: concise job listings entice a whopping 8.4% more applications per view than average. Why, you ask? Well, let me cast some light on it.
Picture this: candidates, ever so busy, can spare just 14 seconds to decide if your job post is worth their time. They seek adventure, not a never-ending saga. They desire crisp, captivating information that ignites their curiosity in an instant.
Key points
We can create a job vacancy post with a basic profile for free. However, in such a case, it will have limited visibility. A paid plan for posting vacancies starts at 5 euros (5.6 USD) per day and attracts more people through targeted displays and notifications to relevant individuals.
A good LinkedIn job description should mention compensation and bonuses, as most job seekers prioritize these details.
After reviewing the best LinkedIn job posting examples, we have seen that the appropriate writing style depends on the specific vacancy. For instance, when searching for a marketer, a creative and engaging tone is used, while for a full-stack programmer, a descriptive and concise tone is preferred.
You can adjust LinkedIn job description formatting directly in the creation field on the website.
LinkedIn job description bullets can include persuasive points, such as "Don't be afraid," where it is mentioned that individuals who do not yet meet all the requested qualifications are encouraged to apply.
Download Linked Helper 2 and get 14-free trial right now
If you are not yet in our list of users, then join. We give you a trial version to start your experience with our LinkedIn tool.
How to write a job description on LinkedIn
What to put in a job description on LinkedIn
The job advertisement should explicitly indicate three elements – remuneration, requirements, and job particulars – to captivate candidates.
While we can jokingly refer to research on LinkedIn that portrays job seekers as selfish and focused on monetary gain, the reality is that individuals simply prefer not to invest time in exploring vacancies that may not align with their expectations.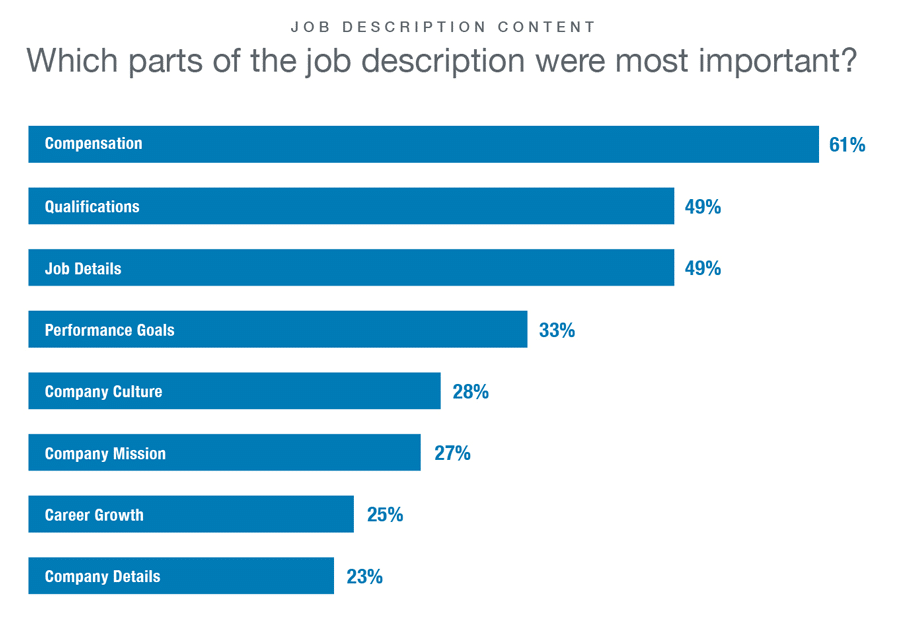 When crafting the job listing content, it is essential to highlight important information about salary. Additionally, a survey conducted by Glassdoor demonstrated that 67% of people prioritize potential salary, followed by benefits (63%) and other factors.
However, it is crucial to observe that if the remuneration offered is attractive, candidates will proceed to explore the job info and the competencies expected of them. These aspects assume secondary importance.
Choosing an engaging and clear job title
Using familiar terminology within your job post is indispensable for the following reasons:
Discoverability: Job seekers frequently employ specific keywords and phrases when seeking employment prospects. By employing customary industry terminology, you enhance the likelihood of your job advertisement appearing in search.
Lucidity: Field-specific terms assist candidates in swiftly comprehending the nature of the position and whether it corresponds with their proficiencies and background.
Targeted Audience: Using familiar terminology ensures that your job posting reaches the right audience – professionals who are actively searching for positions in that particular industry.
You can find out industry-related keywords with Linked Helper scraper (read about it below).
LinkedIn job description tips for a perfect title
To make your job title stand out and attract the attention of qualified candidates, consider the following tips:
You have the flexibility to enter an almost unlimited number of characters in the job title on LinkedIn. While there is no specific character limit set by LinkedIn, it's recommended to keep the title concise and avoid exceeding any practical limitations to prevent errors. There's a possibility for a job title consisting of around 10-15 words.
#1 Incorporate specific language in the job title
Prior to reviewing the job description, prospective candidates initially come across the job title displayed in search. By incorporating a distinctive detail that corresponds to their search criteria, you can enhance the likelihood of capturing their interest and motivating them to click on your advertisement. This approach not only helps candidates save time but also makes your job post more distinct among competitors.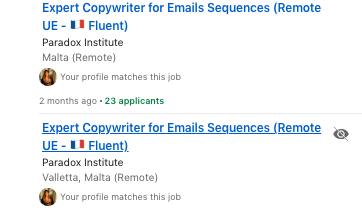 As we see in the example, they clearly specify that a company is seeking a copywriter for email campaigns with proficiency in the French language. Additionally, consider using relevant emojis, like in the example, to further emphasize key aspects such as the country or language requirements. These emojis can make your post visually appealing and help it stand out in search results.
#2 Incorporate action verbs or descriptive adjectives
This will make the title more engaging, evoking curiosity and encouraging candidates to learn more about the position.
As seen in the example below, the author uses a call to action directly in the job title – "work from home as…" For many individuals, this can be a key factor in favor of the job, so the author leverages it as a unique value proposition.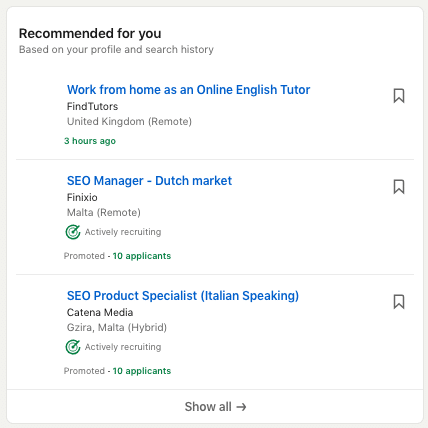 To successfully attract the desired candidates, customize the job title to specifically appeal to them. Conduct research on prevalent job titles utilized in the industry and consider the preferences and expectations of the professionals you aim to attract.
#3 Incorporate industry-specific keywords
It helps to narrow down the niche and make the job title more relevant and appealing.

By including the term "sportsbetting" in the job title, author captures the attention of professionals in that specific field. This tailored approach ensures that your position announcement reaches the right audience and resonates with their interests and expertise.
Writing an engaging job description
When creating the summary, it's important to note that LinkedIn typically divides it into sections. While these sections are provided by default, they can be edited and customized to align with the specific requirements of the job and the preferences of the organization.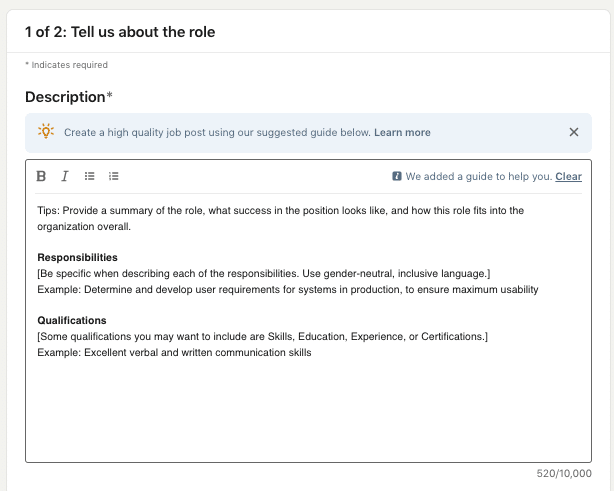 How to write a LinkedIn job description: Ideas for structuring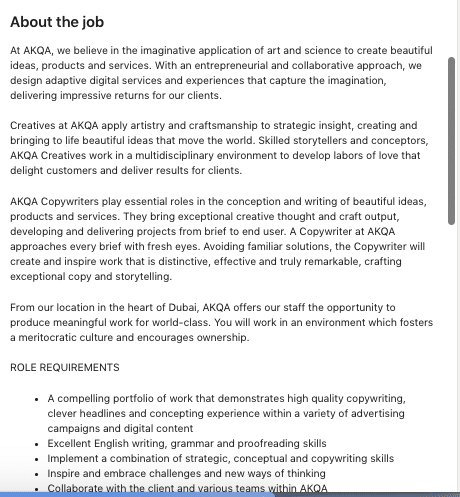 To create an engaging "About the job" section, consider the following structure (based on actual examples we researched on LinkedIn):
List of Advantages: The text will be more captivating if you include compensation and benefits. This may encompass competitive remuneration packages, healthcare and wellness perks, opportunities for professional growth.
Listing qualifications: Precisely delineate the indispensable qualifications, skills, and experience needed for the role. This section serves as a sieve, guaranteeing that applicants grasp your fundamental needs.
Qualities and Characteristics: Describe the personal attributes and qualities that are important for success in the role. This helps candidates assess their fit for the role beyond technical qualifications.
About the Company: Provide a brief overview of the company, its mission, values, and culture. Candidates can understand the organizational context and evaluate if it aligns with their own values and career aspirations.
How to Apply: Clearly communicate the application process and any specific instructions or requirements for applying. Include details on how candidates should submit their application, deadlines, and any additional documents or information that should be included. Make the application process as seamless and straightforward as possible.
In the "Don't fear" section, the intention is to reassure potential candidates and encourage them to apply for the role, even if they may not meet every single requirement or qualification listed. Here's an example and explanation of what is typically written in this section:

Experience and talent: The section may state that there is no specific amount of experience required for the role. Instead, the focus is placed on talent and interest.
Encouragement to apply: The section acknowledges that some candidates may feel discouraged if they do not meet all the criteria listed in the announcement. The goal is to inspire confidence in candidates and encourage them to recognize their own potential.
Inclusive hiring: It may specifically encourage individuals from underrepresented groups to apply, such as women, people of color, members of the LGBTQIA community, or other marginalized communities.
Tools to help you craft an ideal job advertisement
Tool #1 – Investigate candidates with the Linked Helper scraper
The scraper allows job posters to set LinkedIn filters to easily identify and gather data on employees who match their target profile. For instance, if you are seeking designers in London, the scraper can retrieve filtered profiles right from the search page.
Here are several benefits to using the Linked Helper scraper:
Understanding key terminology: It's easy to gain insights into the key terminology and industry-specific language commonly used by professionals in their desired field. This knowledge helps in crafting position announcements that resonate with the target audience, using appropriate keywords and terminology to attract qualified candidates.
Getting emails: This can be valuable for job posters who want to reach out directly to potential candidates or build a contact list for future communication.
Analyzing skills and qualifications: By examining the profiles of professionals in similar roles or industries, job posters can identify sought-after skills, certifications, or educational backgrounds. This information can be utilized to refine job requirements and ensure they align with the expectations of the target employee pool.
Enhancing candidate targeting: By studying the profiles and data collected through the scraper, job posters can develop a more targeted recruitment strategy. They can tailor their messaging, job descriptions, and requirements to match the preferences and aspirations of the desired candidates, increasing the chances of attracting the right talent.
Tool #2 ChatGPT as a LinkedIn job description generator
Remember that while ChatGPT can generate ideas and suggestions, it's important to review and edit the output to ensure clarity and accuracy. Use ChatGPT as a creative partner, but exercise your judgment and expertise in crafting the final listing.
Start a conversation with ChatGPT by providing a prompt like, "Help me create a job listing for a [job title]." This will set the context for the conversation.
Utilizing AI for writing descriptions can greatly benefit the advertisement. You can use it to do the following:
Solicit guidance on structuring the job opening: You can ask questions such as, "Which sections should be included in the announcement?" or "What is the ideal order of information in the job description?"
Collaborate on job responsibilities: You can pose inquiries such as, "What are some essential duties I should highlight?" or "How can I enhance the appeal of the responsibilities?"
Seek suggestions for qualifications: Engage with ChatGPT to identify the necessary qualifications and skills for the job. Ask for recommendations on how to communicate these qualifications effectively. For example, you can ask, "What qualifications should I emphasize for this role?" or "How can I highlight the required skills in the announcement?"
Request language improvements: Collaborate with ChatGPT to refine the language and make the listing more engaging. Seek its assistance in using appropriate tone, vocabulary, and sentence structure. For instance, you can ask, "Can you suggest a more compelling way to phrase this requirement?" or "How can I make the job listing more exciting?"
Iterate and refine: Continue the conversation with ChatGPT, iterating on the content and incorporating its suggestions until you are satisfied with the job posting. Make sure to review and edit the output to ensure it aligns with your company's brand and voice.
Edit and complete: After you have a preliminary version of the job posting, revise it for any mistakes or disparities. Make any essential modifications before completing the job posting.
LinkedIn job posting: samples
Below we reveal LinkedIn job description examples for different roles. It's crucial to conduct research on rival employment opportunities in your particular niche before publishing.
LinkedIn job description examples
Sample #1: Marketing Manager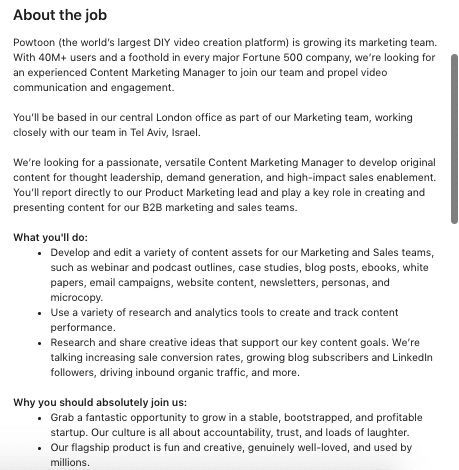 The language used in this job listing is enthusiastic and engaging, emphasizing the opportunity to work with a well-established company in a dynamic industry. 
For example, it mentions, "With 40M+ users and a foothold in every major Fortune 500 company," showcasing the company's success and credibility.
It mentions, "Grab a fantastic opportunity to grow in a stable, bootstrapped, and profitable startup," appealing to candidates who seek stability and growth.
The requirements are outlined in a concise and straightforward manner, specifying the desired experience, skills, and traits. It mentions being a "passionate, versatile Content Marketing Manager" and having experience in "B2B SaaS companies," indicating the desired qualities in the candidate.
Sample #2: Business Development Intern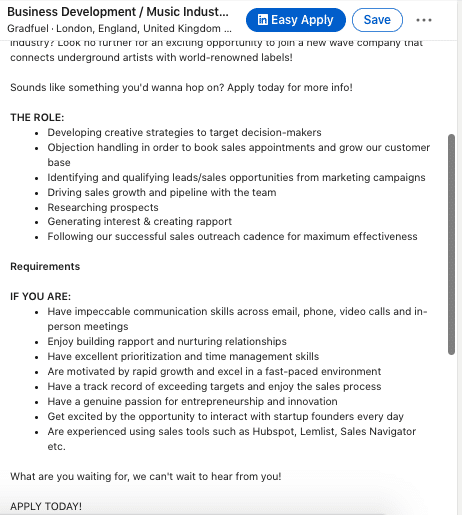 This post captures attention by starting with a question and presenting an exciting opportunity for candidates interested in using their social skills in the music industry. The language is concise and straightforward, emphasizing the role's responsibilities. The tone is energetic and enthusiastic, appealing to candidates who thrive in a fast-paced environment and enjoy the sales process.
For example, it mentions "Developing creative strategies to target decision-makers" and "Driving sales growth and pipeline with the team," showcasing the candidate's potential impact in the role.
It uses phrases like "Apply today for more info!" and "What are you waiting for, we can't wait to hear from you!" to create a sense of urgency and excitement.
Sample #3: Full Stack Web Developer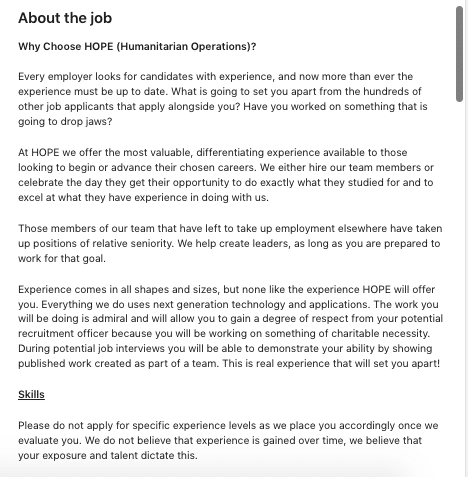 This recruitment notice begins with a thought-provoking question, "What is going to set you apart from the hundreds of other job applicants that apply alongside you?" and emphasizes the importance of having standout experience and working on projects that make an impact.
The language used is descriptive and inspiring, showcasing the use of next-generation technology.
It mentions "Everything we do uses next-generation technology and applications" and "work you will be doing is admirable and will allow you to gain a degree of respect from your potential recruitment officer," highlighting the exciting and meaningful nature of the work.
The tone is confident and ambitious, appealing to candidates who are driven and aspire to become leaders. It mentions, "We help create leaders, as long as you are prepared to work for that goal."
The requirements are divided into basic and advanced skills, providing flexibility and acknowledging that experience can vary.
The responsibilities are clearly outlined for different levels of experience, demonstrating growth opportunities within the company.
The language and tone aim to attract candidates who are passionate about technology, social impact, and personal development.
How to share a job posting on LinkedIn
You can post a job vacancy with a basic profile. This means that every user can easily find candidates and even receive bonuses from the company they work for.
To get started, go to Me → Job posting account.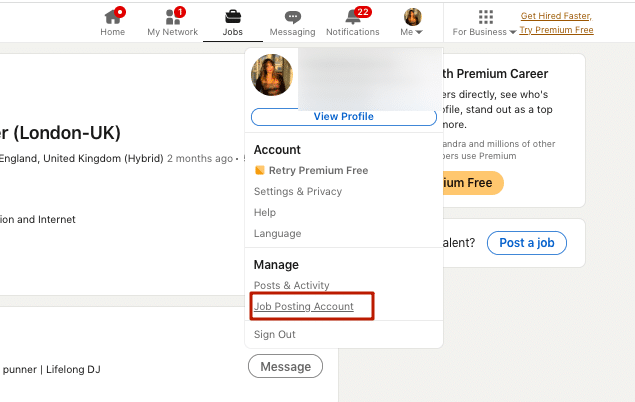 You will be redirected to an account where you can create a vacancy.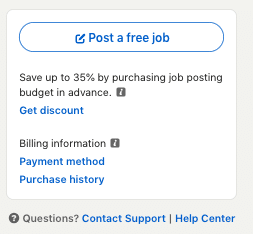 Click the button to create a new listing and you will see a window where you can provide details such as the job title, company information, and other relevant information.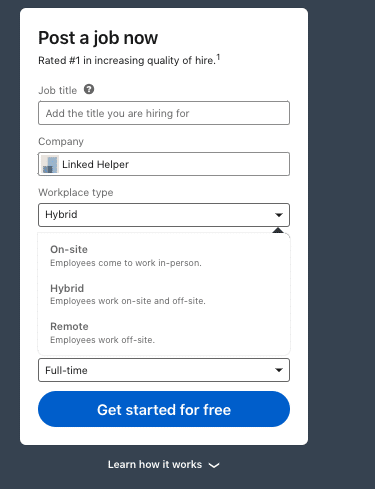 Once you have filled in these details, you will be directed to a page where you can enter the main job description and also add desired skills.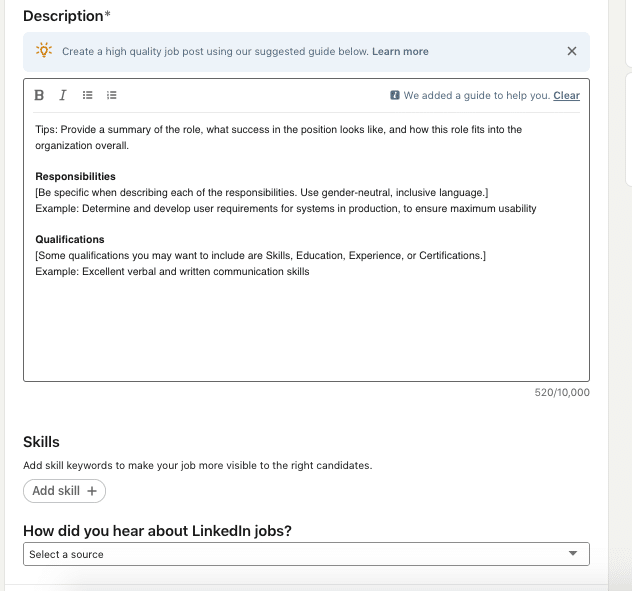 Next, you have the option to select the source from where you want to receive applicant profiles, add specific questions for applicants, and customize the job photo to attract potential candidates.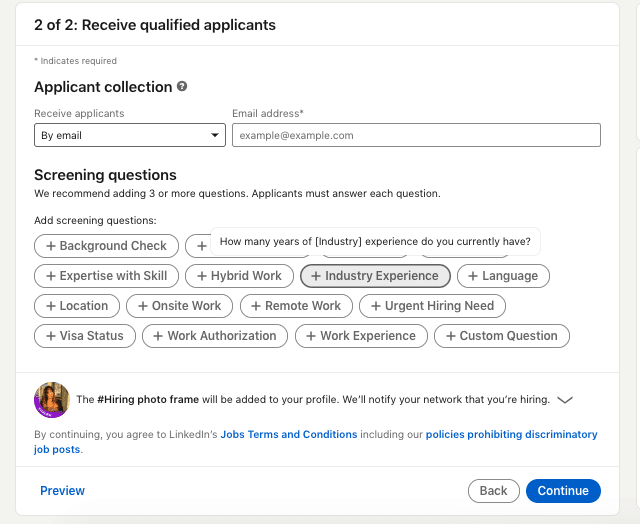 Following that, the platform will provide you with the option to either create a free job or select an upgraded paid package. The starting price is 5 euros (5.6 USD) per day.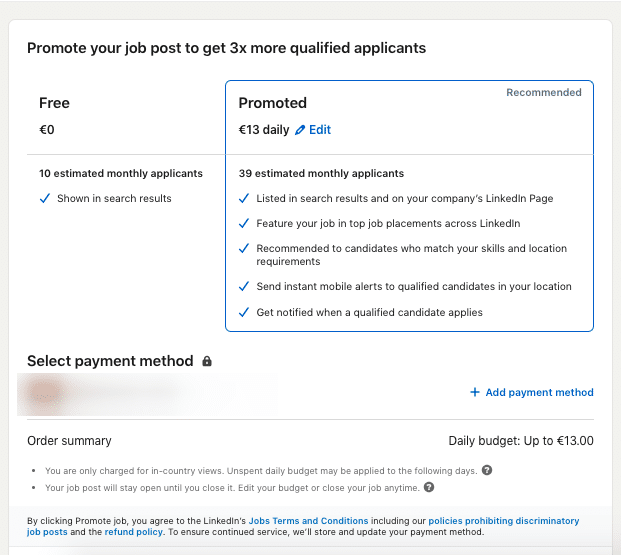 Lastly, learn more about sharing a job posting on LinkedIn by following the instructions.
In closing: A tip to reach out to candidates in bulk
Instead of paying 5 euros (5.6 USD) per day for a job posting on LinkedIn , and hoping LinkedIn algorithms will bring your candidates, you can try to promote your job listing actively using the automation tool by Linked Helper for two weeks for free. This feature works in conjunction with the scraper we mentioned earlier.
It offers the following capabilities to accelerate your outreach to candidates:
Filtering desired candidates from different sources, such as basic profiles, Sales Navigator, or Recruiter. Once you have defined your target criteria, you can add them for profile scraping or continue interacting with them.
Expanding your network by inviting candidates without any limitations. Each invite can include a customized message showcasing the unique selling points of your job vacancy and asking if the individual is interested.
Once you have connected with candidates, you have the opportunity to automate follow-ups containing supplementary information and a link to the job posting.