Have you ever noticed that sometimes the algorithm actively promotes your post, while at other times, people seem to miss it?
Since LinkedIn is a professional social network and not primarily for entertainment, users may not visit it as frequently as other platforms. Consequently, understanding when your audience is most active and receptive to your content becomes crucial.
However, it's important to acknowledge that there's no perfect formula, and audience activity may vary depending on their location and the specific market you are targeting. Hence, after analyzing the timing based on research, we will provide you with some ideas on how to identify the best posting time independently.
Key points
The concept of finding the best time to post on LinkedIn is particularly valuable for newcomers who are still unfamiliar with their audience's preferences. We recommend paying attention to your performance metrics by studying the data and research provided in this article.
To determine the best time for posting content, examine your competitors on LinkedIn. Do they primarily post on Fridays? Consider adopting a similar strategy, as they might have a better understanding of the target audience.
However, keep in mind that simply choosing the best time to post a job or news doesn't always guarantee post virality on LinkedIn. We have provided hacks that, along with strategic timing, will help you organically increase your reach without resorting to advertising.
Below are some key observations about posting schedule based on reports from 2023: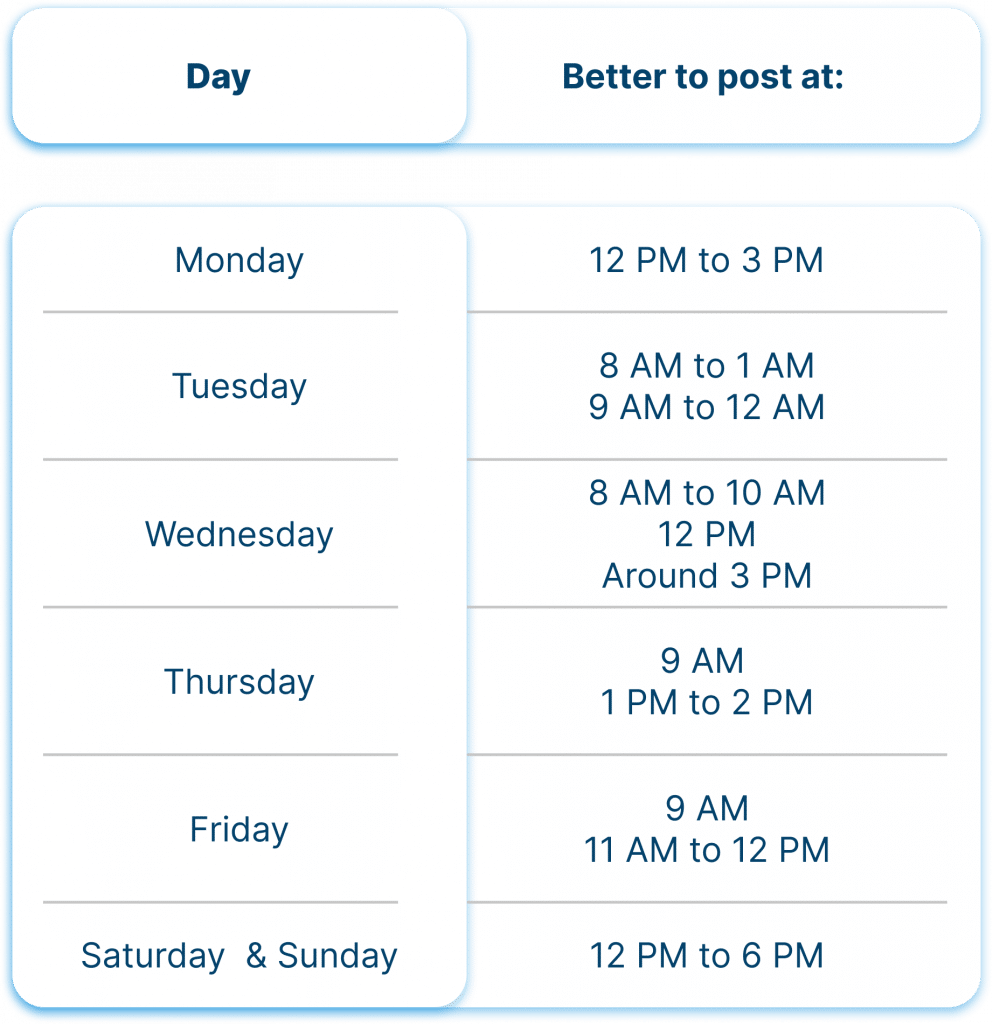 Note: Below we provide a link to an online posting time calculator that you can tailor to a specific city where your target audience is located!
Download Linked Helper 2 and get 14-free trial right now
If you are not yet in our list of users, then join. We give you a trial version to start your experience with our LinkedIn tool.
When is the best time to post on LinkedIn?
The level of user activity on LinkedIn varies throughout the day and week, impacting how many people see and engage with your content.
To better understand this elusive timing, we have highlighted the key tips.
#1 Time zones are vital
You may be creating content for an audience that is located very far from you. Therefore, the timing should primarily be based on the time in the location of your readers.
Let's say you are a digital marketing agency based in New York City, and you have clients and potential customers from various parts of the world. You've created an insightful blog post about the latest digital marketing trends that you want to share with your LinkedIn audience. For instance, if you publish the link to the article on LinkedIn at 9 AM New York time, it might be the middle of the night for your audience in London or Paris. As a result, they might not engage with the post or even see it until much later.
#2 Try the online calculator for new markets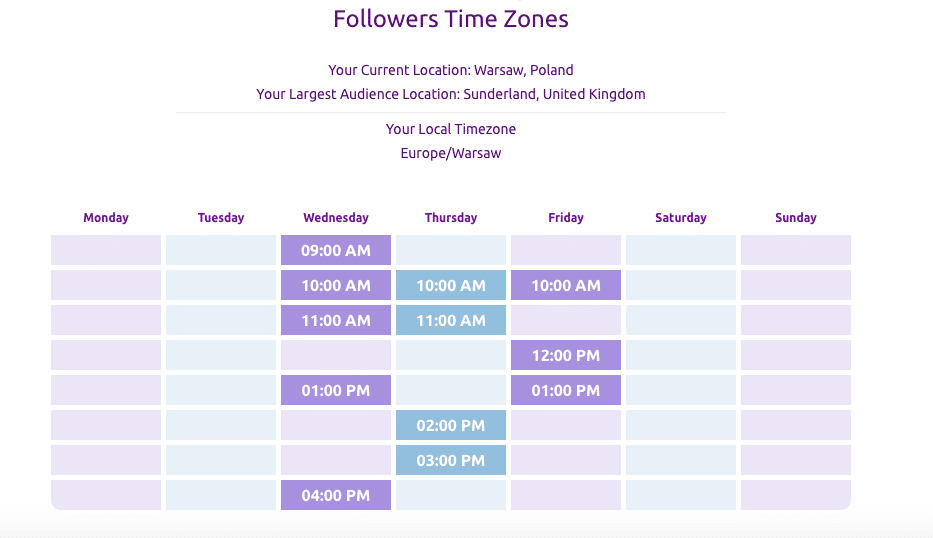 If you work with different countries and audiences, it can indeed be challenging to determine their peak activity times when you are just starting to post. In such cases, utilizing online tools like the LinkedIn online calculator provided by influencermarketinghub.com can be beneficial. This calculator enables you to input various cities and obtain insights about the best posting schedule for each location.
While the accuracy of these tools may not be guaranteed, using them can still be more effective than posting randomly or without any strategy. They provide a starting point to tailor your posting times!
#3 Vary posting times for different business
For each niche, there can be a different peak of audience activity, so you should fully understand the audience profile before applying the timing you may have read about in a completely different niche.
Let's say a fitness apparel brand and a B2B software company both post on LinkedIn. Their target audiences have different preferences and behaviors on the platform.
The fitness apparel brand targets health-conscious individuals, athletes, and fitness enthusiasts. Their target audience is most active on LinkedIn during their workout hours and leisure time, which are typically early morning and evening. After analyzing their LinkedIn analytics, the brand finds that their posts receive the highest engagement between 6 AM to 8 AM and 6 PM to 8 PM.
The B2B software company, on the other hand, targets business professionals, tech enthusiasts, and decision-makers in various industries. Their target audience is active during typical work hours, which are usually between 9 AM and 5 PM on weekdays. After analyzing their LinkedIn analytics, the company discovers that their posts perform best when published at 10 AM and 3 PM on weekdays.
#4 Explore conclusions based on LinkedIn users' opinions
The opinions shared among LinkedIn users in 2023 highlight the complexity of determining the optimal time to post.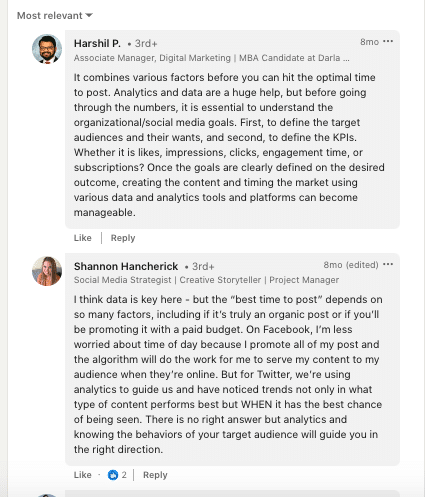 We studied several of the most recent posts on this topic. Users who shared their experiences in comments mention the following key points:
The peak of audience activity varies depending on the type of audience, making it crucial to create a detailed audience profile. For instance, recruiters and end-users of a food delivery app have distinct purposes for using social media, and their attention levels while scrolling through their feeds differ.
Identifying the desired outcomes, such as likes, impressions, clicks, engagement time, or subscriptions, helps align the posting strategy with the specific objectives. It's essential to plan your desired growth before formulating a content plan.
Paid posts can be utilized to discover the best posting time. The algorithm utilizes a secret timing for paid content to optimize display results. By experimenting with different timings, you can identify when your audience engages the most with paid posts, enabling you to plan organic posts accordingly.
Content quality outweighs the importance of perfect timing. Valuable content that resonates with the audience, whether it's a funny video or an informative infographic, has the potential to go viral at any time.
In conclusion, determining the most favorable time to share content is a dynamic combination of data, audience profiles, and the value of the post. By understanding your audience's behavior and preferences, and by focusing on content that provides value, you can maximize engagement and reach on LinkedIn.
Best time of day to post on LinkedIn by days
Next, we will explore the effectiveness of posting on different days of the week and times. These findings are based on research conducted by digital marketing services. We cannot guarantee that these rules will work for your specific audience. However, we will briefly outline the general trends observed in 2023.
Best time to post on LinkedIn on Monday
Monday is not the optimal day to share your significant research or article. Usually, the post activity on this day is low because people are trying to focus on the work week and make plans, and they might be occupied with meetings.
Around noon, they may open LinkedIn to explore new opportunities and catch up on news. According to HubSpot's analysis, if you want to share content on Monday, the best time is between 12 PM and 3 PM. Posting after 5 PM is not recommended, as most people's workday is coming to an end. So, save the cream of your content for Tuesday!
Best time to post on LinkedIn on Tuesday
Tuesday is generally a productive day, and people try to accomplish as much as possible. This includes checking their LinkedIn feed to stay updated. Sprout Social and Buffer suggest that even in the early morning, from 8 AM to 10 AM, you can confidently post engaging content for your niche. Quintly and The Balance SMB's research indicates that posting from 9 AM to noon can also yield good engagement.
Best time to post on LinkedIn on Wednesday
Wednesday is another busy day in most workplaces. People strive to address complex issues and tasks while they still have energy. If you missed sharing something important on Tuesday, 12 PM on Wednesday is considered the best time to post, according to several agencies' research. Posting between 8 AM and 10 AM can also be productive on this day, and users may remain active with your content even after lunchtime, around 3 PM, as shared by Sprout Social and Buffer.
Best time to post on LinkedIn on Thursday
Thursdays can also bring likes and comments to your posts. It's essential not to overlook this pre-weekend period. Sprout Social and Buffer state that posting at 9 AM or even during the afternoon between 1 PM and 2 PM can attract increased attention. Oberlo and Quintly also suggest that posts shared at 10 AM or noon can achieve excellent reach. However, avoid posting in the evening on Thursdays, as it may not be as effective.
Best time to post on LinkedIn on Friday
Although everyone looks forward to the weekend, people can actively engage with content posted at 9 AM on Fridays. Research from Sprout Social, Buffer, and HubSpot indicates that late morning is also a good moment to capture your audience's attention. Buffer recommends planning important announcements between 11 AM and 12 PM on Fridays.
Best time to post on LinkedIn on Saturday and Sunday
Weekends see fewer visits to LinkedIn, mainly from those who work irregular hours or have unconventional schedules. Therefore, planning informative content on these days may not yield significant results. However, job seekers who are currently employed but seeking new opportunities may use weekends to explore potential options.
Some companies, such as HubSpot, have observed the opposite trend for weekends. Posting during the day and closer to the evening, from 12 PM to 6 PM, can attract more attentive readers who may take their time to read articles and gain additional insights during their leisure time.
When considering whether to post on weekends, remember your target audience. If you are targeting end consumers of entertainment products or solutions related to leisure and sports, your updates might be more relevant during weekends. Quintly reports that Sunday mornings between 8 AM and 10 AM are times when people scroll through their feed and might show interest in your content.
Best time to post jobs on LinkedIn
Finding job seekers is easiest early in the morning or during lunchtime. At these moments, individuals seeking new employment opportunities might take a break from their regular tasks to explore new options. Consider the time zone of the region where you are searching for employees.
A captivating job title and description can be even more advantageous than posting at the perfect time. So, be sure to check out our latest article on copywriting tips for job vacancy texts.
In addition to timing: Tips to boost post engagement
If you want to effectively promote valuable content through your audience, consider these helpful strategies.
#1 Don't be shy to mention people in your network
For instance, conducting research or writing an important article can be impactful. However, it can be disheartening if your target audience misses out on it. To prevent this, encourage them to view the post or article by tagging.
Explore our guide on how to tag users on LinkedIn in 2023.
You can even explore a link to a manual on how to use auto-messaging effectively.
#2 Encourage likes and comments
Boost your reach by consistently showing interest in other people's posts. Linked Helper offers an auto-like feature that can help with this. Feel free to explore and utilize it for enhanced engagement.
By automatically liking relevant content posted by others, you can show genuine interest in their posts, encouraging reciprocity. As you engage with other users' content, they may reciprocate by interacting with your posts, leading to increased visibility and engagement for your account.
#3 Expand your network
The more active and diverse your network, the greater your reach will be. As your network grows, your posts will become visible to more people. To increase your network size and engagement, make connections with relevant individuals and businesses on LinkedIn.
#4 Avoid lengthy text in your posts
In the example below, you can see a creative way to capture the attention of busy and easily distracted users: use images with brief, useful text excerpts.
By presenting your content in a carousel or screenshot format, it becomes more engaging and enjoyable to swipe through, encouraging users to spend more time with your post. As a result, this increased engagement will boost visibility and attract more views from other users.
#5 Importance of posting frequency
Don't rely on a magic formula or a specific timing for your post to go viral. Success on social media depends on sharing valuable content consistently and analyzing its impact. Regularly publishing helpful materials will eventually lead to discovering the most effective posting times.
Here are two primary reasons to consider:
Consistency: Regular posting maintains an active presence on LinkedIn, increasing brand visibility and awareness.
Algorithm favorability: Social media algorithms often prioritize active accounts, making consistent posting beneficial for organic reach.
To find the optimal posting frequency for your audience, experimentation is key. Observe how engagement changes with different posting frequencies on different days. By diversifying your content and catering to various interests, you can significantly enhance your reach and connect with different segments of your audience—some might prefer humor, while others seek graphics and statistics. Tailor your posts accordingly.
#6 Make a well-balanced schedule
However, it's crucial to strike a balance. Avoid excessive posting or repetitiveness, as users may simply scroll past your content. If you opt for daily posts, ensure they offer variety and value to keep your audience engaged.
#7 Add Hashtags
You can now easily generate hashtags through ChatGPT, eliminating the need for external tools. Hashtags are a free and reliable method to increase organic reach at any time and instruct the algorithm to display your content to the desired audience.
All in all: Define the best posting time for your account
Ultimately, we come to realize that identifying the optimal posting time is a complex and dynamic process. It appears elusive, influenced by factors such as geographical location and niche market, making it susceptible to misjudgment. However, there are peak hours that can be beneficial, especially for newcomers, as they have proven effective for others. Nevertheless, with consistent and active posting over a period of 2-3 months, you should be able to ascertain the ideal posting time that best suits your unique profile and target audience.
This determination can be accomplished through the meticulous examination of post analytics. You may utilize internal social network data for this purpose, or explore more advanced third-party platforms such as Buffer or Hootsuite, which offer comprehensive audience insights.
Conducting A/B tests is an essential strategy to gain valuable insights into different posting times and frequencies. For instance, one week, focus on posting during the weekends, and another week, explore alternative time slots.
Additionally, newcomers can adopt a straightforward approach by observing the posting patterns of their closest and strongest competitors. By emulating successful strategies, you may glean valuable lessons from their experiences, giving you a competitive edge.