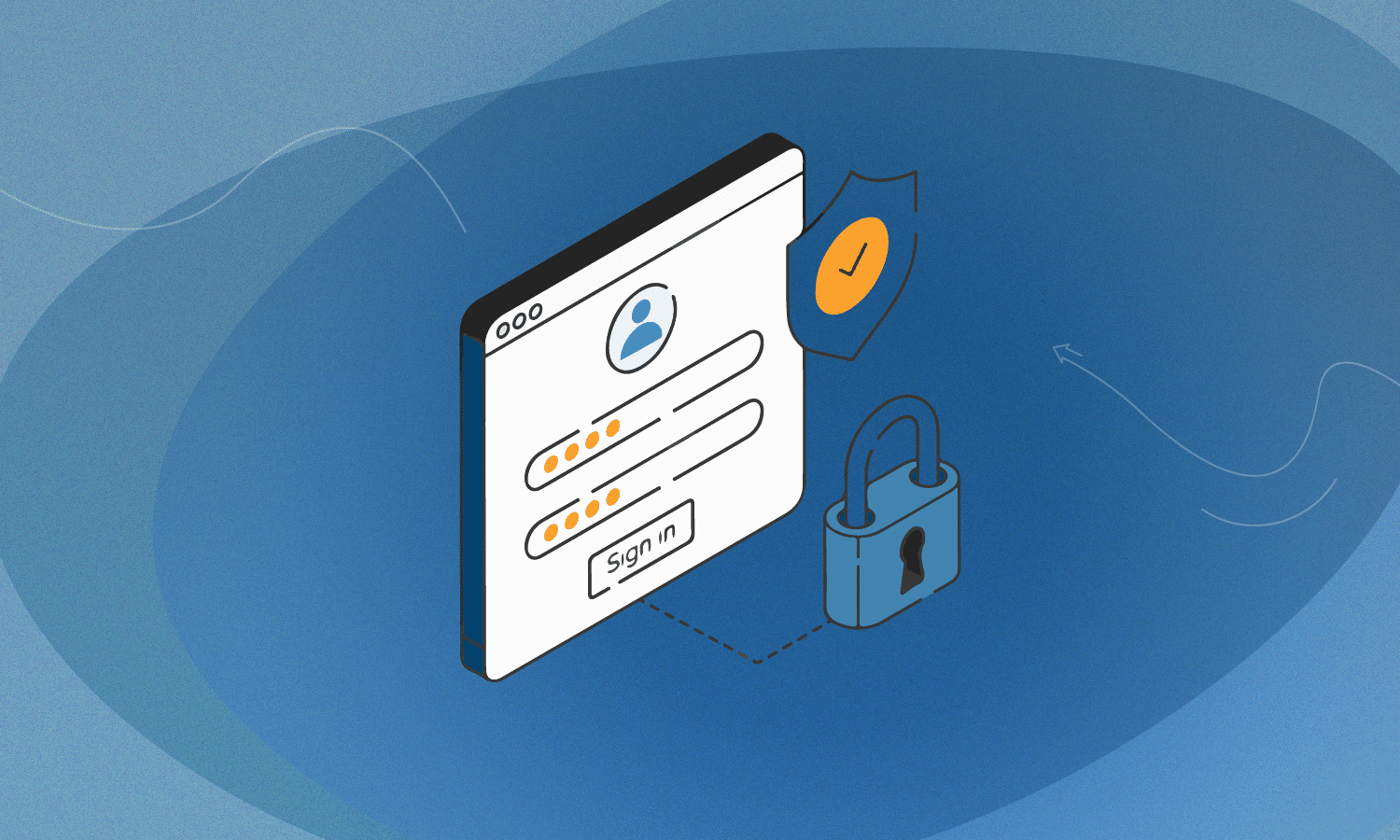 According to statistics and user behavior on LinkedIn, advertising on this social network potentially increases purchase intent by 33%. That is, creating a business page for your company will lead to increased profits and effective advertising campaigns.
Next, we will reveal to you how to create a LinkedIn business page, but in fact it is not possible to do this without a personal account. A personal profile does not have to be 100% complete, but the social network performs registration with email confirmation. Therefore, when creating a company page, you will see a pop-up window like this: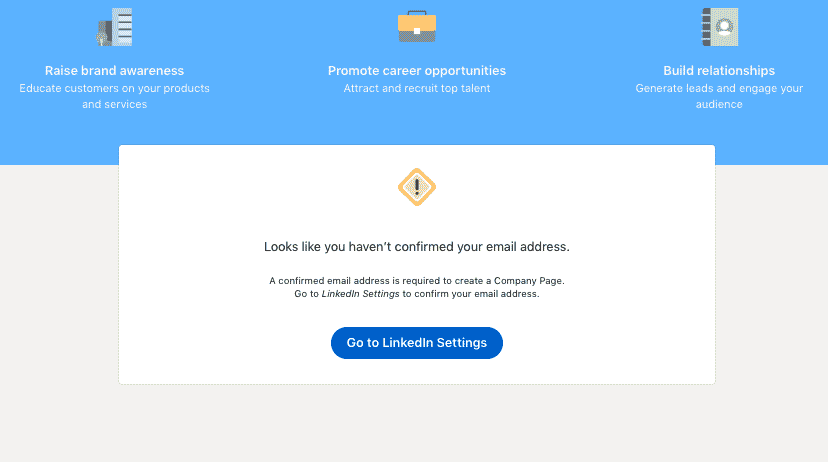 After confirming the address, you can use the social network to promote your business profile. In order to promote a company page, you can try Linked Helper. This automation tool will help you:
Get followers on the company page.
Collect contact data (emails) of leads – even for 2nd and 3rd degree contacts.
Automatically invite leads to follow the company page.
Set up auto-interactions to involve the target audience in your content.
Set up a funnel for business through auto-messages.
Maintain a CRM with leads received through LinkedIn and download a CSV file for integration into other marketing services.
As a result, by creating a company page and setting up Linked Helper, you can manage the database of potential customers and stay in touch with them.
Important: The business page will allow you to increase the reach of your content. For example, if you have a blog, a LinkedIn company page is an additional chance for content distribution – more people will be able to see it and become your customers in the future. This is a kind of RSS feed for content that is produced by your content managers or by yourself.
Also, if your company's website is not in the first position in the search, then the LinkedIn business page will have a positive effect on SEO. The fact is that this social network's domain is more reliable and, as a rule, company pages are high in the search. Therefore, you should know which keywords to use in your text descriptions.
Read more in the article SEO tips for LinkedIn profile or business page: How to be searchable in Google.
LinkedIn company page setup
Creating a company profile will take you no more than 10 minutes. It's very simple.
To fill out a business profile, you need to have up-to-date visuals and texts that it is optimized with key queries.
You can choose keywords from the SEO key queries for the site. For internal SEO on LinkedIn, you can first study the profiles of competitors in your niche. In the text fields of organizations, you can find more specific and appealing phrases to add to your description.
You can parse competitors' business pages using Linked Helper. You will get a table with text columns for hundreds of competitors. You can easily analyze these text blocks.
#1 – Create a personal profile
To create an account, if you don't already have one on this social network, you will need a current email address.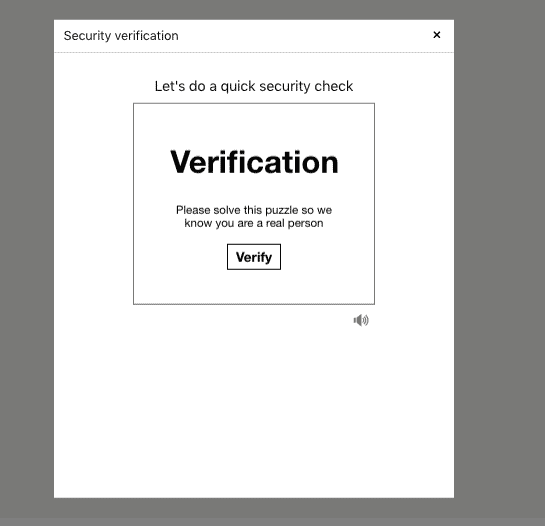 After the security check, an email with a link will be sent to your address. Just follow it and the profile will be active. Next, from the personal profile page, you can create an account for your business in a couple of clicks.
#2 – Create a business page
After verifying the email, go to the menu Work → Create a Company page.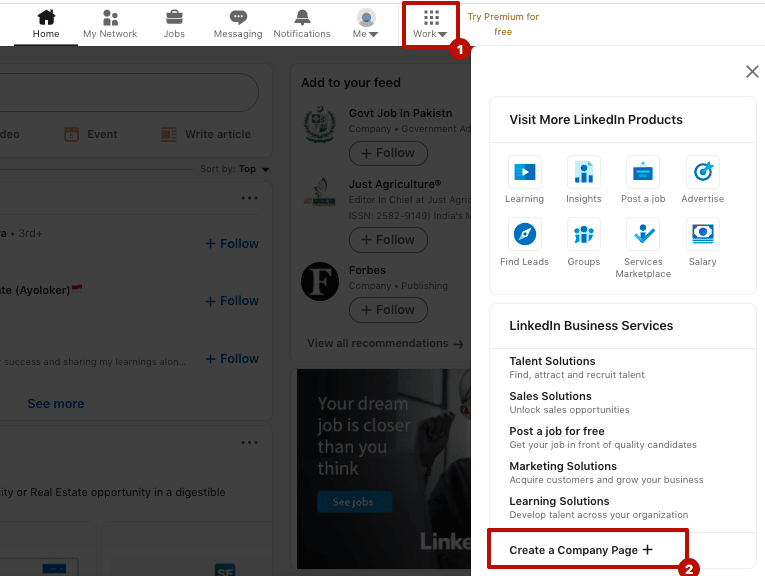 #3 – Choose the type of business page and fill in the data
On LinkedIn, you can create the following types of business accounts.

We will choose the first option. You may need a showcase page if your business has several niches and you want to create a separate page for each activity. It's worth starting from the main business page.
Complete the sections that are required. LinkedIn will assign you a URL based on your business name.
#4 – Do Keyword Research
It is desirable to adapt sections such as the Tagline for search.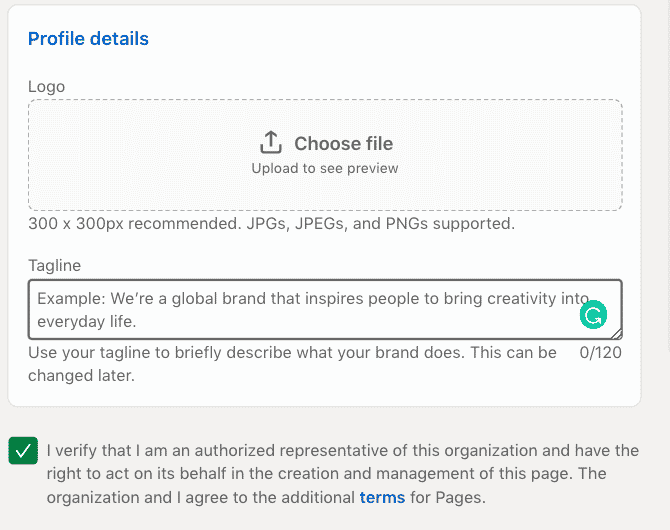 You can start by filling them out simply. After that you may start researching keywords through Linked Helper.
Download the software and log in to your personal account. It's free for 14 days.
Create a Visit & Extract company search campaign.
Go to the LinkedIn search page and set the criteria. Start the campaign. When visiting the profiles of organizations, the software will extract text fields from the pages of your competitors.
Download the spreadsheet with data on competitors as a CSV. From the table, you can easily analyze text blocks – for example, use a word cloud service to find out the most frequent words and phrases and use them in your descriptions.
Fully filled company pages can increase views by 30% in a week. That is, it is worth making an effort and entering data into all sections so that the page attracts as much traffic as possible from the internal pages of the social network and from search networks.
How to get more clients on a company page
These pro recommendations can help you increase the number of followers on your business profile. Read more in the article How to get more LinkedIn followers and likes in 2022 – the most time-saving method.
Linked Helper will help you beat business competitors, no matter what niche you work in. Also, this tool will automate routine and boring tasks on which you would otherwise spend a lot of time or even need to hire a specialist.
For example, it may take you all day to send invitations to follow your business page. You can only send invitations to first degree contacts if you are a page admin. Therefore, choose as the administrator a person whose network on LinkedIn is the widest. But you can spend a lot of time writing hundreds of personalized messages.
Linked Helper has an "Invite to follow organization" feature. After adding this campaign, the software will invite people to the company page as you would do it yourself, only you will not need to sit at the monitor.
Here is a brief scheme for growing the company page:
Expand your network of 1st degree contacts.
Create a people-finding campaign.
Add users to the Queue list from the My network page.
Add an "Invite to follow organization" action.
Enjoy how business page invitations are automatically sent out!
Explore the detailed manual for this action.
First post on LinkedIn company page examples
Content is an important engine for attracting new subscribers. Without posts, there will be no engagement and organic growth. Below are some great post examples to inspire you.
#1 Review important events for your community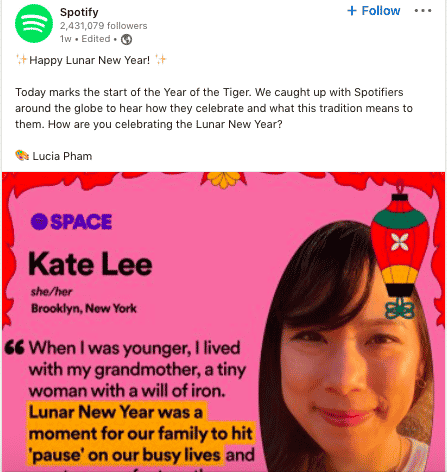 As you can see from the Spotify example, even such an event as the Lunar New Year is an excellent information occasion. The main thing is to use the faces of real people. Now live content with people attracts more attention than anything else. People are always interested in behind the scenes, the team behind your project. Therefore, on the social network, find a place for real and live posts.
In addition, by creating posts with influencers, you will get tagged by top accounts with a big audience size. This will have a good effect on the promotion of the business profile.
#2 – Collect hashtags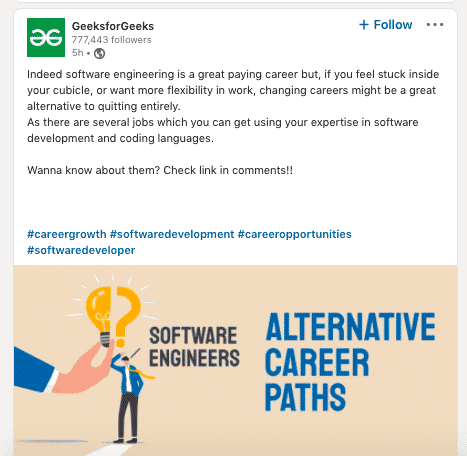 As in this post example, you can see that even accountants for businesses with large audiences use tags. These keywords work like SEO triggers in promoting within LinkedIn. In addition, this is the only way your company and your post can be found by internal search. Therefore, make a selection of relevant tags for your content plan. The posts of competitors and bloggers in this niche can also help you with this.
#3 – Invite influencers for sponsored content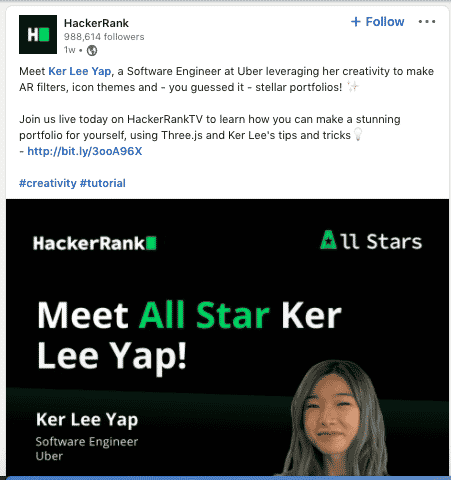 Posts from talented people will help your audience learn personal secrets of success and tips – in a word, exclusive insights, which they are unlikely to find on Google or even in articles. Live events with influencers gather a lot of attendees – your possible clients. So this is a great chance to rock your new company page.
You can organize an event on LinkedIn. This will help you get closer to your target audience, promote your brand and make it more recognizable. Online conferences and Zoom chats are an alternative to offline meetups and exhibitions, which are much more expensive and difficult to implement due to the pandemic. Therefore, resort to the help of posts and events on the social network.
#4 – Schedule carousel posts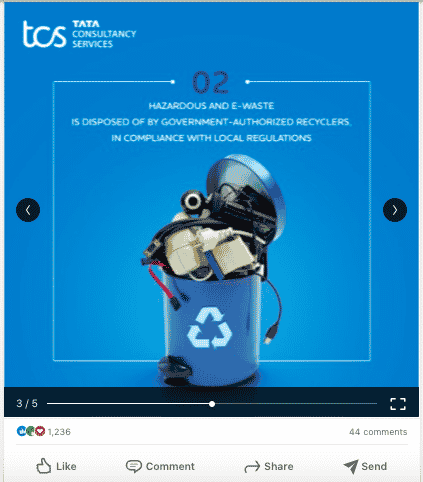 As in this example, fact carousels get lots of likes and comments. Since social media algorithms take into account how much time users spend viewing (in order to figure out if a post is interesting), you can make carousels much more engaging than single-image posts. Meanwhile, it's much easier than creating a video.
It's good if after this you share the research that your company has done on its own. Such content will have additional value and will spread faster in users' feeds.
#5 – Create polls on trending topics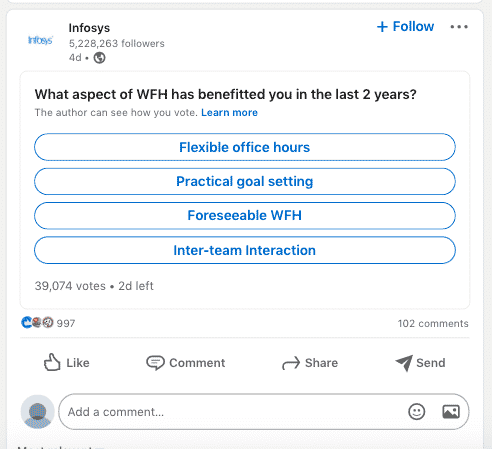 As you can see from the example, the post-poll collected a huge number of likes and comments. Because you should not only share information in posts but also strive to get people involved to express their opinions. In fact, every member of social networks has the need to express an opinion – it is important to make sure that they understand what kind of opinion is important to you. For this purpose, a post-survey is perfect. In addition, you will get real results that can be useful for your work.
When LinkedIn users leave comments, their activity is visible in the contact feed. This is an important advantage of this social network, which generates active discussions under the posts, which can arise spontaneously. So encourage them to leave comments and express their opinions publicly.
A well-designed LinkedIn company profile + automation of routine tasks + up-to-date content can attract leads, employees, and even investors to your business. So don't miss out on this valuable online growth opportunity. Linked Helper automation will help you strengthen business connections without spending time and effort – download it for free and test the features for 14 days.