The time of conferences and cold calls is gradually giving way to technology and sales in social networks. After all, everyone is there online. 74% of buyers who plan to buy a product conduct primary research online, including on social networks.
LinkedIn is the main weapon for sales people, because it opens the way to lead generation, scraping data from target pages on the social network, and direct communication with the potential client. Trust is a key factor in B2B sales, so when customers work with sales reps through their personal LinkedIn profile, it is much more effective than receiving anonymous emails. Photos, public testimonials, and contacts will build a positive image of your brand day after day.
A huge step forward in B2B sales on LinkedIn is automation development. One of the most advanced services is Linked Helper. It can automate every task in the path of your pipeline.
Download Linked Helper 2 and get 14-free trial right now
If you are not yet in our list of users, then join. We give you a trial version to start your experience with our LinkedIn tool.
You can choose your best way to use LinkedIn for sales together with Linked Helper automation:
Effective lead generation. Linked Helper can transfer a selection of accounts based on your search criteria from LinkedIn pages to the memory of the CRM. And then you can add them to the auto-action Queue list.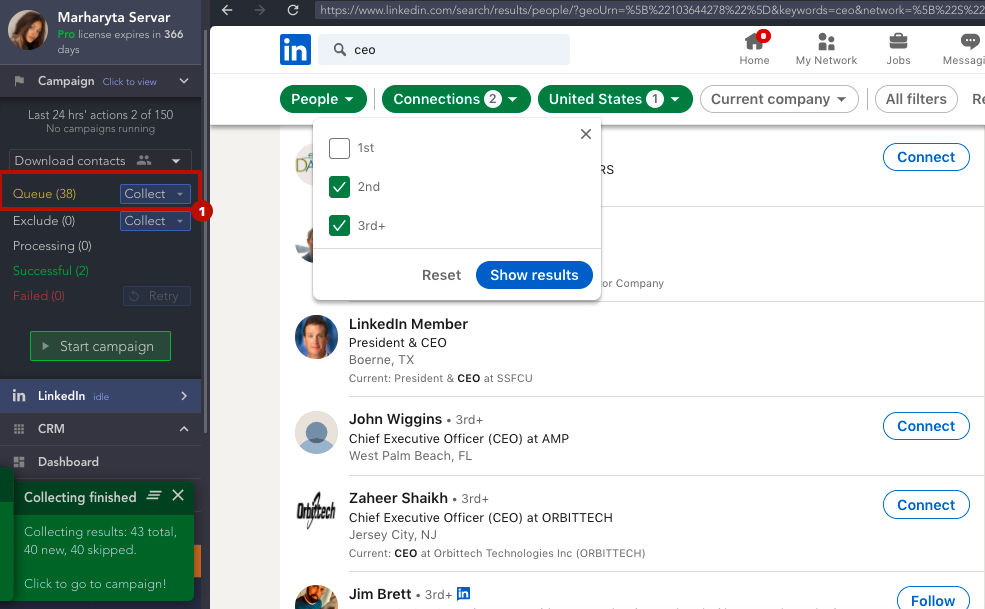 7X boost in your network expansion. The unique ability of Linked Helper to send connection requests through an undocumented feature of LinkedIn can increase the default limit by 7 times. This feature will also allow you to insert a custom message to leads during your B2B outreach.
Personalization in the funnel. Natural communication can be achieved through variable text in your messages, and the ability to embed links to media files.
Auto follow-ups. You can pre-write texts for follow-up messages, which are so important for B2B conversion. You will not need a reminder to do this, because the messages will be sent automatically by the software at the set time.
A complete CRM for customer management. When the information about your clients from LinkedIn is only available on their pages on the social network, it's not so convenient. In the Linked Helper CRM you can sort them, leave notes, add them to new funnels, and see all the important data.
Scrape the email database easily. Even if lead emails are not visible (for example, those who are not in your contact list), the data can be collected through Linked Helper. 
Tips for B2B sales on LinkedIn
In 2022, B2B marketers have a difficult task – capturing the attention of important customers online is difficult without personalization. It's necessary to identify the needs of each target group and be as active as possible in the social network.
LinkedIn account for sales people
The appearance of a sales professional's page is as important as a smart suit at a business meeting. Every detail is important – visuals, texts, keywords, and links to your work.
Quick rules for a Sales profile are:
Fill in all text fields using keywords. You can be found by them through a global search. Pay more attention to your company and its services than to personal achievements and hobbies.
Ask customers to leave feedback. This is the same social proof that can bring clients to your company through LinkedIn.
Fill your profile with visuals. These can be your own photos, photos or videos from events, or even video stories with a mini-presentation.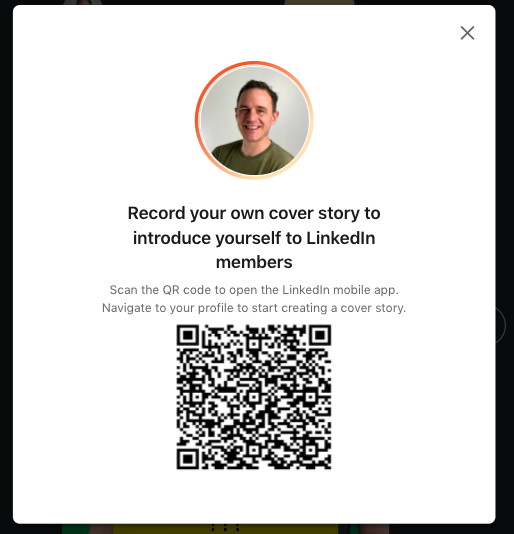 For more detailed recommendations and ideas for a sales manager profile, read our blog.
With a well-developed personal profile, you will be able to develop a company page faster. Because more people will be redirected from your profile to the company page. You will be able to invite your circle of connections to events or to the business page.
Linked Helper has an automatic function for inviting targeted leads to your business page, which will help you attract a greater number of subscribers faster.
Automate sales through LinkedIn with Linked Helper
Automation options that can increase conversions and sales are listed below.
#1 Bypass the weekly limit of 100 invites
If you want to expand your network of contacts almost 7 times faster, you can use Linked Helper features: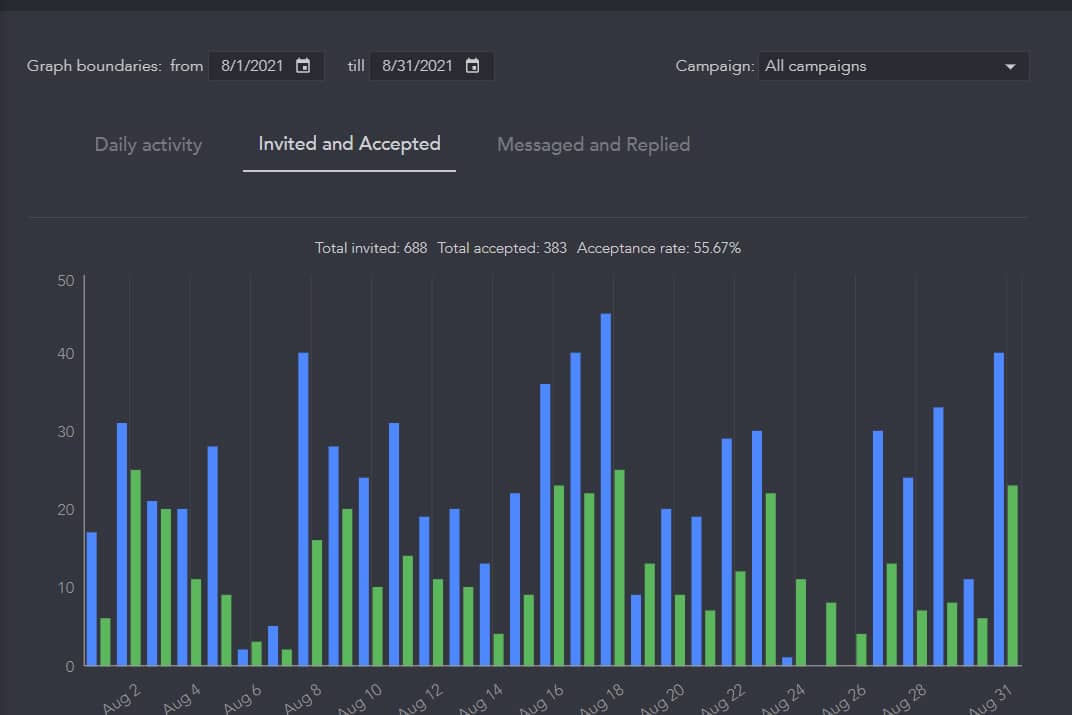 Auto-invite through the import of emails and user URLs. In this case, the software will invite target users whom you specify in the queue in the auto-action funnel.
Auto-invite through an "undocumented LinkedIn feature." This is an automation feature only available in Linked Helper. Unlike the first method, it also allows you to include a private message when inviting a non-connection.
You can read more about the networking and automation strategy in the article.
#2 Email scraping from LinkedIn
The software can automatically visit the profiles of the right people. And to visit and collect data, you do not need to create a separate campaign. The Linked Helper can copy data when it sends a connection request.
LH Email Finder and Snov.io are ways to help you collect emails even from those who are not yet in your contact list. The most advanced way is the LH Email Finder – it aggregates the emails associated with the LinkedIn profiles in the database. This database is formed from the data of all Linked Helper users who have agreed to the terms of use. Receiving these emails is possible due to the fact that for some other users, your 2nd–3rd degree contacts are their 1st degree contacts.
That is, their email data is already saved in the service database.
You can export the CSV file for further work with the email database.
#3 Automation of likes and comments
Every time you like or comment, you are displayed in users' feeds. This makes your name more recognizable and you get more visits to your profile.
By leaving comments on influencer pages, you can grab the attention of an active audience. So feel free to express your opinion in the comments. You can pre-write comments in the software and thereby reach more users without effort on your part.
#4 Interacting with those who are active on your profile
This is already a warm audience where it is enough to show only a little attention. For example, Linked Helper can collect a list of users who liked or left comments. Next, you can add this list to your interaction funnel.
To do this, you only need a link to the post. You can study the instructions in our knowledge base.