On professional social media, users indicate their contact details to receive more business offers and show they are ready for cooperation. People indicate these emails on the page, but if you download the archive from the social network, the emails will not be displayed in the spreadsheet.
In order to save the time you'd spend copying and searching emails, you can use the Linked Helper email scraper to find any email on LinkedIn.
Here are the benefits of Linked Helper web scraping:
All data collected by the auto parser will be stored in the CRM and can be downloaded to a spreadsheet. You can use these emails for third-party cold mailing services. Linked Helper is integrated with the Snov.io cold mailing tool so you can fine-tune the two apps to work together.
You can receive emails from 1st, 2nd, and 3rd degree connections. When you apply the Visit and Extract feature, the tool will open the accounts of your leads and download their emails – this data can be easily downloaded as a CSV file. Data on 2nd and 3rd-degree contacts is also available for parsing through the internal software database. It is called LH Email Finder and contains Linked Helper users' 1st degree contacts' emails. This will allow you to find emails associated with LinkedIn pages. You can also set up paid integration with the Snov.io service.
Bypassing limits on connection requests. Once you collect the database, you can use it to invite over 100 people a week. Through email insertion, Linked Helper will allow you to amass 7 times more requests without any security risks.
Another unique advantage of Linked Helper is the ability to send invites through an undocumented LinkedIn feature. It allows you to exceed the allowable limit of invites and attach a custom message.
Download Linked Helper 2 and get 14-free trial right now
If you are not yet in our list of users, then join. We give you a trial version to start your experience with our LinkedIn tool.
Web scraping will allow you to automate the pipeline through email marketing and within LinkedIn. You can automate important online sales growth activities:
Content interactions. Just add the follow-up actions to the tool after searching for emails. Likes, comments, and profile visits will attract leads and increase sales.
Auto messages. You can duplicate your email campaign with a more personal outreach in LinkedIn messages. This will increase the chances of your prospects reading and responding to your message, and you will be able to find a more personalized approach to important leads using information about them from the social network. In addition, when you write from a personal account on LinkedIn rather than through an impersonal corporate email, your offer can generate more credibility.
Events and marketing in groups. These types of promotions are easy to automate in the software and can increase your reach through auto-parsing of leads from the social network.
How does the free LinkedIn email scraper work? It's simple
#1 Software installation
You can try the basic LinkedIn email scraper features free for 14 days. Even during this trial period you can increase the activity on your page and collect a database of potential leads.
#2 Start a campaign
The first thing you need to do is start a People campaign. In the Create Campaign window, select the People option. From the choose template menu, select Visit & Extract profiles
.
#3 Specify the source for data collection
To search for emails, you must add users to the Queue menu item.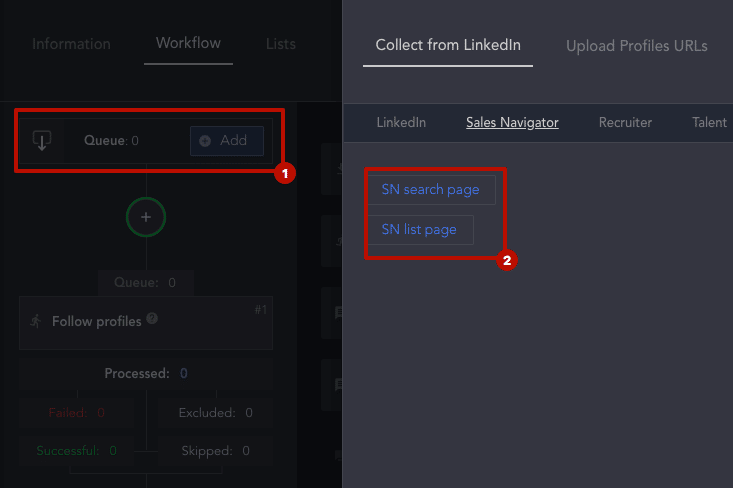 Go to the Workflow tab and select Add. You can explore emails on LinkedIn accounts from different sources:
Parse data from the internal search. You can select the LinkedIn search results as a source, where you set up filtering: keywords, industry, position. People from the browsing results can be your 2nd or 3rd degree contacts. To do this, you can activate the Find profile email option and connect Snov.io. It can search for emails with LH Email Finder or through integration with Snov.io. LH Email Finder is an extensive database of emails collected through users of Linked Helper. Then the parser will offer you emails from users who are not your approved contacts.
Parse data from your connections. These users are 1st degree connections, so without activating additional settings, the tool will copy any email indicated on their accounts.
Parse emails of group members. You can choose as a source any LinkedIn group where you are a member.
Parse emails of those who like and leave comments. These may be potential leads, so this way you can get email contacts from an already active audience.
Sales Navigator smart parsing. By activating a Sales Navigator subscription, you can use its capabilities to filter leads more carefully, excluding irrelevant ones. You can activate your Sales Navigator account in the LH software. This will help you gain emails from lead lists or any Sales Navigator page. After canceling the subscription to the premium service, all data will be stored in the software database and can be extracted.
#4 Activate the internal Email Finder & third-party Snov.io
In the Visit and Extract tool, you can only activate the browsing for emails through Snov.io. So if you want to grow the opportunity of getting emails of 2nd and 3rd degree contacts, add the Find profile emails in Workflow.

In this situation, the software will fill in data based on the Linked Helper LH Email Finder. If the mail is found through LH Email Finder, then it will not be searched through Snov.io and you will not need paid credits.
In cooperation with Snov.io you receive data based on the company indicated in a person page and the website name. After scraping the names with domains, you can gain business contact from the Snov.io service. When the internal Finder looks for emails from Linked Helper's memory, users who have already received emails from your 1st degree contacts can share data with you (these people can be your 2nd or 3rd degree contacts).
Thanks to such a wide and automatic search scheme, you will get the most complete database of emails in a minimum of time.
#5 Click on Campaign Start
After adding contacts to a queue, the data of these people will not be scanned by the tool. To do this, you need to click on Start so that the software starts visiting each profile and searching for emails.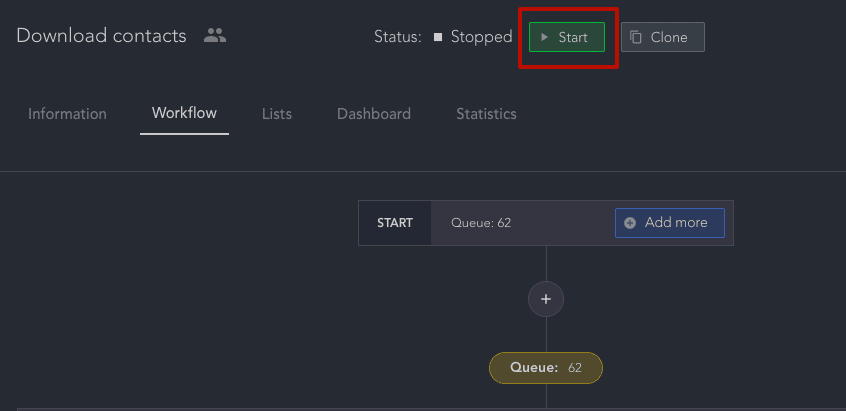 If you want to sort accounts, you can set custom tags for successfully processed profiles.

#6 Download the database in CSV
If you need the emails in a spreadsheet, you can download them after completing the campaign. To do this, go to the Successful tab and click on Download.
Then follow the instructions to correctly export the table.