Imagine losing access to the database that held the key to your business success. It's a nightmare scenario, but one that many face when canceling their LinkedIn Sales Navigator subscription. Don't let your hard-earned prospects slip through your fingers.
Discover a breakthrough solution that allows you to extract leads from LinkedIn Sales Navigator. It allows you to transfer your updates and prospects to a CRM. Even after bidding farewell to Sales Navigator they will be available.
Rise above the struggle and reclaim your valuable leads with our expert guidance.

Why use a third-party tool for exporting leads from Sales Navigator?
Linked Helper can be your best tool to save leads. When working through the Linkedin Sales Navigator, it's crucial to have a backup for your business relationships.
A tool like this is necessary for the following reasons:
Preservation of data: When you extract data using a tool like Linked Helper, it is stored in the Linked Helper CRM. This means that even if your Sales Navigator membership is discontinued, you can still access and utilize the extracted data.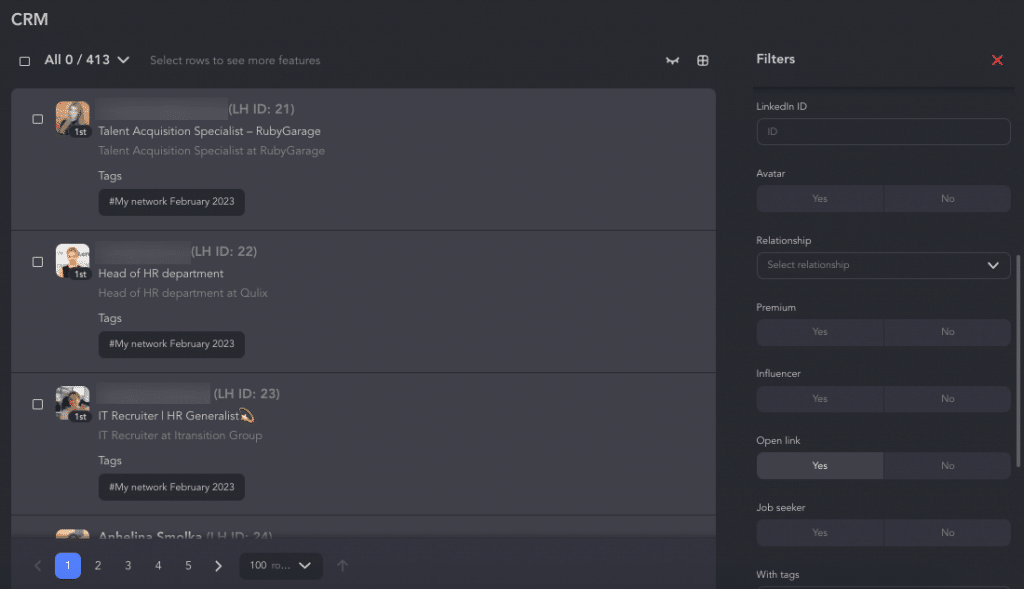 The capability to transfer data to another CRM: With a third-party tool like Linked Helper, you can redirect the people data obtained from LinkedIn to Salesforce. This can be achieved through built-in webhooks.
Compatibility with different account types: With Linked Helper, you have the flexibility to use either the basic LinkedIn plan or Sales Navigator within the same campaign. This means you can identify and generate prospects using your Sales Navigator membership and manage them through a basic LinkedIn account.
More data compared to downloaded file from LinkedIn: When visiting contact profiles through a third-party tool, you will see all the filled-in fields in the table. Improved filtering and visits through Sales Navigator enable gathering Industry information. Check our article about LinkedIn industries in 2023.
Enhanced mailing list: By using Linked Helper to search and process connections, you can expand your mailing list. The tool allows you to integrate the Email Finder feature, which helps gather emails from leads who are not currently in your network.
Since your second or third-degree connections may be first-degree contacts of other Linked Helper members, the Email Finder tool can scan the Linked Helper dataset. Consequently, when exploring these profiles, you can obtain their email addresses (even if they're not visible on LinkedIn) in a spreadsheet with just a few clicks.
How can you export leads from LinkedIn Sales Navigator?
This easy solution will help you quickly download contacts from your account, but not only that. By adding leads to the Queue, you can pursue further automated actions with them. Therefore, Linked Helper will be useful not only for data parsing but also for increasing your reach, connecting with new customers, and automatically growing your business.
#1 Download Linked Helper
You can do it for free for 14 days without a subscription to check how the scraper works, download leads, and try other auto-actions. There is also a "life hack" you can use to use SN for generating prospects for free.
To do this, when purchasing your SN subscription, you need to link a card on which there are no funds. Then, in addition to the free trial, you will have one more month that you can use SN without paying a subscription fee. In total, you will have two months to evaluate the impact.
#2 Start a new campaign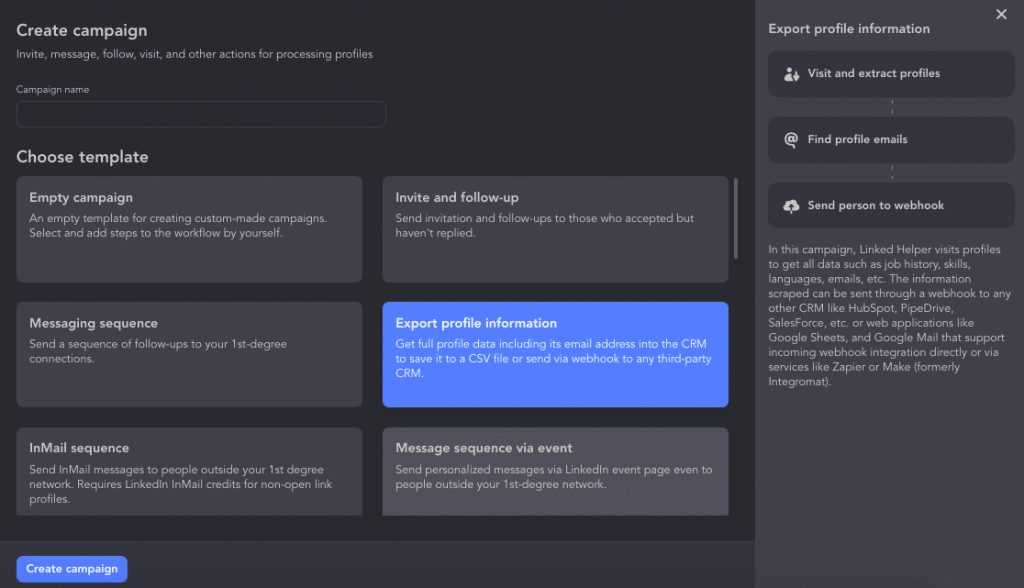 Scraping and downloading in the software works through a campaign that executes page visits. It can parse accounts of people or organizations. You can use our template "Export profile information." Explore the detailed manual about starting a campaign.
To begin a campaign, you should define the collection path in the Queue.
Two sources may be used to ​​download LinkedIn contacts:
Browsing results
You may practically quickly move your pick of individuals to the CRM and then retrieve it by using explicit filtering on the website.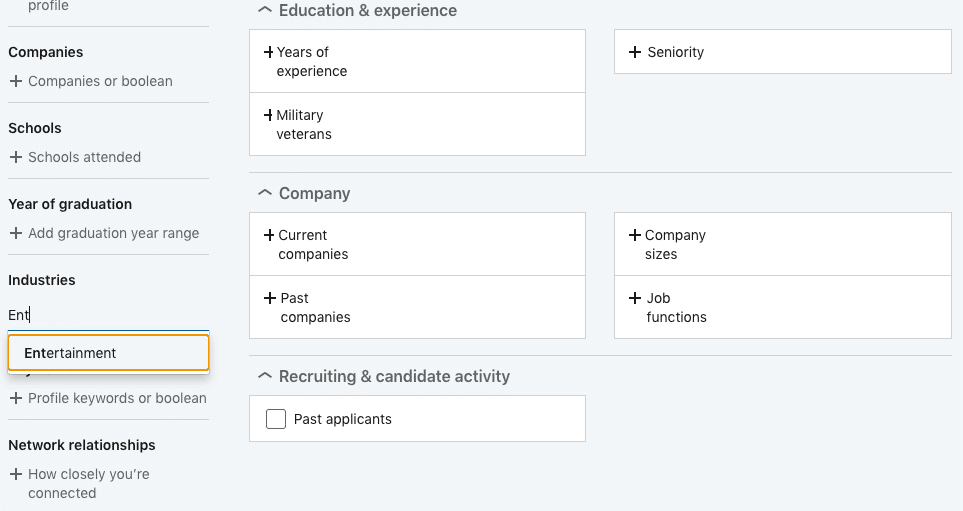 Lists of potential customers
You may construct your custom lead lists while browsing in Sales Navigator. This is one of the unique elements that distinguishes SN from the regular plan. You can utilize these user groups as a source of data collection. Then, using Linked Helper, you can export the leads you gathered from LinkedIn Sales Navigator as lists.
You can pick up to 2500 users in one round. But you can also choose more users by creating multiple selections of people and adding them one by one to an extract campaign.
Download Linked Helper 2 and get 14-free trial right now
If you are not yet in our list of users, then join. We give you a trial version to start your experience with our LinkedIn tool.
3 Insider strategies for lead export
When utilizing Sales Navigator and LinkedIn, users possess the flexibility to dictate how leads are exported.
😔 Core Challenge
Exporting and visiting profiles through the "Visit & Extract Action" is subject to a daily limit of 150 profiles, as set by our internal parameters. Although it's possible to surpass this threshold, heightened activity might trigger a cautionary alert. To illustrate, if you've amassed 6,000 leads from Sales Navigator, exporting them would necessitate a continuous effort of 40 days. With 24,000 leads, the export process would span 4 months, exceeding the cost due to Sales Navigator subscription.
🔥 Viable Solution
Linked Helper can process Sales Navigator links without requiring a subscription. Gradually accumulating tens of thousands of profile links over several days or weeks (such as during a trial month) is feasible. Subsequently, discreetly visiting these profiles using your account(s) without a subscription allows for information scraping, all while disconnected from Sales Navigator.
Strategies (3 options):
1. Gradual Collection and Extraction: Deliberately gather leads on an account with an active Sales Navigator subscription, then employ a similar approach to extract them using the same account. These leads can then be imported into other CRM platforms using hooks.
2. Multi-Account Extraction: Incrementally accumulate leads on an account with Sales Navigator subscription, and subsequently extract them using multiple Linked Helper accounts without a Sales Navigator subscription. This method involves dedicating one account for collection and others for extraction, potentially boosting the volume of extracted profiles. However, this approach lacks industry information during extraction.
3. Rapid Collection and Extraction: Swiftly amass a substantial volume of leads within a brief timeframe (trial duration or a month of Sales Navigator subscription) on a single or multiple Linked Helper accounts (ensuring avoidance of duplicates). Then, unsubscribe these accounts from Sales Navigator and gradually proceed to extract the leads. Alternatively, you can augment extraction efficiency by adding extra Linked Helper accounts without subscriptions, thus increasing the number of accounts in use.
#3 Go to the Lists section
After running the campaign, you will see all targeted leads after visits and processing in the Linked Helper panel. They will be visible in a separate section of the current campaign and in the software's memory. Downloading LinkedIn contacts is simple when you choose this third-party tool – the CSV will be ready with one click. Also the dataset is extensive and will contain all the available info from visited pages.
Open Lists → Processed→ All→ Download.
Explore our detailed guide on how to export leads from Linked Helper.
Keep the document based on the instructions and work on it further, for example by sorting, adding, or removing columns.
#4 Convert CSV from LinkedIn Sales Navigator to Excel spreadsheet
Linked Helper allows you to download data from different sources. It can be either all profiles that are listed in the CRM or accounts collected from a specific campaign or even one action. This may be super convenient since it gives you more flexibility in choosing the audience to export.
For example, you can download from the CRM all the profiles that you've added to the Queue for all campaigns in LH.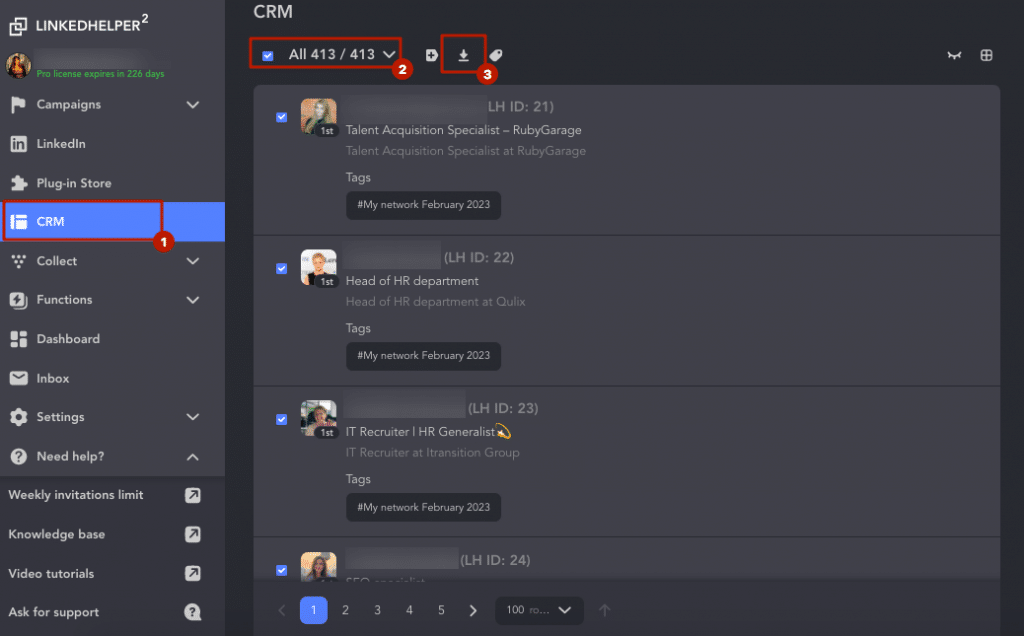 On the other hand, you can also download the audience from a specific action, which will be limited only to those who have been processed by the software. They can be everyone to whom you sent an invite or message.
If you have engaged in correspondence through the software, a column with the history of the dialogue will be available in the file, which is useful when analyzing responses and thinking through new pitches.
Read the detailed steps in our manual that will tell you about all the ways to obtain data from Linked Helper.
After clicking on the download button, you will see a window in which you can set the necessary parameters for the file. You will find the option to save the file as Excel or Google sheets.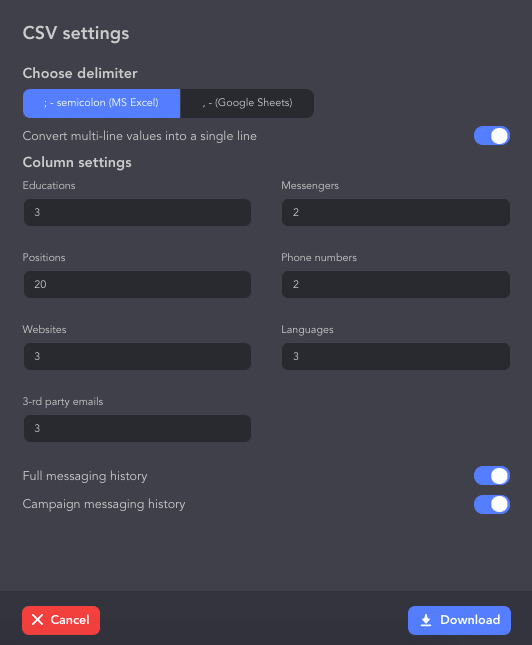 At this stage, you can choose whether you need a complete chat history or not. A few seconds after choosing the path to save the file, you will see it on your PC.
Since the download is in CSV format, you will need to open the document differently than you do with the regular XLS format.
You need to open Excel and open the file through a new document, not by clicking on the downloaded file.
Select File→ Import→ CSV file.
Click on the document that was downloaded from Linked Helper.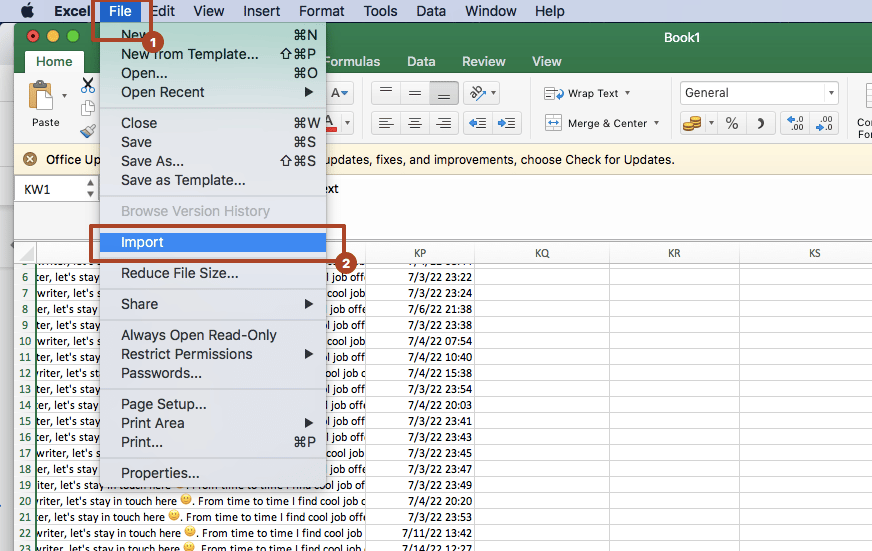 The only settings that will need to be changed at the opening stage:
Select Unicode (UTF-8) in Step #1.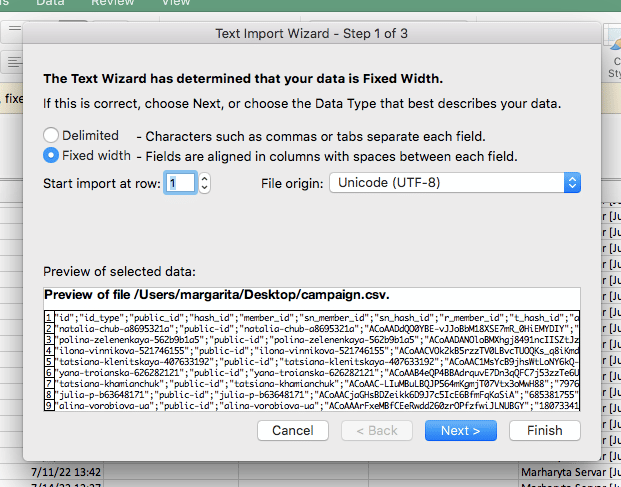 Put a tick on the Semicolon line in Step #2.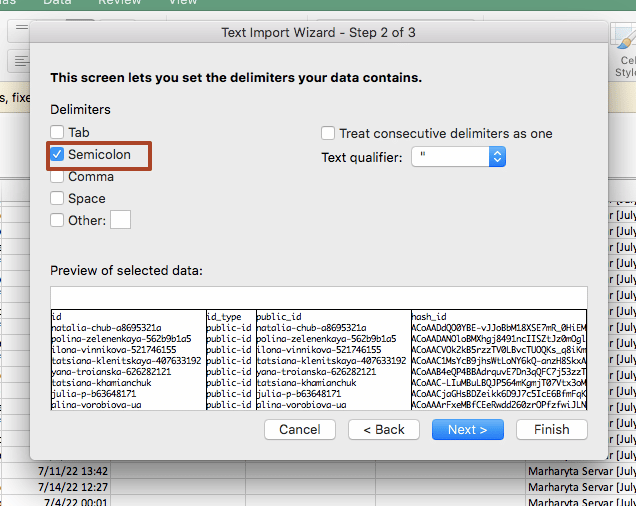 Apart from that, you just need to click on next, so the CSV file should not scare you – it is easy to continue working with it in Excel or in Google Docs.
You can read the simple instructions for opening the document in our knowledge base, which describes the settings for Windows and Mac. Follow the steps in this manual to open the file and it will display in the familiar format.
For example, as in the screenshot, in a few seconds, we opened a doc where 475 leads from the action were previously saved. We see a complete database with leads, emails, phone numbers, all the data of their accounts, ​​and the history of our correspondence.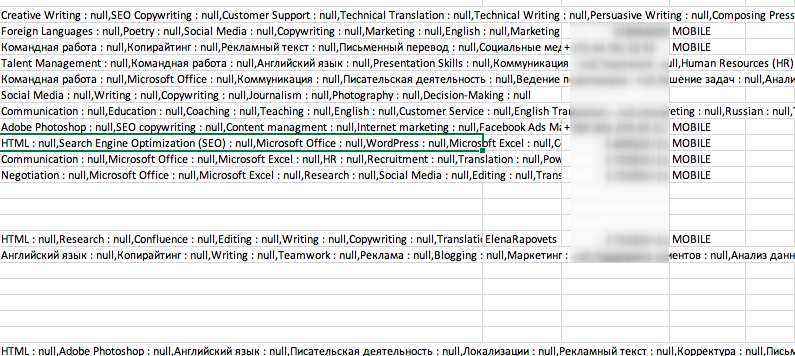 Then you can reuse the data about the desired leads in new campaigns and use the resulting files for automatic actions. You can watch a video on how to work with spreadsheets in campaigns.
#5 How to download a lead list & export leads from LinkedIn Sales Navigator
After parsing the data, you can obtain a familiar spreadsheet with all the scraped info. In addition, you can easily transfer it to your Salesforce account or other CRMs that support incoming webhooks from systems such as Zapier or Integromat.
If you choose the "Export profile information" template at the fourth step, you will need to provide the webhook URL. For more detailed instructions on this process, you can refer to the link in the paragraph above.
Benefits: export list from Sales Navigator & Linked Helper
Paid solutions like SN allow you to expand the potential of prospect mining. Here is how to export people from search, communities, and LinkedIn contacts via this advanced combo:
Profiles in any LinkedIn group may be filtered. This can be advantageous since these users can subsequently be contacted directly via the group. According to the community regulations, this is permitted regardless of whether the individuals are your second or third degree contacts.
Remove persons who have previously been reached or seen from the query. When establishing campaigns with Linked Helper, this might be beneficial. So, even before you begin gathering prospects, you may eliminate those that aren't essential. In the meantime, you may delete obsolete leads from the CRM (by adding accounts to the Queue and deleting them in the Excel file).
Sort results by zip code and other refined criteria. For example, a recent post filter can be valuable. It allows you to filter profiles by their activity and display only those who have posted in the last 90 days. Then you can add them to the desired campaign – these will be active accounts in 99% of the cases.
The Industry category & Open Link criteria will become available for parsing. If you collected profiles in the standard LinkedIn, you may have noticed that the niche name is not displayed in the CRM and the table. However, visits through Sale Navigator allow for industry parsing. In LH, for instance, you may select only those profiles that have Open Link status, allowing you to send them unlimited InMails. This activity can be generated automatically in the Linked Helper Drip Campaign, allowing you to deliver messages to non-contacts even without a paid membership.
Profiles collected from SN can be processed in basic LinkedIn. Even after your SN subscription expires, you can still work with the profiles if you add them to your base LinkedIn account in Linked Helper. This is convenient, for example, if the limit on search queries has been reached in a regular account. You can extract users from a SN account without even visiting them within the campaign. Once gathered from the page, they will be visible in the toolbar. It may be necessary to transfer profiles to a basic account to put mass likes, which cannot be done in SN. The search results will be more accurate in SN than in the basic account.You can download them as a CSV file and continue working on them.
Discover the distinction between utilizing Linked Helper either with Sales Navigator or with a basic LinkedIn plan. Each bundle has unique characteristics, and they work best when combined.
Is it secure to export LinkedIn Sales Navigator leads to Excel?
All in all, we have explored before how to link extra services to export from LinkedIn Sales Navigator to nurture leads long-term. The fact is, not all of them operate safely for your profile. For example, you can try bots that are based on basic plugin technology. Considering how easy it is to install and use, this type of automation may be the least secure for your profile.
LinkedIn automation recognition systems are effective and fast at detecting the use of an extension. Also, since this type of parser is the easiest to create, it makes sense that these solutions are most often technologically imperfect. Therefore, we do not advise you to risk a LinkedIn profile that may contain an array of important business contacts. By connecting Linked Helper you can be sure that the software will open your Sales Navigator profile and perform all actions as you would do them yourself. You can even watch every step of the assistant robot in a separate browser window. It is browser technology and complete imitation of human behavior that ensures that your profile is safe. You can delve deeper into the reasons why Linked Helper has proved secure for customers in our blog post.
How to continue working with data received from SN
By downloading the Linked Helper software, you can not only get a document with a list of leads, their contact details, and all descriptions from the pages. In addition, you can continue to campaign from your account. What can your collected contacts be used for?
A user engagement campaign will help you grow your social index. You can learn more about what this indicator means, what affects it, and how Linked Helper is useful.
You can find more clients by expanding your network. When you use bulk invites, you can reach hundreds of new potential customers in a day. Previously, LinkedIn allowed you to upload emails and create connections through a file. This upload feature is currently not available (namely, through such a download it was possible to send invites in excess of the norm in many services). So you can only increase the limits by using an undocumented feature in LinkedIn (a unique secret method in the software).