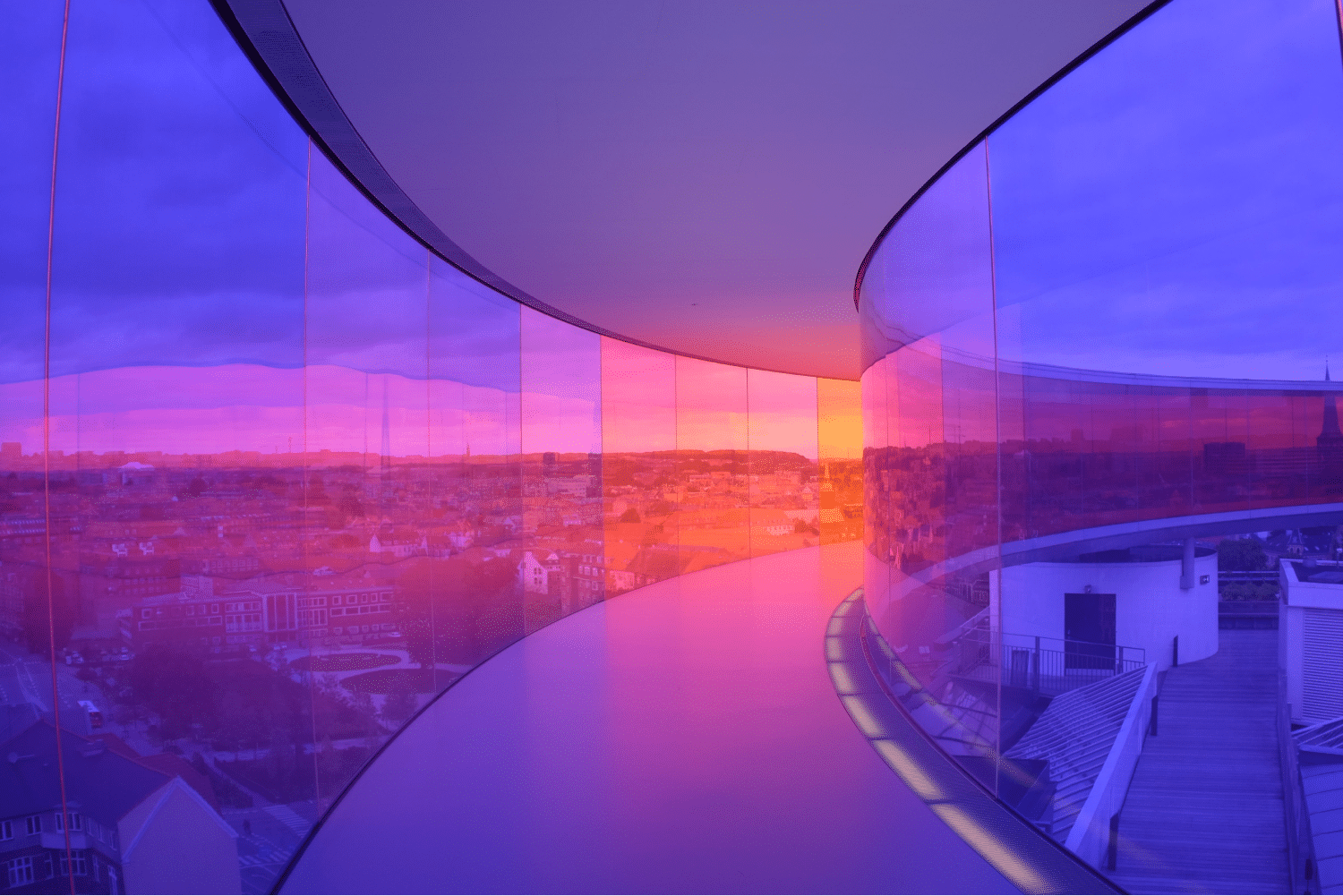 According to the latest statistics from LinkedIn, its audience has increased to 808.4 million in 2022. This means that the social network becomes even more attractive for anyone who is looking for clients, job opportunities, brand influence, and talent recruitment.
If you are a recruiter, marketer, or business owner, you can use data about top managers and markets stored in the social network. After all, millions of experts in business and organizations update information here daily.
For parsing data about people and businesses, as well as for advanced automation of activities, top experts use Linked Helper software. Read more about what data you can get in the article.
You could spend 8 hours a day searching for contacts or business data through the social network's pages, even if you use the LinkedIn Xray Tool. But by working with the CRM Linked Helper, you only need to set the target niche and a narrow range of target data will be saved in the software's memory and can be downloaded as a file.
For each niche of users described below, we have compiled top tips for increasing the efficiency of working with LinkedIn data. Now you do not need to spend hours switching pages, pressing the same buttons many times to solve business problems – a smart robot will do it for you.
How to use LinkedIn for beginners
If you have just started working in this online business community, you may notice that the interface is different from the usual social networks like Facebook or Instagram. In LinkedIn, the main thing is to provide value from the very first lines in your profile texts and build trust, which is essential for business connections. Therefore, start with these simple steps if you have just started developing a presence on this social network:
You can automatically attract the attention of the target audience through auto profile visits (using the "Visit & Extract" Linked Helper action) or send out about 700 invites per week through mass invites in the software.
How to use LinkedIn for networking
Finding partners and opportunities is your #1 goal. While offline conferences are resurrecting after the lockdown, people are already accustomed to online events and networking via LinkedIn. This can save you travel time and organizational resources (although we don't downplay the importance of personal contact to the business).
Join the top niche groups. Group marketing will help you learn the latest news and trends in your niche, promote your product immediately to your target audience, and learn from the experience of successful professionals around the world. In Linked Helper, you can write to all group members at once. Read more about marketing in groups in the blog article.
Organize events. Online events can be conveniently scheduled directly on the social network and promoted there. For event marketing in Linked Helper, there is a function of mass invitation to an event, and parsing of event participants. Explore event marketing tips in our article.
Be sure to put your contacts in your profile description and on the page. You can also leave a link to a call scheduling service so that those who are interested in you can easily get in touch. This trick is used by many users to help them get straight to the point.
How to use LinkedIn as a student
If you are learning, you can already start actively journaling your professional life on the social network – this can be more useful than TikTok.
Look for internships. You can research companies where you would like to work and find contact details. By writing emails, you can get your first job or internship through the professional social network. Through Linked Helper, you can export hundreds of companies in a spreadsheet with a link to their websites to help you compose your offer letter. Sometimes it can also be useful for writing student papers if you need to do a SWOT analysis of the market.
Connect with students from other schools. You may want to collect feedback about the educational institution where you are going to enroll or transfer. To do this, it will be useful to write to former or current students to learn about their experiences. Linked Helper can help in parsing alumni lists from any institution. After that, you can compose bulk auto-messages to everyone through the software.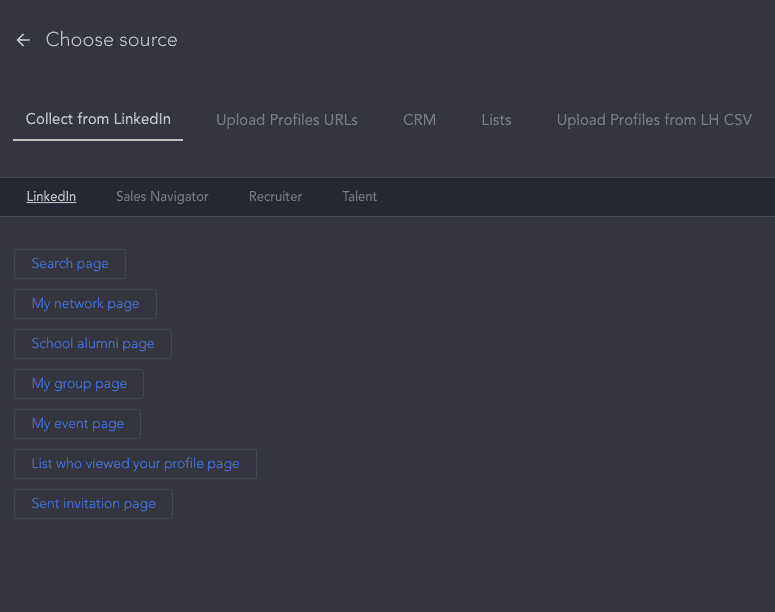 Collect feedback in Recommendations. Ask your teachers and early employers to write a few lines about your progress. Hiring students and graduates is risky, but public recognition will help you land your first job or internship.
How to use LinkedIn for business & marketing
The search for leads and partners will become effective with a developed page on LinkedIn. You can also increase traffic to new websites through a LinkedIn page because the search engine ranks it higher than new sites.
Promote your business page actively. You can learn the top tips for promoting a company page in our article. The presence of subscribers will strengthen the trust in the brand and help potential customers find you through search engines.
Optimize the business profile and personal accounts of employees with keywords. In order for customers to find you faster through the social network, use keywords in literally every post through which customers can find you. These can be SEO queries for a website or examples of competitor keywords. Read about optimization tips in our blog post.
Hashtag marketing will help you grow organically faster. To make your posts appear in the Home section of the right people faster, add hashtags to the text. LinkedIn has a variety of tags for every group of users and professionals, such as job seekers or recruiters. With the right hashtag, your life can literally change.
How to use LinkedIn for business development
Maintain a CRM with clients and business audiences in one software tool for the whole team. Linked Helper helps you collect data about important user groups (customers, leads, competitors, and employees) and store all the data in one place. In the CRM you can leave notes, create user lists, and export an extensive set of data in an Excel file.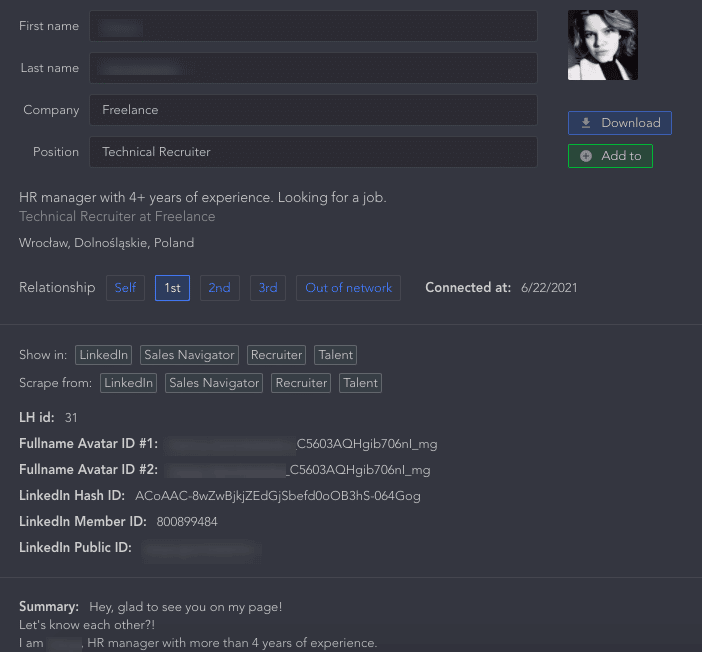 You can receive leads' emails even if they are still 2nd or 3rd degree contacts in your personal profile – this saves you hours of work building lead databases.
Search for targeted leads automatically. The quality of leads is more important than their quantity. You can get more real clients if you use clear filters to find people and if you are able to write to 700 people per week (instead of the 100 normally allowed). Linked Helper provides such an opportunity, and you can also connect the Sale Navigator business package and integrate even more features.
Use private messages to sell. Find 20 effective sales message examples at the link. Also, video messages and audio can be useful in your niche – we have collected up-to-date instructions on the blog.
How to use LinkedIn when searching for jobs
Gather feedback on your page from everyone you've worked with before. You can increase the trust in your page and experience, which will help you find a job faster. Reviews and recommendations will help you rank higher in search results. Therefore, write a polite request personally to each contact you know asking them to write a review of your professional skills. In return, leave recommendations for everyone who responds.
Show in images and texts that you are actively looking for a job. You will get more offers if applicants see that you are open to offers directly from the search page. The headline and photo are visible from the search page, where other candidates (your rivals) are displayed. Therefore, you can indicate that you are open to offers in the headline and use a special frame for the main profile photo.
Join groups in your industry. Having a lot of acquaintances in a niche can accelerate your success and find the project of your dreams. Be active in groups where your potential employers may be present – this will attract them to your page.
Visiting other people's profiles is important for getting organic reciprocal views of your page. This is the first step before making contact. Therefore, the Linked Helper action "Visit & Extract" will help you get hundreds of views from everyone who the robot visits on your behalf.
How to use LinkedIn as a recruiter
We have put together top tips to help you make your job offer letter stand out. If you are running a hiring profile, then using automation software will definitely improve your results.
Log in to your LinkedIn Recruiter through Linked Helper. This advanced social networking plan will open up more candidates in your search results and help you set up narrower filtering. In Linked Helper, you can specify in the settings through which platform you need to process profiles.
For instance, you can collect profiles from Recruiter using its filters, but continue working with these profiles through regular LinkedIn – for example, sending them invites or messages.
This also means that you can keep the database of candidates from Recruiter even if your subscription to the paid plan expires – all data will be loaded into Linked Helper's CRM memory.
Duplicate the offer by email. If a person is not actively looking for a job, they may not check the LinkedIn messenger often. In such cases, sending an offer by email can make them pay attention and agree to an interview. To write even to 2nd and 3rd degree contacts, it is optimal to use the Linked Helper email search and integration with the Snov.io mailing platform.
You can find job seekers' emails through the Linked Helper internal database and Snov.io. Email export is available as a CSV file for transfer into another mailing platform.
You can find job seekers' emails through the Linked Helper LH Email Finder and Snov.io databases. 
LH Email Finder is an email database of our users who have agreed to share data. So, you can get access to emails of  your 2nd and 3rd degree contacts because for other users, this person is a 1st degree contact, so the data will be available for you. Conveniently, emails from the database are directly linked to LinkedIn accounts.
Be active with candidate profiles. Linked Helper can like and comment on posts from your profile, which is a great time-saver and helps you reach more candidates. 
This means that by visiting profiles, and being active with likes and comments, you can ensure constant traffic to your profile. People will be able to find out more information about your company and be willing to cooperate.
All in all
For every business purpose, LinkedIn is the top place for people to share useful data, up-to-date contacts, and events that can boost your online marketing. Therefore, by developing a business or personal profile, you will be successful not only in the social network, but you will also appear higher in the Google search results. You can test important features of Linked Helper to help you grow online and collect business data safely without wasting precious time – try it free for 14 days.