Just as with your contacts in business, all your connections in the social network are a tool for the success of your business and the reputation of your company. When promoting goods or services online, you need to know how to get connections in the LinkedIn community, and if their number is more than 500, then your profile will have high confidence in the community.
In this case, the social network does not notify those who see your profile about a specific number. That is, whether you have 501 or 5,001 1st degree connections, for users this will be displayed as 500+. Achieving this number of links can be done much faster through the smart Linked Helper automation.
You can bypass the LinkedIn limits (those that don't allow you to send more than 100 contact requests per week) and send even 7 times more requests through the software. It works by searching for people in the internal email database. It is even possible to reach the desired figure of 500+ contacts in a week, provided that you prepare your profile well – people should clearly understand who you are, what you do, and what the advantages of your service are.
Linked Helper will take care of CRUCIAL tasks for you:
Research potential leads and contacts.
Form a database from them in the CRM, which you can download.
Visit these people's profiles via auto-actions.
Send auto-invites.
Continue interactions according to the funnel of actions that you set up in the dashboard. Learn our tips on responding to LinkedIn messages.
For example, after someone accepts your connection request, you can send the first welcome message with useful data for the recipient. Or maybe you need to invite them to a business page? Or do you want to create an online event for new contacts? You can entrust all this to a smart robot that will press the same buttons 100 times for you – because it can be so tedious and time-consuming to do this yourself.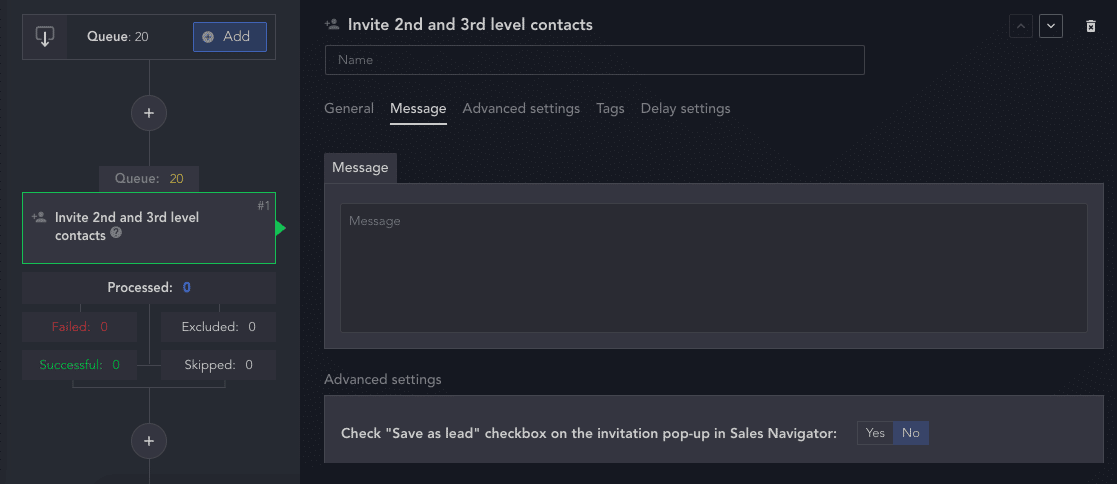 Of course, your interaction should not end once you add new connections. Success and sales in this business community lie in how quickly you find a personal approach to new connections. Here it is important to segment your leads so that you can send direct and personalized messages to each person about how you can help solve their particular problem. And this can be done automatically through Linked Helper.
You can try the tool for 14 day free – just install it on your computer and sign in with a basic or business account.
Download Linked Helper 2 and get 14-free trial right now
If you are not yet in our list of users, then join. We give you a trial version to start your experience with our LinkedIn tool.
Next, we will look at ways that will speed up the recruitment of an audience on this social network for business networking and, most importantly, make sure the audience is the most suitable for sales or further close communication. In this guide, you will learn how to find the right people and send requests in bulk, as well as useful tricks for managing connections.
Also, read in detail in the article on how to send numerous connection requests with maximum efficiency.
How do LinkedIn connections work & proven ways to attract them
First, let's figure out who your connections are. After all, there are 3 levels of connection in the social network, and for a beginner it may be incomprehensible. What do these numbers mean and what is the difference between users from different categories?
The numbers serve to indicate the degree of acquaintance and show how well you know a person (within the virtual business hub). Roughly speaking, these can be people whom you know personally, people with whom you have worked, or acquaintances of these people. You are not directly connected to them, but having mutual acquaintances inspires confidence and helps to appear higher in search results and in recommendations.
First degree connections are people who are in your contact list. You sent them or they sent you a request to establish a connection, which was accepted. You can write private messages to these people or invite them to groups – that is, you can establish close business cooperation.
Second degree connections are those users who are 1st degree connections of your contacts. Their updates may not be regularly in your feed, but you can often see them in the recommendations.
Third degree connections are users who are 1st degree connections of your 2nd degree connections. These are some of the most remote business buddies; you may not know them, but they probably know someone you know. Despite the more distant connection, you can see them first when searching.
By the way: Linked Helper allows you to collect emails automatically even from those who are not yet in your professional network. This can be possible thanks to a wide internal database of emails scraped from the network (it's called LH email finder) and integration with the Snov.io mailing platform. Read more about how to collect emails from people of 2nd and 3rd degree connection in the article.
LinkedIn also has the ability to follow a user or an organization's page. This is not the same as inviting contacts. Most of the actions you can perform with contacts of the 1st degree, won't be available if you just follow a user. Being a LinkedIn follower will just allow you to view the content these people share in your Home feed.
The reasons for expanding your 1st degree contact list are obvious:
The algorithm likes you better. Since the social network is interested in the quality of content and development, it will first promote those who have earned trust. If you have hundreds or thousands of 1st degree connections, then LinkedIn will recognize you as a trusted business partner or specialist and show you higher in the search results.
Your posts will increase your reach. You can often see reposts and publications in the Home section that have been commented on or liked by your contacts. Therefore, by expanding the network, you will be displayed to potential new partners in the feeds.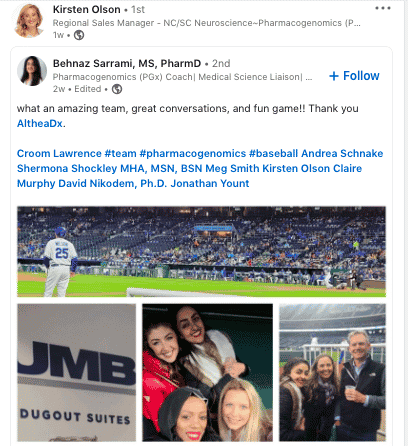 You can reach more people in private messages, and invite them to groups and events. Useful content and niche events are critical in business. Therefore, a wide network of 1st degree contacts will help you build deeper chains to increase sales and brand influence.
Top tips to grow to 500+ contacts within 1 week
Hire Linked Helper as your proven assistant
With this step, you will save yourself from the routine of visiting user pages, pressing the Invite button 100s of times, and even more, of writing all those messages. You only need to start the first "people campaign" during which you will get data on the right people saved in the memory of a single CRM.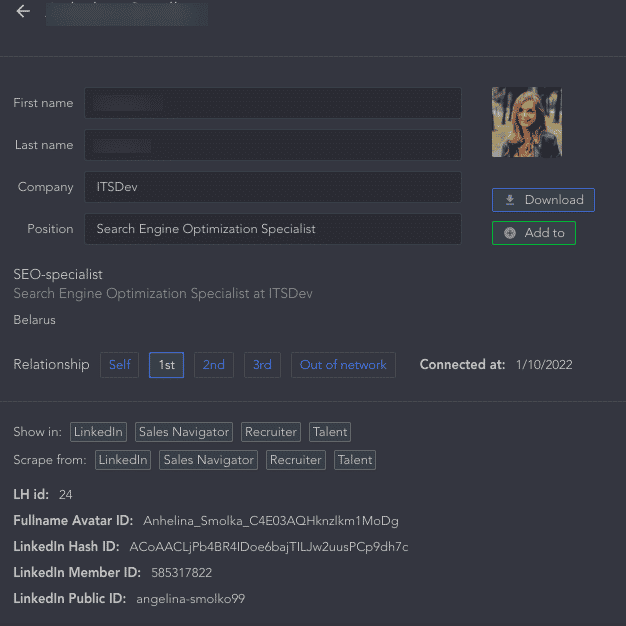 Also, by visiting the profiles you can arouse their reciprocal interest and receive incoming invites from them as they study your profile. This will save credits for outgoing invites in the social network.
Conduct narrow research of potential contacts
The more precisely you approach the person to whom you are sending an invite (that is, by making it as relevant as possible), the more likely the user will be to accept it. Therefore, to begin with, you should study the target audience and set target filters on the search page or check the selection of thematic groups.
Linked Helper allows you to choose important social network landing pages as a source for collecting profiles. For example, one of them: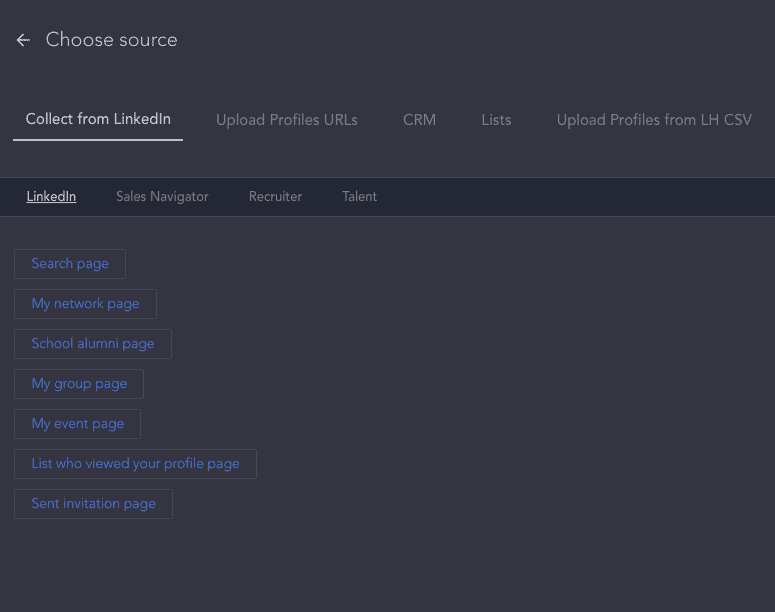 Search page. Here you can configure boolean filters or apply advanced packet filtering to the Premium or Recruiter service.
Niche groups. You can collect a list of all group members and send them bulk connection requests. By reaching out to group members in a group related to your niche, you can get more request acceptances.
Educational institutions. You may need to sort leads by an institution in order to connect with colleagues. In this case, the probability of an invite being accepted also increases.
That is, a narrow selection of those who are interested in you will lead to success because the connection will be useful for both of you. Sending to people indiscriminately, just for the sake of the number of connections, might be a bad strategy because people won't be interested in it. And such random relationships, in fact, will not make sense for sales.
Send a request to everyone who has already engaged with your content
People can view your content and your page, or like and comment on your posts, but for some reason still won't send you a contact request. Take the initiative into your hands and send invites to everyone who has shown interest or has studied your account.
This can be done automatically via Linked Helper (it would take you a long time to search for all these people manually). In the dashboard, you will find among the sources of collecting contacts the menu item "Those who viewed your profile."
Reinforce Their Interest With Warm And Relevant Text
You can attach a text to an invite or send a message automatically after acceptance. The decision is up to you. But sometimes the text with an invite helps to catch the attention of those who receive hundreds of invitations daily.
Specify why your offer is related to the person (it can be shared groups, an event, or users that you both know). Remember that you can attract more sales via LinkedIn if you respond to messages fast with an automated tool.
How to find mutual connections on LinkedIn and use them when reaching out
The presence of mutual connections may be the reason why your request will be quickly accepted. So it will be clear to the recipient from which area you may be familiar.
To find common connections on a page on the social network, you can follow these steps:
Open the My Network page. Here you will see incoming invites, as well as the People you may know section. These are basically your mutual acquaintances with someone who is already in the contact list. Such people are more likely to accept your requests.
Next, you can click on a specific person and view a list of common contacts. This list will be available via a link right in the profile header.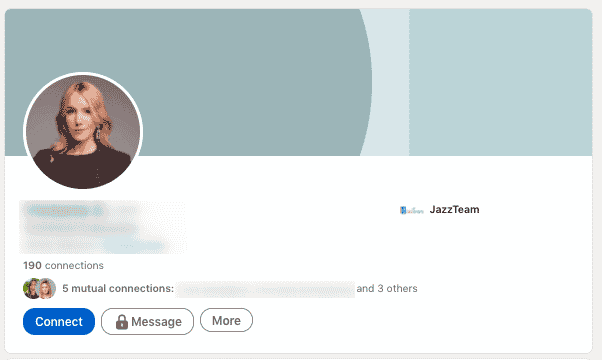 In Linked Helper you can see shared links right in the contact card in the CRM. This is convenient because you do not have to open the page on LinkedIn again to find common contacts.
You can download the CSV table with contacts. This will show the General Contacts tab. This can be useful if you need to quickly export your lead database to share with your team.
You can mention shared contacts by name in bulk messages. In the Pro Template Builder, users can set variable strings for which the smart robot will substitute the corresponding information. That is, you do not have to personally compose a message listing common acquaintances. Instead, the software will substitute the necessary names in the contexts that you enter.
Final tip: how to make connections private on LinkedIn
Sometimes in social networks we lack privacy. Even if it concerns the business community, your contacts may be confidential information. So if you're interested in keeping your network private, it's easy to do.
If you don't want other users to steal your leads, just follow this simple guide:
In the upper right part of the screen, under the icon with your photo, select Me → Settings & Privacy.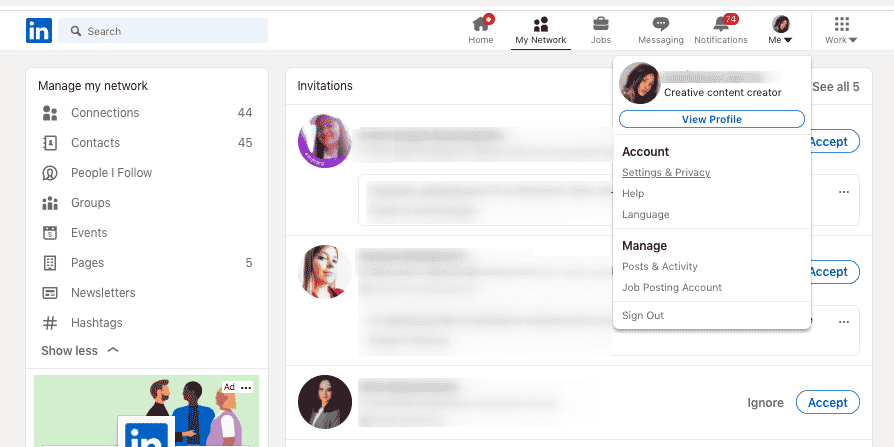 Click on the menu items Visibility→ Connections. Choose if your connections can see your connections list.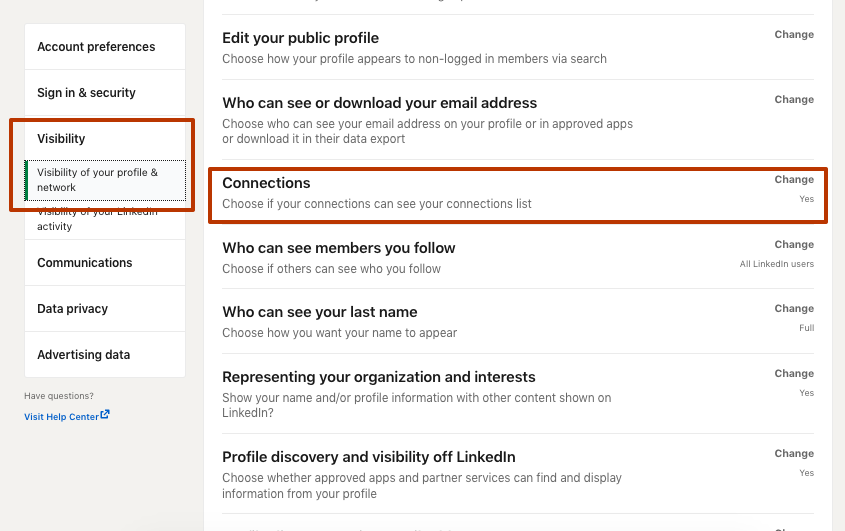 Set the slider to "No" to prevent people from viewing your first-level circle.

Now only you will see important connections, and LinkedIn will become a private address book.
Eventually…
Contact management and network expansion should be the first step in your social selling growth strategy. This will quickly raise your brand's reputation in the eyes of new visitors. Before actively interacting with new users, make sure that your personal or business page is fully prepared for this. You must have a personal and clear photo uploaded, a profile header, and a description containing your USPs and contacts for communication. This will help you get down to business faster – that is, the conversion of those potential leads that you are looking for on the social network.
Of course, by automating routine tasks through an auto-funnel, you free up your time for more important tasks. While the Linked Helper robot expands your network according to the given parameters, you will find new ways to reach the client, learn industry news, and improve your product.