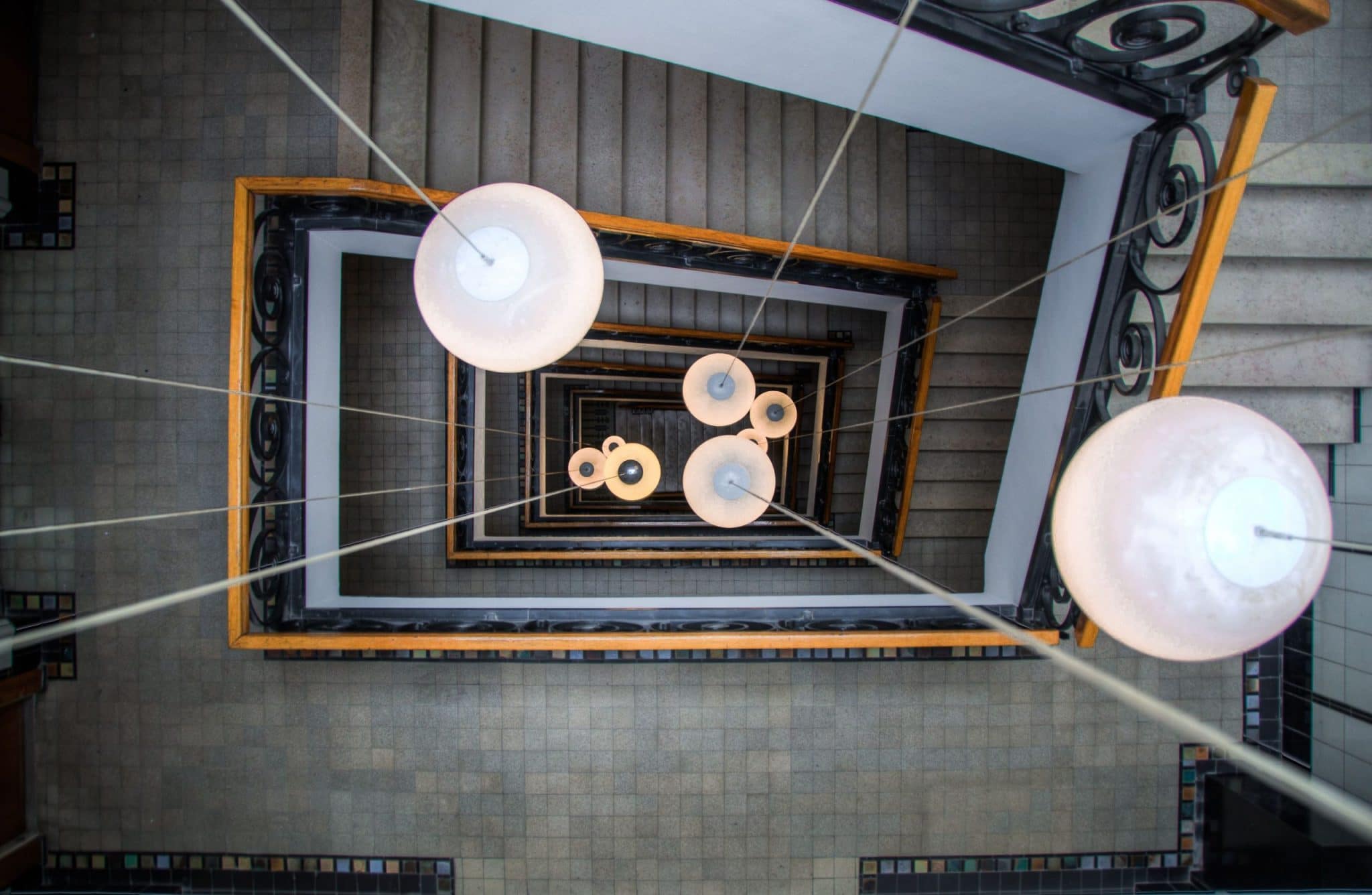 According to statistics for 2022, the growth of discussions on LinkedIn increased by 55%. That is, users have become more enthusiastic about business topics, joining discussions under posts, and scheduling online meetings and events. Yes, this is a post-pandemic world in which business and networking have gone online. It's time to apply social media for professional networking and make the most of it.
Like relationships in real life, in social networks an important quality is to constantly be in touch, to be in sight, and to be active. Let's agree that influencers have created a lot of successful content to be where they are now. Automation can accelerate your climb to success, whether you're promoting yourself or a business.
Linked Helper is reliable software that will help you find the links you need faster and be more active online without much effort. For example:
You can parse the data about leads before outreach to better understand your audience. Starting networking from scratch without knowing who your interlocutors are can be a mistake. Every text and even photo you share should have an audience in mind. Using LinkedIn's search capabilities, you can filter out potential leads. Then, with Linked Helper, you can collect data from the search page into a campaign and visit profiles through the data scraping software. You can also download all the data as a file to study the information and make a further plan.
You can automatically visit the profiles of thousands of people. The first step of a visit may be enough to attract prospective partners – everyone loves attention. And out of curiosity, people will want to visit your profile in return, which will cause the social network algorithm to consider your profile worthy of exposure.
You can automate every interaction step. Absolutely all the important tasks for networking – sending out connection requests, likes, following, leaving comments, outreach in PM, and even invitations to events – everything can be done for you by the software. If your task is to grow quickly and gain 500 contacts per week, and not per month, then this acceleration will be provided by the robot.
Indeed, for the software, implementing these actions will not involve any of the distractions of advertising and reading the news, or the drudgery of switching between tabs. Linked Helper will stay focused on networking tasks for you.
LinkedIn networking strategies 2022 – add automation to nurture contacts 24/7
Before you increase the cost and time of content production, you should focus on the invisible part of networking. The fact is that, usually, interaction between participants takes place in a private space – in private messages. This can be confusing because it's hard to figure out the right approach for new people. After all, you cannot know exactly what other specialists write to each other, which approach is more successful, and which messages are ignored.
Therefore, to begin with, you will have to determine your personal communication style. Before we get into the tips and steps of your strategy, understand that no one can know what will work best for your particular audience.
According to general trends in social networks, people in 2022 will appreciate a sincere approach and personification. That is, you should not apply a standard message to all. The narrower your audience is, and the more the message is tied to the profile of an individual, the more effective networking is.
Building relationships 2022: tips for networking on LinkedIn
Yes, you should not rush to add people to your contacts or invite them to your company page or to an event if you haven't put your profile in order properly.
LinkedIn guide to networking starts with your profile
Here every detail matters. Based on your descriptive texts, experience, skills, recommendations, photos, and publications, people will understand how to respond to you. Therefore, your profile should answer as accurately as possible the question of why it might be profitable for them to become your partner. How do you help people? What is your expertise? Do not hesitate to indicate personal achievements in the profile description.
We have collected 24 successful bio examples from various industries to inspire you when creating a profile.
Research & warm up
At this stage, nothing is difficult to do. You need time to infiltrate the professional environment and learn all about the movers and shakers. You can follow 20-30 influencers in your business area.
Don't choose people who are too popular – the person must be available to accept your request for connection. Follow the content, news, and activities of these people for several days to understand all the key topics.
Reply to comments under their posts. After all, these people already have the kind of personalities you're looking for: they are not indifferent and actively engage with the content. Keep up and do simple things on your influencers' pages:
Send them bulk invites to connect. This can be done through the software if you don't want to spend a lot of time. By the way, at the same time, the software can visit the profiles of these people, which will draw their attention to your own profile.
Leave comments. You can do auto-comments with variable strings via Linked Helper. This way you don't have to type the same message repeatedly.
Like posts. Set up an auto-action so that the community sees you more often in their Home section. When you like or comment, your name appears in the news. The more often you are seen, the stronger your reputation.
LinkedIn is a top social networking site – use built-in groups & events
Groups on LinkedIn are a kind of online hangout with your colleagues – only they are located all over the world and can quickly hear and learn about you. It would be a mistake not to take part in such meetings.
LinkedIn groups and business-oriented social networking
Groups on LinkedIn are a kind of online hangout with your colleagues – only they are located all over the world and can quickly hear and learn about you. It would be a mistake not to take part in such meetings.
Therefore, to begin with, select about 10-15 groups. It is important that these are active groups, so pay attention to the date of the last publication and the frequency of publications. Join groups and get involved in updates and discussions. Live networking in comments in groups will help your name appear more often in user updates.
Top hack: Linked Helper allows you to parse data about group members – it can be loaded into the software's memory and exported. You can also write mass messages to all group members, which is a necessary step to promote networking.
You can learn all the details about group marketing in our blog post.
Networking through niche events
If you are a beginner, then start by participating in events. This is becoming extremely popular on LinkedIn because you can find the latest conferences that you wouldn't even know about otherwise. Online chats, video webinars, and other forms of live communication will help you get to know your partners better and make close acquaintances.
Of course, for this stage your profile should first be full of links and content for people to discover when they visit.
Advanced level is creating your own event for your community. This is the chance to be the center of attention in front of your colleagues, present your business solutions, or share your experience.
Learn some good tips about event marketing on LinkedIn in our article.
How to use LinkedIn DM for network marketing: move on to a tête-à-tête conversation
When you are no longer incognito on the site, and your name appears in groups and comments, it's time to start personal interactions. One on one you will be heard better.
The first step is to implement connection requests into your networking funnel. It is important that these requests are reasonable, that is:
Precisely targeted – do not spray. Select a narrow segment and hit it. Let these people be your goal for the week.
Pay attention to details. Yes, your message will more likely be read and your contact request accepted if a person sees in it their name, a mutual connection, or your general niche of work – at least one of these.
In Linked Helper, you can increase the limit for sending invites from the allowed 100 to almost unlimited. This is done by sending invitations to your 2nd and 3rd degree connections, whose contacts you can get through the software. 
Linked Helper can send invites over the limit in two ways:
#1 Upload emails and links to accounts from a CSV file
In this case, the only limit is our recommended one – that you should send no more than 150 invites daily. For this method, the message in the invites will be the default one set by LinkedIn.
If you don't have a file with emails and links to target accounts, Linked Helper can collect data for you. This happens either through the Linked Helper Email Finder or through the service Snov.io (you will need a paid subscription to it).
#2 Inviting by using a LinkedIn undocumented feature is a way that is unique to Linked Helper among existing automation tools.

You can activate this menu item in the General settings of the "Invite 2nd and 3rd level contacts" action.
For this method, you can set a custom message when you invite.
There is a limit of 20 invites with messages per day using this extended feature with a standard LinkedIn subscription. There is no limit per day for the Pro licenses, but we recommend limiting yourself to 50-70 invites per day.
How does it work?
If the limit is reached and the option to invite through the undocumented feature is active, then LinkedIn will display a popup with the text "You've reached the invitation limit." But Linked Helper will close it and send requests further down the list. At first glance, it will seem that the invite failed, since LinkedIn issued a message that the limit has been reached. But in fact, the invite will go through, and on the page of sent invites you will see that the invitation has been sent.
Try this action funnel to reach 10X more people than you could by doing it manually:
The first action is to invite 7X more people through the software's email database. In this case, it will not be possible to attach a personalized message, but there is a workaround for this – simply write a personal message immediately to everyone who accepts your invite in the next step.
The second action, then, is a mass message to everyone who accepted your invite. Now these people will be your 1st degree contacts, which means you can personally write to them in messages. Use custom strings in the Template Builder to make each text look unique.
You can also attach a video through the insertion of the URL of the video.
Those contacts that will accept your invites, as well as those who reply to your messages, will be visible and stored in the memory of Linked Helper. You can even download the history of correspondence to evaluate people's responses.
Despite the fact that routine tasks will be performed by the system, such networking will be human in nature. Human-to-human marketing is the foundation of your social selling and community growth.
Increase the networking effect & speed: sending invites without limits
What is unique to sending invites through Linked Helper? You can accelerate the growth of connections in less time thanks to the undocumented feature (described above) and the LH Email Finder.
Search mails through LH (Linked Helper) Email Finder. It works simply:
Customers agree to the terms of use.
The software uploads 1st degree connections from the client to the database.
In exchange, when you send invites, LH shares emails of your 2nd and 3rd degree connections, which were provided as 1st degree connections by our other clients who agreed to the terms.
Thus, when using LH Email Finder, you get emails that are linked to LinkedIn accounts. This greatly increases your conversions.
After all, you can accelerate the growth of connections in less time.
In order for the software to operate through emails, bypassing social network limits, a special mechanism is used. You may be wondering how this works:
LH (Linked Helper ) takes a profile from the list you specify. It searches for an email via LH Email Finder or Snov.io.
If an email is found, LH goes to the Contacts page, clicks the Add more contacts button, and selects the Invite by email option. The tool ends up on this LinkedIn page.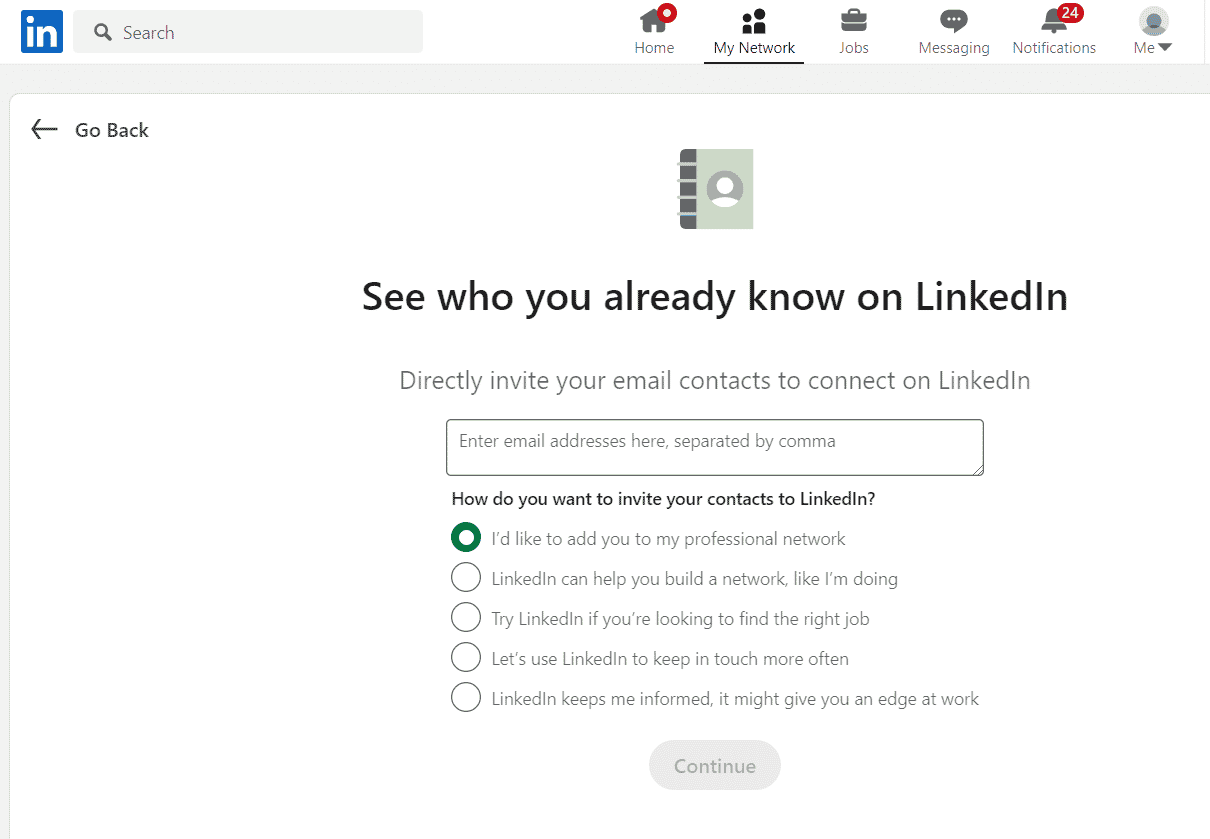 The email is inserted into the field and an invitation is sent.
Then LinkedIn itself checks if there is a profile associated with this mail in the database.
There may be no email in the LinkedIn database – for example, if you parsed this email through Snov.io. In this case, LinkedIn itself (and not LH) sends an invitation to this email from its domain. The message looks like this: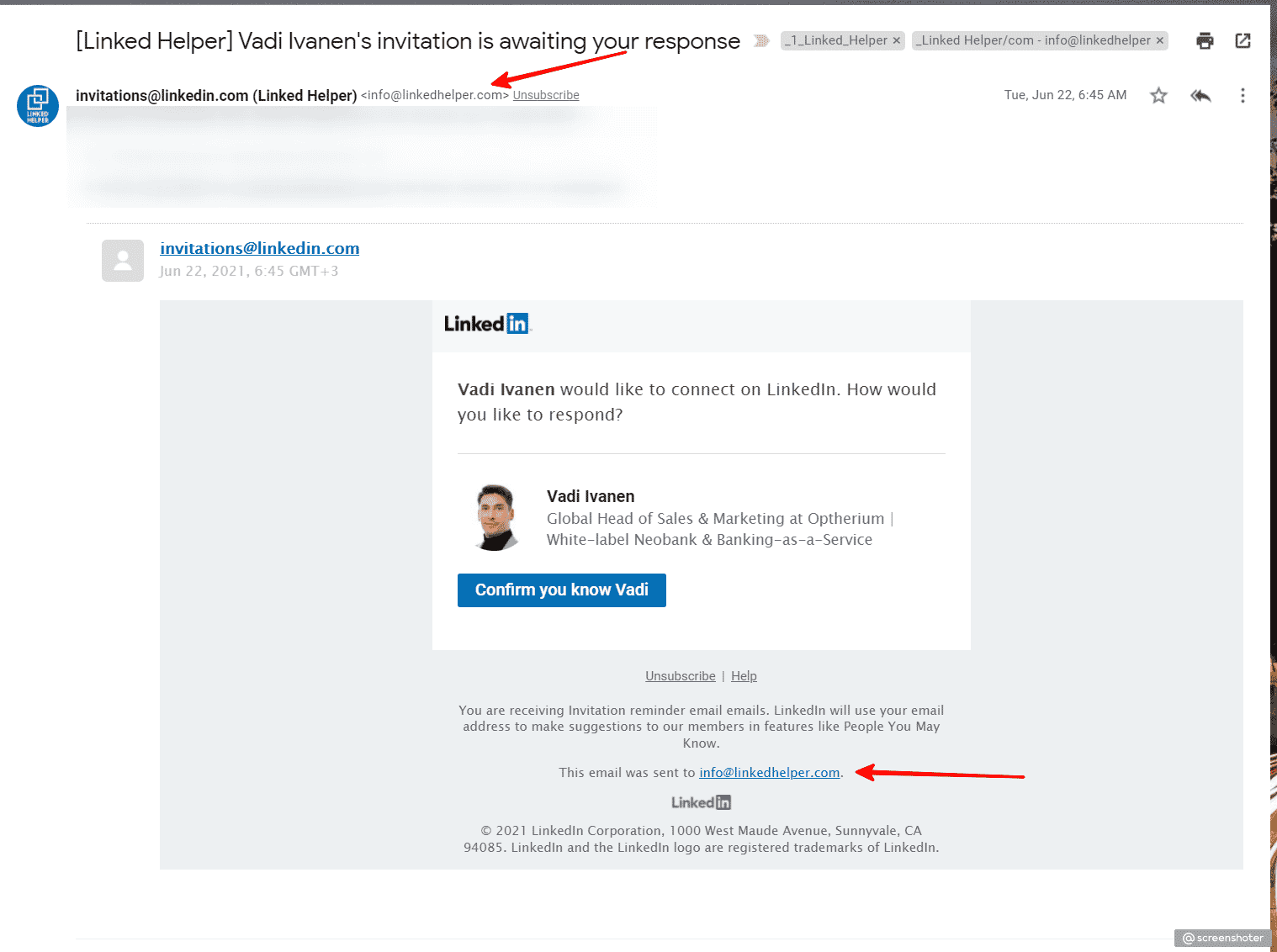 If the LinkedIn account associated with this email is found, it is most often the personal mail that is collected from the internal database of LH Email Finder. In this case the invitation will also appear in the recipient's LinkedIn account, and not just in their mail inbox, as in the screenshot below:

So, the difference is in where a person will receive an invite: in their email or their LinkedIn account. And as a rule, there are more associated mails in the LH Email Finder, so more recipients will receive an invite via LinkedIn. In Snov.io maybe 10 – 20% of the emails are associated with a LinkedIn account (this is the percentage of people who register LinkedIn accounts for their work emails).
Thus, LH Email Finder is a unique and valuable feature in Linked Helper that assists you to get LinkedIn-related emails and boost your network.
You can increase your invite acceptance rate by simply increasing your reach – it's simple math.
Therefore, if you have an email database of potential leads and profile URLs, the software will find these people and invite them to your network.
Add "cs_email" column with email addresses to the table generated by Linked Helper. The column "Profile_url" contains a link to the lead you want to invite, and "cs_email" their intended email.
The invite is sent to the email. But since there is no way for LH2 to determine what LinkedIn account is associated with the email (or which LinkedIn user uses this mail), LH2 uses the URL to the lead. The robot monitors whether this lead has appeared on the My Network page, i.e. whether they accepted the invitation or not.
Therefore, it is important to use not only an email but a URL+email pair.
How to get a file with target emails and URLs from scratch?
Linked Helper will also help with this. The software has several options for searching and parsing the database of target emails and links. As we mentioned above, they are: the "Find profile email" action, the Snov.io database, and searching across LinkedIn email fields.
In this smart way, you will get a ready-made database of working emails that you can use further to establish connections. By the way, when the software searches for an email, it visits a person's page (as a real user) on your behalf. And this works to your benefit because, by the time a contact request is received from you, the person will already have seen your name in their notification and may have checked out your profile in response.
To sum up – growing your LinkedIn network takes time
Networking is an activity that should be given time every day so that it bears fruit. This is important for promotion, establishing business connections, searching for ideas, and sharing experiences. But you can lose patience because there are a lot of distractions for a person on the social network, such as advertising, funny memes, videos, etc. If you want to make networking a startup strategy, we recommend trying the Linked Helper automation software. It's free for 14 days. You can test the main features of the service and compare the effectiveness of manual interaction and robot assistance. LinkedIn is considered the best social network for lead generation, so your network connections may instantly pay off.
Explore how to boost networking for growing your webinars through educational drip campaigns.