LinkedIn is a social network that sooner or later you should start actively using, even if you are not looking for a job. It can be a great opportunity to make a name for your brand or find potential customers so if you're not already on it, at some point you need to join. At that point, you will become a newbie in a community where there are already 9 billion content impressions – that is, quite high competition and content requirements.
If you have just started looking for leads, connections, or employees through LinkedIn, you may have a lot of questions. You may not even know how to automate the tasks necessary for promotion. You can achieve profile growth faster with the top bot, Linked Helper – even if you're just getting started on this social network, with this essential tool you can bypass invite limits and reach more people through bulk messaging.
Download Linked Helper 2 and get 14-free trial right now
If you are not yet in our list of users, then join. We give you a trial version to start your experience with our LinkedIn tool.
If you are looking for ideas for your account description and want to understand how to stand out, Linked Helper can be useful in analyzing the profiles of hundreds of competitors. For example, you can scrape profiles of people or companies directly from the search page according to your filters. After that, you can download a selection of profiles as a file – you will have a complete business database of account descriptions, links to the sites, contact details, and more. This will help the newcomer to the community get to know the market better and beat the competition.
Next, we will look at a growth strategy in this social network that is suitable for novice specialists, recruiters, marketers, sales managers – everyone who wants to fully optimize their work on LinkedIn.
LinkedIn tips for beginners 2021-2022 to get more connections
Unlike other social networks where it is important to attract the attention of the audience in a short time, for which just a beautiful picture is often enough, content is important on LinkedIn. This is worth understanding and remembering for all beginners.
If you have an empty profile without reviews or links to your work, you should not expect audience involvement and reactions. Of course, it may seem difficult for you to write from scratch about your career achievements. It is always interesting to understand how others do it in order to highlight your own unique advantages. It may be your price, speed of work, narrow expertise, participation in events, or other results that are important in your niche.
Studying competitors or target companies' accounts
Ideally, you should look at profiles of similar professionals in your industry and read their company profiles. You can go deeper into competitors, potential partners, and target companies, and scrape their data, including emails. The data will be visible in Linked Helper's CRM or can be downloaded in CSV format to your computer.
Also, all data on your further interaction with these people will be conveniently kept in the CRM. For example, you can parse a list of your colleagues around the world, which will be saved as a ready-made list for automation. You can assign these people as a target for liking, leaving comments, or auto-sending invites to everyone at once.
By the way, when you parse data through the software, the robot visits each of the specified profiles. And as you know, visits are visible on LinkedIn and frequently generate reciprocal interest. That is, by visiting more people, you will attract additional traffic to your page. That's why it is important that it should contain all the important data about you!
We move on to creating the right first impression.
LinkedIn profile design is vital for beginners
Everything you write about yourself and what photos you upload will influence people, their actions, and their behavior. For example, if they are hooked by a phrase in your bio or like your photo, they are more likely to offer to collaborate with you or accept your connection request.
For beginners, we have made a guide with examples of 24 successful bios of sales professionals. You can take inspiration from these examples or collect data on people in your niche.
You can also study the guide on creating a personal account. All attributes are important here, especially those that are visible from the search page – because people who are looking for you see hundreds of similar accounts (your competitors) in the search results. Therefore, a good photo, headline, and description key skills can really increase your organic reach.
When analyzing the profile photos of successful users, we noticed that photos with a smile are more common. Also, the face should be close-up and you should be alone in the photo.
Help clients to find your profile
Keywords will help with this – they help interested people searching for you through the internal search on the social network and even people who search through Google. After all, pages in social networks rank higher than, for example, a recently created website. They are indexed higher.
Therefore, add keywords that potential customers search for. We shared tips for SEO profile optimization in a blog post.
For example, if you have created a job search profile and you are a marketer, indicate the key skills by which you can be searched directly in the summary. This may be the specifics of your activity, such as digital marketing, IT marketing, marketing in the industry, etc.
You can find tips in the PDF infographic How to use Linkedin for beginners 2020.
Start connecting with the first contacts
When people see that you have many contacts, it gives them more confidence in your work. Also, those members who have a lot of connections tend to be higher in search results and in recommendations.
It is not easy to gain such a number of connections if you are a beginner. You can read detailed instructions on expanding your network in this blog article.
Linked Helper will help you reach more people in a short time. For example, it is possible to get the desired 500+ contacts in a week. Here is how:
Sending invites in bulk really works. You can assign a list of target people and the tool will go to each one to send an invite. In this case, you can attach a bulk welcome message that they will immediately see. The actions of the software will not differ from your own in any way, but you will save a lot of time expanding your network.
The limit of 100 invites per day will not be a hindrance for you. Through the software, you can reach more people by sending requests through the email list. The tool will find people's profiles by linked emails and send invitations for you.  Invite via an undocumented feature is a unique workaround from the Linked Helper developers. The bottom line is that after reaching the limit, the software will continue to send invites, they will also be visible on the lead's email. In this case, you can insert a custom message for everyone.
Who should you send invitations to first?
You can start with your connections from educational institutions. It could be a school, college, or university. Linked Helper allows you to assign a page of an educational institution as a target page for parsing data about participants.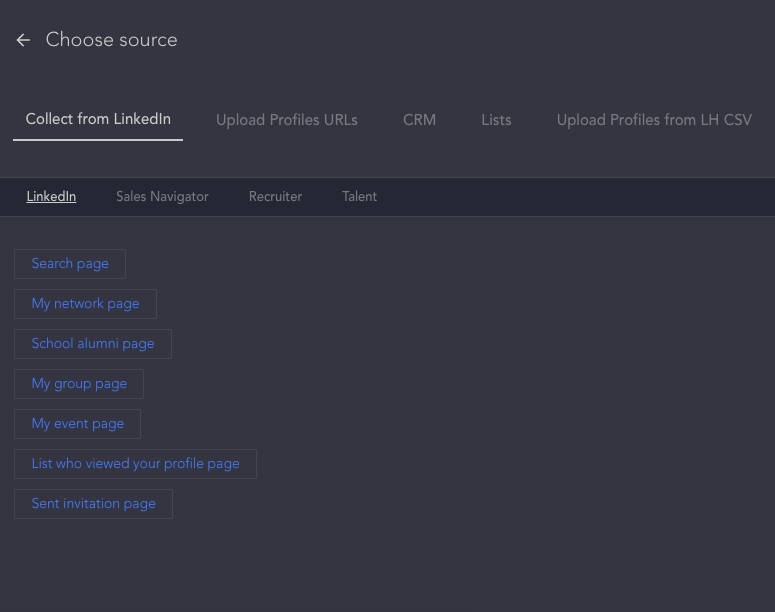 That is, you can find everyone who indicated your university on their profile and write to them that you studied together and would like to follow their updates and news in their industry. It's also a great chance to get recommendations on the page.
For example, you can write to former teachers for a recommendation if you are looking for a first job. Recruiters will definitely like this in a newbie profile.
Fill out your profile with content
Creating and reusing content will help you get more engagement and show up in the feeds of the larger community. Every time someone replies to your post, it shows in the updates of other users who are contacts.
How do you know what content your audience will like?
An important rule is that it must carry value. However, it is not necessary that you create this content yourself. You can share research and articles that are important in your field of work. This will be of benefit to the community. You can also download content (videos or photos) from other social networks to share on LinkedIn.
Active interaction
Your actions are a reminder of your existence. Whenever you visit someone's profile, or like or comment on their publications, you are more likely to be noticed.
You can quickly get tired of having to spend hours doing this on the app or the social networking site. After all, this must be done every day. Therefore, the use of automation will save you from having to spend many hours online. You can start the robot and it will actively conduct these actions on your behalf.
You can add multiple actions to the Linked Helper action funnel. For example:
Like everyone who is important to your growth, for example influencers in the industry. The more often your name appears in their notifications, the better.
Write comments on posts. This will also attract the attention of those who read the comments – that is, the subscribers of this influencer. Just what you need.
Auto-invite. After a day or two, you can send invites to these people to establish contact. After all, they may have already viewed your profile, or at least seen your name.
In Linked Helper, you can set custom pauses between activities in a funnel. For example, when you launch the software, it will perform actions after the specified number of days. I.e. message #1 may be sent today, and message #2 will be sent 3 days after the first message.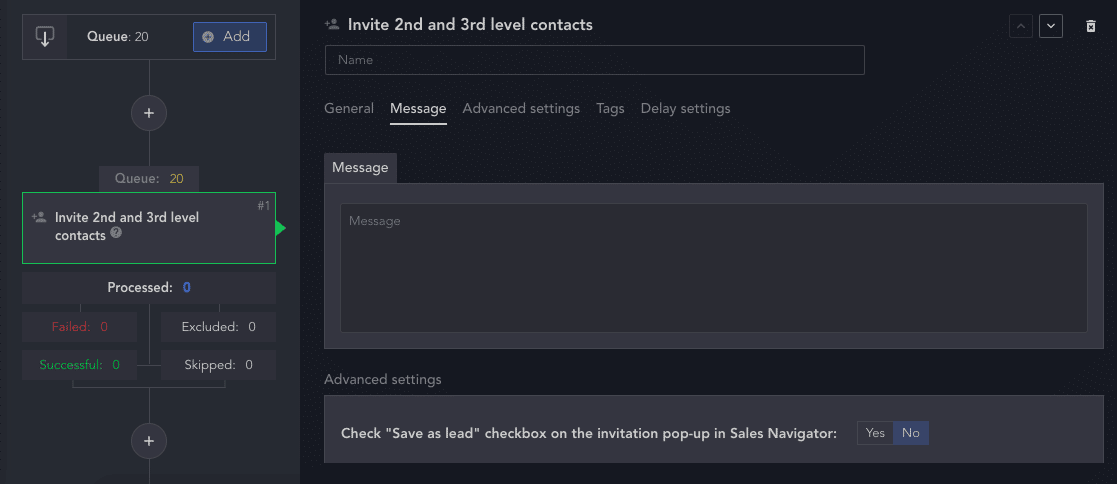 Grow faster through groups
All common activities in the community are important. There are many niche groups on LinkedIn for almost every industry – and people are active in them. That is, they share their experience, and links, and invites to events.
So, by expressing your opinion and sharing content in groups, you can make successful professional connections – this is how social selling works in 2022. Now you don't even need to speak at public conferences often. Good content or thoughtful commentary can promote your personal or company brand.
Through Linked Helper automation, you can improve your group marketing. For example, parse data for all members of a group or automatically write to all participants.
This will help you quickly organize your marketing in groups.
The next stage in your profile development funnel may be organizing an event. And who can you invite to the event so that it is relevant to them? Members of profile groups where you are a member. And all work to create this funnel for thousands of people can be done automatically through automation.
Read our LinkedIn Event Promotion Guide to bring value to strategically important leads. It's also suitable for beginners!
The wrap-up
Being a newbie on LinkedIn may not be as easy as on TikTok or Instagram, because the algorithm of this social network is different and the requirements for expertise are much higher. However, through this site, you can find real clients or make them notice you themselves.
By promoting your profile with automation capabilities, growth will take you less time and your reach will be many times higher. You can trust Linked Helper because it's independent software that, unlike many browser extensions, provides increased security. It is also convenient that all data about important people in the network will be available in the CRM's memory, even if the person is not your contact yet. That is, you can make collections of leads or bloggers and save the lists in your work software. You can try Linked Helper free for 14 days and take the first steps toward growing your account.