According to LinkedIn statistics, 31 million sales professionals are currently represented on this social media platform, and all these people might be your rivals for customers in competitive industries. Given the high rivalry, it is crucial to stand out with a cohesive profile, focusing on the summary. This section is located at the very top of the page and attracts attention when potential partners or clients open the profile the first time.
A perfectly polished sales bio for LinkedIn can become your advantage and help you sell more directly from the LinkedIn profile because that's where your customers spend time. According to statistics, the most in-demand and the most saturated industries in terms of the number of sales managers on LinkedIn are the following:
Information Technology and Services
Hospital & Health Care
Construction
In this article, you will discover 24 striking LinkedIn summary examples for sales managers in these three top niches.
What's more, we'll uncover an effective tool to explore competitors' bios in your industry without the need to open each account manually. Even if you don't find suitable examples in the niche in which you work, you will be able to independently explore hundreds of sales descriptions for LinkedIn with the Linked Helper. This service will parse profiles based on a keyword query, region, and industry – and you'll be able to download them as a convenient spreadsheet with the text column "Summary."
Why is a LinkedIn bio for sales extremely vital to think over?
Beat competitors for clientele. Since the summary occupies a strategic position on the account page, it will encourage interested users to continue flipping through your profile, view all the activities and promotions, go to your selling experience, and so on. A well-written bio helps to highlight your competitive advantage among thousands of LinkedIn sales accounts.
Sell more. Numerous sales managers use their bio to promote the product or company they are currently working for. Using a LinkedIn summary this way will be useful for growing sales since it can be found not just by employers, but also by potential clients. Your presentation may well become a product presentation.
Get boosted in the LinkedIn search engine thanks to keywords. Your offer, product, or company can be found through Google. For example, potential leads can conduct market research and find your profile on LinkedIn. By adding these keywords the visibility of the page increases and the new prospects may find you faster. It is worth mentioning the niches and specialization in which you work as keywords because clients may use these words in the search.
If you know the following 10 tips, structures, and top mistakes, you'll get tons of ideas for a sales manager description for LinkedIn that will present you as a specialist and increase the flow of customers. Let's start diving into the perfect bio with the insights we found in the top profiles in the trending niches all over the globe.
Download Linked Helper 2 and get 14-free trial right now
If you are not yet in our list of users, then join. We give you a trial version to start your experience with our LinkedIn tool.
Key takeaways: LinkedIn professional summary for sales reps
It might be scary to start writing something about yourself from zero. Even if your record is great, and you have tremendous work experience, it might be tricky to structure information in order to fit into character limits and find the right phrases while remaining creative and humorous. Find more examples from LinkedIn influencers in our post.
10 tips to attract more clients via your sales representative LinkedIn summary
Apply all these tips in practice and you will be surprised how much simpler it will be to find leads on LinkedIn.
#1 Conduct competitors research & open your CV before writing
Before writing, you need to do some research. As we have already mentioned, the most efficient way to study a myriad of profiles in a specified niche and locations is to use Linked Helper. The instructions will be explained further.
Before diving into writing, a sales manager should inspect several LinkedIn summary examples to define the USP.
After you study competitive profiles, it will be effortless to formulate personal characteristics that are unique. It'll be crystal clear how to stand out from all other similar profiles that a person who is looking for a sales specialist can view.
So, begin with research and open your CV in the next tab. When you have your experience before your eyes, your awards and your achievements, your results, the companies you worked for, and the courses you completed, it will be easier for you to compare and start writing.
Remember, it's always hard getting started from scratch. That's why by analyzing others you'll find more words and insights to present yourself in the most favorable light.
#2 Try to voice record your summary before writing
Sometimes managers even hire specialists to create the best-written LinkedIn summary for sales just because they believe that they don't know how to write well. But the writer's block can be effortlessly beaten by speaking.
Particularly, sales reps are probably more used to communicating with people by talking. Therefore, it will be much easier for you not to write your bio via the keyboard, but to open voice input.
Now after reading the competitors' descriptions and looking at your resume, try to dictate what you want to say in free form. Formulate it as you would tell it to a friend or during a personal interview.
In this case, your LinkedIn About section will turn out to be more lively, easy to read, and effective as a lead generation tool for sales.
If you start writing right away, the summary could look a bit boring and too formal, while recorded speech is easier to perceive. Then we will edit this piece of text and enrich it with keywords in order to polish it perfectly.
#3 As a sales manager you should talk about products for sale
The trick is used by many sales managers in Healthcare, IT, and Construction. Instead of focusing on their achievements in the summary, or combined with their achievements, they boost sales by writing about their product and about their company.
In this way, you will be able to accelerate your current job results and increase sales since some users may search for the company on Google. Now they can find your profile on LinkedIn and may want to contact you as a sales specialist, which will positively affect your earnings.
So, several paragraphs in the sales manager bio could be services or products you are currently working on. This trick will distinguish you as a good sales specialist for recruiters as well, because if they want to invite you to a new position, the employer will see that you are entirely devoted to the product and don't miss an opportunity to accelerate sales.
#4 A good description is not necessarily a lengthy one
During the research for writing this article, we noticed that a top profile description should not always take up all 2,000 allowed characters. A myriad of leading specialists shorten the description to 500-700 characters. You'll find the examples below.

Therefore, you don't have to write an essay or some kind of article; two well-structured paragraphs might be a perfect fit.
However, even a short, concise text may contain bright facts about your personality or emphasize a unique selling proposition, showcasing your inner potential and achievements.
#5 Put important things in the first three lines
The first three lines should express the main idea since users only see these lines unless they select the item Read more.
Usually, in the first lines, specialists write how they help clients. It could also be a creative, multi-word headline that speaks to your specialization.
#6 Optimize with keywords
This is a crucial point, especially for novice sales specialists. Thanks to keywords, if you don't have experience in numerous projects, significant achievements, or high positions, you can still stand out and get promoted in the algorithm.
The fact is that the LinkedIn algorithm reacts to keywords the same way Google does. So SEO-optimized headlines, summaries, experience, and skills will attract the right opportunity.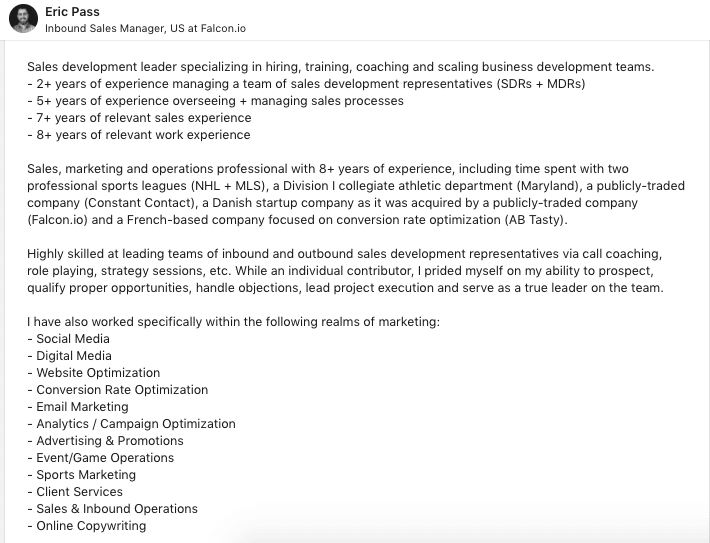 Aim to list keywords for services and products that customers can potentially search for.
Clients can type in LinkedIn keywords including parts like "agency," and "company" for a targeted search for a company. Keep that in mind and mention specialization of your company in the description
You may use keywords by which the website of your company and your services are found in Google. Then, for these requests, potential clients will find your LinkedIn account.
#7 The long text should be visually pleasing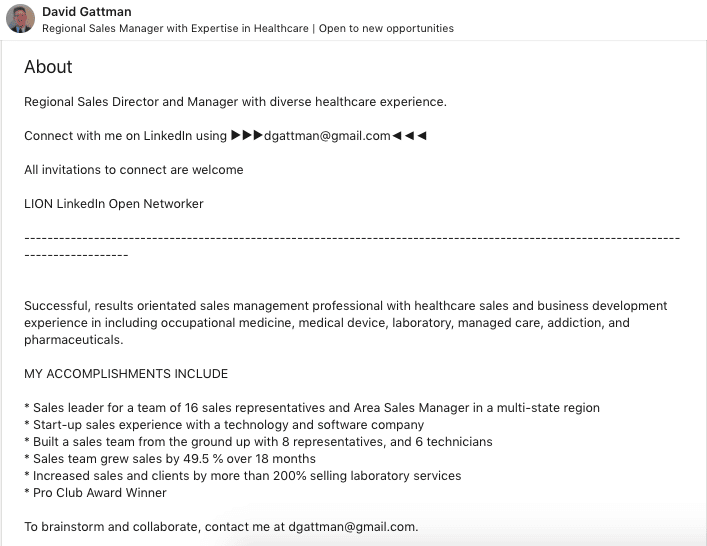 If you end up with a lengthy text after doing competitor analysis and voice recording, please don't leave it like that. This piece of information you have been creating will be simply overlooked if you won't let this text breathe.
Below you'll find examples of the most aesthetically pleasing descriptions – you'll understand that these summaries are much more readable, and the facts make a more significant impact on readers. What's more, use of visual techniques will help you to highlight some crucial points that you want to draw the reader's attention to.
To do this, you can use:
Paragraphs – define your thoughts logically.
Caps lock – highlight some crucial words and expressions.
Lists – use them instead of comma-separated series in the text.
Emoji – 1-2 emojis helps to consume information.
Characters – you can copy and paste special symbols to emphasize vital data.
#8 Season achievements with personal interests
This trend was noticed during a study of LinkedIn summary examples for sales reps.

Many outstanding managers whose track record is impressive add to this section some hobbies, life motto, and philosophical thoughts – characteristics that distinguish them more like a person than a specialist.
For example, you can see that sales reps add their achievements in other areas, some personal projects that do not relate to sales, which may also add an advantage in choosing your services. Hobbies, sports, attitude to family, and leisure might help better understand what kind of person you are at work.
#9 Add numbers to make the text convincing
Take a close look at the description you have now, after all the dictation and edits, and be sure to add several numbers. The fact is it is much more difficult to perceive achievement without specific numbers. So, including specific sales efficiency indicators, like revenue growth for a certain period, will help people to evaluate the information faster and understand better that you are a results-oriented sales manager.
Also, several numbers help the block of text look more appealing and aesthetic.
#10 Contact details
The LinkedIn Contacts section has limits, so in the description you can write all possible ways to communicate with you. That is, there should be not a single way to contact but several options (email, WhatsApp number, etc). In many profiles of top sales reps, you will find contact details right in the About section. Therefore, think in advance about how you want to be contacted by potential clients.
Summary structure сhecklist to sell more
Create a sketch or enter everything you want to say about yourself using voice input.
Add keywords.
Structure the text with lists, caps lock, emojis.
Create a catchy headline. The fact is that only the first three lines are visible on LinkedIn, so try to fit all the important information that you want to convey in these lines. It should be highly concise.
Add a USP. As a wonderful sales manager, you should know what makes a USP, and how to stand out from competitors. It can also be your mission. Just answer yourself the following questions:
Who do you help?
How do you help?
What makes you different from the competition?
Add a list of skills, aka keywords.
Define your industry. Since the specifics of sales differ in different industries, mention all the areas in which you have worked as a salesperson.
Add measurable work results. Experience doesn't always prove that you bring sales and real income. Therefore, in order to demonstrate the achievements, it is better to use figures, showcasing actual increase in profits.
Contact details + CTA. Contact details are a valuable invitation to get in touch with you. Even if you don't view messages on LinkedIn, people may reach out by phone or by email.
Avoid these mistakes for professional summaries for sales reps
We won't spend too much time on mistakes. Most importantly, remember that if you are fighting in a battle for a workplace and you don't have significant achievements yet, such as positions in trusted companies or large revenue growth, you can still beat the competition via the summary.
The first mistake for novice specialists is to leave this field empty.
The second mistake is copying the information that is already presented in other sections of your profile.
The third mistake is a detailed description that is not divided into paragraphs. People will just be scared by the amount of text and will not read into the details.
Now we move on to the best 24 LinkedIn summary ideas for a sales manager that will help you to start practicing.
24 Sales manager LinkedIn summary examples in 3 top industries + templates
In this section, we will look at 24 LinkedIn professional summary examples for sales directors and managers in IT, Hospital & Health Care, and Construction.
7 LinkedIn summary examples for sales executives
After studying dozens of examples of descriptions for salespeople, we have highlighted the techniques that can be used in particular by a sales director for an outstanding LinkedIn summary. What should be included in the description to increase the chances of reaching new customers?
Personal mission. How are you helpful to the client?
Company's mission. How does your product help people?
Specialization. In which markets and with which products do you work?
Your company's competitive advantage. Why is your product better than similar products?
Contact data. How can customers reach you?
#1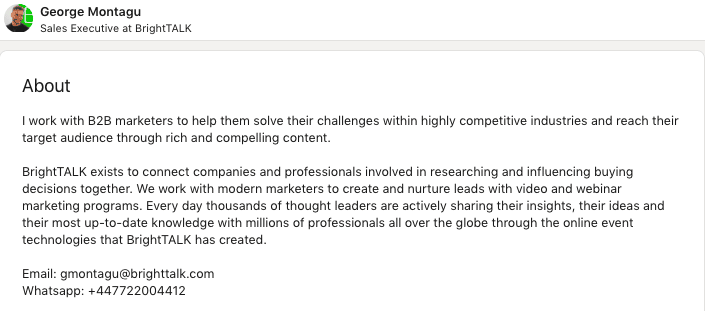 This LinkedIn summary is worthwhile for a compelling structure and can be used by a sales executive. In the first paragraph, clearly outline your role and mission in the company. For example:
I work with [ who are your clients?] to help them [ how do you help?] through [what methods do you apply?].
In the second paragraph, reveal the company's mission, which will reflect the competitive advantage of your offer. Describe whom and how your products help to encourage users to learn more about them and try them out. For example:
[ Your company name] exists to [ what is the purpose of your business?]. We work with [your clientele] to [reveal in more detail how your product is useful to the target audience].
At the end, leave contacts that may be useful to customers or future partners. For example, email and WhatsApp number.
#2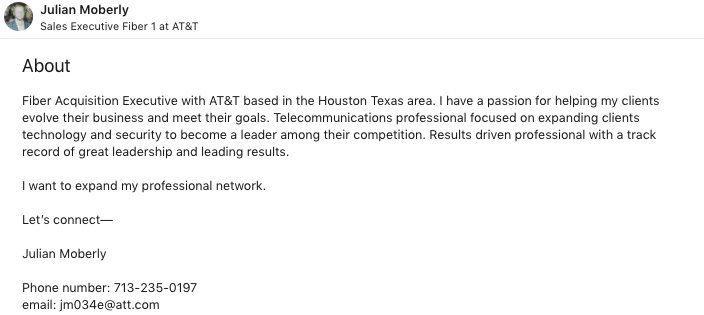 In this LinkedIn description for sales director, the mission of the company combined with the mission of the specialist are emphasized.
I have a passion for [ how do you help clients?]. [Name of your niche] professional focused on [name the specialization] to become a leader among their competition.
Use a CTA combined with contacts. This will encourage your target audience to connect with you.
I want to expand my professional network. Let's connect.
#3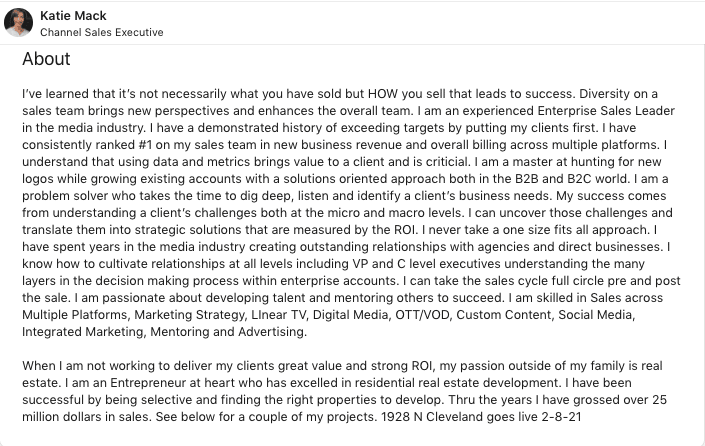 This bio is a great example of how a sales executive demonstrates customer orientation in a LinkedIn summary.
I've learned that it's not necessarily what you have sold but HOW you sell that leads to success.
Particular attention is paid to the personal approach to clients and the benefits they receive from cooperation. Important figures are given, such as sales volume.
My success comes from [ how you solve clients' challenges]. I can uncover those challenges and translate them into strategic solutions that are measured by the ROI. I never take a one size fits all approach.
Thru the years I have grossed over [insert your number] in sales.
A little information about personal interests and projects will help you find even more clients, as their needs may be related to your achievements outside of work.
When I am not working [to deliver my clients great value and strong ROI], my passion outside of my family [reveal your passions].
A call to action is an invitation to visit links with projects.
#4

The simplest technique that you can use is to write down the mission of the company in the About section. In this case, when searching for a company through Google or LinkedIn, potential leads can discover your profile.
At [company name] our mission is [what do you aim to do?] with [name your methods].
#5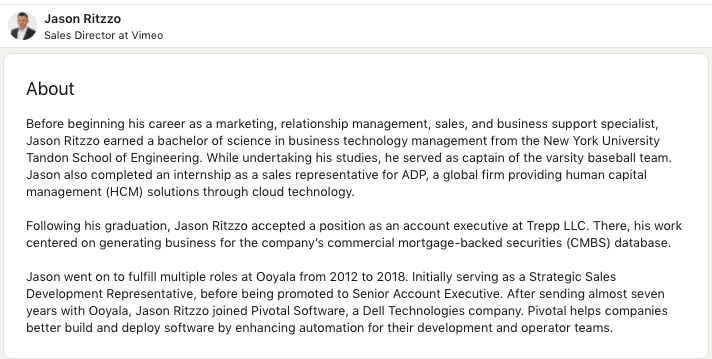 ​​Tell the readers what happened in your life before your brilliant career as a sales director and how it influenced your choice of profession.
Before beginning my career as a [name your position], I [ tell them what you did before your career]. While undertaking my studies, I served as [list the achievements during your studentship].
#6

If you think that brevity is the sister of talent and don't want a long description, try this pattern. Only four sentences can reveal your professional essence in a sales director LinkedIn summary.
A [name personal traits] with X years of outstanding performance in [your niche]. Passionate about [name your favorite things]. Recognized for [mention your strengths].
#7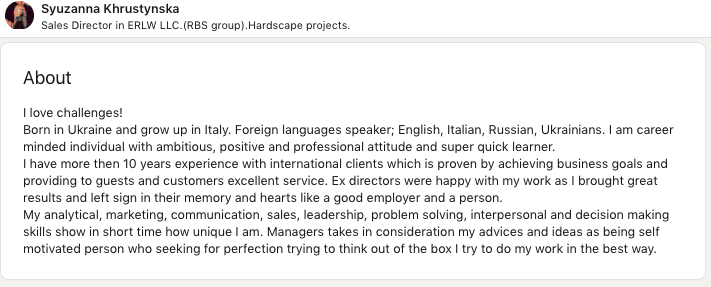 Pay attention to this good example of a summary opener. A LinkedIn summary for sales professionals should catch on from the first words, because not all potential clients will want to read further.
[I love challenges!]
List the languages you speak. Communication is an important advantage of a sales executive.
Foreign languages speaker [list languages]
An explanation of what distinguishes a specialist from competitors:
My analytical, marketing, communication, sales, leadership, problem solving, interpersonal and decision making skills show in a short time how unique I am.
5 LinkedIn summary examples for sales professionals in IT
#1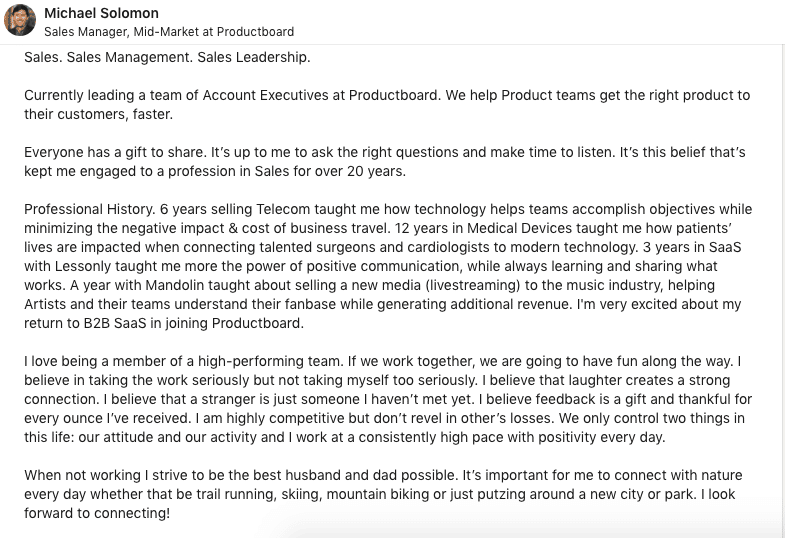 Key takeaways:
In this sales executive LinkedIn summary, you get hooked from the first with a simple yet genius title which is made of three separated keywords. Сustomers may become interested in a creative headline and want to explore the profile in detail.
[Sales. Sales Management. Sales Leadership.]
These words can be three main specializations or three advantages.
Here we can see how salespeople can state clearly how they help customers. This will be your mission or a unique selling proposition.
We help [uncover your mission].
Add your professional beliefs or philosophy. It can be a short motto linked to your experience.
[ Name your belief]. It's this belief that's kept me engaged in Sales for [X years].
Tell them what each place of work has taught you about. This way, you will confirm that your professional skills are the result of the experience and training that you have been going through every day.
Share personal values and beliefs. Such points will help build trust among potential customers.
I love being [name your points]. I believe in [ your points].
When not working, I [what do you do?]. It's important for me to [ what activities are important for you?].
CTA
I look forward to connecting!
#2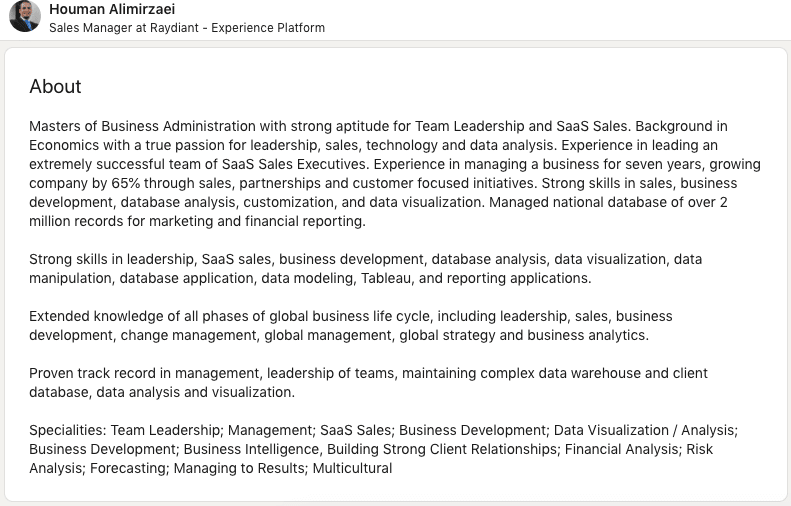 This example of a LinkedIn summary for sales professionals is also worth taking note of.
Here we see that figures organically confirm the experience. When you back up experience with numbers, potential customers will understand that you and your company can be trusted, especially if it is a competitive market:
Experience in [your role for X years], growing company by [X %] through [your duties].
At the bottom of the bio, we see the listed key specialties that are also keywords.
#3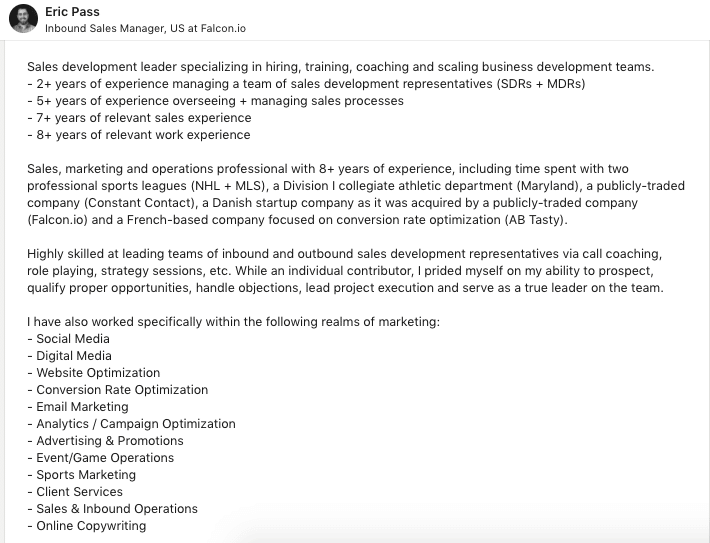 In this summary, we see that the list with numbers structures the information. You can use the same technique to describe your experience.
-X+ years of experience [name the field]
Pay attention to USP structure. It is important to place key specializations in the USP, because this way customers will understand faster which services they can order.
Highly skilled at [your top specializations]. While an individual contributor, I prided myself on [name your abilities].
Keywords and extra skills are systemized in a list. For these keywords, specialists can find clients in other related areas.
#4

This one is a short and cohesive summary, which will introduce you as an expert sales representative.
This is a great example of the fact that you can creatively and briefly talk about your merits and professional experience.
For instance, combine your professional skills and hobbies in one sentence.
Sales leader & relationship builder by day, yogi by night.
Use capitals to visually identify important facts.
Proficient in [YOUR NICHE]
Give yourself just one sentence per USP, as in this example.
Highly efficient and organized with acute attention to detail and deadlines. A polished individual with engaging presentation skills and a personable demeanor.
And complete the bio with a brief description of your hobby interests and simply explain what you like to do besides work.
When I'm not at the office I love [list your favorite pastime activities].
#5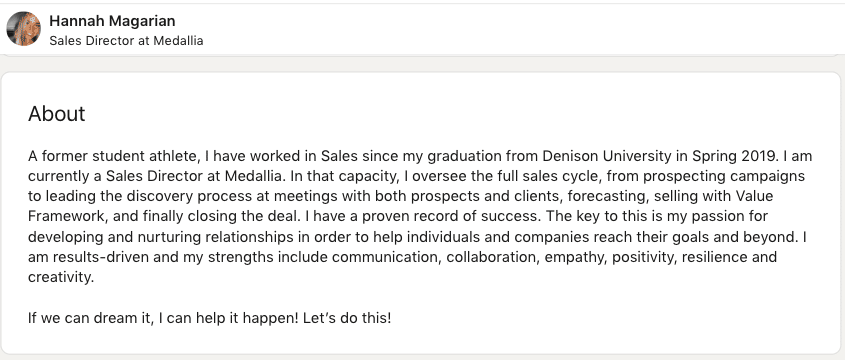 Key takeaways:
Turn your current duties into a mission.
In that capacity, I oversee the full sales cycle, from prospecting campaigns to leading the discovery process at meetings with both prospects and clients, forecasting, selling with Value Framework, and finally closing the deal.
As always, an inspiring call to action will help. It doesn't have to be a phone number or an email.
If we can dream it, I can help it happen! Let's do this!
6 LinkedIn summary examples for sales managers in Hospitals & Health Care
#1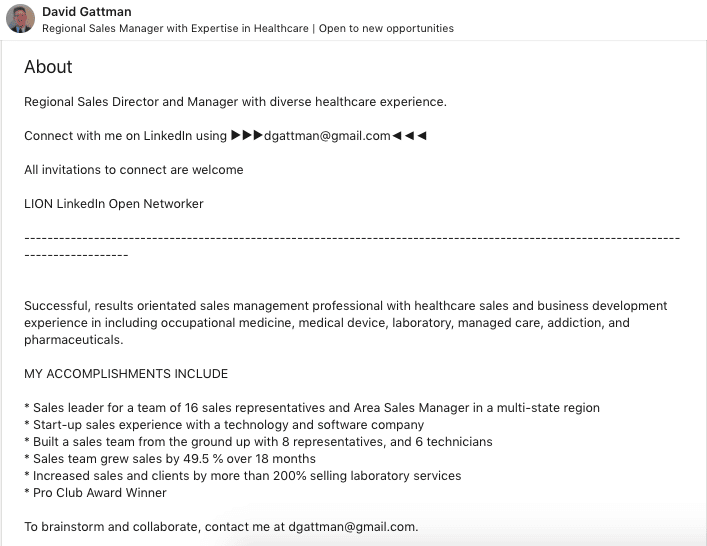 Here you can see a visually striking bio that grabs attention from the first lines. This LinkedIn profile description is an ideal example of how the text should be visually constructed.
Use paragraphs and symbols, Caps Lock, lists – it helps a lot in the perception of the text which is quite voluminous.
Connect with me on LinkedIn using ►►►[You email/ [phone number] ◄◄◄
These are characters that you can copy in any character generator or use emojis.
Next, list a narrower specialization if you have worked with any niche products in your industry, for example:
Successful, results-oriented sales management professional with experience in[ general area of experience] including [ list the narrower specializations].
The numbers in this bio for sales speak louder than words. They are used to prove the real results of work and your effectiveness as a sales specialist.
Sales team grew sales by [X % over Y months]
Increased sales and clients by more than [X %] selling [ your services].
End by inspiring to network with a call to action if you are willing to cooperate and want people to get in touch about work.
To brainstorm and collaborate, contact me at [your email].
#2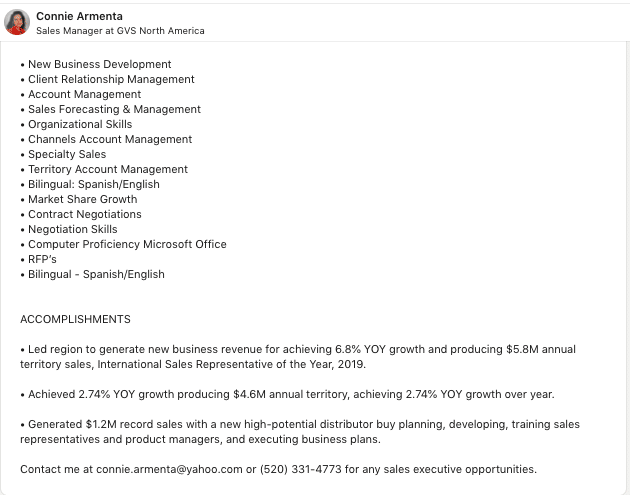 Like in many other LinkedIn summary examples for sales executives, in this summary you will see a successful self-presentation via USP. That is, the manager connects skills with her achievements at work.
Regional sales manager whose [your top skills] have led to [results of your work]. Adept at [your exclusive skill] that leads to [accomplishment].
And this is also confirmed below with the help of figures and measurable performance indicators.
Generated $X record sales by [your working methods].
Take note that the text is well structured by paragraphs, there are lists and capitals so the big piece of information is readable.
Simple and encouraging CTA.
Contact me at [email] or [phone number] for any sales executive opportunities.
#3

A brief sales description for a specialist who highlights his strengths and gives contacts on LinkedIn. If you don't want to make a detailed profile description, you can create a bio according to this similar scheme.
#4

In this example, the manager successfully used keywords that are listed in the next paragraph after the brief presentation paragraph.
You can take a similar structure to fill in with your experience, list the locations and regions that you have worked with, and in the next paragraph name some specific skills, which will be the keywords.
X years experience in [your industry]. Demonstrated success in [name the markets] building on the experience through various roles held in [name your role]. Strong track record in the following areas:
[Insert your key specialties/keywords]
#5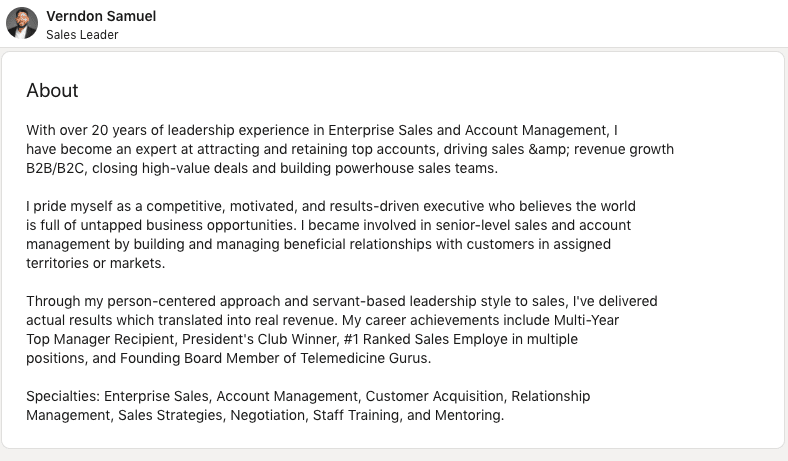 This bio is striking thanks to a clear structure, bright presentation, and mission. Try to build your USP according to the following scheme:
With over X years of [your experience] in [your niche], I have become an expert at [your expert qualities].
You can also add your personal beliefs and your motto.
I pride myself as [describe yourself as a sales executive] who believes [your motto].
Don't forget to mention achievements at the end.
My career achievements include [insert here the track record].
#6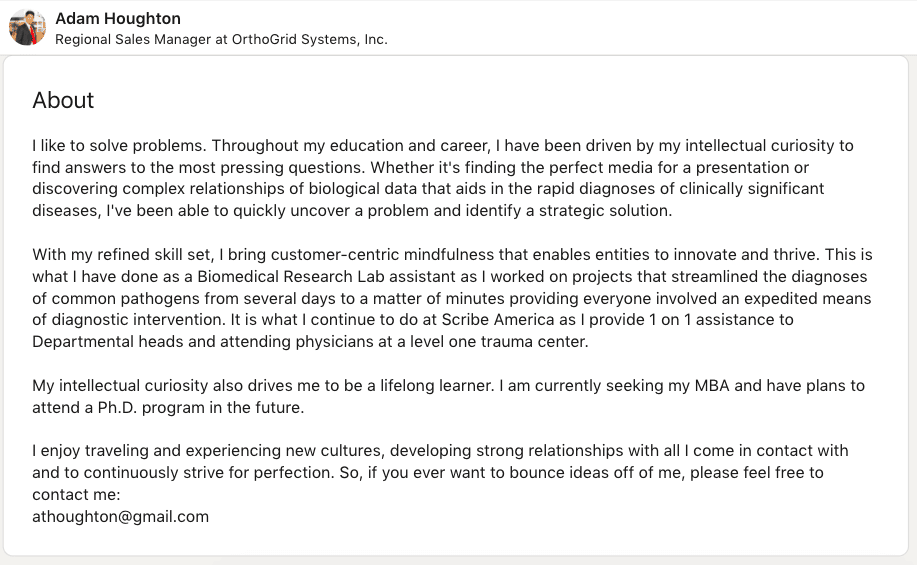 This is an exciting description for a sales manager profile because it begins with a concise and catchy title. Choose such a phrase for yourself and start with it, for example:
I like to solve problems.
. 2. Next, a logical explanation is given to the brief statement from the heading.
Throughout my education and career, I have been driven by [what is your motive for action?].
3. Most importantly, explain your mission or USP using some specific examples to convince.
Whether it's [your strategic task #1] or [ your strategic task #2], I've been able to quickly uncover a problem and identify a strategic solution.
4. Add a paragraph about your plans for the future and passions in life.
I am currently seeking [current plans] and have plans to [name future plans].
I enjoy [your passions].
5. Classy CTA:
So, if you ever want to bounce ideas off of me, please feel free to contact me:
[email]
6 best LinkedIn summary for a sales manager in Construction
#1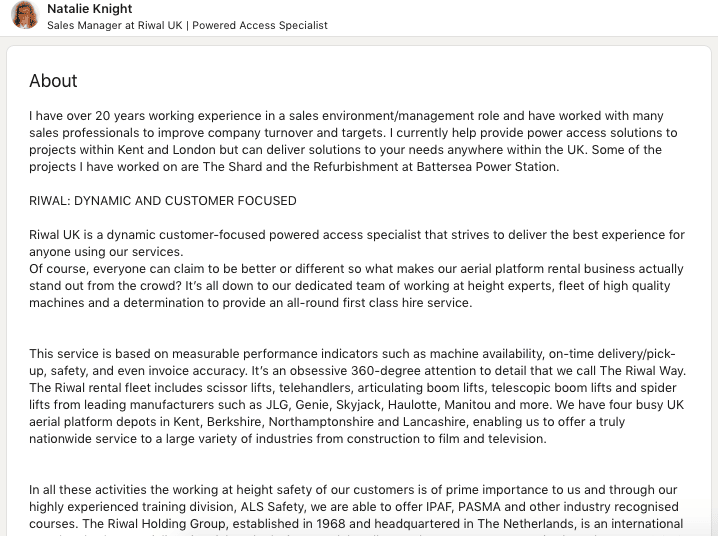 This summary example vividly illustrates how you can use the bio to tell more about the company, services, and products. Therefore, people who will find you may become truly interested in your deal.
You can outline a bio according to the following structure.
Start with your experience and your mission.
I currently help [your mission]. I can deliver solutions to your needs anywhere within the [location]. Some of the projects I have worked on are [list examples].
After that, focus on a company, its advantages, and why it is worth buying from you. This way, your summary will be proof that will show you in action as a sales specialist.
Close the summary with a CTA.
Please contact me if you have any requirements.
#2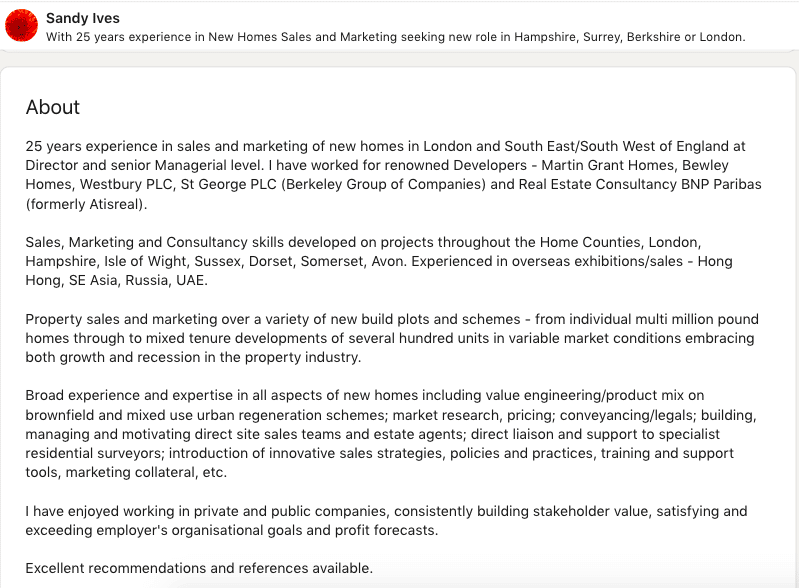 In this example of a LinkedIn description for a sales manager, the copy is detailed, precise, and specific.
To achieve greater accuracy and persuasiveness, you can specify the regional markets in which you have worked,
Experienced in overseas exhibitions/sales – [locations]
Mention the scheme that you use in your work and what applies specifically to your niche. This way you showcase expertise to potential customers.
Indicate that there are recommendations for your work to inspire more confidence.
Excellent recommendations and references are available.
#3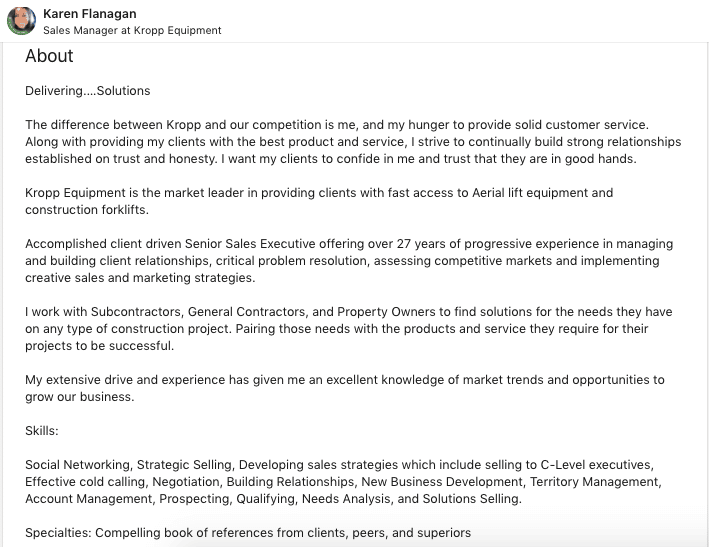 This bio is also built according to the pattern "Me and my company/product."
A creative title of two words stimulates interest.
[Delivering.…Solutions]
Now you can start with a presentation of your company.
[Name your company] is the market leader in providing clients with [products].
Don't forget your mission and USP.
The difference between [ your company] and our competition is me, and my hunger to provide solid customer service. Along with providing my clients with the best product and service, I strive to continually build strong relationships established on trust and honesty. I want my clients to confide in me and trust that they are in good hands.
Add a description of the experience, for example:
Accomplished client driven Senior Sales Executive offering over X years of progressive experience in [your specialization]. My extensive drive and experience has given me [your advantages].
If it is applicable to your industry and often can be noticed in the Construction and Healthcare industries, you can specify the products that you sell. Thus, if you are found through LinkedIn, you will have a better chance to sell.
#4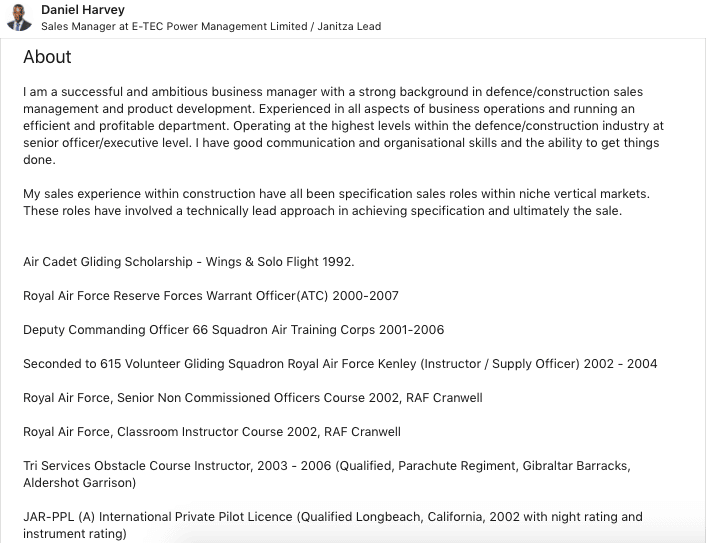 Key takeaways:
My sales experience within construction has all been [sales roles]. These roles have involved a technically-led approach in achieving specification and ultimately the sale.
In this summary for LinkedIn, it turned out that you can include your achievements not only in sales. If you show knowledge in niches other than the one in which you are currently working, you may have many unexpected clients.
#5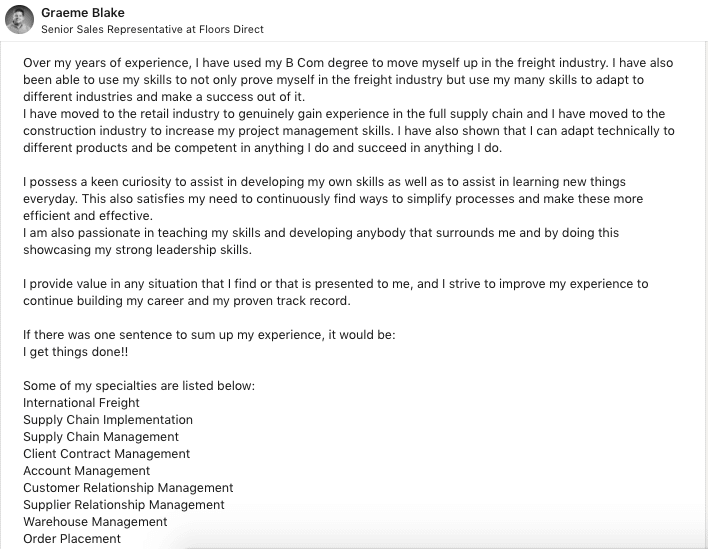 In this example, you can find an idea of ​​how to successfully add adjoining areas where customers can also find you. Plus, a brief and positive CTA that motivates clients to connect:
If there was one sentence to sum up my experience, it would be:
I get things done!!
#6

In this LinkedIn summary, you can get an idea of how a sales specialist explains his mission.
Dedicated to exceeding customer expectations by using a project management approach to the sale – owning the process from project design to order entry / delivery / installation in an effort to ensure customer satisfaction throughout.
You can find out how to research hundreds of profiles of sales managers by using Linked Helper in the article.
In just 15 minutes, you will be able to get information about competitors in the niche and conduct a review of all profile descriptions. If you want to make the most attractive summary for sales reps, start with this research step and try Linked Helper.