According to LinkedIn research, organizations that actively maintain a LinkedIn company profile receive 30% more views weekly. Due to the fact that this site ranks highly in the search, you can reach more people organically with a company page than through your company website.
SEO optimization of a new site requires a lot of effort and investment, while an SEO-optimized LinkedIn company page can be indexed better due to a high platform ranking. It is a strategically necessary decision to make the company discoverable through search engines.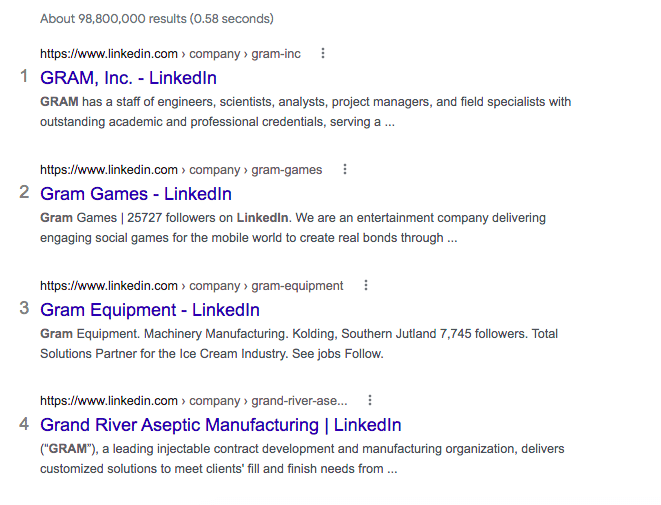 However, here you may encounter a problem – the business page may not always be visible in the search results, especially right after creating a new page.
According to LinkedIn support, the social network cannot keep track of how search engines update data. That is, even if you created an account today, search engines may need time for this link to be displayed in the search. The time can vary from several days to several weeks.
Important information: to help clients find your company faster through Google, you need to optimize the LinkedIn profile with keywords. Browsing for keywords from competitors' account descriptions in your niche can be a solution.
It is simple to do with the automatic Linked Helper service. Learn why Linked Helper is more secure than any Chmore extension you may use for LinkedIn growth.
It will allow you to customize your profile with keywords and categories.
Parse rival firms' profiles from the LinkedIn search results.
Get a CSV file with text fields.
That is, from a spreadsheet with descriptions of your competitors, you can highlight keywords – those that potential customers can find you by. Then you need to use the keywords that you have collected for SEO in LinkedIn company descriptions.
Download Linked Helper 2 and get 14-free trial right now
If you are not yet in our list of users, then join. We give you a trial version to start your experience with our LinkedIn tool.
So if you haven't completed all the text fields in your business profile and haven't created an additional showcase page, it's time to consider this way for promotion.
How to get your company page indexed by search engines
If the company does not appear in the search, use this checklist to resolve the issue. Here are some solutions that might help you.
#1 Make sure you enter the correct company name
A typo in a search query may be the reason why Google has hidden the result. Review the data again.
#2 Contact LinkedIn Support
This is advice from the Google Knowledge Base. Experts point out that profiles should automatically appear in the search results and the data will be updated from alternative sources.
#3 Complete all sections of the page
Information about the organization must be up-to-date and reliable. Fill in all text fields without typos. Also, create activity on the page:
Invite subscribers – your colleagues.
Create content.
Upload your logo and profile header.
All of this can have an impact on search rankings.
#4 – Check the results on the further search pages
Despite the fact that pages from social networks are highly ranked, this may not always be the case. For example, if a company of the same name exists on more trusted domains, such pages may rank higher, and your LinkedIn business profile will move down to the next pages. Therefore, carefully study the issue and start optimizing.
#5 – Keywords in texts
Marketers advise making pages on social networks understandable for robots. Therefore, don't ignore the suggested text blocks on the company's LinkedIn page and fill them with relevant search terms. Use keywords that people can type in to find your services. These can be both key phrases for search engines and for the internal SEO of LinkedIn.
#6 – Business Profile Links
Spreading the LinkedIn company page URL will help like backlinks for search engines. This means that to appear in the results, you can insert the LinkedIn link to other different sources that the search engine crawls. For example, paste the link in other social networks, on the company's website, in articles, in comments, and in forums.
You can read more about LinkedIn page optimization methods in our post SEO tips for LinkedIn profile or business page: How to be searchable in Google.
These steps can help you raise your company's profile in search on your own. If the page is still not showing up, you should contact the LinkedIn support – there may be a technical problem.
To increase activity on your business profile and get indexed better, learn how to get more followers organically in our post How to get more LinkedIn followers and likes in 2022 – the most time-saving method. To analyze competitor's company profiles and parse their descriptions, download Linked Helper – a trusted automation tool for LinkedIn. Check all features of our companies' extractor at the link.