Every LinkedIn user who uses the platform for sales dreams of growing their network faster than the social network limits allow. One of the workarounds that experienced LinkedIn users can apply with the help of LinkedIn Helper is sending messages through events. We recommend using this opportunity for networking, and in this article, you will learn important things about using almost any LinkedIn event for promotion, including some follow-up message secrets.
You will learn:
How to connect with important target audiences through events (even BEFORE the event starts ).
How to set up an automatic funnel through events that will work for you even if you are not online. Every follow-up LinkedIn message after meeting at an event can be fully automated!
How to download all the data about event participants, including their emails, to enhance the effectiveness of your outreach.
Even users who are not in your network will receive your message, and you will have a ready-made first point of contact – a shared event. You can use this in the message text before offering to connect on LinkedIn, which will definitely increase your acceptance rate. According to Linked Helper tests, the acceptance rate after a like and a preliminary message is at least 10% higher than an invitation without these actions. Therefore, it is important to learn how to get the most out of events allowing you to message 2nd and 3rd degree connections for free. Moreover, this is an excellent way to reach the target audience without manual searching – event participants are already grouped by interest. For example, as recruiters, you can select niche events for digital marketing strategists and create a hiring funnel for this audience.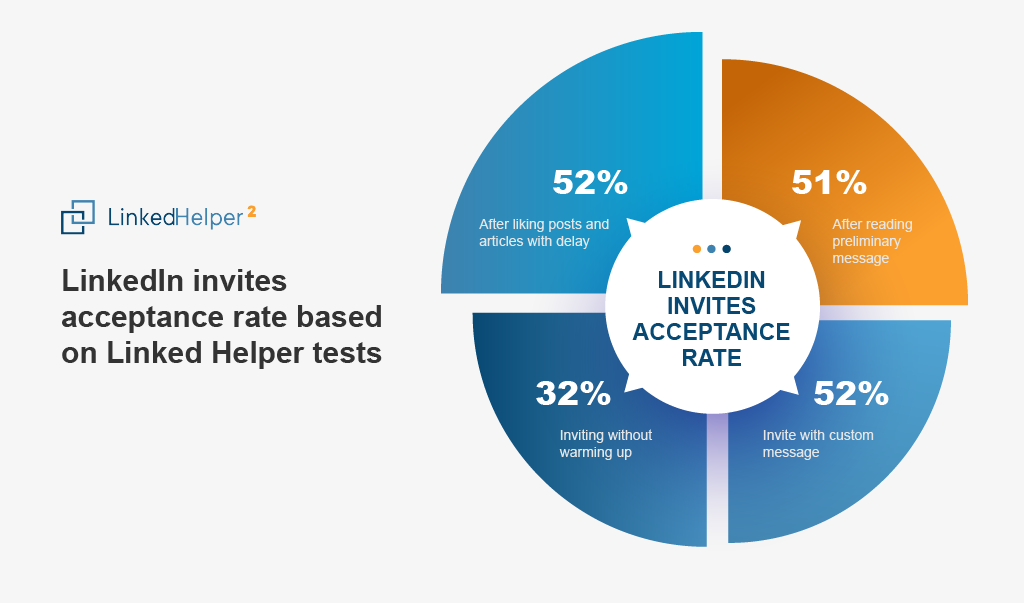 Interacting with the audience of a specific event is similar to retargeting through LinkedIn events. However, advertising costs 10 times more than a subscription to LinkedIn Helper (read the article about advertising on LinkedIn).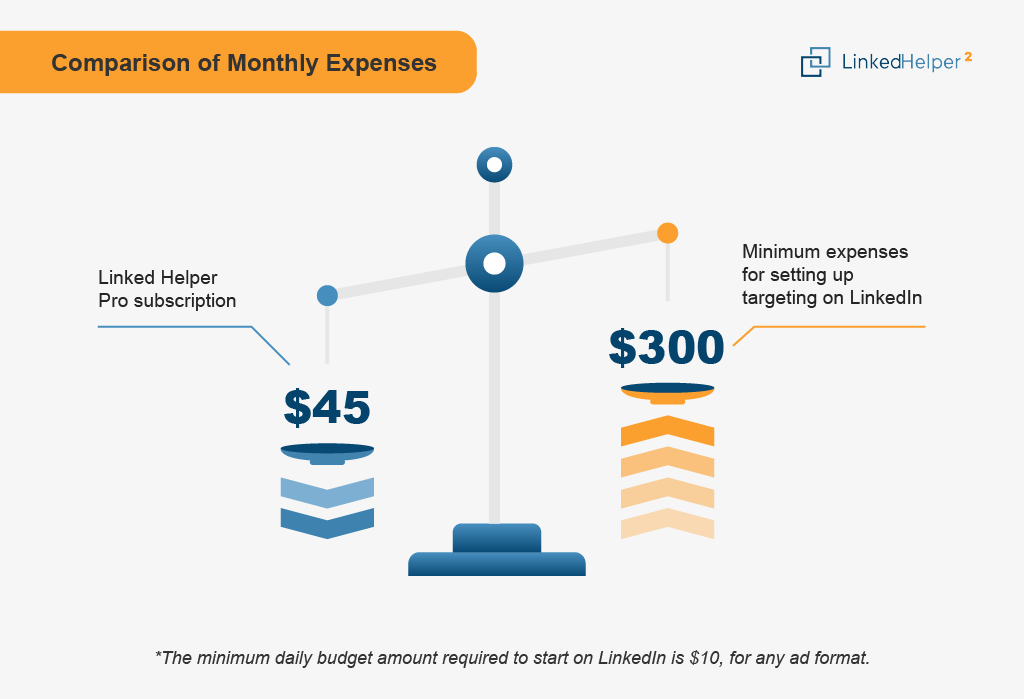 Let's explore how to create targeted mail-outs to audiences instead of "spray and pray" connect requests and InMails.  
How to connect on LinkedIn before & after a networking event
Before an event launches, you can communicate with participants for business purposes. To accomplish this, discover top events in advance and obtain Linked Helper for outreach (you can use it free for two weeks).
Linked Helper features a unique function that permits you to convey messages to event members, even if you are not a LinkedIn connection of these users. With this function you can connect more effortlessly on LinkedIn by sending a cordial message after (or prior to) a networking event. You can select participants from a specific event webpage or import the audience via a CSV file and assign the event identification in the configuration. (Refer to the guide on correctly setting up a workflow in Linked Helper.)
You can find a complete description of how to create a campaign using a template in the user manual section on using the LH action to send messages to event attendees. This action can work using a template (as described in the tutorial), which means that the software will create a campaign based on the data you have entered. At the same time, you can use this action independently or add it to other campaigns to promote your event on LinkedIn. For example, for promoting an event on LinkedIn, you can use an auto-invitations action template for fabulous reach. 
Download Linked Helper 2 and get 14-free trial right now
If you are not yet in our list of users, then join. We give you a trial version to start your experience with our LinkedIn tool.
Here are some use cases for the "Message to event attendees" action:
It can be used as the only independent action in a campaign (i.e., the campaign consists only of one or several messages to event attendees).
An example campaign could be as follows:
Message to event attendees
Checker (minimum 5-day delay to filter leads by acceptance)
Message to event attendees
Checker
Message to event attendees (if needed)
Checker
Leads from a specific target group (industry) can be contacted through events. Another group of leads from a different industry can be processed through auto-invitations. Thus, you can focus on the most important leads through connection invitations and less important ones through events.
It can be used in another campaign that runs parallel to the invitation campaign. That is, you can partially process the same target group of leads through events and partially through invitations. However, it is important to exclude duplicates in campaigns.
Compare two campaigns that can be directed at the same target audience: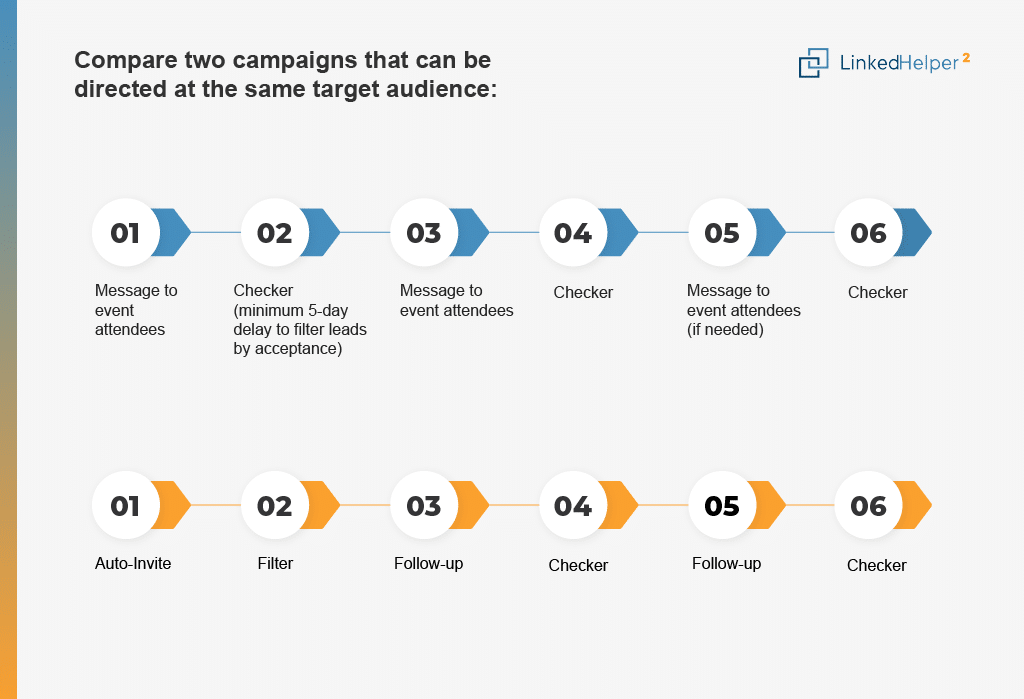 You can combine two in one (we will consider an example of a workflow in the section below). If the lead responds to the event message, you already have a way to achieve the final goal (for example, you can announce your company's special offer in the message). In this case, you don't even need to send an invitation. If you don't get a response within 7 days (which you can set as a custom delay in the software), you can try networking through an invitation and message.
Campaign workflow example in Linked Helper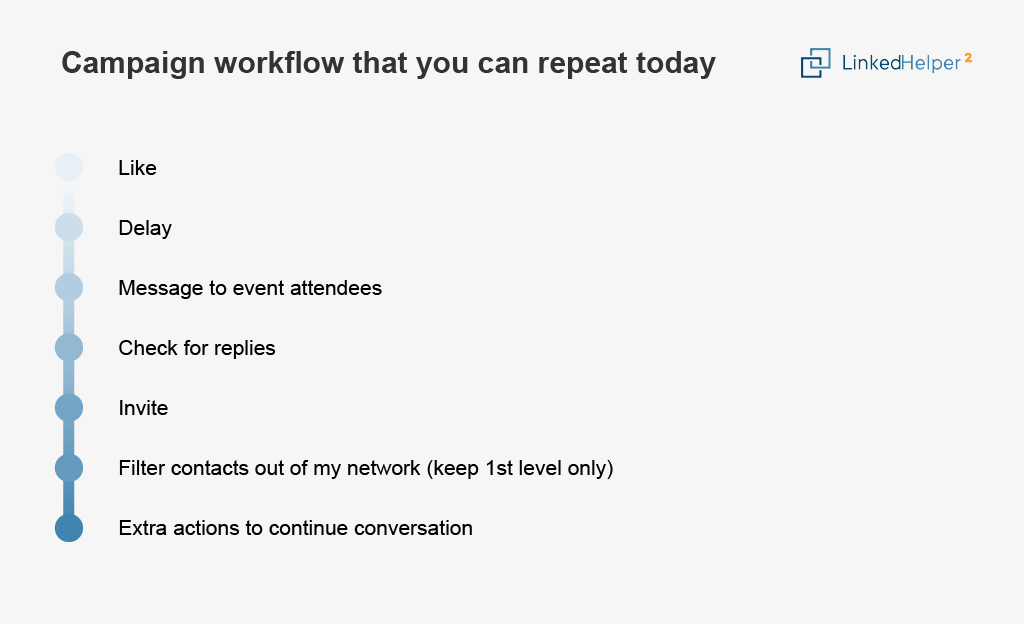 To begin, you need to create a campaign in LinkedIn Helper. Log in to your account and create a campaign.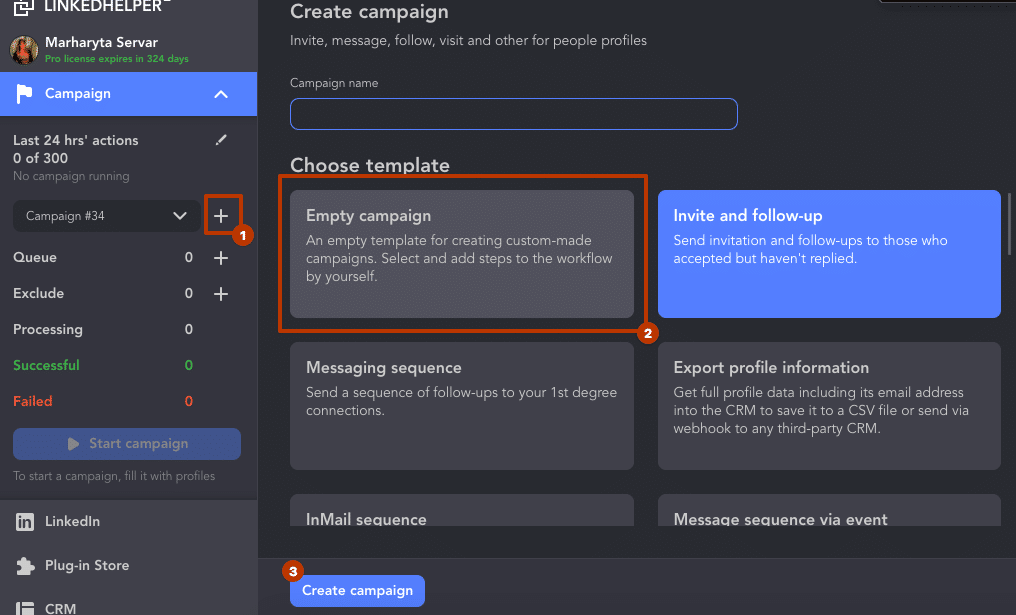 Select the "Add Action" button in the menu.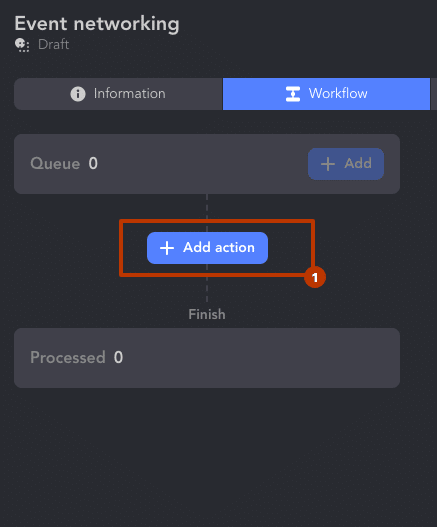 Here is a suggested sequence of steps you can test:
#1 Like
Start with auto-liking posts from your target audience (which can also include articles if any are included on their profile). You can also add a comment to this action and vary it with interchangeable variables.

#2 Delay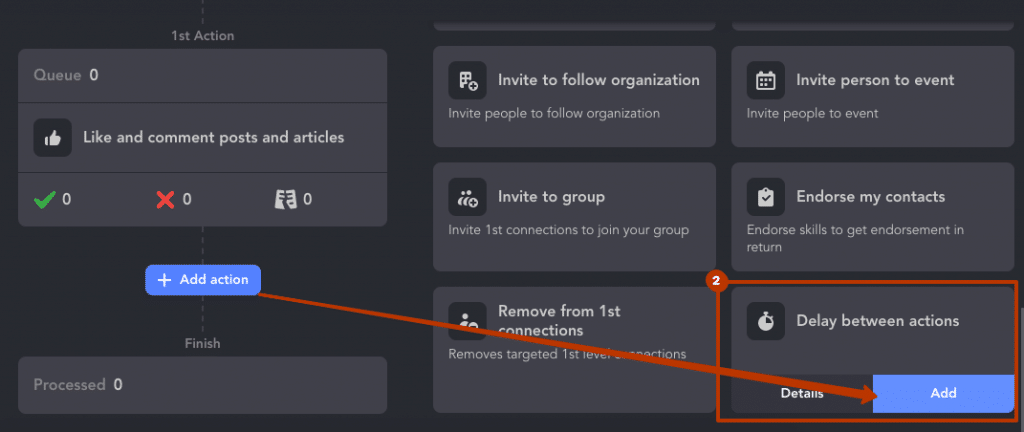 Wait 1-2 days. When you like or leave a comment on LinkedIn, you become visible on the lead's profile. This means that when they check their notifications, they might visit your profile, read about you, and possibly show interest. Thanks to the programmed breaks in your campaign, your actions will look natural and not intrusive.
#3 Message to event attendees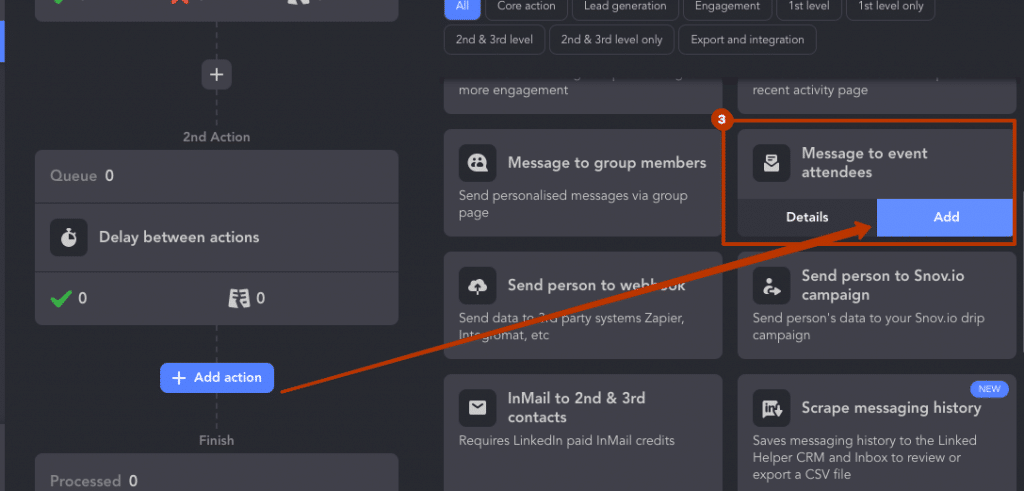 You can also apply tags for everyone you process and from whom you receive responses in the action setup.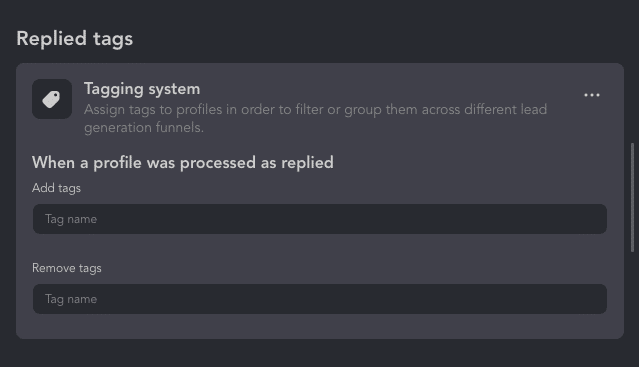 For example, a LinkedIn message after the "Money in Metaverse" networking event can be:
Hey there 🌞 Hope you're doing well! It was awesome meeting you at the networking event and chatting about the metaverse's potential impact on the financial services industry. Your insights were really interesting, and I'd love to hear more.
What do you think about the current state of the metaverse and how it could benefit businesses? I'm eager to hear your thoughts. If you have any questions, feel free to hit me up. Looking forward to catching up soon!
Note: The initial message and all subsequent messages transmitted via the event are visible in the Incoming Requests folder. Users must access these incoming messages by clicking on this distinct section, as they will not appear in the typical message inbox. On certain occasions, you may want to include a note when auto-commenting in Linked Helper that you will send a message to this lead (to encourage them to check their incoming requests).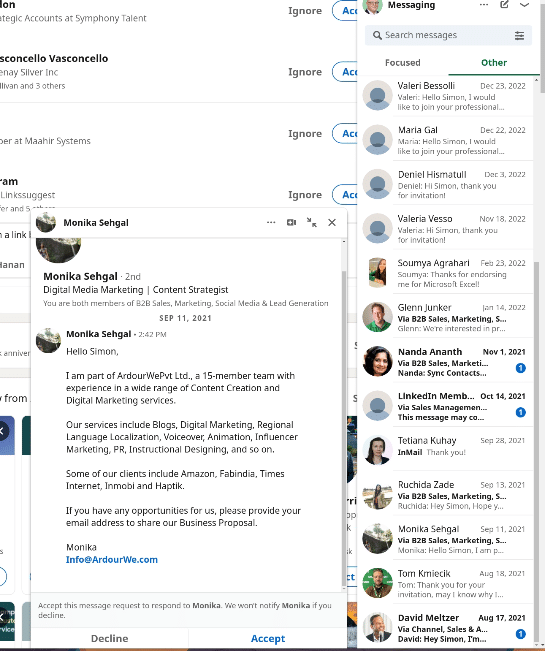 #4 Check for replies
This action will be automatically added after the first message. You can continue sending messages in the funnel or try sending an invite immediately.
By default, the Keep in Queue till message request is accepted setting is enabled. We advise disabling it so that everyone who has not responded to the message can still continue along the campaign workflow and ultimately receive your invitation request.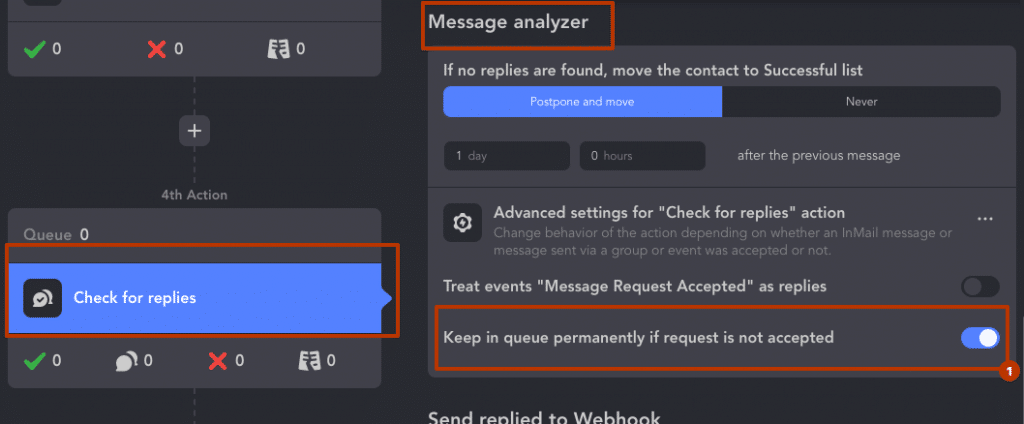 This means that profiles will not move on in the funnel unless the person checks their Incoming Requests inbox subsection and clicks Accept Message. However, you can turn off this setting. You can continue sending messages without using credits, or you can only send them to those who have accepted the invitation. That way, your follow-ups will only be sent to those who are clearly interested.
You can then add another 1-2 messages to event attendees (using the checker after each round) or end the campaign with an invite.
For instance, when a person accepts the request but doesn't respond immediately, the subsequent message in the sequence will be sent to them. However, if the option "Keep in queue permanently if the request is not accepted" is enabled, the exception applies.
Sending multiple messages through an event with the "Keep in queue permanently if the request is not accepted" option enabled is appropriate when we are not sending invitations after the message, i.e., in cases where the campaign is only for messaging through events and nothing else.
#5 Invite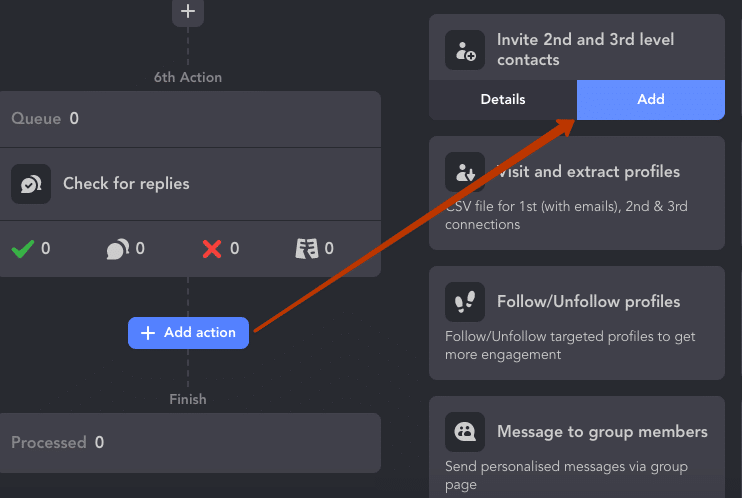 You can then add auto-inviting to this campaign. The action will give you a second chance to contact the lead through the message in the invitation.
#6 Filter
This action helps you sort individuals who will accept your invite. Additionally, the software displays the acceptance rate for invites and messages in the campaign results.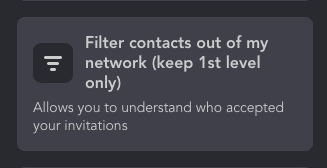 #7 Extra actions to continue this conversation
If you wish to continue the campaign, you can add two more actions to welcome new contacts. You can include Delay (to wait for a pause after accepting the invite) and Message to 1st connections to this chain of actions.
For those who have become your contacts, you can send a message that reads, "Hello, thank you for joining my network. I attempted to contact you through the event (name). Did you receive my messages? What are your thoughts?"
Add leads from a target event
After you have built the workflow, you need to add leads to the campaign queue by selecting "Queue" and then "Add."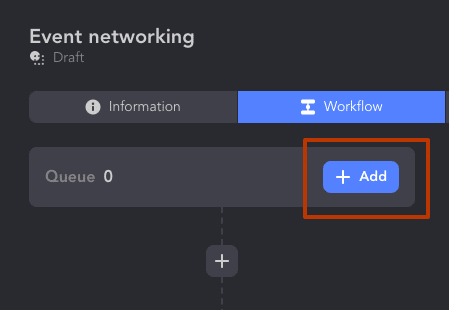 Select "My event page" as the source. You will be able to research events if you haven't attended any yet – right in the Linked Helper window. It looks like a normal LinkedIn search page.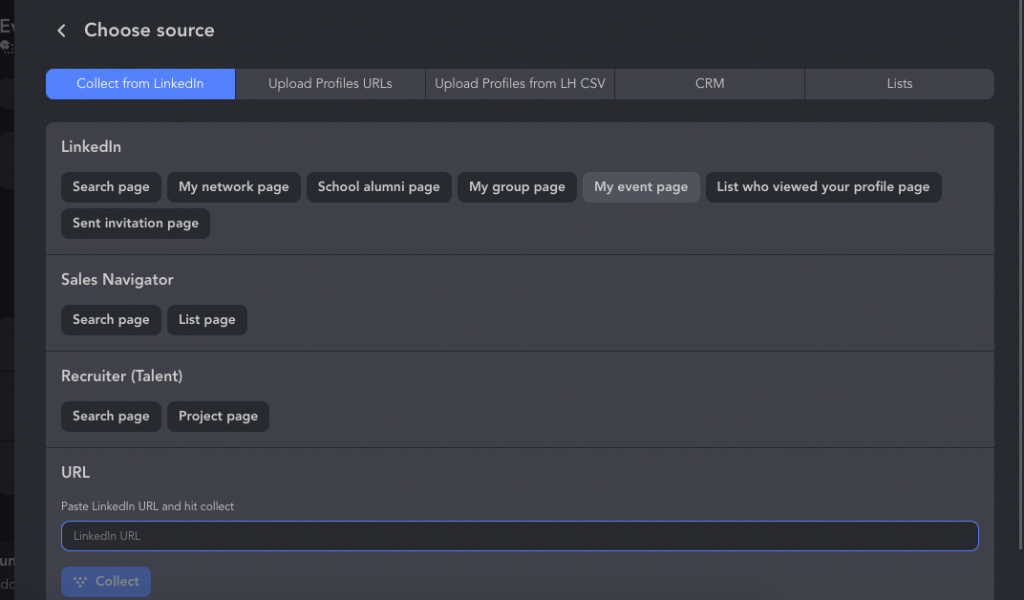 Navigate to the event you want to process: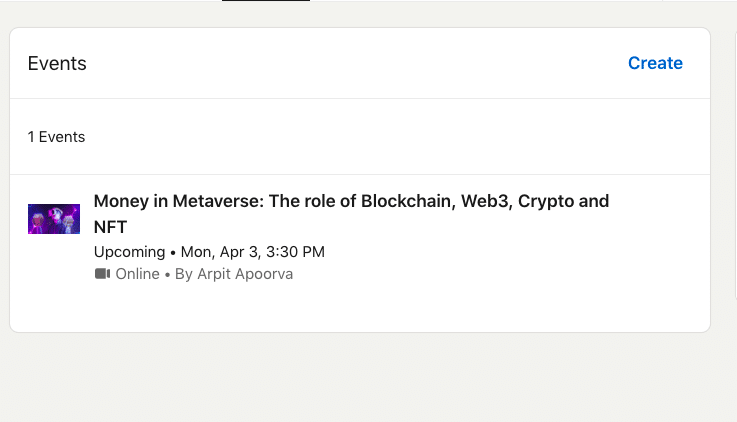 Pick the section with members, soon these users will be collected to your campaign: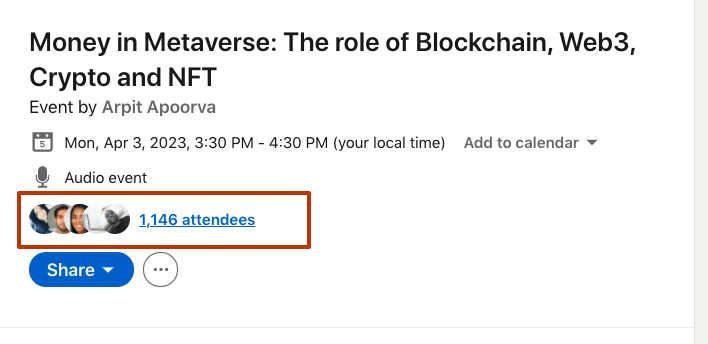 On the right side of the screen, find the Queue line and select the collection "From current page."

The result: you have gathered a unique and niche audience who are both interested in a narrow topic and active on LinkedIn. As a recommendation, we suggest choosing events that align with your target audience or product, where your intended audience is likely to be in attendance. For instance, in the case of our example, the Money in Metaverse event may not be the best fit for a recruiter as the attendees may hold varying job titles. However, it could be an excellent opportunity for a company that offers courses on NFT trading or related topics.
Now we can download the list of these people and all descriptions in their profiles in a CSV file and convert it into an Excel table.
Remember to Start your campaign. You will see how the tool performs the indicated actions with chosen profiles based on this event.

What you need to keep in mind when connecting via events
Don't send more than 1000 messages. LinkedIn actively combats spam, which is why it sometimes imposes limits on certain actions for participants. While we haven't found a specific limit for messages sent through events, we estimate that you should not send more than 1,000 such messages per week, as exceeding this limit could trigger a warning about the excessive activity.
For some events, you must be a creator to send messages. It's important to note that in some cases, you may not be able to send messages through an event unless you are the creator of that event.
Don't include any text in the invite. You may be wondering what happens to a message sent through an event if the person accepts the connection invite but does not see or respond to the message request. According to our tests, if you send an invite without a message, any subsequent messages through the group or event, as well as any follow-up messages sent after the invite is accepted, will be combined in the recipient's inbox. This increases chances that the person will see all of the messages you sent to them through the event, even if they did not see the initial message request. For better visibility of your messages, it is advisable to send follow-ups after the invitation has been accepted (as suggested in the campaign example in the article). This will ensure that the person receives and reads your messages.
If you add a message to your invite, any previous messages sent through the event will be visible but in a different section in chats. Therefore, it's a good idea to repeat any important information that was included in those previous messages.
How to download LinkedIn event attendees
In processing leads through LinkedIn Helper, you can kill two birds with one stone and also export the attendee list from the LinkedIn event. Because the tool is a professional scraper! And after the first visit (in the example of our funnel, LinkedIn Helper first visits profiles to like their content), you can download a CSV file containing all the data included on the page – descriptions, links to the main photo, and all education and career experience, along with job descriptions, skills, and contacts.
If you are focused on finding the emails, you need to process the necessary profiles in the Visit and Extract action. This action can search for emails of anyone who is your contact or non-connections through the external service Snov.io. So you can add this action after the Filter action.
You can create a separate campaign using the Find Profile Emails feature. This allows you to add those who haven't accepted the invitation and find their email addresses using the built-in database in Linked Helper Finder (by searching among shared first-level contacts) and through Snov.io.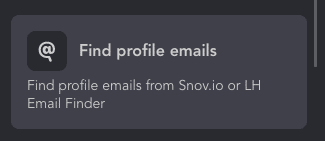 Read how the email scraper works in the article.
When the campaign is completed, or all profiles have been processed through the first action (like), you can download all the data from the target profiles. After liking the profiles, they will be placed in the Delay for 1-2 days, and you can download the data on them to better prepare pitches for messages.
By the way: You can also download a collection of leads as soon as you put them in the Queue, before launching the campaign. But such a file will only contain people's names and links to their profiles.
So, to download profiles within the campaign we described above, you need to repeat the following actions:
Click on the Like and comment posts and articles -> Successful tab. Select all profiles and click on the download icon.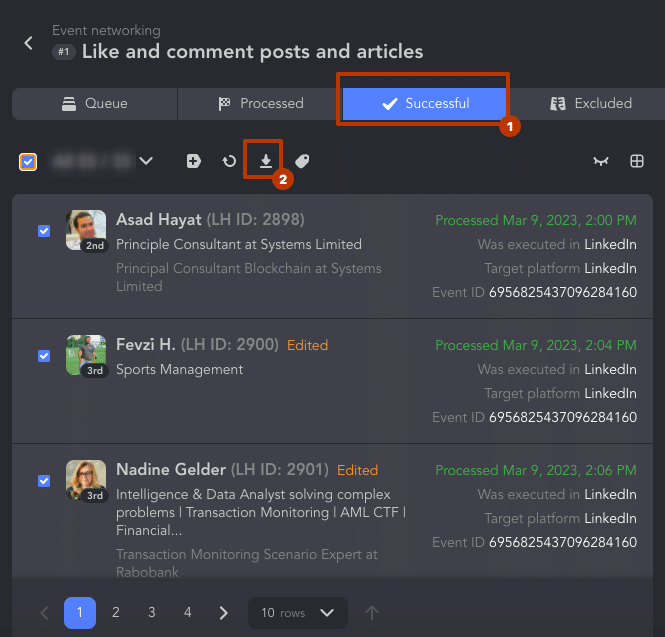 Select the Download button in the next window: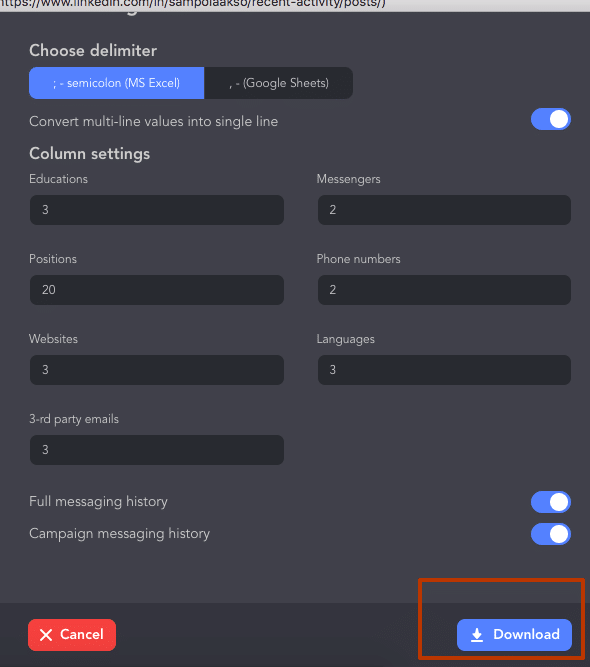 Save the file: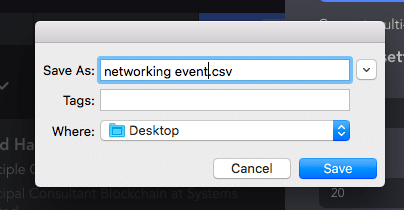 Open Excel and import the file as instructed.
You will receive a file with the event audience as in the example below. This data is vital for LinkedIn event tracking even if it has not yet taken place, and you are not the event creator! Simply analyze the target audience based on their profiles.

5 tips and 1 example: how to set up a LinkedIn event 2023
How to create an event on LinkedIn:
To create an event on LinkedIn, go to the LinkedIn Home page → choose Events → click on "Create Event."
Fill out all necessary LinkedIn event page details such as its name, date, time, and description.
Make sure to promote your event on LinkedIn by sharing it on your account, in groups, and via direct messaging to relevant connections.
Utilize the LinkedIn event planner tool to run your event and track engagement. You can use LinkedIn Helper to automate invites to your created event, track how many people are accepting your invites, and create a campaign that includes a chain of auto-messages after the event. This is necessary to maintain communication with your engaged audience.
How to post an event on LinkedIn:
When posting about your event on LinkedIn, highlight the benefits of attending and use attention-grabbing visuals or videos to capture people's attention.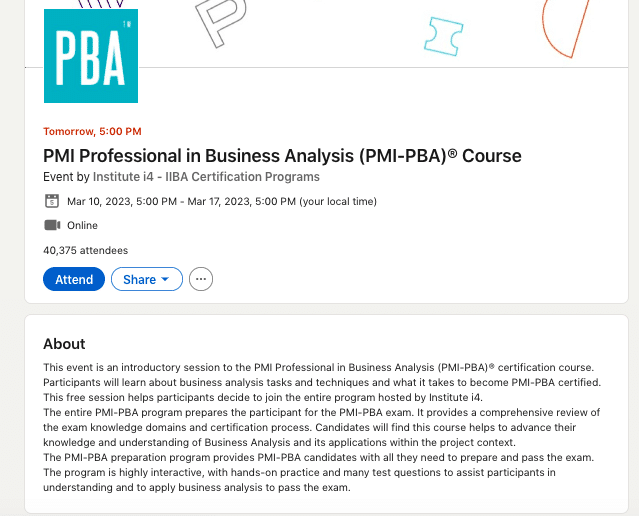 Ask everyone to post about attending the event – this will help to reach connections of attendees via their home feeds. Here is an example of a LinkedIn post about attending an event.
You can use this template to promote your event on LinkedIn:
Attention all [relevant audience]! Are you [interested in/looking to advance your career in] [relevant field]? Join us at [event name], [event description]. Hosted by [host organization], this [free/paid] event is the perfect opportunity to [what participants will gain from attending the event]. Plus, it will help you [the additional benefit of attending the event]. [Optional: add a quote or testimonial from previous attendees]. Don't miss out on this chance to [what participants will gain from attending the event]. Register now!
LinkedIn doesn't have a dedicated event registration form feature. However, you can create a registration form using a third-party tool such as Google Forms or Eventbrite, and then include the link to the registration form in the event description on LinkedIn. This will allow interested participants to register for your event through the registration form link provided in the event description. You can also track the registration data separately using the tool you have used to create the registration form.
Remember, you don't always need to create an event on LinkedIn to start interacting with your audience. With LinkedIn Helper, you can start connecting with participants of other future events in your desired niche. This will help you immerse yourself in the topic and analyze the audience before you decide to create your LinkedIn event. Messaging and auto-invitations through events can be a great opportunity to expand your network or start a conversation with others. Don't miss out on this chance!