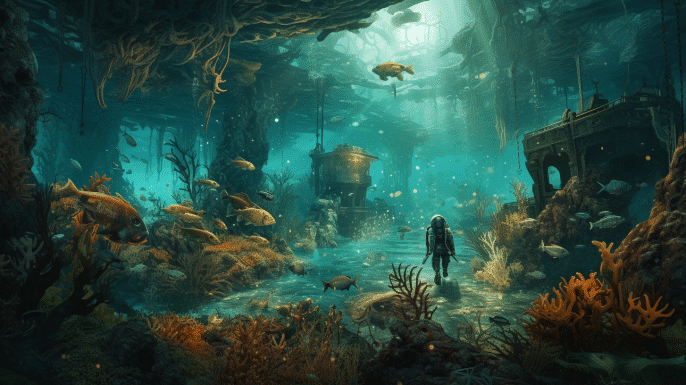 Some users seeking automation options may find themselves choosing between Linked Helper and Octopus CRM. Many might be enticed by the ease of installing a browser extension.
However, is it worth compromising on security?
Octopus operates within LinkedIn as a browser extension, injecting code into the page during its operation. Despite the creators' assurances of the tool's safety, this method represents a more basic level of access. Linked Helper, on the other hand, is a downloadable solution based on browser technology. Before we delve into the comparison, it's worth noting that this solution allows for more automated actions (as outlined in the table below) at nearly the same subscription price.
Spoiler: The most surprising fact is that despite being called Octopus CRM, the tool actually lacks CRM features or client cards.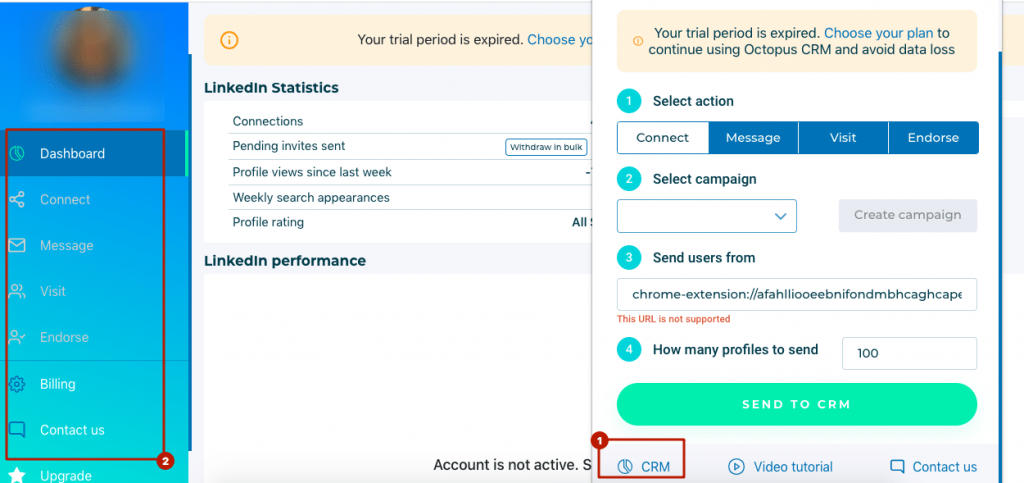 Download Linked Helper 2
and get 14-day free trial right now
DOWNLOAD
If you are not yet in our list of users, then join.
We give you a trial version to start your experience with our LinkedIn tool.
Key differences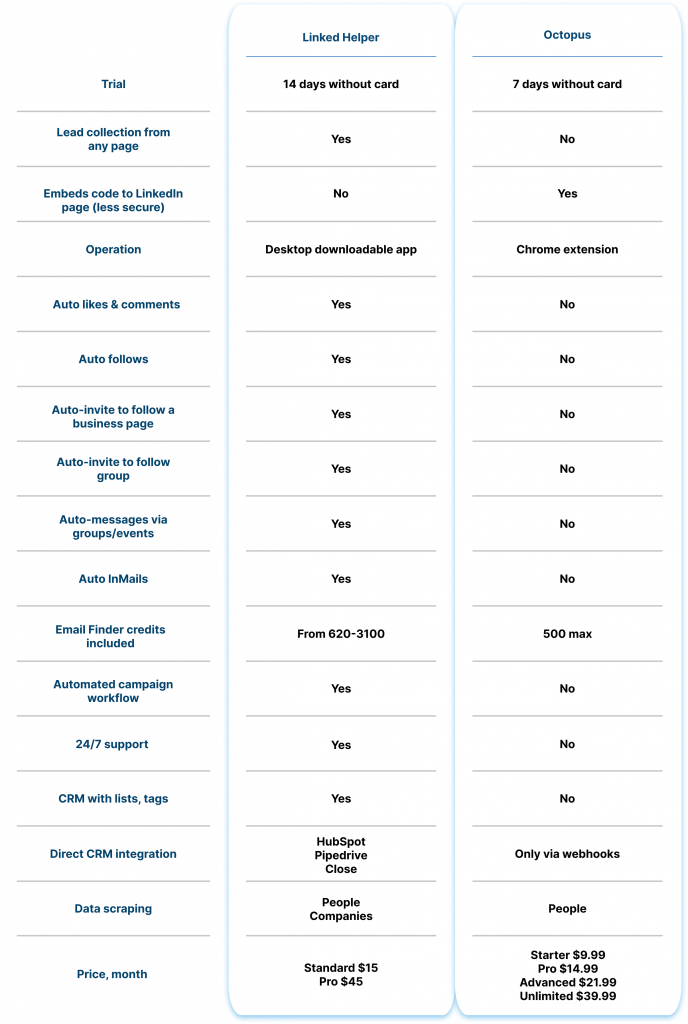 Related posts:
26 reasons to choose Linked Helper over Octopus
Reason #1 – Advanced Technology
Initially, Linked Helper existed as a browser extension (the same way Octopus exists now). However, this type of automation is less secure. Browser extensions inject code into the LinkedIn page, making them more prone to detection. Key points to note:
a) In Chrome, it's not possible to mimic extension actions under the user's actions without being noticed by LinkedIn because Chrome generates automatic clicks, indicating that the clicks were made by an extension or a program. This is indicated by the parameter "isTrusted===false,", while LinkedIn Helper always passes the parameter "isTrusted===true".
b) Extensions block the LinkedIn API for automation tracking, but they won't be able to do this soon when Chrome transitions to the Manifest V3 extension platform (LinkedIn Helper is not an extension, so this won't affect it).
c) Extensions cannot perform navigation using LinkedIn's search, whereas Linked Helper can.
Moreover, the Octopus CRM extension can only automate basic functions.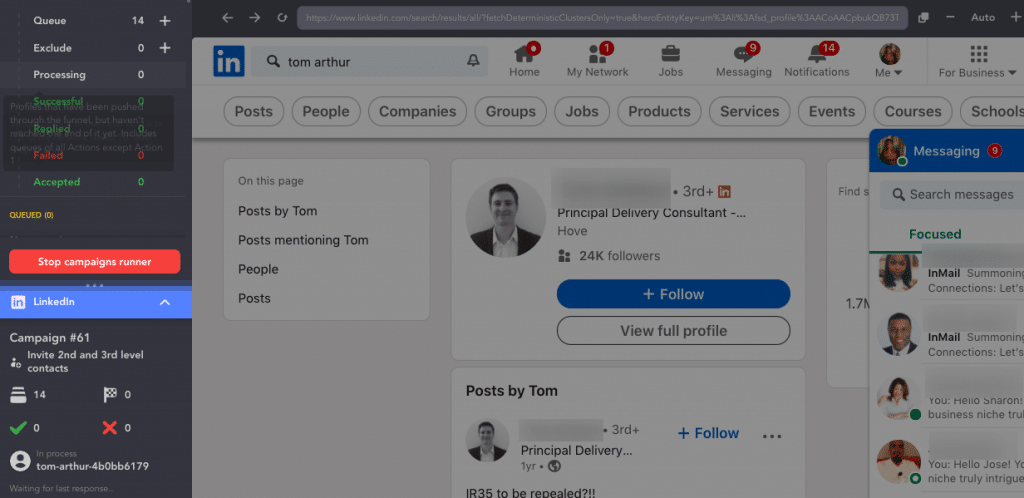 Octopus support has explained that their tool introduces random delays after each automated action, making it difficult to detect, as it does not alter the LinkedIn user interface (unlike some other tools) and keeps its code hidden.

However, the current version of Linked Helper, when installed on your computer, also does not modify the LinkedIn interface, send API requests, or embed any code on the page. After initiating a campaign, you can observe the software simply clicking buttons and incorporating specified or random pauses.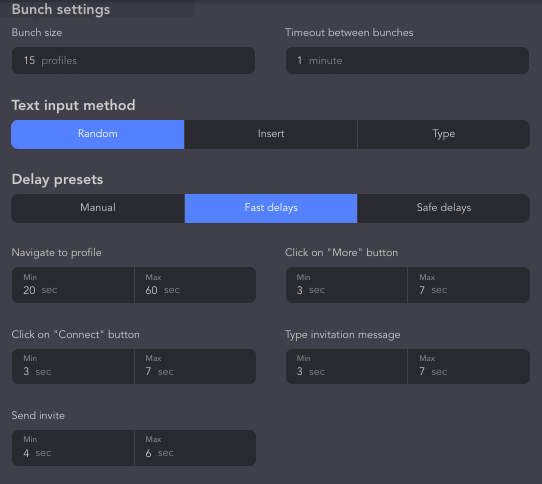 Reason #2 – Improved Safety System
Octopus can send you immediate notifications right after the system detects excessive activity on LinkedIn for extra safety. In LinkedIn Helper, your activity pauses by default when the limit is reached.
Also, you can avoid a similar issue with Linked Helper by manually managing limits, random timeouts, and pauses. The software operates on LinkedIn pages in a manner resembling human behavior, including simulating clicks and typing, which become visible after the campaign is launched.
In contrast, Octopus embeds code directly on the webpage, which raises security concerns for LinkedIn.
Reason #3 – 12+ Lead Collection Sources, Not Just One Link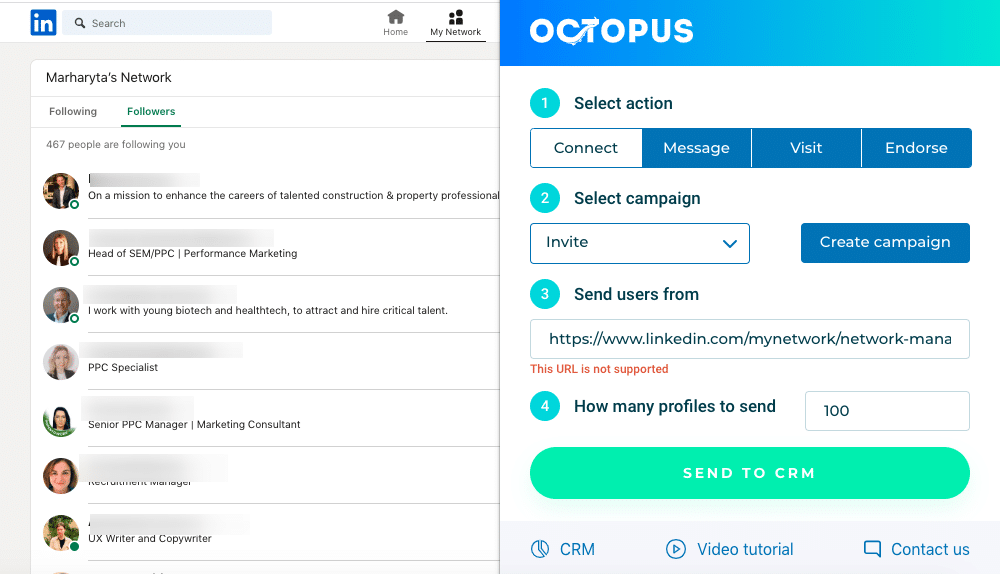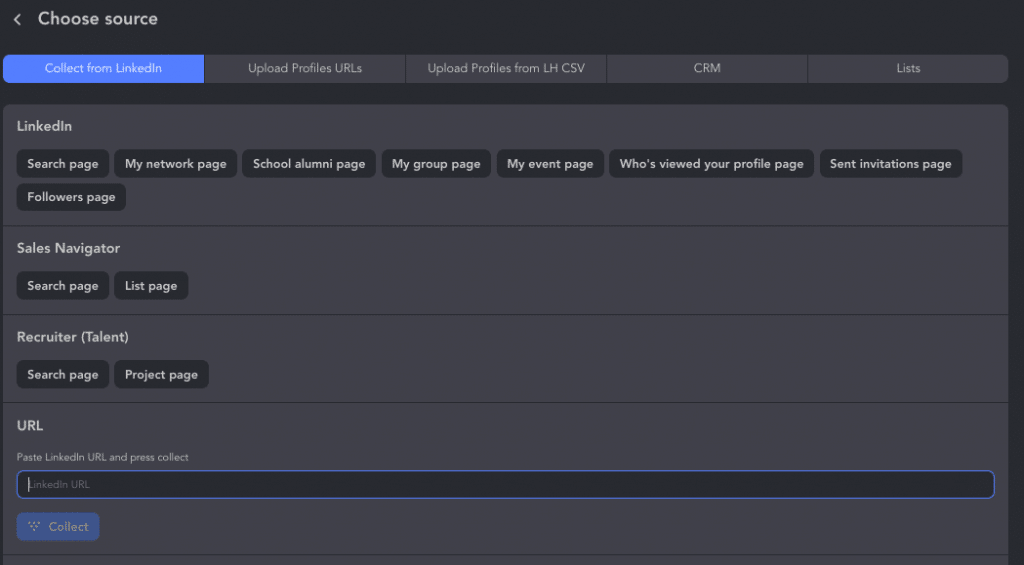 Linked Helper offers a distinct advantage in lead targeting and collection. The precision with which you select leads can significantly impact campaign success, sales, and profile growth.
A common issue with Octopus is its limited support for specific lead collection sources. For example, Octopus allows you to collect profiles only via a provided link. It does not support collecting profiles based on followers, following, people you may know, engagement (likes or comments on posts), or other sources, except for Basic and Sales Navigator searches.
In Linked Helper, you have more options. You can:
Both tools enable the upload of CSV files or the importing of profiles through LinkedIn URLs.
Reason #4 – Comprehensive Workflow and Campaigns
Unlike Octopus, Linked Helper allows you to create campaigns or use pre-made templates. Octopus requires a more semi-manual approach to campaign setup.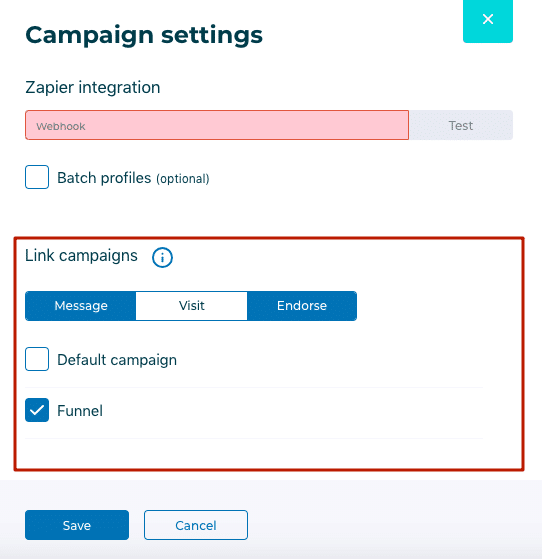 While Octopus claims to enable funnel and campaign creation in their Advanced and Unlimited plans, the reality is somewhat different. Octopus offers four tabs for LinkedIn automation actions (invite, visit, endorse, message) in its dashboard. However, these actions need to be activated and linked manually, one after the other. This is not a fully automated funnel or workflow.
In contrast, Linked Helper lets you build campaigns based on actions that run sequentially with predefined timeouts.
Note: In Linked Helper templates and custom campaigns are available on all plans.
Reason #5 – Advanced CRM and Customer Profiles
Octopus labels itself as a CRM, but it may not be what you expect. It primarily functions as a statistics panel.
It lacks features like lead lists, customer profiles, tags, and notes. Furthermore, it does not load profile photos or provide detailed customer information.
Linked Helper's CRM offers a more robust set of features. It displays comprehensive data without the need to open profiles, including work and education history, summaries, titles, and skills.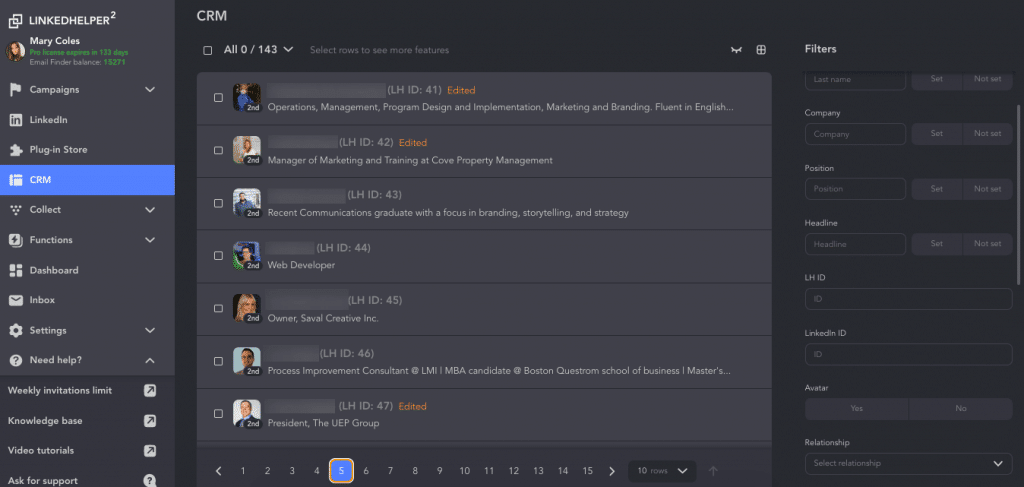 You can also filter profiles in the CRM based on specific criteria and apply both manual and auto-tagging.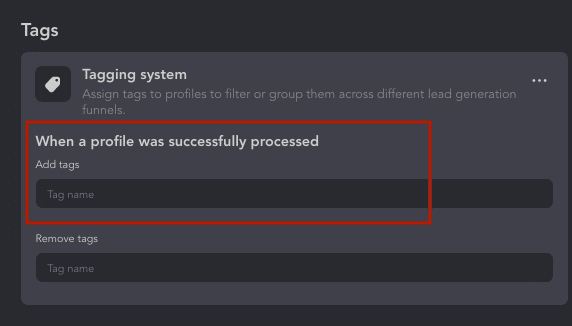 Both Octopus CRM and Linked Helper have integration with Zapier. This allows lead data to be sent to external CRM systems.
Reason #6 – Enhanced Lead Filtering
Before starting a campaign, you may want to apply additional filters to your collected leads. Octopus provides filters such as Oldest first, Recent first, and Premium, along with the option to manually select profiles for campaigns and specify the number of profiles to include.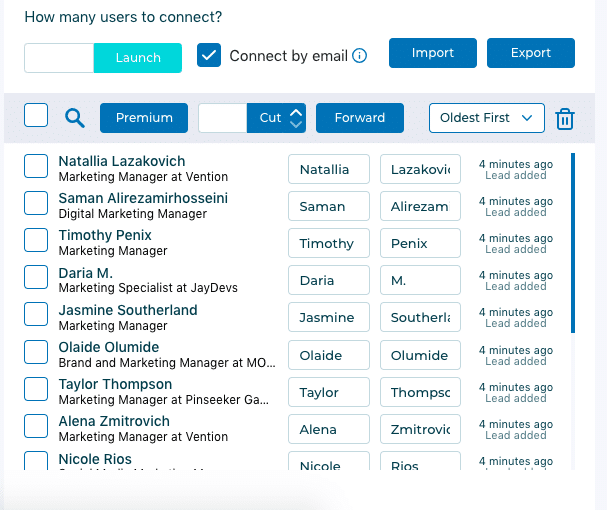 However, in Linked Helper there are more advanced methods. You can:
Manually exclude people from the campaign, simply by checking them after collection or finding them through the filter panel or keywords. For example, exclude all profiles with "Junior" in their title, which is not possible in Octopus.
Use The List Manager plugin to exclude the same profile between two campaigns and even actions. In Octopus, you can't track if the same person ends up in different campaigns, which could lead to spam.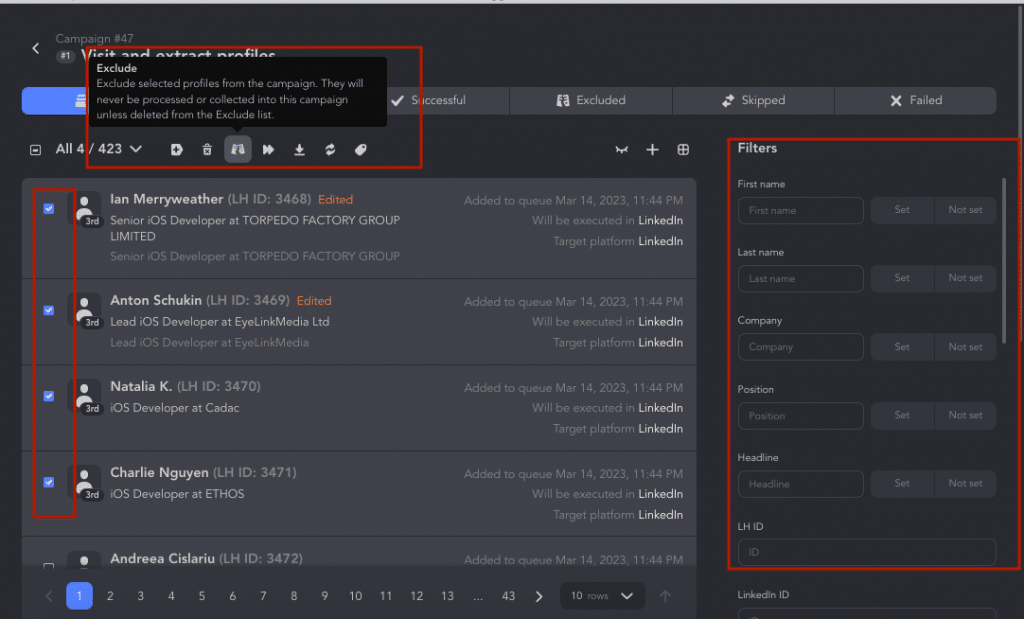 Read about the List manager plugin. 6 ways to use LinkedIn Search like a Pro: Find Leads and Profiles
Reason #7 – Manage Multiple Campaigns
During a campaign in Octopus, you can't perform any other actions within the tool. You don't have access to the tool until the progress on the screen is complete.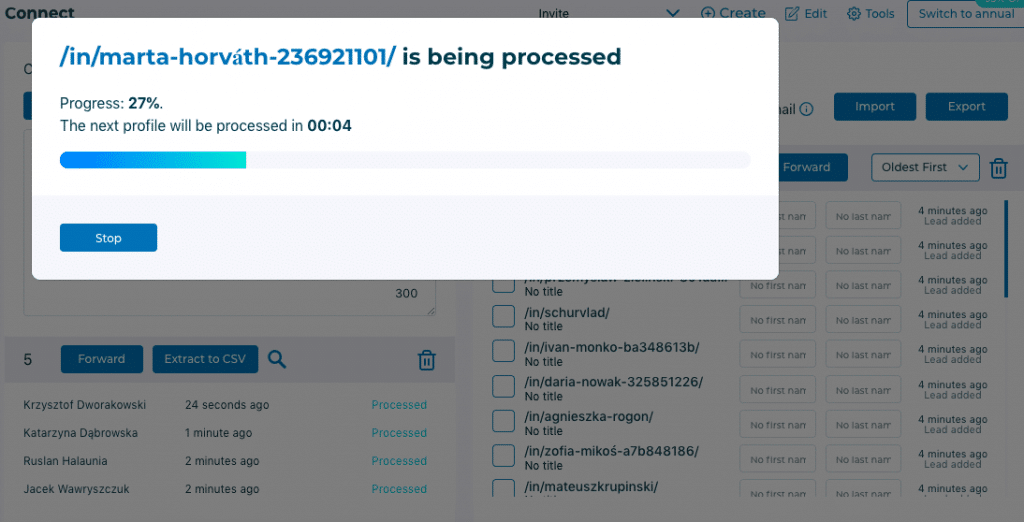 In Linked Helper, executing a campaign doesn't prevent you from creating another campaign, sorting leads, or using multiple campaigns simultaneously with the plugin enabled. The tool will switch between them without your intervention.
Reason #8 – Access to Interface and Inbox Within the Application
Linked Helper is unique in providing access to LinkedIn's interface directly within its own application. This means you can interact with LinkedIn, view your inbox, and more, all without leaving the Linked Helper interface. This feature is particularly convenient for those managing client profiles.
Reason #9 – Flexible Activity Limits Management
Linked Helper offers flexible activity limit settings, allowing you to specify daily limits for both the tool as a whole and individual actions. It is recommended to gradually increase activity and avoid exceeding 150 actions per day.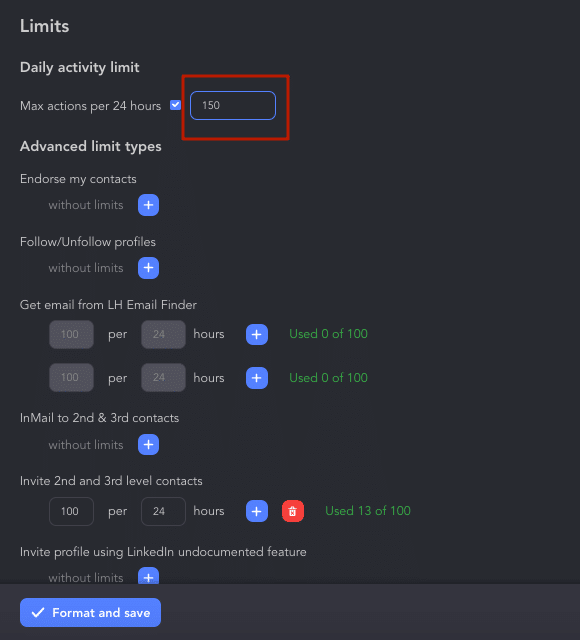 In Octopus, you can set a limit in one of the four actions. For example, you can set 20 profiles for invites from a list (if you don't select names, invites will be sent randomly to 20 people). However, there's no option to set a daily limit for the tool's operation.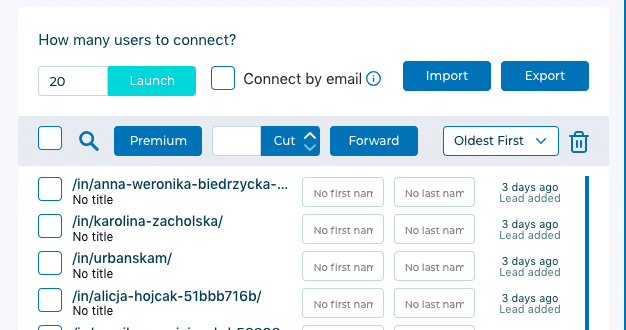 Reason #10 – Round-the-Clock Multichannel Support
Linked Helper is a technically advanced tool with a wide range of features. Therefore, our support team can dive deeper into issues and resolve them, even requesting backup files if needed. Requesting your backup file may be important to review your campaign and ensure that everything is set up correctly. Your campaign data is stored only on your PC, ensuring security.
In contrast, Octopus support can only be accessed via email. While we received responses within an hour, the stated response time is 4-8 hours. Moreover, their support hours are limited to 9 AM – 9 PM EST every day, with no chat support available.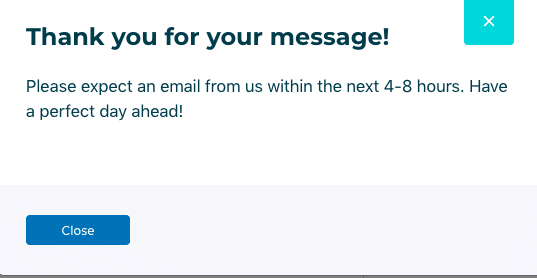 Linked Helper, on the other hand, provides 24/7 support through various channels, including website chat and built-in chat, WhatsApp messenger, Facebook, and email.
Regarding user training, Octopus CRM offers a tutorial right after you download it. But it has only video resources. This is likely because the product is technically simpler and doesn't require detailed instructions.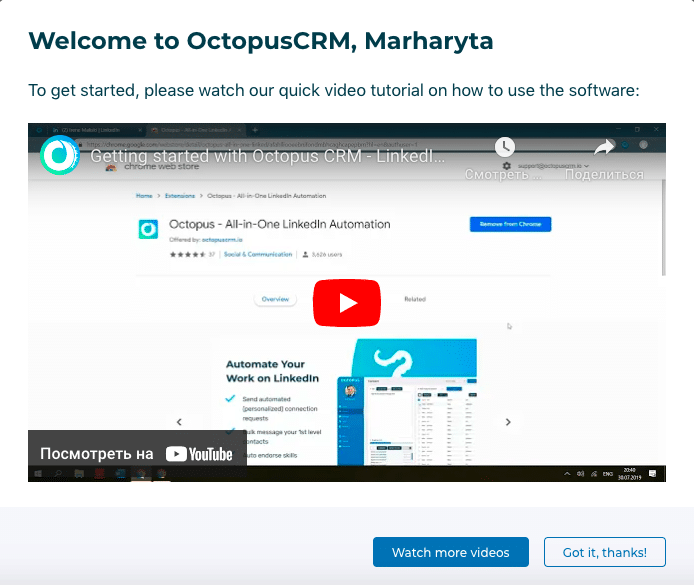 Reason #11 – Advanced Email Finder and Credits
Both Linked Helper and Octopus allow you to find emails for 2nd and 3rd-degree connections using an Email Finder tool. However, Octopus's most expensive plan provides 500 credits with no option to purchase more. In contrast, Linked Helper offers 620 credits monthly with the Standard license and 3,100 credits with the Pro license. Additional credits can be purchased, starting at $15 USD for 1,000 credits. Email search may cost as little as $0.0057 per lead when purchasing a 50,000-credit package for $284. The larger the package, the lower the cost per lead.

A significant advantage of using Linked Helper for email searches is:
Speed! With the purchase of a new license, you can utilize all your email credits right from the first day. Previously, the limit was 20 per day with a Standard license and 100 with PRO.
| Period | Standard License | PRO License |
| --- | --- | --- |
| 1 month | 620 credits | 3100 credits |
| 3 months | 1860 credits | 9300 credits |
| 6 months | 3660 credits | 18300 credits |
| 12 months | 7320 credits | 36600 credits |
The number of credits included in the subscription for different Linked Helper plans.
Explore Linked Helper Email Finder Credits.
Reason #12 – License Transfers
Octopus accounts are tied to LinkedIn accounts, requiring a subscription for each LinkedIn account separately. In other words, one Octopus license corresponds to one LinkedIn account. Each Octopus account has its dashboard, lead lists, campaigns, etc. However, you have the option to transfer an annual license from one LinkedIn account to another if needed. For instance, if you decide to change accounts within a year, they can transfer the license to the new account at no extra cost.
In Linked Helper, you can manually transfer licenses between accounts in the Launcher window. This means you can have multiple profiles under one license and create campaigns for them on different days, for example.
Reason #13 – Custom Variables and Personalized Images
In Octopus, you'll find only built-in variables like First name, Last Name, Position, and Company. However, such basic personalization may not suffice, as simply addressing someone by their name in a LinkedIn message might not be enough.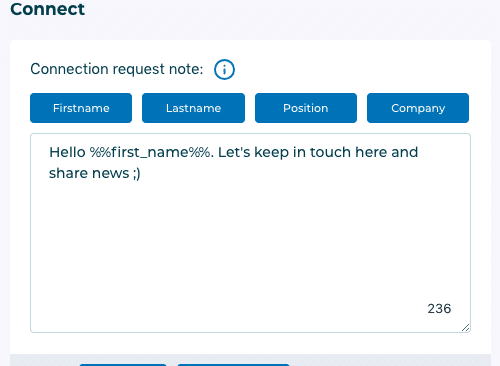 Linked Helper offers more advanced messaging capabilities:
More built-in variables, including the names of shared connections.
The ability to set custom variables by uploading them via a CSV file.
The use of If-Then-Else operators to create alternative message versions in case a variable is not detected, allowing for more personalization.
The option to work with Uclic and Hyperise enabling the customization of link previews and banners with variables.
Reason #14 – Reading Messages and Storage within the Application
In Linked Helper, after automated messaging, you can view replies in the software. Additionally, the software can detect accepted InMails or event/group messages. Responses to invite messages, InMails, or other message types are sorted after undergoing reply checks. With the Inbox plugin, you can view detected responses.
You also have access to the inbox, where you can respond manually.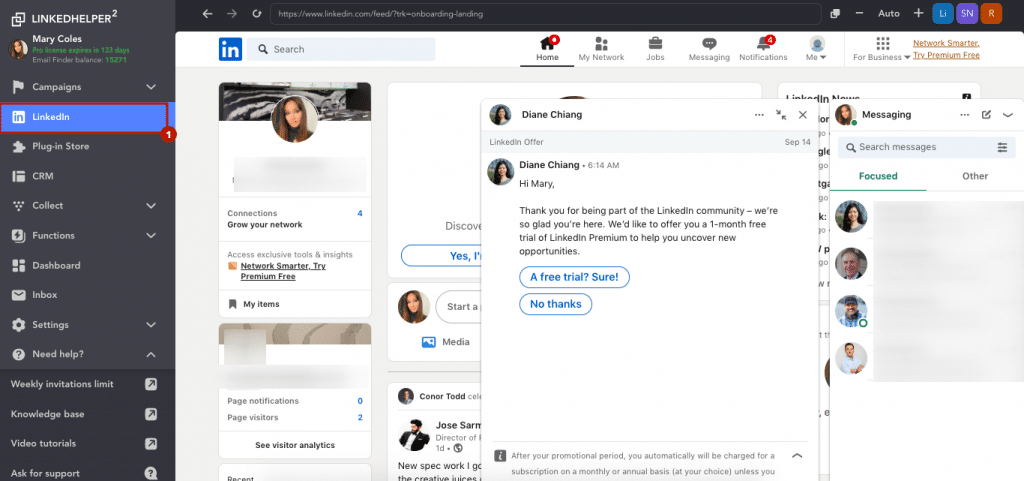 In Octopus, replies are not visible within the CRM, and there are no message statuses. Therefore, after sending messages, you can only find responses in your inbox.
Linked Helper also allows you to export message archives, a feature not available in the alternative tool.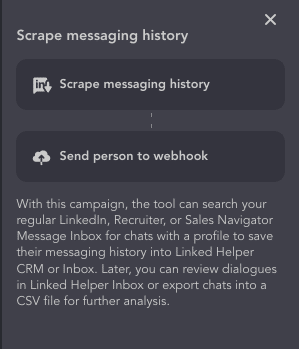 Reason #15 – Smart Word Detector in Messages
Unlike Octopus, Linked Helper not only offers a Reply Detection feature but also allows you to set up stop words. If LinkedIn Helper detects specific words that you previously sent manually, it may pause the sending process to avoid duplication. These trigger keywords can be used in InMails and regular messages.
Reason #16 – User Lists for Campaigns
Linked Helper offers convenient user lists for each campaign, helping you keep track of a large number of individuals, potentially even thousands. These lists are sorted based on success, progress, replies, accepted connections, and more.
In contrast, Octopus lacks user sorting. After an action is completed, the status of an individual may change, but there's no organized sorting, making it challenging to manage a large volume of users effectively.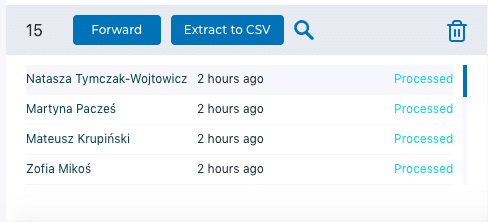 Reason #17 – More Cross-Platform Processing Options
Both Octopus and Linked Helper allow automation on various LinkedIn solutions, including Basic, Premium, Recruiter, or Sales Navigator. However, Octopus only allows user uploads from a CSV file based on LinkedIn account URLs.
Linked Helper offers additional options:
You can save links or CSV files with links in Sales Navigator and process them using a regular LinkedIn account. This means you can purchase just one account and use free accounts for lead generation.
Set up group/event IDs, enabling you to message users through groups or events even if you collected them from Sales Navigator.
Activate the Override feature to seamlessly switch between platforms for different actions within a single campaign.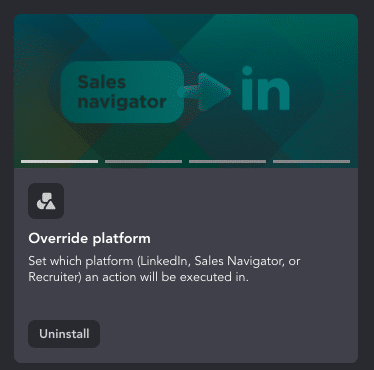 Read How to filter profiles via Sales Navigator and send them free messages as group members.
Reason #18 – More Actions and Templates

Octopus offers only four key actions: invite, message 1st-degree connections, endorse, and profile visit, as shown in the image. Linked Helper, on the other hand, provides a broader range of actions and pre-built funnels that include a series of actions based on scenarios.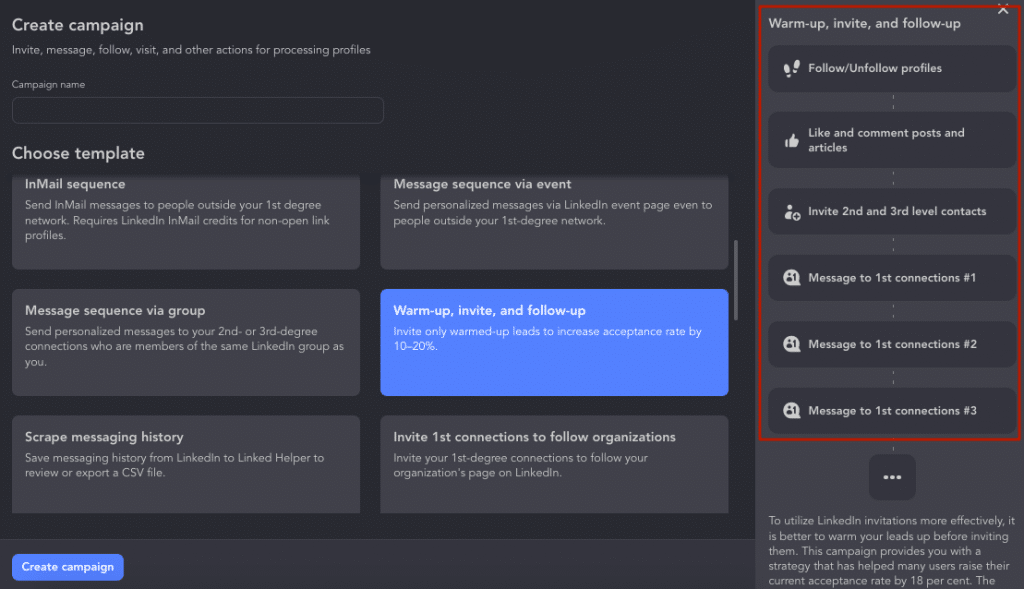 For example, Linked Helper offers invite and follow-up funnels, message chains through groups or events, profile visits, and data extraction, among others.
Some important actions available in Linked Helper but not in Octopus include:
InMails (both paid and free messages to "Open profile" users and those not in your network).
Auto-follow, which increases profile views before sending invites.
Likes and comments, essential for warming up profiles before sending invites.
Invites to events, groups, or organization pages, crucial for community and brand development.
Message chains through events or groups, a unique way to reach everyone in your community.
Data extraction from people and company profiles.
Sending leads to Snov.io, a paid mass-mailing service that can be integrated directly with Linked Helper for sending mass emails.
Reason #19 – Working Hours/Delays/Custom Schedule with Time Zone
Linked Helper allows for full customization of working hours, aligning them with different time zones, which is crucial when dealing with clients in different parts of the world. You can:
Set the tool's working hours.
Set specific working hours for specific actions.
Delay the start of actions for a specific time, ensuring campaigns are activated precisely when needed.
Add delays between actions, such as waiting 3-5 days between an invite and a message.
In Octopus, all actions would need to be performed manually at the right times.
Reason #20 – Developing Company Pages/Groups/Events
If your goal is to grow not only your personal network but also associated company pages, groups, or events, Linked Helper is the better choice. Octopus does not currently offer these capabilities.
Reason #21 – Reaching Out-of-Network Users for Free
Few users are aware that, even without paid credits, you can send messages to out-of-network contacts. To do this, you need to find leads with Open profiles. Octopus allows filtering only by Premium profiles and lacks an action for auto-InMails. Linked Helper lets you reach out to people without invites more efficiently.
Reason #22 – Complete Profile, Company, and Messaging Export
Linked Helper offers the most comprehensive data export among similar tools. Although Octopus allows importing and exporting CSV files, its exports do not include many details from user profiles, nor can it download company pages. LinkedIn Sales Navigator: Export leads to Excel in an easy way
In a Linked Helper export file, you'll find:
profile descriptions, which are crucial for personalization and audience analysis
headlines
skills
addresses
phone numbers
emails
full education and work histories
Additionally, you can customize company names and profile names, which can be important for message personalization.
Reason #23 – Data Backup After Canceling LinkedIn Premium Subscriptions
If you subscribe to LinkedIn Sales Navigator and later decide to cancel it, your lead lists, conversations, and other data may become inaccessible. By managing lead lists and conversations through Linked Helper, all your data remains in the CRM. Even after canceling your subscription, you retain access to this crucial information.
Reason #24 – New "Boost Post" Action in Linked Helper
This recently introduced feature sets the Linked Helper apart and distinguishes it favorably from Octopus. It enables you to warm up your audience before sending invitations, encourage conversations within your community, and promote important posts.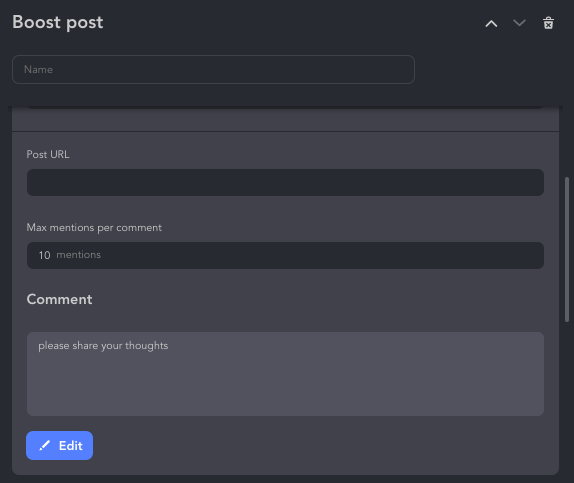 You can specify a link to any post, craft a comment text with variables, and indicate the number of people to tag in a single comment. These individuals will be taken from the campaign Queue. The software will automatically tag them within the text of your comment.
This presents an excellent opportunity to capture attention both for your post and your profile. For more detailed instructions, please refer to the manual.
Reason #25 – Streamlined CRM Integrations
Linked Helper stands out for its direct integrations with prominent CRMs such as HubSpot, Pipedrive, and Close. This unique feature enables users to seamlessly connect Linked Helper with their preferred CRM platforms, ensuring a smooth and efficient data flow.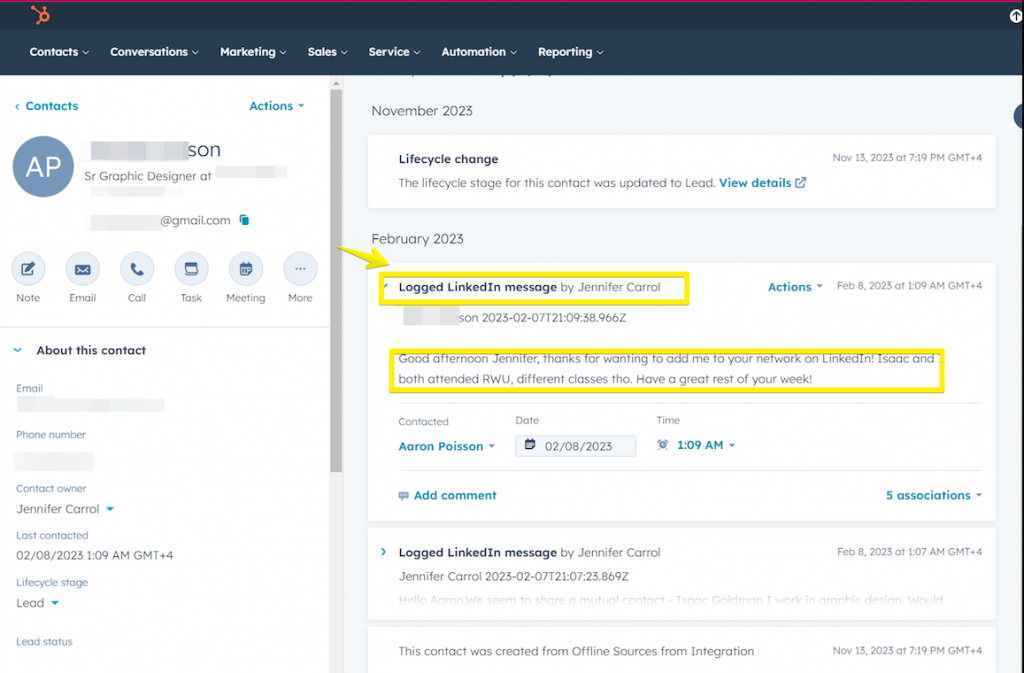 Users can effortlessly transmit a comprehensive set of data from LinkedIn leads to their CRM. This includes not only fundamental lead details but also the seamless transfer of conversation history and custom variables.
Reason #26 – More Features for the Same Cost
For $15, you can choose between Linked Helper Standard and Octopus Pro on a monthly basis. However, opting for Linked Helper provides a technically advanced tool with more actions and the ability to create workflows. Octopus Pro does not allow campaign creation (linking actions), data import/export, or webhook usage.
View the Octopus CRM pricing below: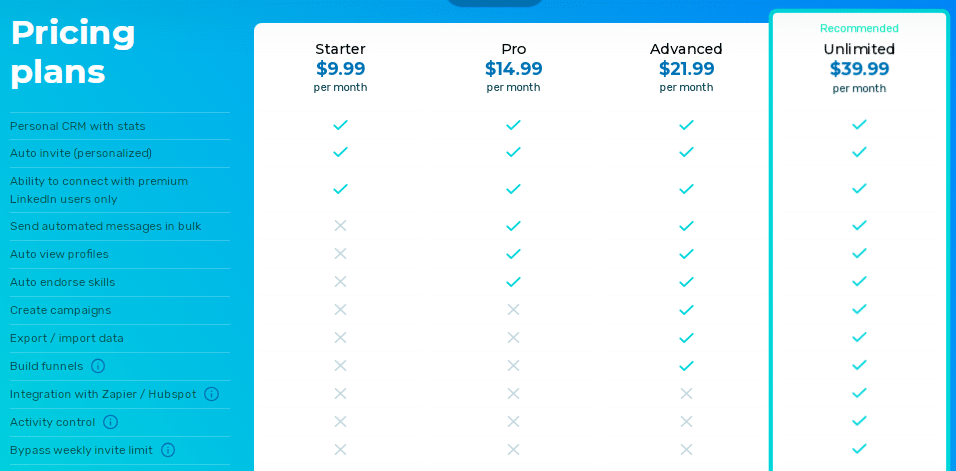 While Linked Helper Standard has limitations on daily actions (20 for likes, invitations, and group/event messages), it provides full profile development capabilities.
When choosing between the most expensive plans, Linked Helper Pro and Octopus Unlimited, the annual subscription cost is the same. However, with Linked Helper, you get a full-featured CRM and the ability to automate all LinkedIn functions instead of just four.
What's in Octopus that's not in Linked Helper?
Profile Statistics
You can view profile visit statistics, but this same information is also visible on LinkedIn. Additionally, in Octopus, you can export profiles and campaign statistics.

Reporting in Linked Helper will be available soon. However, you can already access this information through Linked Helper because you have direct access to your LinkedIn profile page.
Profile Makeover
Octopus CRM stands out from alternatives with this LinkedIn tool. It offers a special service called Profile Makeover. For $299, you can take advantage of their service to enhance your profile.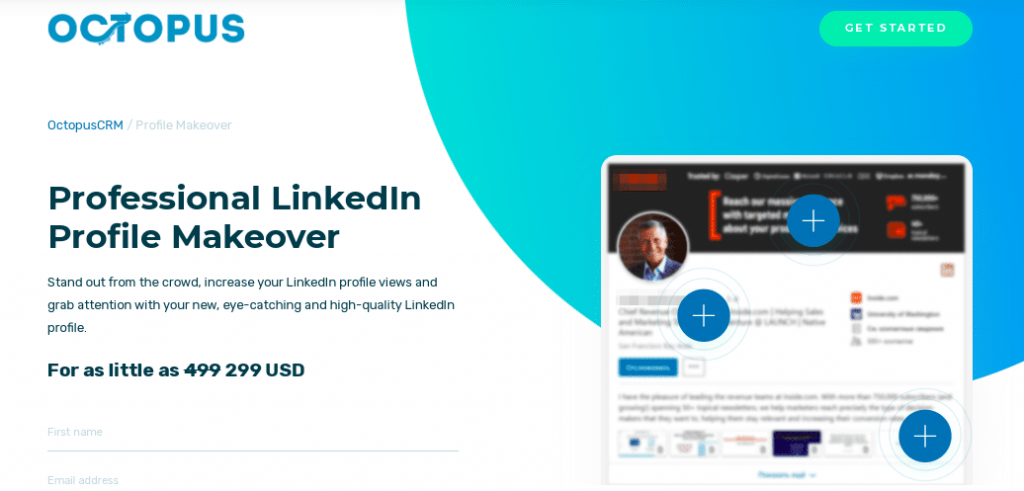 Read our article on how to write an outstanding summary with 24 bio examples and improve your profile for SEO.
Criteria-Based Tool Evaluation
Getting Started with the Tools
The table below illustrates the disparities between Linked Helper and Octopus at the beginning of usage. Linked Helper offers a free trial that is twice as long and the ability to manually transfer licenses between profiles.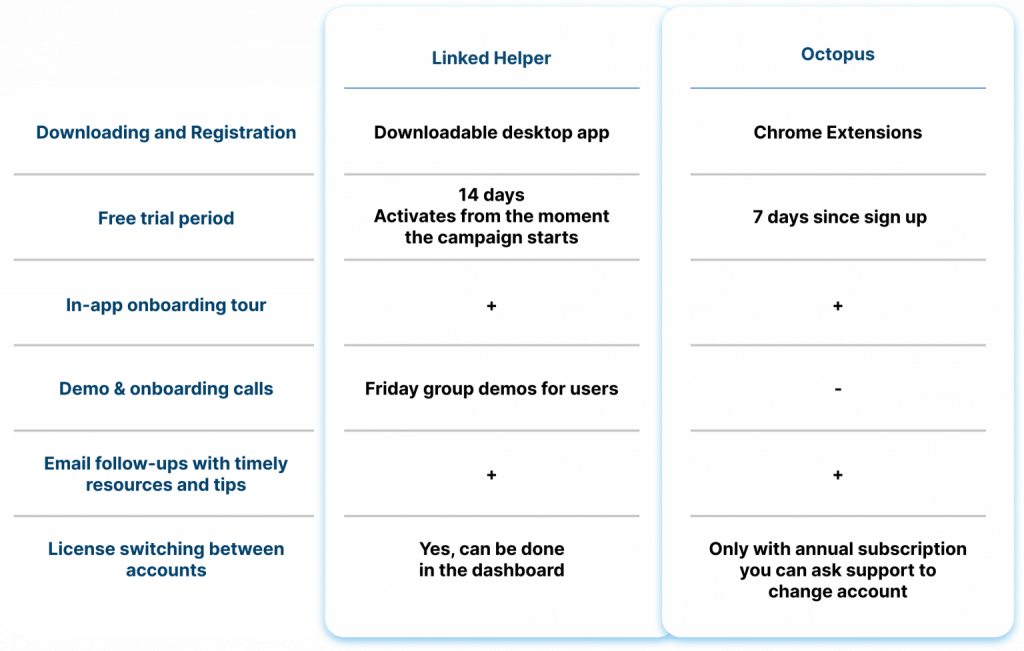 Collecting Leads
In the table below, you can see that Octopus has limited audience collection sources for auto campaigns. This is crucial for targeting when collecting leads.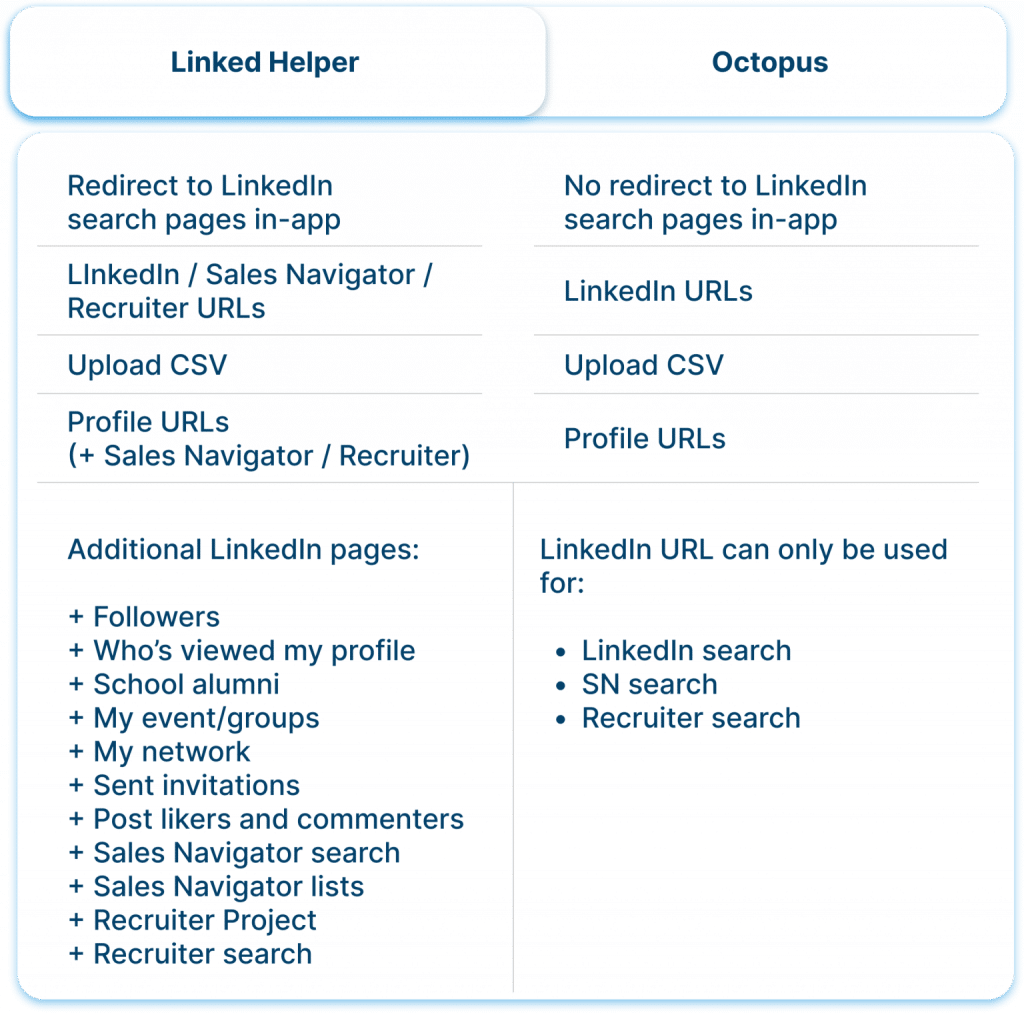 Filtering Leads
Both tools offer different options for post-gathering lead selection. In Linked Helper, people can be filtered using built-in filters. More details are visible in the image.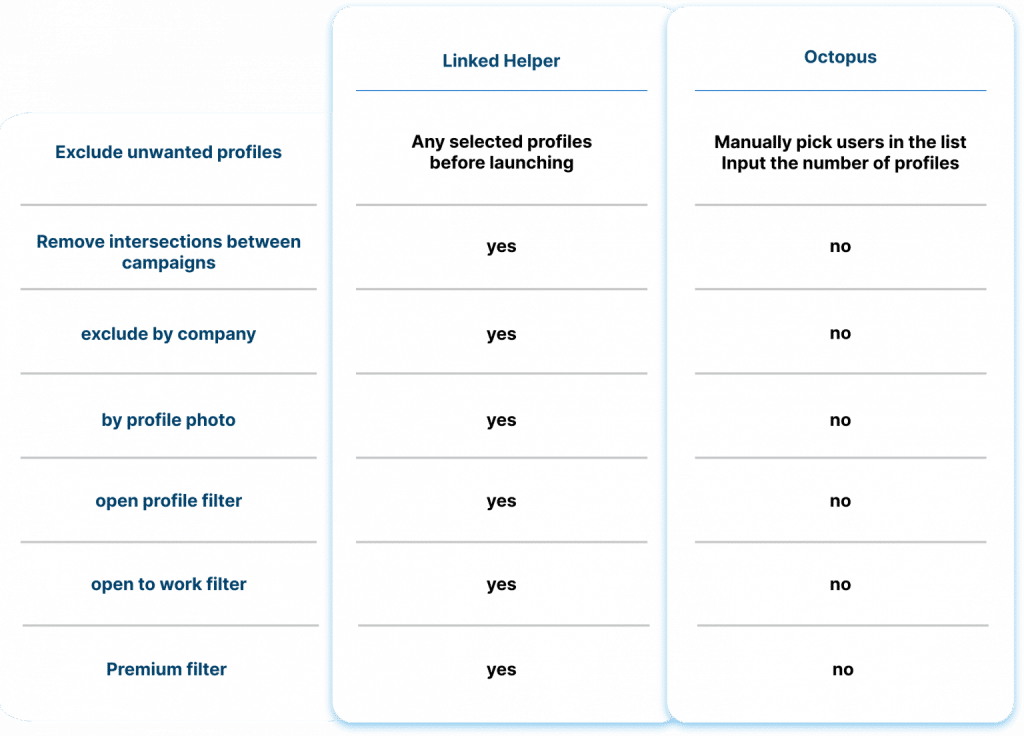 Cross-Platform Processing: LinkedIn, Sales Navigator, Recruiter
Both tools can be connected with any LinkedIn tariff. Similar distinctions are presented below.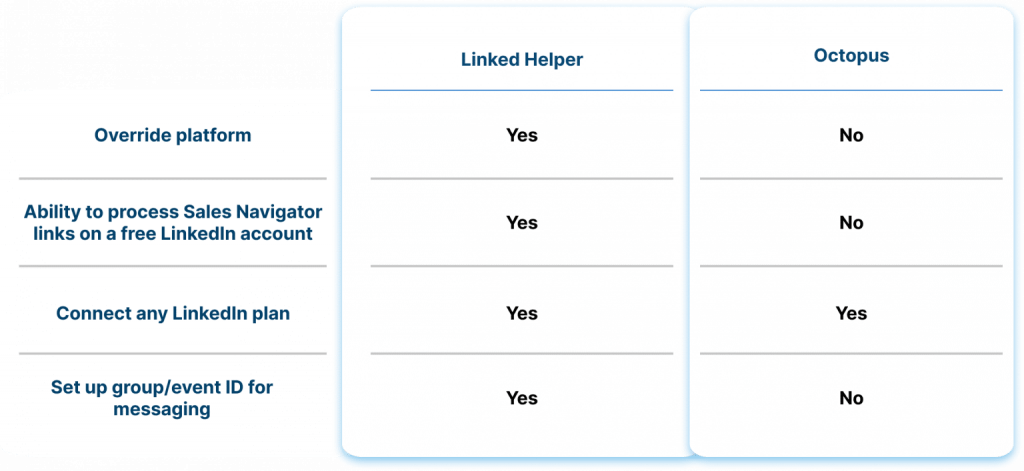 Drip Campaign & Campaign Templates
Unlike Octopus, Linked Helper allows building a funnel on any plan. The process in Octopus is different and requires manual actions. Details are provided in the table below.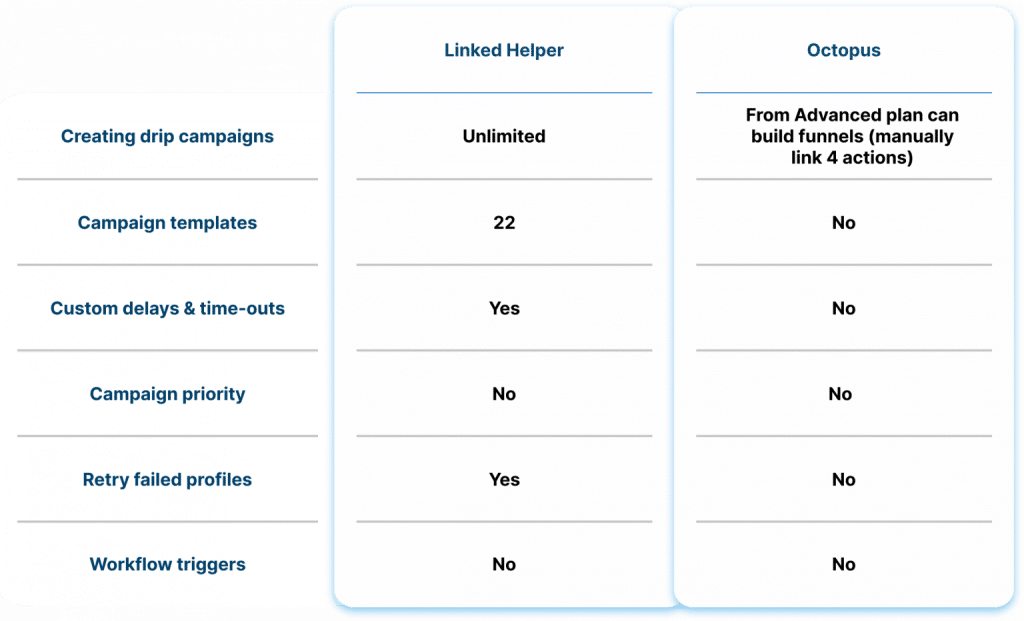 Scope of Automation
The table below shows that Linked Helper has many more built-in features for automation than Octopus.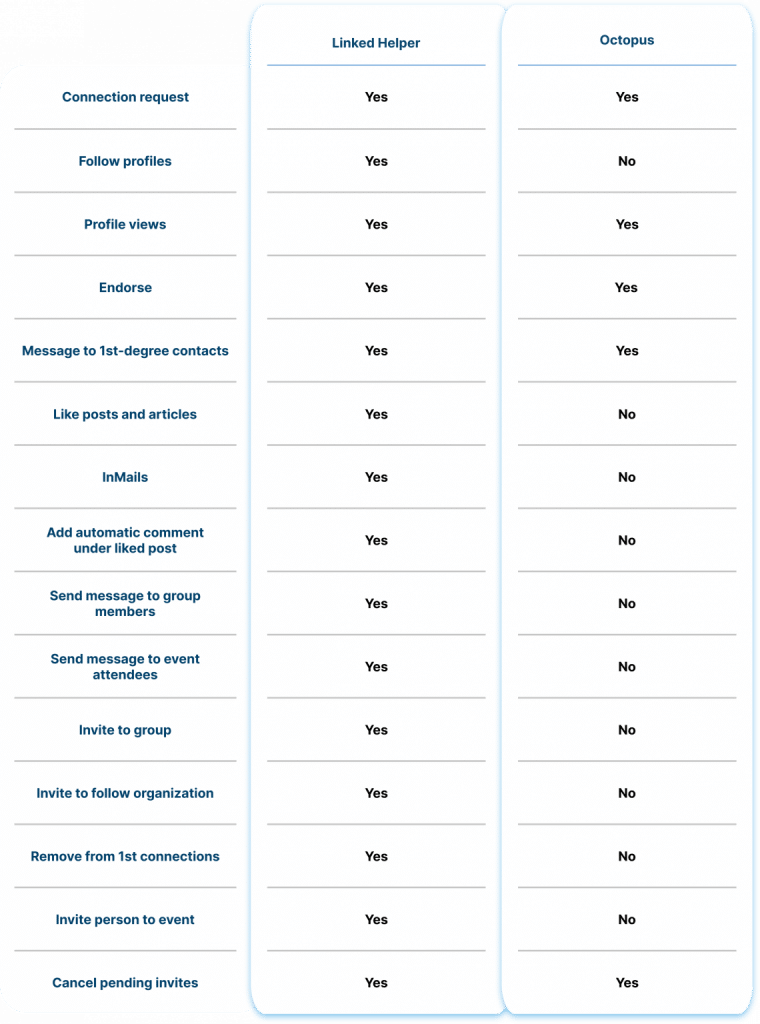 Messaging
In Octopus, advanced messaging features like custom variables are not available. More differences are visible in the table.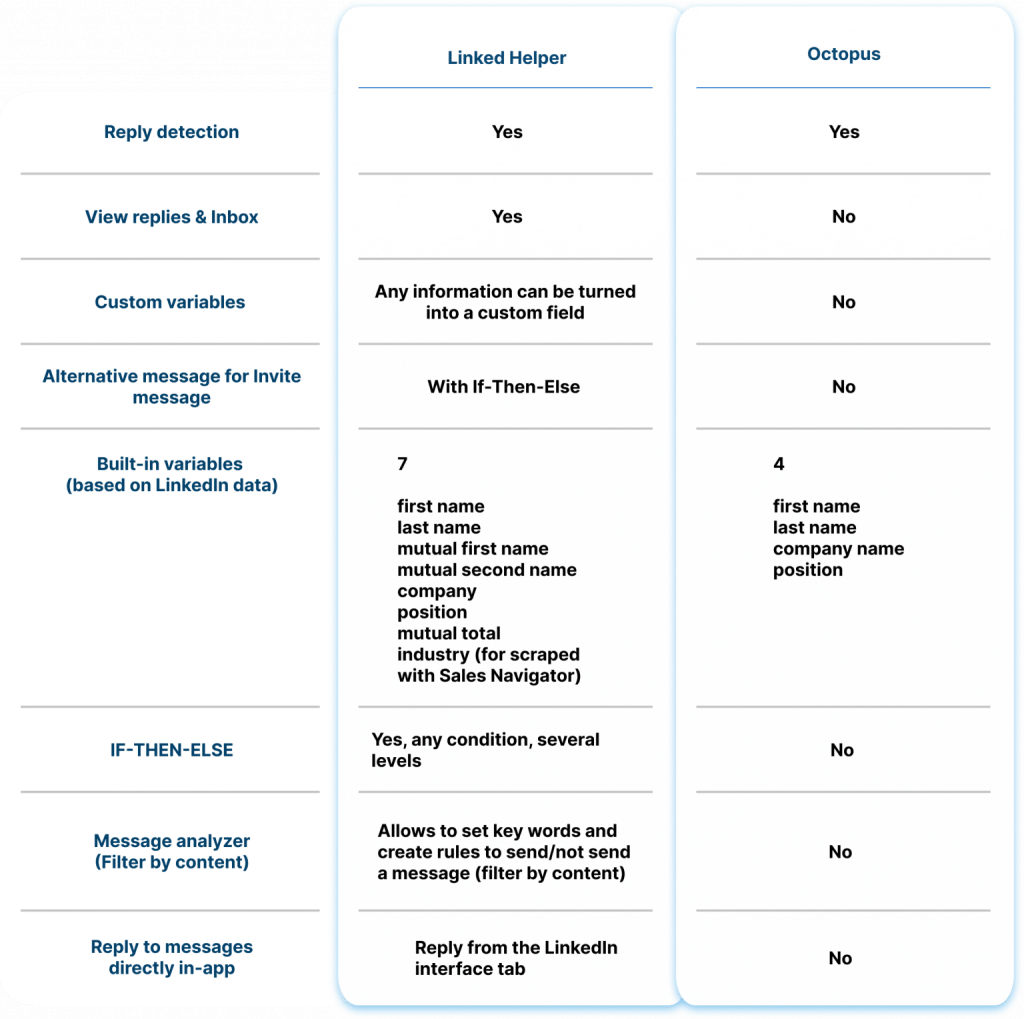 Action Limits
In the table below, you'll find descriptions of limits for each tool's action. In spite of the claim on the Octopus website that the tool can surpass the invitation limit through email invites, our test revealed the opposite. The tool throws an error when attempting to send invites via email.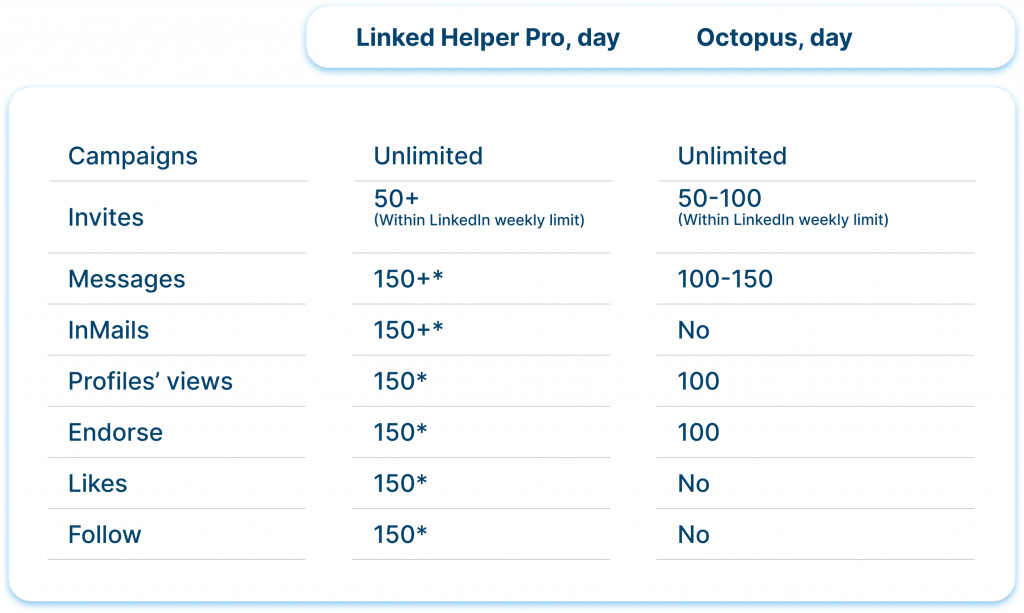 Data Export
Data from Octopus isn't as extensive as that from Linked Helper. The full output list of Linked Helper can be found at the provided link.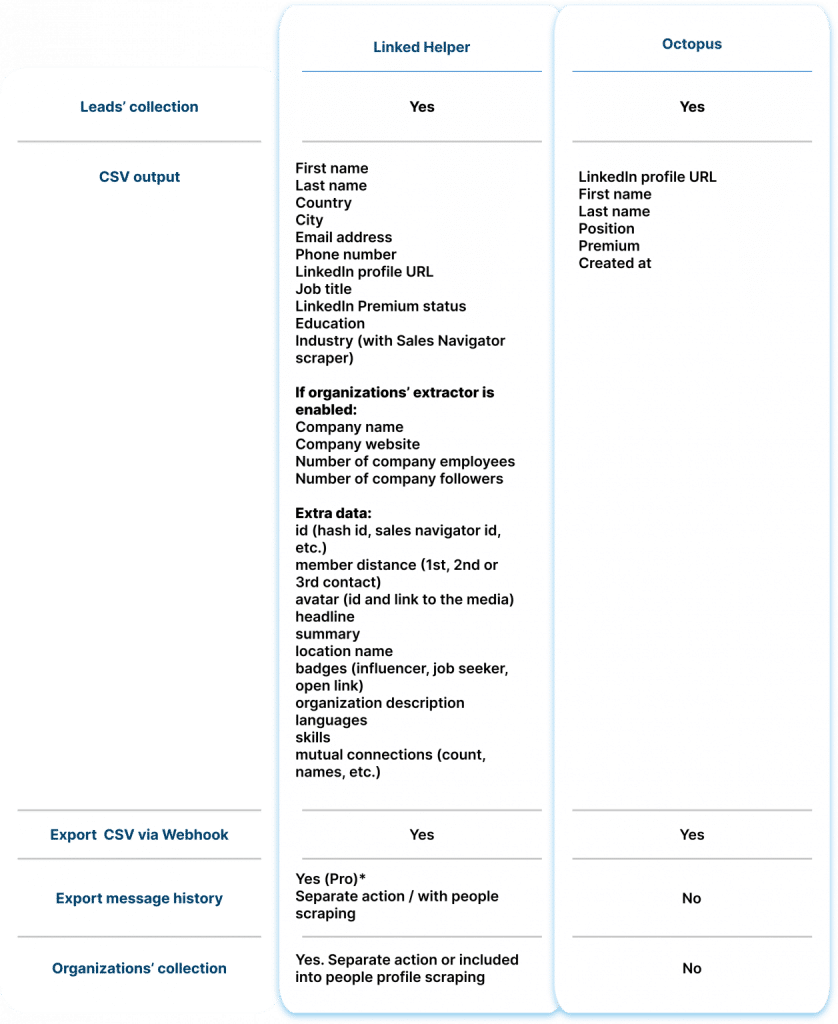 Customer Support and Resources
In Octopus, you won't receive support responses at any time of day, unlike Linked Helper. Further differences are described in the image below.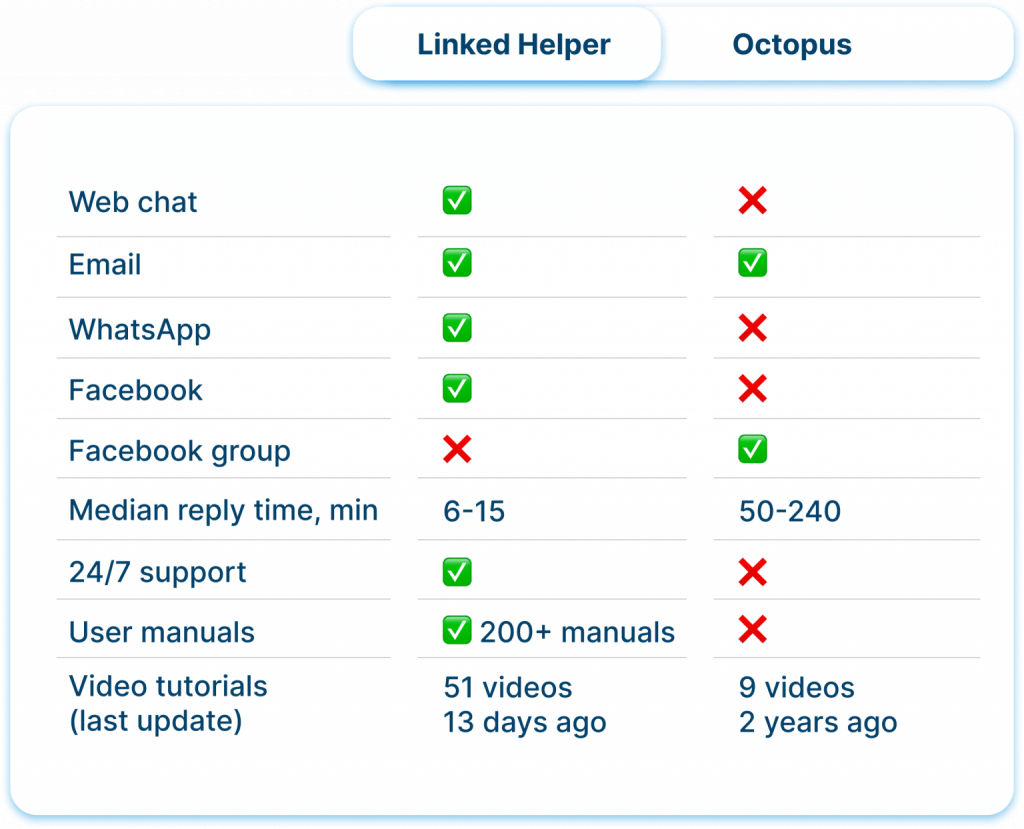 Scheduling & Timing
Linked Helper allows creating custom schedules for the tool and each individual action. More details are provided below.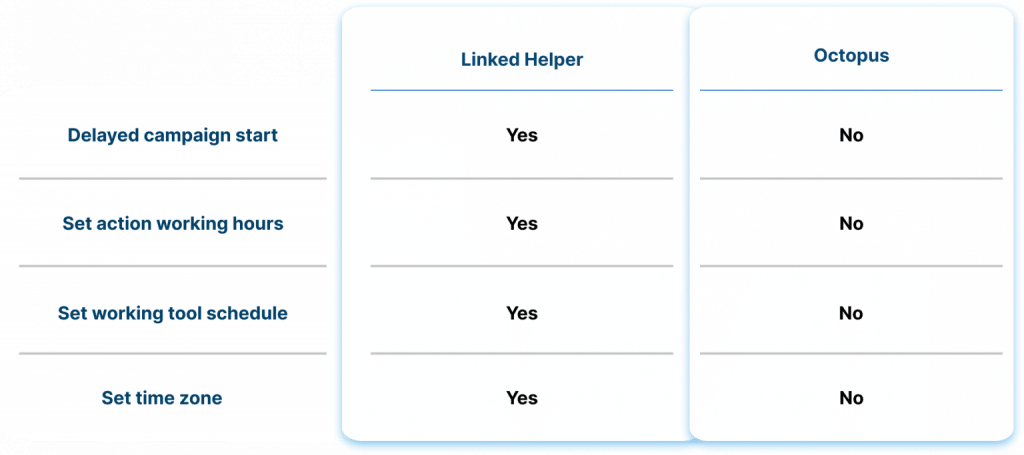 Dashboard and Campaign Stats
In the table below, you'll find the differences in tools regarding campaign and action analytics. Both services provide campaign evaluation.
Managing Accounts in Teams
Both tools can be installed on a remote desktop to provide access for multiple team member.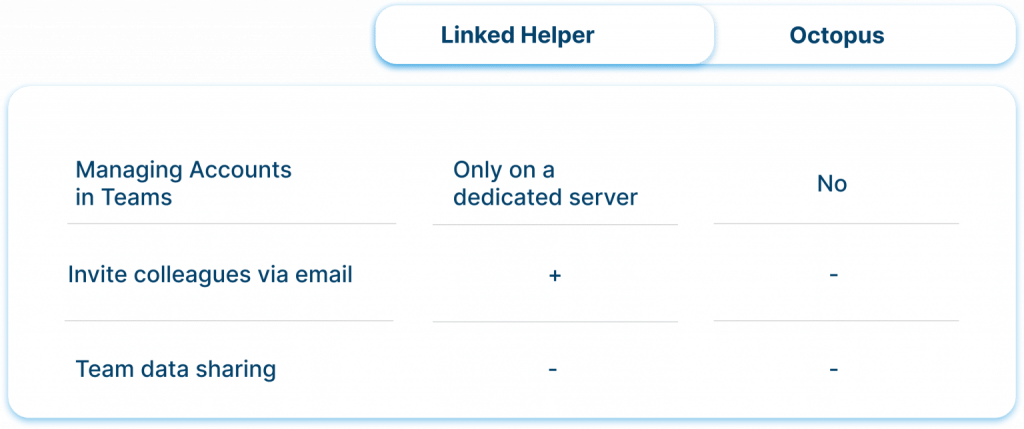 Integrations with 3rd-Party Tools
As seen in the image below, Octopus has fewer features for integration with other services.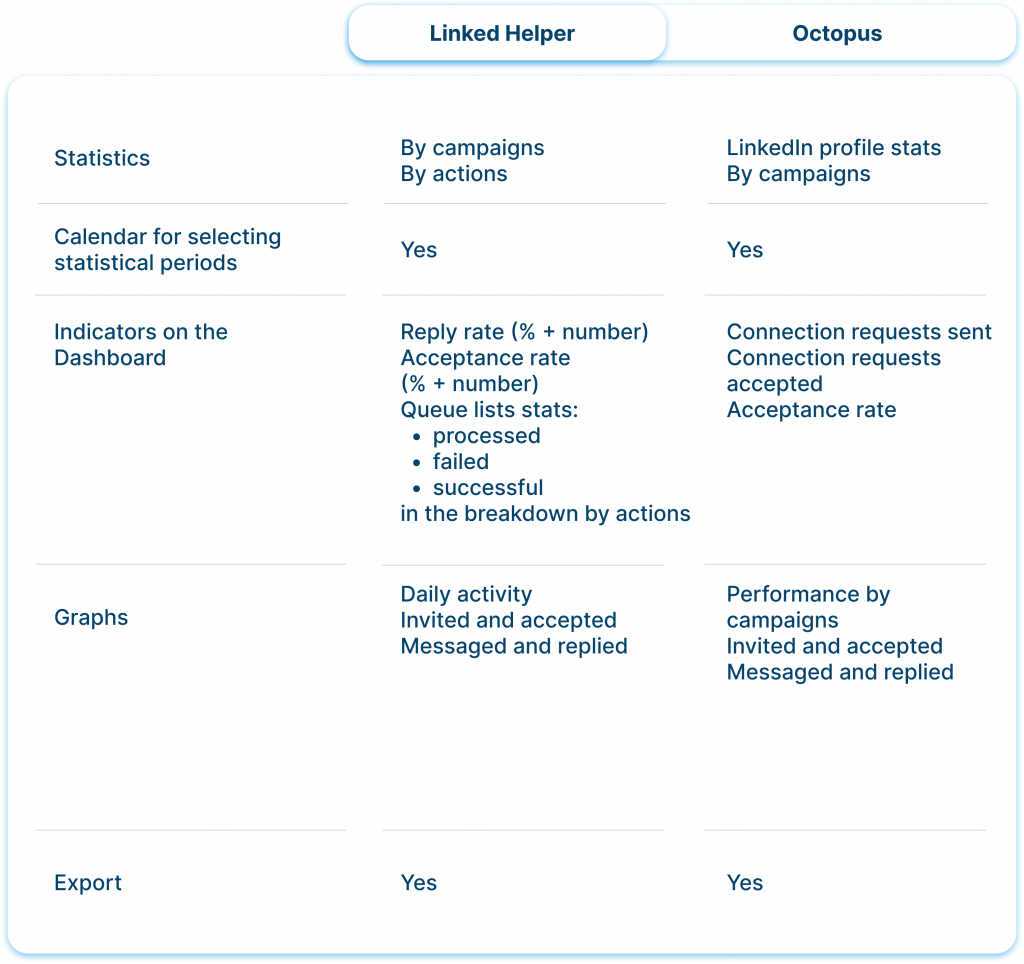 Pricing & Value
In the image below, you'll find the price difference between the tools. The most expensive plan of Linked Helper and Octopus is almost equal in price, but Octopus lags behind technically and in features compared to its counterpart.

*150 actions/day – recommended safety limit