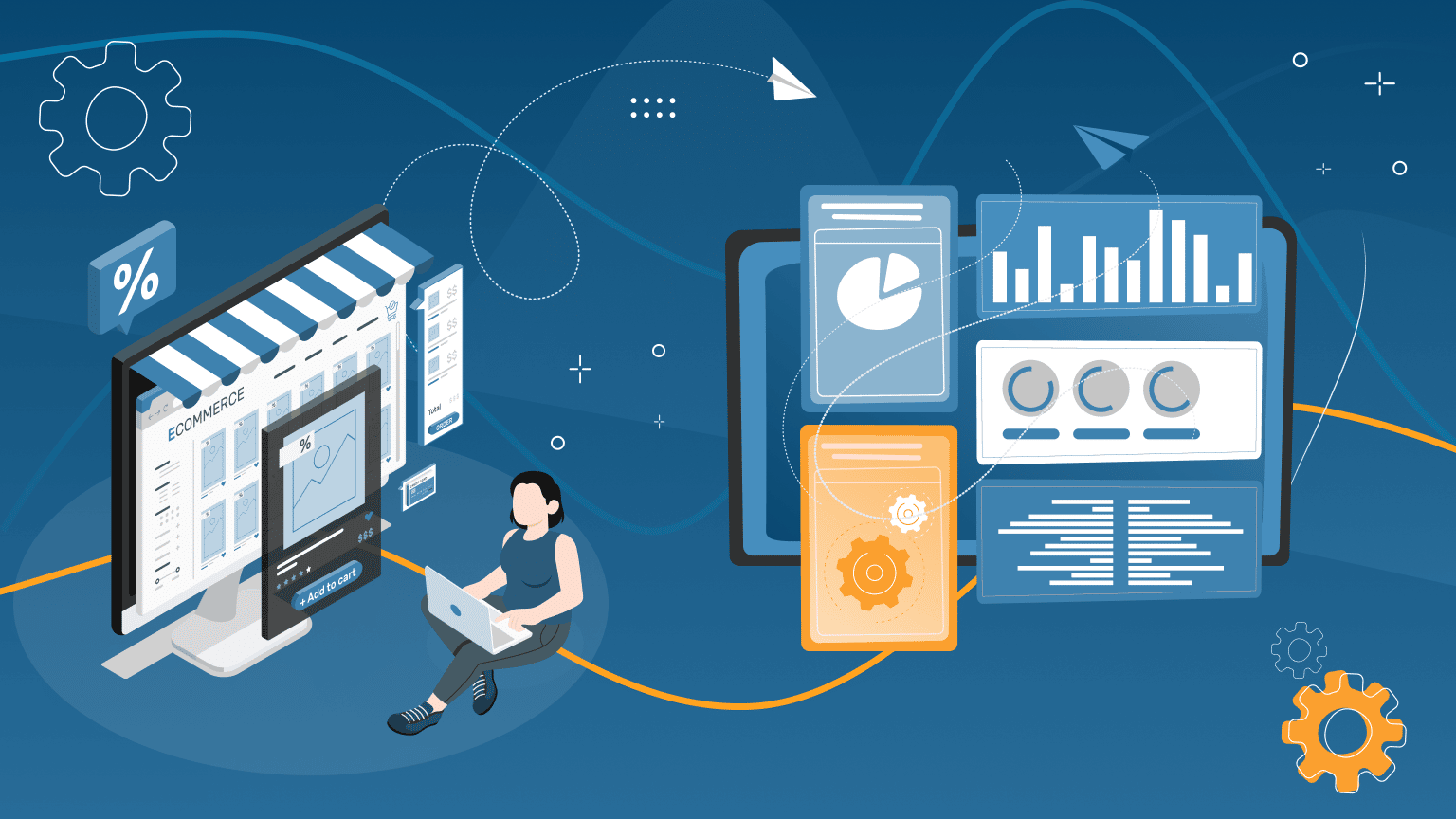 If you have created or are promoting an e-commerce business, then you are probably missing out if you are not already promoting it through LinkedIn. This social network drives more than half of all traffic to company websites or blogs. Perhaps the users of this business-oriented network are more willing to consume long and informative content and are more focused on the perception of commercial information than on a more entertaining site. In this article, you will learn how to boost your site through LinkedIn, which will help you increase sales, look for employees and partners, and also increase loyalty to your brand.
You may be intimidated by the prospect that LinkedIn marketing will take a long time and require an employee to manage routine tasks. But by building drip campaigns in Linked Helper, you can quickly get customers or traffic to your store without a lot of effort on your part. You will not need to perform actions such as putting likes, profile visiting profiles, and sending invites manually. You will only need to create content, and this smart tool will do everything according to your settings to quickly reach the audience. Explore all the actions in this video.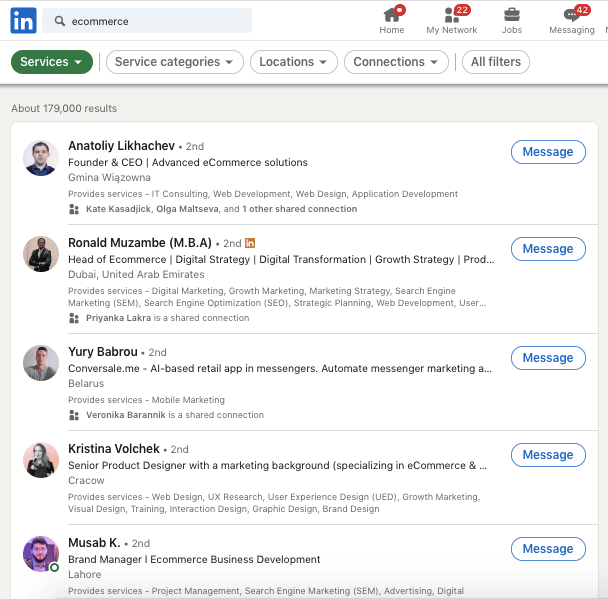 6 reasons why LinkedIn is vital for e-commerce
You can search for leads
Whether your business is B2B or B2C, LinkedIn can be a good tool for connecting with customers. Through the social network's filters (and especially the improved features of Sales Navigator or Recruiter), you can reach your target audience efficiently. For example, you can use segmentation based on the type of business activity, locations, or job positions of your target audience.
Let's say, for example, you are the owner or sales manager of an online store of spare parts and accessories for yachts and sailing. Based on this, you can reach large customers on LinkedIn. There are many options for finding your target audience – the main thing is to conduct research and use segmentation. You can also do this through Linked Helper using profile parsing after filtering through the LinkedIn search menu.
You can also look for partners in your niche, such as directors or e-commerce managers.
A company page will help brand development
You can create and maintain a great LinkedIn profile for your company. Through Linked Helper, for example, you can automatically invite subscribers to your organization's page. Also, the presence of such a corporate account will be a guarantee to new customers that your business is established and trustworthy. By making your employees, offices, and publications public, you can become more visible and understandable to potential clients. In addition, having profiles of your employees with a link to the company page will help increase the views of your posts.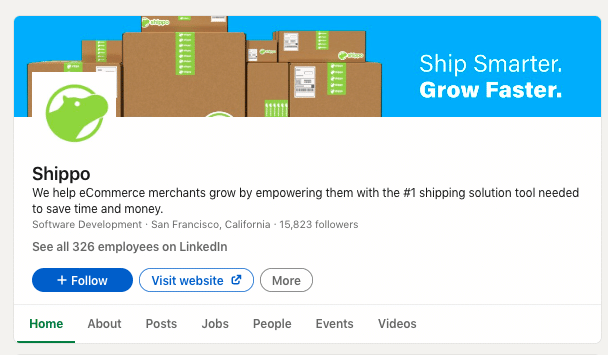 Additional traffic to your store
You can use LinkedIn promotion along with other SEO techniques. It's no secret that social media pages can rank faster in search engines than a website (especially if your store is new). Therefore, by actively developing your business profile, you can begin to rank higher in Google search results.
To do this, you must diligently fill in the text sections of your business profile, using the keywords that customers usually use to find you. You can optimize each post, create articles for LinkedIn, use group promotion, or at least repost your blog articles or products.
We have collected effective recommendations for SEO promotion through LinkedIn in the article.
Scraping market and customer data
This social network contains terabytes of data about your industry and e-commerce profiles. Often LinkedIn can become a relevant tool for market analysis and competitor search. And you can also collect segments of the target audience from the network and work on them in the Linked Helper CRM (i.e., sort them into groups through tags, view their personal profile, and leave notes).
You can collect company data through Linked Helper. This operation in the software will help you conduct your analysis, because the parser will collect all the data that is filled in about the company in LinkedIn. You can also download the CSV file with the data to share with colleagues or continue working with it in Excel.
You can aggregate target customer emails. Linked Helper is a godsend if you usually set up mass mailings via email. You can create a database of emails using the built-in scraper that collects emails from your contacts, including 2nd and 3rd degree connections. This is possible thanks to the unique Email Finder – an internal database of emails collected from all Linked Helper users.
Drip campaigns along with email marketing
If you are used to managing your funnels through email, then you can only improve their effectiveness by gradually warming up the audience via messages or InMails on LinkedIn.
Many users will treat a message from a person on LinkedIn with more confidence than a cold email. Therefore, by contacting clients through a personal profile – one with real photos and reviews on it – you can get more responses than through a cold email.
The only rule is that the LinkedIn funnel should work gradually, without direct selling in the first message (unless you are sure that this approach will work in your niche). Next, we will teach you how to set up an automated campaign step by step that can go hand in hand with email marketing – and bring you twice as many customers!
You can search for workers without recruiters
Valuable personnel live on LinkedIn. And if you want to expand your team, then you can safely create a campaign to find people. It can be launched simultaneously with pipelines to promote your products or services. Through the software, you can easily sort the candidates you need to interact with their profiles, or send out InMails with a job offer.
Read our successful case study on finding a copywriter for Linked Helper.
For example, for your e-commerce project, you can quickly find influencers for an advertising company and offer them cooperation in private messages. It will be read much faster than email.
What are targeted e-commerce drip campaigns on LinkedIn?
For online businesses, the creation of drip campaigns has become necessary in 2022. By setting up a gradual and phased relationship with the customer, you become a friend to them, and not an aggressive sales agent who seeks to make a quick sale.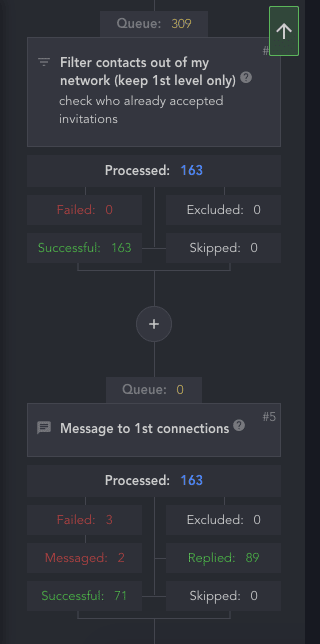 This approach can be successfully implemented through the funnel in LinkedIn – and it can consist of more than just a message chain. Placing likes and comments on the content of your audience to fuel interest in you, along with step-by-step training for your product, are also possible stages of a drip campaign. This series of repetitive interactions with your target audience will help you reach new segments and keep in touch with past customers.
Drip campaigns through Linked Helper can be made as targeted and personalized as possible. And this is an important factor for success when you are looking for clients in this social network.
Pick the audience segment with the precision
Narrow targeting at the stage of collecting leads can be implemented through LinkedIn's built-in filters. You can use the paid LinkedIn solutions for free for about two months (the first month of the free trial and the second month if you connect a payment method without funds on your balance). This will allow you to collect an audience using lists and a larger number of precise filters in the CRM and then use these in a drip campaign.
The Queue in Linked Helper is the centerpiece of your campaign and is where you collect your target audience. The campaign must contain leads to launch. You can collect leads from any LinkedIn plan, search pages, groups, events, and more. This may allow you to implement segmentation and apply a different approach for different target groups. After parsing the profiles, they will all be stored in the memory of the CRM and you can export them as an Excel file.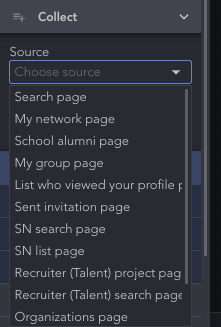 Make it personal to melt their hearts
You can apply personalization in Linked Helper through built-in and custom variables. This function in the funnel will help you adjust your messaging to solve the problems of each segment of the target audience with a focus on their particular needs. Variables will work in an invitation to connect, in InMails, and in messages to your contacts. For example, you can add a line of text that will change depending on the presence or absence of a specific variable. Thanks to logical operators, the software can use the string that suits the type of audience. You can easily add a custom variable via CSV file import.
Steps to create a social selling funnel
Set a goal for your drip campaign. Through LinkedIn, as well as through email newsletters, you can solve many business problems. For example, you can create campaigns to raise awareness of your e-commerce business, to notify about discounts and rush offers, to look for new client groups, or to hold an event for clients or partners. All campaigns can be run simultaneously using different LinkedIn accounts.
#1 Analyze the market and audience
Social media profiles are a place where you can get to know your potential clients even more deeply, understand what they are talking about online, and use it in your message chain. Linked Helper helps you collect data in bulk so that you can better understand the clients before the campaign (even just based on their descriptions in the summary section and work experience). Read how the scraper works in our blog post.
#2 Creating pitches
Even though this may not be the first stage of a drip campaign, it is better to create the texts for the message chains in advance. You can use all 1,900 characters (which is a lot) to describe your goal in detail. But it is better to leave the details for at least the 2nd or 3rd message. The number of messages depends on your industry, your product's life cycle, and your target audience. In order not to look intrusive, pauses between messages on LinkedIn should be at least 7 days.
#3 Actions after the launch of the campaign
After you launch the funnel through Linked Helper, you will see its intermediate results every day. The software will sort leads – those who accepted your invites or answered messages – and the texts of their answers into a special section. You will also see statistics by which you can measure the intermediate results. Don't rush – some users only check LinkedIn every 7 days or so, and you can gradually get more and more responses. You can adjust the course of the drip campaign while it is running if you don't like the results (for example, change the text of the message).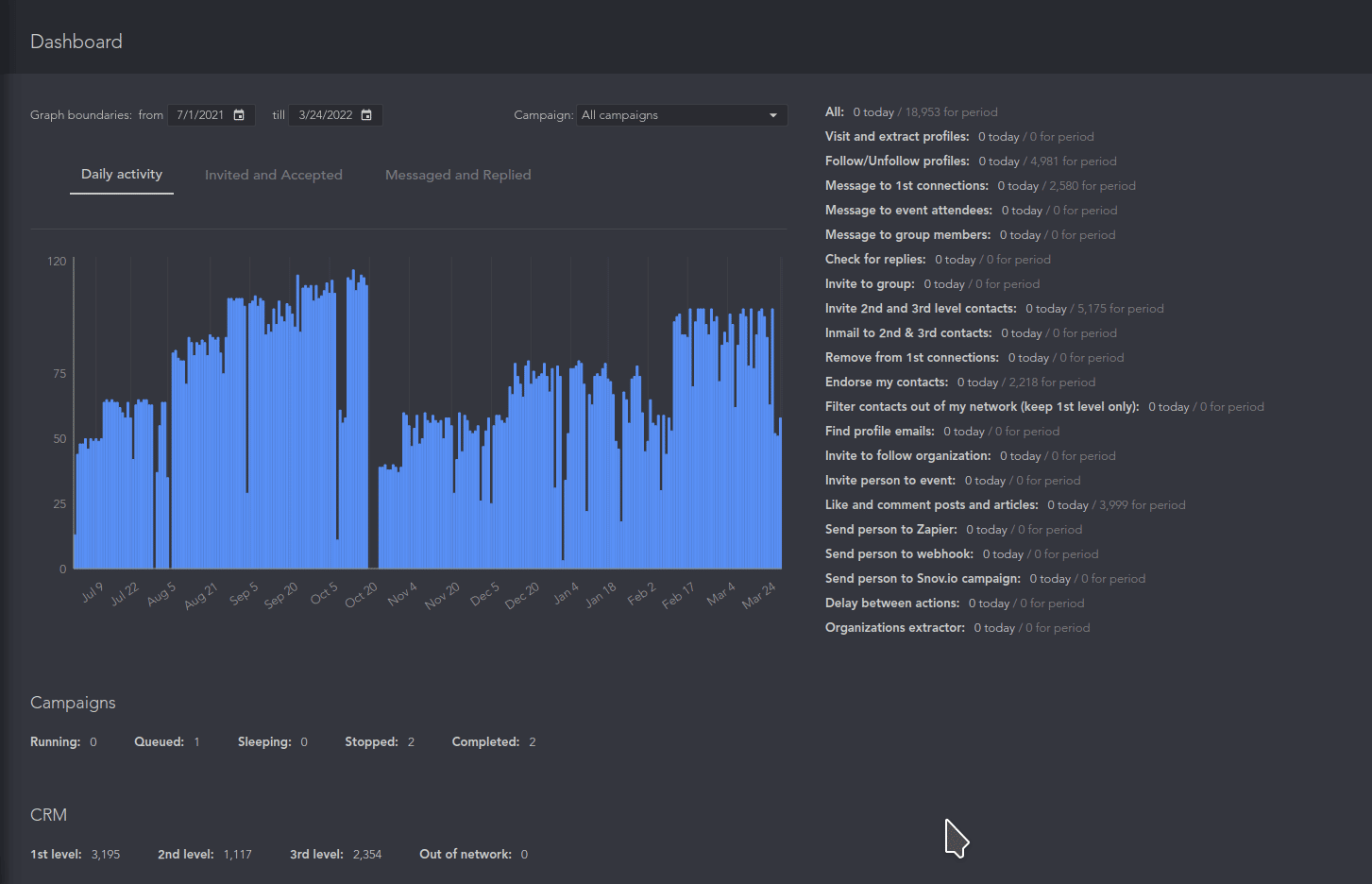 After the campaign, categorize target segments according to the results. For example, if you were doing a campaign to invite customers to an online webinar about e-commerce, in the CRM you can mark those who answered you but did not take part in the event, those who took part but did not complete the target action, and those who showed maximum interest (you can transfer them to the next stage of interaction).
Such systematization is simply necessary when you are working on social selling, because social network pages and many chats will not accommodate working with a large flow of clients. But it is easily possible in the Linked Helper CRM.
Tutorial for Linked Helper e-commerce drip campaigns
Use our tips before launching a campaign.
You have 2 months to test Linked Helper with paid solutions
For lead generation, having a connected Recruiter or Sales Navigator account can be an advantage. While many features such as placing likes can only be accessed on a basic profile, paid plans allow more options for audience research. We have prepared an article where you can find out everything about the difference between using Linked Helper with the basic and Navigator plans.
Importantly, during a single campaign, the software can switch between different plans. This is necessary in order to fully use the capabilities of all the plans in one campaign – for example, parsing profiles through a paid plan, and putting likes on posts and articles from your basic profile. It is also convenient that if after two months you do not renew your subscription to a paid plan, the entire communication history and lead lists will remain in Linked Helper's memory. Within LinkedIn itself, all data will disappear from your profile after unsubscribing.
By the way, the download and trial of Linked Helper is free for 14 days. So you can start your first drip campaign now without spending a single cent.
Create a landing page prototype on a selling profile
The personal account that you will use to communicate with clients will perform a role similar to a landing page. Everything should be in order – photos, descriptions, the presence of a USP, and even keywords for ranking in the search.
If you haven't thought about your LinkedIn profile in this way, check out our guide with 24 profile design examples.
An important point is that the content of this page should be aimed at your audience. You can use your personal photos or create a page of a non-existent person for the campaign. It is worth noting that performing many actions from a new profile is impossible and you will need to warm it up for about 6 months. Therefore, you may be interested in the possibility of buying LinkedIn profiles – and we have collected real cases and a tutorial on how you can do this.
If you decide to create multiple accounts to promote your e-commerce business through drip campaigns, make them different. It is worth changing the description texts and work experience, and the photos should also be unique.
Also, the headline on a person's page is the first text that users see when they receive a connection request. That is, if you clearly state your mission and proposal in the headline, you will increase the chances of users accepting requests and viewing your profile in return.
For the cover, you can use the type of visual that is most popular in your niche. To do this, you can look at the profiles of employees of similar companies and analyze their choice of cover. It can be a photo from an event or a branded cover where you can use text describing benefits.
Consider the different nature of messages in the thread
You may have seen this on LinkedIn, when sales agents use a sales pitch in the first message, and then they simply duplicate the offer even if they don't receive a response from you. Can we agree this approach is of little or no use?
In the first message, use a short explanation of what your business is. In this message, your task is not to sell, but to start a dialogue and get the first response. Express your gratitude to the connection and tell briefly why you can be useful to the lead. At the same time, do not focus on selling the product, but on qualifying the lead.
You can offer a call to action at the end to help keep the person focused on the response. Because many people will read a message and think that they will answer later (but never do). Therefore, offer to make a call or answer questions – it all depends on the goal of your campaign.
The second message aims to weed out unnecessary and low-value contacts. The Queue may include leads who are definitely not interested in your products or services. Therefore, in order not to waste your time and action limits , find out the relevance of leads at the second stage.
For example, you can use a follow-up to everyone who did not answer to find out if you should write to the person again after some time.
If you don't get a response again, it's possible that the lead doesn't need your offer yet.
Send a third message to everyone who has expressed interest. It can also be a reminder message to all event participants, for example. Here you can describe your offer in more detail, attach testimonials from past clients, and overcome the first objections. Often at this stage, customers may ask you to contact them by phone or via instant messengers.
Pause between the stages of the drip campaign
In Linked Helper you can set custom delays between actions. For example, between someone accepting your invite and the first message you send to them, 1 day may pass. While between messages in the chain, delays of even 7 days are normal. On average, a lead can go through all the stages in about 6 weeks. Such a step-by-step communication will not be perceived as spam, and you can be sure that the lead has checked their inbox and visited their page at least once.
If a person is not active on LinkedIn, you can remove them from the campaign so that you do not waste actions on them. Instead, you can use their email, which the software collected when you visited their profile, to try outreach via mail.
Read how to organize outreach for sales via email scraper.
Simple way to create a campaign for mass invites & follow-ups for newbies
Linked Helper has a campaign generator that will appear on the screen as soon as you create a campaign. This is the menu that can automatically create the campaign step by step. That is, you will not need to add each action manually. For example, if you create a new campaign for the goal "Invite & Follow up," then you will see some steps, and after passing them you will get a ready and logical workflow. Everything is very simple.
Step 1: Add the message text for the message that the lead will see upon receiving your connection request. Clicking on the box will take you to the extended interface of the Template Builder where you can use custom variables.
Step 2: At this stage, you must configure the software actions in case the limit of 100 invites is exceeded. Linked Helper has a workaround to still grow your network faster. Therefore, at this step, you can activate an "undocumented feature" of LinkedIn.
Step 3: Here you should use the pitch that you thought of as the second message that the lead in the drip campaign will receive from you. This message can be sent with a delay after accepting the invite. According to the rules of LinkedIn, a message to contacts can be up to 2,000 characters, which will allow you to reveal a lot of details. You can also undo this step by checking the I don't want to send welcome message box.
Step 4: At this stage, you must specify the text of the follow-up message. This may already be the third message that a person will receive from you (if the short text included with your invite is taken into account). Therefore, this window has an important setting – an indicator of the days after which a person should receive a follow-up from you. It could be 7 days because you have to give leads time to see your previous message.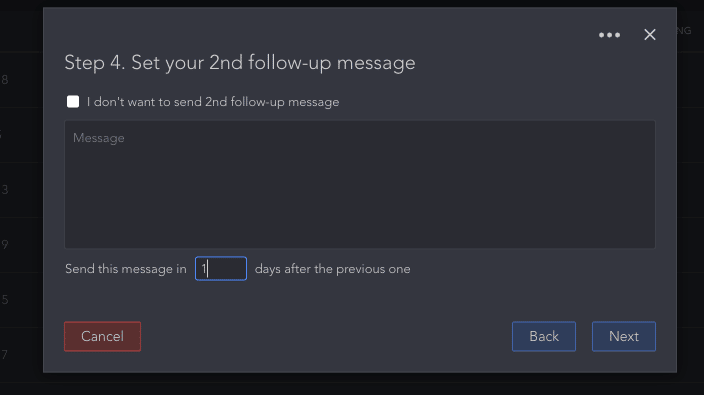 Step 5: This is the penultimate follow up that allows you to set the generator automatically. At the same time, you can specify in the settings that you do not want to use this message (for example, if you only have planned 3 messages for the drip campaign).
Step 6: Follow-up message. This text will be received by those who have not answered you for a long time. This can be a final attempt to determine if you should continue with this lead or not.
You will be prompted to select an audience source. As we mentioned earlier, an e-commerce drip campaign can be successfully set up when you have collected key target audience segments. This is easy to do in LinkedIn, since the social network allows you to filter users with high quality and search for them even through logical operators (almost like a search engine). Read how Boolean Search works in LinkedIn on our blog.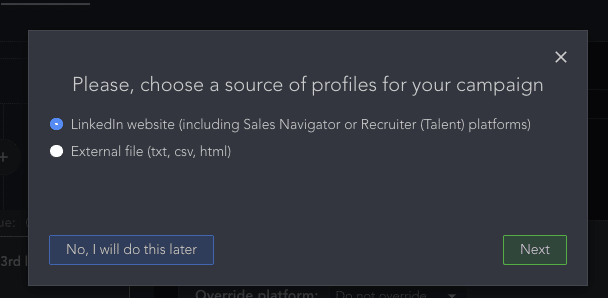 You can add all those from whom you receive responses to a new sheet and add them as warm leads to a new campaign.
Thus, using the funnel builder, you can create a typical campaign. It will automatically add such auxiliary actions as a filter after an invite and a reply checker after each round of messages in the drip campaign. This will help even inexperienced users to create their first campaign in no time without plunging into the software settings.
What does an e-commerce campaign look like in Linked Helper?
You can choose the actions in the software that you think are most suitable for your audience. Below is a classic campaign example that you can test first.
To begin with, you have to make a collection of target users in the Queue section. Gradually, as the software moves each lead further down the funnel, there will be fewer and fewer people in the top action Queue. This means that your drip campaign is running successfully and each profile is being processed. You can also activate the view and watch how the software works on each action – for example, opening the profile of the specified person, going to their profile and putting likes, for example. At the moment of sending the message, you can see that Linked Helper is like a person typing each word that you put into the pitch.

Downloading and logging in to Linked Helper will take no more than 15 minutes, so you can quickly experiment and understand how easy marketing an e-commerce brand on this social network will become. There is no boring job left for you!
#1 Invite
You can start your campaign by warming up with auto-likes or go straight to network expansion (if that suits your goals). The wider your network, the more people will see your posts, comments, and reposts from your online store. This cannot but benefit your sales.
In the latest update, LinkedIn canceled invites via bulk email upload or even via single email. In this regard, the only workaround left for Linked Helper (other services do not have such a feature) is to use an undocumented feature of the platform. Its peculiarity is that you can invite people over the limit (100 invites per week) and use a custom message to invite them.
Read our blog about the update to bulk email inviting and the Linked Helper workaround.
The invite message should briefly describe the purpose of your connection request.
Hello, I represent the company (name). I see you (specify why this might be of interest to the lead). Therefore, I will be glad to share news in the field of e-commerce for mutual growth!
Already in the invite message, you can deepen the personalized approach to each lead. Use changeable variables or add those that fit your campaign goal and target audience.
#2 Filter
The filter must be added to the campaign so that the software sorts out those who have already accepted your request. These leads will be automatically transferred to the next action in the Drip Campaign. You can view this list in the Accepted section.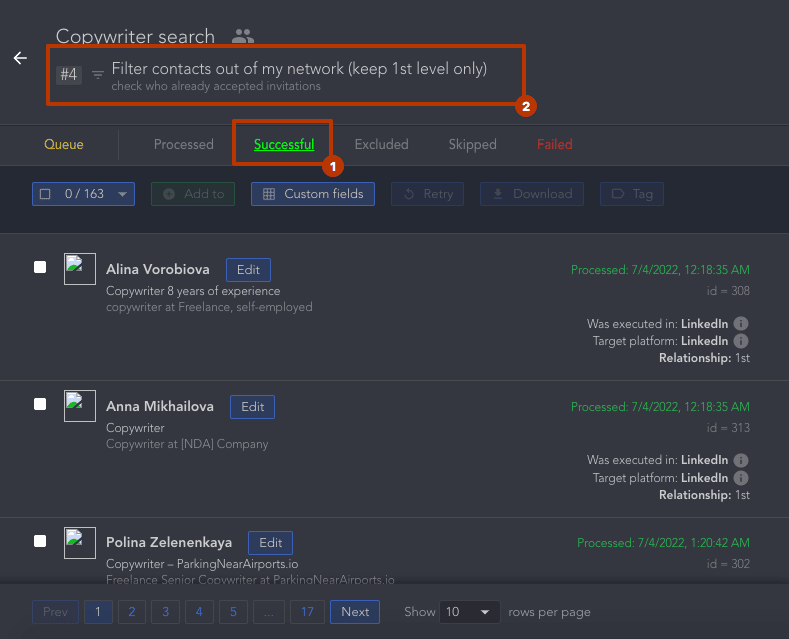 The software will pass leads through the filter over a certain period of time. Therefore, even if the leads accept your request after a few days, they will pass further through the actions of the campaign.
#3 First post in the thread
The first message will be sent to those who accepted your request. Sometimes you can put a delay between these actions (this is a separate action in Linked Helper) that will pause between the moment when the lead has gone through one action the next.
Why might this be necessary? For example, such a pause may be necessary to allow time for the person to view your profile, read about your company, and possibly contact you before the next message. It also gives the lead time to realize that you won't be bombarding them with offer messages immediately after the connection.
As we wrote in the section above about the content of messages in a thread, make the first pitch introductory and friendly. You can find Best 20 LinkedIn connection messages for sales in the blog article.
#4 Check answers
Thanks to the software's timely verification of responses, you do not have to manually enter the chats on your account. After all, checking the answers manually you can miss something, especially if the campaign has not a dozen but a thousand leads.
The checker can check responses according to the time interval you set. It's okay if you don't get a response even for a few days – not everyone checks LinkedIn every day. The advantage of the Checker is that the responses from leads will be saved in a separate section and you can view everything at once.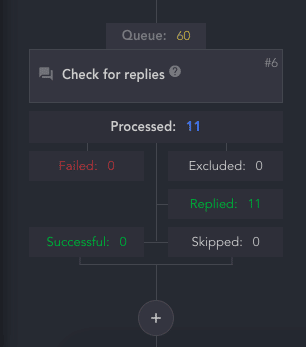 Linked Helper also saves the history of correspondence with each lead, which you can download in a file. In the Excel spreadsheet, you can analyze and sort the texts of the answers in a way that is relevant to you. For example, you can ask people to use a code word in their response if your offer is of interest to them.
The pause between messages can be configured in the menu of the action "If no replies are found, move the contact to the successful list."
This option sets the pause between the previous and next message. We recommend taking a break for 5-7 days so as not to seem intrusive.
#5 Auto message for the second round
The Linked Helper can send follow-ups if the previous message was not answered. Follow-ups should not repeat what you wrote in the first message. In the text of this message, you can add clarifying questions that will help you understand whether it is worth continuing to add this lead to future campaigns.
#6 Checker after 7 days
After the last message in your drip campaign, add a checker. This will be done automatically if you follow the campaign generator steps. You can pause up to a week to give yourself time to look for answers. The software can check the answers several times a day. If there are hundreds of leads in your campaign, then they will receive a message from you in stages. Linked Helper does not send messages to everyone in the action at the same time. This is how your account's behavior does not attract the attention of LinkedIn detection mechanisms.
#7 Final message in the pipeline
After 7 days, you can send a closing message in your funnel. It should have a message like, "We see that our offer is not yet relevant for you. But we would like to leave our contacts in case something changes." You can also add a suggestion to contact leads again after a period of time, for example in the next quarter.
Auto-cancellation of invites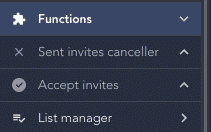 This feature is an important feature in the software that affects your rating and possibly how many invites you can send. The fact is that when a large number of "unaccepted" invites come from you, this is perceived by the algorithm as spam. So make yourself a reminder some time after the campaign (maybe up to a few weeks) to cancel all invites that didn't get accepted.
Effective hack: auto e-commerce drip campaign through groups
LinkedIn, unlike other social networks, includes many thematic and professional groups. And such communities are an important stage of promotion. Because many influential people in the e-commerce niche live there. For example, you can look for potential buyers when you know exactly who is in your niche. For example, your buyers may be mainly marketers, and in that case you can immediately start generating leads through niche marketing groups. Or you can make drip campaigns for users and members of your competitors' e-commerce groups.
Linked Helper will help you in this task because you can create a full-fledged drip campaign targeting groups that are important for e-commerce. In fact, group members are lists of users that are already collected according to their interest, and sometimes this can be more significant than the filters that you apply to search.
What campaign can help you build customer flow from groups?
Collecting profiles from a group
In the software, you will find an option to collect profiles in a campaign from a group. To get started, you can research LinkedIn groups that are related to your e-commerce niche (which may include interested audiences). By selecting a group or several groups, you can transfer all participants for the campaign to work with one click.
With an active subscription to Sales Navigator, you can filter users and send free messages through LinkedIn groups. Read the manual in the knowledge base – How to filter profiles via Sales Navigator and send them free messages as group members?
The first stage – warming up
For the purpose of warming up an audience, the software has auto-liking and auto-comments. This is the same action in which you can add comment text. By liking the members of the group, you make your profile more noticeable as you will be displayed in their notifications. This may lead them to visit your profile in return, so your account should be full of texts, photos, and reviews.
Between liking and making contact, we advise you to leave a pause, for example, one day. During this time, you can get more profile views and someone may already add you to their network by themselves without you having to send them an invite.
Stage two – first message
It's also a plus to campaign through groups because LinkedIn allows you to write private messages to common group members. That is, in a drip campaign, you will not have to start with an outgoing invite and wait until it is accepted in order to write. Having a common group is a great excuse to write about your offer. You can give a presentation of your business by relating it to the needs of the target audience to whom you are writing. This link must be visible in the text so that you are not perceived as a spammer or an aggressive seller.
You can plan multiple posts in a drip campaign through groups, similar to the process we covered in the section above.
Read how to apply the if-then-else operator and variables in Linked Helper campaigns.
After the second stage of broadcasting, set a delay. This will help you give your drip campaign time to see lead responses.
The third stage – inviting
After you send your first messages to leads, many may send you incoming requests if your offer is attractive to them. Therefore, a pause will help you wait for invites and not rush to send (because remember there are limits on this action).
Inviting via Linked Helper is one of the few options left after the cancellation of bulk email invites.
Fourth Stage – message chain
You can schedule a chain of follow-ups for those who did not accept your message request or did not respond to the initial message via group. After each message, you must use the reply checker.
You can add several auto-messages to a drip campaign, but do not forget that it is better not to write more than 3 messages in one campaign.
It's important to know:
When you plan a drip campaign through groups, the messages will not be visible in the general user inbox. To check such messages, users need to open the Incoming section and check them purposefully. Therefore, although such a workflow allows you to write in bulk to users who are not your contacts, the open rate of messages may be lower. It is worth considering this nuance when planning a campaign.
Leads in an e-commerce drip campaign must be categorized
After launching the campaign, you will clearly understand who your leads are from the audience, and what their requests and problematic issues are. Based on these results, you should immediately categorize customers. This is needed to plan the next stage of your LinkedIn marketing strategy. After the test campaign, it will become clearer to you what customers are responding to and you can identify audience segments and work out their pain points in more detail.
Therefore, the convenience of Linked Helper is that it is not just a plugin that performs actions for you on the social network. This is a full-fledged CRM, where each client will have a personal card with all the scraped data from the social network. Here you can add notes, assign tags to users, and add them to the lists (for the following campaigns).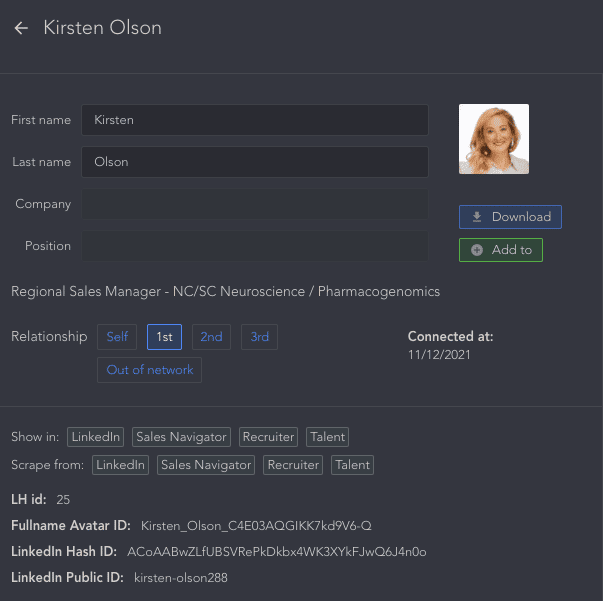 You can also download all the data from the software to work with them in Excel or share the results of the drip campaign with your team.
Content for an e-commerce LinkedIn page: best practices with examples
Having a great business page is the first step before you start looking for leads on LinkedIn in earnest. You can research competitor organizations to highlight the best ideas.
Read the article on how to create and design a business profile in our blog.
#1 Farfetch uses LinkedIn to create an emotional connection
If you feel like the posts on an e-commerce LinkedIn profile should be limited to employee searches and products, then take a look at Farfetch's example.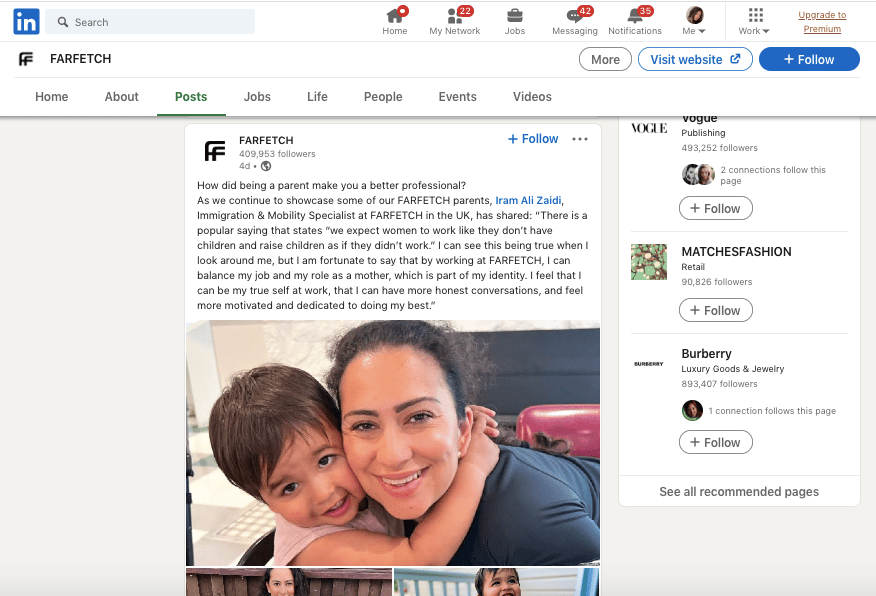 You can write emotional posts – for example, about the life of your employees. This will create an aura of trust and interest in your brand because people will understand that real people stand behind it. Therefore, feel free to interview your employees and do not hide them behind business information (people are often more interested in the people).
#2 Cazoo car buying and selling e-commerce use LinkedIn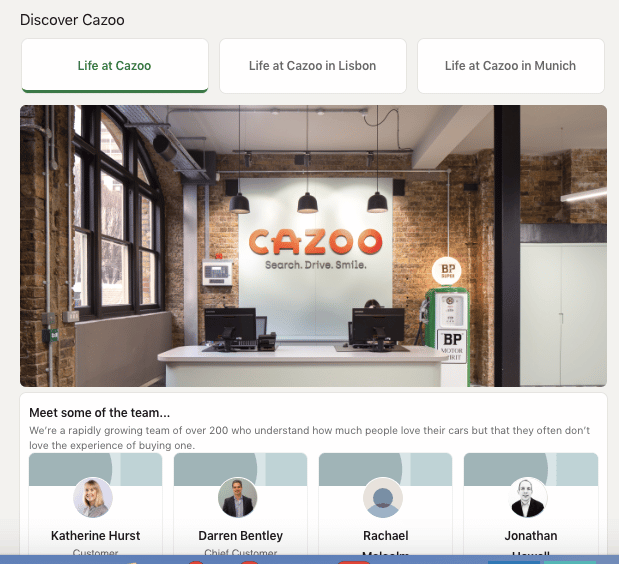 You can be inspired by this example – Cazoo is a startup that helps people buy and sell cars. And even for such a serious and practical matter, Cazoo's marketers maintain a business profile on LinkedIn, which helps the startup gain momentum and attract new employees and customers.
For example, on their business page, you see the "Life at Cazoo" sections, which describe the internal processes in different regions and present interviews with employees and their feedback on working at Cazoo.
#3 OnBuy the fourth largest marketplace in the UK actively sharing events
Here is an example of how you can share content around events.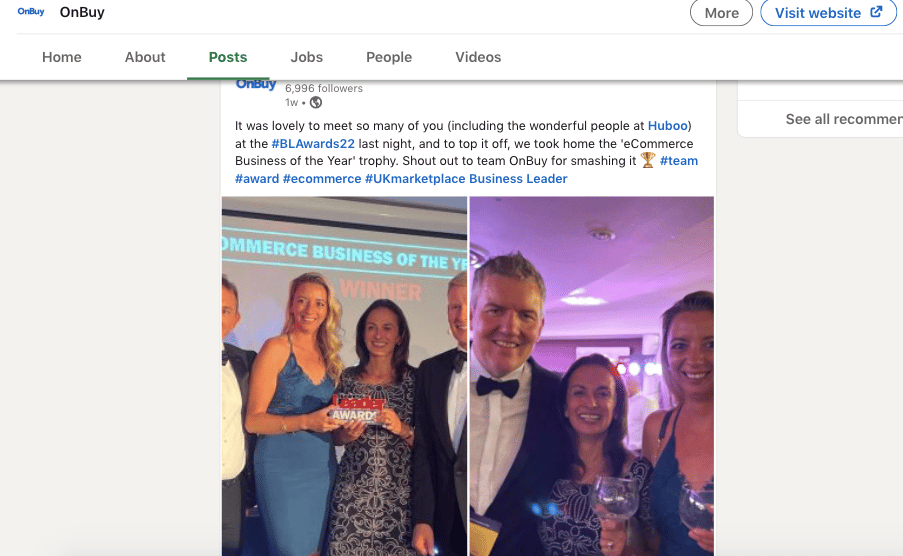 This proves that participation in events, even online, simply needs to be broadcast. After all, such a strategy will help you more actively attract the audience to your invites and online meetups.
#4 Create community hashtags like Klarna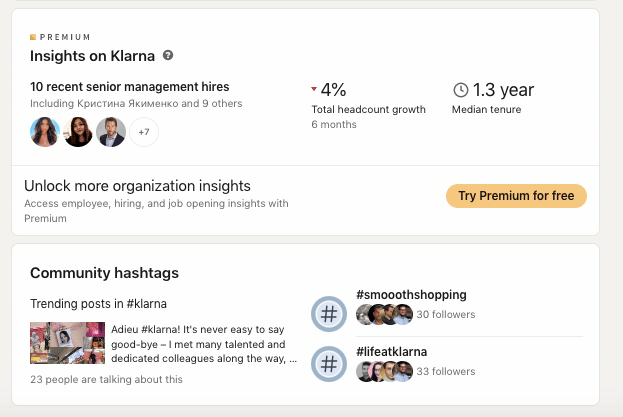 Klarna's mission is to create the world's favorite way to shop. And for this, it is important to support a community on LinkedIn. For this, all methods are useful – especially crazy tags. You can expand discussions around one hashtag. For fast tag growth, ask employees to use tags in their posts about your company. Also encourage customers to write about their experience with you more often and use your tags.
#5 Bloom & Wild make theirr business page description detailed
As you can see, even successful startups are attentive to texts about the company on LinkedIn.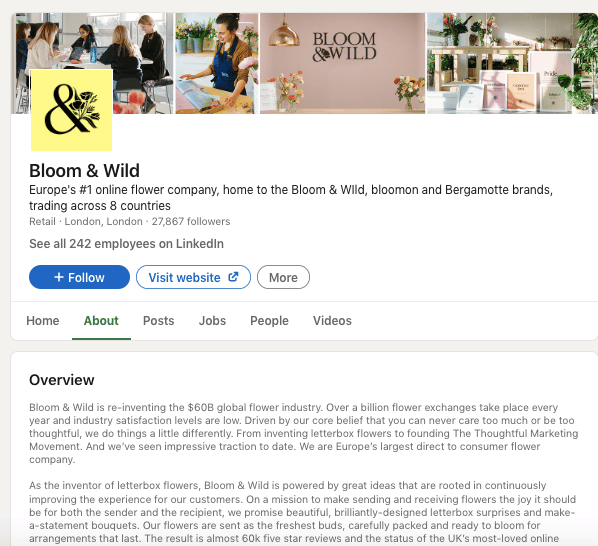 Therefore, try to create a description of the business profile that takes into account the keywords you want customers to find you for. You can also highlight items that help build brand trust: your turnover, participation in shows, reviews, etc.
Wrapping up
As you can see, the largest and most successful startups are actively developing their LinkedIn profiles. You can use information and insider content ( a trend in 2022) for your business page content. This will help you use LinkedIn like a social network and not turn your content into infographics. Live content and drip campaigns will help you find real customers among LinkedIn users (who may already be tired of sales emails). Therefore, when planning your campaign, be sure that you have researched the audience and created targeted content beforehand.
Next, you can start campaigns for different purposes, whether it is searching for employees or leads. With Linked Helper, you can automate several funnels at the same time that will help you promote your e-commerce business. You will get a wide audience reach if you entrust the campaigns to the robot, because even an experienced employee will not be able to process so many profiles manually on a daily basis. The software will help you to actively grow connections even after the recent ban by LinkedIn on bulk messages via emails. You can still invite around 1,000 people per week, which will speed up your growth by almost 10x.