In 2022, in order to acquire useful contacts for business, you do not have to go to the exhibition or any offline events. Since a lot of business activity has moved online due to the pandemic, LinkedIn has become a crucial event platform. Networking can take place online via Zoom conference and communication in specialized groups. By the way, according to statistics, 2.9 million niche communities of professionals and opinion leaders are represented on LinkedIn.
Therefore, it doesn't matter whether you meet with these people live or conduct an online event, or even live stream – for online sales, it is valuable to be able to set up follow-ups with the participants. After all, these people are already warm leads and sometimes it's enough just to connect once to remind them about your goods and services.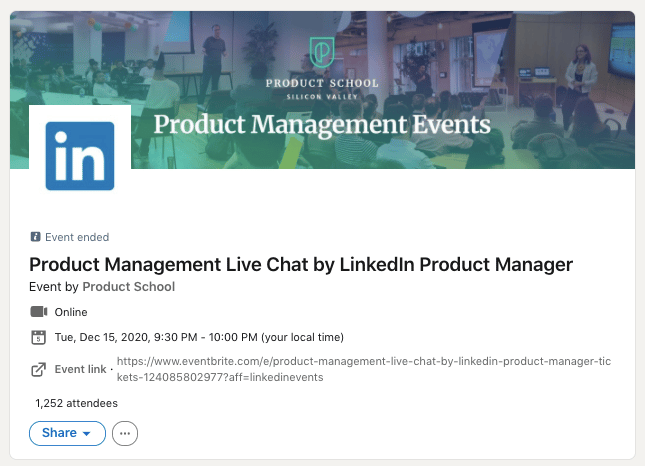 After attending or organizing the event, managers can use an automatic toolkit that will send mass messages exclusively to the participants. Linked Helper will be the right software to use the convenience of LinkedIn marketing by implementing automatic outreach strategies.
This software helps to automatically invite LinkedIn members to events.
After this, you can create an automated follow-up campaign in the CRM.
Then all you have to do is send follow-up messages to a ready-made list of users.
We must admit – it will take you much less time than manually finding each participant, browsing their pages to remember what you talked about and then manually typing messages.
In addition, you can take advantage of personalization. Thus, the message will use the name of the person, the industry, and the name of the company where they work. Therefore, the received follow-up message will look as if you wrote and sent it yourself.
How can you keep in touch with the event participants?
Ask for their opinion about the event. It's a must if you have organized an event or a conference – collect feedback immediately when the meetup is over. This will help you to study the real experience of the participants and use the feedback for subsequent meetings.
Distribution of materials/samples. Often after an event, you may promise certain participants that they will get to know your product or service better. These members may be waiting for a lead magnet or a tripwire, so you can automatically reach prospects in LinkedIn private messages.
Discuss further steps of work. Since participation in the event means that the client is clearly interested, then perhaps you just have to arrange a personal meeting, an interview, or a product demonstration.
Ask for a recommendation. If it's appropriate and you need feedback about the seminar that you held, then in the post-event message, you can politely remind participants to leave references. Reviewing and recommending your LinkedIn profile will increase the credibility of your product/company services.
For all the tasks mentioned above, you will also be supported by pre-made campaigns with messages.
Remember that immediately after the meeting, you need to start sending follow-ups, be it a message on LinkedIn or email.
Note: Linked Helper will help you kill two birds with one stone as you implement outreach in private messages on LinkedIn and get a business email for sending cold emails. You can integrate Snov.io or use the built-in email finder – both ways the tool parses the emails indicated on target profiles. This will allow you to strengthen a connection in the most convenient way and get a fully-fledged database of participants.
Download Linked Helper 2 and get 14-free trial right now
If you are not yet in our list of users, then join. We give you a trial version to start your experience with our LinkedIn tool.
Next, we will uncover strategic steps on how to set up an event invitation, engage and send an automatic message. Automated interactions with the participants' profiles will allow you to strengthen business connections after networking.
Using LinkedIn for network marketing: how to automate follow-ups
Linked Helper performs the role of a secretary or junior assistant who, after a workshop, will perform routine mechanical but necessary tasks to maintain relationships with business partners and clients. This automation is the safest at the moment due to its use of browser technology. That is, the actions that you entrust and assign to the campaign will be performed exactly as a human would do them in a browser. At the same time, you will not need to spend hours on the monitor or on the smartphone.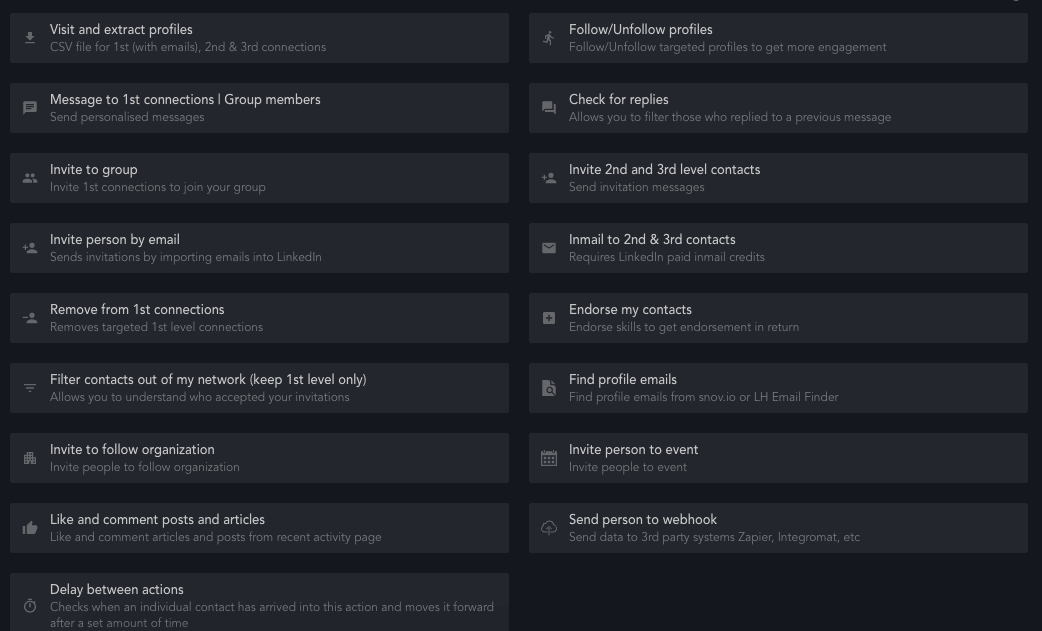 There are over 30 functions maximizing LinkedIn reach for sales and boosting social media marketing. Users can automate almost everything that is possible to execute on LinkedIn.
But the most important functions for networking follow-ups are described below.
# 1 Send auto-invitations to events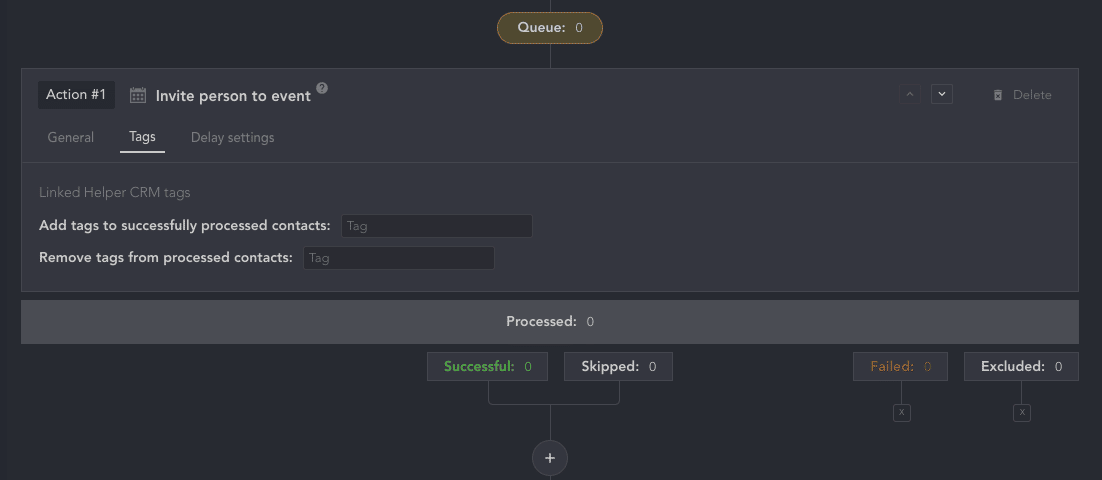 Conveniently, your "secretary" can automatically invite people to events that take place on LinkedIn. For example, it can be a live chat or an online seminar.
What are the advantages of inviting people through the CRM?
Follow-up targeted actions. You can set up targeted actions by those people, people who successfully received your invitation. A user will pass to further campaign stages if transferred to the tab Successful.
Categorizing users. You can assign custom tags to attendants. That will allow you to customize interactions, further communication through the actions in the funnel, and just keep the database in order. The software tags only those users who will be successfully processed.
To create a campaign for invitations to events, you need to have a list of users who may be interested. You can research through Linked Helper and collect the contacts that you mark in the Queue section.
When you need accounts and all the data that are listed in the profile to be in the system, you should perform the action Visit and Extract profiles.
In case you already have a list of people whom you want to invite to an event outside the CRM, you can upload it as a spreadsheet. What is more, you may insert their LinkedIn URLs. This means that there are numerous ways to send an invitation and the whole process will happen completely automatically. As a result, you will receive systematized data based on the participants who accepted invites. You will then be able to launch automatic communication with them.
# 2 Auto-interaction
After the event ends and before you start interacting with the user in private messages, you can set up automatic actions to increase engagement. For example, you may visit hot leads' profiles, put likes on publications and articles, extract emails and business emails from these profiles, invite them to groups and to your company page, and leave comments.
Moreover, you may want to transfer data about these interested users to a 3rd-party CRM platform, which you may perform through a Webhook. This greatly facilitates the work with already warmed-up clients and allows you to prepare the ground for further messages that you will send after the event.
# 3 Sending messages after the event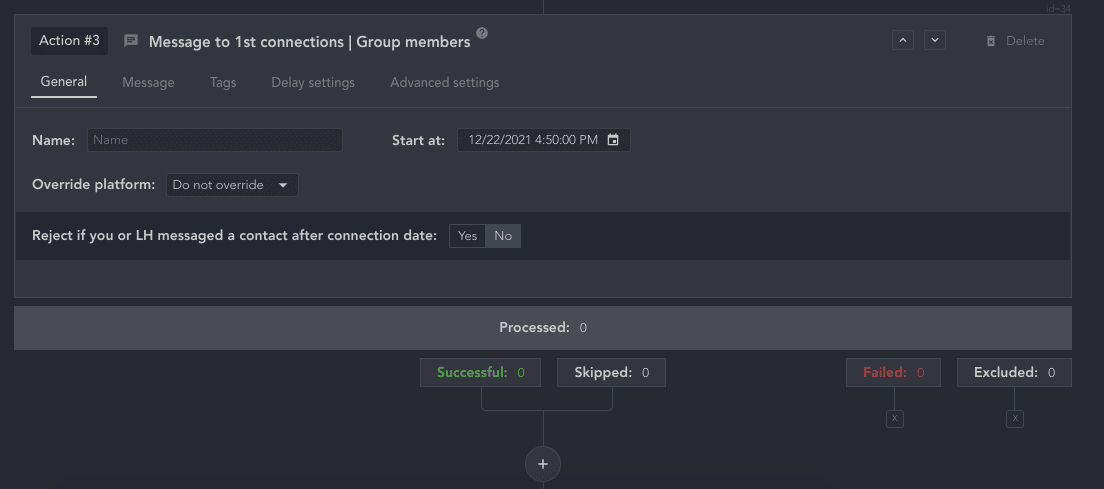 You may create message templates that you want to send to users after the networking. You can also create a separate template for each target audience segment that participated in an event. This way the outreach will be personalized. You may want to enhance this effect with the help of built-in variables which you can customize with the Template Editor on Linked Helper.
What messages can you send to an event participant automatically?
Get involved with people who are already your 1st degree contacts/group members. To do this, you just need to paste or type a message, assign tags for the participants and wait until users receive this message.
The ability to check for replies is a huge advantage. This means that after you receive an incoming message, you will be notified in the CRM. Automatic follow-up will be activated for those who did not answer. Learn how to send a follow-up message to the profile even if he or she replied.
Messaging to those who are not your 1st degree contacts. You can send a message to a 2nd or 3rd degree connections by:
The network rules set limits on sending out daily InMails. However, the paid LinkedIn subscription imposes limits on the number of InMails (eg 10 for Premium per month). Linked Helper allows you to automatically send free InMails until the limit of free ones runs out. You can send up to 150 messages daily – How to send free InMails to Open profiles
Attention: make use of the message history exporting function in the CRM. With the help of this function, you will see sent and received messages by user in one file from the CRM. This will come in handy when analyzing user responses – you can accelerate offers and improve the texts of your messages to overcome objections and answer typical questions beforehand.
It's vital that you can adjust the time periods between actions so that you don't look too insistent and that the strategy matches your outreach standards.
A LinkedIn message after meeting someone online/offline may look like this:
Hi [ name],
It was such a pleasure to have you at [name of your event + when]. Thank you for [mention the role of the event attendant]. As we agreed I'm sending you [ attach what you offered to event participants].
Do you mind if we stay in contact?
Ultimately, this strategy will drive qualified leads into your business without the time-consuming manual communication. You can try to install Linked Helper for free for 14 days – find leads and plan your networking effectively.