Based on the stats, 4 out of 5 LinkedIn users make decisions related to business development. In this social network, the audience is more focused on useful relationships than anywhere else. Therefore, an experienced marketer or salesperson in 2022 is simply obliged to use this network for social selling. Since offline connections and communication are reduced these days, online you can build trust, which is especially important in B2B. The main thing is applying the right strategy.
When your product has passed all the stages of development and you are ready to present an offer to the client, it's time to use LinkedIn marketing.
Of course, you may open a social network and start adding leads manually. But it will probably take you more than one day or even a week. To get positive responses to your offers, you need to maximize your reach. This year the most effective solution for online marketers is automation. With the help of Linked Helper, you can study the market, collect a customer database, understand who your target audience and competitors are. This is an essential step in order to hone your offer.
One can also automate the typical boring tasks without which prospecting through LinkedIn is impossible – these are the constant interactions with the target audience with likes, comments, and private messages. A strategy for winning target customers consists of the following elements and each stage is important (if you ignore one or more of them, you are unlikely to achieve success):
Optimized sales profile
Creating a portrait of the target customer and competitors
Participation in niche groups
Content creation
Interaction with members of professional networks
Outreach in private messages
These stages are universal for businesses, and we will dive into each of them and the ways to automate the maximum number of actions so that the promotion takes as little time as possible and brings as many results as possible. It should also be noted that there is no universal strategy for everyone. You will need to conduct A/B testing of audiences and hypotheses to derive a strategy that is suitable specifically for your niche.
For this task, a handy CRM system for LinkedIn is a must-have. All data on companies and on different audiences will be systematized. Having customer cards at your fingertips that you can fill out on your own, you can create lists of customers and sort them by tags. Engagement with these audiences will run smoothly by automating certain actions.
Best strategy of using LinkedIn for sales prospecting through messages
Don't rush to start writing to your target clients right away. Refer to each item of this instruction to make sure that your profile is prepared for communication with potential customers. If you make sure that all the points from this checklist are completed, then the results of your outreach will be several times higher.
Make sure your profile is ready for sales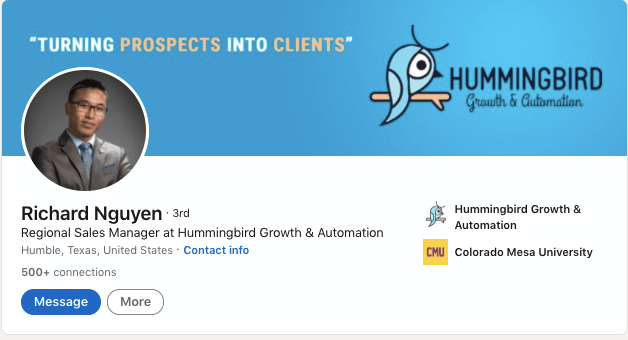 The first place to start is your account. When you meet business partners at trade shows or conferences, you are probably sharing your business card. You can understand what makes the first impression. Since LinkedIn users don't have the opportunity to see you live, the first impression they get is from the texts and visuals that are present in your profile.
Therefore, your task is to emphasize the benefits that you bring with your goods and services.
Download Linked Helper 2 and get 14-free trial right now
If you are not yet in our list of users, then join. We give you a trial version to start your experience with our LinkedIn tool.
If you work for a company and your income is a percentage of sales, if you are promoting services, or you are a startup founder, then highlight your mission in your personal LinkedIn profile. A clear value statement instead of personal achievements can generate interest from people who view your account. In addition, a profile optimized for key search queries will attract more organic visits – users can search for you through Google or internally on LinkedIn.
Which sections you should optimize:
Visuals. This is important because it's what shows up on the surface that counts. So make sure your profile photo and cover look professional. You should be shown on the main image, while the header you may dedicate to a company.
Texts. The header is visible from the search page – so it is of key importance. Do you have a headline that contains a unique selling proposition? Then you may attract leads looking for services like yours from the search page. Do not duplicate your place of work and title on this line. In the sections Summary, Recommendations and Experience, use text that underlines your expertise and the real benefits that your business has already brought to existing clients.
Hack: If you don't know what to write in the profile description or what keywords to use, you can take advantage of Linked Helper to collect a database of profiles. You can download a selection of the profiles, and the saved text columns in the spreadsheet will include text fields that users have filled out. Further, you can analyze them and use successful formulations and key phrases that are used by top specialists.
Narrow down a prospecting audience on LinkedIn
The advantage of a social network for business is that all the information that will help you win a client is located right on the pages of these people. You don't have to order any research because you can independently discover the audience.
With Linked Helper users can export people and companies' profiles. After that, they will be saved in the Linked Helper database or they can all be downloaded in a spreadsheet if you want to share this data with colleagues.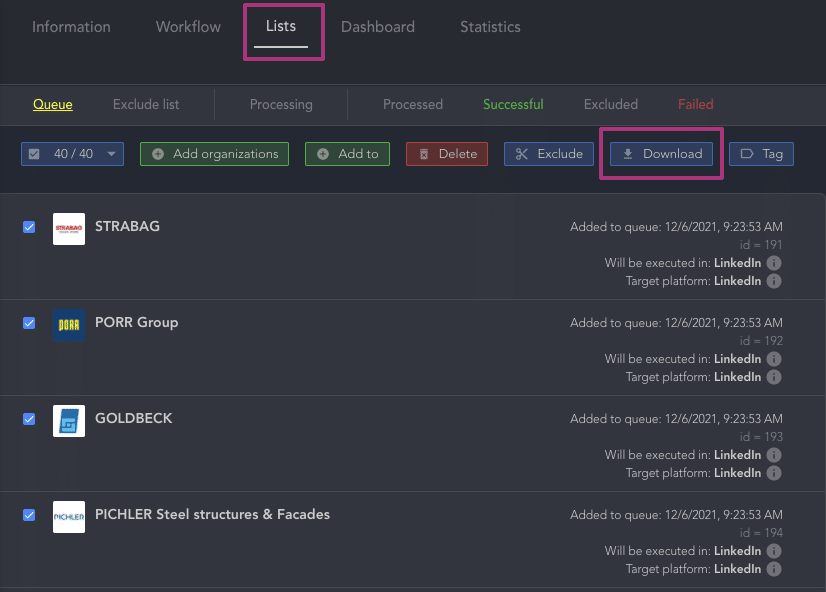 What should you evaluate to properly understand your customers?
Read what they write in the description, and pay attention to their activity. By performing the following analytics, you will be able to flesh out the portrait of the target customer and with such targeted clarity, it will be easier to achieve sales.
Non-selective outreach may lead to poor results and wasted time.
Evaluate the activity of potential customers. Find out which influencers they are following – keep up with these influential people in your industry. Select about 10 groups which your target customers inhabit. Identify content that is appealing to your customers and try to incorporate these topics into your strategy. Read the comments that these people leave – from these you can highlight problems and pain points.
Once you know the groups and accounts of influencers that your target audience frequently interacts with, you can use that information when submitting a contact request. Such a reference will be a signal that you have studied the client in detail and want to bring value.
Linked Helper allows you to leave comments, like posts and articles, and invite people to groups and to the company page automatically. You can use different targeting for different client segments – this is especially beneficial if your business has several areas of activity.
Where and how to search for target customers?
LinkedIn groups. Despite the fact that many groups include spam and advertising, there are still groups where people are active and share important business information. Your task is to join such a community and position your company as an expert through producing valuable content.
Linked Helper allows users to parse all group members – these lists will be loaded in the CRM and can be exported. Then you can arrange actions specifically for members of certain groups. It is important to establish communication with community members who may be your clients.

Learn how to automate mass LinkedIn outreach in the blog post.
Use LinkedIn events. Online events can be seminars, workshops, chats. Events may include dozens of people if private, or they can be conferences for thousands of people. Once you enter, you will have a list of leads – specialists who will be clearly interested in your services. This is the same as going to a conference where you probably want to uncover new business connections. Linked Helper allows you to invite people to events automatically and assign target actions for event participants as well.
Internal search. If you use advanced LinkedIn plans – Sales Navigator, Recruiter – they offer advanced search functions. While searching, it's necessary to narrow the base of potential customers, and you can apply Boolean operators to exclude unnecessary results. When you search for a user through Linked Helper, you can parse the results that you got after setting up the filters.
Lifehack: You can get target customers' emails if you set up Snov.io integration. Linked Helper is able to visit profiles and detect emails that can be exported in a spreadsheet.
What's more, Linked Helper offers a unique alternative – LH Email Finder. This is an internal database of emails collected through our user community (who agree to the terms of use). It gives you access to emails of the 1st degree contacts of our other software users.
Be active 24/7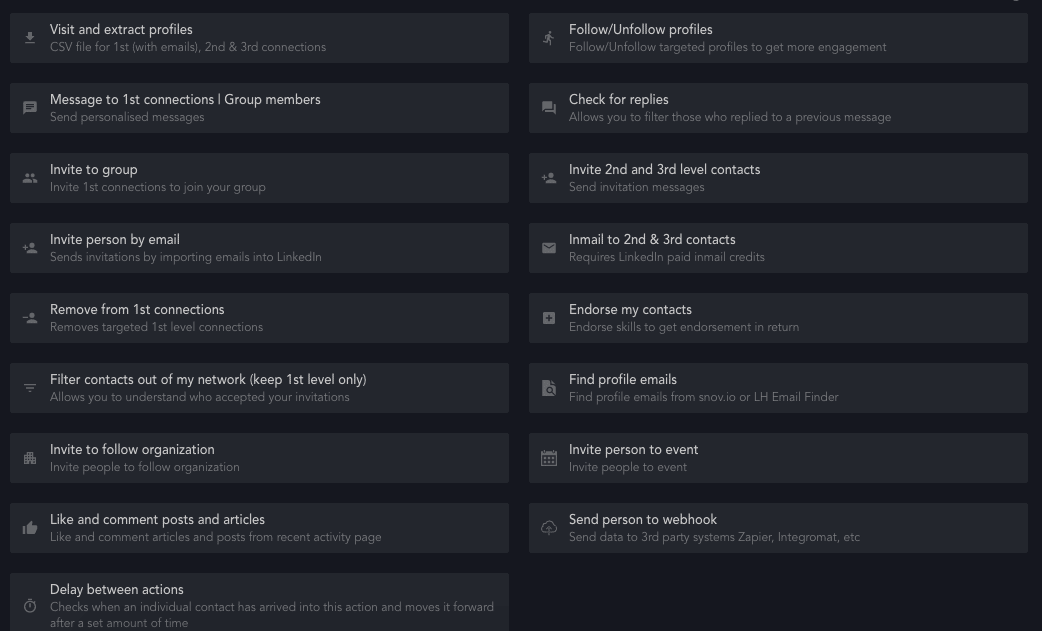 Since LinkedIn is a social network (not a cold mailing tool), your activities should include constant interaction and a range of activities. For example, you should regularly publish informational content that addresses problematic issues for your audience.
You must also grab the attention of your target audience. You can be helped with automatic interactions according to the specified parameters.
On Linked Helper, you can create a sequence of actions, one of which will be interactions with the audience. That is, after selecting the target audience, you can set the follow-up actions to engage with their profiles. For example, put 2-3 likes on their recent publications or articles. Leaving personalized comments should also be a part of your strategy. In this case, people will be willing to visit your profile.
When you regularly interact with other people's accounts, you will see that your posts will gain more organic reach. With the help of automation, you attract organic and potentially interested customers to your business account through content.
Start reaching out in messages
When your profile is correctly filled out, it will help a lot in connection via personal messages. You should proceed to reach out in messages when you are sure that when they come to check out who wrote them, the account will be full of valuable information. People often use the information that they find on the page to strike up a conversation.
After marketing discovery – knowing your competitors, potential customers, and highlighting a unique selling proposition – it will be much easier to make up a script. If you sell aggressively and write the same messages without personalization, then this prospecting strategy is unlikely to be helpful for 2022. A systematized plan will help you. Before preparing the pitch, answer the following questions.
What is the purpose of this correspondence? You must know in advance what you want from the people with whom you are communicating. This will help you anticipate your flops and overcome common objections they may have.
How soon is it relevant to mention the targeted action? As you are unlikely to start selling in the first message, you must understand at what stage you will be ready to acquaint the client with the paid offers.
What is the best time to send messages? Timing also matters and during the tests with a large number of people, you may notice that at certain times the audience is more active. By the way, Linked Helper has a function for checking responses, and categorizes chats in which you receive a reply.
You can also accumulate the message history in the form of a spreadsheet. This will help you get feedback for analysis – to improve your pitches and create templates for the next outreach rounds.
What is the right time for follow-up messages? The chance that you will be answered immediately and positively may not be great. Therefore, get ready for follow-ups in advance. That will help to attract customers, if not from the first outreach, perhaps from the second.
When should you stop texting someone? Highlight stop phrases, or time limits for responses, when you will cross out users as potential customers. You shouldn't waste time on such leads. Probably they are not a good fit. Instead, focus on those who are willing to buy from you.
Probably a lead magnet can help you to sell – it doesn't have to be a sample or a real product. Useful information in the form of research, or in an article can attract prospects. Therefore, in the first message, you can refer to the problematic topic and offer a solution as a free and useful source of information.
The advantage of using LinkedIn automation is the ability to personalize templates for the outreach. The system can insert variations in the lines – name, title, mutual contacts – the variable will change depending on the receiver. This will help each interlocutor feel that you are writing specifically to them, not executing a mass mailing, while you will save a lot of time.
Here are some ideas you can use :
Ask a specific question.
If you spot a target customer post and want to grab their attention in private messages, use that as a reference. It will be potentially easier for users to answer a specific question in topics they are experts on. Afterwards you can drive the dialogue towards business.
Give a sincere compliment.
After studying the text sections, you may want to compose a compliment for the prospect – if you put this at the beginning of the message, then you'll probably get the recipient to read the message to the end. The compliment can be related to interviews, articles, and other accomplishments.
You can refer to mutual connections.
When you see that you have a common acquaintance, it can endear potential clients and inspire confidence. Linked Helper provides a variable line in the templates editor that includes references to mutual contacts. That is, you do not have to manually search and mention people – just add this variable string to the template.
Referring to events.
If you both attended a certain event – a conference or workshop – this is a great dialogue starter.
Request feedback.
You can start writing to people who are already familiar with your services – at least those who liked and visited. Take advantage of this on the pitch. For example, say – "I see that you liked my recent post – thank you for that." Continue communication in the way that you planned.
Is using LinkedIn automation tools for prospecting safe?
At the moment there are different ways of automation. But not all of them are secure. Here are the most common methods for automating interactions on LinkedIn:
Plugins
Cloud solutions
Browser-based software – like Linked Helper
The fact is that extensions are not entirely safe for automation – they are easily recognized by the detection system that fights against bots. By applying the tools integrated into the browser, you run the risk of getting banned. Meanwhile, cloud solutions also cannot guarantee you complete security – the main pitfall is API requests in these systems, which often may not coincide with the requests that come from real users' actions on LinkedIn.
Therefore, the most trusted way of automation is the software that you install on your computer. You are probably even more protected than when you manually perform tasks. As we noted earlier, the social network has limits on daily activities to combat spam. For example, you cannot open 100 pages in a row and write to 100 people, because after that LinkedIn is likely to restrict your activities for a while.
You can be sure that the Linked Helper mechanism completely repeats the real behavior of the user – it's possible to observe the actions.
Users may also set up custom pauses and the number of daily actions – you are the only controller of what the software will do for you. Thanks to this, without making any special efforts and without spending hours on online activities, you can be sure that the strategy is being implemented securely.
Why is prospecting via LinkedIn automation beneficial?
Create and structure target customers. For this, there are lists, tags, and software that can also assign tags based on the results of a certain campaign. That is, everything that you did manually in spreadsheets will be done by the tool.
Capture 100x more leads. Thanks to automation, sales specialists can perform many more actions and do not have to press the same button 100 times a day. By sending more invites and private messages, marketers increase the chances of a sale.
Human-like pauses and navigation patterns. Real people sometimes need a few seconds to perform an action. Also, they find each other through the internal search bar (not by pasting links). These details are taken into account by the Linked Helper developers.
When sending messages/invites or endorsing skills, Linked Helper clicks buttons like a real person. This shows that the software does not send API requests, signaling to the LinkedIn server that a button on the site has been clicked. This protects the user from being recognized as using automation.
Now, by increasing the number of actions, you can achieve great success on a warmed-up LinkedIn account. Therefore, never miss out on the opportunity to try the tool for free for 14 days. Even during this time, you can help your business a lot.