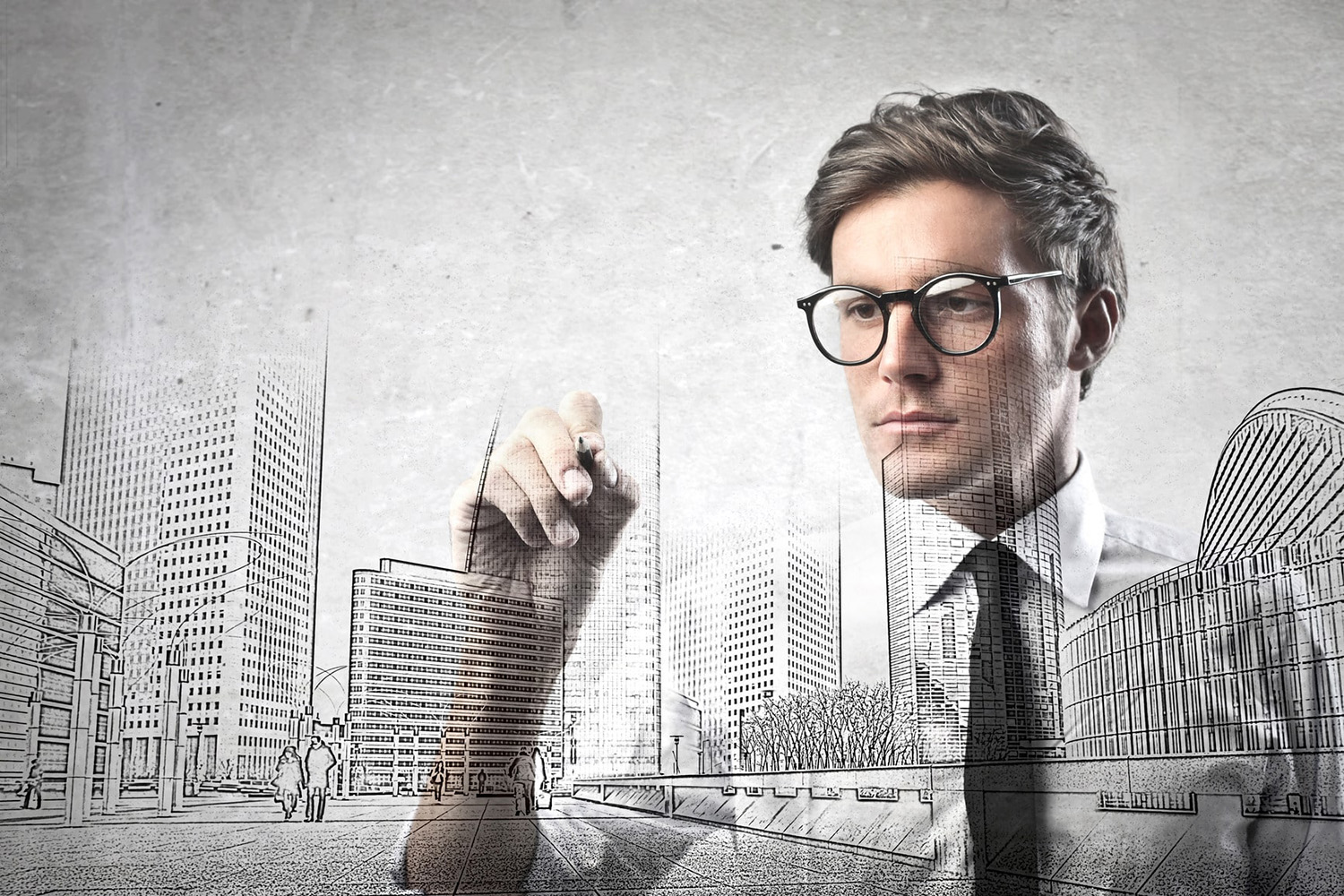 Gain 10x more connections through auto-follow, promotion via groups, and event marketing. Invitation to connect on LinkedIn done on autopilot via emails assists in bypassing the platform's restrictions. Through Linked Helper, you can exceed the allowed 100 invitations on LinkedIn per week by 7 times.
Safe & proven service enhances typical online activities:
Linkedin invitations can be sent with a personalized message tailored using data from each lead.
Pending LinkedIn connections can be accepted by the robot – don't keep leads waiting.
Import data on 2nd and 3rd degree contacts to invite more users – mailboxes can be found through the Linked Helper toolkit or pasted from a third-party app.
You can test it for 14 days free!

Invite LinkedIn users in bulk
The smart action allows users to send bulk invitations to target audiences. You can reach out to any users scraped from the browsing page, or members of communities, or apply advanced Sales Navigator filtering and lists as a target.
Even when the invite limit is reached according to LinkedIn rules, you can do it through Linked Helper. For example, we can invite via emails or by using an undocumented LinkedIn feature. You may set this function to invite with or without a personal message. The more requests you send, the more contacts will be willing to connect as a result.
The smart tool can automatically approve the incoming connection requests and transfer these users into the tab "Successful." You can export user lists from this tab in a file.
Keep in mind that the tool invites individuals through the channel from where they were acquired (Basic or Premium LinkedIn, etc). Once the profiles have been obtained, you can alter the channel for delivering invites.
Read more: Explore the instructions
Invite by email

This action can help you to keep inviting people via their mailboxes and avoid the current weekly connection request limits. Due to LinkedIn regulations, personalized welcome messages are not enabled in this mode. There are several ways to get emails for sending invitations:
Obtain emails via the integrated Finder. You can get data about mutual contacts within the Linked Helper community: users can share access to their 1st-degree contacts' emails, which will include your 2nd & 3rd-degree contacts.
Paste from an external email database. Newly gathered data can be pasted into the toolkit dashboard. All the users will be invited according to the addresses specified in your file.
Receive emails from the Snov.io database. Switch on the integration with this service if you need to browse business emails and use them for sending invitations.
Read more: Explore the instruction
Invite to follow a company page or participate in an event page
As the business page administrator, you can increase your loyal following by encouraging your 1st-degree contacts to follow your company page.
You can also invite contacts to events – online conferences, meetups, and seminars. This is an efficient marketing tool in the business community that helps networking. Through mass LinkedIn invitations, you can perform speedy outreach to more leads and manage each prospect in the integrated CRM after the connection.
Read more: Explore the instructions
Invite people to a LinkedIn group
Users can invite 1st-degree contacts to a group they are members or managers of. If Linked Helper starts viewing the personal accounts before inviting them to a group, this implies that the names needed for seeking participants are missing from the CRM data. The tool should visit a personal account to gather this data. Auto-invites to a group can be the first step in your funnel, a way to introduce potential clients to narrow niche information.
Read more: Explore the instructions
Personalized invite on LinkedIn: adjust settings & attach a message
Invitations sent on LinkedIn can be fully customized in the dashboard.
In the General settings, you can set some important parameters for invites. In this tab, you can choose in which platform to process profiles and switch between them. For example, you can collect profiles through Sales Navigator but by using the "Override platform" function, you can invite them through the LinkedIn Basic account. There are also settings to bypass the invite limit of 100 profiles per week – through the emails import or the LinkedIn undocumented feature, you can increase the number by 7 times. You can also sort contacts by specific tags which you can assign – then after processing, each lead will be classified.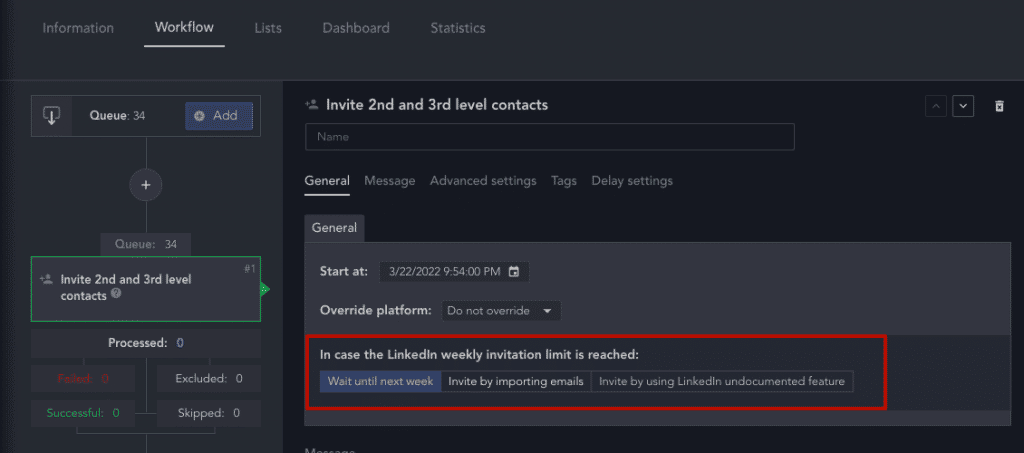 In the Template builder from messages, you can enter the text that the user will receive with an invite. It's possible to supply the message with variable lines and images. This action is optional – you can also choose to invite without any extra text. However, the warm-up copy may be an incentive to accept your invitation and reply. Use your working template or sample to boost the acceptance rate on LinkedIn connection requests.

You can extract a database of successfully processed contacts. All persons to whom you send out invites will be saved in the memory of the CRM, and this will facilitate further working with them. You can download the selection of users to export this data in Excel.
Automated tool in numbers
Invite up to 700 leads every week
Compared with the default 100 weekly invites
Automation with 31 marketing features
Continue working with prospects by adding auto-actions
Export spreadsheet with 21+ data columns
Get insightful data about invitees from the CRM
Send 3X more private messages
You can send more auto-messages automatically than by manually inviting