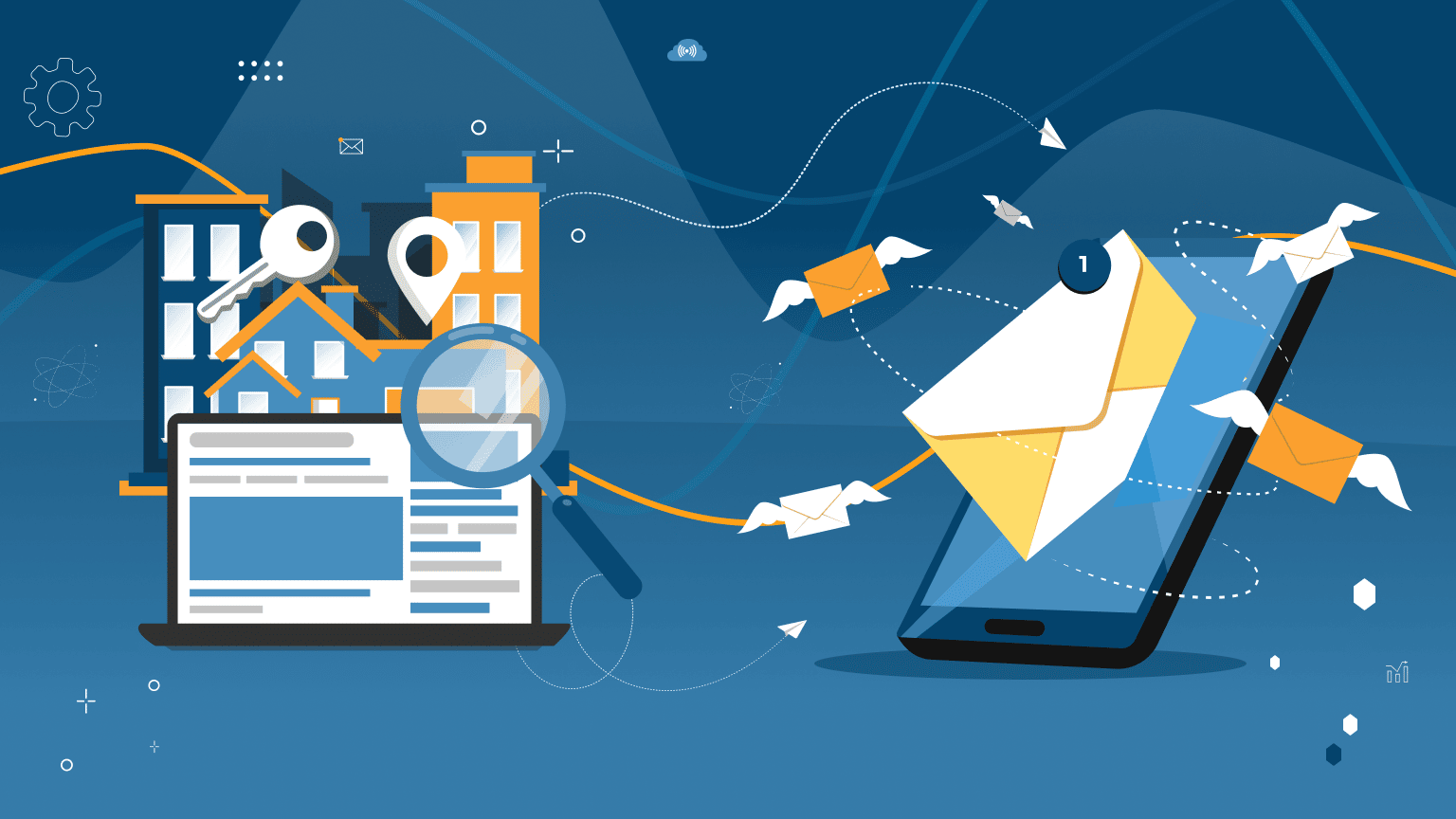 LinkedIn, while it is a business platform where people are more likely to look for work and business partners, is nevertheless a social network that can help in other unexpected tasks. Even tasks such as searching for housing, or for potential clients if you are a realtor, can be successfully done here because according to statistics, LinkedIn generates 15x more content impressions than job postings. Therefore, by generating content on a narrow topic and building your promotion strategy, like real estate drip marketing, you can open up new opportunities.
By automating promotion and communication with leads through Linked Helper, real estate professionals can spend a minimal amount of time to find those users who want to rent or buy in various locations. In addition, you will be more likely to find trustworthy clients because the professional experience of people on LinkedIn can be a good indicator of their reliability.
And without a doubt, the LinkedIn audience is a treasure trove of clients for renting commercial real estate. Whether you rent office space, co-working spaces, or other business spaces, you can directly find customers on this social network. You can contact employees or company owners to offer them better rental terms than your competitors.
All the work of searching and working with clients on the social network would be a huge burden without the Linked Helper smart CRM and automation. We will tell you how you can:
build a funnel for automated interactions with customers
extract important business data from the social network (about people or companies) in a spreadsheet
extract and find emails to execute drip email campaigns suitable for realtors  
automate marketing in niche groups for realtors
look non-stop for potential clients and have a CRM at hand with personal cards and your correspondence history with each prospect 
All these features in the software will help you find and keep in touch with clients and constantly expand your network, but at the same time not have to perform the same routine actions (clicks, likes, writing the same messages). You can view the video tutorial about creating a drip campaign. 
What is an email or social media drip campaign for realtors?
If you choose to run a campaign via email, the funnel may look like a set of emails after an action (for example, someone gives you their email via a signup form). Each email gradually warms up the lead and leads them through the information towards the purchase.
Drip social media campaigns on LinkedIn can have more impact because people tend to spend more time on social media and will have the seller's personality, testimonials from existing people, and comments in front of them.
It is difficult to say which campaign and which actions will work best for your target audience; there is hardly a universal formula for all realtors. But Linked Helper can allow you to test multiple campaigns at the same time for different goals, which will help you identify a more effective approach faster. For example, for one target audience, it may be more effective to send InMails, when another audience will respond more to phased warming up in the form of likes, connection invites, or invitations to a group.
Running drip campaigns through Linked Helper will help automate almost every step on the way to gaining customers. A smart robot will perform all the key tasks every day, as if you entrusted them to an employee (with the difference that it is much cheaper and more reliable).
Real estate CRM with drip campaign function
Linked Helper is a perfect real estate CRM and an opportunity to make every step of the customer acquisition drip campaign occur without your direct participation. You will only need to run the software on your computer every day and make sure that the Internet is connected. There is also a way to use Linked Helper on a remote terminal so you don't have to log in to the network every day from your device.
Download the software and connect your LinkedIn account
Downloading the free trial version will help you explore most of the features of the software. You can use Linked Helper both with the basic version of LinkedIn and with any of the paid packages like Sales Navigator or Recruiter. At the same time, within your LH account, you can switch between the platforms for different activities in the drip campaign.
Also, before you set up your first drip campaign as a rental agent or for home sales, make sure that your profile is of high quality. It's good if your page contains detailed content about the subject of your campaign. Also, if you have not collected reviews and recommendations or have not completely filled out the text sections in the profiles, we advise you to do this. Get ideas on how to make your LinkedIn profile better.
Because the active interaction that will take place in the next days through the robot will attract a lot of target customers to view your account, it is quite possible that you will receive the first messages from interested customers right away.
Start a Lead Search Campaign
Linked Helper gives you a unique opportunity to scrape absolutely any information – and this can be extremely useful for analyzing the real estate market on the social network and understanding your client.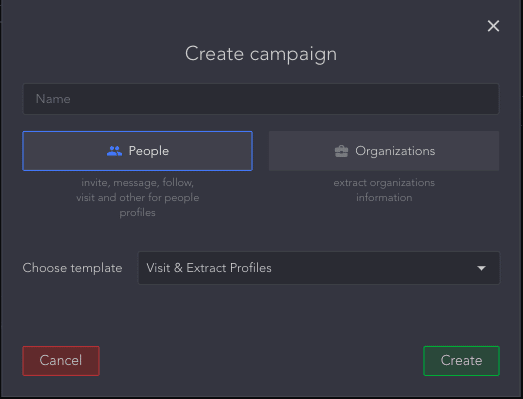 You can collect data about company profiles (for example, your realtor competitors in any location), or people from search, event, or group pages (for example, groups for finding accommodation in a certain city). You do not have to copy all the data from the pages manually. When visiting, the robot will transfer all information from the pages to the CRM, from where you can then download the CSV file. Read more about data parsing in the article.
Important: The software will also give you an additional opportunity to search for emails that are listed on the pages of your contacts and emails of your 2nd and 3rd degree connections through the internal Email Finder, as well as search for additional emails through the connected service for mailings Snov.io. With an email database, you can run free real estate drip email campaigns and see which approach works best for your business.
Each drip campaign in Linked Helper begins with the collection and sorting of leads, which will be displayed in the Queue section. This is a kind of queue of your leads, the top of the funnel with which the software will interact, in turn, sending each participant further through the following actions.
In selecting people for the funnel and scraping, you can use LinkedIn's internal filters, which differ depending on the package you are using. Therefore, for searching and scraping, it is sometimes more efficient to use Sales Navigator, while warming up profiles (i.e., putting likes on their content) will be available only from a regular account. A big plus of the software is that it can switch between your accounts within the same drip campaign to perform different actions.
After selecting the target audience, you can plan actions in the drip campaign, such as auto-invites or invitations to an event or a group, or you can start with ordinary likes.
Send almost unlimited invites
To find clients, a realtor may first need to expand their network of contacts. It is quite possible that now 90% of your contact list is made up of other agents, and of course this is not suitable for lead generation.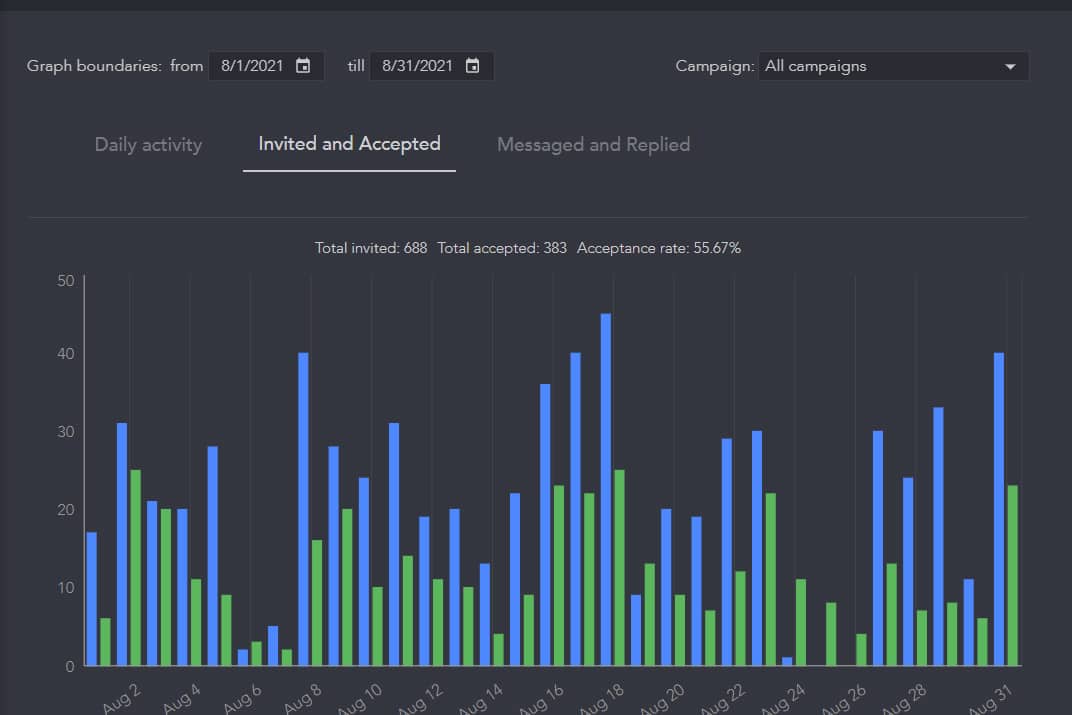 Networking with a hot audience will help you draw attention to your properties or company, even if you don't intend to sell to those people today. In addition, the wider your network, the more likely your post will be seen in the feeds of more users. In general, networking can be a major and permanent component in your drip campaign.
Linked Helper is software that can maximize your opportunities for finding leads and making contacts. The fact is that the social network imposes a limit of 100 on the number of weekly outgoing invites, while you can easily send 300-700 invites through the Linked Helper software. This will help you speed up this step in your drip campaign by as much as 3 times, which means your business page on the social network will soon bear fruit.
Thanks to an undocumented feature in LinkedIn, Linked Helper allows users to attach a message to every invite. Sometimes this can be a game-changer and even in the 300-character limit you can fit your unique offer (for example, about a discount on rent) which will help you make a quick deal. Also, the advanced features of the software will help you use deep personalization in every message.
Read more in our article all about automatic invites and instructions on how to increase their number.
Also read up-to-date networking tips that will help your drip campaign.
Create a group marketing campaign 
It can be a separate drip campaign that can run in parallel with the auto-invite campaign. The fact is that according to the rules of LinkedIn, you can write messages to all members of the group in which you are a member.
Therefore, by expanding the number of niche groups you belong to (in real estate, rental housing, commercial real estate, etc.) you will get the opportunity to reach your leads, even without the step of adding them to your network.
You can also create your own group with listings, where you will invite already warmed-up leads.
Linked Helper has the ability to set up auto-messages to all common group members or event attendees. Therefore, the more effort you put into creating a group or interacting within existing ones, the more opportunities for lead generation you will get.
Read our detailed guide to promoting and building a brand through LinkedIn groups.
You can search for target clients not only in groups related to real estate or housing searchers, but also in local groups (if you work with real estate in a specific location).
For example, there are groups like "Berlin jobs for English speakers" where people are looking for work in Berlin but don't live in the city yet. Therefore, you can feel free to offer your housing options because many in this group will be interested in finding housing to move into.
Regular interaction with content
In a real estate drip campaign, content is a vital element and building relationships with the target audience is impossible without content. Also, by leaving comments on LinkedIn, you will more often appear in the feed of your contacts. In addition, by commenting on publications, you stimulate the target audience to visit your profile an additional time (where there may be information about listings).
It's just as important to create educational content to increase your audience's trust level as it is to regularly pay attention to other people's posts.
Likes and comments may no longer take your time, because this is an auto-action you can add to an automatic drip campaign. Most often, this action is added first in the drip campaign in order to attract the attention of the target audience even before you add them to your network. Linked Helper can start your campaign with likes and comments to warm up your audience.
The best real estate drip campaigns involve InMails 
InMails can be both paid and free and are indispensable when your goal is to connect with leads without adding them to your network. You can create a separate drip campaign in Linked Helper to send InMails and reach new customers in this way.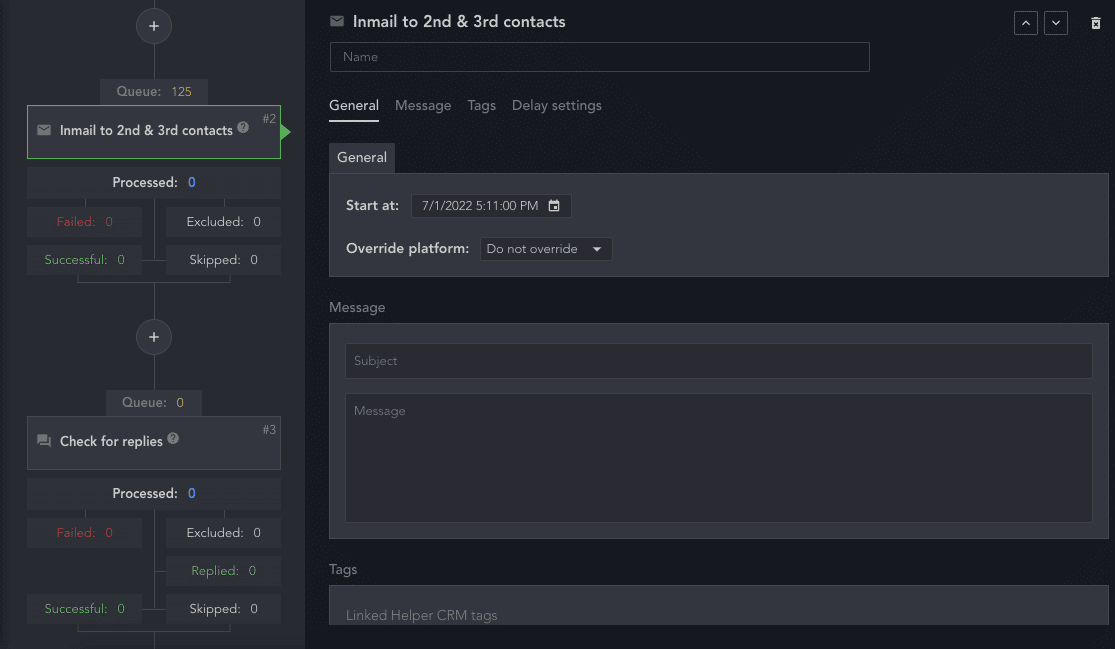 In fact, paid InMails will be available only in advanced LinkedIn solutions (in the Premium plan you will receive 5 credits and you can send up to 150 InMails through Recruiter). But few people know that in the social network you can send InMail for free to accounts who have opened such an opportunity (i.e. their profile has the status of "Open Link"). This gives you limitless potential to reach your audience through a basic LinkedIn account or without spending paid credits. For example, you can make a newsletter presenting your company or special commercial offers immediately without warming up in the form of likes or visits.
With the Linked Helper software, you can greatly simplify the identification of Open Link profiles. They can be quickly sorted from all the leads that you can scrape from social network pages, whereas if you were writing free InMails manually, you would have to open each lead's account and see if there is an option to send them an InMail. There is also a smart way to sort profiles into a category such that you will know that you can write free InMail to all of them in the category – these are all profiles that are in the Services category. These profiles automatically have Open Link status.
If you want to create a drip campaign with free InMails immediately when scraping leads from the search, you can use this field.
Real estate drip campaign examples
You can use the following situations to connect with potential customers through LinkedIn messages or content.
Inform about the latest listings
Such a drip campaign will help you keep in touch with heated leads and existing contacts. For example, you can do regular mailings to your customers who want to buy a house or rent an apartment.
Then your campaign can consist of the follow actions for this audience: auto-likes, messages to 1st degree contacts, check for replies, reply to those who replied.
In the software, you can think of a funnel with responses to messages from leads. Read more in How to respond to LinkedIn messages: the most effective and automated ways.
Organize an event for potential clients
You can think of a drip campaign that will help you overcome all the objections of your leads and help you find new customers. For example, it could be an online event on LinkedIn or an offline conference.
The drip campaign can start with gathering the target audience, warming up in the form of invites and welcome messages, and then invitations to the event for everyone who answers you. With Linked Helper, you can automate all of these steps to help you manage your online marketing routine effortlessly.
Create a customer engagement campaign
After you have completed the transaction, do not forget about the after-sales service. For example, when renting commercial real estate, you can find out from the client in a month whether they are satisfied with everything and perhaps they will need your services again (for example, for a new branch).
Also after-sales service is the best way to get reviews (you can collect recommendations right on your LinkedIn profile). Just ask your past clients to write a couple of lines about their experience working with you.
You can also organize all post-sales contact with clients in Linked Helper drip campaigns. You can easily tag customers who closed deals with you in the CRM, add them to the cue, and set a message that will be sent to them on a specific day.
The presence of CRM and auto-actions in the LinkedIn pipeline will help you gradually build a brand name on the network, gain loyalty and get a lot of new leads from positive feedback.
Real estate email drip campaign tip 
Emails can be used both in conjunction with social media marketing and separately. To begin with, it is worth noting that you may need time to create a database of emails for your leads and implement it into the mailing list. But Linked Helper, again, has advanced functionality for searching for emails in LinkedIn and creating a full-fledged database (a downloadable file that you can embed in your mailing list).

How can you scrape emails? Searching for emails on the social network is possible both among your contacts and among connections of levels 2 and 3. This will open up a goldmine of emails that you can embed in the mailing list. The Linked Helper email parser has both an internal database of emails (Email Finder) and can be integrated with a third-party mass mailing solution (Snov.io).
You can duplicate your LinkedIn real estate drip campaigns via email or reach new leads exclusively via email (you can find examples of pipelines in this article above). Sometimes using both tools helps increase the chances of a response. 
For example, buying a house can be a decision that customers need to be brought to gradually. Therefore, the sequence of emails and unobtrusive interaction in LinkedIn will lead to an increase in confidence in your offer. Your communication can take months or even half a year, so using different channels can be good for different audiences.
What should a realtor do when planning drip email campaigns? 
Sort your target audience
If you don't have an email database yet, you can get it through the software. In any case, a narrow and targeted group of people will help make your newsletter more successful. You can also generate emails by submitting a lead magnet or setting up paid ads on LinkedIn. But the stage of searching and collecting targeted emails is the right step to get a high open rate. When collecting emails via LinkedIn, you get an advantage in additional sorting of accounts according to different criteria.
You can also use the CRM tagging system to break down your target audience into groups (real estate buyers, landlords, businesses and individuals, hot leads, and cold audiences).
Organizing the audience will help you develop a targeted drip campaign for each group based on their profile.
Develop suitable pitches for each group
Since different groups of clients have different willingness to complete a transaction and different needs, the texts for emails (or messages on LinkedIn) should be deeply adapted. Therefore, after gathering the audience and studying their needs, develop a separate pitch for each group with a solution to their problem.
When sending messages in Linked Helper, you can make the bulk messages as personalized as possible to the recipients. Because the software is equipped with tools for using variables and logical operators – read how it works in our blog post. 
Can real estate drip campaigns work for sales?
Yes, campaigns like this are great for building a sales funnel, especially a combination of campaigns. In some you can warm up new leads, and in others you can use it for direct sales.
Here are some important rules that will help you sell through a drip campaign.
The best drip campaign for realtors includes a personal approach
Since the social network is actively used for sales and promotion of services, people are used to receiving sales messages. Therefore, it can be difficult for you to stand out from your competitors. If you're selling from a realtor's personal profile, it's important to have real photos and testimonials, which builds credibility when selling online. Also be sure that your page clearly spells out how to contact you, and you can also insert a link to a calendar for scheduling calls with clients.
Personalization in messages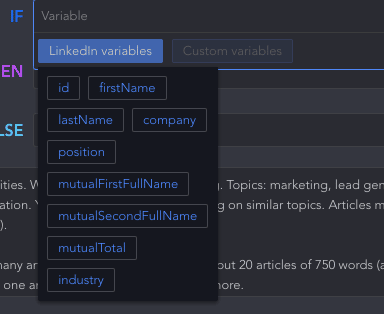 LinkedIn provides opportunities for personalization in messages, but they are more basic (first and last name, company name, etc.). However, sometimes you may need a deeper personalization. For example, mention the name of a real estate exhibition or the name of the city where the lead lives.
A nice feature of the Linked Helper software is that you can set plugin variables that you add yourself. They will only work for leads that are added to the table where you add a column with a new variable. However, it's very simple and will help you tailor your messages to each situation and sales funnel.
Maximum lead reach
Sometimes you can increase the effect of a campaign if there are a lot of leads in the funnel. For example, you could try to write point-to-point to everyone through the social network, but it is much more efficient to reach at least 1,000 potential customers – and you will see a greater conversion.
Not every prospect checks their incoming messages on the social network, but the more clients you add to the funnel, the higher the likelihood of a sale. Linked Helper allows you to add 1,000 leads to each campaign Queue, but you can increase this number by changing filters in the search – read more in the knowledge base.
Real estate seller drip campaigns hack to automate InMails
Many realtors may want to practice cold outreach to clients who are not on their contact list. This can sometimes be perceived as aggressive sales, so it's not always a good idea to start your sales funnel with direct sales via email. But you can use them for a short presentation of your company. Read the manual on how to send free InMails to Open profiles. 
A reliable way to automate InMails is to create a special drip campaign in Linked Helper. You can quickly reach your target audience if you create a funnel for different target groups.
What your campaign might look like:
Add target audience to Queue
For this step, you need to create a People campaign and transfer the leads from the search pages to the software. Filters and the ability to connect Sales Navigator for research will help you here (because this solution provides in-depth research capabilities, more filters, and the ability to create lists).
Add an InMail auto-action to your funnel
You can insert your pitch and pre-set custom variables if you want to use in-depth personalization. You can also select a specific date.
Add "Check for Reply"
This action will filter the responses you receive during the campaign. It is convenient that you do not have to open your account on the social network and scroll through all the correspondence. All responses will be visible in a separate section in the software and you can add these as hot leads for further communication.
Is it possible to create real estate buyer drip campaigns?
We want to note that you can organize such campaigns even if you are looking for housing. Just as we described the process of finding clients, you can implement a search for housing. If you are moving and want to find a place to live in a new city, it is a great idea to write to all possible realtors at once.
How you can find accommodation as quickly as possible through the automatic Linked Helper funnel:
Sort all realtors from the search page. You can set up a People search by job title. You can also select the city you need to find agents in.
Add a list of people you want to the Campaign Queue. The software will go to each one in turn and perform the auto-action that you add.
Add an auto-action. You can set up an auto InMail campaign for all agents who have an Open Link profile, even if you have a regular free LinkedIn profile. This communication format will allow you to reach out without adding each agent to your network. For those realtors who do not have Open Link status, you can send paid InMails or add them to your network and attach a message to it, where you can indicate which type of property you are looking for. Probably the percentage of acceptance of your invite will be almost 100% because realtors are always interested in connection with new clients.
Launch campaigns and enjoy a variety of options to suit your needs. As the campaign progresses, you will see how many agents respond to you and perhaps soon you will find the property you have been looking for.
As a result, the auto-funnel through Linked Helper is able to help not only real estate agents, but also anyone who wants to buy or rent a home and is looking for offers in the real estate market.