More than any other social network, LinkedIn users are devoted to sales. However, LinkedIn's regular plan does not provide enough data for those who practice social selling. You may have noticed that an Analytics section has appeared on your page. Many users have been waiting for this! Now you can see your profile data – post impressions, the number of followers, profile views, the number of times you appeared in searches and even search terms you were found by, and key audience demographics.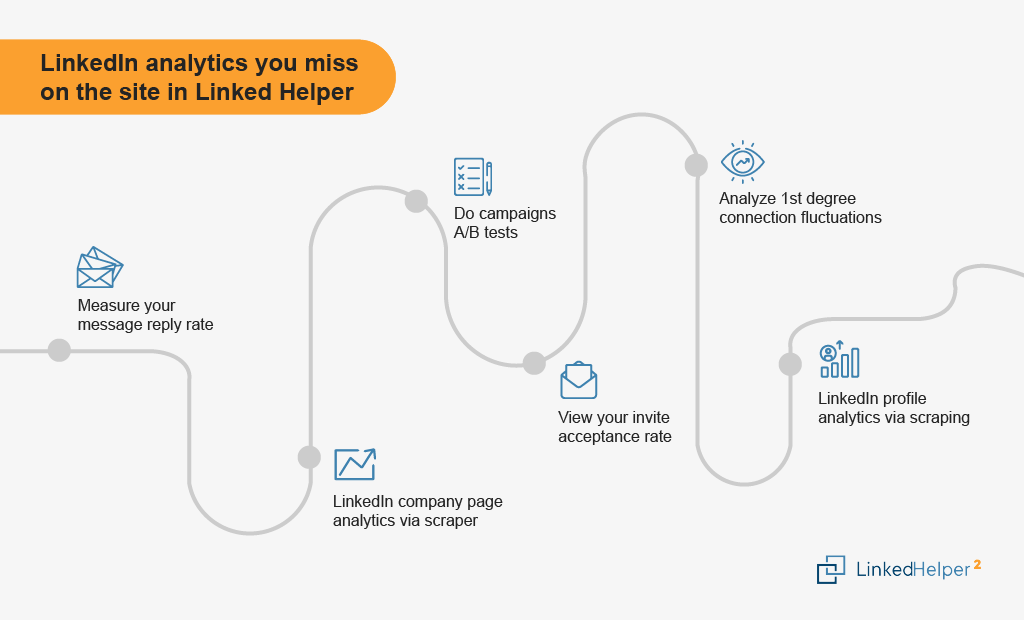 But this may not be enough! Especially if you are reaching out to a wide audience.
Is it difficult to quickly calculate the invite acceptance rate and reply rate to your messages?
Are you unable to compare the number of current connections with other periods?
Would you like to be able to conduct A/B tests on the best way to reach your audience?
Next, we'll show you how Linked Helper can help you get more data to be more efficient. You can get reliable data because you will be able to capture hundreds or even thousands of leads through the software to more accurately test hypotheses and deduce the most successful interaction strategy from analytics.
How to track acceptance/reply rates in Linked Helper
LinkedIn doesn't let you monitor acceptance/reply rates. But our software can show this data if you send your invitations and messages through it – so you can utilize it as a LinkedIn analytics tool.
View the percentage of accepted invites
You can start delivering bulk invite requests through Linked Helper. This will solve major problems:
Restriction on bulk invites. You can bypass the official limitation of weekly 100 invites. Through our software, users can send 50-70 requests, which is much more efficient. At the moment, a method of sending invites through an undocumented LinkedIn feature is available exclusively through Linked Helper. Read more on our blog Weekly invite limit on LinkedIn 2022: Connect in bulk after the update
You will be able to analyze the percentage of accepted invites. After successfully creating a campaign for mass inviting, you will see statistics for each action in the software. It will be updated as the campaign progresses. That is, you can see intermediate results to make adjustments (if the analytics do not suit you) or wait until the end of the campaign.

Hack & example for estimating acceptance rate during outreach:
For some industries, the number of potential leads is not infinite. So estimating the acceptance rate as a milestone of your campaign is crucial.
After creating an Invite campaign, install the "Action steps delays" plugin. You will be able to set long intervals between processing leads. This helps to estimate the campaign's intermediate result

Try these settings: Bunch size 15, timeout between bunches – 4000 mins.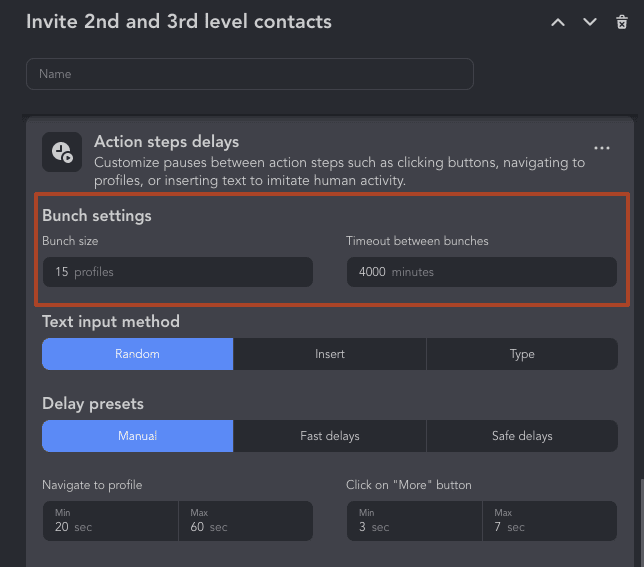 That is, you will have 3 days to check the acceptances of already sent requests. In case of low engagement, we advise you to change the invite message template or outreach strategy.
Download Linked Helper 2 and get 14-free trial right now
If you are not yet in our list of users, then join. We give you a trial version to start your experience with our LinkedIn tool.
You can see LinkedIn analytics on your PC. To see how many people accepted your invites compared to the total sent:
Select the desired campaign in Linked Helper.
Open the Dashboard tab.
Set the date range. It's convenient that you can change the parameters in the campaign and monitor the indicator dynamics before and after the changes.
You will see the number of sent and received invites, as well as the acceptance rate.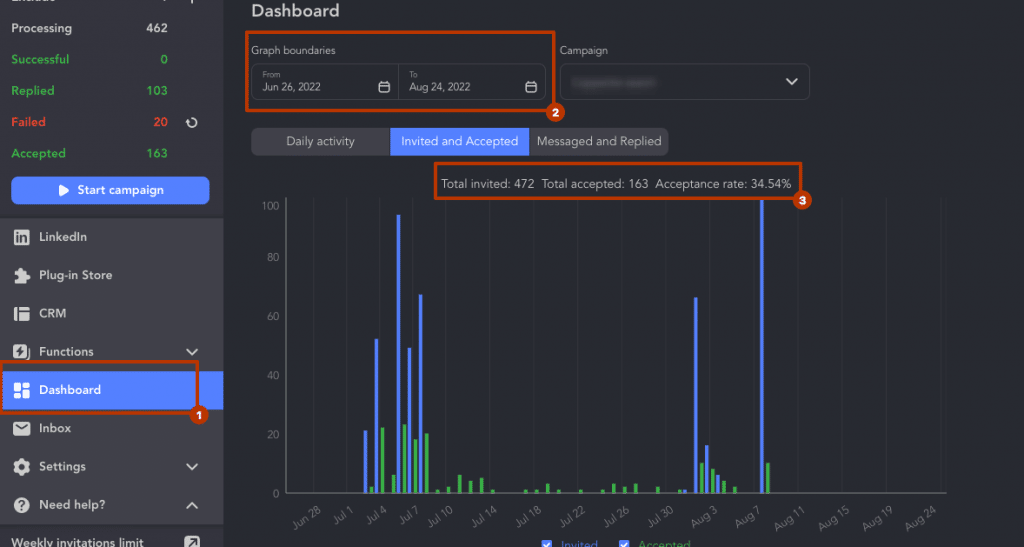 Read how to create a campaign in Linked Helper for bulk inviting.
It's impossible to obtain such stats using only the basic LinkedIn plan. But you can download the Linked Helper trial and start testing the most winning strategies for networking.
Knowing how people react to your invites, you can adjust the strategy. For example, liking and following people before sending them an invite can increase your acceptance rate. You can start a campaign by adding warm-up likes and follows before inviting them automatically in Linked Helper.
Measure your message reply rate
According to reports, leads are 86% more likely to accept your InMail if you view their profile first. Users don't always see who has viewed their profile (if they have LinkedIn Basic). But you can also follow them before InMailing. Or like their content before messaging as your first-degree connections.
In Linked Helper, you can track how the reply rate changes depending on other campaign actions. You can also test different versions of texts and use personalization or pictures (read how Uclic works). Only knowing the analytics based on your audience will help you improve your LinkedIn outreach success!
How to track the reply rate in Linked Helper:
Open the relevant campaign.
Open the Dashboard section → set the time frame→ pick "Messaged and Replied."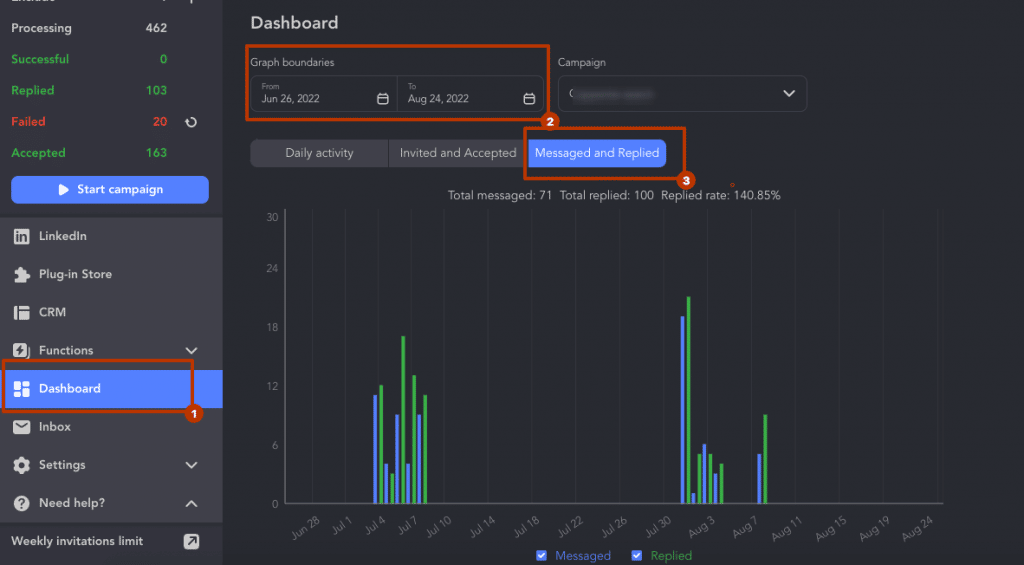 Statistics are calculated based on the number of successfully messaged profiles and the number of those who replied within a specified period. If for a certain period you sent one message to a person, and then that person replied to you with ten messages over a short period of time, the reply rate will be equal to 100% as the number of messaged profiles equals to the number of replied. In the screenshot example, we see more replies than messages we have delivered. This happened because we received responses to the invitation message. The invitation message itself is not counted in the statistics, so there was such a difference. Usually, there are simply fewer responses to invitation messages.
8 steps to track LinkedIn acceptance rate via Linked Helper campaigns
Let's imagine you need to discover decision-makers in tech. It may happen that the quantity of target leads is 3,250 in your target location. In this case, it is convenient to use automation. But the cost of poor messaging is very high. It still needs to be done carefully and the results analyzed incrementally. You can try the following strategy in Linked Helper:
#1
Gather all the leads for the campaign.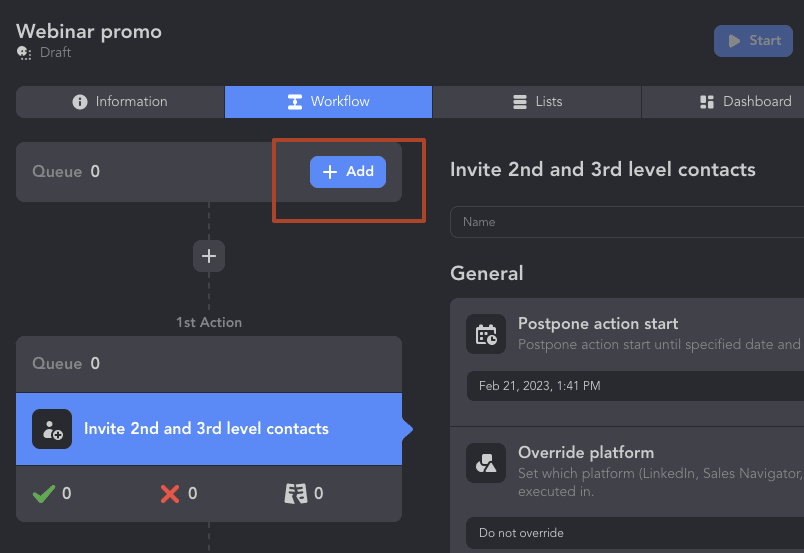 #2
Assign tags to leads after collection.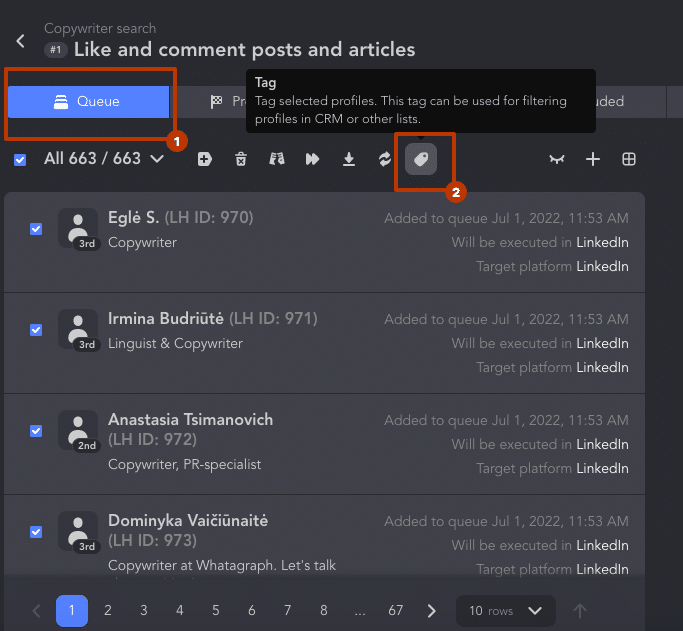 #3
Create different campaigns for the same audience. For example, one with an invite message. Next, clone this same campaign but without a message.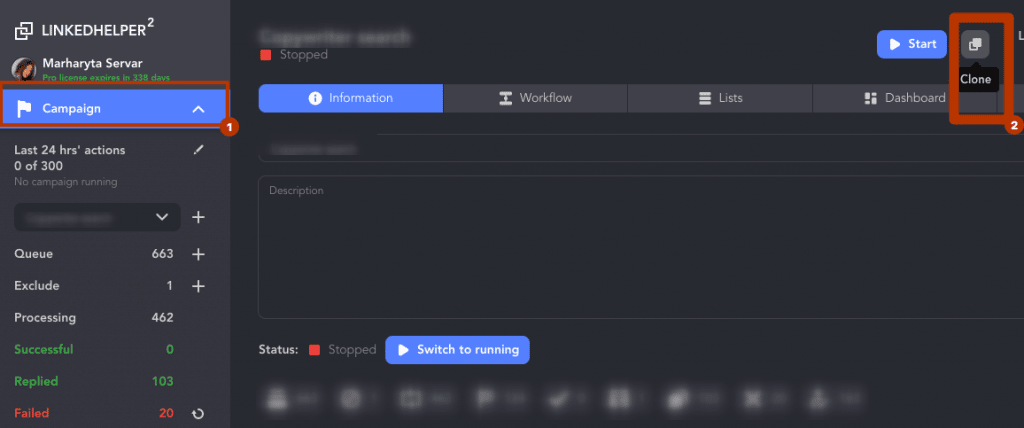 #4
After processing 100 contacts, check the result. You can install the "Action steps delays" plugin and use a bunch size of 100 people in the settings of the Invite action. After a few days, check the acceptance rate with and without a message.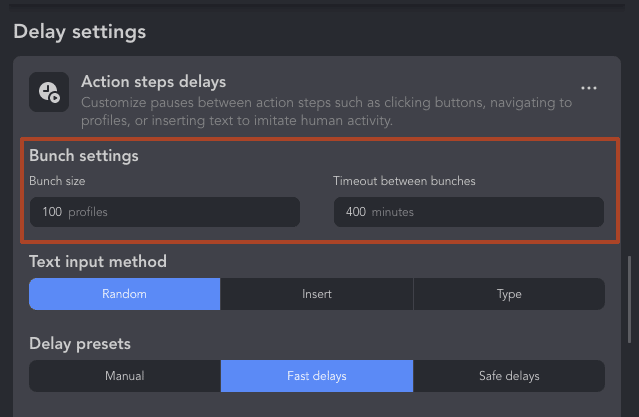 #5
For example, let's say you realized that an invite with a message is more successful. Now you can create a new campaign with an invite message. At this point, you can test versions of the message. For example, try one version that mentions the name of a common niche and the number of connections you share. Then make a clone of this campaign with a message that does not mention common connections/niches. Add 100 clients to each campaign and roll up the results according to the acceptance rate.
#6
Create another campaign where instead of the total number of shared connections, only one shared contact is mentioned. Test it on 100 people. Compare the results with the campaign from the previous step. Let's assume this version of the campaign and message worked best. Therefore, you can place the rest of the 3K+ leads in this campaign with a message that mentions one shared contact.
#7
Let the other campaigns finish to see collect all those who accept invites from these test campaigns.
#8
After a month, delete unaccepted outgoing invites. Use the "Sent invites canceller" plugin.

After 4 months, everyone who did not accept invites from past test campaigns should be moved to the last campaign for processing again but with an optimized message.
How to analyze 1st degree connection fluctuations
LinkedIn does not have a feature to view your network churn. This is an important metric for measuring the effectiveness of your networking strategy.
In Linked Helper, we can scrape all the profiles in your first circle. After that, you can tag these users so they will remain marked in the Linked Helper CRM.
After six months or a year, you can sort these same users again by using this tag.
You can then filter them by status – who is still your 1st degree connection?
The difference in the numbers of those who were initially tagged and those filtered as current 1st degree contacts will show what the outflow of the audience was.
How to collect users from your network in the CRM today:
Open your Linked Helper account. Click on the + icon → Empty campaign → Create campaign.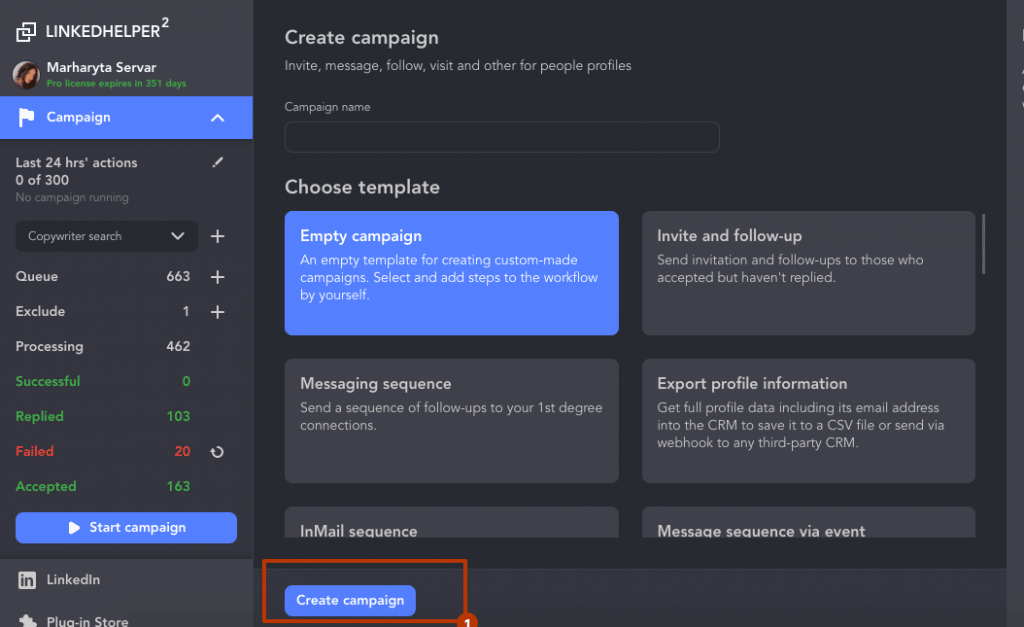 Select Add action → Visit and extract profiles.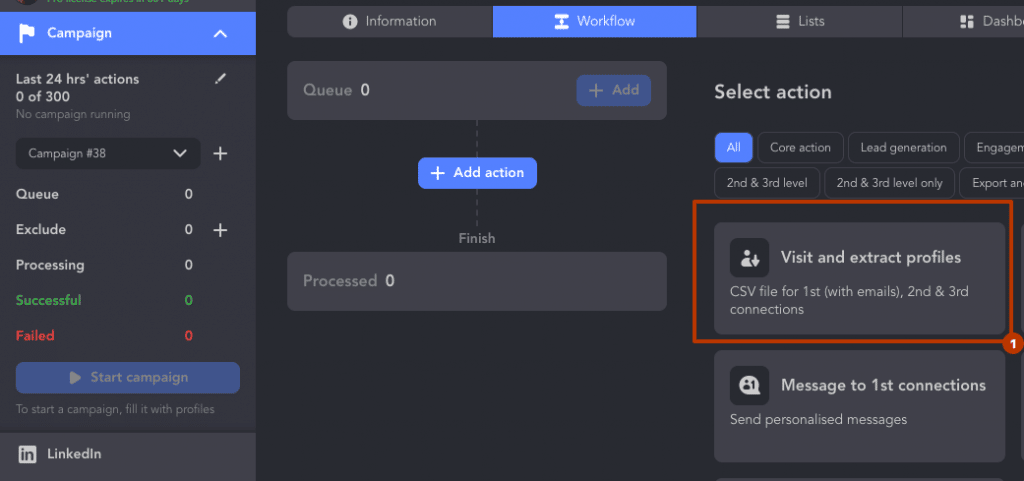 Add people to the Queue. Click on the +Add button.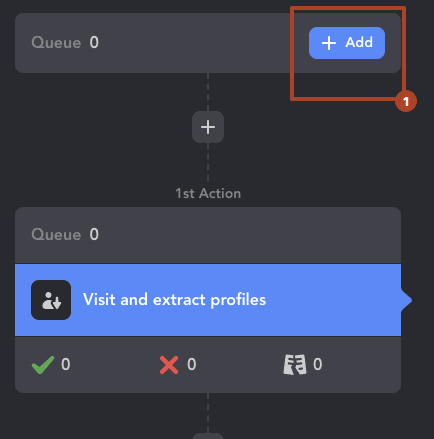 In the section "Choose source" pick "My network page."
Click on the funnel icon. After that, select "Collect from current page."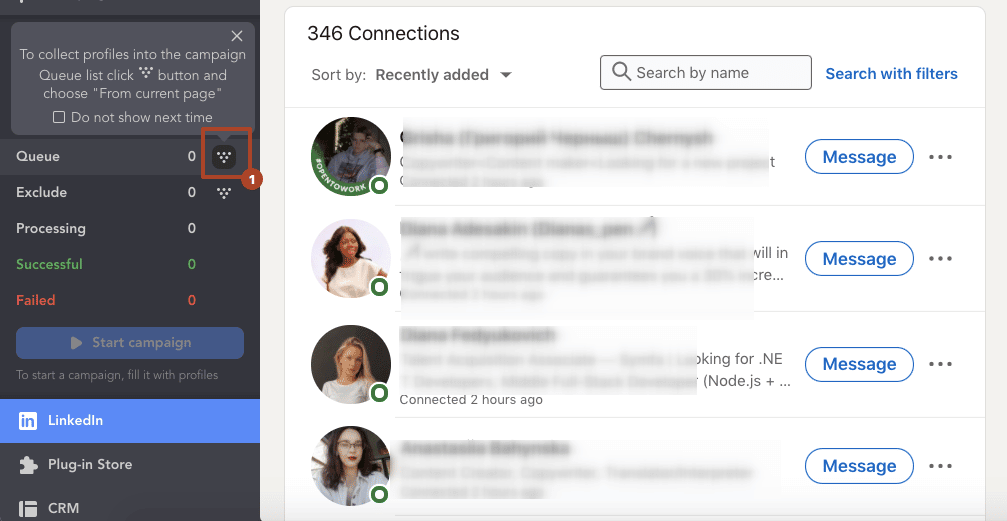 In a few minutes, all contacts from your network will be uploaded to Linked Helper. Without visiting profiles, the software will not save data from pages. But these people can already be assigned a tag and they will be displayed in the CRM.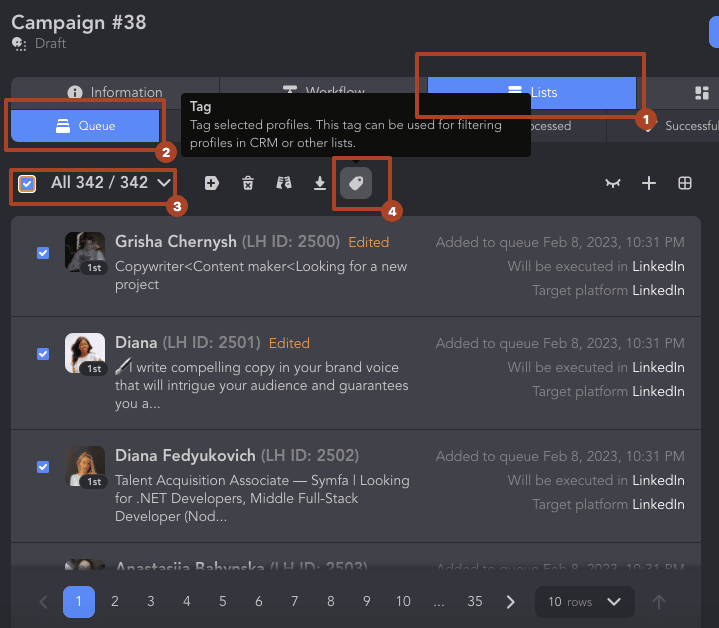 Select Lists → Queue → select all users → Click the tag icon.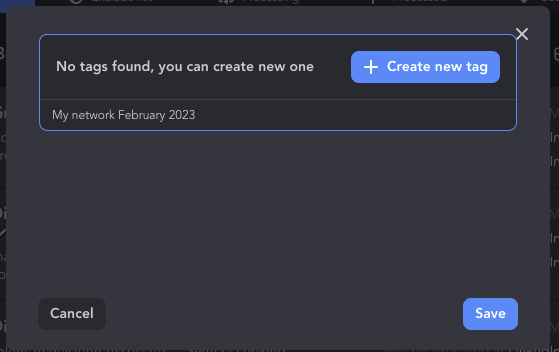 Create a tag name. For example My network [Date]. Click on Save.
After that, you can find this selection of users at any time by filtering them in the CRM using the Tag filter. Do it again after the reporting period (one month, six months, a year).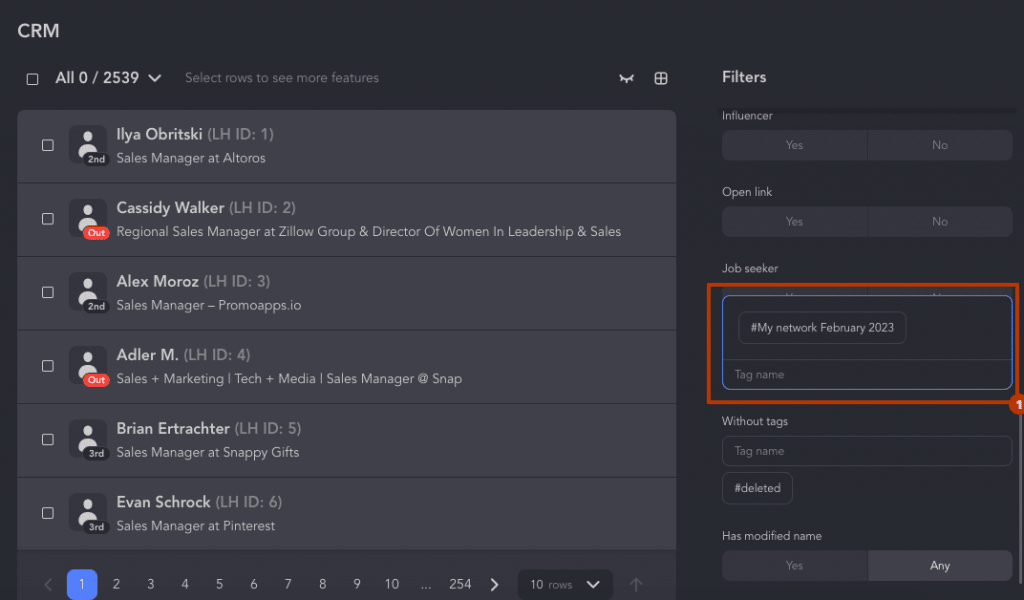 Now just go to the Relationship filter. Click on "1st." You will see how many people from this list remained in your network. You can compare both lists to see who is no longer your contact.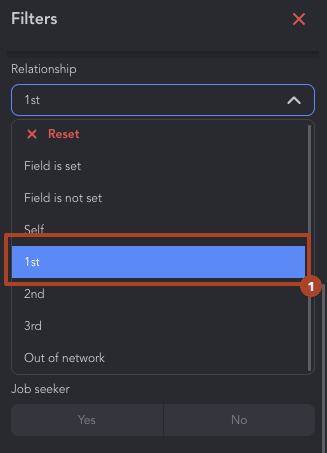 How to do А/B tests in Linked Helper
Working through Linked Helper you can figure out which strategy is the most effective for promoting an event or business page and for growing your network.
For example, you may be tasked with promoting an event on LinkedIn. Linked Helper has an "Invite person to event action." But you can also send invites to the event via a message with a link to the event. Sometimes you can send InMails to people who are not in your network. To do A/B testing, you can create different campaigns in Linked Helper and measure the results. In which case did you get the most event attendees?
Create different campaigns with different sets of actions. Read more about it in the manual – How to invite connections to join Event.
Sometimes you may notice that combining both methods with the same audience (invite to the event + message) has the best effect. And Linked Helper is a handy tool for automation so you don't do this task blindly. After all, doing this task on a social network without an assistant, you could hardly calculate who accepted your invite through a link in a message versus through a sent invite.
LinkedIn profile analytics via scraping
Through Linked Helper you can get insights on hundreds of profiles. This is possible through setting up the "Visit and extract" campaign. After visiting each account, the robot copies all the data and you can download them successfully.
Read detailed instructions on how to set up a campaign to collect data about people.
As a result, you will export LinkedIn analytics as a CSV file that can be imported into Excel. You will receive a familiar table with a set of data about the selected audience. And then you can analyze the data array through Excel filters. This kind of analysis is essential to stand out from the competition, tailor your profile, and rank better in search.
LinkedIn strategy for profile scraping and analytics:
Sort the top performing users from the sample by the number of followers (i.e. you can sort the table by the column that shows the number of followers).
Get insights into your competitors' profiles. You can find out what your direct competitors write about themselves in the texts and what their headlines and summary look like. Often the headline is crucial in getting your invites accepted, and it is visible from the search results page. Therefore, having text analysis at hand, you can stand out among similar specialists. Analyzing accounts in your industry will help you gather the top wording to include in your account. You will find all sections in the table.
Analyze profiles for keywords. Texts for thousands of accounts will help you highlight the most common words in texts and skills. These phrases can become references for your texts. Because your profile will also rank for them in the search results. Read how to adapt your LinkedIn account for SEO.
Get ideas for a winning profile photo. In the spreadsheet, you will find a link to the main profile photo. This photo can be seen in LinkedIn searches, in recommendations, and when a person receives an invite from you. Therefore, by analyzing the accounts of competitors, you can understand what will set you apart from them.
Read how you can conduct competitor analysis in our article.
LinkedIn company page analytics via scraper
Just like with people's accounts, you can also get data about organizations' pages. For this purpose, in Linked Helper you will find the "Organizations extractor" action. You will find detailed instructions by following the link.
By default, LinkedIn allows you to see analytics for your business profile. But often you may lack understanding about an industry or a new market. Therefore, this method of analytics will help you collect hundreds or thousands of organization pages in a campaign. Then download the file for analysis in Excel of absolutely all data from the pages of organizations.

Analyze their logo via a direct link. If you are on the way to rebranding, viewing and analyzing the logos of companies in the market will become a necessity. The simple process of scraping through Linked Helper will help you collect a vast array of logos. You can select the most impressive ones to brainstorm with the design team.
Analyze websites. You could spend a lot of time collecting links to competitors' sites. Through a LinkedIn search, you just need to select the desired industry and location, and within an hour you will receive all the links to the websites. This may be a necessary step to create your site or improve your texts and design.
Analyze the growth of competitors. You will find data on the number of employees and will be able to assess the scale of the organizations.
Analyze the number of followers. You will understand the target number of followers for the growth of your company page.
Gather data on company specialties in your niche. You will find the corresponding column in the file. These words can be used as keywords in your LinkedIn texts if they are relevant to your business.
The wrap up: LinkedIn on-page analytics report vs. Linked Helper
Having received such a detailed data slice through Linked Helper, you can also refer to your LinkedIn account analytics. In the Analytics section, you will find the dynamics of impressions, profile views, the number of followers, and how often you show up in the search. This info is a vital indicator of your growth on the social network. But it doesn't say much about your communications with other users (but Linked Helper can show you that!).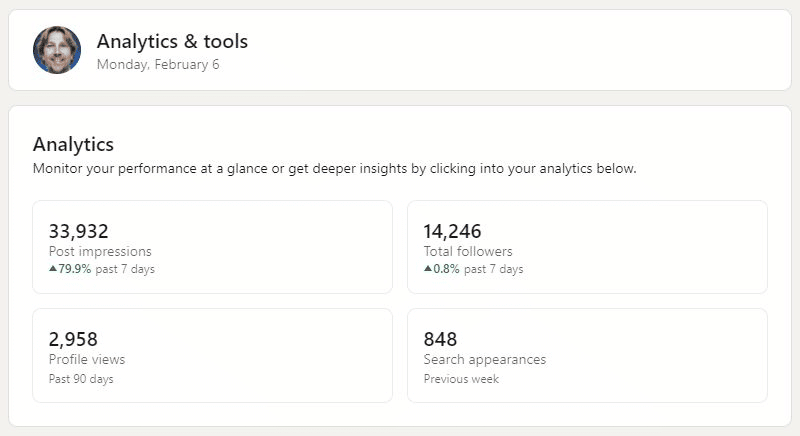 As we can see from the screenshot below, you can track the growth of followers over a period of time and even the demographics of your audience. Such monitoring may be important in determining the strategy for posting and outreach. Therefore, it is important to combine both tools – built-in LinkedIn capabilities and analysis hacks through our automation software.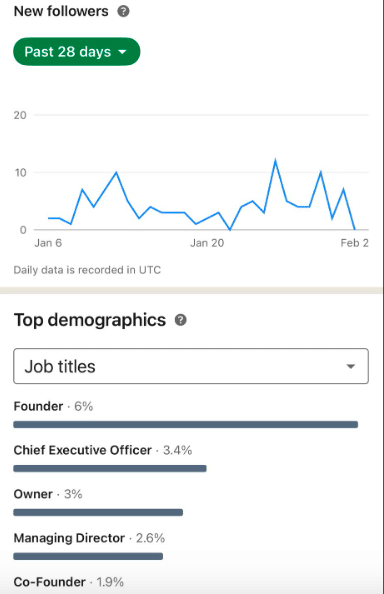 Linked Helper will not show you data about the best content and LinkedIn post analytics. Therefore, to improve your posting strategy, you should collect data directly from the social network. Be mindful of how your audience reacts to content: what kind of content makes them more willing to leave a comment?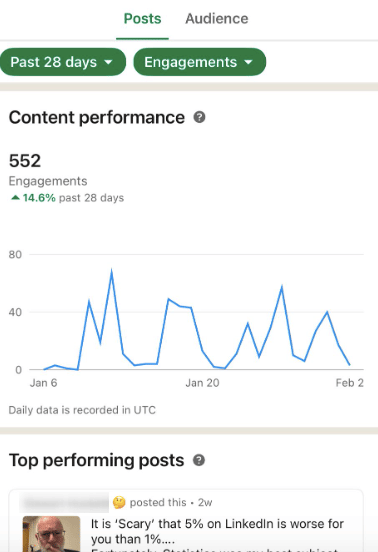 However, LinkedIn doesn't provide all the statistics – check the link to learn how to view data and what data you cannot see. For example, you cannot view analytics on other people's posts. But Linked Helper can give you a slice of data even on other people's posts. It helps to understand what works best in a niche that interests you.
Collect both likers and commenters. It allows you to get the number of those who liked but didn't comment, or those who both liked and commented.
Collect the audience from different posts and make a cross reference in Excel by people profile_URL. It's possible since you can download the CSV after collecting the data. So you get the most active audience by commenting or liking.
It helps to analyze how many people from your 1st degree connections are following your posts and responding to them.
Collecting fresh data will help you create only relevant content. Because if you decide to develop your profile through Linked Helper, it should already be of interest to a potential audience. That is, it should be filled with attractive texts, publications, and articles. Because soon you will see that the reach of your account is growing, which means you must prepare it in advance for viewing. You can analyze competitor accounts to amass post ideas. Scrape profiles of competitors with the most followers. Open URLs to their accounts and check their publications (you can get them in the file downloaded from Linked Helper) – where are the most reactions? Experiment with related ideas on your page!