Staying up-to-date with the ever-evolving tools and pricing on LinkedIn can be a daunting task, as the platform frequently introduces new updates. One of the latest offerings from LinkedIn is the "I'm interested" feature, which enables candidates to express their interest in a company without submitting a formal job application.
To save your time and stay informed, you can rely on this article to get the latest information on LinkedIn plans, features, and pricing as of 2023.
Key points:
LinkedIn offers a free version as well as paid solutions for business and recruiting. Even a free account can be used for lead generation (if you have a tool for secure mass auto-data collection like Linked Helper).
The price for the most expensive social network plan, Recruiter Professional Services, is provided upon request to companies. However, some sources mention $1080 per month. This plan is the only one that allows reaching contacts beyond the 3rd degree of connection and provides a record-breaking 150 InMails per month.
All subscriptions starting from Business Premium offer browsing without a commercial search limit.
Below, we will provide a brief description of several important paid features that differ from each other, making it easier for you to prioritize.
Download Linked Helper 2 and get 14-free trial right now
If you are not yet in our list of users, then join. We give you a trial version to start your experience with our LinkedIn tool.
People Browsing: This tool is great for discovering other professionals on LinkedIn based on various criteria such as location, industry, and job title. And the best part? You can do this every month for free! Well, sort of. The number of searches you get per month depends on your subscription level. If you have a higher-tier plan like Premium Business, you get unlimited search access. But even if you have a lower-tier plan, you can still find plenty of great contacts.
InMails are a great way to message other LinkedIn members and make new connections. The number of InMails you can send per month depends on your subscription level, but you might be able to send a complimentary InMail if the recipient's profile is set to "open" status.
You can learn more about all the InMail rules in our guide.
LinkedIn Insights provides a wealth of information depending on your subscription plan. For example, Company Insights can give you the lowdown on a company's size, location, and industry, as well as employee demographics and performance metrics. Sales Insights can help salespeople tailor their outreach efforts to specific companies and users. And Career Insights is perfect for job seekers looking for the inside scoop on job titles, required skills, and salary information.
If you want to improve your skills, you might want to check out LinkedIn Learning, which offers a wide range of online courses to help you refine your talents and stay competitive in today's job market.
If you really want to up your game, you might consider upgrading to a subscription level like Sales Navigator or Recruiter, which offers even more advanced options like Advanced Search and sorting people by lists.
Categorizing users in lists allows businesses to monitor potential clients effectively. However, this functionality is exclusive to subscription levels such as Sales Navigator and Recruiter.
Improved filtering: As a LinkedIn subscriber, you have access to a range of filters that can help you narrow down your search and increase accuracy. For example, if you're a Sales Navigator user, you can search by groups, activity date, and work experience. And if you're a Recruiter subscriber, you can search by skills.
Who's viewed your profile: On a free account, you can only see the last 10 people who have viewed your profile (but not always, some enable Incognito mode). With paid subscriptions, you can see the audience for 90 or 365 days (starting with the Business Premium subscription).
Hack: In Linked Helper campaigns, you can gather a list of people who have visited your account. This audience is often already warm to what you have to offer and may be looking forward to your invite or message.
LinkedIn subscription options overview
Check out the table below for a quick summary of the main differences between subscription options: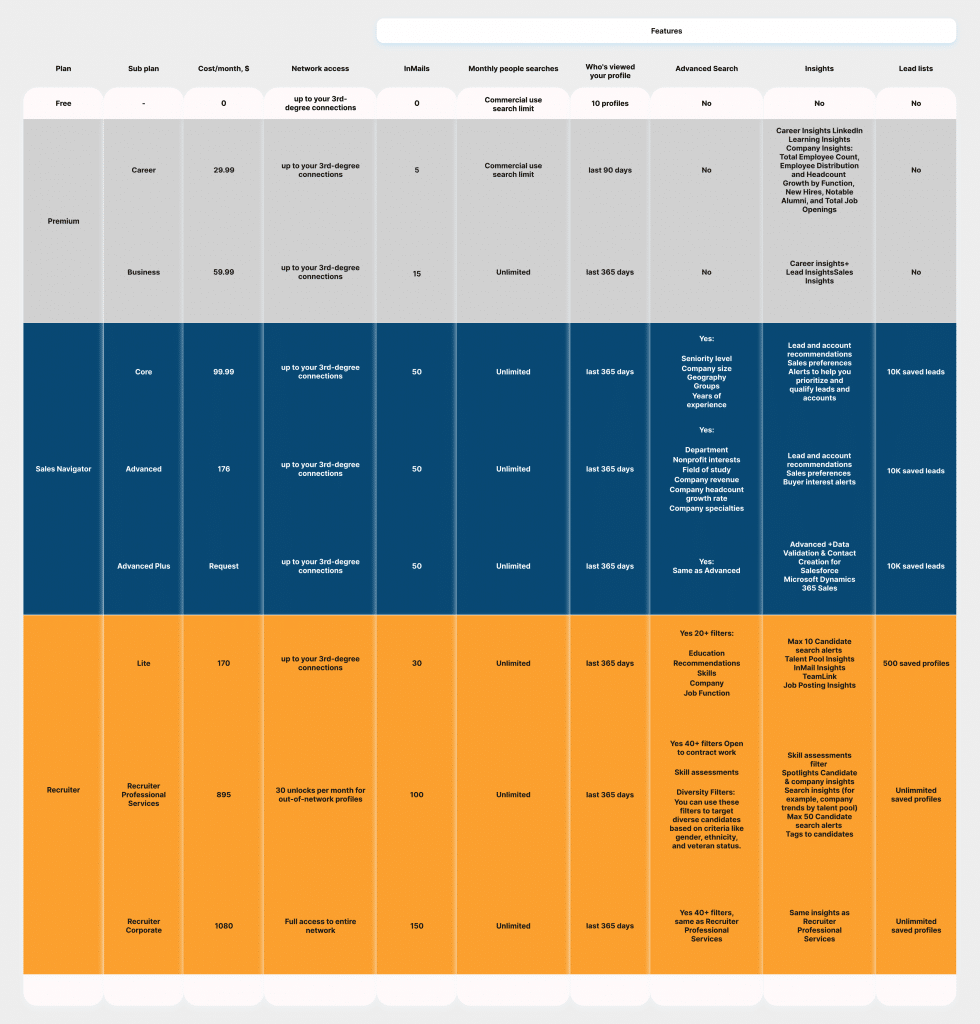 Pricing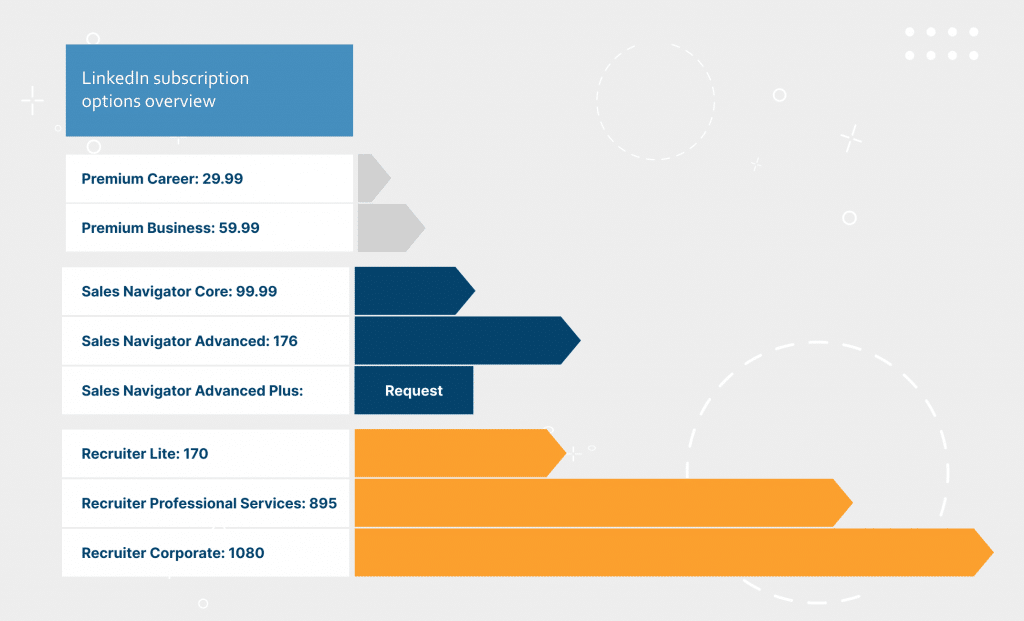 Is LinkedIn free?
LinkedIn offers both free and paid subscription options for professional networking.
LinkedIn's free features can provide valuable benefits to both CEOs and students, whether it be expanding their network, finding job opportunities, or staying up-to-date on industry news and trends.
For example, a CEO might use LinkedIn to expand their professional network and connect with other industry leaders, as well as share insights and content related to their business. They might also use LinkedIn to recruit new employees and stay up-to-date on industry news and trends.
Similarly, a student can use LinkedIn to connect with professionals in their desired field and potentially find internships or job opportunities. They can also use the platform to showcase their skills and experience, share content related to their academic interests, and network with other students or alumni from their school.
What is the LinkedIn free plan?
Let's talk about the LinkedIn free plan. This plan is great for those who are just getting started with LinkedIn or for those who want to use it casually. With a free account, you can create a profile, connect with others in your industry, browse jobs, and join groups. You can also send messages to your connections and view some insights on who viewed your profile.
However, there are some limitations to the features and benefits you can access with a free account. For example, you may not be able to see the full list of people who have viewed your profile, and you may not be able to send messages to people you're not connected with. But don't worry, there are still plenty of useful features available on a free account.
To enhance your LinkedIn experience, you can use automation tools like Linked Helper. With Linked Helper, you can create automated messaging funnels, send free InMails to open profiles, and even save user collections in your CRM. This can help you save time and make your outreach more efficient.
So, whether you're using a free or paid account, LinkedIn has a lot to offer for your professional networking needs. Keep connecting and growing your network, and who knows what opportunities may come your way!
LinkedIn membership with Linked Helper
As a LinkedIn user, you have the option to choose between a free plan or a paid membership. While Linked Helper is compatible with any LinkedIn subscription, a paid membership can unlock a world of benefits, making your automation experience more streamlined and efficient.
If you're considering upgrading to a paid plan, Sales Navigator and Linked Helper are great options to explore. Sales Navigator gives you exclusive access to filters that aren't available in the free version, which can help you search and sort leads more effectively for your campaigns.
When you pair Sales Navigator with Linked Helper, you gain access to a range of useful features, including filtering and messaging group members, excluding certain criteria in filters, and collecting active users who have posted in the last 30 or 90 days. Plus, you can even use Sales Navigator links in Linked Helper on LinkedIn accounts without a Sales Navigator subscription!
*You can collect profiles from Sales Navigator, download them into a CSV file, and upload the URLs into a LinkedIn account campaign without a Sales Navigator subscription. Even with a free LinkedIn account plan, Linked Helper can still open these profiles through the Sales Navigator URLs, eliminating the need to purchase a Sales Navigator subscription for that LinkedIn account.
By leveraging the unique features and benefits of different subscription plans, you can take your outreach efforts to the next level and achieve your business goals on LinkedIn. So go ahead, give it a try, and see how using a LinkedIn membership and automation tools like Linked Helper can transform your LinkedIn game!
A detailed description of the features and advantages of working with different subscription plans can be found in the table below.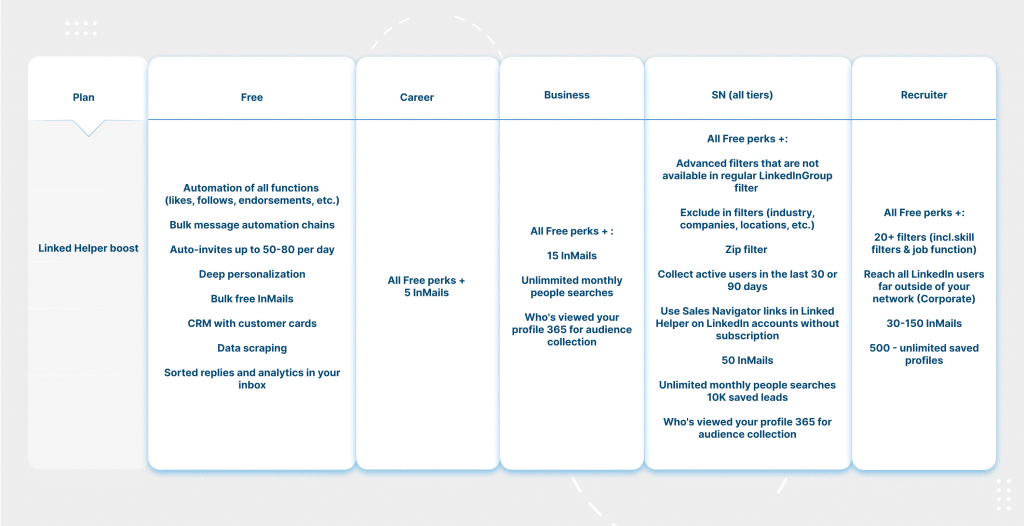 How much does LinkedIn Premium cost?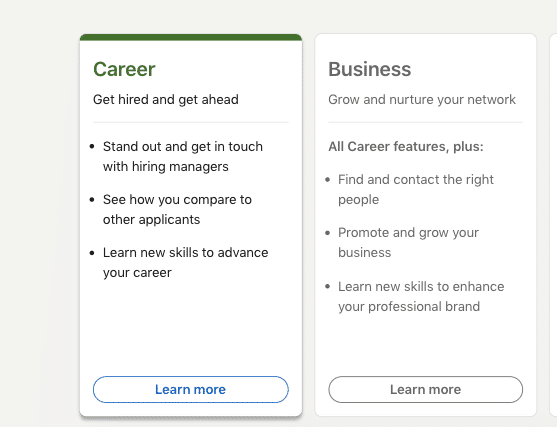 Upgrading to a LinkedIn Premium account can be a great way to enhance your LinkedIn experience and take advantage of a range of advanced features. LinkedIn Premium cost can vary depending on the subscription plan you choose, with options ranging from $29.99 to $59.99 per month (as of 2023).
The first step that many regular users consider when upgrading their subscription is LinkedIn Premium. Typically, this plan is chosen by those who need to find a job quickly because it allows their profile to appear more frequently in searches and includes InMails (which can be used to contact recruiters).
In the Premium lineup, you may start to feel a bit confused because there are two solutions offered: Career ($29.99) and Business ($59.99). By the way, LinkedIn often changes the names of its subscription plans, so these are the current names as of the time of writing.
There are some differences between these sub-plans, not only in price but also in the included features. If you need to find a job, the Career plan's features may be sufficient. It includes five InMails and has access to Premium Insights (for example, insights on companies that can help you assess your future workplace). LinkedIn promises to increase your account's reach by two times.
At the same time, the Business plan can be useful for individual entrepreneurs or small businesses that are developing their networking. In addition to Insights, you will have 15 credits and more opportunities (which we will cover in the section below), as well as the ability to increase your account's reach by up to six times.
LinkedIn Premium price: Career plan pros and cons
Price: $29.99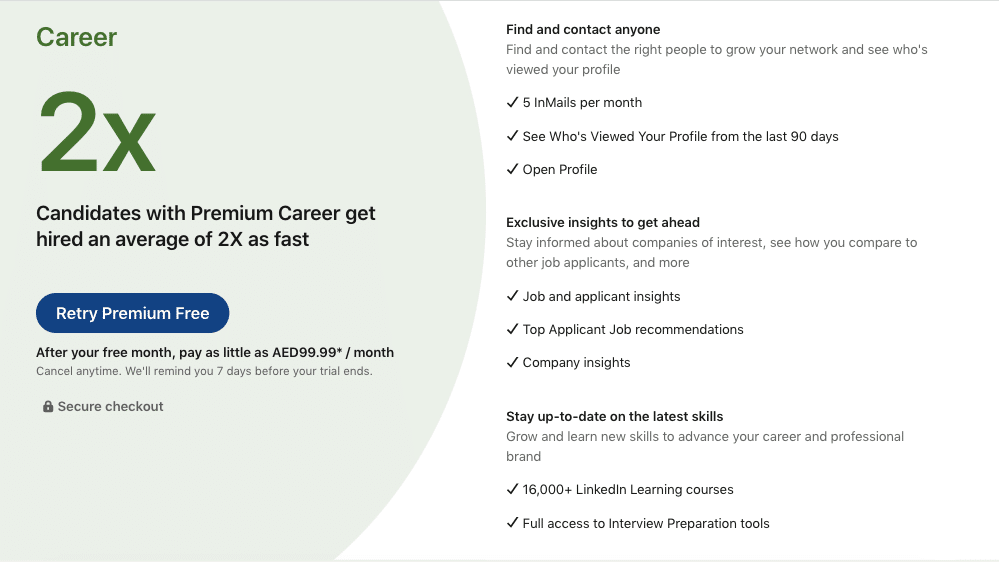 The LinkedIn Premium Career subscription offers multiple benefits to job seekers and professionals to enhance their career opportunities.
✅ Included InMail provides the freedom to message anyone who is not currently in your network. However, there are only 5 messages allowed per month.
✅ Profile Views will be visible for 90 days, as opposed to the free account where you are limited to 10 views. This feature can be useful for assessing your audience and gathering a following for campaigns to automate (e.g. mass invites and messages).
✅ You can compare yourself to other job applicants. In this regard, LinkedIn provides maximum opportunities for job seekers, as you will have access to statistics and your rank among other job applicants.
For example, there's a wealth of information available to help you make more informed decisions about your applications. Not only can you see how many people have already applied for a particular job, but you can also access a percentage-based ranking that compares your profile to other applicants, taking into account experience and skills. In addition, you can view a list of top skills among applicants, including those you share, as well as the education and experience levels of your competition. All of this information can be valuable in helping job seekers tailor their applications and improve their chances of success.
✅ The Job Insights feature in the premium subscription is more comprehensive than in the free version. This can be particularly useful if you apply for jobs directly through LinkedIn. By navigating to the Jobs page, you can get an overview of the positions that you have a higher chance of success with.
✅ With this subscription, you'll also have access to Learning, which can be helpful in finding interview tips to improve your skills and increase your chances of landing your dream job.
❌This plan still has limitations on search. This limit is in place to prevent commercial use of the social network. A high volume of searches by users can signal such usage. In both the free and career plans, you can search for no more than 300 people per day.
❌ Some users may not find it worth the cost. We reviewed user opinions on forums such as Reddit to understand whether the investment in this plan is worthwhile. Some users feel that there aren't enough additional features beyond the free version.
LinkedIn Premium pricing: Business plan pros and cons
Price: $59.99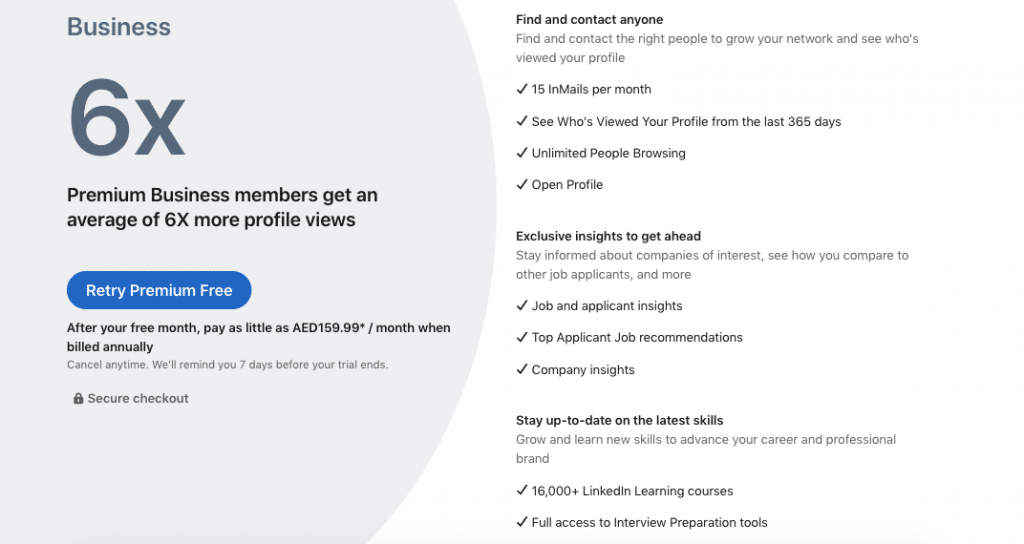 LinkedIn Business Premium is a subscription service for businesses that costs twice as much as the Career plan. It may not always be clear whether it's worth paying double and what advantages this plan offers. As we mentioned before, it's positioned as a solution for businesses.
This plan includes all the features of the Career plan. That means you'll have access to the same insights, learning, and other bonuses. In addition to these features, there are also more advanced ones (described below).
✅ The ability to see profile views and insights for the past 365 days.On many LinkedIn resources, it's stated that only the Business package provides access to these insights for 365 days. With this plan, you can see more detailed data on profile views by week. The key differences between the free plan and the paid plans for this feature can be found in the Help Center.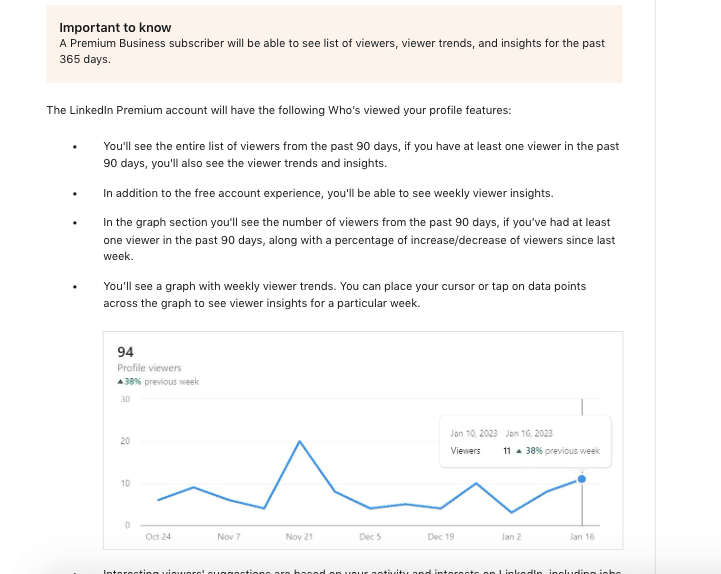 ✅This plan includes 15 InMails, which is three times more than the Career plan. This number of InMails per month may be enough to reach out to new leads and establish business connections.
✅ You'll also have unlimited people search. Starting with this plan, you can search for people on the social network without worrying about hitting the 300-request limit.
✅You'll have access to Business Insights. These insights are also called company data. The social network collects data on employees, markets, and investments over the years to support research and analysis.
Downsides:
❌You can only post one free job at a time, and additional job postings require an extra fee.
❌ You might need some extra training or support to use the tools effectively.
❌ Despite its better sales adaptation, you still won't have access to all the possibilities. For example, you won't have ultra-clear filters like Sales Navigator or the ability to create custom lead lists.
You can easily organize and manage leads within the CRM or integrate them with other familiar CRMs with LinkedIn Helper.
In summary, the distinction between the plans is illustrated on the pricing page.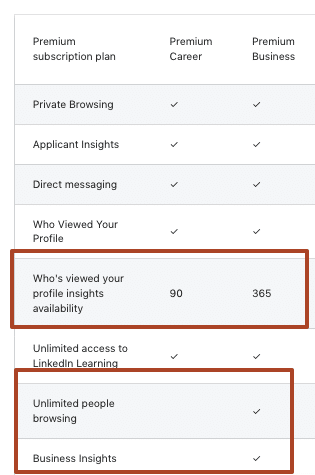 LinkedIn Sales Navigator cost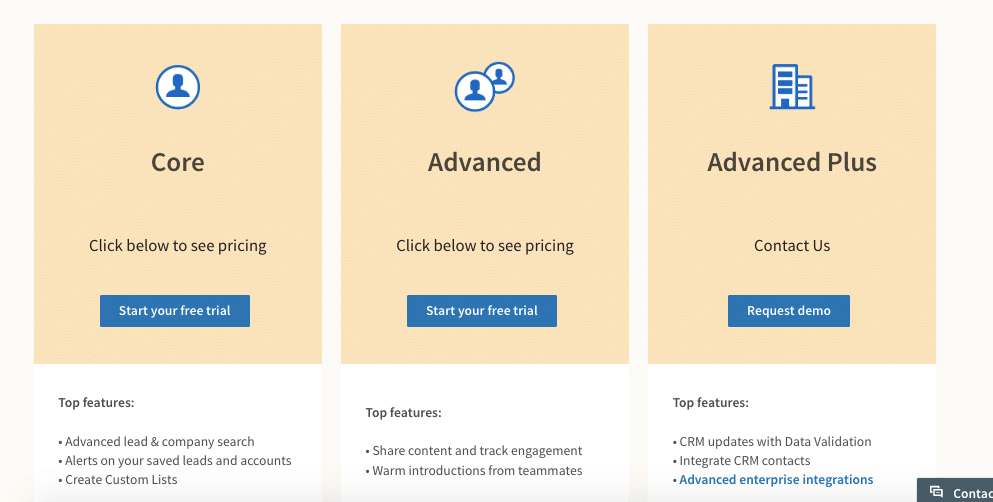 Purchasing LinkedIn Sales Navigator may require some research as it may seem costly. Prices start at $99.99, but this plan can significantly improve lead generation. Many recruiters also opt for this plan because it is cheaper than the Recruiter line but includes more InMail credits.
In terms of features, it includes everything available to Business Premium users. However, the main advantage is the unique filters. This plan can change your search experience as you can find people by group name or experience. The interface of this package is also different from the Premium line and is tailored more for sales. The account includes new sections such as lead lists and user recommendations. You also receive alerts about leads that are not available in cheaper solutions.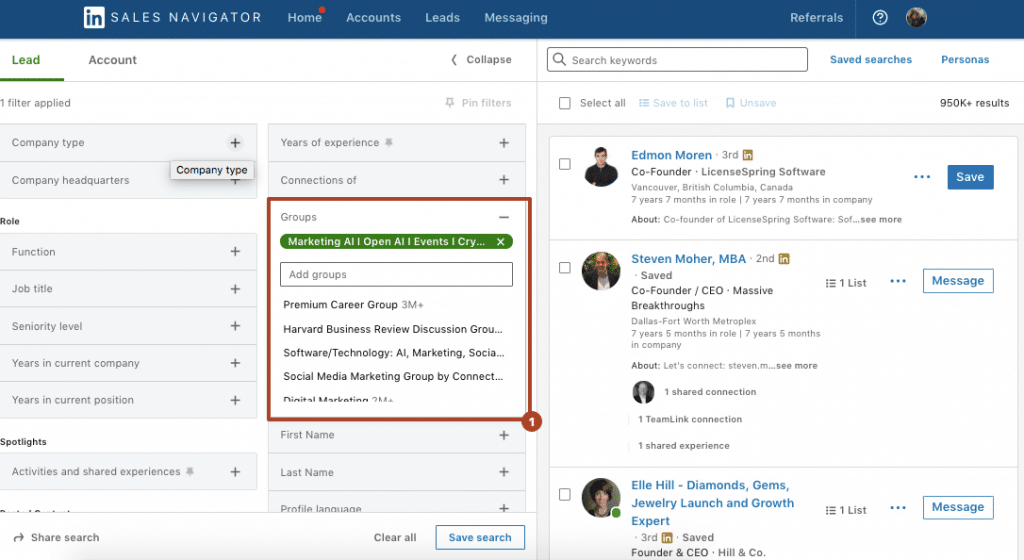 The difference between the Premium line and Sales Navigator is visible in the screenshot from LinkedIn Help Center.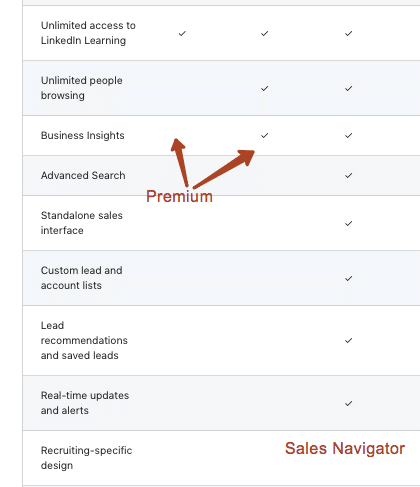 Inside Sales Navigator itself, there is a gradation of plans with different pricing (which does not simplify your choice). Currently, the price for the most expensive and advanced package, Advanced Plus, is not listed on the official website. However, some sources report that the price starts at $1,600 per year. To order it, you will need to request a demo and contact a LinkedIn representative.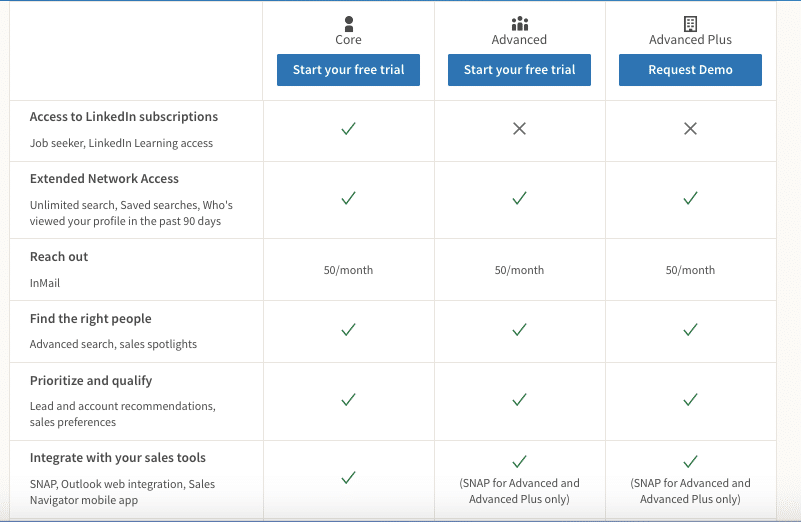 Sales Navigator Core
Price: $99.99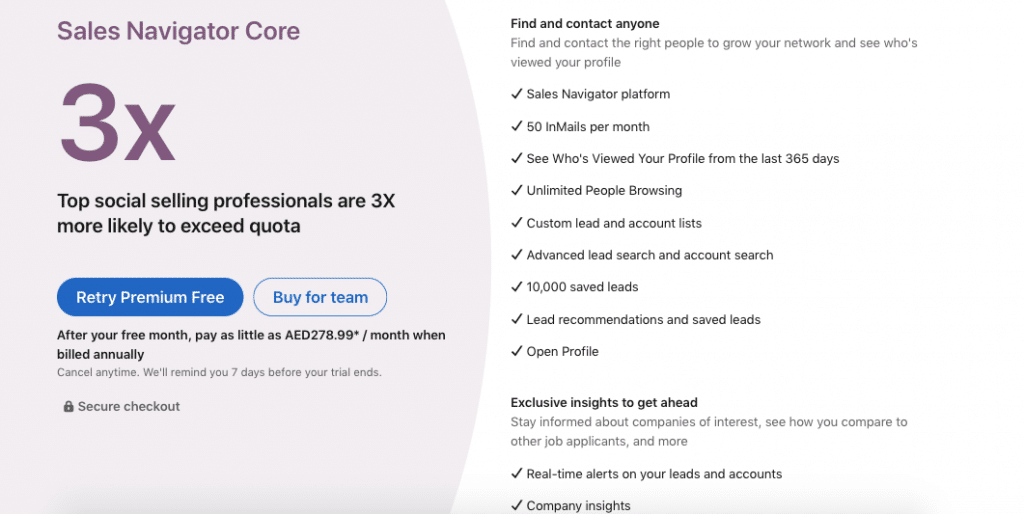 Opting for an annual subscription can result in a 25% cost savings compared to the monthly price. The current pricing for Sales Navigator Core pricing is $79.99 per user per month for an annual subscription, while the regular monthly rate without the discount is $99.99 per user per month.
Pros:
✅ Unique and useful filters: Sales Navigator offers filters such as group search, work experience, geography (Zip code), and the ability to exclude unwanted search results. This subscription scores a 10 out of 10 for its ability to find the right person, which is essential as the number of sales depends on the quality of the leads found. The success of auto-campaigns in LinkedIn Helper also depends on this, as the software will not waste actions on irrelevant users.
✅ Access to Spotlights: The Spotlights feature categorizes search results using LinkedIn data, allowing users to locate potential clients who are more likely to interact with them. This feature can be accessed through a filter on the left-hand side of the lead and account search page. Spotlights offers a range of filters, including identifying leads who recently changed jobs, attended the same educational institutions or businesses as you, posted on LinkedIn within the last month, were mentioned in the news within the last month, follow your company on LinkedIn, or are connected to your colleagues.
✅ With a Sales Navigator subscription, users get access to 50 InMails per month, which can be used to reach out to potential clients or contacts. Additionally, they can send up to 800 free InMails to open profiles. By using LinkedIn Helper with Sales Navigator, users can parse the status of these InMails and sort leads in their CRM based on it.
✅ Lead lists and recommendations: You can create lists of people based on search criteria and add up to 10K people to those lists. Data about their companies is automatically saved, and you will receive all updates about these people. The social network will also recommend similar profiles to you, which will increase your chances of making sales and succeeding in lead generation.
✅ Tracking important people: You can receive notifications and leave notes about potential clients. Through alerts, you can learn about the latest updates about these people, their careers, content, and much more – check out the full list in the article.
✅ Integrations: For example, you may integrate Sales Navigator with Microsoft Office 365. By using this integration, you can view insights about your prospective leads directly within Outlook for web, without leaving your workflow. You can also access information about a contact and connect with leads directly via Outlook.
Cons:
❌No TeamLink: You cannot receive shared data about leads with your team. However, this can be done by working through Linked Helper CRM and setting it up through a dedicated server.
❌No more advanced insights: Advanced tools for a more in-depth evaluation of how leads interact with content are only available in advanced plans.
❌ No integration with SNAP: The ability to integrate Sales Navigator with your usual CRM via the Sales Navigator Application Platform is only possible on more expensive plans.
Learn all about Sales Navigator filters in our post –
Advanced
Price: $176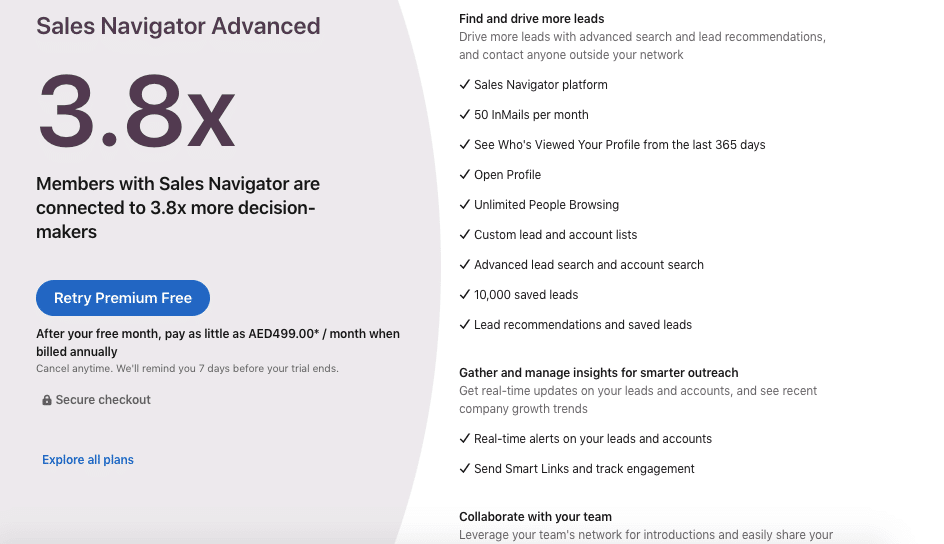 After the one-month free trial period ends, you can get the Advanced plan for around $136 per month if you choose to pay annually, which includes a 23% discount. The regular monthly cost without the discount is around $176 per month per license. You won't be charged until after the trial period ends, and if you cancel within 30 days, you won't be charged anything.
Each subsequent subscription sub-plan includes all the features of the lower-tier one, plus some improvements. So, the Advanced plan will include all the benefits of the Core plan described above. The number of InMails is the same for all subscription plans at 50. But in addition to these benefits, you can find the following advantages:
Buyer Interest alerts. Buyer Intent alerts are notifications that indicate when individuals from a saved account have interacted with your LinkedIn company page or website. These alerts are classified into two types: Leadership Alert and Employee Alert, which are based on LinkedIn Insight Tags. A Leadership Alert is generated when a VP, CXO, Partner, or Owner from a saved account visits your LinkedIn company page or website. Similarly, an Employee Alert is generated when a non-leadership employee from a saved account interacts with your LinkedIn company page or website.
Best path to a lead: TeamLink is a feature that utilizes the network of your team to help you find the best approach to a lead. It shows you Sales Navigator license holders on your team account who are 1st-degree connections to the lead, regardless of whether you are connected to your teammate or not. This helps you identify team members who can help you connect with potential leads.
Better content sharing and tracking: A Smart Link feature is available to package and share content within your Sales Navigator workflow, monitor viewing behavior, and gain insights on your prospects' and customers' interests. These are unique URLs that allow you to share content and track user behavior. They enable you to personalize your content, gather detailed analytics, and optimize your posting strategy. Smart Links can also be used in conjunction with LinkedIn's retargeting capabilities to reach users who have interacted with your content in the past.
Enhanced capabilities for larger organizations: Sales Navigator provides advanced features for enterprises to manage their Sales Navigator subscriptions more efficiently. The features include single sign-on integration, volume and multi-year discounts, invoicing, a dedicated relationship manager, and employee data integration. Businesses can monitor their accounts and usage through the account center and usage reporting. The additional functionalities aim to offer a more personalized experience for larger organizations.
Cater to the needs of large organizations: For instance, a large corporation can use it to connect with potential clients, track their competitors, and monitor the industry trends. The dedicated relationship manager can assist them in setting up their account, provide training, and help them with any queries or concerns.
Advanced Plus
Price: Needs to be requested.

CRM Sync feature: This would allow the head of sales to monitor their team's lead generation efforts and ensure that they are targeting the right prospects. They could also access the information in real-time and have a complete view of all potential leads in one place, making it easier to prioritize and follow up with them.
Auto-Save, Activity Writeback, & ROI Reporting: Imagine you are a sales manager and want to track the performance of your sales team. You can automatically save your team's searches, alerts, and leads to your CRM and track ROI reporting. This way, you can measure the impact of your team's Sales Navigator efforts and optimize your strategy accordingly.
Advanced CRM Integrations: Suppose you are a marketer and need to find potential customers for your email marketing campaigns. With the Advanced CRM Integrations feature, you can seamlessly access your contacts, leads, and accounts within your CRM, such as HubSpot or Marketo. This way, you can easily import your leads into your email marketing platform and create targeted campaigns based on their interests and behaviors.
Data Validation & Contact Creation: Let's say you are a customer service representative and need to update contact information in your CRM. With this tool, you can ensure your CRM data is accurate and up-to-date by validating contact information and creating new contacts when necessary. This way, you can avoid any miscommunications or lost opportunities due to incorrect contact information.
Personalized Insights: if you're a sales representative, you can receive intelligent insights on potential leads that are likely to convert, such as alerts when past customers move to new companies or contacts leave an open deal. This can help you prioritize your efforts and gain a competitive edge.
The Advanced Plus plan includes a demo feature, and the price can be obtained by contacting LinkedIn employees through the "Contact Us" option.
LinkedIn Sales Navigator vs. Premium
After reviewing all of the Premium and Sales Navigator plans it is clear that they differ significantly in several aspects.
Different Goals: Premium may be a good option for individuals and users seeking career growth, while Sales Navigator can significantly enhance lead generation. Additionally, Advanced plans are designed for teamwork, with shared access to leads and CRM synchronization.
Sales Functionality: The price difference between Core and Premium Business is $30, but the difference in functionality is significant. Starting with the search function, Navigator offers filters by groups, work experience, spotlights, and pre-made lead lists, improving audience management by focusing on them as customers rather than potential colleagues or influencers.
Interface:While Premium's dashboard interface remains unchanged, even in the priciest Business plan, Sales Navigator offers a visually distinctive interface with a plethora of sales-focused tools and company access.
Number of InMails: With 50 InMails compared to 5 or 15 in Premium, your communication can reach new levels with Sales Navigator. Additionally, with Linked Helper for sending free InMails, you can parse Open Profiles and sort them in your CRM, improving your outreach metrics.
In conclusion, the Premium version may be a good option for individuals seeking career growth or personal use, while Sales Navigator can significantly enhance lead generation and sales functionality. Advanced plans are also available for team collaboration, lead sharing, and CRM synchronization.
LinkedIn Recruiter pricing: the most expensive subscription review
We have approached the most expensive plan, which starts at $170 per month. This investment may be suitable for individual recruiters or staffing firms. The lineup is divided into 3 different subscription plans: Recruiter Lite, Recruiter Professional Services, and Recruiter Corporate.
Recruiter Lite is the basic plan that provides access to 3rd-degree connections on LinkedIn, 20+ filters for candidate search, a limit of 10 candidate search alerts, and InMail messaging capped at 30 per month. However, it does not offer filters for skill assessments or the ability to add tags to candidates. The pricing for this plan is $170 per month or $1,680 per year. Despite being more expensive than Sales Navigator, it does not include some features that may be important to you.
Recruiter Professional Services is a higher-tier plan that offers access to 3rd-degree connections on LinkedIn, with 30 additional unlocks per month for out-of-network profiles. This means that you will have access to people who are not connected to you. This plan includes:
40+ filters (including advanced filters)
The ability to filter candidates by their open availability for contract work
Skill assessments, and the ability to add tags for filtering and categorization
100 monthly InMails
Job postings
50 candidate search alerts
Recruiting insights
Talent pipeline
However, the exact pricing information is only available by contacting the LinkedIn team.
LinkedIn Recruiter Corporate is the most advanced plan, and it includes all the same features as the previous plan, but with additional options suitable for larger staffing firms. This plan offers the most InMails of all LinkedIn plans – 150 per month. It is also the only plan that provides you access to all LinkedIn users regardless of their level of connection. This means that you can contact anyone, which can be a key factor in recruiting.
The price for this plan is available by contacting LinkedIn, but according to some sources, it is at least $10,800 billed annually or $1,080 per month.
❗️To summarize, the plans differ in terms of access to LinkedIn's network, search filters, InMail messaging limit, and additional features such as job postings and recruiting insights. The cost of the subscription varies depending on the plan, with Recruiter Corporate being the most costly.
LinkedIn Recruiter Lite pricing: Is it worth it?
✅ While LinkedIn Recruiter offers a skill filter that is not available in Sales Navigator, it may not always be the most advantageous choice for lead generation.
In a previous article, we examined whether LinkedIn's most expensive subscription capabilities are worth the cost. Learn why using Linked Helper in conjunction with Sales Navigator can often provide more advantages.
There are several drawbacks to LinkedIn Recruiter Lite, including:
No Spotlight feature
Filters that differ from Sales Navigator only by the Skill filter
No extended insights on profile viewers
A limit on profile views
Fewer InMails compared to Sales Navigator (30 vs. 50)
​​Due to these limitations, the high cost of LinkedIn Recruiter Lite subscription may not always be justified, and some recruiters prefer to invest in Sales Navigator instead.
One alternative cost-saving strategy for recruiters is to use automation tools like Linked Helper and Sales Navigator. This combination can provide similar functionalities at a lower cost compared to LinkedIn Recruiter Professional Services or Corporate.
Is the messaging feature in LinkedIn Recruiter Lite worth the pricing?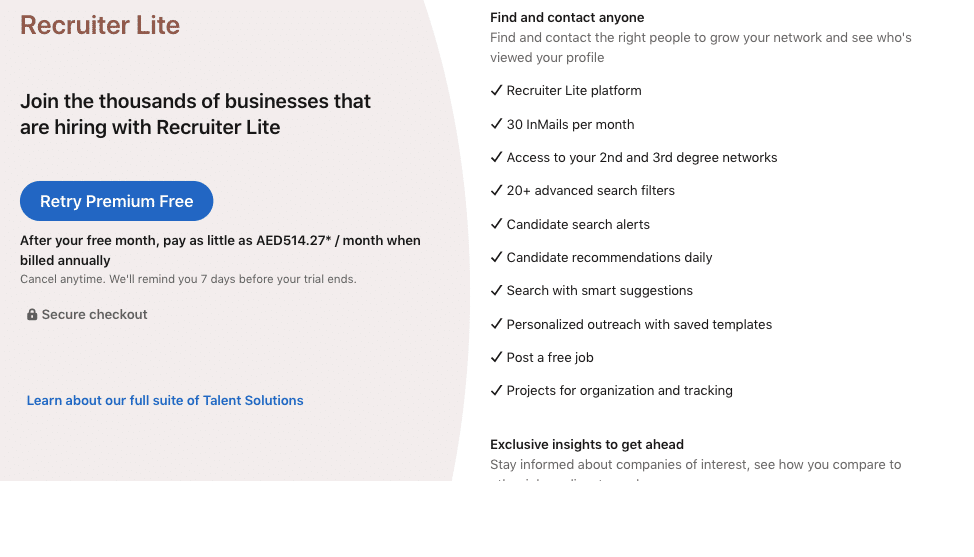 The messaging features of LinkedIn Recruiter differ based on the subscription plan. LinkedIn Recruiter Lite, for instance, offers 30 InMail messages per month, whereas the higher-tiered Professional Services and Corporate plans provide larger InMail quotas of 100 and 150 messages, respectively.
Moreover, Professional Services and Corporate plans come with pooled InMail credits, enabling recruiters to use their credits across multiple accounts and send InMail messages in bulk.
A small recruiting firm with a limited budget and a team of two recruiters may find that LinkedIn Recruiter Lite is the best option for their needs. While the plan has a limit on profile views and InMails, it is more affordable and still provides access to valuable insights tools, such as job posting analytics and company insights. On the other hand, a larger recruiting firm with a higher budget and a larger team may require the more advanced features of LinkedIn Recruiter Corporate to effectively manage a high volume of recruiting efforts and access more InMails and profile views.