Automation via plugin technology is simply less secure. That's why we've updated the Linked Helper software technology from the extension for Chrome to a downloadable tool for generating leads & managing customers. Now it can carry out more activities that will lead your business to speedy growth.
Download Linked Helper 2 and get 14-free trial right now
If you are not yet in our list of users, then join. We give you a trial version to start your experience with our LinkedIn tool.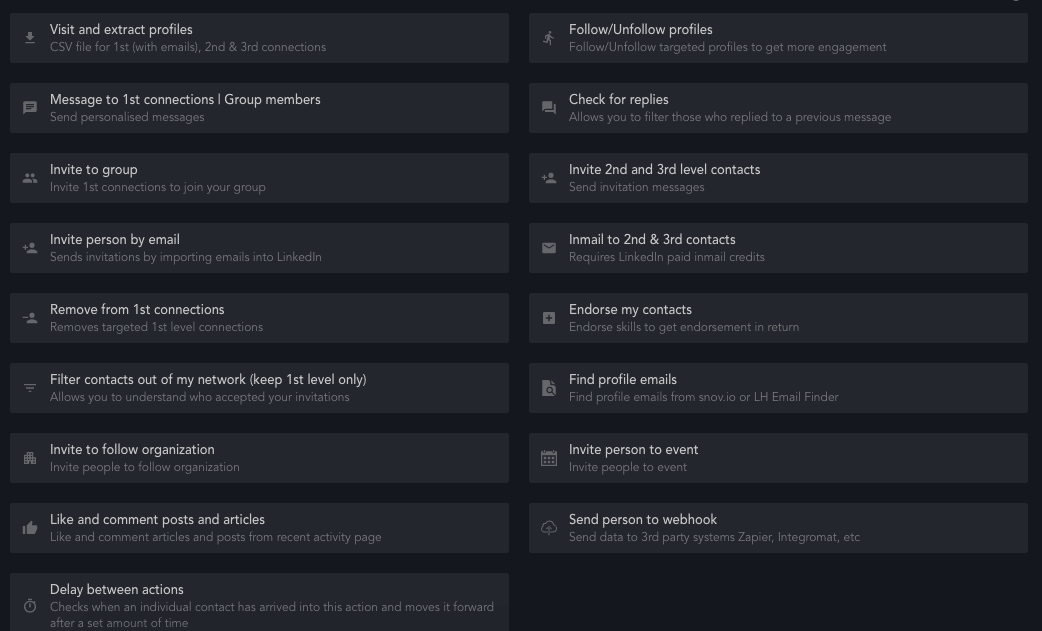 Why is the updated version more advanced?
Profound security
Your account will not be banned, since the downloaded software doesn't utilize code on the social network pages. We bypass automation detection.
Robust functions
The tool can perform more actions. Putting likes on posts and articles, automatically checking responses, auto-invitations to events, and more.
Customizable limits
Users can manually select the number of specific actions to prioritize them daily according to your marketing funnel.
Features that attract customers while you sleep
Collecting and extracting data
You can create profile scraping campaigns. This will go a long way towards generating a lead base, as you can retrieve the database by organizations and by people. By setting up target filters, you will receive contact information, profile details, and links to the websites, which are all necessary for personal communication and market knowledge. You can download profile information based on all industries or thematic groups to the CRM or to a file.
Automation of interactions
Stay active on the business platform even while you are taking care of more essential tasks. The software will visit the profiles of target customers and partners, interact with content through likes and comments, invite to groups, events, and corporate pages, and delete irrelevant contacts. Read about Top ways to create automated real estate drip campaigns.
Scheduled auto-replies by stage
You can save templates for outreach to each potential client group at a specific point in the funnel. This way, you will reach more leads faster and get more conversions. Each message can be unique thanks to word randomization and visuals. Explore more in the blog post IF-THEN-ELSE operator explained: how to create super custom messages in Linked Helper.
Bulk outreach
After interacting and attracting your target audience to your profile, start sending your offer. You can send messages with offers to many potential clients at once. Download the history of responses to analyze them all at once and further refine the offer.
Register for our free webinar
A 60-minute walk-through of the Linked Helper tool for newbies will help you learn how to optimize your social selling and get the most leads.
It works faster than dozens of assistants
1 Download Linked Helper software & register
Similar to the Chrome extension, the new version download will take no more than 15 minutes. You can connect Premium, Sales Navigator, Recruiter plans.
2 Research your competitors and the market
Log into your account and set up a search for companies that offer similar services. You can search by keywords, niches, locations, and other built-in filters. Download the list of competitors to come up with a USP and offer, carefully studying their activities and services.
3 Warm-up targeted leads to build trust
It is important to set up personal communication, especially with B2B customers. Executive contact details, names, emails, phone numbers, and profile descriptions will help you craft effective and personal pitches for the outreach. Upload the list of persons, save it to the CRM, and sort it by lists and tags.
4 Set up targeted responses to build trust
In the B2B business community, it is valuable to showcase interest in key individuals and companies before contacting them directly. You can automatically visit profiles, which will lead them to your page as a result. Be active in strategic business groups even when offline thanks to auto-likes, prefabricated comments copy, and auto-invitations to events.
5 Outline your pitch templates
Write down offer scenarios for potential customers at all stages of the pipeline – from cold leads to follow-ups to past clientele. Messages will be sent automatically without your daily participation. Set up bulk mailings with your unique offer to each target audience. Learn about Safe ways to set up LinkedIn messaging automation 2023.
6 Performance analysis
After finding and attracting customers to your services or products, evaluate the feedback to get more conversions in the future. The tool checks for responses, which you can download as a file. Analyze the tendencies in responding to your proposal and work on these objections when planning the next strategy.
LinkedIn is the source of 80% of B2B leads from online networks
Download software that is the most reliable form of automation
250K+ marketers, recruiters, businessmen, and other B2B community members choose our software
No robotic action to beat detection
LinkedIn can recognize most automation tools. Linked Helper is more protected than an extension for Chrome that may offer similar functionality but threatens your profile. Imperfect systems, when performing actions, behave like a robot, which gives them away to the detection system of the social network. Our software neither searches for profiles by pasting their URLs into the address bar nor uses the LinkedIn API to send messages and invitations – the method of operation and navigation is the same as a human would do.
Custom pauses & limits
There are activity restrictions on social networks to combat spam. We take into account all the limits and allow you to manage the number of actions yourself based on the goals. For example, you can choose the number of invites for a given period of time. But the total number of activities will be within the limits of the social network rules.
The code is never visible to the social network
Automation extensions embed application code into pages upon activation. This will not happen when our software is running. You get an independent browser that simply performs the assigned tasks in front of your eyes by clicking buttons like a real human being instead of sending API requests.
The unique set of metadata
If you manage your own LinkedIn account on your PC via Linked Helper, then the tool accesses the social network via the same IP address that you usually use. If there are several accounts added to your Linked Helper, then each of them will have unique fingerprints, cache, and cookie data.
Moreover, you can buy proxies and assign a custom IP address to each account, which makes LinkedIn think that these accounts are being managed from different computers in different places. Also, our software doesn't address the API of the social platform, so it will not receive signals from a third-party service, unlike cloud systems.