LinkedIn is one of the most trusted and up-to-date job search platforms. Employers on the platform receive 55 applications from candidates every second, according to LinkedIn statistics for 2021.
In 2022, members of this professional social network receive a lot of messages from colleagues and potential employees. Therefore, when looking for a job, you may need to know how to approach a job poster on LinkedIn so that they will definitely read your message and study your page. Spoiler – targeting and personalization help a lot!
At Linked Helper, we offer accelerated mass and targeted outreach and know how to message someone on LinkedIn for a job in the most efficient way possible. If you reach hundreds or thousands of recruiters or candidates in a certain industry at once, you have a chance to get a positive result faster. Obviously, manually searching and writing to each one separately can be a very long and tedious task. However, in 2022, the message has to be personalized, which makes it more difficult if you wanted to copy and paste the text of the message to everyone.
So here's how you can discover targeted leads (your potential employers or colleagues) and write a unique and personalized message to each group. You will also get several examples that you can tailor with custom or built-in variables.
How to approach someone on LinkedIn for a job with a Linked Helper campaign
When looking for a copywriter through Linked Helper, we found the right person within 5 days of starting the campaign (read the case study). Therefore, we believe that you can use Linked Helper's auto-action funnel to quickly find and connect with people who will help you to get hired.
You can download the Linked Helper trial version and try out free features for 14 days, which will already help you with your job search. Then you can use the software for work and expand your professional connections on LinkedIn.
How to approach HR (hiring manager) for a job: parse data on LinkedIn
Parsing data about people is available in the free trial. This feature will help you organize the results of your search and sort and select those who you need to reach out to in order to find a job. After that, you can download a file with their contacts (it may also contain emails), and this data will also be saved in the CRM for further work.
To find and parse data about people:
Create a People Campaign.
Choose the "Visit and Extract" action. You can also add a "Like or comment on a post or article" action to encourage visits to your page.
Add people from the Search page to the Queue. On the search page, you can select "HR" in the title and industry to make the search results as specific as possible.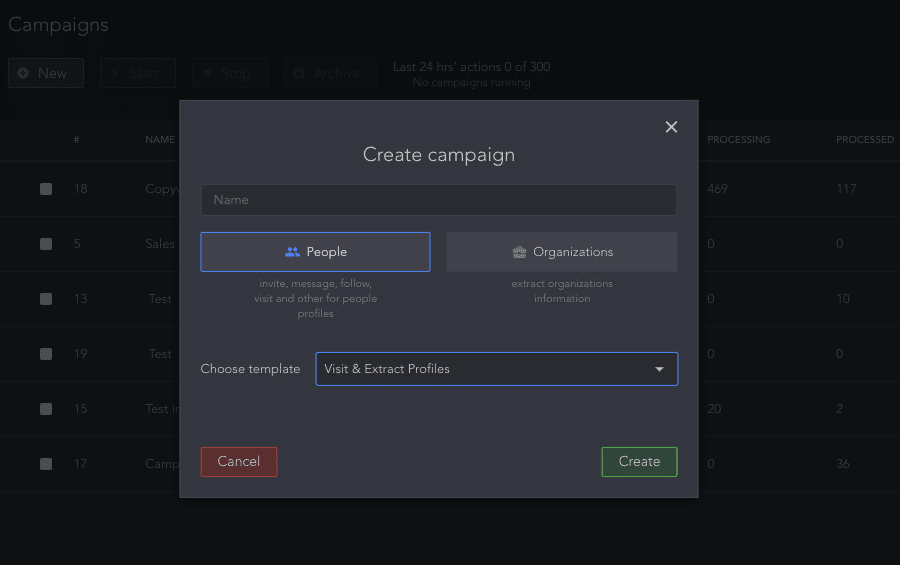 By default, you can only add 1,000 people to the Queue, but there are ways around this rule. Read more in the knowledge base.
Once the target specifics are collected in the Queue section, you can start the campaign. The software will visit each profile. When visiting, it will copy the texts and data about the leads, as well as look for their emails (if you need them) through the LH Email Finder.
You can immediately add actions to this campaign to continue working with the recruiters or potential colleagues. You can add an "Auto invite" and "Message to 1st connections" action to a campaign.
Linked Helper also makes it possible to write to people who are not in your network via auto-Inmails. You can send free InMails to anyone who is not in your network and has an Open Profile Link status. We have prepared the most extensive guide on InMails so that you can quickly understand the details.
How to approach someone for a job on LinkedIn if they are not in HR
When looking for certain jobs, you may not need to contact recruiters, but rather to write directly to your future colleagues, such as CEOs or marketers. A good funnel for this purpose can also be created automatically through Linked Helper.
In Linked Helper you can add custom variables for bulk messages. Here's how to do it.
You also need to start a People Campaign.
In the Queue, gather a list of decision-makers who can decide to cooperate with you. You can select people in a specific location or select specific companies where you would like to work.
Start collecting data on these leads to create highly personalized pitches.
This means that you may want to use the name of the company in the message (which will create a sense of greater interest on your part.). Custom variables and an IF-THEN-ELSE function will help you add the company name to each message if the company is specified, and if the company is not specified, the software will substitute a different string in the message.
Read more about custom variables and the IF-THEN-ELSE operator in our blog.
How to write a message to HR in bulk on LinkedIn -– for smart job seekers
In order for your message to recruiters on LinkedIn to reach their inbox as quickly as possible, you can add these actions to the action funnel: Auto Invite, Filter (those who accepted it), and Message to all new contacts of the 1st level. This way you will gradually connect with the right people automatically (as we did in our campaign to find a copywriter).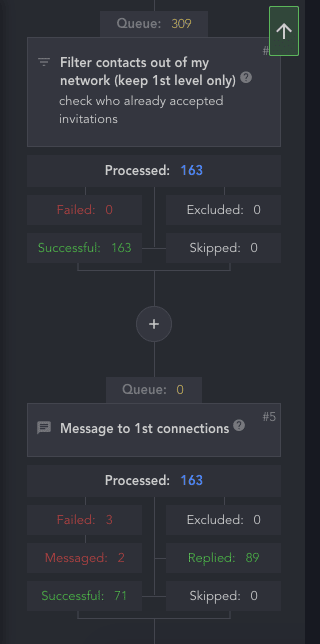 Advantages of this communication method:
Through the software, you can warm up the audience in advance before mass mailing. Actions like auto-liking, commenting, and sending an invite some time before sending a message increase the chances that your message will be read.
In the Dashboard, you will see the replies. You do not have to open a page on the social network every day to study the messenger. All replies from interested people will be collected in the Replied tab.
You can set follow-ups. You can schedule such an action if you have not received a response from users.
Tips on how to message someone about a job on LinkedIn
A clear selection of the audience according to your criteria will help you quickly find the desired job.
If you choose a specific industry or company where you want to work or where you have a better chance, you will be more efficient. Don't write to everyone. Consider in which area your experience will be most relevant and start with this hot audience. Linked Helper's ability to select users directly by LinkedIn filters will help you make your outreach targeted and therefore more successful.
Personalize your message so you don't look like a robot.
Yes, the robot will do all the boring work for you. But at the same time, people need to understand that you are truly interested and not copying the same message to their competitors. Mentioning common connections, industries, or firms will help with this. Many variables are already built into LinkedIn, but you can add your own via LinkedIn Helper.
Be creative and concise.
Think about how many similar messages people get on LinkedIn every day. Many use standard templates and no one will be intrigued by boring text. Instead, you can use your sense of humor, facts from the lead bio, and your unique competitive advantage in the first lines.
Below we will give examples of messages – but remember that creativity and knowledge of the requirements of your niche is most important.
How to message someone on LinkedIn about a job posting with examples
How to message someone on LinkedIn for career advice
Sometimes you can use LinkedIn to connect with expert leaders in your industry and get their advice. In this case, starting a dialogue can be difficult because you will be asking for guidance and should make the person want to help you.
To do this, experts advise you to be clear in your text and make it personalized. For example, if you are writing to an expert in your industry for career advice, mention the name of the company and position where you have experience that has been helpful to you.
You can also use a warm-up funnel before the first message so your name doesn't look unfamiliar in the inbox. For example, you can give a compliment in a comment on one of their posts. Here is an example message:
Hi (name), your article (or post) made me want to ask for advice. I see you worked in a company (name, position) that is also my goal. I am looking for a job and would be grateful if you can share the secret of success – what will help me find a job faster? We can have a call if it's more convenient for you.
Remember that through custom variables in Linked Helper you can add a column about the publications of the lead and this text will be used in your personalized private messages.
How to write a LinkedIn message to a recruiter for job on LinkedIn
When you write to recruiters from a certain company, you may know that the company is actively hiring, or you may write on your own and not link to a job post.
For example:
Hello (name),
I saw you post about finding (position) in (group name or other source). Can we discuss whether my experience and qualifications are suitable for this position? I have researched what your company is doing (add your opinion on how you can be useful to the company and the facts that you have researched).
I'll be glad to receive feedback.
Regards,
How to write someone on LinkedIn for a CV review before a job search
You can contact members of the professional community to help improve your CV. You can also collect references before looking for a job from former colleagues and employees. Any positive experience working with you will speed up your search for the job of your dreams.
For example:
Hello (name),
I see that you have built a career in (industry), and your experience in (company name) is especially attractive to me. We also have common contacts (mention their names). Your expertise inspired me to ask you for advice on my profile and motivation letter. I would be glad if you could show me how to make the right impression and emphasize my experience. In turn, I would be glad to be of service to you.
All in all: how to be on top when you message someone for a job on LinkedIn
In 2022, the competition on the site is quite high, and you need to be creative to get the most career opportunities. For example, Linked Helper, a tool that will help you do research on employers and create a mass mailing that is targeted at the same time, can increase your efficiency in your job search outreach. Knowing how to use custom variables and logical operators will help you send a job message on LinkedIn to hundreds of companies and recruiters but still add custom strings to each one. Sometimes these lines help candidates get their dream jobs.
You can download the software for free and set up your first search and outreach campaign to find a job as soon as possible.