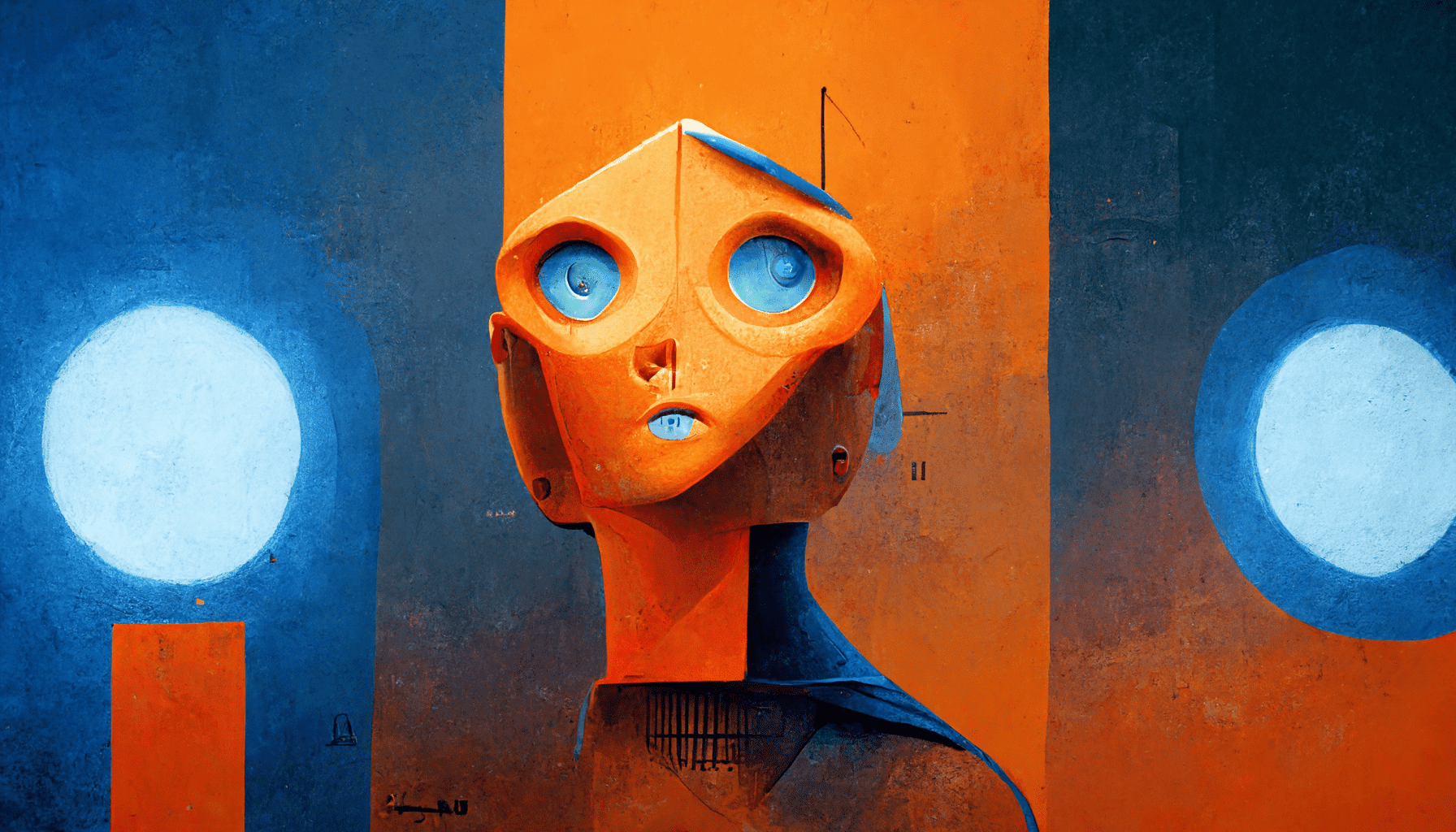 According to LinkedIn's 2022 report, 45% of sales reps face the problem of insufficient data. Meanwhile, completed social media profiles can be a goldmine of useful information about your competitors and customers. In this article we will look at how Linked Helper will help you collect and store data for competitor analysis:
About people. This will help to analyze competitors in a narrow niche or in a job search. For example, you can be a real estate agent and collect for analysis on competitors in your niche.
About companies. You can collect data on all business profiles in the social network. Having previously sorted the companies with filters in LinkedIn, you will receive a report ready for SWOT analysis.
Correspondence data. You can study competitors better and in more detail if you write to them. For example, you can contact sales managers to learn more about the offers of competitor companies. In Linked Helper, you can do this in bulk and export the history of your correspondence for analysis in Excel.
All data received from the software will be highly relevant because the information on pages in social networks is often updated. You can download the information and analyze it using a vast variety of powerful Excel features for working with data.
Let's ​​review how to position your organization or personal page and make it shine on LinkedIn!
Download Linked Helper 2
and get 14-day free trial right now
DOWNLOAD
If you are not yet in our list of users, then join.
We give you a trial version to start your experience with our LinkedIn tool.
Competitor analysis basics and stages
It's worth keeping a tab on your market and niche. It doesn't matter if you are a salesperson in a company or a CEO – regular monitoring will help build a connection with the target audience. It will be easier for you to stand out from your competition by creating a USP and an offer that meets the needs of the market and distinguishes you from other players.
Roadmap for your research
You can look at this roadmap to get insights into your competitors' LinkedIn strategy. Pay attention to the best aspects to implement in your profile and communication style with clients.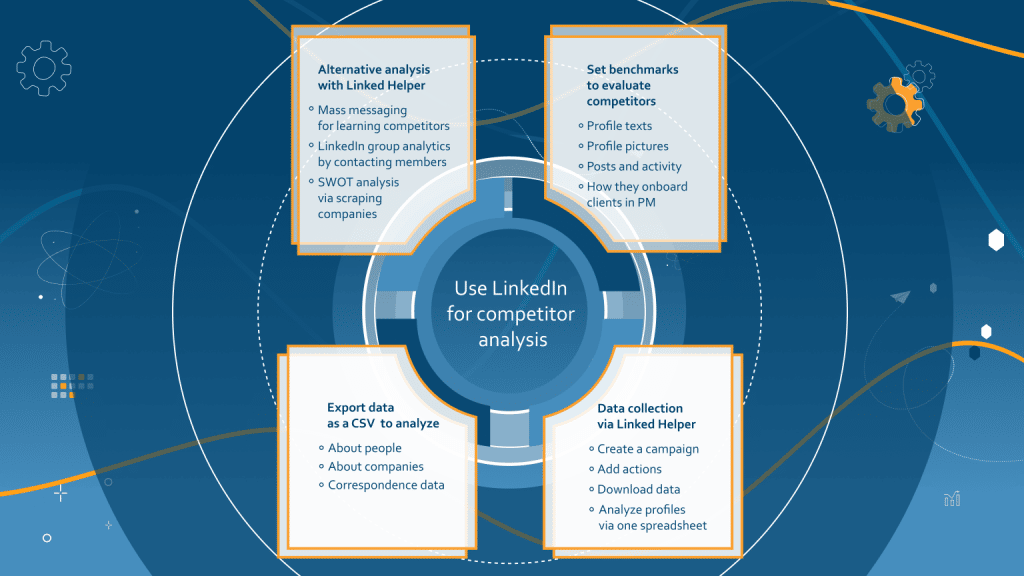 #1 Set benchmarks for evaluating competitors
Profile texts. What you write and – most importantly – how you write about yourself is essential to the branding and presentation of a personal account. A well-written text in the profile will help you rank higher in the results not only in the social network but also when searching through Google. That's why, it is important to collect all the texts and evaluate them for keywords – which you can then use for your account.
In Linked Helper, after parsing competitors' profiles, you will receive all the texts from their pages – headline, summary, work experience descriptions, and skills. Based on these LinkedIn competitor texts, you can get keywords for optimization. Read how we massively explored profile headlines in the article. If your competitors are company profiles, you will get the full company-related data as well.
Profile pictures. You can collect and analyze profile header images and main pictures. This will help you stand out in the search results from your rivals. In the table obtained from Linked Helper you will find quick links to competitors' avatars. There are also profile links that you can follow to view the header photo.
LinkedIn set guidelines for avatars. Some photos you should avoid. There are LinkedIn recommendations for background pics. You can directly open the links from the file and look at 10-20 profiles of your competitors to get an idea of how they position themselves.
The Linked Helper advantage is that when opening a direct link to a photo, you do not need to download the entire LinkedIn profile. So you don't spend action credits for this.
Posts and activity. Evaluate what competitors are writing about to develop a more appealing content strategy. Having developed content, you can get more exposure to it if you become more active. You can automate likes and comments on targeted leads through the software.
How they onboard clients in PM. You can find out how competitors behave in correspondence with leads if you write to them. Find out how quickly they respond and what they offer in order to adopt similar techniques in your own welcome message. Read about LinkedIn cold message template: 11 examples for 3X response rate.
#2 Data collection via Linked Helper
You can use campaigns to collect data about competitors. To do this, you can install the trial version and test the PRO functions of the software for 14 days free. In that time, you can determine your competition's playbooks and improve your brand positioning.
#3 Retrieving data as a CSV to analyze
This step can be completed at the end of a campaign. As a result of profile visits, the robot will collect data in the software. From the Campaign's Lists tab, you can download the data on visited profiles. If you create a bulk messaging campaign, the table will store a history of sent and received messages via Linked Helper.

Let's see how to evaluate them objectively!
Case: Track LinkedIn competitors with Linked Helper
In the software, you can get a complete set of data on the profiles of people and companies. This is very convenient and can give you valuable insight into your competitors. For example, your rivals can be both organizations and individual entrepreneurs. Also, the profiles CEOs of competitor firms' CEOs can also be useful for analysis.
For example, we run a copywriting agency. We are new to the market and need to understand other providers of similar services. How do these specialists interact with customers, how quickly do they respond to messages, and what is written on their profiles? Linked Helper is the perfect solution to find the answers!
#1 Create a campaign
You can start with an empty campaign and add actions to it. To collect data about people, the software only needs to visit the profile once. Therefore, as the first action, you can choose to like and leave a comment (if you want). This will further help increase your profile views as it might arouse interest of your target audience as soon as they'll get notified by LinkedIn of your activity.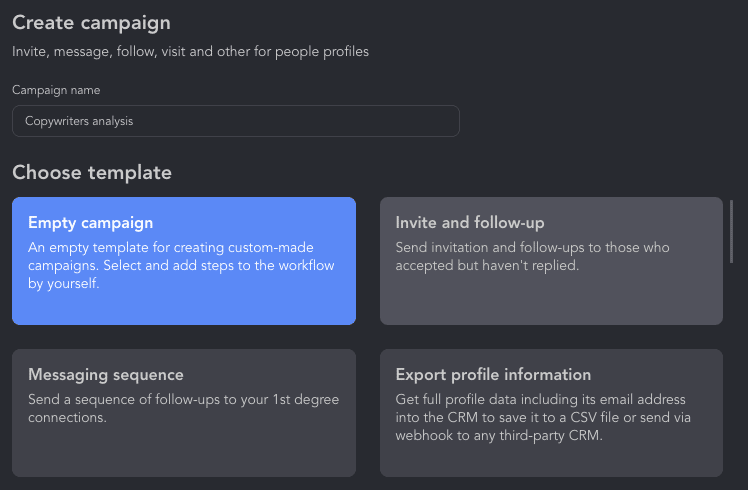 #2 Add actions
For the first action we picked 'Like and comment posts & articles' to boost engagement and scrape data at the same time. – auto-liking – for boosting engagement & scraping.
Note: If you need an extensive and full dataset from profiles, add the 'Visit and extract profiles' action before 'Like and comment posts & articles'. Because visiting for liking does not collect all the page info (skills and contact info will be missing). If all data is needed, then it's better to insert a visit action before the like. Also, not all users have posts/articles. If liking is the last action, then profiles without posts will end up in the Fail section or in the Skipped list (if one more action is planned after). So 'Visit and extract profiles' before auto-liking may be helpful.
Meanwhile, we prepared templates for mass messages to communicate with competitors about their hourly rates. We later added this new action to the workflow of our campaign (described below in the section "LinkedIn mass messaging to learn about competitors"). Upon this campaign's completion, we received profile data and chat history all in one file. If you don't need to text them, just leave one action – Like or Visit and extract profiles. 
How to add the action:
Open your empty campaign created in step #1.
Choose Workflow→ Add action→ Select action (Pick from the list) → Add.

#3 Add competitors to the Queue and click Start
At this stage, we were targeting a narrow segment of competitors. As you can see on the screenshot, you can use almost any page on LinkedIn for sourcing profiles and analytics. We opened the Sales Navigator Search page and applied narrow filters to find copywriters with 5+ years' experience (this filter can be applied only in Sales Navigator).
How to collect target leads:
Open Workflow→ Queue→ +Add.
Choose a source. Here you have many options. Simply pick one and you will be redirected to the target page.
Adjust filters on the search page. When the audience is filtered, pick the section Collect→ Start collecting.
In front of your eyes, leads from the search will be fast transferred to the campaign Queue.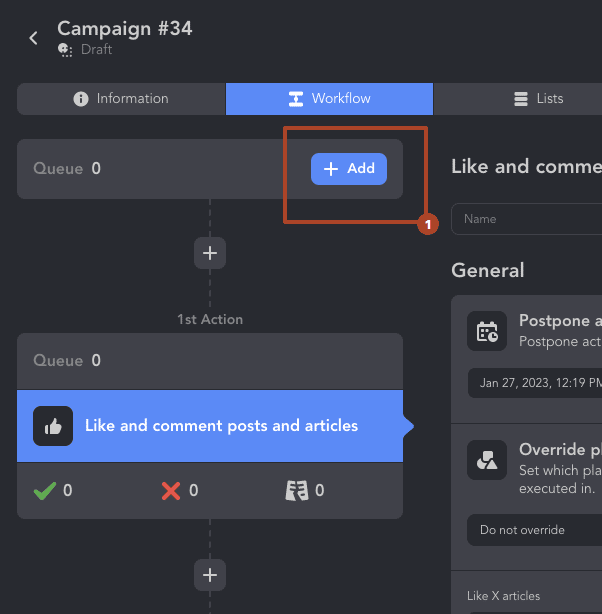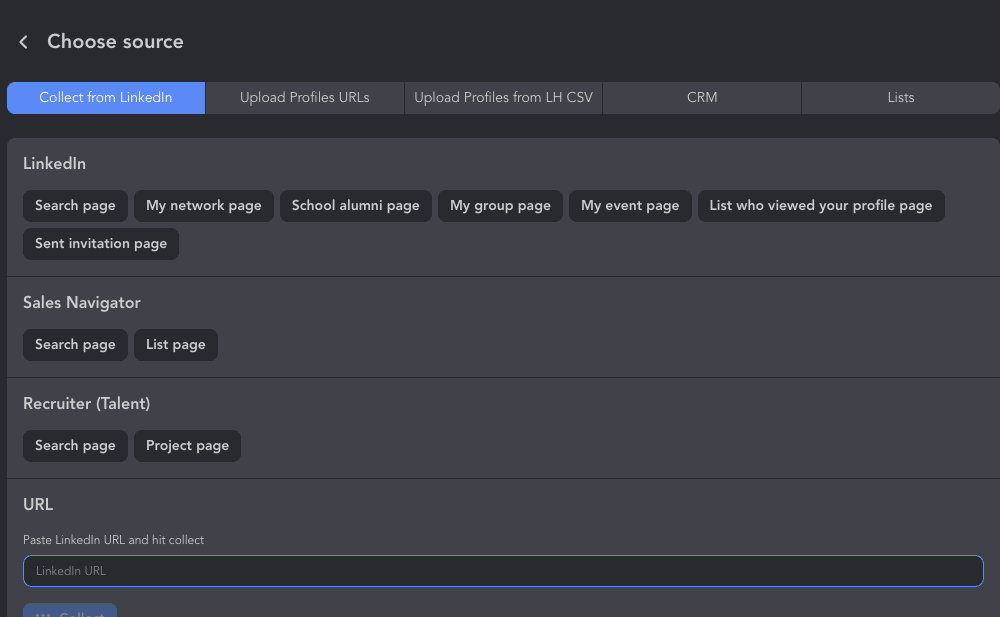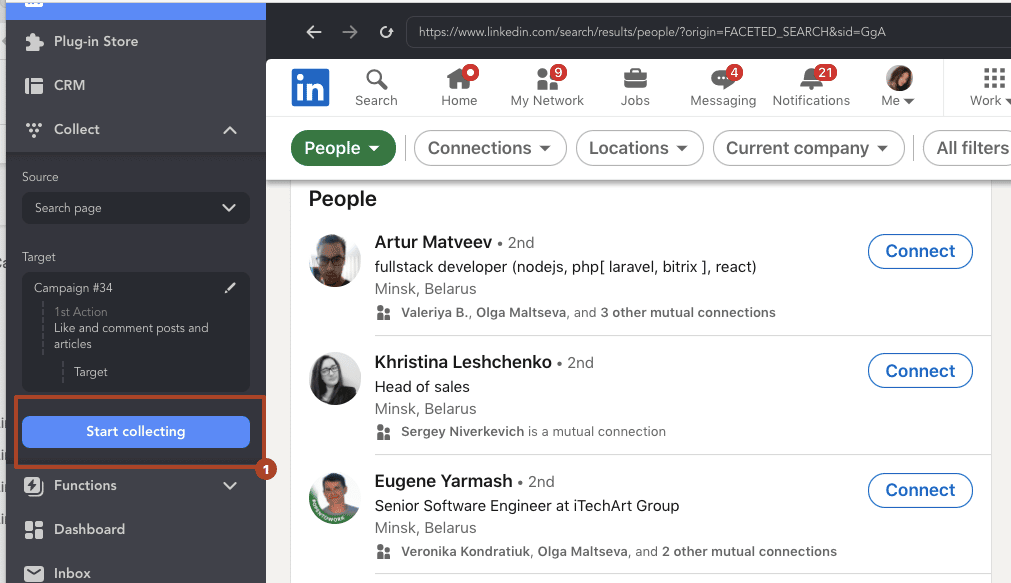 When the collection is done, click on Start.

#4 Download data from the Successful list
After the software finished processing the campaign, we saw the number of profiles in the section with a green check mark increase. These were profiles of our copywriting competitors. And we could download them in CSV one by one, selectively or all at once.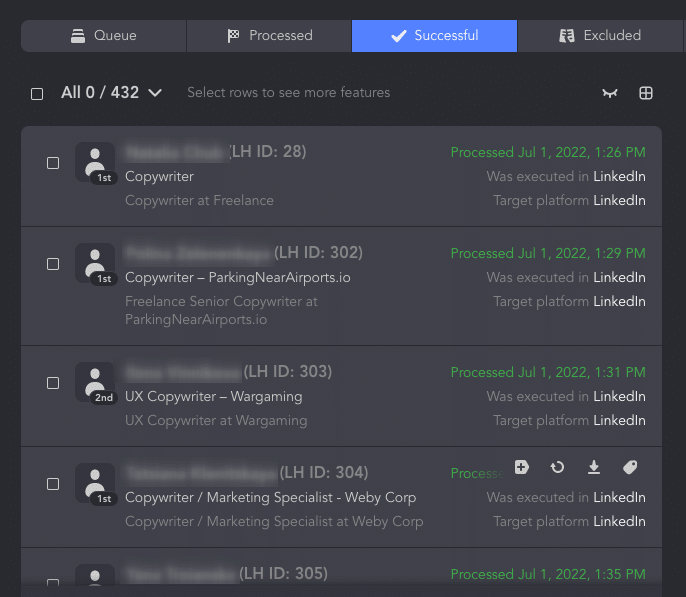 How to download this CSV:
Open the Successful action section→ Choose All→ Click on the Arrow icon.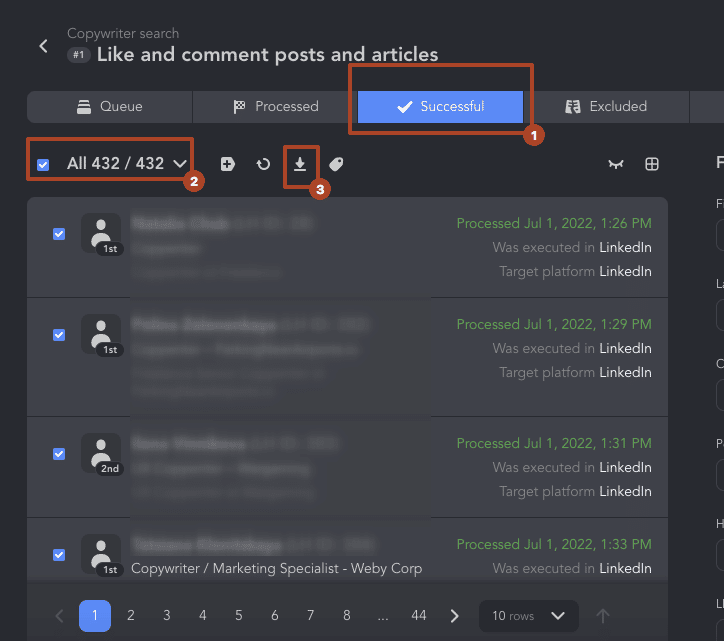 Click on Download→ Save file.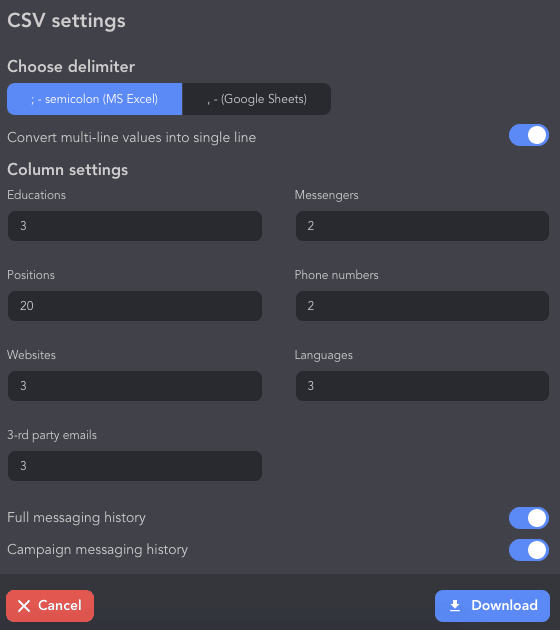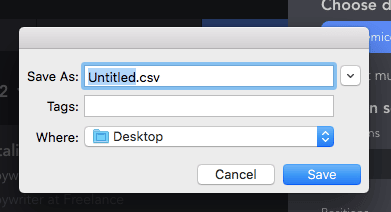 LinkedIn profile analytics via one spreadsheet
Basically everything you need to know about competitor profiles is in one Linked Helper table. Look at the amount of data we received for further analysis.
What does the download contain?
First name, last name, and links to their avatar and pages will add a personal touch to the lines in your report.
Descriptions of all completed LinkedIn profile sections will help you give you ideas for better positioning and branding. For example, we used data from the headline to highlight the most frequently-used words using the WordCloud tool. One of the benefits of such profile analysis can lie in SEO optimization. We decided to add top keywords to our agency descriptions and employee profiles to rank for them.
Emails. These can be useful if you want to find out how your rivals respond to incoming emails.
Number of followers and connections. You can sort the table to identify the most influential competitors.
History of messages with additional data. Since we didn't find everything we were looking for on the LinkedIn page (e.g. rate per hour), we decided to message them directly. There is nothing wrong with such an analysis to understand the optimal price for your services. (In the next section, we will look at how you can get more data about selected competitors in one file by messaging everyone at once).
Over 314 columns of data. You can find literally everything!

A simple one-step campaign in Linked Helper gave us profile data and engagement with 432 competitors in the niche. And all of it was accomplished in less than a week and without manual clicks!
Read how to open a CSV file in Excel – it's very simple!
LinkedIn mass messaging to learn about competitors
You may want to go further if what you learned about your competitors from studying their LinkedIn pages does not seem sufficient.. Consider sending a message to hundreds of people at once with a simple question. You would need to use a separate account to hide the nature of your business so they do not smell a rival in you. Pretend to be a client or partner. We can set a unique "opener" using data from leads' profiles. For example, we wrote the string ourselves based on the Summary and added that to the file with our copywriter competitors. This will help you find common ground and show that you have studied their profile. That way you are more likely to receive an answer.
How do you set variable strings? You can use the same trusty file that we downloaded in the last step. ext to the summary column, insert an empty cs_opener column. Here you can manually enter the first line of messages that includes data from the bio.

Once the file is ready:
Enable the Custom template variables plug-in in the Plugin Store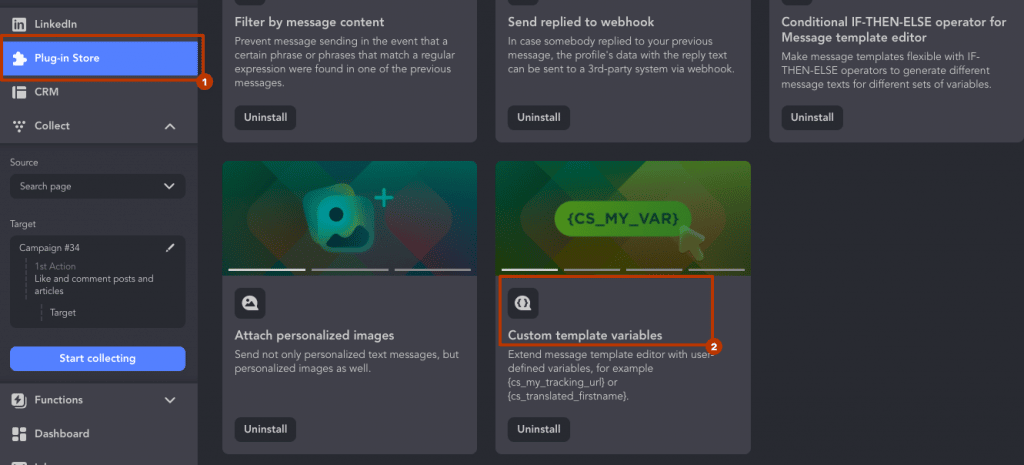 Upload file to campaign Queue via Custom variables button.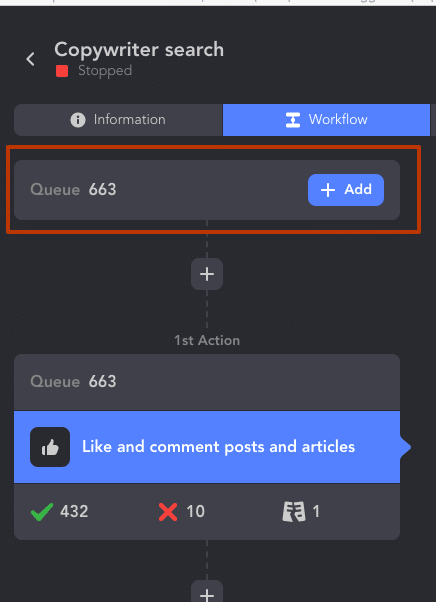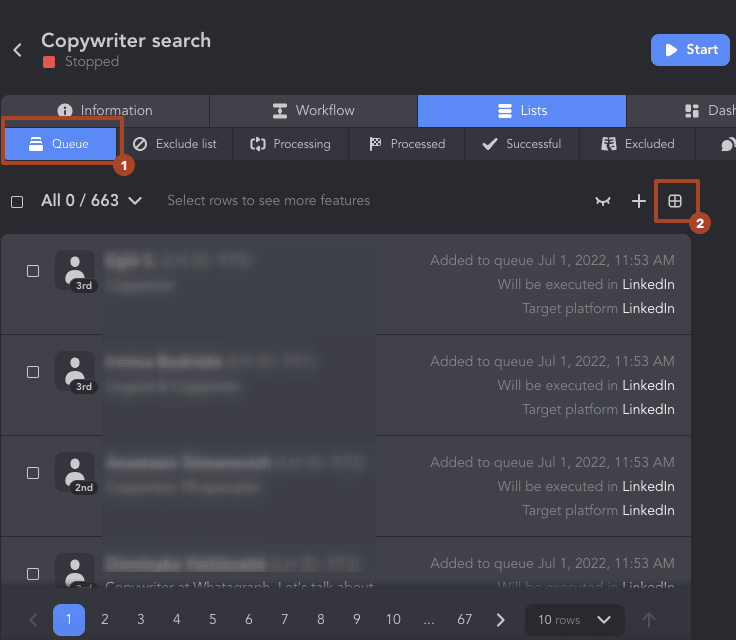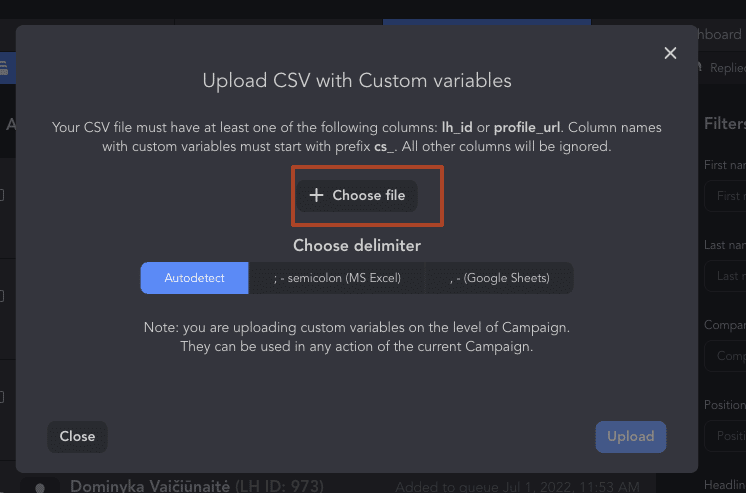 You will see your strings in the Message Template Editor when you pick to add custom variables.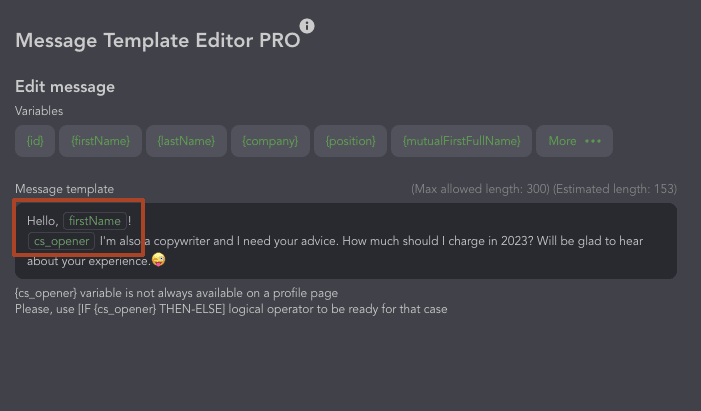 To contact rivals and write to them personally, you can add new actions to the Linked Helper funnel. You may send them a message with direct questions in the message after they connect with you by adding "Message to 1st connections".
After the last action (Auto-likes or Visit and Extract), you may add auto-invite and auto-message actions to create a funnel like this:
Like and comment posts and articles;
Invite 2nd and 3rd level contacts;
Message to 1st connections.
Read more about how custom strings and logical operators work in Linked Helper.
After receiving answers from your competitors, you will find all the messages aggregated in the table. This will help you to analyze the competition. Using Linked Helper, we were able to get real figures on the rates of market specialists in 2023. This may be the most up-to-date and honest analysis of competitors!

LinkedIn groups: get analytics by contacting members
Your competitors may already be sorted into niche groups. Niche groups on LinkedIn are a wonderful source of targeted profiles if you've identified what groups to look at. For example, if you are an IT recruiter, then other recruiters are your challengers. And often you can find many niche LinkedIn groups where these people are actively discussing recruitment matters. You can learn about them directly from their profiles or send them messages (if you need to research something specific).
The "Message sequence via group" campaign template is designed to send one or several messages via a group page.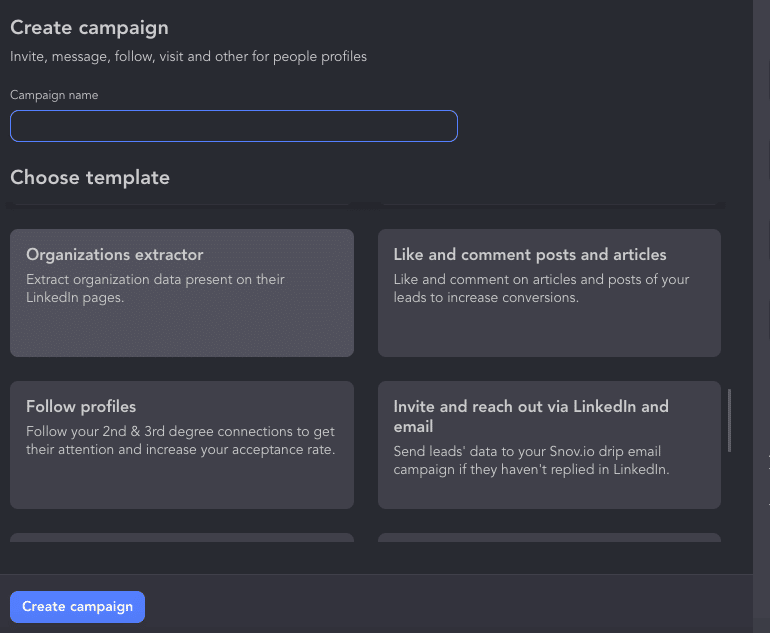 You can also visit competitors' profiles that you find in a LinkedIn group if you just want to do profile analysis. Select a group as the target for any action in the software. Try Like and comment posts and articles (to appear in competitors' feeds) or the less visible competitors' Visit & extract (not all LinkedIn users are notified about visits).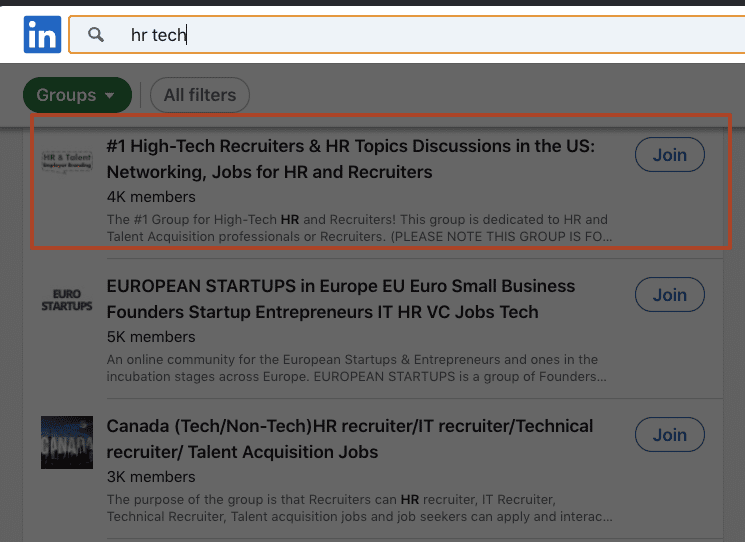 LinkedIn SWOT analysis: parse all data about competing companies
Data about companies in this social network will allow you to make a detailed and up-to-date SWOT analysis. You can do it in an Excel spreadsheet that you download from Linked Helper. How can you do it?
#1 Start Organizations Extractor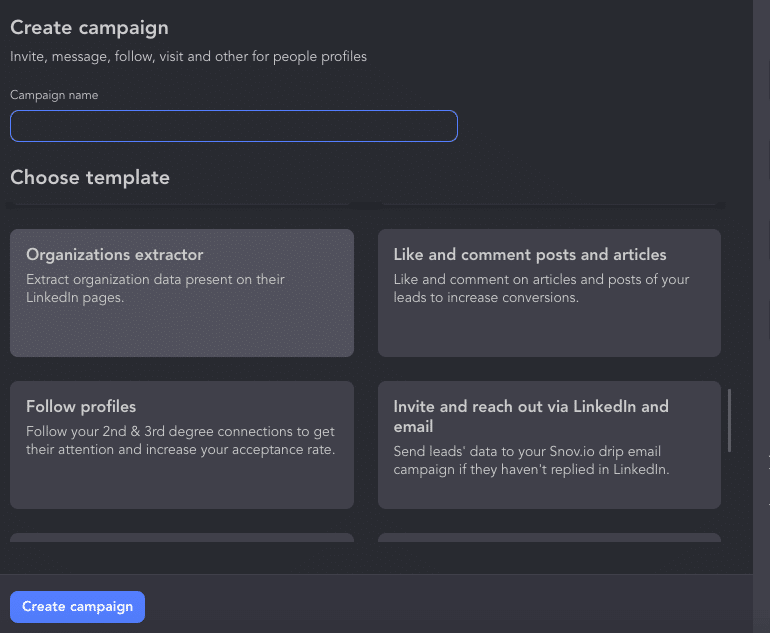 You can choose the Organizations extractor template for scraping company pages. This is perhaps one of the simplest campaigns to set up: no templates and one step to add. Soon you will receive a complete dataset for analyzing competitor companies!
#2 Choose a destination for the parser
You have complete freedom to add companies for scraping.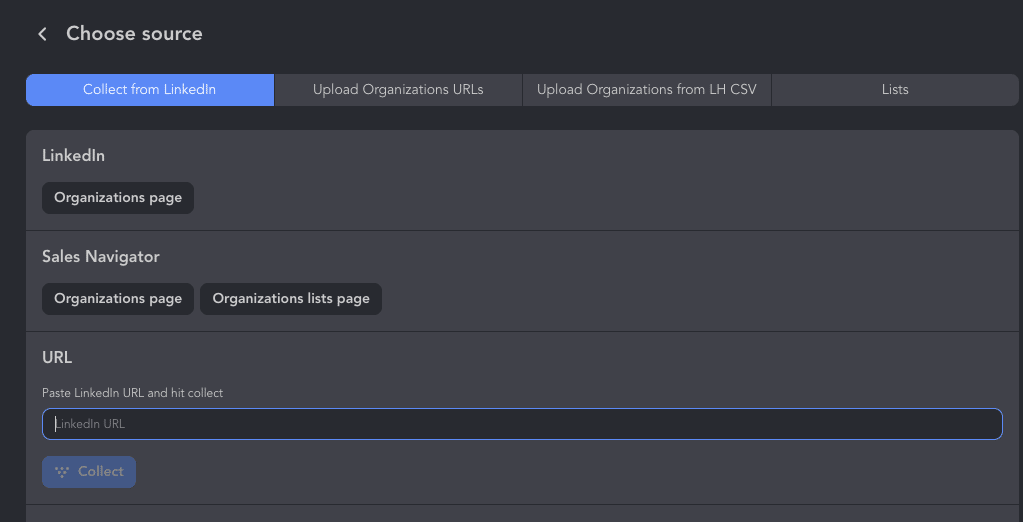 Use all available filters to select companies in the basic solution. Or make a list using Sales Navigator. To speed up parsing, eliminate unwanted companies from the list and select only the pages you need in advance. The better you clean your initial queue, the faster you'll get your data.
For example, we picked only firms focused on copywriting in Berlin.
Hack: You can paste a LinkedIn search URL from the browser tab as a collection source in Linked Helper.

After collecting profiles, you will see how the number in the Successful list in the campaign has increased. This means that it is time to harvest the fruits. Just download the ready-made data for SWOT analysis. You will see descriptions of competitors' companies and their number of employees, which will help you define the companies' positioning.
#3 Fill in SWOT template in the spreadsheet
In the exported spreadsheet, you can add an analysis sheet to quickly transfer ideas. You can try this spreadsheet for your business.

Built-in LinkedIn analytics tools for tracking rivals
The social network provides a built-in competitors analysis tool that gives you some insights into competitors' profiles. This service, however, only helps to study company profiles. You will not be able to deeply study competitors through people's profiles (there is no better tool for this than Linked Helper).
Also, to receive analytics, you must have a completed organization profile. After that, the social network will show you competitors for analytics. You can learn more about competitors' company subscriptions and their content. Basically, all metrics will show engagement metrics about your profile. But you can get a daily update on the top publications of competing firms in 30 days. Ideally, use the Linked Helper scraper along with built-in analytics to get a better idea of ​​competitors.  This may give you a good benchmark of how you're doing! 
All in all: A LinkedIn analytics tool to spy on everyone
To sum up, LinkedIn analytics is available both through the platform and with smart third-party tools like Linked Helper. The difference is that LinkedIn built-in mechanisms will not help you copy data from hundreds and thousands of personal and company accounts. But these pages contain the most relevant data that people update far more often than their website. That's why Linked Helper is a free way to get a relevant, organized info package to know everything! You can use the spreadsheet further by utilizing Excel's data manipulation capabilities. You can also continue your competitor analysis through mass message outreach and message history scraping.