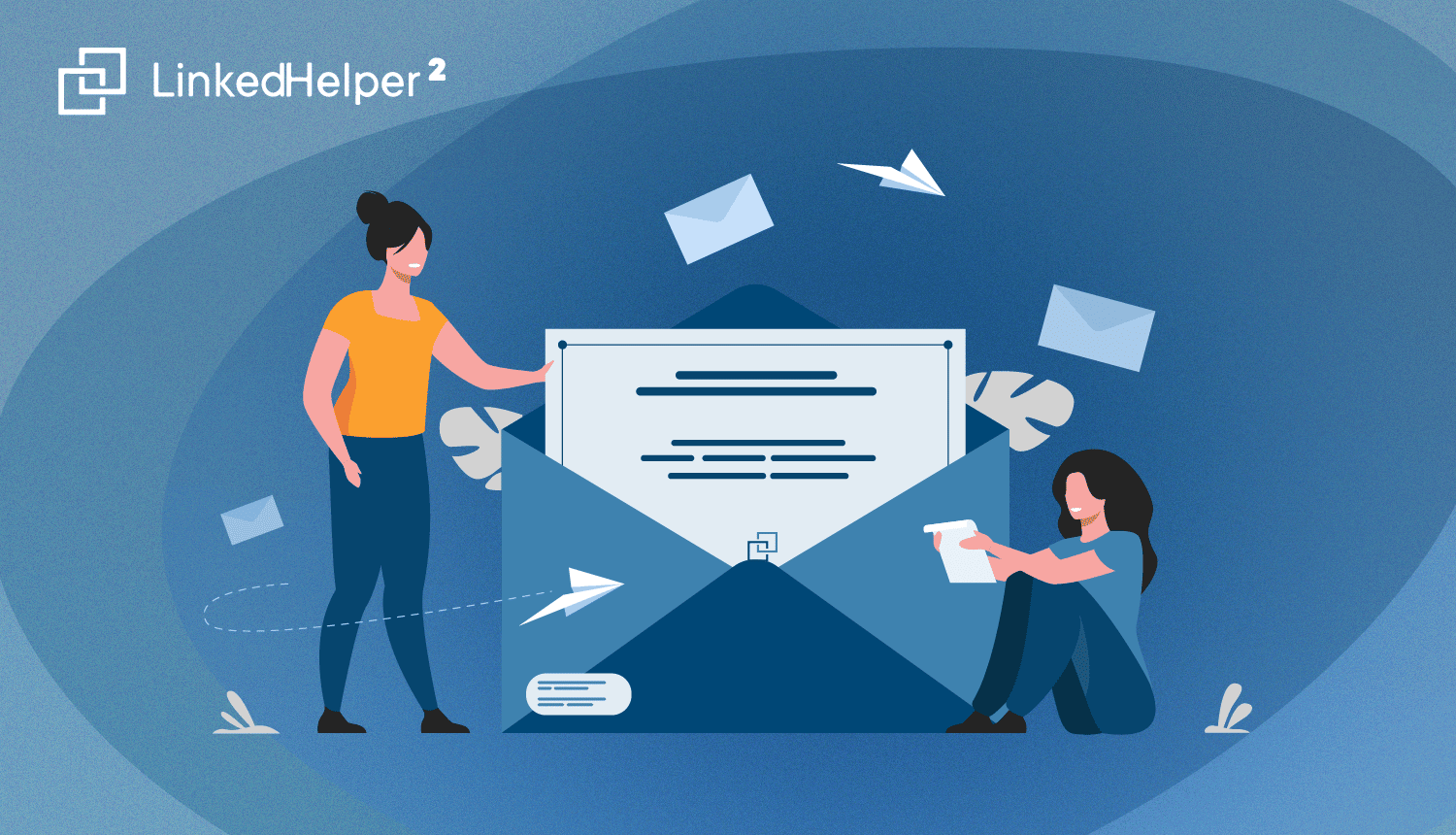 Although you can use the cold LinkedIn message template to connect, we will show you how to make these texts warmer. Yes, it can help you be striking in our standardized social media world! According to LinkedIn statistics, the response rate of personalized InMails is 166% higher. You yourself have probably received the same generic type of text more than once and been annoyed that someone wasted your time. Few people want to respond to a text that resembles a copy-and-pasted standard text. We have prepared a better strategy – you will find the opportunity to use auto message templates but at the same time input spicy details from your leads' pages!
Yes, Linked Helper can help you write thousands of template messages, but use variable words or even phrases. You can add variables yourself or use the built-in ones.
Here are steps for the perfect outreach in 2023:
Download information about your message recipients. Set up a visit & extract, follow, or like posts & articles campaign in Linked Helper. You can get data from the pages of selected people and download the data in a file to study.
Develop several variations on your pitch. Having a document with audience research will make it easy to come up with different texts. You will see their interests, skills, descriptions – everything you need! Further in this article, you'll see several templates that you can take as a basis.
Entrust the manual work to the robot. In Linked Helper you can automate all messages. This includes connection requests, free and paid InMails, and messages to your contacts and group members. The Template Builder has built-in functions for personalization and the IF-THEN-ELSE operator. Read the post IF-THEN-ELSE operator explained: how to create super custom messages in Linked Helper. It smartly varies the text depending on the presence or absence of a variable.
You will know someone has received your message once this profile appears in the Successful sub-list. All replies are captured in the Replied sub-list and accumulated in the Inbox. Your texts will be unique and suitable for the target audience. What could be better? Let's break down how to do it and what templates you can use.
Parse data to personalize a message template for LinkedIn
Working through Linked Helper you will have more opportunities to use personalization. One tool will help you find common ground with your audience and apply it in your messages. You won't need to scroll through hundreds of profiles to do this because lead data can be collected in one table.
You can try the CCQ formula below for composing a LinkedIn connect message or any other template. Having collected data through the software, creating your pitches according to the formula will become an exciting and easy task. The CCQ formula means:
Commonality – Show in the text of the template that you have studied the profile of a person and found something in common with them. This technique is good to use in the texts of invites because including such facts can result in a higher acceptance rate for your invites. This can be a common place of work or study, shared hobbies, skills, or a group. In Linked Helper, the software can use general data from lead profiles – names or numbers of contacts, or places of study or work.
Compliments are an easy way to establish rapport with people and get them to read your message to the end. At the same time, for your compliments, try to study the biographies and experiences of people so that it doesn't look standardized.
Questions – A question at the end of the message will motivate the receiver to answer you. This may be a question that brings you closer to the point. For example, you can ask whether it's convenient to schedule a call, whether to send them further data on the subject, or whether they would be willing to take part in a webinar.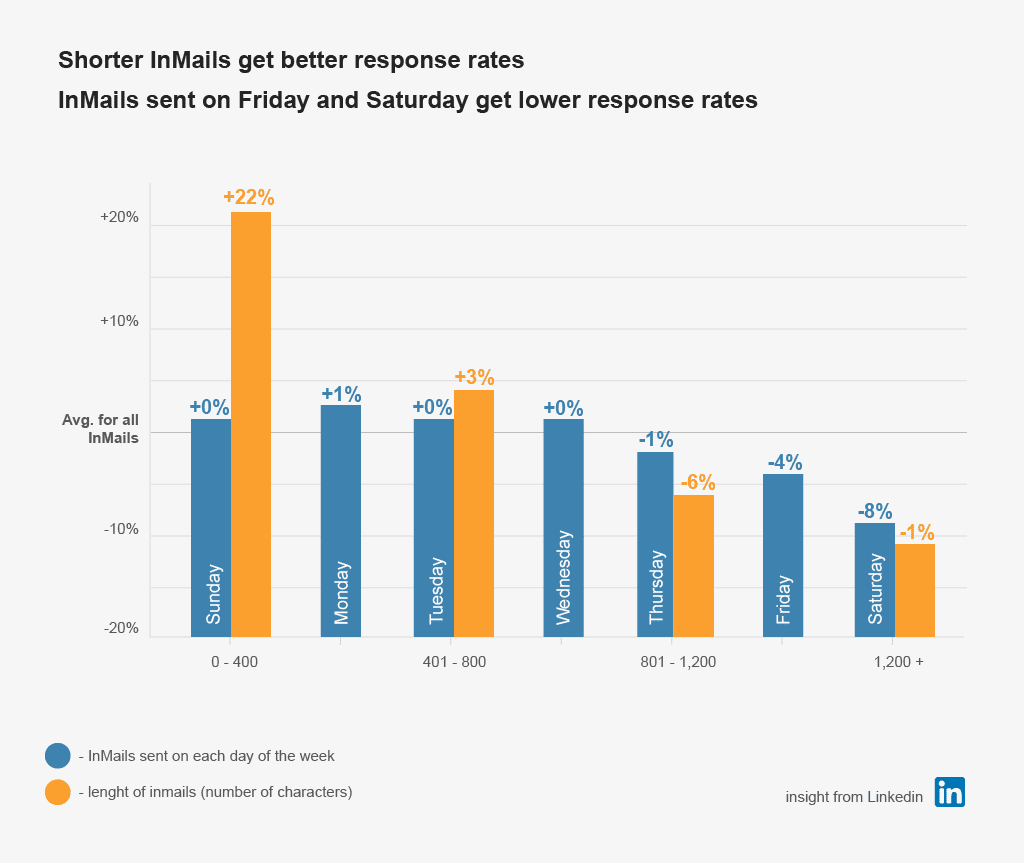 Find out How to send free InMails to Open profiles.
How to parse data to compose messages
Download the free trial Linked Helper. You can get the software and explore the full PRO features for 14 days. This is enough time for you to study the target segment, collect data, and compose targeted message texts.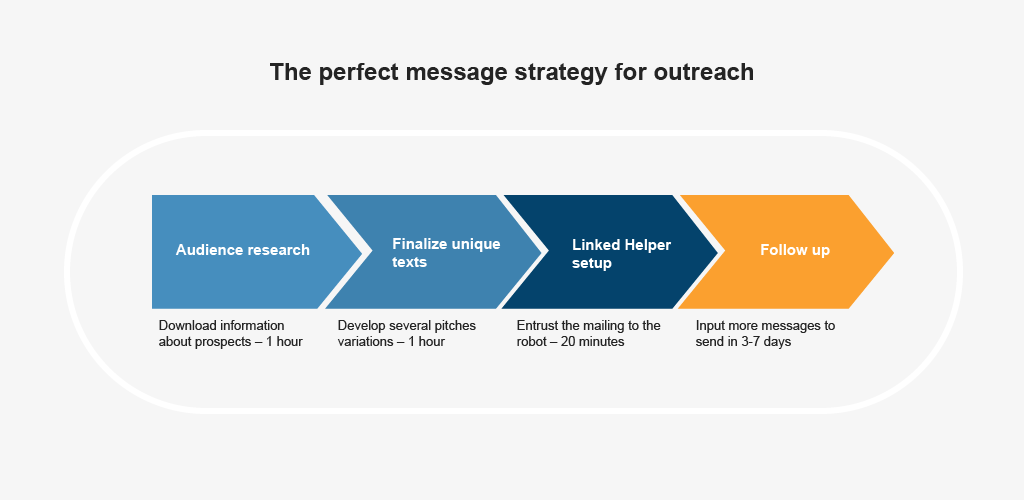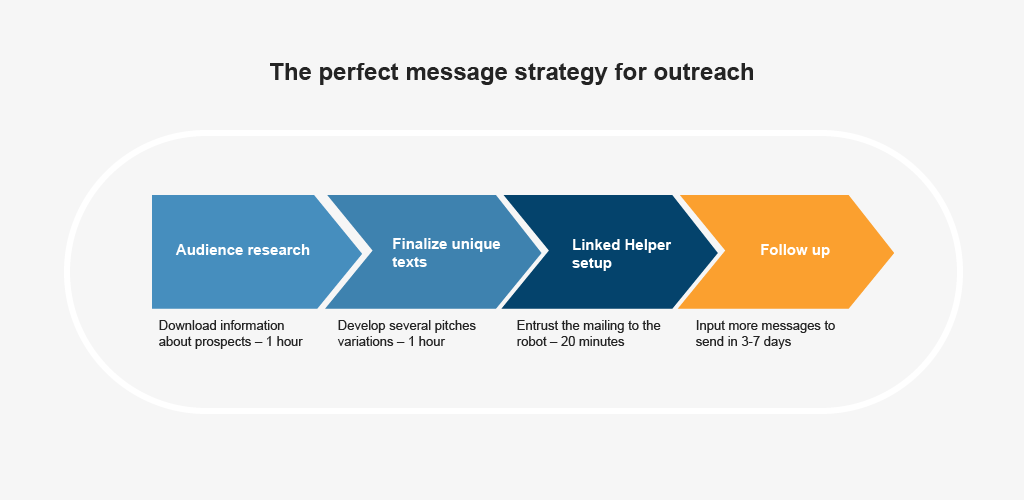 How long does it take to analyze your audience profiles? Let's refer to some real case numbers. With a time-out set between 10 to 40 seconds before navigating to the next profile page, on average it takes Linked Helper 1-1.5 mins to view and scrape one LinkedIn profile. For example:
Twenty 1st degree connection profiles were viewed in 34 minutes.
Twenty 2nd and 3rd degree profiles were viewed in 45 minutes. The slight variation in visiting times comes mainly from the internet speed. But also, 1st degree connections are located easily from your network page, while 2nd degree connections take a little longer to reach.
Start a people campaign. In the software, you can add all the desired leads to a campaign. Start by auto-visiting their profiles for analysis. This will give you data for creating thoughtful and warm conversation starters.
Input the texts in the bulk mailing settings. Linked Helper can be used to continue communication. Having received a table with the analysis of message recipients, you can create unique versions of texts. They may differ for different audiences. You can also add a variable column (for example, cs_event to mention the name of an event in messages) and load it into the software.
As a result, although the message texts will be based on the template, they will evoke positive emotions in the recipients. And you'll get plenty of answers soon!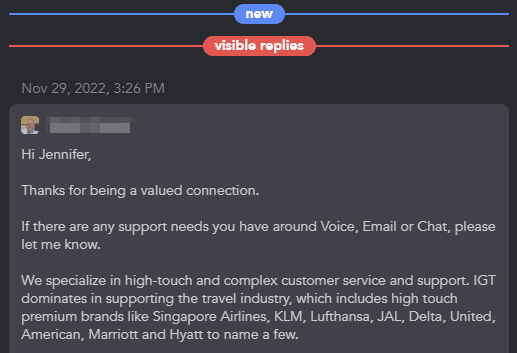 Crafting an outreach message for video creators using the CCQ approach
We were looking for a video creator who could help us put together a short learning course about our tool.
First, we went to LinkedIn and searched for "video creator" and also ticked the "Service category filter.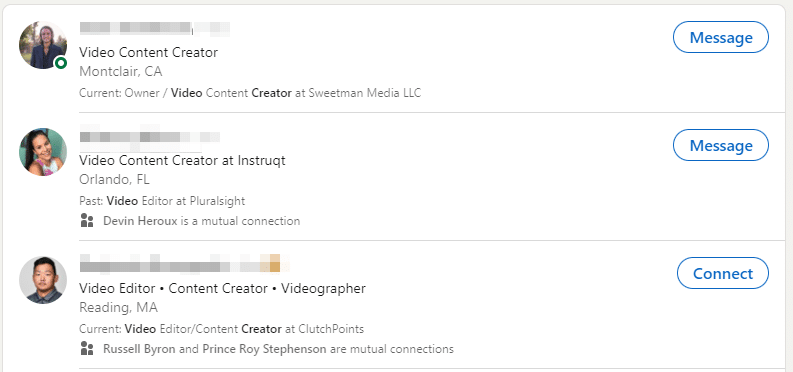 Then we set up a "Visit & Extract" campaign in Linked Helper to get their data and export it at the end of the campaign.
Third, we went through the file we exported, finding bits of information that could be used as conversation starters. We were looking at the summary/headline, overall work experience, number of followers, and technical skills – Adobe, Filmora, etc. Our rule of thumb was "what impressed me about this person?" Was it that they produced podcasts? Or that they were endorsed 30 times for their video editing? Or that they created a course on video editing themselves? Or simply that they had spent quite a few years as a freelance creator serving many customers?
Having this data in one file makes it easy to navigate it.
We recorded this one-sentence impression in a separate column named cs_opener (this format allows us to use this as a variable component in the message).

Next, we went to Linked Helper and created a custom variable from our opener field.



#1 LinkedIn recruiter message template
You can connect with thousands of job seekers by finding them by target companies (competitors), LinkedIn groups, or simply by searching the social network. Using bulk messages in Linked Helper, you can mention variables in each text – the names of common contacts, educational institutions, workplaces, etc.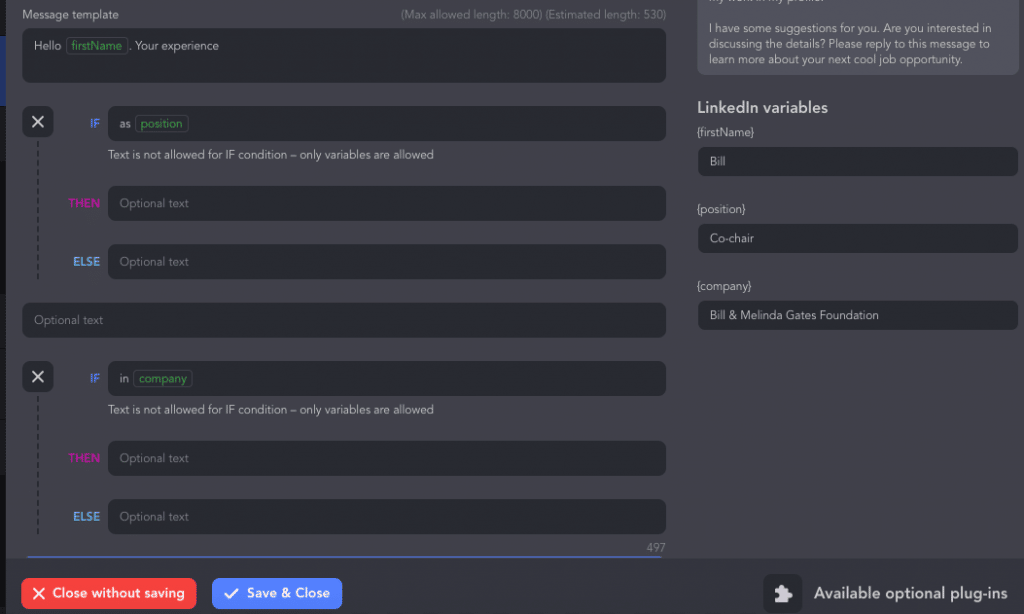 LinkedIn message templates for recruiters may vary for different positions. So use this structure:
Hello (Name). Your experience as (position) in (company name) is stunning 😊! I help employees like you get better working conditions (list the benefits of your offer). You can find reviews and recommendations about my work in my profile.
I have some suggestions for you. Are you interested in discussing the details? Please reply to this message to learn more about your next cool job opportunity.
LinkedIn recruiting can be boosted with a message template containing personal details from the bio, experiences, and recommendations. So use these facts for purple squirrel candidates!
Read How to send an InMail to a recruiter automatically and for free.
#2 LinkedIn connection request message template
This message is the key to success in the bulk invite LinkedIn connection campaign. You will see how adding custom text to a request will increase the number of accepted connections and incoming messages. The message template in Linked Helper allows you to set the text of the invite message yourself, instead of using the built-in template. This can be done while sending auto-invites over the normal limit.

Hello (name). I see that you are also a member of the group (community name). I share the latest trends about our profession in articles. ✅ I'm also interested in sharing offers and events with you. Let's stay in touch!
A LinkedIn connection request message template to a recruiter can be as follows:
Hi, I noticed an open vacancy (position). My work experience can be useful for your company. (list the number of years and achievements) Let's discuss the details!
Soon you can get replies as follows. We took this screenshot from Linked Helper:

Read our blog post How to connect with someone on LinkedIn: 7X faster growth.
#3 LinkedIn introduction message template
You can send this message as soon as your request is accepted on LinkedIn. The intro message can also be called a welcome message. The template can be pretty spacious – up to 2,000 characters – so you can reveal more details. When running a campaign in Linked Helper, you will definitely not forget to send a message to a new contact because you can set it as the next step in the auto-funnel. We advise you to pause a few days between messages.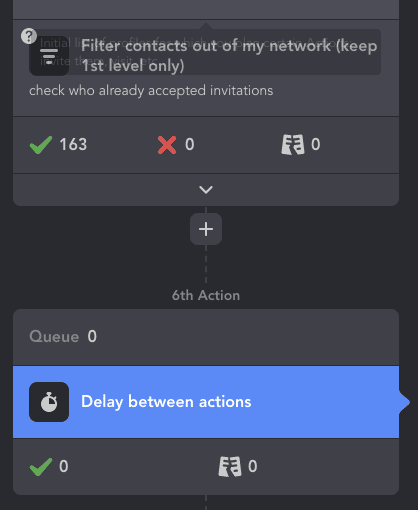 Template for a LinkedIn welcome message:
Hello, (Name). It's great that we'll be in touch now. As I mentioned in my previous message (develop the reason for adding a contact). LinkedIn is about giving and getting value from each other. Here are the areas of expertise that I serve people with. I help (whom? in what way?)
Therefore, I decided to tell you why it can be beneficial for you:
(List a list of benefits for the reader. For example, a USP or an offer if you are promoting a company).
Would you be interested in (scheduling a call, filling out a form, following a link)?
#4 LinkedIn networking message template
Joining groups on LinkedIn is a great way to build connections. The fact is that the presence of a common group is already a sufficient reason for writing a message. You can write private messages to these people, which will fall into a separate folder in the inbox.
A Networking LinkedIn message template can look like the following:
Hello (Name). Your posts in the group (name) always attract my attention. As someone who posted frequently about lead generation, I thought you could benefit from attending our weekly webinar.
We show (mention when) how to (list the topics). Will help you (point out your benefit). It will actually increase your sales! Interested to participate?⚡️
LinkedIn message templates for networking should contain the reason and commonalities that make this connection meaningful for both parties.
#5 LinkedIn sales message template
You can build a social selling funnel and get lots of leads from LinkedIn. This is a great way to save on advertising costs. However, we do not recommend sending sales messages to cold audiences (only if you are 100% sure that you can fill their need). Through the software, you can make a smarter strategy. Set up pre-broadcast warm-up. Your leads will get automatic likes from you and will be more favorable to a sales pitch. Through mass mailing, you can send a lead magnet with your top offer.
Hey! 🔥I have a unique offer for you as my new contact. I see that you are engaged in (industry) and, like many others, need (indicate a problematic topic, need). You can try the free tool (provide a link to a website or attach a lead magnet as a file). Why would it be useful for you?
✅
✅
✅
✅
✅
(List at least 5 motivational points to follow the link / try the service).
I will wait for your feedback. We offer unique conditions (subscriptions, purchases) to everyone who registers for the trial before (specify the date if you want to motivate readers more).
#6 Alumni LinkedIn message template
As a student, you can use social media to find internships, first jobs, or business connections. For these purposes, parsing the necessary leads in Linked Helper will help you. And after that, you can set up an auto-mailing that will solve your problem – whether it's landing a new job, collecting feedback, or asking advice from professors on your work. Find more 20 LinkedIn connection messages for sales & top automation tool.
You can adjust this example of an alumni LinkedIn message template to your needs:
Good afternoon (Name).😊 I see that you work for (position) at (name of institution). I have long admired your scientific works. I am preparing a study in the field (industry) and your experience and feedback are simply necessary. In a paper on (specify topic) I'm interested in learning more about (specify details). What is the most convenient way for you to get in touch – make an appointment for a call, personal meeting or correspondence?
#7 LinkedIn outreach message template
You can reach out through Linked Helper with 2X the effectiveness. Why is that? Through our software, you can also collect emails of your target audience so that your outreach via social media can be duplicated via email. Some people may check their email more often, while others may be more focused on LinkedIn. By doubling up, your efforts will soon bear fruit. What can you do?
Make visits & parse emails through the Linked Helper software. This can be done through the "Visit and extract" action. As a result of this, you will receive a ready-made file with an email column. You can simply copy the recipients' details and paste them into your preferred bulk email tool. Our scraper can collect emails even from 2nd and 3rd degree contacts.
Add these people to your network. In the invitation message, you can indicate that you also sent an email and add motivation to respond to you sooner. In this outreach step, you can warm up a cold audience.
Plan B – try free InMails. You can create an outreach plan through InMail without even having a paid subscription to the social network. This outreach plan is easy to implement through Linked Helper. Find out how in our blog.
You may apply the following cold message LinkedIn template:
Hello (name). I see you work (position) so often you have to solve (lead problem). Our team have figured out how to improve (how you solve this problem). You can get (specify the benefits referring to the real experience of customers). Our product will help you with the following:
✅
✅
✅
✅
✅
(list up to 5 features or benefits of your offer).
Are you interested in getting (a free trial, and master class with our support service)?
#8 LinkedIn follow-up message template
Follow-ups are simply necessary to maintain contact. Due to the volume of information people receive on the social network, it's a good idea to send reminder messages after 5-7 days. This approach is easy to implement in Linked Helper. You will not need to open all the chats manually. You can add a ready-made campaign template, which already includes messages for follow-ups. In our software, only those who do not reply to your first message within the set period of time receive a follow-up. If people reply, they will not receive the follow-up text and you will see their responses in the Replied section. You can group people from this section into a new list and create the next campaign for them with a new goal.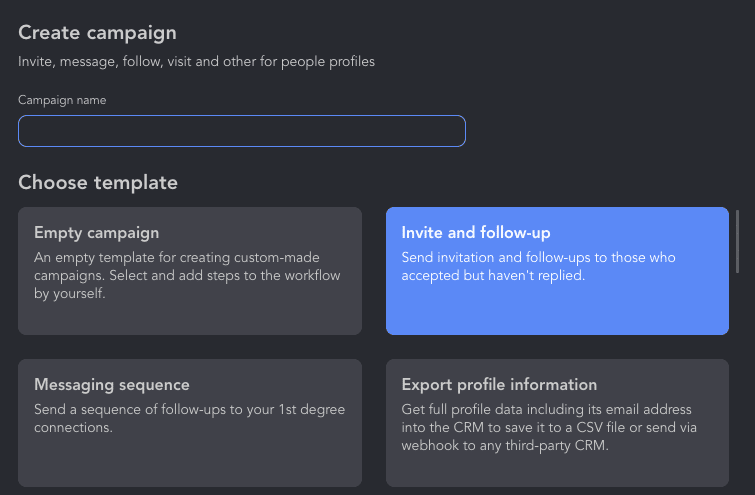 What can you write in a follow-up message aside from 'Thank you for accepting?" You can list areas of expertise you can be useful in. If that doesn't get any reply, the next LinkedIn follow-up message template can be as follows:
Good afternoon (name). We all get a lot of information here, but I hope you read my last message. Have you found an opportunity (to make a target action, etc.)? We are currently running a special promotion for (specify unique offer). Therefore, I decided to remind you why our product will solve many of your issues (list the details relevant to the target audience that you could study for parsing a bio).
Should I continue to report updates that are important to (lead's industry name)?
Read How to invite 2nd and 3rd connections and send a follow-up message.
#9 LinkedIn message template for job seekers
You can find your dream job on LinkedIn. Just imagine how many recruiters, managers and executives you can reach through mass mailing through our software. You can also easily study the requirements for candidates by collecting data from pages and viewing it in a single table with texts from LinkedIn.
Try this LinkedIn cold message template to discover more job opportunities:
Hello (Name). I see that you are (recruiter or manager) in the company (name). I worked on (specify your experience) and I know how to (specify what you are an expert in). Below you will find my profile. If you are interested in cooperation, let's get in touch and discuss the details. 😊
#10 LinkedIn marketing message template
You can accomplish many tasks through Linked Helper campaigns. It can be like collecting market analysis, collecting customer opinion analysis (through parsing the history of correspondence), attracting new leads, and increasing brand awareness.
Therefore, templates for marketing can be divided into segments by tasks. You also need to test message variations through A/B tests to understand what you are getting a higher response to. An example of a message for collecting feedback from leads could be as follows:
Hello (name). I see you participated in our webinar and I promised to contact you with a unique offer. 💰Only participants receive this (a link to our trial, a subscription to a beta version of our product, or your other option). Meanwhile, I would like to know your opinion about the event. Do you have thoughts on how we can improve our next webinar?
#11 LinkedIn message template for financial advisors
Financial advisors can get a trove of clients through LinkedIn. After all, in this wide field of work, you can be both an individual specialist and a company representative. Nevertheless, to create templates in your niche, we advise you to start with these steps so that your pitches will be adapted to diverse segments.
Identify 3 key audience segments for outreach. These may be your top customers to start with. Create Linked Helper campaigns to collect profiles of these people.
Analyze their pages. Everything you need to know about clients with whom you have not worked yet is indicated in their profiles. Be careful and use the data to create targeted texts.
Don't copy typical templates word-for-word. Just take the general structure!
Hello (name)! Many (lead position title) have doubled their income working the same amount or less. Moreover, you can forget about the stress associated with investments because we will do (specify services) for you. To get acquainted, we're offering you freebies (suggest a lead magnet to feel if there is interest in the offer).
2 LinkedIn Sales Navigator tips to boost message template
Many may think that subscribing to the most expensive social media plan is a must to get the best outreach rates. You may also consider that the purchase is necessary to be able to send InMails. These are messages to everyone who is not yet your contact, but for now a 2nd or 3rd degree connection. In fact, there is a trick you can use.
#1 You can use the free trial Sales Navigator to find leads. And after unsubscribing, all lead data will remain available in Linked Helper. Normally, a big problem with Sales Navigator is that users lose all their data if they want to end the plan. But this won't happen to you. Just try the benefits of the Navigator in finding people, collect the desired audiences, and add this data to Linked Helper. You will be able to continue working with them through your Basic Profile + Linked Helper after the free trial expires. Explore How Linked Helper 2 automates basic LinkedIn and Sales Navigator: The comparison.
#2 You can write free InMails on a massive scale. Not everyone knows about this loophole either. You may know that on LinkedIn there are profiles with the status of Open Link. All of them can get free InMail from you. Sometimes it works better than advertising! Our software can automatically send hundreds of such InMails from your basic profile. You can simply select in the search all those who indicated their business is in the Service category (these are Open Link by default).
So you can see that a LinkedIn Sales Navigator trial can be helpful to improve your message campaign with any kind of template. Our LinkedIn boosting tool will grow your direct message strategies of all kinds – whether you are writing to recruiters or seeking ideas for a template for sales. One important rule in compiling the final text: do not directly copy other people's texts; the audience in 2023 is very smart and no one is interested in receiving the same message multiple times. Therefore, the audience research and structures presented in this article will help you stand out from the competition.