LinkedIn marketing can bring millions in profits to your company if outreach is planned correctly. According to one study, 52% of buyers on LinkedIn said that this business platform is the main channel from which they learn more before buying.
With LinkedIn's help, marketers, sales professionals, and business owners can conduct research and engage with potential buyers directly. Since the flow of information is huge in 2022, there are two important factors in outreach and searching for potential clients – personalization and targeting. Knowing more about targeted leads can help you craft more compelling pitches that won't go unread (we'll go over the hacks on how to do this below). This task can be easily solved by Linked Helper 2 – one of the best sales outreach tools for automating prospect research and communication with clients through LinkedIn. With this tool, you can perform all the tasks of finding and connecting with clients through a personal LinkedIn account, which is much more effective in B2B than cold mailings.
Sales prospecting. At this stage, you will be able to collect all the information needed prior to communicating with leads. As a result, you will be able to download a database of personal data from LinkedIn which you can use when composing templates or for communication through other specified channels – by phone, instant messengers, or email.
Linked Helper allows you to aggregate data by profiles of people and organizations. You can save your collections to the embedded CRM or export this database as a file.
Download Linked Helper 2 and get 14-free trial right now
If you are not yet in our list of users, then join. We give you a trial version to start your experience with our LinkedIn tool.
Building trust through interactions. When doing outreach in 2022, it's essential to tailor approaches for targeted sales. It helps to build the trust of the leads before the direct offer. Many prospects are looking for recommendations across their professional network on LinkedIn. Therefore, your task at all stages of the sales process, once you have identified the coveted buyers, is to start liking their posts, leaving comments, inviting them to groups and interacting with group members. And only after that, proceed to communication via InMails.
It's possible to automate outreach stages not just for direct sales but for warming up engagement – our platform is a safe solution for that.
On Linked Helper, you can customize all your interactions by targeted lists amassed during the research, in order to focus on niche groups.
Outreach in private messages. When the ground has been prepared, it's time to reach out to leads. It is important to demonstrate that you've investigated the contact person, grabbing facts from their page so that the offer is personalized. It's flattering, and it works in a business environment – thanks to this social network, you can learn the most about B2B target leads. Showcase that you did the research right from the first line of the message.
The Linked Helper will help you set up outreach message chains for each target audience – responses will be sent automatically when you receive an incoming reply. Also, you can use personalization by applying variable words/phrases and attaching different visuals.
So, with the help of one software tool, you can help leads discover products and services that they may have been trying to detect for hours. Every group member in your industry is a potential customer. Therefore, all that's left is to collect all the information necessary for sales and start your outreach in LinkedIn messages.
Next, we will analyze best practices for each stage of sales outreach via this software. Since this is not an extension, but the most trusted browser technology that uses the mechanics of real human actions, you can rest assured that your account is safe. Moreover, it won't attract distrust from LinkedIn (which can happen even with active manual actions), since the tool observes all the limits that the social network has set for users.
Automated strategy for outreach on LinkedIn compatible with Sales Navigator
For the outreach and prospecting research we will use the Linked Helper tool. You can download it and use it for 14 days free.
Advantages:
All outreach data – lead profiles and correspondence – will be stored in a single CRM. This is super convenient for follow-ups. You can also download the message history to evaluate the results of each round and share them with colleagues.
Bypassing the limits of LinkedIn. The social network has limits – for example, for invites and scraping data from the profiles of 2nd and 3rd degree contacts. With the help of automation, you can send more than 100 invites and collect data on leads that are inaccessible by default.
Integration with Snov.io and other platforms. You can enhance the effect of outreach – for example, by using cold emails. By connecting this extension, you can export the database of contact emails directly to Snov.io for auto-mailing. Integration with other services can be configured through Zapier or WebHook.
The outreach automation will work inside Sales Navigator, Recruiter, Premium and standard LinkedIn. The integration will allow you to complete specific tasks for each service effortlessly.
#1 Collect all the strategic data
The data we will collect address two key points that will increase sales after the first round of outreach:
Targeting. It's a waste of time to contact unqualified leads who will not buy in the end. Therefore, you will use narrow filters, parsing by groups and by those who already like and watch your posts to boost the chances of a sale.
Personalization. Personal data from profiles – work status, previous experience, summary section – will help you establish a dialogue and link offers to the client's needs.
Therefore, the downloaded database based on target filters in LinkedIn is your key to successful outreach in 2022.
All profiles of people or pages of organizations will be uploaded to the Linked Helper database. It is convenient that the personal cards are easy to modify and add up-to-date information so that all team members can track the status of the leads in the pipeline.
From which pages can you organize data parsing for outreach?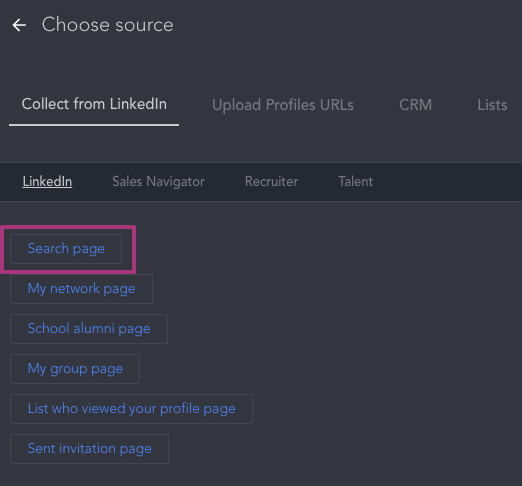 Search page. Here you can set up standard filters, Boolean operators or advanced filters in Sales Navigator. Up to 1,000 accounts that are relevant can be uploaded to the database in a few minutes.
Your contacts. If you've already worked actively on LinkedIn and the necessary people are in your contact list, then you can collect the database in a couple of clicks.
Professional groups and institutions. You can specify any group or university to amass member accounts. This is a quick way to write to people in narrow industries.


Pro tip: A successful outreach tactic is to reach out to group members that your sales prospects have already joined. Collect a list of niche groups and set them as a parsing goal in the app.

Interested leads. Those who view, like, or comment on your content are valuable contacts. These people are familiar with you, which means that outreach for them promises to be successful.
Special sections of Sales Navigator. The leads lists that you can collect in the advanced functionality will be available for scraping to the database.
3 methods to collect data through Linked Helper
Start a people or organization discovery campaign. You can download the profiles that you might need for each targeted campaign. In this case, you will be able to find the list of target profiles in the tab Lists.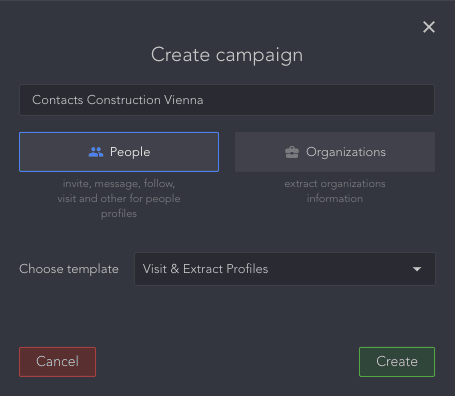 Downloading from CRM. If you have already executed outreach rounds, you can download a spreadsheet from the Linked Helper CRM, where you can also additionally sort leads using tags. Also, there is an option to add leads through links to profiles or import a CSV. In this case, you can find linked accounts on LinkedIn that will also form part of your outreach base.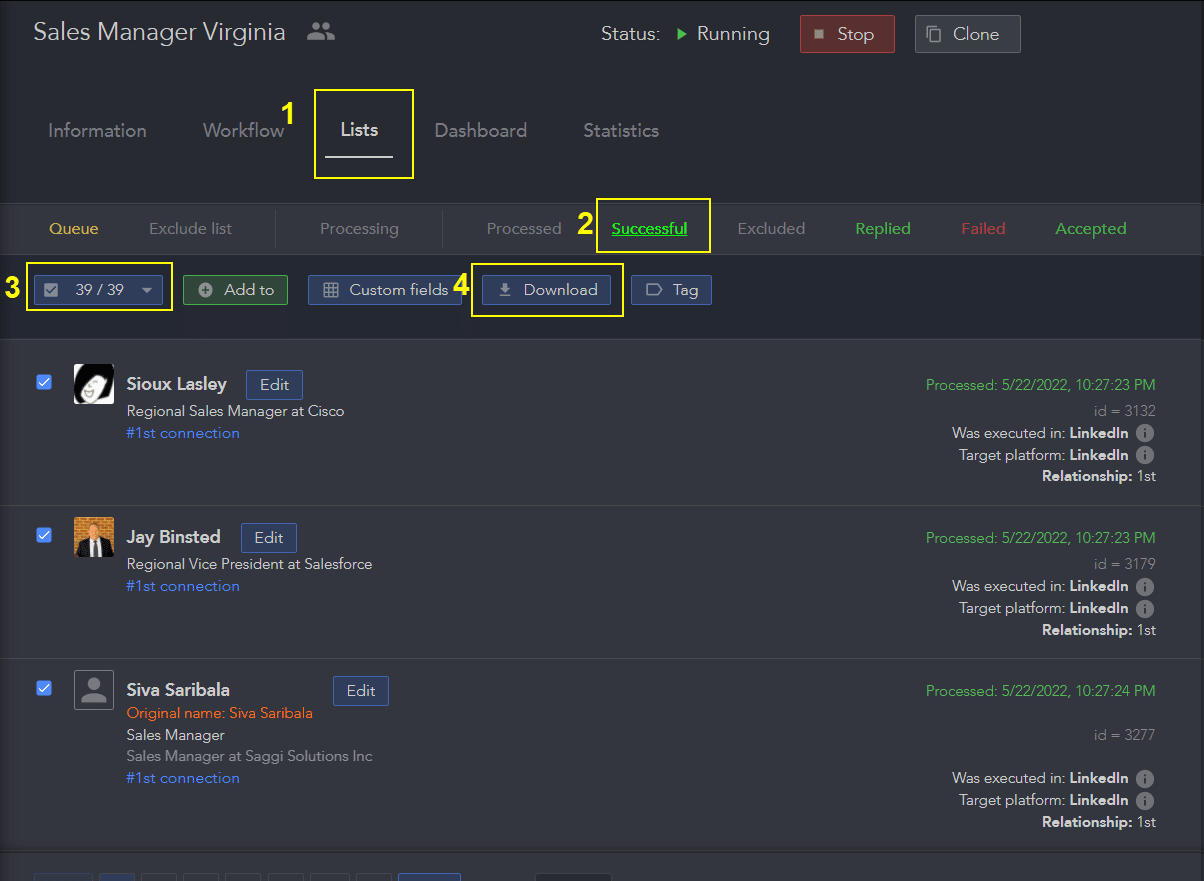 Data from LinkedIn messages. If this isn't your first round of outreach and you've already written to potential leads, it's important to understand how they've responded to you. This will help work out the objections in the next pitch. To do this, download the correspondence with users that is already stored in the memory of the CRM.
Automate active interactions for your LinkedIn outreach
The second step of outreach is establishing contact with target audiences. By visiting profiles and interacting with content, you encourage visits to your profile – often people are interested in checking out who is interested in them. Therefore, be sure to place your offer in the description and introduce your company and services with your USP.
Via Linked Helper, you can perform more actions than is stipulated by the rules of the social network. But at the same time, your account will be safe. For example, for outreach, you can go above 100 weekly invitations to 100 invitations per day.
What can Linked Helper automate? Almost all routine but essential business activities:
Visits to target profiles
Contact requests
Email base invitations
Likes and comments
Accepting / deleting contact requests
Canceling sent requests
Group invitations and company page invitations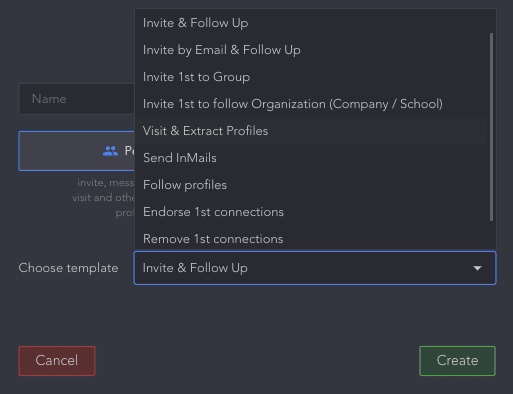 Note: You can plan every action in the campaign and set custom pauses between them. For example, today you can send out 10 connection requests with a personal message. After a day of pause, you can assign the software to like the latest publications, and a day later write a personal message to all those who remain at the end of the funnel campaign. That is, Linked Helper will not continue to work with leads and write to them if they haven't passed through the first stage – accepted a connection request. These people will be placed on the Excluded list.
By setting up the necessary automatic interactions for audience groups, you will increase your recognition as a company representative prior to the direct correspondence. If the last round of outreach didn't work, this is most likely what you need to introduce into your strategy.
Personalization works wonders for sales. But it must be tailored for each lead. The least you can do to prove your interest in a prospect's personality is to visit their profile and view their content.
But it's not necessary to do it manually, spending hours.
How to automate outreach messages + tips
We're moving on to the icing on the cake – message outreach, which is also easy to automate in Linked Helper.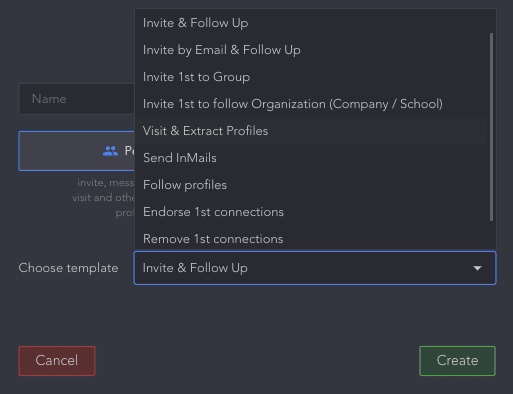 What types of auto-messages does Linked Helper provide?
Messages that you send when you set up a contact.
Chains. In this case, each scheduled message will be sent after the response is received. This is a proven way to show that you are active at any time of the day.
Bulk messages by contacts. You can organize outreach for all 1st degree connections.
Personalization through dynamic replacement of words and pictures. You can improve your outreach outcome by using interchangeable words. This will avoid spam and adapt the template for each target group.
5 tips to help you craft effective outreach messages
# 1 – The effect of good friends
The key to successful outreach is personalization. And this personalization should show the reader that you have known each other for a long time. As specialists in sales say, a successful offer is never perceived by the client as an offer. They get the feeling that they were deeply understood, their pain points were recognized, and they were promptly offered help. The in-depth analysis of customer needs will help you with this. For instance, you can use an example of a situation with a past customer and illustrate how a product or service helped solve it. Competitor research on LinkedIn will also help you.
To carry out research, you will most often have enough business data from a LinkedIn profile. But you can also go further – study Twitter, Facebook and other accounts of a prospect.
# 2 – The first line takes the hit
Consider how many incoming messages your client may receive on LinkedIn – possibly hundreds of offers. Not everyone will dive into the details of the message if they are not hooked on the first line. Therefore, your most important, distinctive, and useful information should fit into this sentence.
# 3 – Reduce words & simplify text
While you need to impress with the first message, don't write too much at once. Many people check incoming messages from their phone, so the text should look good on the mobile screen not to scare them away. Separate your thoughts in paragraphs and don't include more than 100-150 words.
# 4 – Follow up instead of despair
If you were not answered the first time, think about the second version of the message right away. Follow-up is also needed to remind past clients of your services. In Linked Helper, you can save scheduled threads and automatically send follow-ups.
# 5 – Starting direct sales may be less effective
From the first message, try to find contact with the interlocutor without planning a direct sale. Since this is a social network and not a cold email, the main thing is to arouse genuine interest. This can be helped by the copy on your page – the section Recommendations and the presentation of the company's services in the profile description. Therefore, aim to generate interest firstly, don't sell directly.
3 Examples of messages for outreach on LinkedIn
First message:
Good afternoon (Name). I see we are colleagues in (your industry), and we (are in the same group, studied at the same university, school, etc). I was interested in your post (comment on the post, article, or comment). Let's get in touch. I think we can be useful to each other, as my company helps businesses in (indicate your USP).
I will be glad to help and look forward to your reply.
After outreach by email:
Hello (Name). We know how to help you with (indicate how you can be useful). Maybe you don't check emails, so we decided to contact you via LinkedIn. We have helped many businesses (indicate recommendations, reviews). How about discussing more details?
A follow-up to dispel doubts:
Hello (Name). I see we talked last week (remind the topic). If you have any questions or concerns, I'm always happy to help and answer. Do you want to discuss the next steps?
Is automation safe when you work through LinkedIn?
Linked Helper is the most reliable and technically advanced service for automatic work. Starting as an extension, we went through more than one LinkedIn detection raid and updated the technology by developing an independent browser-based software. Therefore, you can entrust every outreach option to a smart system.
Separate code. Since you download the program, unlike the plugin, the code is not embedded in the pages of the social network. All activities are performed in a browser window under your account.
Human-like behavior. Many automation mechanisms in Linked Helper speed up processes through actions that are typical for the user. For example, a person would never search for a candidate on LinkedIn by inserting URLs into the search bar 100 times a day. In our system, all actions imitate real user operations.
Secure metadata. For each session, you will be allocated a set cache and IP, which will tell the system the same person is logging into the account, from the same device and location. This is the guarantor of security.
As a result of applying the LinkedIn automation strategy, you will be able to collect the necessary data for personal outreach and systematize it in the CRM. The message history will help you determine how to improve the offers for the next round. Next, we will look at alternative tools that can help make outreach more effective.
Outreach acquires Sales Hacker & other tools for sales training
With these resources, you can find useful hacks for outreach – training, letter templates, trends, and more. If you're having a hard time getting started with your leads, this preparation can assist you in developing the tactics. And you can delegate all the boring steps to automation.
#1 Sales Hacker community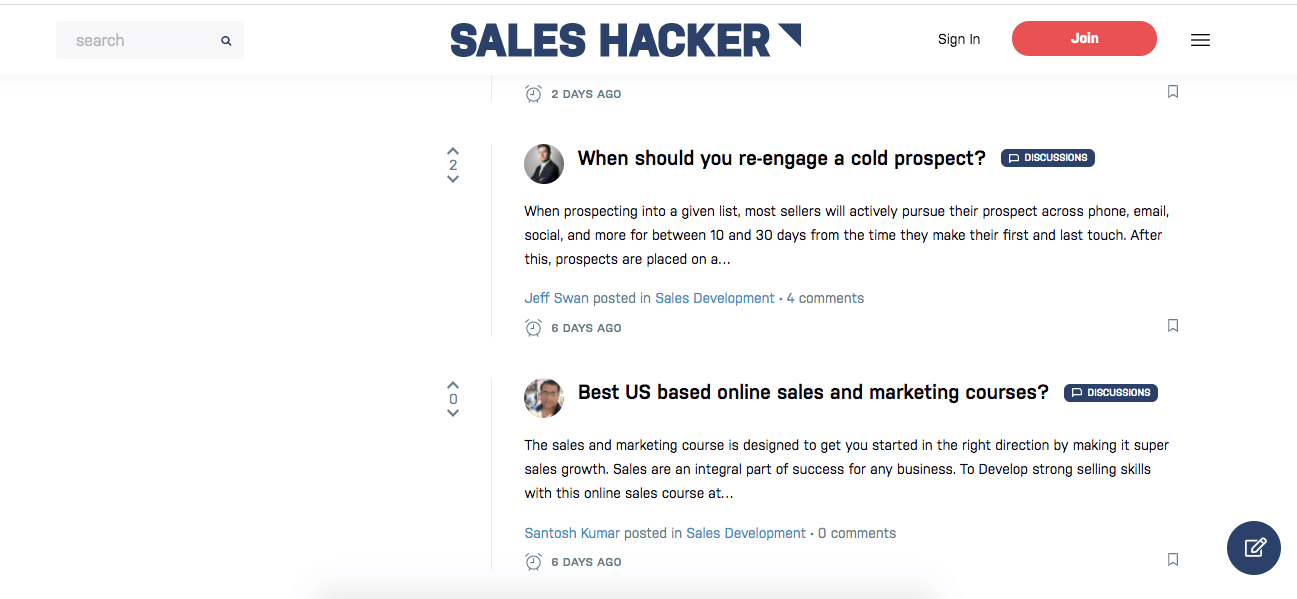 Sales Hacker is a hub for sellers and business owners. Podcasts, webinars, and events will help you get data on trends in business relationships from practicing experts. It's also a vibrant community where sales leaders and executives share real-time advice in conversation threads. They can be sorted by topic – lead generation, sales development, etc. It is also a great platform to grow your brand because you can leave comments and create posts.
By the way, the site is now owned by the software developer for LinkedIn Sales Navigator called Outreach. It is a lead data integration tool that allows you to expand your network of contacts by target groups and carry out some outreach tasks.
#2 HubSpot – free programs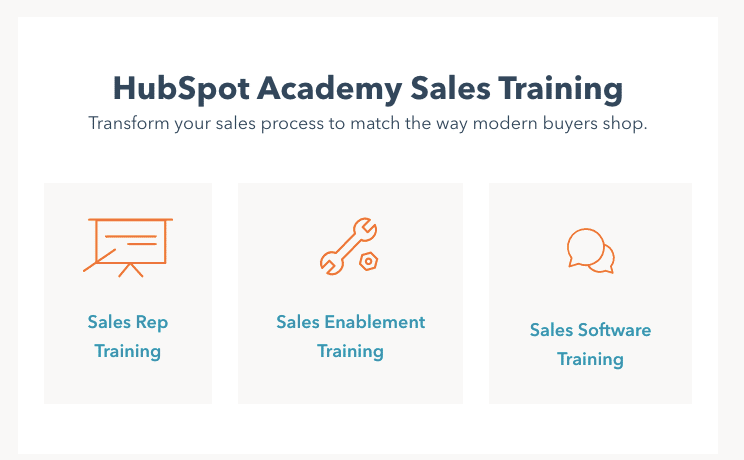 This platform, in addition to the CRM for sales, conducts training for sales specialists and sales software. Therefore, you can find a lot of valuable information to improve your outreach on LinkedIn. You will learn techniques for finding leads, outreach strategies, and preparing a sales presentation. After such training, it will be easier to start working with leads online and find out their needs and psychology. The training is free and can be personalized.
# 3 Hunter – free templates source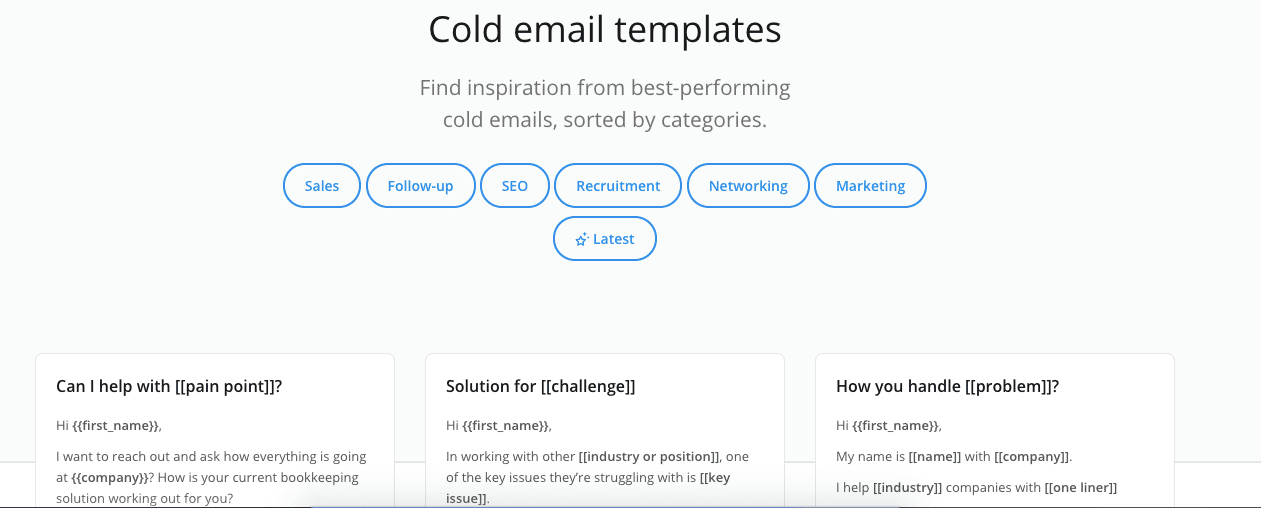 On this site, you will find thematic collections of templates that you can adapt for outreach through LinkedIn. This is very convenient since the selections are collected according to goals – sales, recruiting, making the first contact. You may want to edit templates because communication on LinkedIn can be more informal than through email. Also, try to add personalization. Otherwise, this is a useful thing – you don't have to write a thread of messages for every situation from scratch. The selections are updated regularly and you can also make a contribution and leave the pitch templates that worked for you.
As a result, now you know the outreach strategy through LinkedIn can be made fully automatic thanks to the Linked Helper software. Also, you can explore the free pre-outreach training resources to help you plan your strategy. Then you just have to carry out all the actions in Linked Helper according to your tactics. Install the software for free to learn more about leads and markets, and start outreach in messages and interactions with customers.