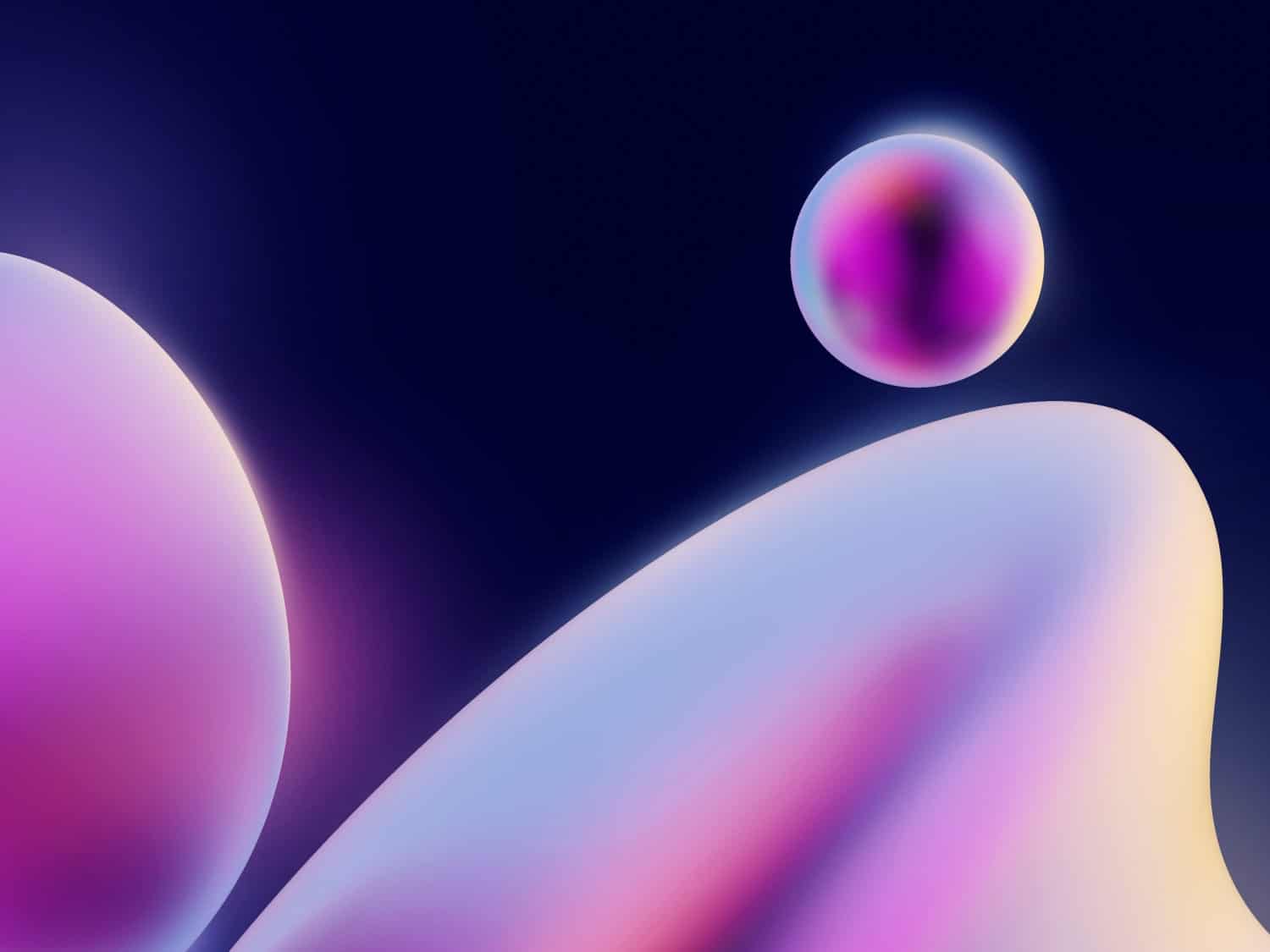 There are many ways to sell online, but in 2022, the attention of your leads is probably riveted to social networks. According to LinkedIn data, social selling specialists create 45% (almost half) of new sales opportunities.
The choice of social network for sales will depend on the social media preferences of your audience and their interests. But in fact, almost every person who has ever looked for a job and works uses LinkedIn. Therefore, for your business, it can be a direct source of leads, market data collection, and even generating an email database.
Top reasons to start social selling through LinkedIn:
The indexing of pages in social networks is higher than new websites. Your business will appear in search engine results much faster. At the same time, it will take less effort to optimize the page than to work with the website from scratch.
You will gain insights about the market. By starting on LinkedIn you will be aware of the latest developments in your niche, competitor updates, market novelties. From the social network, you can scrape huge amounts of data about companies and people. For example, you can create a list of competitor companies, or potential customers with their contact information, or all the data from people's pages.
Linked Helper is a universal scraper that will easily visit your chosen profiles of people or business pages to copy all the data. After that, you can download the CSV file for analytics in Excel.
You can generate leads. Yes, this social network is the most reliable source of lead generation, where real sales, transactions, and negotiations are made. Most often these are not impulse sales, but even e-commerce businesses sell and advertise physical goods on LinkedIn – and people love it.
Automation will accelerate sales growth. Linked Helper is a proven tool for accelerating lead generation, CRM with clients, and automating every step of social selling. For example, you can schedule a chain of follow-ups, send out invites that exceed the social network limit by almost 7 times, and even automatically invite people to events. All these features will allow your business to quickly gain an audience and customers.
The ability to sell through a person's name. Trust and positive feedback (from real people) are the two secrets to social selling success. Yes, in the era of influencers and public reviews, the demands on businesses are high. Therefore, your guarantee of sales will be your well-developed personal profile – as a founder, sales rep, or marketer.
How to use LinkedIn as a sales tool
Your personal profile and business page should be at a high level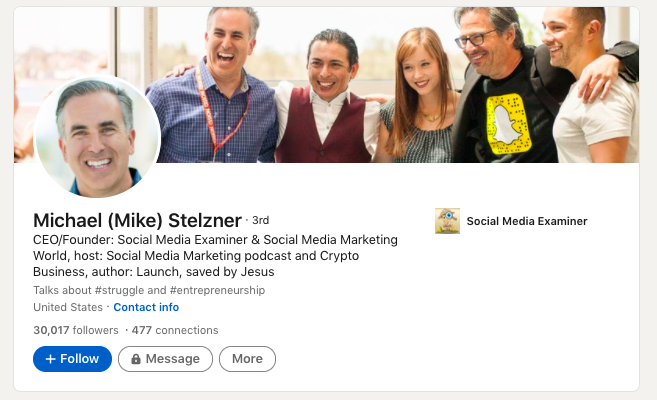 Sometimes it can be difficult to access a social network you know little about – its algorithms and page maintenance standards may require study.
In the section below, we will tell you how you can monitor and parse market data in one fell swoop – from top influencers and companies similar to yours. This will help you learn from their experience for page design.
We've put together examples of what a sales specialist's page should look like in a blog post.
You can start by monitoring the market
You can try Linked Helper for free – just download and test the features for 14 days. The software is compatible with most operating systems and LinkedIn packages.
Using this software you will learn to collect important data for any business that is marketing online. For example, when parsing data through Linked Helper, the software can find emails by monitoring the email section on users' profiles.
Additional methods will help you get emails even from those who are not your 1st degree contacts. This is possible thanks to the internal database of the LH Email Finder service and through integration with the Snov.io platform.
LH Email finder is a unique email database that will allow you to get emails from people who are not on your contact list. If these users are in the network of other Linked Helper users, their data is transferred to the database and available for parsing.
Gradually expand the network of your personal profile
If you are a sales specialist, then you need to have as many acquaintances as possible. When selling on a social network, the same laws work as in life – your connections decide how quickly customers find out about you and whether they trust you.

You may just not have the patience to open the app every day and click and send a connection request 100 times. In addition, your credibility with the algorithm depends on how many unaccepted requests are pending and how many people indicated "I don't know this person" in response to your invite.
Find out the details and top tips on networking so that customers get in touch sooner.
Use the CRM to lead clients
If you need a LinkedIn profile for personal needs and a one-time job search, you will probably do without additional services. But if your earnings depend on LinkedIn, then we advise you to connect a tool that can keep all profiles in one place or send them to an external CRM.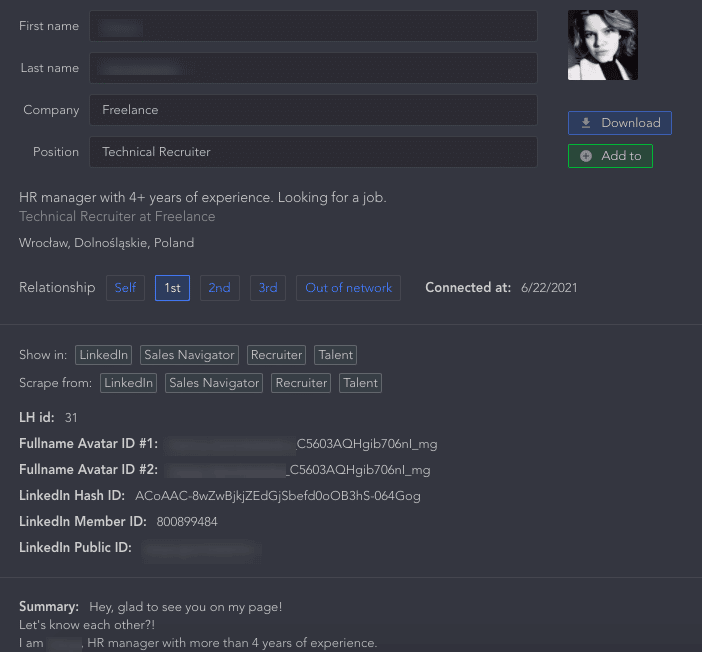 Imagine how many pages of clients you need to keep on hand and perhaps even write notes on each in the document. With Linked Helper, all data about important people will be in one place. In addition, you can instantly switch a LinkedIn platform in a single workflow for processing profiles (for example, you can collect from Sales Navigator but invite via a regular LinkedIn account and vice versa).
Think over your presentation and pitches for the target audience segments
Personal communication in private messages is a mandatory condition for sales. Yes, you should not start selling immediately to those whom you do not know or in a message sent with an invite. Some users may consider this approach as aggressive selling.
Instead, a warm-up funnel will help people to better perceive your offer. For example, you can make a workflow from the following actions:
Put likes on the accounts of target prospects – this way you will get yourself in their notification section.
Send a connection request – you can apply an automatic action for this. At the same time, Linked Helper visits each account and parses data that may be needed in the future.
You can collect all the target profiles for automatic work from LinkedIn search pages and other sources, such as groups and event participants.
This will make your lead selection as relevant as possible, which will speed up sales.
All in all
LinkedIn can be the best investment of time in developing a positive brand image and for direct sales. The social network allows you to collect business insights, develop personal and corporate accounts, attend or host online events and actively participate in group discussions.
Using automation, you can achieve results and business growth many times faster. That is, it is 7 times faster to develop a professional network, which will be a powerful sales accelerator. Try LinkedIn Helper to grow your sales with less effort, and your promotion on LinkedIn will seem like a breeze.