Every company requires information about leads, competitors, and their industry. Most of this information can be found in this business social network. The Linked Helper parser for profiles, contact details, and company pages allows users to have at hand all the information from the pages in one CRM and in a ready-to-download format. In the CRM you can extract custom spreadsheets and filter the data.
Linked Helper LinkedIn scraper is a former Chrome extension. Now it operates as standalone software to help you get the widest range of data.
You can use this data scraper to:
Maintain a database of leads from LinkedIn in a CRM with filtering options and tagging.
Download leads' contact data to set up cold mailings and calls.
Download emails to send no less than 700 invites instead of 100 per week.
Collect a lead base from top sources – groups, events, the search page, those who put likes on your posts, etc.
Analyze people's and organizations' text fields – summary, experience, headline, education, etc.
Analyze the correspondence history with clients and leads through scraping messages.
When opening a target page, Linked Helper gathers all the data that may serve your business. This is general person data, mutual connections, contacts, LinkedIn IDs, and custom notes from the CRM. Explore how to download contacts from LinkedIn in the article.
Free LinkedIn search scraper – parse data free for 14 days
It's important that after such a detailed study of leads, you can set up auto interactions with them – visit their profiles, like and comment on their posts, write well-tailored pitches based on personal data, or invite them to groups and events.
Profile scraper
You can transfer people's profiles from various LinkedIn pages to the CRM memory and download the spreadsheet. Download contact data for 1st, 2nd, and 3rd degree contacts. Profiles are easy to assemble from your contact lists, sorted search page, LinkedIn groups, and event attendees. When visiting a profile, Linked Helper collects all the data, and for 1st degree contacts it gathers emails and phone numbers. Collection of emails of 2nd and 3rd degree contacts is also possible through the "Find profile email" action.
To search for people, you can use Boolean search to get the most suitable selection according to your Ideal Customer Portrait. Further, according to this list of target leads, you can set up an automatic funnel of actions. Read about Using LinkedIn web scrapers to extract valuable data 2023: all you need to know. 
Explore the exact settings:
Email & contacts scraper
By default, the social network will allow you to receive this data only for 1st degree contacts. But with the Linked Helper Finder and third-party integration, you can parse 1st, 2nd and 3rd degree contacts' emails and download it. This is possible thanks to the internal database. For example, among LinkedIn users, there are those for whom your 2nd and 3rd degree contacts are in their networks. So these emails can be extracted from the internal source. Read about the emails scraper for LinkedIn via the link.
With this tool and email database, you can send over 100 connection requests without restrictions. The auto-scraper allows you to amass 7X more requests – so your chance to grow your network will be much higher! Read about Pro email scraper for LinkedIn: Parse prospects' contacts in 5 minutes. 
Explore the exact settings:
Company scraper
It is possible to extract data about organizations while using any LinkedIn service plan. This information will help you systematize the base of competitors and potential partners for B2B pitches and SWOT analysis. The company extractor can collect data from the search page based on your filters or through URL links to organizations. To get a selection of organizations with a rich set of data (URLs and descriptions), the scraper must visit each page. Read more about How to scrape a LinkedIn company page.
Explore the exact Linked Helper settings:
LinkedIn lead scraper – free source of clients
Social network groups are communities where most of your potential leads can be located – here they are already selected according to needs and interests. You can collect a lead base from groups and event pages. Also, potential hot leads – those who liked or commented on a post – can also be parsed through Linked Helper. You can get a complete database for lead generation, with emails, even if the leads are 2nd and 3rd degree contacts.
It is also possible to collect leads from several groups at once, which will expand your base and potential sales.
Explore the exact Linked Helper settings:
Sales Navigator data scraper
This advanced plan offers extensive search features and contains many more accounts. You can integrate Linked Helper and this top LinkedIn sales solution to assign it as a scraping source. In the Sales Navigator search, our parser will be able to fine-tune the filters and start sending messages in bulk – for example, to group members. You can also have multiple LinkedIn accounts and one with Sales Navigator support for lead aggregation. You may want to switch between these profiles in Linked Helper to reach as many leads as possible. Read more about LinkedIn Sales Navigator: Export leads to Excel in an easy way.
Explore the exact Linked Helper settings:
Parse the widest LinkedIn data set into the CRM & export it
The data scraped with Linked Helper includes everything on the page. It can be sorted inside the CRM. You can leave notes and customize profile lookup through filtering.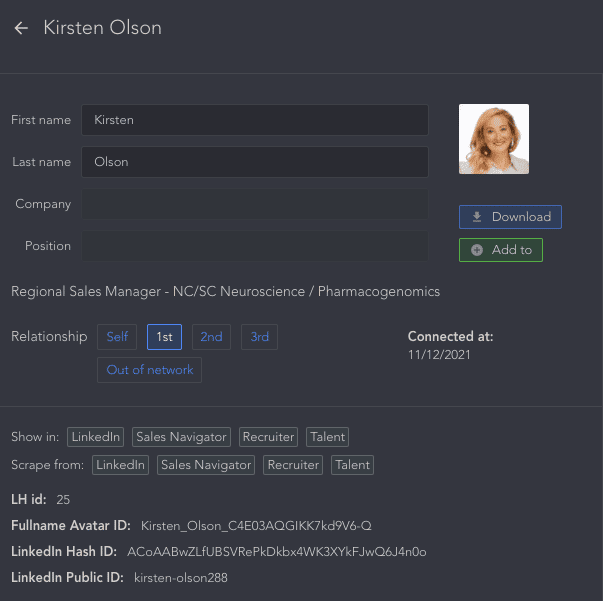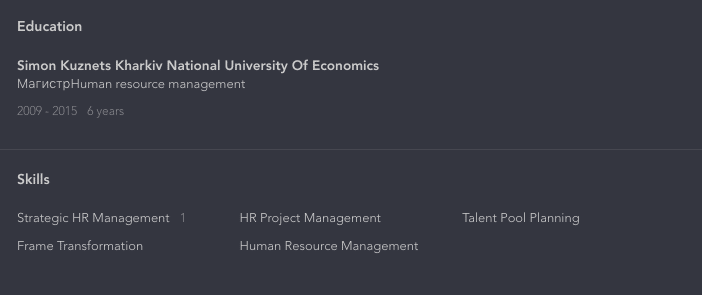 Convenient scraper search bar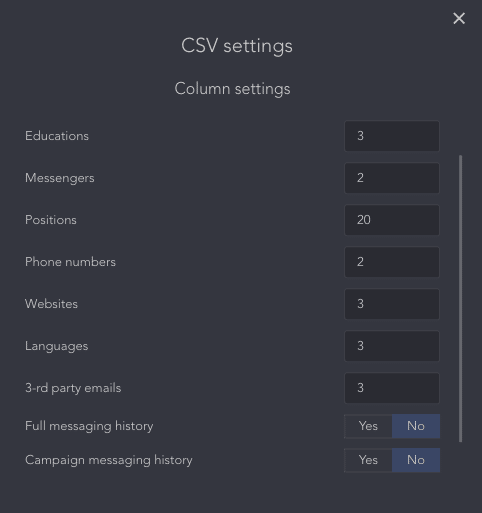 Study in detail what sections will be displayed in the CRM and will be available for scraping in the table.
LinkedIn data scraper tool opportunities vs. default LinkedIn
21 parameters in the automated CRM
You can find only 6 parameters in the file you download from the social network.
700 outgoing requests weekly
Instead of the one hundred LinkedIn default limit.
31 functions you can mix
Build sequences of actions for parsed contacts.
Unlimited scraping
Instead of the 1,000 profiles that can be obtained by default.
Download Linked Helper 2 and get 14-free trial right now
If you are not yet in our list of users, then join. We give you a trial version to start your experience with our LinkedIn tool.