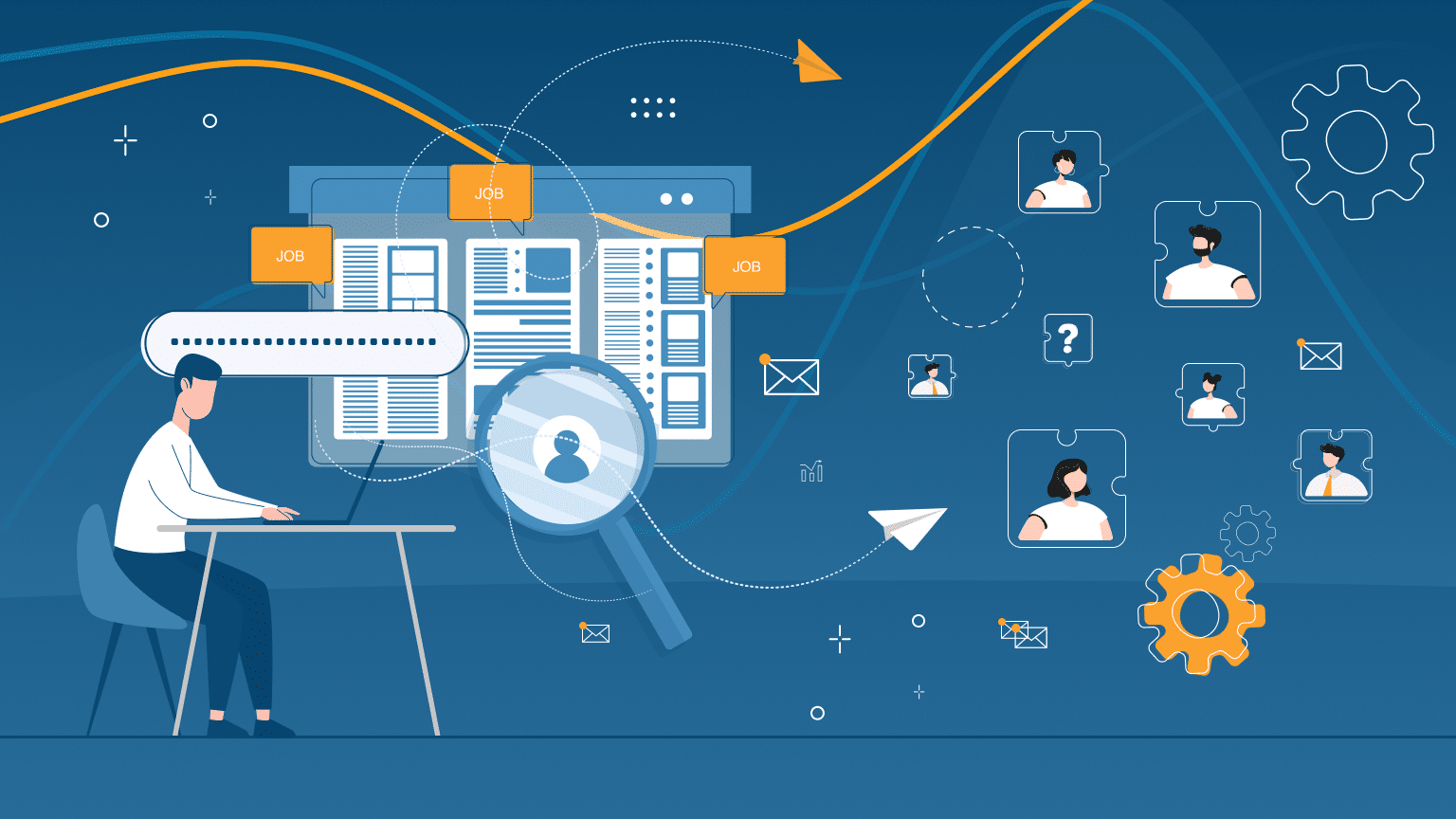 Probably one of the first places you think of when looking for a new job is LinkedIn. According to statistics, 87% of recruiters use this social network to search and communicate with candidates. 
It is possible that your inbox is bursting with new job offers. But sometimes you may need to be proactive and make personal contact with the line manager to get noticed. You should have no doubt that even if you have already sent a resume or official application form, knowing how to message talent acquisition professionals on LinkedIn will help you to show additional interest.
Of course, if the employer indicated in the ad not to contact them in personal messages, then you should not be intrusive.
Linked Helper is software that will teach you how to reach out to a narrow target and message a job poster on LinkedIn automatically, which can save you a lot of time if you have dozens of job options. The software will help you do the following:
Research and parse recruiters by industry or company.
Add them to your funnel with auto-actions.
Interact with their content (like liking job posts).
Send auto-invites with a message.
Send a private message or InMail automatically.
Next, we will break down the funnel that will definitely increase your chances of being hired, as well as the important rules about how to message employers on LinkedIn.
How to message hiring managers on LinkedIn in bulk
Explore & parse potential employers on LinkedIn
The first and foremost rule of outreach for job searches is targeting. Targeting and personalization can work wonders and reach even the most inaccessible individuals online. Therefore, in the beginning, you should clearly define the desired industry, the list of companies, and the main advantages that you can offer in this niche.
Explore how you can use Linked Helper as an alternative to an X-ray search for LinkedIn.
For research and parsing people in Linked Helper, it is possible to collect an audience by visiting pages on the social network. They can be placed right in your auto-funnel, after which you can add the desired actions for this audience.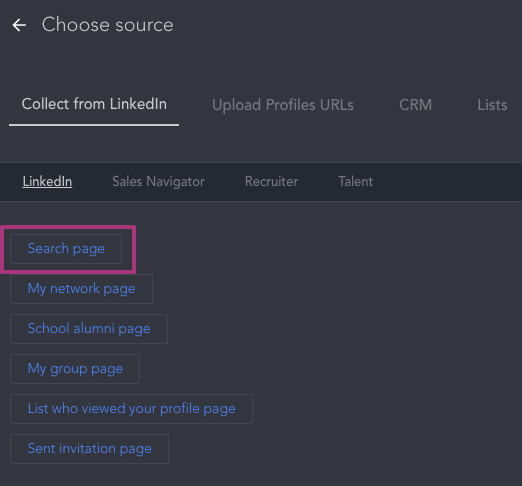 LH can aggregate the audience from search pages, but only the filters built into the social network will be available to you. If you have the Sales Navigator or Recruiter solution connected, then there will be more opportunities for filtering.
For scraping recruiters:
Сreate a new People campaign.
Select the action "Visit and extract." You can choose another of the actions in Linked Helper that involves visiting the profile (for example, putting likes or sending invites). When Linked Helper visits, the software will collect all available information from the page.
If you want to collect emails in order to duplicate your outreach via email, then you need to select a "Visit and extract" and activate the Email Finder. Your message may not always get noticed in the LinkedIn inbox, so knowing how to send a message to a recruiter by email as well as LinkedIn can increase your chance of landing a job.
Moreover, with Linked Helper this can be done automatically.
Choose a source for collecting. For example, it can be both a search page where you specify the criteria and a professional group where recruiters are. Moreover, you can immediately write a personal message to members of any group you are a member of.
When the leads (that is, the recruiters you need) are collected in the Campaign Queue, you can add actions. You can add actions as you see fit – for example, put likes first or go straight to connections. Alternatively, you can create an InMail campaign after the lead base has been collected in the CRM memory.
How to send a connection request on LinkedIn to a recruiter with a message
Through Linked Helper, you can send automatic requests to hundreds of recruiters at once without having to find each one on the page.
The Auto-Invite action can bypass the rules of the social network and allow you to invite more than 100 people per week to your network. Also, you can immediately set a unique personal message in the request, in which you will already draw attention to your resume. It is important that you can make even this short message custom thanks to variables that are built into the software, or by adding your own.
You can learn more about how to automatically invite people to bypass limits in our blog article.
How to send a message to HR on LinkedIn with customized lines
The Linked Helper template builder allows you to get the most out of mass private messaging. Because no one wants to feel that you are copying and pasting the same message to everyone. Therefore, the tool allows you to:
Use variables like name, common contacts, industry, etc. These variables are already built into the software and you can use them in your campaigns. Using the recruiter's name is the bare minimum to add polite personalization.
Use variables that you set in the software. They can be easily filled in as a column in Excel and loaded into the software. This possibility allows you to use deeper personalization, such as the name of the company.
Arrange logical IF-THEN-ELSE functions. This will help the personalization go deeper and use different message variations depending on whether a custom variable is present or not.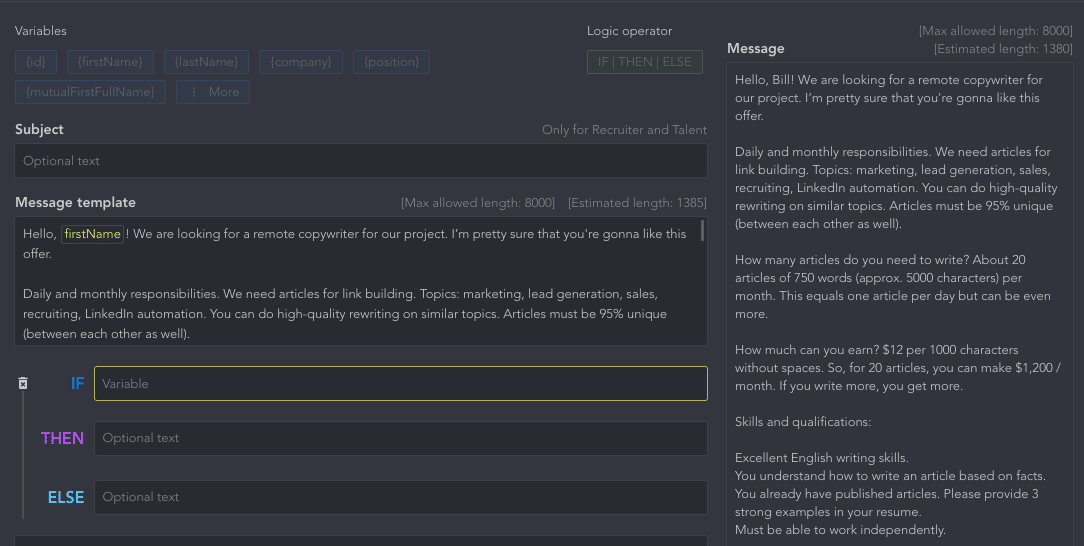 Read the article about setting custom variables and logical operators with examples in our blog.
How to send InMail message on LinkedIn without Premium
Few people know that it is possible to send free InMails even if you don't have credits in your plan. If you're looking for a job and see a lot of recruiters, you may not want to add hundreds of people to your contact list.
So you might want to know how to message someone who is not even a LinkedIn contact about a job – and that's where InMails can help. Even if your plan is Premium, you may not have enough credits to cover the inboxes of everyone who is not your contact. Therefore, Linked Helper has a convenient opportunity to automate outreach with InMails.
You can export recruiters from the search page or any other page.
In the CRM, you can sort everyone who has the status of Open Link (which means you can write free InMails)
Create an auto-InMail campaign and reach all those recruiters without credits or a paid package.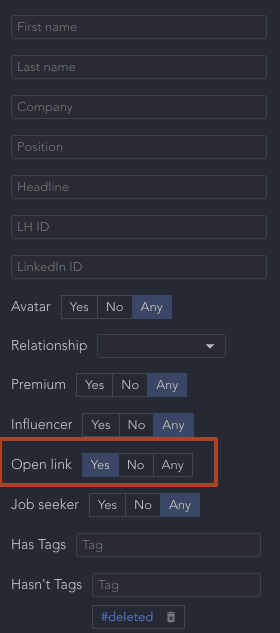 Important note: You can collect Open Link profiles only from the Sales Navigator search, there is no such filter in the basic LinkedIn search (read a tutorial on How to send free InMails to Open profiles). However, we offer two workarounds:
Thus, collecting data from recruiters and knowing how to set up a pipeline (like, invite + message, auto-message) will help you make the right connections, build communication, and find a job without many hours online on the social network.
How to cold message a recruiter on LinkedIn
Below you will find samples that you can use as a basis for your messages. Remember that being creative and informal can be more helpful than using templates. Apply customization and your unique experience in texts.
How to message recruiters on LinkedIn – a sample for asking for job
Hello (name),
Probably a lot of people write to you about the vacancy (name). I see that I can be an asset to your company because (list a few key unique advantages). I have seen a lot of your company's work ( give examples from the company's resources) and I would be happy to apply my experience to grow your business.
I ask you to have a look at my CV, which I attach in this message. If you have any questions, we can set up a time to call.
After the interview: how to send a follow up LinkedIn message
When contacting recruiters, sometimes initiative can help. Because with a large flow of candidates, a follow-up can show the recruiter your desire to get the job – which is already an important sign of motivation.
Therefore, if you sent the first message and even conducted an interview, the follow-up can dot the "I." You don't have to wait until they call you back, but rather you can send a follow-up LinkedIn message yourself.
‌‌Hi (name),
We talked recently about the position of (insert name) in (company name). I am looking forward to your reply and would like to know the result as soon as possible. For my part, I will be happy to help your business with my expertise. If you need more information or examples of my work, please contact me.
How to send a resume in a LinkedIn message
When you write about a potential job, it is very important that your words are backed up by real experience. To do this, you can reduce the number of actions for a recruiter by simply attaching a file with your CV to your message.
It can be either a link to a site with your resume or a file in the message. You'll learn how to add links to your resume every time you ask for job in a LinkedIn message if you decide to send bulk messages to recruiters through Linked Helper.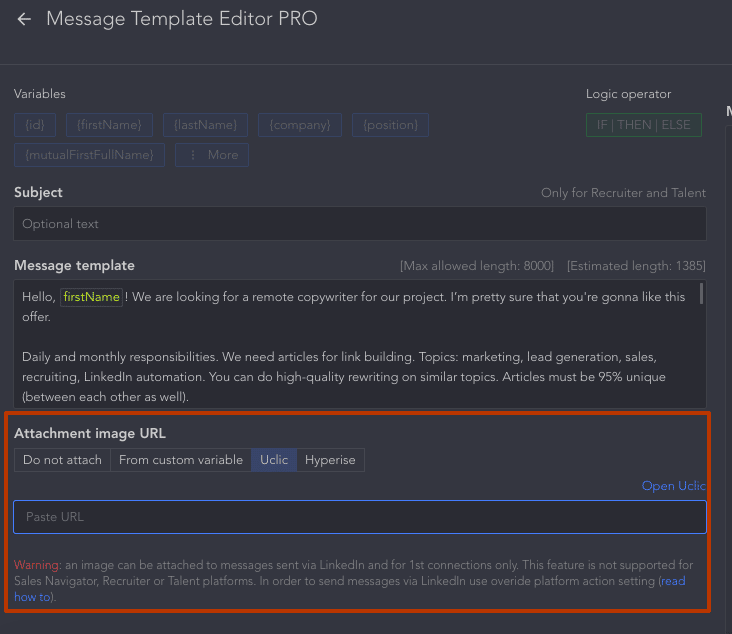 By the way, you can look for career advice from users who are not recruiters. For example, you can contact colleagues during your job search so that they review your profile and give advice. This help from other members of the professional community can be important when you are looking for a job in a new niche or do not have enough knowledge about finding markets in another country.
Therefore, you can send resumes to seek expert opinions from outside. After polishing it up based on the advice you get, start contacting recruiters. You can explore how to approach users about work in our recent blog post.
How to write a formal message on LinkedIn
Sometimes the invite message has to be quite formal because the limit for this text is 300 characters.
Having a limit for the text in an invite, you should be concise when choosing the text of the message. Linked Helper will help you understand how to write a LinkedIn message to a recruiter briefly, but at the same time address the message personally to each hiring manager, which is the minimum for customizing on LinkedIn.
Therefore, a short and meaningful message will work perfectly. Here is how to write a message for a job application and make it as efficient as possible:
Make sure your page is ready for the employer to visit. This means that your photos and texts are pleasing and inspire confidence. Fill in all the possible fields that LinkedIn offers to demonstrate your experience. Also collect reviews and recommendations right on the page. This way you can fit important formal details into 300 characters – because your experience will be displayed on the page. You can find examples of successful personal summaries in one of our articles.
Use a CTA. In fact, an appeal in a formal message makes life easier for both the sender and the recipient. Having read the text briefly, a recruiter will immediately understand what you expect from them. And if it is immediately clear, then there is a greater chance that you will receive an answer. You can ask them to have a look at your profile or resume, contact you by phone, or read references on your experience.
Make sure the text is correct. A short text with errors can cause distrust and the first negative reaction. If you are writing about a high-level position the text should use business language and the grammar should be perfect.
Hello (name),
I am looking for a job in the industry (name). I see that you are looking for staff for a company in this niche. Let's get in touch if you have suggestions for my experience. You can read the reviews and my experience in my profile.
And so, any time you ask yourself how to send a note (or a message) to a recruiter on LinkedIn, remember you can increase the impact and speed of your outreach in LinkedIn with an automation tool like Linked Helper. This will allow you to personalize your messages and reach many recruiters in a few days. This approach will increase your chances of finding referrals or a direct connection for an interview appointment.