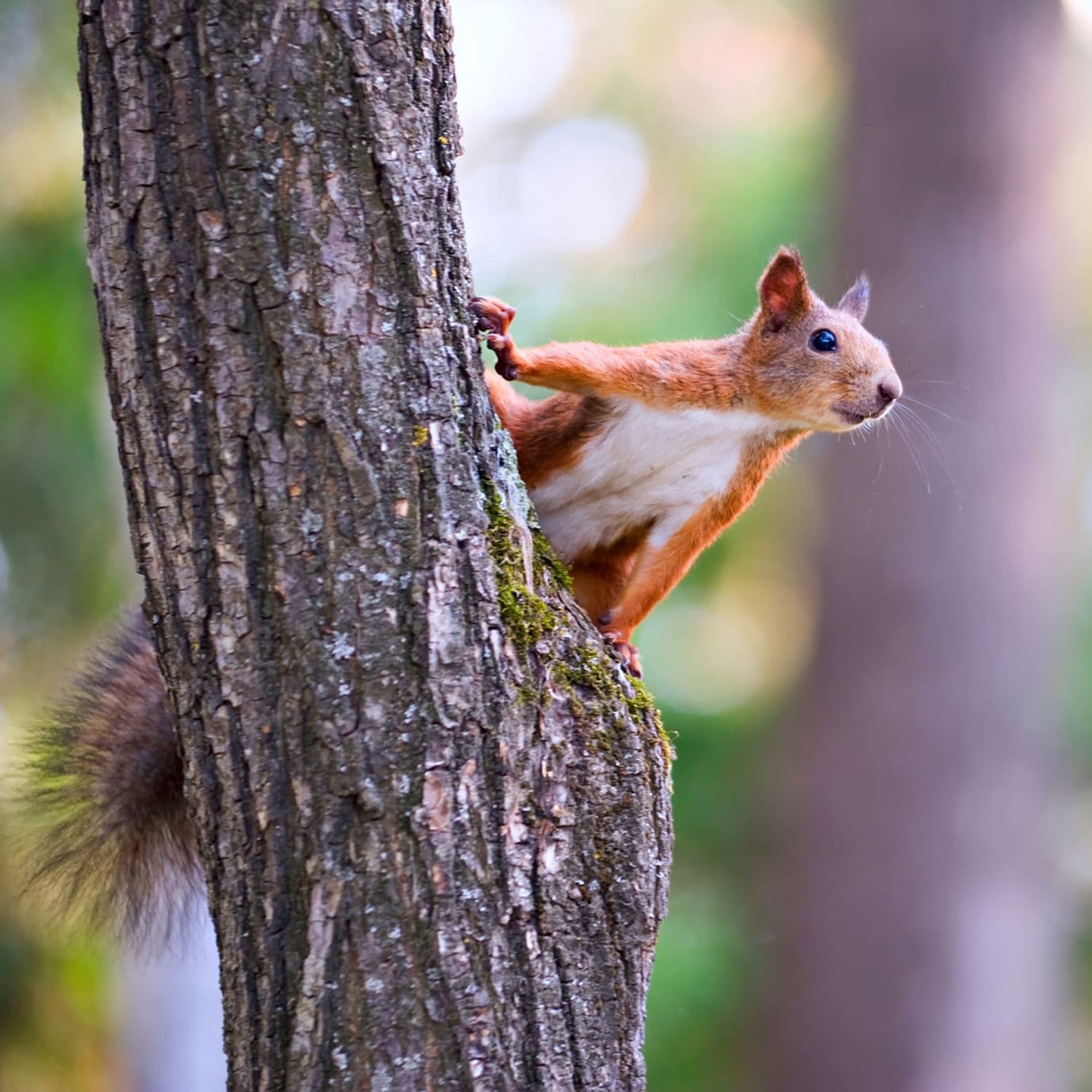 All internal platform pages, including candidates' account data, your leads, and organizations are visible through Google. By using Xray search on LinkedIn, managers, salespeople, and HR teams can get more niche-specific & relevant search results. When users log off their personal accounts, they still can investigate the accounts of contacts who do not belong to their network.
This type of tool helps you find people through search engines, and visit their profiles. Most often this is done through online services. For example, Recruitment Geek works through indexing search engines (literally it performs LinkedIn Xray through scanning all the texts). You simply enter your criteria, i.e. keywords that you want to be on the page (this can be a specific job title, email, city, etc).
The advantage of using a LinkedIn Xray search engine that can perform as a Chrome extension is the absence of a limit on profile visits. That is, by default LinkedIn sets a limit on daily profile views; however, while browsing through the search engine (if you are not logged in to your account) it doesn't count as a view from your personal page.
In fact, Xray search resembles an internal boolean search in the social network, only without limits on profile views in the free version. Since it can be difficult to remember a boolean string to search for, these services usually generate boolean operators for you.
The user must enter only key data in the search strings and the service generates a query. Next, you just click on the link to see the results for your query. You can see an example in the picture below: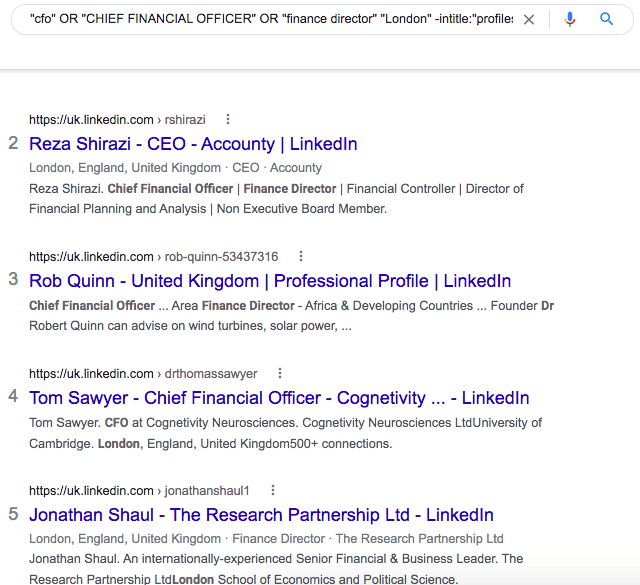 Sometimes recruiters, and lead generators can use these services to find work or personal email addresses. Because if you specify the keyword "gmail," then Google will display and highlight all the results that contain such a keyword. See the screenshot example below:

Such a search can be a good solution for quickly finding emails for 2-3 people. Or to search for up to 10 candidates. But such services will not help you generate a database of potential clients, or get a downloadable, shareable file!
Therefore, for more advanced scraping, people search, and auto-funnel management for LinkedIn marketing, Linked Helper will be the right solution. You can use it for free for 14 days, getting much more value than from a Google Xray search for LinkedIn. – I'll go into more detail in the section below.
CRUCIAL cons of the Xray search method:
Time spent manually opening pages. Despite the faster and more accurate search than within the social network, searching through Google does not solve the problem of opening 100 tabs. If you need dozens of candidates, then this solution will be inefficient. Linked Helper is a robot that will visit target profiles from your page and accurately copy data, and if necessary, will also find emails on an internal database or through a mailing partner service.
Search results are not structured. Again, if it's 2-3 emails or 10 candidate profiles you need, then you might be fine with this kind of search. But if you need to crawl dozens of pages and form a database in the CRM and be able to download data for the whole team, install Linked Helper instead.
If your goal is one of the following:
find hundreds and thousands of leads;
get a ready-made database with emails, phone numbers, location, etc.
be able to visit many profiles in order to get reciprocal views of your page;
automate likes, comments, connection requests, and invites to events, groups, or business pages;
build an auto-funnel to warm up and attract leads or employees;
build long-term connections in the community, spending 10X less time on manual actions.
Then a worthy alternative to searching through such online tools will be the introduction of an automator into your marketing and hiring process. It will solve much more complex tasks and optimize your networking and lead generation work on the social network.
Linked Helper #1 Xray LinkedIn search tool alternative
The first step is to install the Linked Helper software on your computer. Download, installation, and 14-day trial period in Linked Helper are free. You don't even need to enter your card details. If you want to continue using the service, you can buy a license.
This service can be used by the entire team of your organization whose tasks include LinkedIn monitoring – the sales team, recruiters, SEO, and marketers. You can connect multiple accounts and any of the existing LinkedIn solutions.
How to search through Linked Helper
After installation and registration (which takes no more than 15 minutes), start your first campaign.
#1 Choosing your first campaign
Most often, the best option for finding people, scraping data, and increasing your profile activity (due to visits) is to select the "Visit and Extract" action.
You can explore the detailed function settings in the knowledge base.
#2 Go to the search page
In order for the robot to start visiting and copying data about leads, you need to set a goal for it – to add people to the Queue list. From there, strictly in turn, the assistant will transfer the data and form the base while you are resting.
To add users to the queue you need to select a source: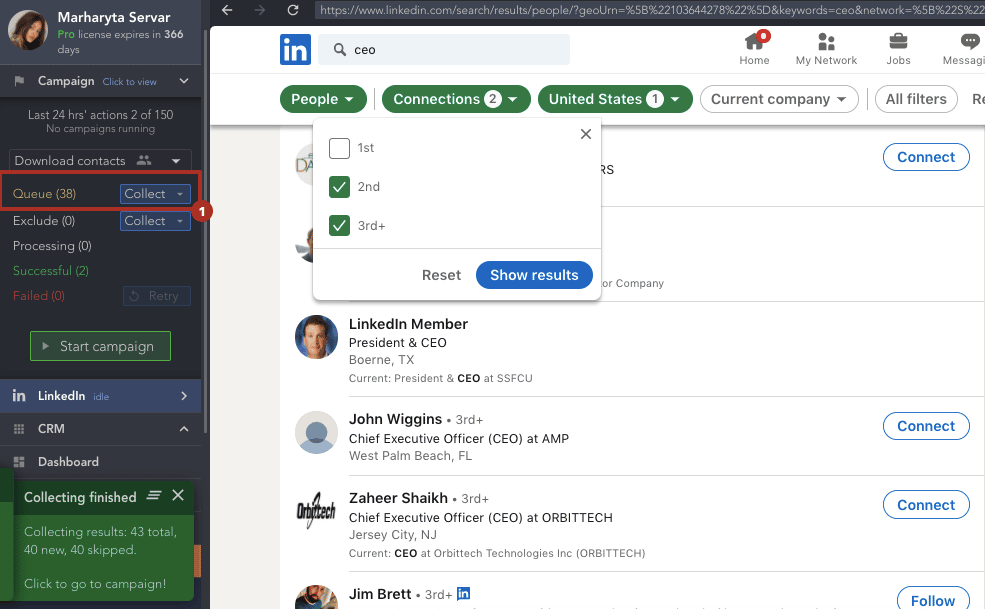 You'll see many options here. These can be LinkedIn internal pages or listings in Sales Navigator. You can also parse members of a professional group or event – after all, these can be a ready-made set of target users.
If you select parsing from the Social Network search page, you can enter the usual boolean operators to exclude unnecessary results. The look of the search page through Linked Helper is the same as the usual search on the social network.
If you want to collect user emails according to your search criteria, then you should activate Email Finder Search (Linked Helper's internal database of emails) or set up integration with Snov.io (search for emails by name and company name in the mailing platform's database).
When you are satisfied with the sorting criteria of users and you want to collect the data, proceed to the next step.
#3 Start collecting data from search results
To transfer the given name and surname to the CRM, you need to select the item "Collect from the current page" on the right side of the screen.
Now in order for the robot to crawl each profile, search for emails and visit pages, you just need to start the campaign.
After pressing the Start button, you can relax – the rest of the work, clicks and copying of data, is for the robot.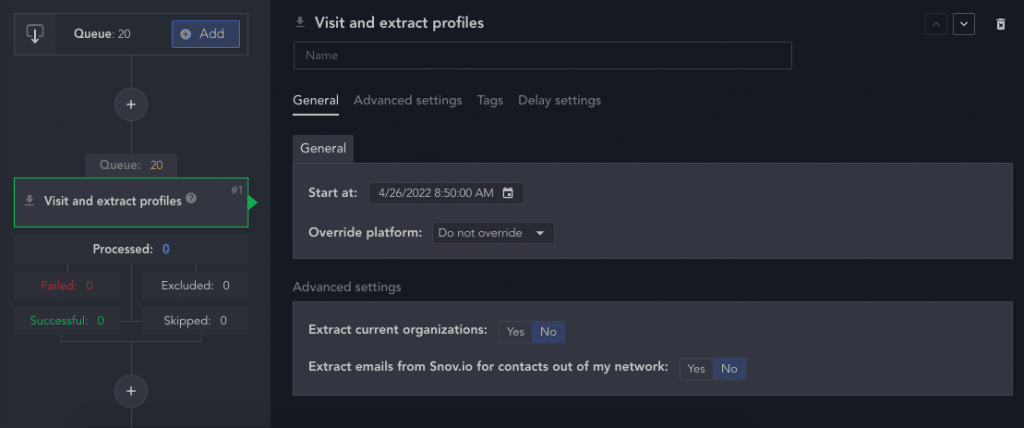 The main convenience of this service over a typical search extension is that it solves more than one narrow task and allows you to create a list of tasks for the robot.
And it will perform each of them better than a human, without getting tired!
Using a browser extension solves only the task of searching by criteria. But what to do next with the search results? How to turn a person from a found page on LinkedIn into your client, employee, or partner?
It's not easy to do. The main thing is active interaction, human-to-human marketing through being interested and helpful and providing personal solutions. Then your business has a chance to grow sales through social selling.
Linked Helper will perform the tasks for which you would need to hire a specialist. After all, it is not easy for a person to work in this social network, extraneous information is constantly bombarding you, along with distracting advertisements. The robot will not pay attention to this.
Additional features to cover tasks better than Recruitment Geek LinkedIn Xray Search
Here are some of the extra features that Linked Helper gives you that a browser-based search tool cannot provide: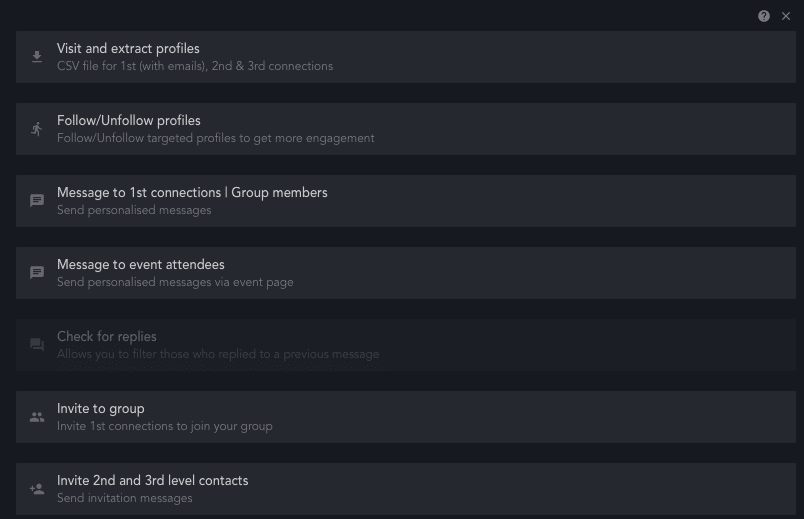 This is a necessary step to ensure that your clients or leads stay on the radar for further warming up. In Linked Helper, you can set up the mass distribution of invites above the limits of the social network. Users have only 100 attempts to connect per week. When you reach out through the software by inserting the emails of the right people, the limit can be bypassed. You don't have to click on a button a hundred times to attract leads.
Only the Linked Helper tool has the function to enable the LinkedIn "undocumented feature." What does it mean?
You specify a list of target users, and even if it is 700 people, the software will continue to send invites despite the error warning from the social network.
The function allows you to use auto-invites without strict limitations and include a text message that you can set yourself.
After the visit and invite, you can write bulk messages. The rule of social media marketing is don't be too intrusive. You should not sell head-on in a great message. On the contrary, if you personalize each message to your leads, you can get their sincere attention. To do this, Linked Helper provides variable strings – for name, position, and shared contacts – and these personal touches can be triggers that can inspire confidence when meeting online. You can also attach audio messages or videos. Read how to send a video message on LinkedIn on our blog.
Event marketing can be automated almost completely
Events and online meetings can replace the usual conferences and seminars. This is important for networking and discussing partnerships, and building trust. In Linked Helper, you can automatically invite to events or to a group and parse data from groups. That is, by creating an event on the social network through the automatizer you can increase the reach by 5 or even 10 times, attracting people through personal messages.
Scraping data about people and companies
This is essential for any company. Social networks contain an array of business data that can increase your sales, and be essential for mailing or customer calls. One search without parsing does little to build your database. It only clarifies the criteria, but in fact, you leave without these data. Yes, you can open a table and independently enter the results from the search. Imagine how long it would take to scrape 100-150 leads – it's scary to even think about a thousand. If you try to download today through the social network, Linkedin will only send you a table with your 1st degree contacts. The Linked Helper robot does not only collect data from 1st degree connections, and you can be sure that it will copy information about people from search pages and even find their emails if they are not listed on the page.
Switching between LinkedIn packages within the software
This is also a handy trick that is difficult to implement without a single service. You would have to open the required LinkedIn packages in different tabs for different tasks. There is one button in LH that can convert a Sales Navigator URL to a basic URL. And with just one button, you can switch solutions to work with these contacts.
For example, collect data through Recruiter (if you have a subscription to this package), and then contact candidates via regular LinkedIn using their scraped LinkedIn public URL.
Linked Helper is also powered with a cool thing known as the PAS – profile aggregation service. Similarly to email collection, other data can also be gathered from the social network.
For example, a public LinkedIn URL and other data can be obtained without profile visits. These details will be pulled up from the PAS.
Set consistent promotional actions with clear time frames
You only need to plan your path to the client through the social network once and set up each step in Linked Helper. This will save you the headache of daily social network monitoring. For example, you can create a funnel by gradually attracting customers:
Put likes. This is akin to an offline complement – the necessary attention and support to build trust.
Wait a while and write a message. You can pause Linked Helper between actions. After a suitable period of time, send a message. This may be a presentation about your product/service in conjunction with a note about its usefulness for the reader.
All answered messages will be sorted in Linked Helper.
You can replace a lot of LinkedIn Marketing tools with one tool – wouldn't that make your job easier?
As a result, Linked Helper is a complex assistant that does not just perform a one-time search but really helps to expand your network, warm up customers, and build friendly relations with them. After all, the more often your name and photo appear in the leads' feed, the more often they see a like or comment from you in notifications, the higher their trust. This is psychology – pay attention and you will see the reciprocal interest.
You will only win if you install Linked Helper for a free trial and use it to conduct your search because the database of leads from the search can be loaded into the service's memory or downloaded. This is much more convenient than hundreds of Google tabs!